Minecraft 1.20 update brought various much-awaited and desired changes to our blocky worlds. From brand-new mobs such as Sniffer and camel to the ability to customize armor with armor trims, an archeology system in Minecraft, and so much more, Minecraft 1.20 is truly an amazing update. However, now that the hype has settled, the community is interested in what's next. And that's what we are covering here, shedding light on the release date and possible new features such as mobs and biomes coming with the Minecraft 1.21 update.
Note: The new features and release date mentioned in this article are so far just speculations. We don't have a sufficient amount of official evidence yet, but mostly assumptions and suggestions from the community.
Minecraft 1.21 Release Date (Expected)
[UPDATE | September 13, 9:30 AM PST] – Mojang has officially announced the Minecraft Live 2023 event, along with a brand new Mob Vote. The event is set for October 15, 2023, and will finally reveal the initial details for the upcoming Minecraft 1.21 update. So, stay tuned for all the latest updates. Check out the teaser and all the details via the post linked above.
Before we jump to Minecraft 1.21, let's talk about the previous update pattern for a second. Minecraft 1.17 was initially supposed to be a massive Caves & Cliffs update, but it wasn't ready for rollout on time. Therefore, it was split into Minecraft 1.17 Caves & Cliffs Part 1 and Minecraft 1.18 Caves & Cliffs Part 2. These updates were released on June 8, 2021 and November 30, 2021, respectively.
The next major update, Minecraft 1.19 Wild Update was then released on June 7, 2022. So, as you can see, Mojang had been following a bi-annual update cadence for the previous few updates. But that changed with the Minecraft 1.20 Trails and Tales update, which was released a year after the Wild Update, on June 7, 2022.
Why the delay? This was, unfortunately, a result of community disappointment as a lot of promised features were canceled or delayed. So, with the Minecraft 1.20 update, the developers decided not to overpromise and underdeliver like the previous updates. And we expect the same pattern to continue with the upcoming Minecraft 1.21 update. So, the Minecraft 1.21 update will likely release sometime in June 2024. Here's a quick rundown of the recent update cycle:
| Minecraft Update Name | Release Date |
| --- | --- |
| Minecraft 1.17 Caves & Cliffs Part 1 | June 8, 2021 |
| Minecraft 1.18 Caves & Cliffs Part 2 | November 30, 2021 |
| Minecraft 1.19 The Wild | June 7, 2022 |
| Minecraft 1.20 Trails and Tales | June 7, 2023 |
| Minecraft 1.21 Update | possibly June, 2024 |
Minecraft 1.21 Name: What Is the Update Called
The last major update MC 1.20 didn't have an official name when it was first announced back in October 2022. Minecraft 1.20 received its official name several months later. This was possibly an outcome of the community discontent mentioned in the previous section. For this reason, Mojang will possibly take its sweet time with naming the Minecraft 1.21 update and focus on the features first. However, that does not stop us from having our own ideas and speculating what the theme of the next update will be.
The End Update?
By far, one of the most asked-for updates in the history of Minecraft is the End Update. This dimension has been kind of neglected by the Mojang team so far. It's still a plain, mostly empty dimension with a couple of mobs, a structure with the most OP loot, and the literal boss of the game. You would think it deserves a little more love and respect. Minecraft 1.21 update presents the developers with a good chance to overhaul the entire End dimension and bring it to life.
The Inventory Update?
Furthermore, a constantly reoccurring problem every Minecraft player faces is a lack of inventory space. No matter if you own a bunch of shulker boxes to help you move items around, you'll still want more space in your default inventory. Could Minecraft 1.21 be related to this ongoing issue and could it be the one to solve it? Will we get the Inventory Update perhaps? Tell us what you think in the comments!
The Biomes Update?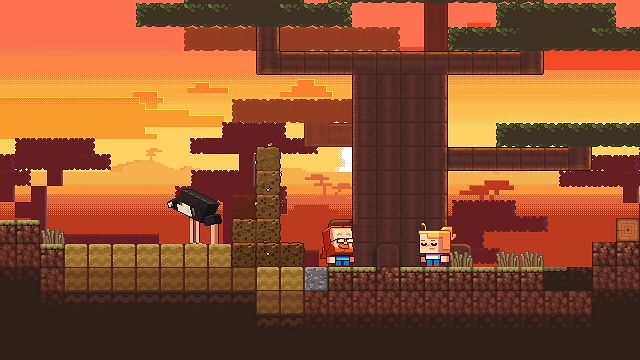 If you are by chance scrolling through the videos on the official Minecraft YouTube channel, you are likely to find relevant hints about the Minecraft 1.21 update. The team has been uploading videos from The Great Wild series showcasing different biomes in the game. It is not unusual for Mojang to create content hinting at the potential new features, but it could be. Will Minecraft 1.21 be a Biome Update, adding a little something to each biome? Or perhaps just certain biomes will get an upgrade like the desert, savanna, and badlands biomes.
During the Biome Vote in 2018 and in 2019, Mojang listed three biomes to be updated and the community chose one biome. However, that doesn't mean features designed for other biomes will never be added. Just look at the meerkats, palm trees, ostriches, vultures, and so much more that could be awesome additions to Minecraft.
Minecraft 1.21: New Biomes & Mobs (Speculation)
New biomes and mobs definitely depend on the update's theme, so let's mention a couple of different options we speculate will be added in Minecraft 1.21.
Meerkats, Ostriches & Vultures
As mentioned in the previous section, Minecraft has numerous half-developed or temporarily forgotten features. Those include meerkats, ostriches, and also vultures as passive or neutral mobs of the desert, savanna, and badlands biomes, respectively.
Meerkats could be cute and friendly creatures that could help the players in some ways, like dolphins. Ostriches could have a funny head-burying animation and maybe even be saddled. Vultures would swoop down and steal the items you threw on the ground and maybe give you something in return.
The End Biome Revamp
Before Minecraft 1.16, the Nether dimension was quite unpretentious. Its terrain almost completely consisted of netherrack and the mobs roaming the land were zombified piglins with ghasts in the air. With Minecraft 1.16 update, the whole Nether got an unbelievable upgrade through new biomes, mobs, ambient music, and more.
Imagine if the End dimension got a similar revamp since it represents the "old Nether" vibes. There could be various new End biomes with some growing exotic End plants and others being home to dangerous mobs, such as a red dragon that was mentioned in Notch's tweet a long time ago.
New Features We Expect in Minecraft 1.21
1. Long-Awaited Blocks
Recently on June 11, Minecraft art director Jappa (Jasper Boerstra) posted a tweet asking what building or decorative blocks or block sets should Mojang add to Minecraft in the Minecraft 1.21 update.
There have been plenty of amazing suggestions from the community, however, many people have agreed on one set of blocks in particular. Those are the slab, stair, and wall variants of terracotta and concrete blocks. These blocks were added way back in Minecraft 1.6 and 1.12 updates, but still don't have variants like other blocks. With the addition of these blocks, builders will have much greater control over their builds and plenty more options as well.
2. New Precious Material
The official Minecraft 1.20 background image in the launcher seems gorgeous and quite normal at first glance, right? Well, some eagle-eyed users have pointed out one very curious detail in this artwork. It's a white helmet and boots in item frames on the right side.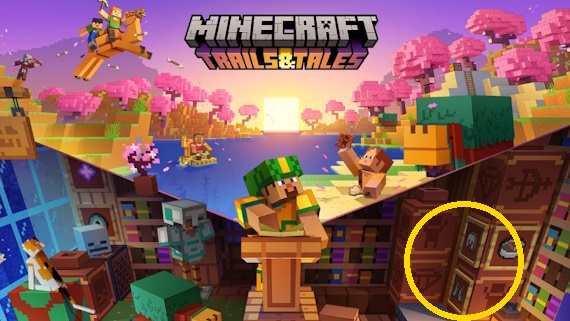 Well, it's just iron armor, you might say, but it's not, since that is the netherite armor texture. Could it be crafted out of new precious ore in the End dimension in the Minecraft 1.21 update, even stronger and rarer than the ancient debris in the Nether? Or is it dyed netherite armor? We don't know for sure just yet.
3. Bundles in Minecraft
Bundles are really not a new topic at this point. They were first announced at Minecraft Live 2020 and have been a work in progress ever since with an unclear vanilla implementation date. Well, after years of development and constant changes, bundles are highly likely to arrive in Minecraft 1.21. Thanks to the leaks in a Twitter post shared by the user NikMC, we can see what bundles are going to look like and how they will function in Minecraft Bedrock.
The textures have been changed, so there will be different textures for the bundle item, opened bundle, and closed bundle with items inside. The UI has also been modified slightly. Moreover, the bundle will function pretty much as previously explained. You will be able to place a total of 64 items inside it.
Whether you will be able to take out any item you want or you will be forced to take out all the items before reaching the chosen one is still uncertain, since the development is still happening. Although this leak is related to the Bedrock edition, we expect similar if not the same bundle functionality on the Java edition as well.
4. More Wood Types
Even though Minecraft 1.20 introduced two awesome new wood sets – cherry wood and bamboo wood, you can never get enough of the new wood blocks. So, perhaps there could be fresh new default trees such as palm trees in deserts or baobab trees in the savannas, both teased in the Biome Vote 2018.
Since the Nether Update introduced two tree variants, or should we say giant mushroom variants, Minecraft 1.21 could do the same, so we can build with alien looking-like blocks.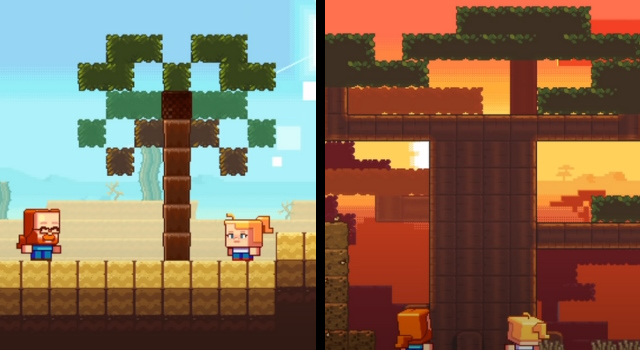 5. Secret New Dimension
Ever since the warden and the ancient cities were added in the Minecraft 1.19 update, everyone has been asking the same question: Will there be a new dimension? At the center of each ancient city, there is a giant portal-like structure. At first glance, it reminds us of the massive "portal" made out of unmovable reinforced deepslate blocks. But where could this portal lead?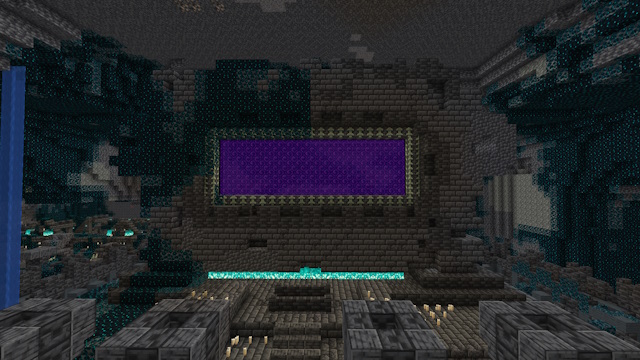 There were plenty of Ancient City portal speculations about this mysterious build which could be finally solved in Minecraft 1.21. However, Mojang has announced they will not add any new dimensions until they're satisfied with the ones already in the game. So, the End Update seems a lot more reasonable.
6. More Ambient Features
Ambience implies features that are immersive and will make Minecraft feel more alive. They have, kind of, been lacking in the game so far. The ambient music is present in a couple of locations, like the Nether or underwater in the Overworld, but that is not enough.
Minecraft is a big game with lots of unique biomes deserving their own mark on the players. Mojang developers have been teasing updates to the ambience through the "Soothing Scenes" series on their official YouTube channel. It's likely that we are going to receive some much-needed ambience improvements in the future Minecraft 1.21. update.
Minecraft 1.21: Java & Bedrock Parity
Although Minecraft is one game, it has two different versions – Java and Bedrock Edition. The developers at the Mojang Studios have been trying to bring parity to their feature set for the past couple of years. Their efforts were rather successful as more and more exclusive to one edition features lost that title. However, there are still some distinguishable features that should be fixed in the Minecraft 1.21 update.
Hardcore Mode
After a lot of waiting, Bedrock players, at last, got Spectator Mode with the Minecraft 1.20 update. This is an amazing addition for creative players and is a welcome addition. However, the highly requested and wanted Hardcore Mode has still not been added to Bedrock Edition.
Hardcore Mode is a variant of the regular Survival Mode, but more dangerous and painful, as you lose your entire world after death. It, therefore, presents a great challenge for everyone ready to take it up. Since the last major update introduced Spectator Mode, we think Minecraft 1.21 should do the same with Hardcore Mode.
These are mere speculations at the moment, along with some feature requests from the community, but we should get official information from Mojang in the coming months. What features do you want to see in Minecraft 1.21? Do let us know your thoughts and opinions in the comments below.
Frequently Asked Questions
Is Minecraft 1.21 announced yet?
No, it hasn't been announced yet. Though, we'll keep you up to date with everything you need to know, so stay tuned!