Chromebooks have always been appreciated for being fast and simple to use devices but they have also been panned for not packing great functionality. However, that's about to change with the arrival of Play Store and Android apps but that also means that Chrome OS devices will need a lot more storage to accommodate the big Android apps and games. Presently, most of the affordable Chromebooks come with 16 GB of storage, while the high-end ones pack in 32 or 64 GB of SSD storage. While it is enough for Chrome OS in its current form, it won't be enough when Android apps arrive for more Chromebooks.
Keeping that in mind, we are here to tell you how you can free up storage in Chrome OS. Before you start trying different ways to clear up storage on your Chromebook, here's how you can check your device's free storage:
First, check your Chromebook's free storage
It's important to keep a tab on the storage left in your Chromebook, so that you can try the various methods to free storage and see the changes. You can check your Chromebook's free storage by going to the Files app. In the app, click on the three-dot menu button, where you should see the free storage left.
Another way to check storage is by going to Chrome and entering "chrome://quota-internals" in the address bar. This should list the free disk space in your Chromebook.
After you have checked your Chromebook's free storage, here are 8 ways to free up storage in Chrome OS you can try:
1. Move Files to Google Drive
Chrome OS is based on the principle that users will be making use of the cloud services & internet more, rather than relying on conventional methods to store files. However, chances are, there will not be a way to store Android apps in the cloud, at least not in the foreseeable future. Thus, to free up space, you will have to move your documents, media files stored locally to Google Drive. You can just select the files you want to move and just drag & drop them to the Google Drive folder or use the usual cut-paste method. Google offers 100 GB of free Drive storage for Chromebook owners, so you should not be running out of space soon.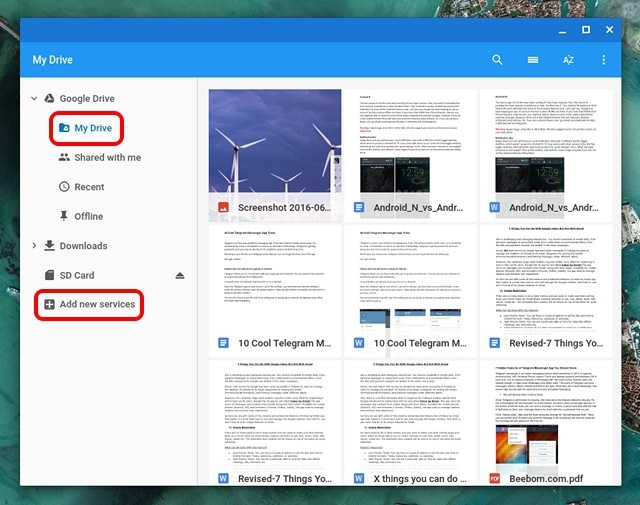 However, if you do run out of Google Drive space, you can always purchase a new plan or add another cloud storage service. To do it, just click on the "Add new services" button in the left panel of the Files app and install one of the cloud-based file systems like Dropbox, OneDrive etc.
2. Clean the Downloads folder
The Downloads folder on a Chromebook stores a ton of files that we download from Chrome for offline usage. Plus, with the arrival of Android apps, we will also be downloading APK files. Thus, it's important to keep a check on the Downloads folder for useless and junk files. You can just go to the Files app and then "Downloads". Here, select the file(s) you don't want, right click on them and click on "Delete". Or if there are files you want to keep, you can move them over to a SD card, since most Chromebooks support a microSD card slot.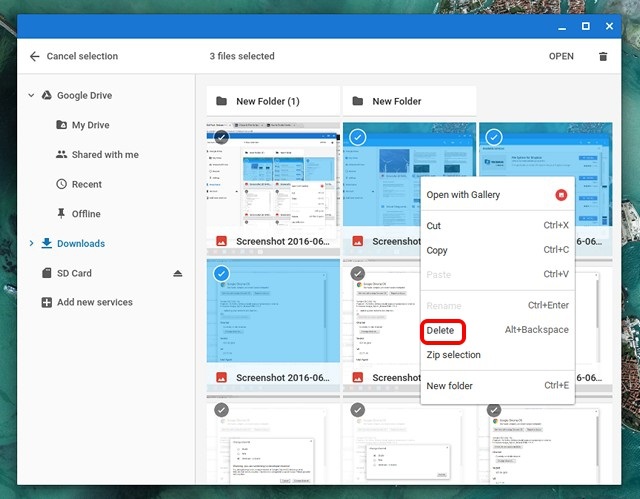 3. Clear browsing data and cache
When you are low on storage, even a few hundred megabytes feel like a lot and that's the amount of storage you can free up by clearing browser data on Chromebook. To do it, open Chrome and hit the menu button and click "More Tools", then click on "Clear browsing data" or you can just hit the key combo Ctrl+Shift+Backspace.
A new dialog box should pop up, where you can select the data you want to clear, like browsing history, download history, cookies, cached images and files, passwords, content licenses and more. You can then select the data you are okay parting with. Also, make sure to choose "Cached images and files", because they take up the most storage space.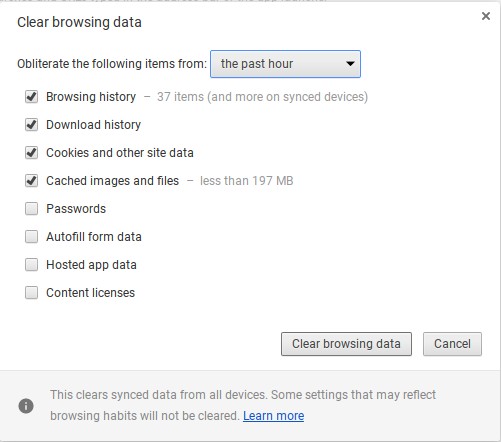 4. Clear local data
As you might have noticed, there's no way to delete files that the OS caches for you in the "Offline" folder. However, there's a workaround to get rid of these local data files. You can open up Chrome and type "chrome://drive-internals" in the address bar. Here, you will find an option to "Clear local data" under the Local Metadata section. Just click on that and the OS will get rid of files already available in the cloud. This option works well, if your Chromebook's internal storage is almost full.
5. Clear app data and cache
If you are an Android user, you'd know that Android apps too tend to take a lot of storage. So, if your Chromebook supports Android apps and you have been using them, you should clear app data and cache to free up some space. To do it, go to App Settings in Chrome OS Settings and here go to "Apps" and select the app, whose data & cache you want to clear. Inside the app info page, go to "Storage" and click on "Clear Data" & "Clear Cache".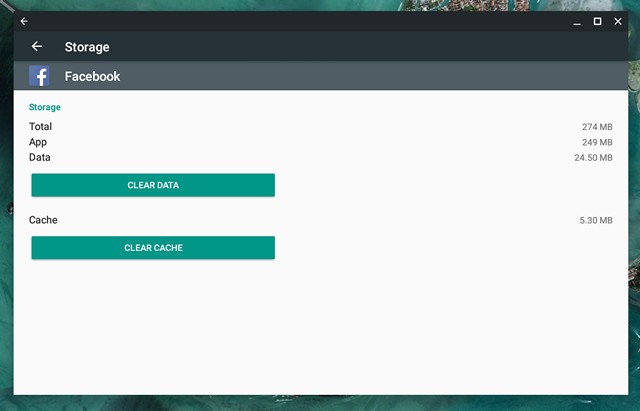 6. Remove unused user accounts
If you have a user account of a friend or family member, who only made an account to try out the Chromebook, you should remove them, as multiple user accounts do take up a lot of storage. There are two ways to remove a user account. You can remove user accounts by going to Chrome OS Settings page and click on "Manage other users" in the People section.
Other way to remove an account is by clicking on an user account in the login screen and hit the drop-down menu, where you will find the "Remove user" option. Once you have removed unused user accounts, you should see an increase in free storage on your Chromebook.
Also, if you don't plan on removing any user accounts, you should implement the other ways to free up storage on all accounts.
Note: You can only remove user accounts if you are the owner of the Chromebook, who is the first user to sign in the device. To remove an owner user account, you will have to reset/powerwash your Chromebook.
7. Disable Developer Mode
While Developer Mode does bring a lot of goodies (read: ability to install APK files), it does bring a set of developer files that take up storage on Chrome OS. So, if you enabled developer mode on your Chromebook to just have some fun, you should disable it to free up some storage. Disabling the developer mode will reset your device as well, so you will get a fresh new Chrome OS device.
To disable developer mode aka turn on OS verification, press the Space key when Chromebook is powering on and then, follow the on-screen instructions.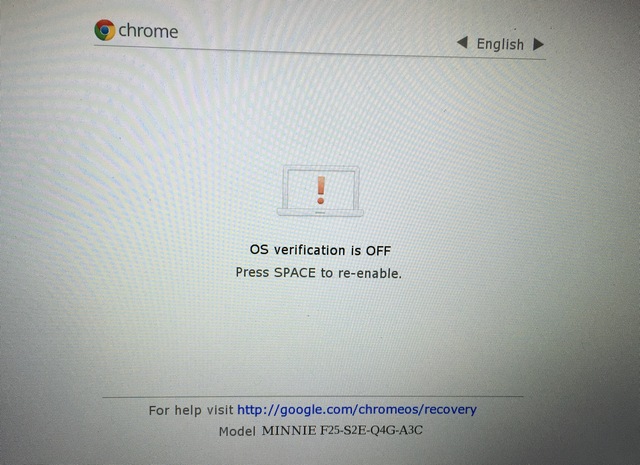 8. Uninstall Apps
Well, this is pretty obvious, isn't it? If you want to clear up a good amount of storage, you should uninstall apps that you don't really use much. Yes, we understand there are apps that we don't use but still want to keep but you can always have their web versions on Chrome, right? So, you can just uninstall an app by going to "All Apps" and right clicking on an app and selecting "Remove from Chrome" or "Uninstall".
Bonus: Powerwash your Chromebook
If none of the aforementioned ways to free up storage on Chrome OS work for you, your last resort will have to be factory resetting your device. This will give you a brand new Chromebook with a lot of storage left and chances are, your important files are saved in Google Drive and your settings in your Google account, which means you can get them back with ease.
To powerwash (as Google likes to call factory reset), go to Chrome OS Settings->Show advanced settings and scroll down to the end and click on "Powerwash".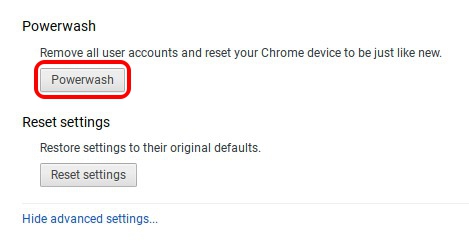 SEE ALSO: 15 Ways to Free Memory When Your iPhone Storage is Full
Free up Space on Chromebook to make way for Android apps & games
The aforementioned ways should make sure you have enough free local storage to install the extensive Android apps and games. So, try them out on your Chromebook and do let us know, if these ways worked out for you. Also, if you have any other cool tricks to free up space on Chrome OS, don't forget to let us know. Sound off in the comments section below.