Of the myriad array of digital files that we have to work with on a regular basis, PDF documents are probably one of the most (if in fact, not the most) common. From software help manuals and technical documentation, to academic textbooks and novels, PDF files are used everywhere. And that shouldn't be surprising. After all, PDF files have numerous advantages, such as convenience, compatibility with a wide variety of hardware and software, and the ability to retain their formatting at all times.
So it makes all the sense to have a capable PDF viewer in your arsenal of software applications. And since there are quite a few of them available out there, we've shortlisted 7 of the best PDF reader software that you can use. Well, what are you waiting for? Read on, folks!
Adobe Acrobat Reader DC
It's nearly impossible to discuss anything related to PDF without mentioning Adobe Acrobat Reader DC. Undoubtedly the most popular PDF viewer out there, Adobe Acrobat Reader DC has long been the de facto solution for everyone's PDF reading needs. And in its latest iteration, it's better than ever.
Powerful and robust, Adobe Acrobat Reader DC is a one-stop solution for all your PDF viewing requirements. You can open up multiple PDF files and view them simultaneously, thanks to the tabbed interface. But viewing PDF docs is just one of the many things Adobe Acrobat Reader DC does. Apart from that, it also comes with a whole bunch of PDF editing and annotation functionality (via plug-ins), although you have to pay for them. The application supports all kinds of PDF documents, including password protected files and those having multiple bookmarks, and form-filling features are there as well. Other than that, you can use the Read Out Loud feature to use Adobe Acrobat Reader DC as a basic text to speech software, and even upload your PDF documents to the cloud by configuring the application with the Adobe Document Cloud.
In a nutshell, if you're looking for a reliable and cross-platform PDF reader application, go for Adobe Acrobat Reader DC. It's tried, tested, and the gold standard of PDF viewer programs.
Platform Availability: Windows 10, 8, and 7; Mac OS X 10.9 and later
Price: Free
Foxit Reader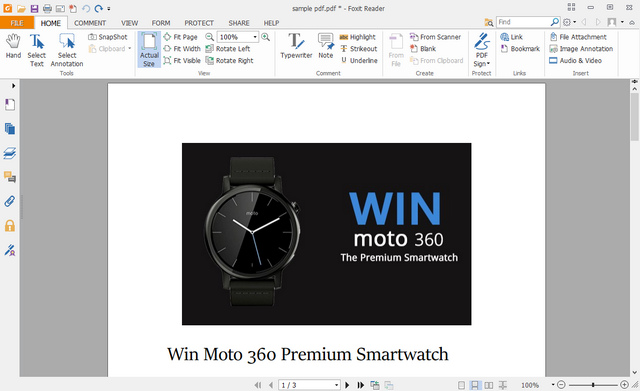 Bursting at the seams with all kinds of features, Foxit Reader is an impressively capable PDF reader software that is more than enough for all your PDF viewing needs, and also wields some great PDF editing features.
Having a lean and modern UI, complete with the Ribbon menu and tabbed support for multiple PDF documents, Foxit Reader is definitely a looker. Even the heaviest of PDF files are no slouch for it, and numerous standard viewing modes (e.g. Fit page, Fit width) are supported. It's possible to add all kinds of extra information, such as textual notes, callouts, and other annotations to PDF files, and you can also highlight selected part(s) of the PDF documents. There are multiple reading modes available, along with form filling functionality, and everything from attached files to document security settings can be accessed from a simple sidebar on the left. Foxit Reader even lets you share your PDF documents via email or Evernote, so that's a good thing too.
If you're on the hunt for a powerful PDF reader software that also has quite some editing and sharing prowess, Foxit Reader is an absolute must have. It really is that good.
Platform Availability: Windows 10, 8, 7 and Vista; Mac OS X 10.8 and later; Linux
Price: Free
SodaPDF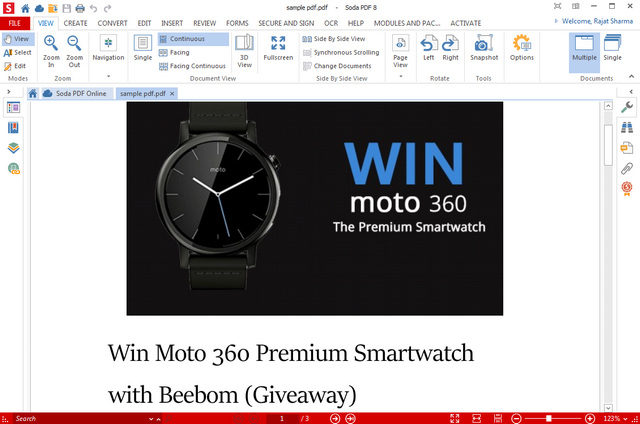 When it comes to the sheer number of features (at least as far as PDF viewers are concerned), there's hardly an application that can even come close to SodaPDF. You can spend hours exploring everything that's crammed into it, which includes features that go beyond simple PDF viewing and editing.
Talking about the basics PDF viewing features, from multi-document tabbed viewing and reading modes, to form-filling and annotation/highlights, SodaPDF has just about everything taken care of. In addition, it also lets you add geometric shapes, textual stamps, and sticker notes to your PDF documents. But that's just the tip of the iceberg. SodaPDF makes it easy to create PDF documents from a truckload of different files, and supports batch mode for bulk creation as well. Apart from that, you can use it to reverse convert into other document formats such as HTML, TXT, and RTF. And there's more. The application includes the ability to securely sign PDF documents, and as one of its unique features, includes a bunch of (paid) plug-ins, that can be be used to convert images to PDF (via OCR functionality). And did we mention that SodaPDF can connect to numerous cloud storage services like Google Drive and OneDrive, thus making it possible to manage even the PDF files that you've stored online. Now that is awesome!
To sum things up, if you're looking for a professional grade PDF reader, editor, converter (and then some more), and don't mind shelling out a few bucks for it, SodaPDF is going to serve you just fine. However, bear in mind that its installer does come bundled with a third party application, but it can be safely unchecked during installation.
Platform Availability: Windows 10, 8, and 7
Price: Paid versions start from $59.00, 14 days free trial available
PDF-Xchange Viewer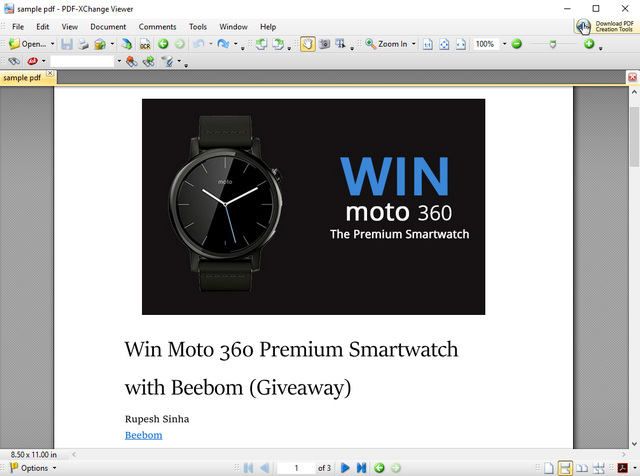 Granted, it's not exactly the best looking software, but make no mistake about it; PDF-Xchange Viewer is an extremely capable PDF reader utility, and in addition to that, it packs quite a versatile set of extra features.
PDF-Xchange Viewer handles all kinds of PDF documents (from the lightest to the heaviest) with zero issues, and features a tabbed interface to make working with multiple PDF files simple. All standard features like reading modes and bookmark support are also accounted for. However, what really makes PDF-Xchange tick is its extensive editing prowess. For instance, the markup and annotation tools let you add notes, callouts, geometric shapes, custom stamps, highlights, and much more to PDF files. Then there are the (unique) area, distance, and perimeter tools, which make it possible to do calculate exactly that, on PDF documents. And that's not all. PDF-Xchange Viewer can open up files from the web via their specified URLs, and can create PDF files from existing files and even images acquired from scanning devices.
Bottom line is, PDF-Xchange Viewer is a lightweight but still extremely capable PDF reader software, that also packs in a nice set of quirky extra features. However, its free version is quite restricted, which is a bit of a downer.
Platform Availability: Windows 10, 8, 7, Vista and XP
Price: Paid version costs $79.50, Restricted free trial available
Nitro Reader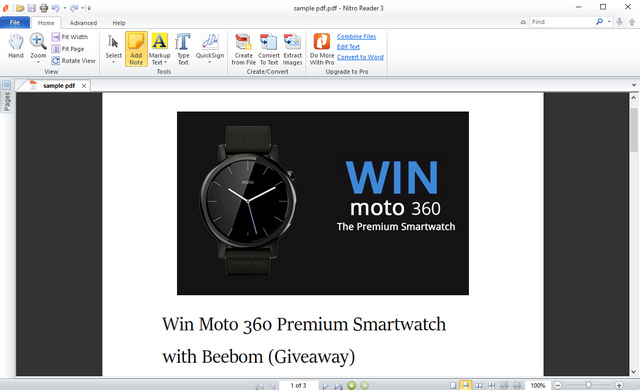 There might be users out there who find the overabundance of features in applications like SodaPDF and Adobe Acrobat Reader DC confounding, and would rather prefer a PDF reader that's a bit toned-down, but still sufficiently capable. If that includes you, Nitro Reader is what you need.
When it comes to viewing PDFs, Nitro Reader is undoubtedly one of the best applications you can find. Like other similar applications, it can easily load up multiple documents together for viewing simultaneously, thanks to the tabbed interface. There are multiple viewing modes available, and support for PDF bookmarks is there too. Other than that, Nitro Reader includes a handful of annotation tools, and these let you add everything from notes to markup text to the PDF documents for additional emphasis. Then there's the QuickSign feature, which makes digitally signing documents an extremely simple affair. But the real kicker is that Nitro Reader lets you convert PDF documents from over 300 file types, and even makes it possible to extract images from PDF files.
Go for Nitro Reader if you want a well rounded PDF reader software application, with decent editing features. That being said, don't expect it to go against the likes of SodaPDF.
Platform Availability: Windows 10, 8, 7, Vista and XP
Price: Free
Expert PDF Reader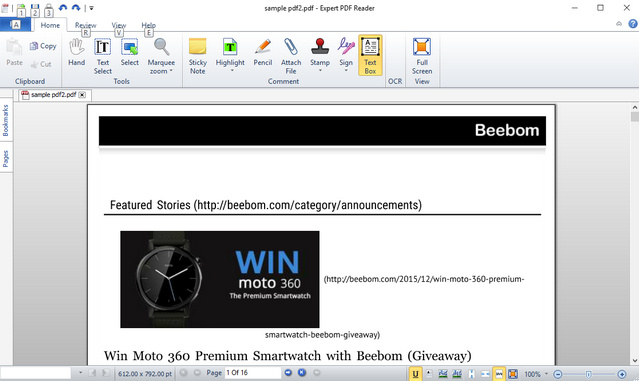 On the hunt for a basic PDF reader application that can handle the occasional annotation and editing tasks, without becoming bloated? There aren't many programs that can strike that balance, but Expert PDF Reader comes pretty close.
As far as the basic viewing of PDF documents is concerned, Expert PDF works as it should. Of course, you can also open up multiple PDF documents and view them simultaneously, with regular features like pages and bookmark support, reading views, and things like that being on board as well. But apart from that, Expert PDF Reader also makes it possible to effect some basic editing features to PDF documents. From sticky notes and highlights, to stamps and digital signatures, everything can be quickly added to the PDF documents. In addition, specific parts of the documents can be zoomed on too, making for a convenient viewing experience.
Expert PDF Reader is perfect if your PDF editing needs are basic, and you're largely concerned with just viewing PDF files. Other than that, it really doesn't offer much.
Platform Availability: Windows 10, 8, 7, Vista and XP
Price: Free
Sumatra PDF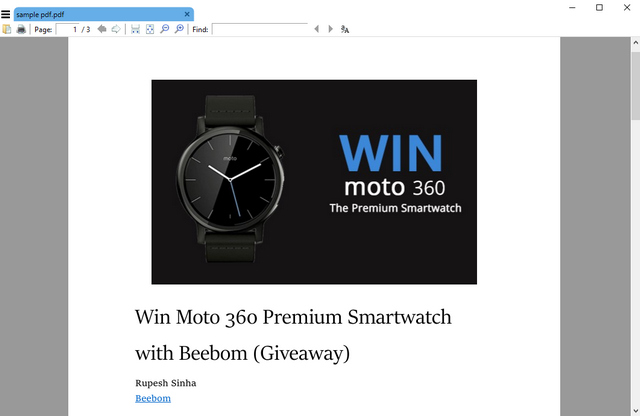 What if you don't really care for fancy features like annotations, form-filling, document signing etc., and just want a simple PDF reader application that lets you view PDF files? You're in luck, as that's exactly what Sumatra PDF is all about.
Probably one of the lightest (~6 MB) PDF viewer programs out there, Sumatra PDF is incredibly fast and ridiculously easy to use. It doesn't try to do a lot of things, but is (mostly) focused on reading PDF files. The UI is exceedingly simple, having just the basic options and nothing more. All you have to do is load up the PDF document you want to read, and Sumatra PDF will take it from there. Recently accessed documents are displayed as thumbnails for easier access, and all of the standard PDF reader features, such as multiple viewing modes, adjustable zoom levels, and standard search, are all there. There's also bookmark support, and you can add certain pages of PDF documents to favorites as well. However, what sets Sumatra PDF apart from the lot is that despite (primarily) being a PDF reader software, it can display a whole bunch of other files, such as DJVU, CBR, CHM, EPUB, and MOBI. And yes, it's also available as a portable app.
For those who just want a solid PDF reader software, Sumatra PDF is definitely worth checking out. That being said, it's also a bit too basic, and doesn't really contain any unique features apart from the earlier mentioned multi-format support.
Platform Availability: Windows 10, 8, 7, Vista and XP
Price: Free
Honorable Mentions: Google Chrome, Microsoft Edge, and Mozilla Firefox
Surprised at seeing web browsers mentioned as PDF readers? Well, don't be. Believe it or not, all modern web browsers include the functionality to view PDF files, baked right into them. So if you all need is a simple solution to view PDF files every now and then, you don't even need to bother with installing a third party PDF reader applications. For those using the latest Windows 10, Microsoft Edge can open up your PDF files just fine. On the other hand, if your browser of choice is Google Chrome or Mozilla Firefox, you can use them to view PDF documents.
SEE ALSO: 5 Best Free Online PDF To Word Converters
Simplify the way you read PDF documents
Due to their near ubiquitous nature, PDF documents are used by almost everyone. And thanks to the above discussed PDF reader software programs, you can not just view them better, but also take care of the occasional editing. Want the absolute best PDF viewing and editing experience? Go for Adobe Acrobat Reader DC, Foxit Reader, or SodaPDF. Don't really care for all the extra stuff and just want basic PDF viewing capabilities. Try SumatraPDF, or even your favorite web browser(s). Try all of 'em out, and see which one(s) work out the best for you. And if you know of any other PDF reader (and editor) applications that could've been included in the listing above, don't forget to mention in the comments below.