Google is a remarkably ingenious company when it comes to embedding interesting features, and games into its various products. Google has hidden a number of excellent games in its services including Google Search, Google Doodle, Google Assistant, Google Maps, and more. For example, users can easily play Google games just by searching a few strings on Google. No need to download or wait for the installation. That's quite interesting, right? So in this article, we have compiled a list of all Google games which can be played with a few commands on various Google Services. Here are the 20 best Google Games you should play in 2020.
Hidden Google Games You Should Play in 2020
As mentioned above, Google Games can easily be found in various Google Services. That's why we have created different sections to organize the games according to the services.
Google Search Games
In this section we will list the best Google Games that you can play using Google Search.
1. Snake Game
Snake game has been one of the most fun yet light games during the inception of mobile gaming. Nokia phones had it in yesteryear days and we loved playing it. So how can Google not bring it back for us? Just search "snake game" in Google  or click on the link below to play it. You can play the game with all the visuals, controls and sound. The game makes for a great nostalgic experience. Go on and try it. If you want to play similar snake games with better graphics, you can check them out by clicking on the link.
2. Solitaire
If you want to build concentration then nothing beats playing Solitaire. It's mainly a one player game so it's just you and Google. You just have to search for "Solitaire" and it will let you play the game on top of the search results. You can also choose the difficulty level so there is that. I love how Solitaire looks in Google's distinct material design. I have been playing this game on Windows for a pretty login time so the new appearance felt refreshing. I am sure you will have a lot of fun while playing this game.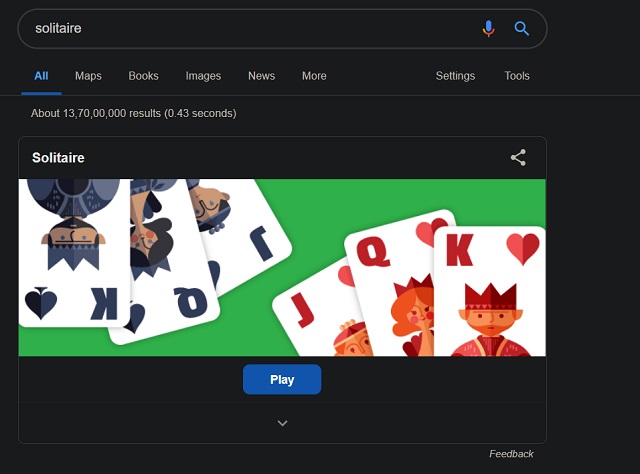 3. Tic Tac Toe
Tic Tac Toe is the ultimate time killer and Google has brought it to the masses with just with a Google search. You can search "Tic Tac Toe" in the search box and play the game against Google. There is also an option to choose the difficulty level. You can choose between Easy, Medium and Impossible. It seems Google is putting its AI to some work with that Impossible option. Besides, you can also play this game against your friend so that's great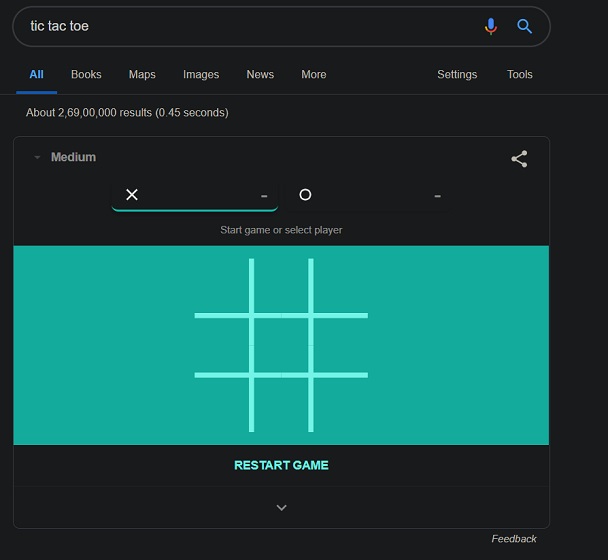 4. Pac Man
Pac Man was one of the most popular arcade games and even today people want to enjoy the game like it's the 80s. So Google brought it back and you can play the game with just a Google search. Search "Pac Man" on Google and you will have a Pac Man doodle on the results page. Click on Play button and enjoy it like the good old days.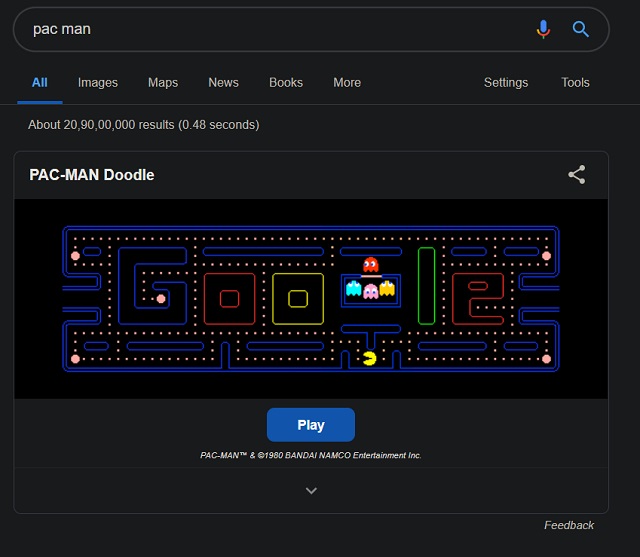 5. Atari Breakout
Atari Breakout is a classic arcade game which was built by Apple's chief engineer, Steve Wozniak. Now Google has made it possible to play the classic game with just a few clicks. You can play the game by searching for "Atari Breakout" on Google and then switching to the Image tab. All the image results will become bricks and the gameplay will start with a ball bouncing over a paddle. Quite interesting, right? Now go on and relive the 70s.
6. Zerg Rush
Zerg Rush is such a simple yet challenging game. Just search "Zerg Rush" in Google and several balls will start dropping from all the corners. If the ball touches the search results, the links will start disappearing. You need to make sure the balls don't touch the search results by clicking on the balls. Remember, there will be several balls from all corner. It's kind of Thanos' snap Google Easter Egg but you can prevent it destroying the balls. So have fun while saving the world.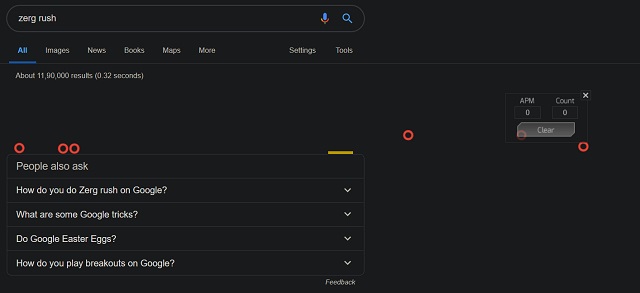 7. Minesweeper
Who among us has not been frustrated by the minesweeper game in Windows? My guess is very few. Well, if you want to relive that frustration or finally want to beat this game, you can play it directly on your browser. Just search for "Minesweeper" on Google and you will get to play the game. The game is modernized with funky graphics and awesome sound effects. You are either going to enjoy playing this or tear off your hair in frustration.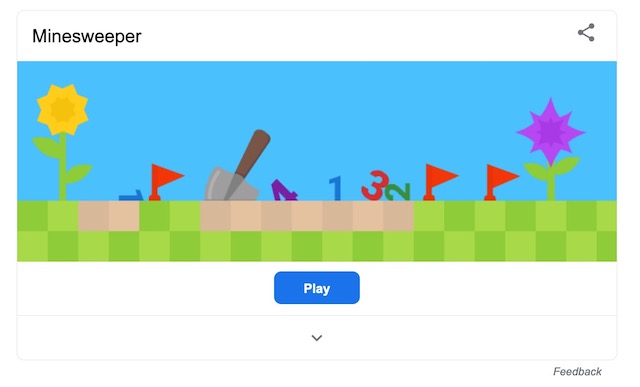 8. Quick Draw
As Google is making huge advancements in machine learning, the company is letting users test its capability through simple games. Google released Quick Draw, an AI experiment but a kind of game which predicts drawings. It asks the user to draw something on the page and Google's neural network tries to identify the doodling. While drawing, Google keeps guessing the doodle and it's fun to watch.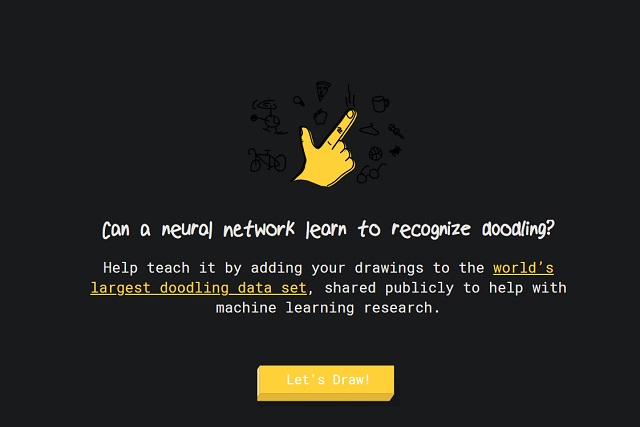 Google Assistant Games
Google Assistant has tons of interesting Google games and believe me, it's actually pretty fun to play with a voice-based assistant. There are some interactive games and some are voice-only games which can be played on Google Home. Here are a few games which I love the most.
9. Pictures Puzzle
This is an interactive game where Google Assistant asks questions based on a picture. The questions can be really engaging and it will take some time before you come up with an answer. To play this game, summon Google Assistant and say "let me talk to picture puzzle". You will be into the game instantly. Have fun!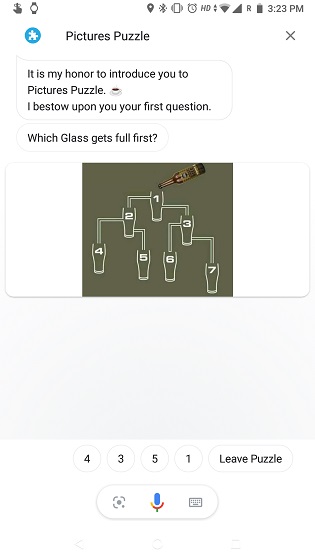 10. Sherlock Mysteries
Sherlock Mysteries is a voice-based game which can also be played on Google Home. If you like solving mysteries or are a fan of Sherlock Holmes in general, you are going to love this game. Just ask the assistant to let you talk to Sherlock Mysteries and you will be allotted a case to deal with. The voice assistant basically narrates the story and what has happened, and gives you some time to answer the question. This game is really fascinating and I think you are going to love it.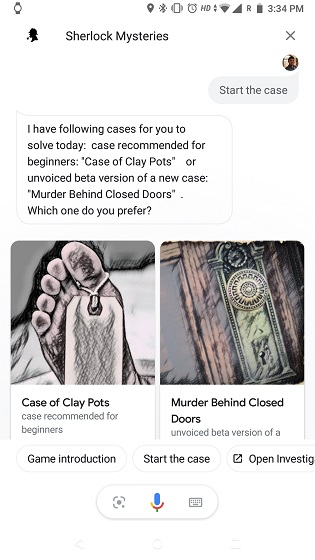 11. Are You Feeling Lucky
Are You Feeling Lucky is a voice-based game which asks general trivia questions ranging from science to general knowledge. Basically, it's a quiz which is a lot more fun because of the sound effects in the background which makes the experience quite enjoyable. Also, up to 5 people can join the quiz making it a multiplayer game. All in all, if you have time to kill, just tell your Google Assistant "Are you feeling lucky" and the quiz will start right away. You can play this game on Google Home as well.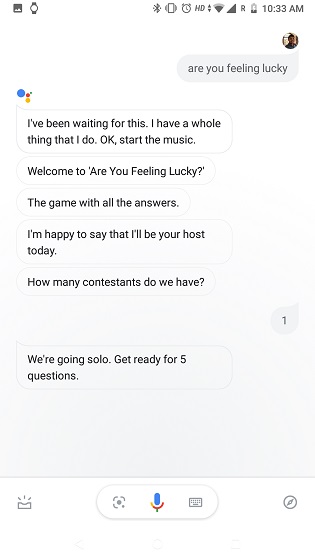 12. Word Jumblr
Word Jumblr is another fun game on Google Assistant. It asks the user to form a correct English word from jumbled words. Just open Google Assistant and say "let me talk to word jumblr" and you will be connected to the game. It's a straight-forward game which can help you sharpen your language skill and vocabulary.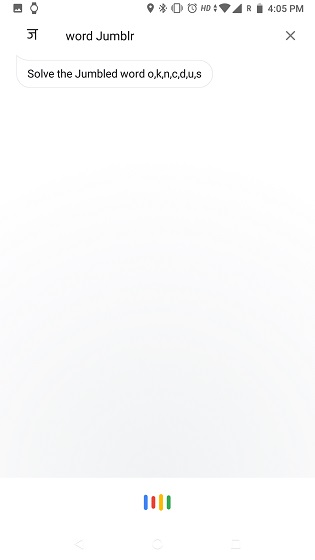 13. Chess Mate
While Chess is an interactive game, you can play it on Google Assistant using just voice. All you have to do is ask the assistant to summon Chess Mate. Just say, "talk to chess mate" and assistant will have have the game connected. You can change the game settings like color and difficulty level if you want. After that, the game will start and you can make your move through voice. The experience is decent and you may like it if you don't want to engage with a screen.
Google Doodle Games
Google creates doodles every day for its homepage and sometimes the doodles are not just plain artwork, but interactive games. The games are really enjoyable with all the animations and sounds. So I have tried to list out a few of my favorites Google doodle games. These doodle based Google games are no longer on the homepage but you can, of course, play from the archives.
14. Halloween
In 2016 Google published a Halloween doodle and it was an amazing interactive game. Basically, there is a cat from the Magic Cat Academy who is trying to save her friends from the mischievous spirits. You just have to start the game and draw the symbols on the screen to cast away the ghosts. As you go ahead, the game gets tougher with many ghosts coming from all the side. So far, this is the game I enjoyed the most.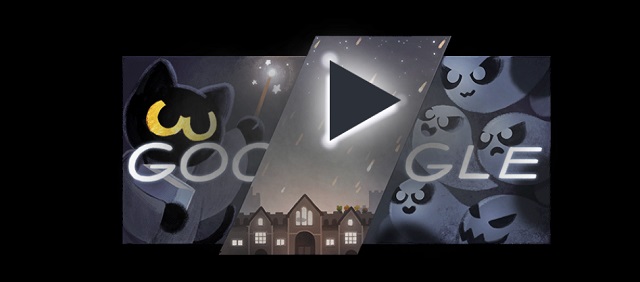 15. Cricket
You had a rough day and want to play some light games? Well, there is a Cricket doodle for you. It lets you play cricket with great animations and controls. Just click on the link below and get going. Google created this interactive game during ICC Champions Trophy 2017 and it has been one of my favorites.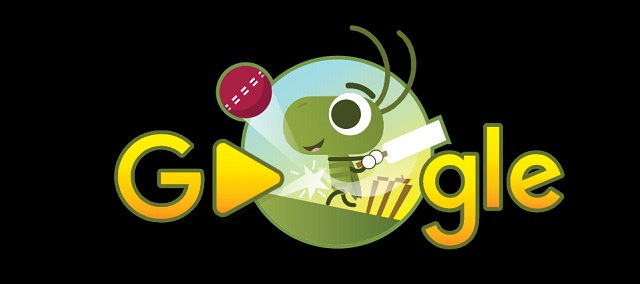 16. Gnome
Google published Gnome doodle in 2018 which is an interactive game based on German garden dwarfs. In simple terms, Gnomes are small statues which are placed in gardens. Germans believe that Gnome protects the garden and brings good fortune. So in this game, you have a catapult to launch the Gnome to the farthest field of the garden. The farther Gnome travels, the more flowers are planted and you also get more points. It's a beautiful game and you are going to enjoy playing it.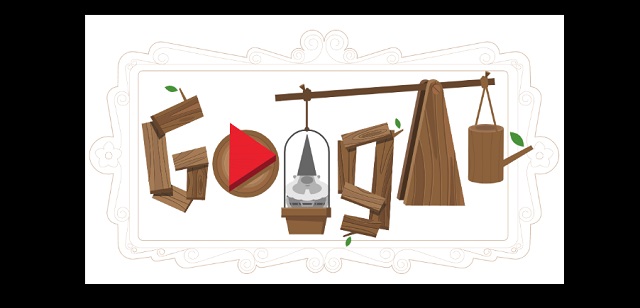 17. Soccer
Soccer is one of the best interactive games you can play on Google Doodles. It was created during the 2012 Olympics and it's still the most popular doodle for playing soccer online. Interactive doodles are quite popular because of no downloads and great visuals. You have Google as your opponent kicking the ball to the goalpost and you will have to defend as a goalkeeper. It can get really interesting once you cross certain levels.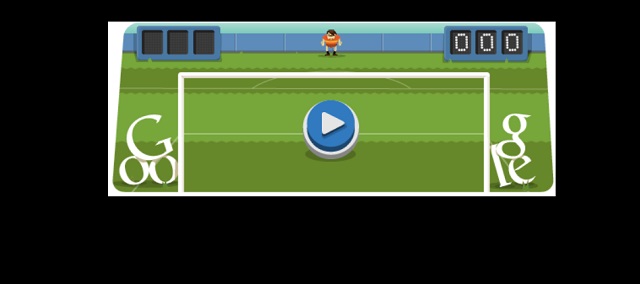 Google Chrome Games
18. T-Rex
It goes without saying that T-Rex is the most popular Chrome game, which is known to almost every Chrome user. If you don't know about T-Rex, it's basically a not-so-hidden game on Google Chrome which only gets activated when you don't have an internet connection. When the internet is down, just press the space key in the 'No Internet' tab to start playing the game. Is that brand new information to you? I hope not. The game is quite good and challenging once you go past certain levels. It's an enjoyable game until the internet is restored. If you don't want to wait for your internet connection to die, you can click on the link below to play the game.
19. Text Adventure
Text Adventure is an unusual game hidden behind Chrome's source code. To play the game, search "text adventure" on Google and press Ctrl+Shift+J if you are on Windows, and Cmd+Shift+J, if you are on Mac. Under the console, you would find an option to play the game. If you answer yes, a set of instructions are provided and you are asked where are the other o,o,g,l,e from the Google logo. Since you are G, you have to find your other o,o,g,l,e friends. Basically, it's an adventure game for tech nerds.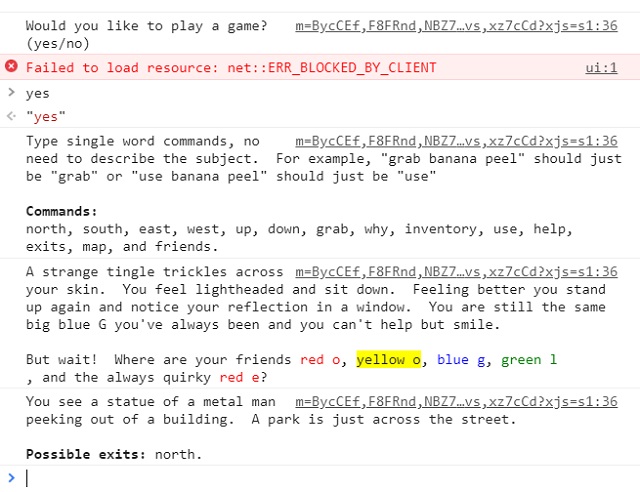 Google Maps Games
20. Santa Tracker
Since 2004, Google has been creating Christmas-themed Santa Tracker which allows the user to track Santa by playing various games. There are a couple of fun games with refreshing animations and artwork. If you want to explore the world of Santa, this is cool Google game that you can play. Google keeps adding new activities and games during December of every year, so make sure you check the website during Christmas for surprises.

Enjoy Google Games in Your Free Time
Google is a huge conglomerate of tech products so it has lots of hidden features and games. From tech nerds to general consumers, there is something for everyone. In this article, I have tried to bring all the interesting and hidden Google games so that you can have fun in short bursts. Google has created some outstanding interactive games and I love it playing in my free time. So go through the list and see if you like playing Google games.