In past decade, different document file formats have come and gone; various cloud-based document making services have made their inception; productive apps have extended reach of documents into different devices and platforms! All these, however, have not been able to affect monopoly of PDF file format, when it comes to creating a document that works in all Operating Systems and has global acceptability. Regardless the availability of various tools to view and convert files to PDF documents, right from your device or web browser, people regard PDF Editing as a difficult task that does require in-depth expertise.
In this post, we have decided to debunk that myth, by sharing a list of top 10 PDF Editors with you. Here, we'll cover different PDF editors that are available for different OSs, also talking of their nice features.
1. Foxit PhantomPDF (Paid)
Rather than a tool that is exclusively aimed towards editing, Foxit PhantomPDF is a multipurpose one when it comes to viewing, creating & editing PDF documents from your PC. While editing part of PhantomPDF includes features like paragraph editing, object arrangement, inclusion of watermarks and page customization, the tool offers some other stunning features such as scanning and OCR, document signing and other security features, converting and exporting into various formats like Microsoft Office files etc. Thus, we repeat, Foxit PhantomPDF will be useful in lots of cases, as far as a professional is concerned.
Pricing: $89 for Standard version & $129 for Business
Supported Platforms: Windows Vista, Windows 7, Windows 8
Buy here
2. Icecream PDF Split & Merge (Free)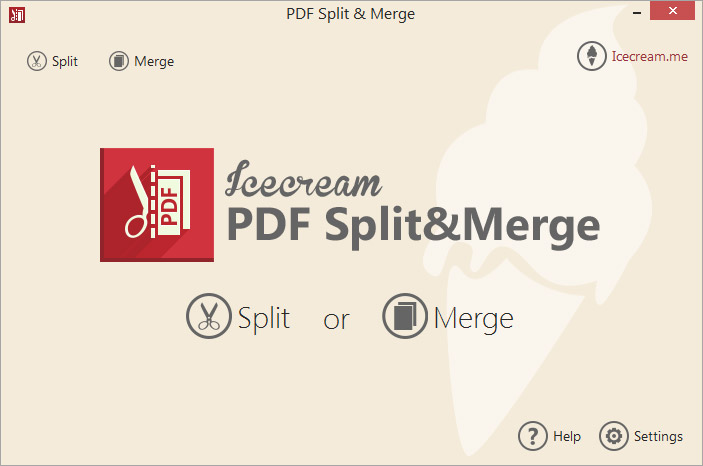 If you're looking for a not-so-detailed but a usable tool to view & edit pages of a PDF doc, Icecream PDF Split & Merge is the optimal tool to check out. The tool doesn't let you edit content of the PDF document but you can use it to split, rearrange and merge pages from various PDF files. You can have different PDF splitting modes, range-based splitting, encrypt files to ensure security etc. Altogether, you will love using Icecream PDF Split&Merge when the requirement of yours is minimal.
Pricing: Free
Supported Platforms: Windows XP, Windows Vista, Windows 7 and Windows 8
Download for free
3. iSkysoft PDF Editor (Paid)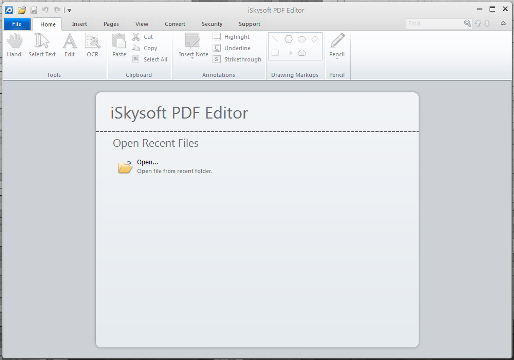 iSkysoft PDF Editor is a fully-fledged PDF document editor that includes conversion features as well. Simply put, you can use iSkysoft PDF Editor just as the way you are using Microsoft Office, because iSkysoft PDF Editor has somewhat the same UI as compared to that of Microsoft Office. Apart from in-document editing, there are other features such as OCR, encryption of documents, splitting and merging of PDF pages, ability to create PDF files from other docs etc.
Pricing: $69.95 for Windows version and $49.95 for Mac
Supported Platforms: Windows XP, 7 and Windows 8; Mac OS X 10.6, 10.7, 10.8, 10.9 (Mavericks) and 10.10 (Mac OS X Yosemite)
4. Nuance Power PDF Standard (Paid)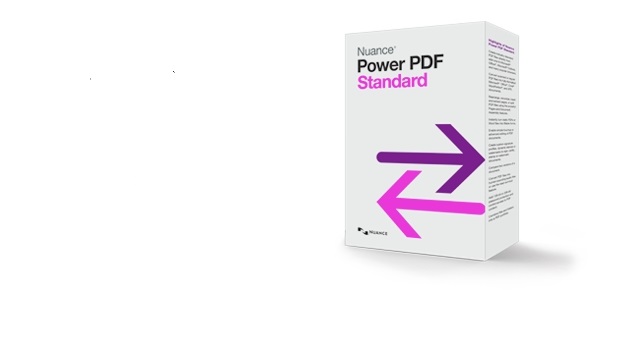 Nuance Power PDF Standard is a superb PDF creating, editing and converting software that is aimed towards both the professionals and business communities. This all-in-one PDF tool has a lot of features such as scanned image to PDF, conversion of non-fillable forms into fillable ones, stunning in-document editing features, support and integration for popular cloud-based services and lots more. All these features are decorated by an easy-to-use UI that makes sense! Plus, Nuance Power PDF Standard has some business-oriented features as well.
Pricing: $99 for Windows
Supported Platforms: Windows
Buy here
5. Nitro Pro 9 (Paid)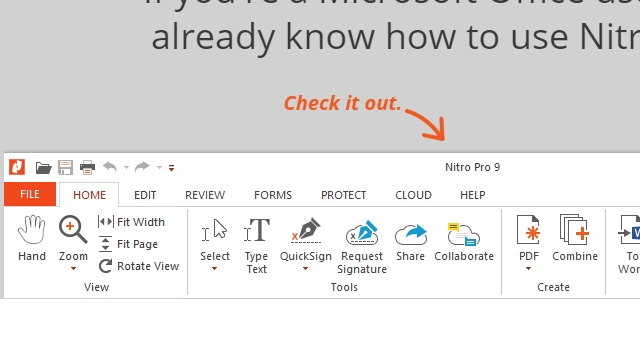 Nitro Pro 9 is yet another comprehensive tool to create, edit and convert PDF files, or to make PDF files collaborative and smart. Talking of PDF creation, Nitro Pro 9 has conversion and consolidation features.
On the other hand, when it comes to the case of PDF editing, you can edit both content and page sections of a PDF file, along with the ability to add additional content such as drawings and text. Also, there is an option to connect to Nitro Cloud, which aims at cloud-based collaboration of files. Further, you have option to sign documents, set passwords etc.
Altogether, even if you are in a professional or enterprise environment, Nitro Pro 9 is something great, we assure. Plus, to keep things in a familiar manner, Nitro Pro 9 has an Office-like UI.
Pricing: €136.99
Supported Platform: Windows
Buy Here
6. PDF Buddy (Free)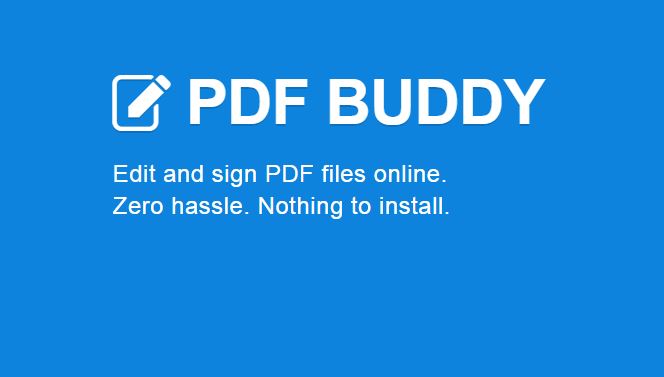 When you want to edit a PDF file but don't have enough time / resources to download and install any of the PDF editors mentioned earlier, PDF Buddy will surely come in handy, for it is an online PDF editing tool.
To edit the document, you'll have to upload the document into PDF Buddy service and the service will provide you an interface to make changes in the document, including addition of text and images, removing objects through whiteout, adding signature.
In the long run, to download the modified PDF file, you have to create a free account in PDF Buddy, which is a matter of a few seconds.
Price: Free
Supported Platform: Almost Any!
Visit here
7. AbleWord (Free)
For those who need a word processor that can create and edit PDF documents, along with other popular formats, it's a sense-making decision to go for AbleWord, a free word processor and PDF editor. It has a User Interface that has a lot of similarity with Microsoft Office older versions. Once you have created a document with elements according to your wish, you can save it in the preferred format: let that be docx, PDF, rtf or HTML.
Well, you've to pay nothing for all these; great, isn't it?
Pricing: Free
Supported Platforms: Windows XP, Windows Vista, Windows 7, Windows 8 and Windows 8.1
Download here
8. Adobe Acrobat Pro XI (Paid)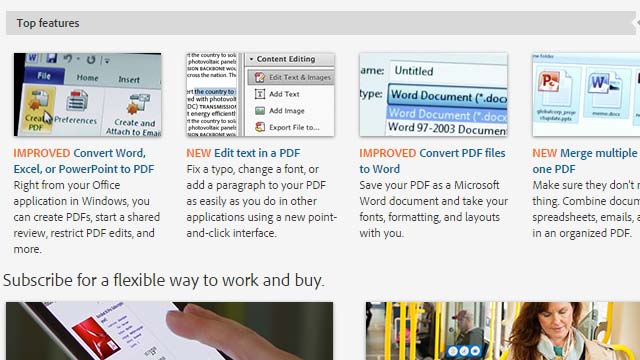 What do you think about having a PDF creation and editing tool from Adobe — the home of your favorite tool used to read PDF documents? If you have an affirmative answer and readiness to pay, you can choose Adobe Acrobat Pro XI.
Apart from in-document editing of text and other content, you have a great range of conversion features. You can convert a Microsoft Office file like Word or PowerPoint to PDF document in no time, at the same time converting PDF into any of these formats. Also, there are options to merge different kinds of files as to form a single PDF file. As a whole, Adobe Acrobat Pro is just awesome, we bet.
Pricing: $14.99 per month
Available Platforms: Windows and Mac OS X v 10.6.8, v 10.7.4, or v 10.8
Buy here
9. PDFescape (Free)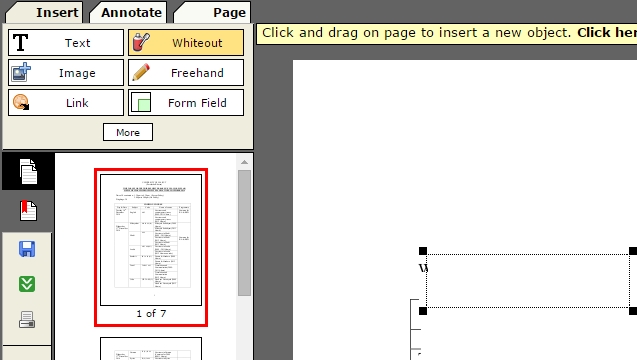 PDFescape is yet another web-based PDF editor to depend upon when you are hesitant towards downloads and the installation procedure. Once you have uploaded the PDF file into servers of PDFescape, you can edit it accordingly by using tools like whiteout, text insertion, form field etc. It's a simple task, and you will love editing.
Pricing: Free
Available Platforms: Web-based
Compatible: Chrome, Safari, Firefox, IE 6+ and Opera
Visit here
10. Inkscape (Free)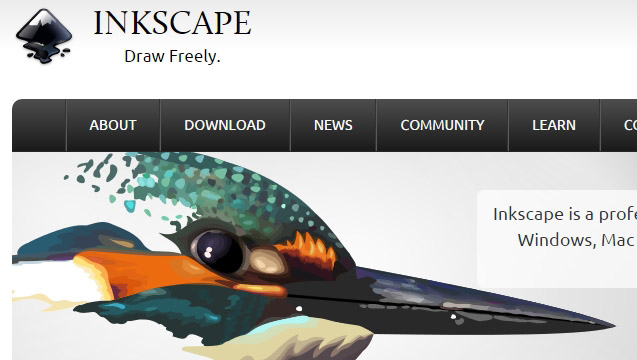 If you have been into the world of open source, you will have definitely heard about Inkscape, and you know that it's not a typical PDF editor. On the other hand, Inkscape is meant for editing vector graphic, but it supports PDF too. Therefore, if you want to edit the PDF document from the visual aspect, Inkscape is the best tool to be companion of yours!
Pricing: Free, Open Source
Available Platforms: Windows, Mac and Linux
Visit here
Well, there you go, with our list! Now, let us know if we missed out any of your favorite PDF editor.