Chromebooks have significantly matured as a desktop-class machine, as we noted in our Chromebook vs Laptop comparison. It has got a host of new features including the ability to add your own VPN configuration. In fact, Chromebooks now support OpenVPN and L2TP protocols out of the box which is great. With native VPN support on Chromebook, you can tunnel your internet traffic system-wide. As a result you are not just limited to the browser and can do things like watch geographically-restricted content on Netflix and Prime Video apps. Further, you can download Torrent files through Linux apps on your Chromebook. So, if you want to know which are the best free VPNs for Chromebook then follow our carefully curated list. We have picked the best free VPNs that offer unlimited data, strong security, and access to a decent number of servers. With all that said, let's now jump to the list.
Best Free VPNs for Chromebook in 2020
1. ProtonVPN
ProtonVPN is one of the best VPNs for Chromebook and perhaps the best when it comes to privacy and security. It offers unlimited data with 256-bit encryption and has a no-logging policy for both free and paid users. I have been using ProtonVPN for quite some time and I can vouch for its performance and overall security. Under the free tier, I have not encountered much reduction in speed, but there is limited access to servers from all around the world. For example, multiple servers from the US, Netherlands, and Japan are free for use but other than that, most countries are behind the paywall.
Nevertheless, since you have access to at least one server from the US, Europe, and Asia, you can unlock any geographically-restricted content without any issue. Apart from that, ProtonVPN also supports DNS Leak Prevention and Kill-switch to shut off the VPN tunnel in an emergency. Further, I recommend using the Android version of ProtonVPN as it works flawlessly and encrypts all network traffic originating from your Chromebook.
Android App (Free, Paid plans start at $4/month)
2. Windscribe
Windscribe is another free VPN that you can use on your Chromebook. Unlike ProtonVPN, there is a cap of 10GB data per month, but it seems reasonable since you get access to high-speed VPN servers. Further, Windscribe brings support for 10 countries all over the world under the free plan so that is great. However, keep in mind, you will need to create an account on Windscribe to get the free service. That said, Windscribe maintains that it does not log traffic data in any manner for both free and premium users.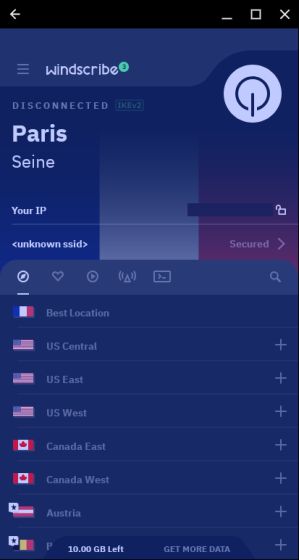 Other than that, Windscribe prevents your tracking on the internet with DNS Leak Prevention just like ProtonVPN. Not to mention, if you want to choose your own VPN protocol like OpenVPN, IKEv2, SOCKS5 then you can do so with Windscride. In addition, Windscribe also has a Chrome extension so you use that in case your Chromebook does not have Play Store support. All in all, if you are looking for a free VPN with ample data allowance in a month then Windscribe is a worthy pick.
Android App / Chrome Extension (Free, Paid plans start at $9/month)
3. Betternet
Betternet is my next pick as the best free VPN for Chromebook. Similar to ProtonVPN, it offers unlimited data without compromising security or your online identity in any manner. The best part about Betternet VPN is that it does require registration for using the free service and that is absolutely great. You can use the VPN for spoofing your location, unlocking geo-restricted content, and downloading torrent files from the internet. The only issue with Betternet is that it does not allow you to select the server location manually. Instead, it chooses the optimal location on its own.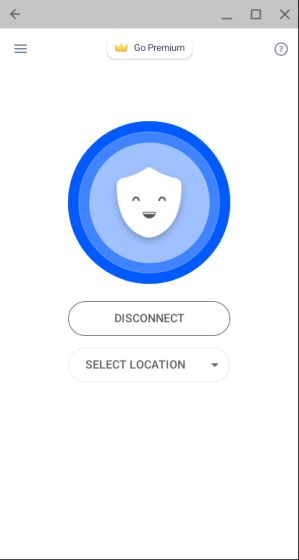 Apart from that, you might be asked to opt for the paid plan several times, but just close the prompt and go ahead with the free service. Overall, in my testing, the internet speed was pretty good and you can definitely give it a try. And yes, Betternet also offers a Chrome extension so you can get that if your Chromebook has not received Android app support yet.
Android App / Chrome Extension (Free, Paid plans start at $2.99/month)
4. Hotspot Shield
HotSpot Shield is yet another free VPN that you can use on your Chromebook without much restriction. It offers unlimited data without throttling the speed. Further, Hotspot Shield brings the same level of privacy and security features for both basic and premium users. It has a strict "No Logs Kept" policy where it does not track or keep any kind of personally identifiable information from internet activities. Other than that, you can unlock content on the web, block trackers, and disguise your identity online in just one tap. But bear in mind, under the free service, you have servers only from the US region. If you want to have access to servers from all around the world then you will have to move to the paid plan. Nevertheless, since Hotspot Shield provides unlimited data and the US as a primary server, it suffices most of the users' needs. Not to mention, you also get a separate Chrome extension for browser-only VPN service.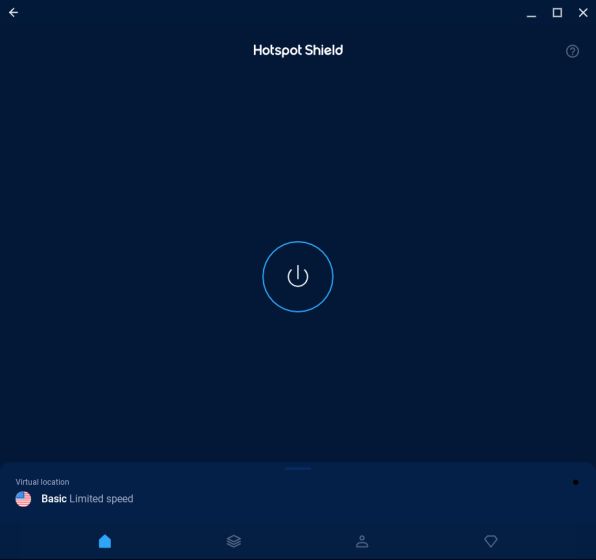 Android App / Chrome Extension (Free, Paid plans start at $5.83/month)
5. TunnelBear
If you want a free VPN on your Chromebook for light usage then I would highly recommend TunnelBear. It's broadly a premium VPN service, but the app offers 500MB of data allowance under the free plan. You just need to create an account and get started with it. And the best part about TunnelBear is that security is top-notch for both paid and free users. With the Android app, you get strong AES 256-bit encryption on all the internet traffic originating from the Chromebook and not just limited to the browser. Apart from that, TunnelBear is also one of the few VPNs in the world to have gone through security audits by independent security researchers. That's not all, TunnelBear lets you access restricted content without throttling the speed even under the free plan. And if you run out of the 500MB data cap then you can share the TunnelBear app on social media platforms to earn more data allowance. How awesome is that? So go ahead and use TunnelBear on your Chromebook without any worry.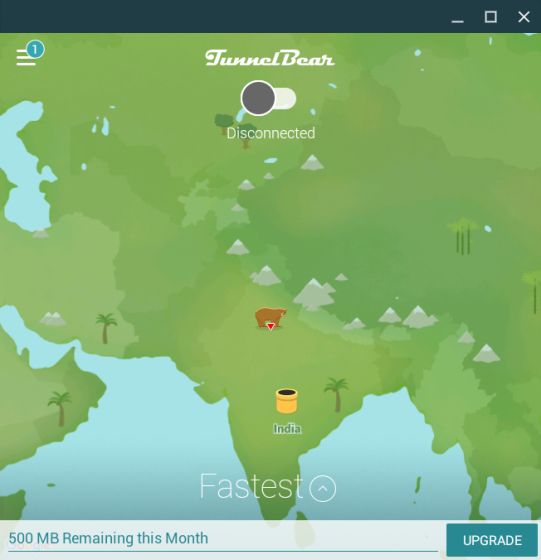 Android App / Chrome Extension (Free, Paid plans start at $3.33/month)
6. uVPN
If you don't have Play Store support on your Chromebook then you can very well use a Chrome extension. In that scenario, uVPN is one of the best VPN extensions available on Chromebook. It's completely free and offers unlimited data with good speed from servers all around the world. For the initial 7 days, it offers access to premium servers without paying any charge. After that, you will be moved to the free plan where you can connect to basic servers from the US and Europe. Apart from that, uVPN uses AES 256-bit encryption to secure all the internet traffic directed from the browser. What I like about uVPN is that it's pretty simple to use and offers a seamless experience without ads or constant push to opt for the paid plan. So to conclude, uVPN is a free VPN extension for Chromebook and you can use it on the browser without any major limitation.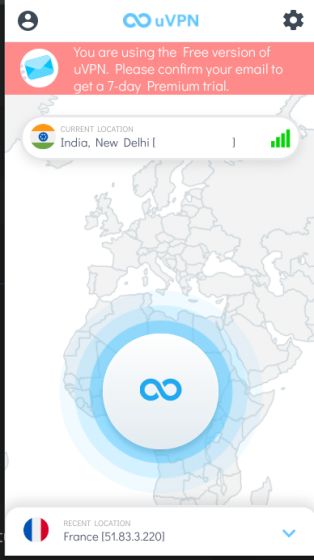 Chrome Extension (Free, Paid plans start at $9.99/month)
7. TurboVPN
TurboVPN is for those Chromebook users who want unlimited data and access to worldwide servers without any restrictions. In tandem, it offers everything that a premium VPN offers so what is the catch? Well, there is no AES-256 encryption as it uses the default OpenVPN Protocol (UDP/TCP) for encrypting the communication layer. The encryption is pretty secure by the way, but not the best. Apart from that, TurboVPN logs speed test data, crash reports, and diagnostic information about the VPN connection. While collecting these data, TurboVPN claims that it anonymizes personally identifiable information so that your identity is always protected on the internet. So, if you are fine with these caveats, you can definitely use TurboVPN on your Chromebook. I have personally used it for quite some time for downloading heavy files off the internet before moving to ProtonVPN. If you need unrestricted data allowance then TurboVPN is pretty good.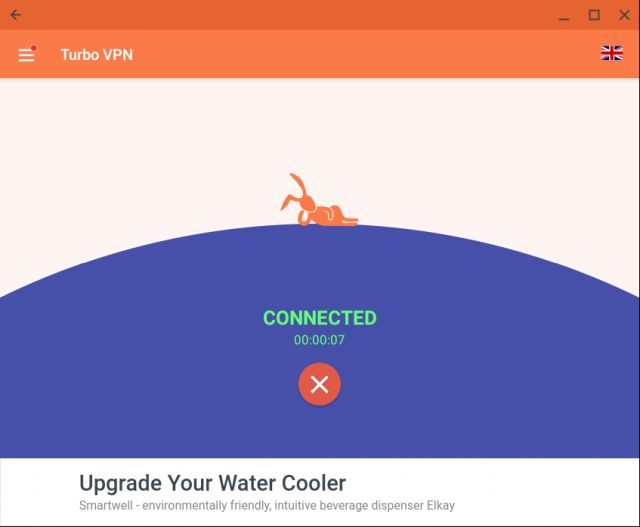 Android App (Free, Offers in-app purchases)
Unlock Restricted Content on Chromebook with the Best Free VPN
So those are our picks for the best free VPN for Chromebook that offers unlimited usage or high data allowance. In this list, we have kept security and privacy as a major factor for picking the right VPN for your Chromebook. If you want an all-around VPN that has top-notch security, privacy protection, and unlimited data allowance then I would highly recommend ProtonVPN. However, if you have a different preference then go through the other VPNs in the list. Anyway, that is all from us. If you found the article informative then do comment down below and let us know.