After Microsoft announced Windows 11, it released the first Windows 11 preview build 22000.51 to the public on Monday. If you are excited to test out the new desktop OS, we have written a simple tutorial on how to upgrade to Windows 11 from Windows 10. So far, we have been testing Windows 11 and have come across some of the best new Windows 11 features that you should know. From hidden features to the major ones, we have covered all the new features of Windows 11 in great detail.
Best New Windows 11 Features (Updated After 22000.51 Build)
Here, we have listed 18 new Windows 11 features, ranging from the redesigned Start Menu and Action Center to Android app support, Auto-HDR, and a lot more. You can expand the table and move to the relevant part with just a click.
1. New Start Menu
Of all the new Windows 11 features, the new launcher-style floating Start Menu is the most distinctive part of Microsoft's next-gen desktop OS. Unlike the traditional Start Menu, the new Start — as Microsoft is calling it — sits right at the center of the taskbar. It has a flyout design with pinned and recommended apps accompanying each other. So far in my usage, the recommendations are pretty good. It quickly offers me access to documents, photos, and apps I have recently installed.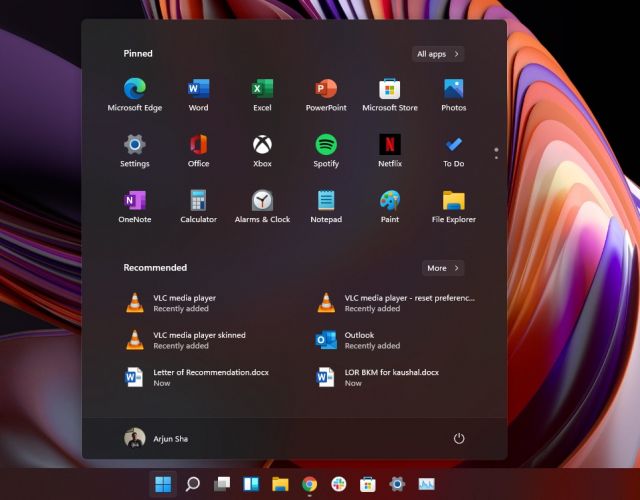 Apart from that, you can hover your mouse over the Search menu, and it will offer you a few suggested apps based on your past searches. Overall, I think the new Start is the best thing about Windows 11. It's fast, resolves your queries smartly, and offers the best results within seconds.
For users who are worried about the centered and launcher-style Start Menu, you can switch back to the old Windows 10 Start Menu with live tiles support.
2. New Action Center
My second favorite feature of Windows 11 is the revamped Action Center. It follows a design language that we have seen on mobile OSes, and I quite like this mobile-first approach to important system toggles. You can now simply click on the unified "WiFi, volume and battery" button to open the new Action Center. It packs all the necessary controls, including brightness and volume sliders. You can also add more toggles like before.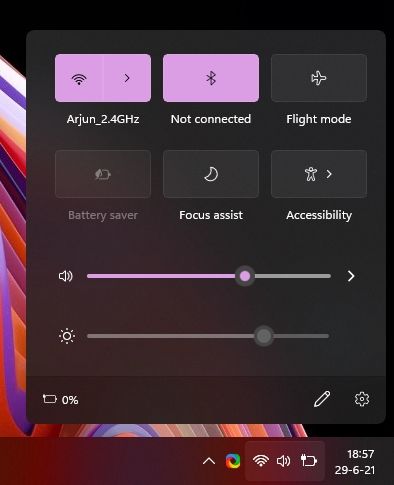 What's more interesting is that the Bluetooth connection is now much faster, and you don't need to dive into Settings to pair your device. It also houses the notifications in a clean design with badge support and offers ample space to reply or clear the clutter. Not to mention, the new Action Center is responsive in comparison to the laggy mess that was Windows 10's Action Center. Kudos Microsoft!
3. Universal Media Control
Yeah, you can now control all your media playback from the new Action Center on Windows 11. No matter if you are playing a YouTube video, Spotify playlist, a Twitter clip, or a local video, everything shows up in the Action Center. Note that I tried playing a video with VLC, but it didn't show up. However, when I played the same local video through the native "Films & TV" app, it worked flawlessly. So yeah, Universal Media Control is another neat feature in Windows 11.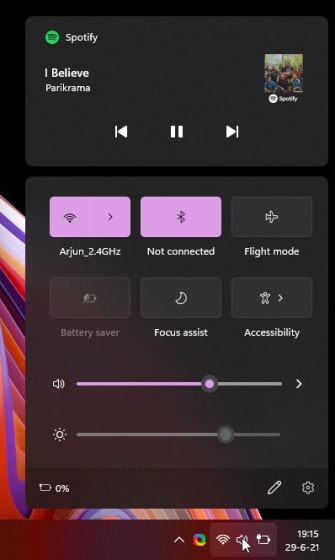 4. Modern File Explorer
The File Explorer on Windows has been a major point of contention among Windows users. Diehard fans have disapproved of any change to the File Explorer, stating why change something if it works perfectly well. That said, it indeed needed a modern makeover, and I am happy to report that the new File Explorer is functional and has all the features you need. You now have colorful new icons, a new Context menu, and a Command bar up top, which replaces the existing Ribbon menu bar.
In fact, for those who are wondering, Microsoft has kept the Folder Options as well. And you can get the old Context menu too (just tap on "Show more options"). What Windows fans have feared has indeed come true with Windows 11, but Microsoft has managed to pull it off with all the features intact.
5. New Microsoft Store
The newly-designed Microsoft Store is another great new feature of Windows 11. It's built from the ground up and now supports Win32, .NET, UWP, Xamarin, Electron, React Native, Java, and even Progressive Web Apps. You can even find themes and extensions for Microsoft Edge on the new Microsoft Store.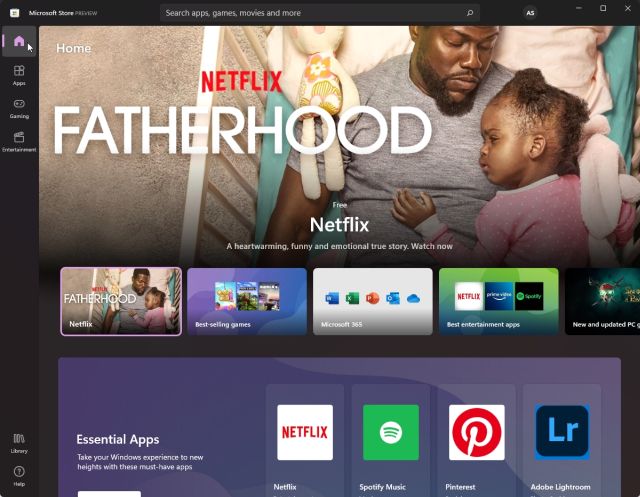 Frankly, I have never been a fan of Microsoft Store because of the sluggish and janky experience in the past, but the new one truly looks great. One thing to note in the current build is that you still can't view the last updated date of an app.
6. Android Apps Support in Windows 11
The major highlight of Windows 11 is that it can now run Android apps powered by the Amazon App Store. However, Android app support has not been added in the current 22000.51 preview build. Microsoft has confirmed that the option to install Android apps will arrive in the upcoming builds. But wait, there's more. The best part is that you can even sideload APKs on your Windows 11 PC. How cool is that?
As for the implementation, Microsoft has taken the same approach as WSL 2 (Windows Subsystem for Linux). That means Android apps will run natively on Windows 11, and the performance will be pretty good. Not to mention, Android apps will run both on Intel and AMD processors, irrespective of the Intel Bridge technology that brings this feature to life. To learn more about Android app support on Windows 11, check out our explainer on Project Latte.
7. Redesigned Settings App
After the launch of Windows 10, Microsoft has, for the first time, completely revamped the Settings app. It's built from scratch, following a mobile-driven design that plays well with both desktops and tablets. The Settings page has been neatly categorized with menus and sub-menus, along with a static pane at the left. You also have breadcrumbs for easy navigation and expandable settings options for improved clarity.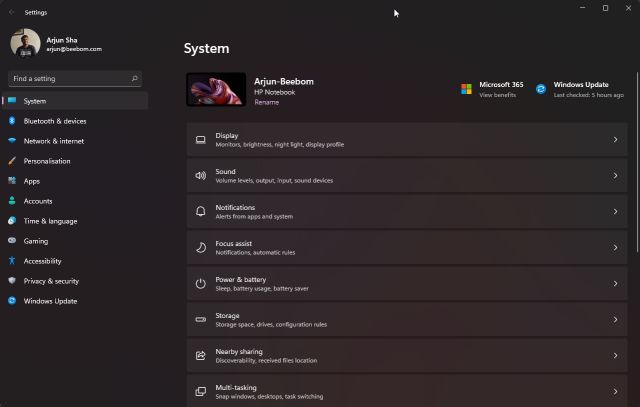 You also get a power and battery usage report similar to smartphones, some stunning themes, and more. All in all, I really like the new Settings redesign, but in its current form, it's a bit slow and not as responsive as one would expect. And for those who are wondering, yes, you still have Control Panel at your disposal.
8. Faster Windows Updates
Yes, you read that right. With Windows 11, you will have a much faster Windows update process, thanks to the background installation mechanism. Microsoft has promised that Windows updates will now be 40% smaller, making the process even more efficient.
Not to mention, if an update installation is pending while restarting your computer, it will show you the estimated time required to complete the update. This nifty addition will save you time and hassle. The new update system is one of the best, if not the best, features of Windows 11.
9. Snap Layout & Other New Multitasking Features
Snapping was already great on Windows 10, but Microsoft has taken it a notch further with easier Snap Assist. This new feature is called Snap Layouts. Now, when you hover your mouse pointer over a window's maximize button, you will find various layouts for how you want to position the window. You can also invoke the snap layout option with the "Win + Z" Windows keyboard shortcut. If you use a large monitor, this will help maximize your productivity.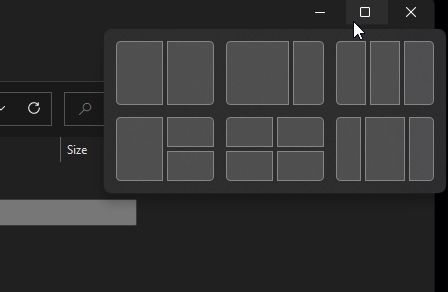 Similarly, the Timeline feature has been removed in Windows 11, and you now have a clean Task View where you can add as many desktops as you want. I like the fluidity while creating a new desktop. Overall, both of these features are quality additions to Windows 11 and elevate the multitasking experience.
10. Windows 11 Widgets
It's interesting to see how much Microsoft is indulged in mobile-driven design for its next-gen desktop OS. With Windows 11, Microsoft has brought Widgets, where you can find all kinds of information with just a click. It's similar to Google Assistant's Snapshot and the "Today View" in Apple's iOS 15 or macOS Monterey.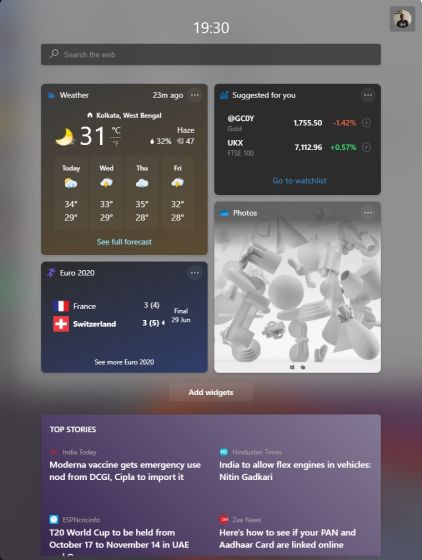 You can check out the latest news, your personal photos pulled from OneDrive, sports scores, stock prices, and much more. The widget section is also customizable, and you can personalize it as per your interest. For tablets running Windows 11, the Widget window fills the whole screen, making it a one-stop dashboard for all your personal interests.
11. New Context Menu & Rounded Corners
Windows 11 has finally brought a modern context menu sans the sharp corners. It gels well with the overall Windows 11 aesthetics. But let me tell you, there is no "Refresh" button here. Don't worry, though. You can access it using the "Show more options" button and the "F5" key still works in Windows 11 build 22000.51.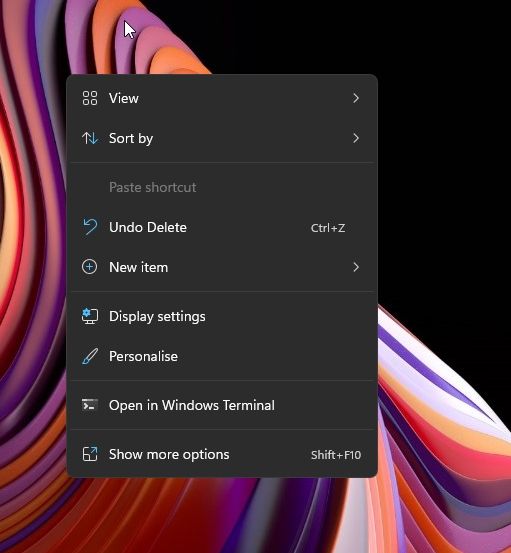 If you take my opinion, I like the new UI, and the new Mica effect used for Windows UI elements is great. Besides that, you will find rounded corners everywhere, and I hope Microsoft maintains this level of consistency as we move along.
12. Advanced Gesture Controls
Gestures have long been part of Windows 10, but frankly speaking, they were not very smooth, and the transitions between apps and virtual desktops were awful. With the new Advanced Gesture Controls and mandatory precision touchpad requirement for Windows 11, things might get better. Now, you can customize three-finger and four-finger swipes according to your preference.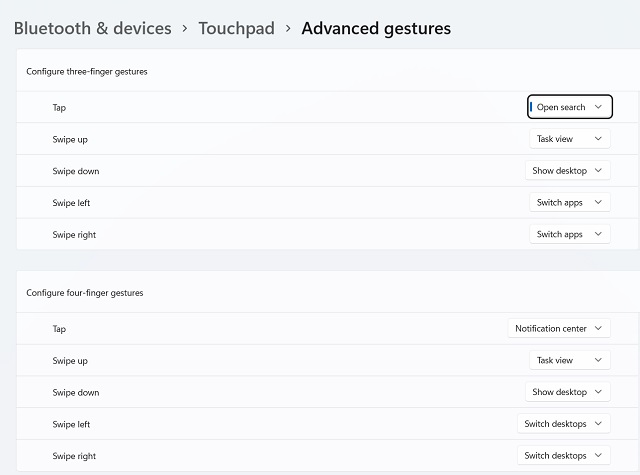 After testing the Windows 11 Insider Preview build 22000.51 build, I can confidently say that the new gestures feel smooth while moving between apps, virtual desktops, handling webpage, and more. You will almost feel like you are interacting with a tablet. I love the three-swipe down gesture to minimize all the open windows instantly.
13. New Minimal Lock Screen
While everyone is pumped about the new design and what is inside Windows 11, let me tell you that the new lock screen on Windows 11 looks stunning as well. It applies an acrylic blur in the background, and the new variable Segoe UI font makes things even better. If you don't want all the links and recommendations on the lock screen, you can disable them from Settings for a clean lock screen.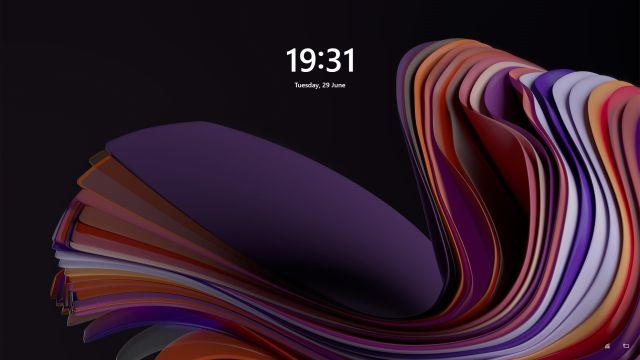 14. New Wallpapers & Sounds
Along with Windows 11, Microsoft has also brought a series of beautiful wallpapers, sounds, and themes. Wallpapers such as Captured Motion, Flow, Sunrise, Glow are some of the nicest wallpapers you can find on a desktop OS. Also, the startup and notification sound is really good. You can download Windows 11 wallpapers and listen to Windows 11 sounds from our linked articles.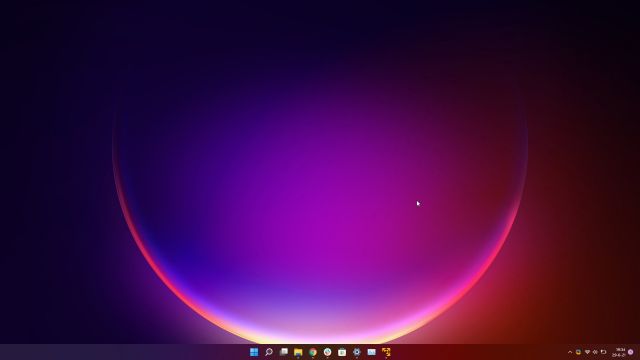 Needless to say, Windows 11 has support for both light and dark mode, and this time around, the dark theme is pretty consistent across UI elements. We can disregard the few legacy components in Windows 11 build 22000.51 since Microsoft will polish it before the final release.
15. Snappy Animations
One of the best features of Windows 11 is fluid animations across the UI. Open the new Start launcher or any app from the taskbar, and you will see a cool bouncy animation. Now, switch between apps or open the Task View, there you have a slick animation.
Swipe away the widgets panel or close the Action Center, every UI element responds to the neat animation, and they look and feel amazing. As far as UI and UX are concerned, I think Windows 11 has knocked it out of the park, incorporating functional elements and beautiful design.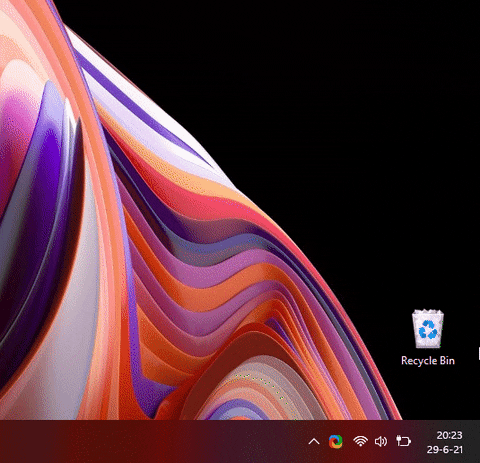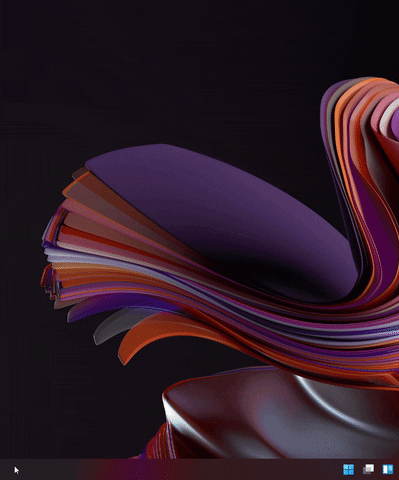 16. Touch Keyboard Improvements
We know that Microsoft has removed the tablet mode from Windows 11, and for a good reason. It has now developed a unified interface that works for both desktop and tablet form factors. To enhance the tablet experience, the touch keyboard has got some major improvements in Windows 11. This includes support for themes, background image, the ability to customize text size, typing behavior, and more. So if you have a Windows tablet, Windows 11 is going to bring a whole new experience to your device.
17. Auto HDR and Dynamic Refresh Rate
During the Windows 11 unveiling, Microsoft announced support for Auto HDR that would elevate the viewing experience while playing games. While we have not tried it on our system so far, it sure sounds like a great feature for the massive gaming community on Windows.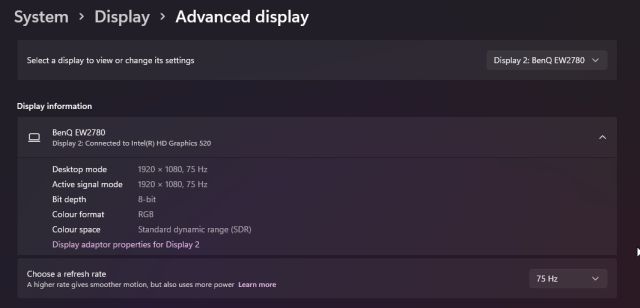 Apart from that, Windows 11 has brought Dynamic Refresh Rate on Windows 11 to offer a smooth and fluid experience while interacting with the OS. My monitor supports a refresh rate of up to 75Hz, and I was able to take advantage of this feature in Windows 11 build 22000.51. So yeah, the future of smooth, high refresh-rate Windows machines is pretty near, and I am definitely excited.
18. ARM Emulation
Not many have paid attention, but Windows 11 has also brought support for 64-bit emulation on ARM PCs with the ARM64EC layer. It's a huge development, and Microsoft has made a great effort after many years of stagnation. Finally, you will be able to run Win32 64-bit apps on ARM-based Windows 11 PCs.
In fact, Microsoft is serious this time and has already launched full-fledged 64-bit Office apps for ARM-based computers. That's amazing, right? To wrap this up, I would say that despite the small market for ARM-based Windows PCs, Microsoft is paying attention, and that is a huge win for consumers. I hope the company continues its efforts to build a better and cohesive Windows 11.
#OfficeInsiders, Mike Smith from the Office Team is excited to share that Office will support the ARM64 platform with the recently announced next version of Windows.

Learn more about the requirements & how to install it in our latest blog post. https://t.co/wjcvzsxAS3

— MS Office Insiders (@OfficeInsider) June 28, 2021
Check Out the Best Windows 11 Features Available Today
So these are the new Windows 11 features that I discovered in my brief usage. As this is the first preview build and the Insider timeline is at least four months long, there will be more to come. So stay tuned as we bring you more in-depth content around Windows 11 over the coming weeks. Until then, if you want to find out what other features Microsoft removed from Windows 11, head over to our linked article. Plus, you can check if your PC is compatible with Windows 11, along with the list of supported Intel, AMD, and Qualcomm CPUs right here. Anyway, that is all from us. But what about you? Which is your favorite Windows 11 feature? Let us know in the comment section below.