iMessage app on iPhone is a great messaging app, and there are a number of reasons why people love it. The app lets you send instant messages to anyone with an iOS or macOS device, and also works as an SMS app. iMessage is a huge part of iOS ecosystem that's keeping its users from switching to Android. Android fans have been waiting for Google's take on iMessage for a long time, and its answer, the new RCS messaging is taking forever to take off. Thankfully, there are a number of messaging apps that can work as an iMessage alternative, and that's what we are going to discuss in this article. So, if you are moving to Android from an iOS device or just looking for an Android app that's similar to iMessage, we have you covered. Here are some iMessage alternatives for Android you can use in 2020.
Best iMessage Alternatives for Android in 2020
1. Facebook Messenger
Facebook Messenger is a pretty well known messaging app but it does share a lot of similarities with iMessage. Along with the usual messaging features and features like voice & video calls, voice messages, ability to send payments (only in US) etc., Facebook Messenger includes its very own app store and supports various sticker packs. There are a number of cool Messenger apps like GIF keyboard, Bitmoji, QuizChat, Memes etc. Plus, you can use the Facebook Messenger app on Android as an SMS app and you can always access the Messenger from a browser on a PC or Mac. So yeah, it's a lot like iMessage.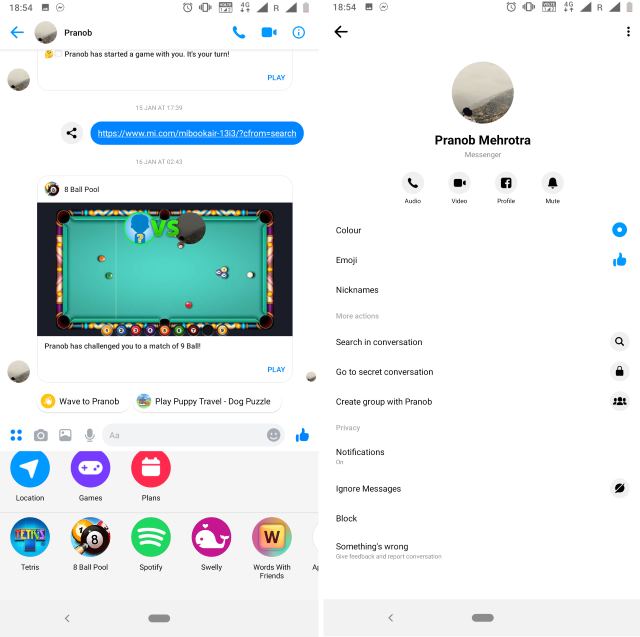 Then there are the cool Facebook Messenger bots, which are basically accounts of businesses and pages, powered by AI algorithms to respond to your queries naturally and execute specific tasks. While Messenger Bots are still in a budding stage, they highlight the app's great potential for the future. By the way, if you decide to try Facebook Messenger, check out our Facebook Messenger tips and tricks article which will help you get the best experience.
Download Facebook Messenger (Free)
2. Telegram Messenger
Telegram Messenger is a great messaging app that hasn't gotten the popularity it deserves due to WhatsApp being such a popular solution. However, the app is a great iMessage alternative. It's available for almost all the major platforms out there along with a cool web client, so no matter which device you use, you will able to use Telegram. Plus, the messages on Telegram are synced over the cloud, so you can access your messages from several devices at once. While it lacks any "app store", Telegram Messenger includes a sticker store and features a cool Bots platform. There are a ton of bots that you can play with and it also includes a Gaming platform, so you can play games inside the app.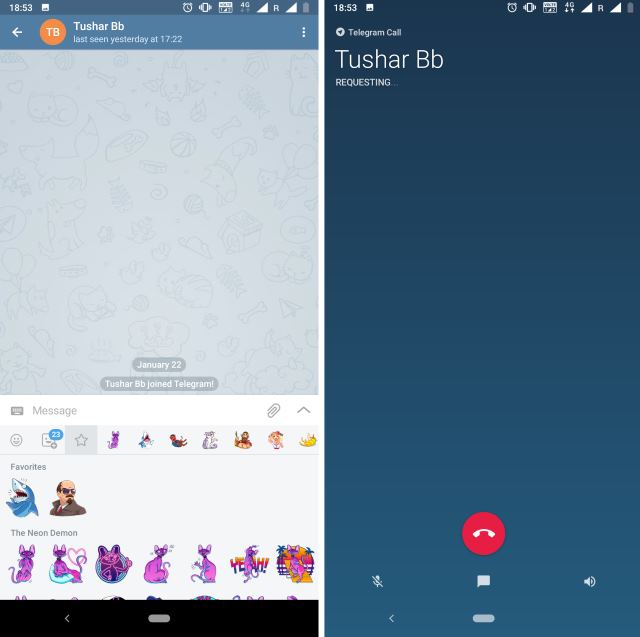 Other than that, Telegram Messenger is a really powerful messaging app.  It lets you share files of up to 1.5 GB, create groups with up to 200,000 members and public channels. It also includes a cool Secret Chat feature, which lets you send self destructing messages in an end to end encrypted environment. We have already cover some of the coolest features this app in out Telegram Messenger tips and tricks article, so go check it out.
Download Telegram (Free)
3. Kik Messenger
Kik Messenger is a really popular app, which we're sure you must have heard about before. It's a messenger app in which you can add people by their usernames. Once you've done that, you can start a conversation directly to get started. Over the years, Kik Messenger has been upgraded with a whole bunch of features like video calling, third-party app support, and more. The best part about Kik Messenger is that you don't need a phone number to work it. Just like iMessage, it can be used only with your email ID.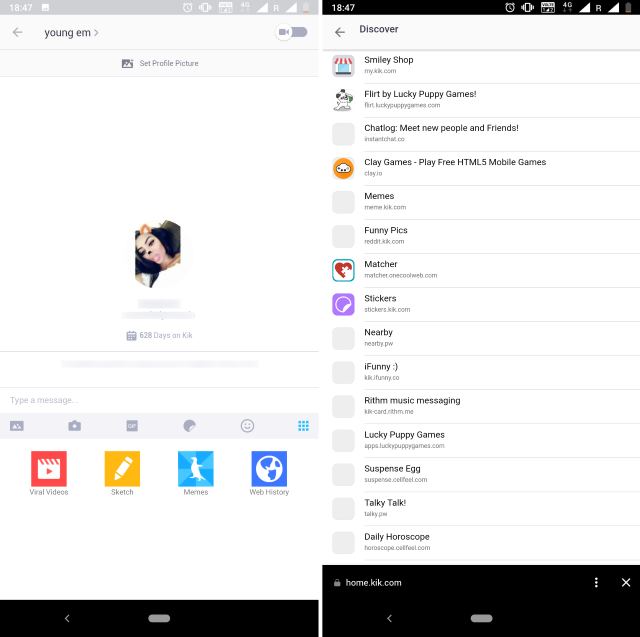 Similar to how you can use third-party apps on iMessage, Kik also lets you use a bunch of apps within the messenger and play a bunch of games. Yes, the options are going to be fairly limited, but you'll find some decent options to kill some time. Kik Messenger also has a powerful search option with which you can even search for groups and request to be a part of it. It's great of discovering new people.
Download Kik Messenger (Free)
4. Pushbullet
You must be wondering how does Pushbullet fit into a list of messaging apps that are similar to iMessage. Well, while Pushbullet has been known for its file sharing, notification mirroring capabilities, people also use it to send messages from their PC or Mac. Also, what makes Pushbullet unique is the fact that it not only lets you send text messages, it also supports different messaging apps like WhatsApp. So, no matter which messaging app you use, Pushbullet will let you send texts from your PC or Mac. Also, it's available on Windows, macOS, Chrome, Firefox and Safari, so you have a lot of options.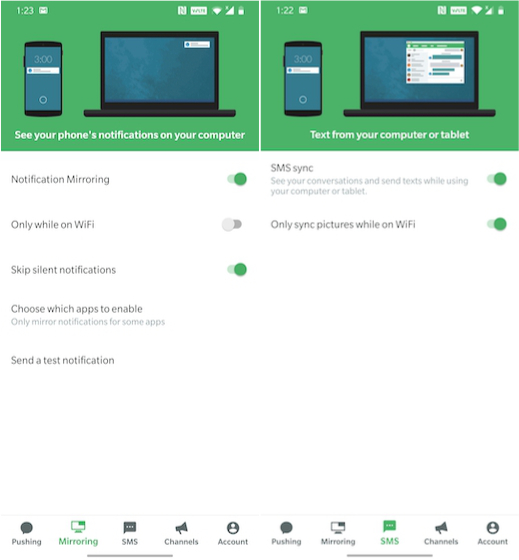 The free version of Pushbullet only lets you send 100 messages/month, so you will have to get the Pro subscription to send unlimited messages. If you are not happy with Pushbullet's pricing, you can always check out Pushbullet alternatives which are easier on the wallet.
Download Pushbullet (Free, $4.99/month)
5. WhatsApp Messenger
WhatsApp Messenger is the most widely used messaging app today, and it's a good alternative to iMessage, thanks to its popularity and its web and desktop clients. Along with all the usual messaging features, sharing capabilities, the app offers free voice and video calls. You can get up to 8 people on a single video call. What majorly works for WhatsApp is the fact that almost everyone uses it, so chances are, your contacts are using it too. Apart from the usual features, WhatsApp Messenger has many tricks up it sleeves which are phenomenal. You should check it out.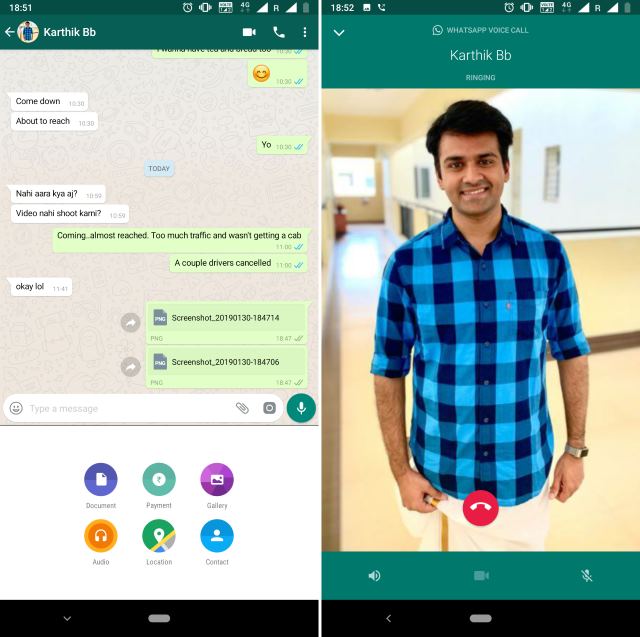 Download WhatsApp Messenger (Free)
6. Signal Private Messenger
One of the biggest benefits of using iMessage is that it is end-to-end secure. And while all the apps mentioned above bring end-to-end encryption, none of them has the privacy confidence that Apple brings to the table. So, if you are looking for a secure messaging alternative for Android smartphones, you should check out Signal. Signal uses end-to-end encryption that is powered by the open-source Signal Protocol. All your messages, voice calls, and video calls are secure and no-one can snoop in your conversations.
Just like iMessage, Signal Messenger works with your number. So, all your contacts can be easily synced. Signal also brings awesome features such as dark mode, custom ringtone support for an individual contact, built-in image editor, fast and reliable connection, and more. My favorite is the custom ringtone features. It ensures that I am only disturbed by the people who I consider important. If you value your privacy, there's no better iMessage alternative than Signal.
Download Signal (Free)
7. AirMessage – Get iMessage on Android
If you don't want to use iMessage alternatives, but iMessage itself, on your Android device then AirMessage for you. The app lets you use iMessage on Android. So, why this is the last option on this list? Well, there are a couple of reasons for that. First and foremost, you need to have a Mac to make this app work. There's no way to use iMessage natively outside Apple's platform. What AirMessage does is that uses your Mac as an anchor point for delivering messages. This requirement alone makes it unusable for most Android users.
Second, if you even have a Mac, the steps to set it up are quite complex and not everyone will be able to make this work. You will need to install the AirMessage server, get everything configured, get into your wireless network settings, and enable port forwarding on your router. And since everyone uses a different wireless router, the steps will be different for every setup. I tried setting it up but got errors that I could not resolve. But if you are tech-savvy and own a Mac and Android, you can give it a try.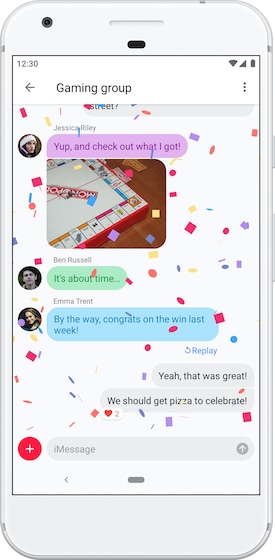 The benefits of investing time and resources to get it working are immense. You will be able to use iMessage with most of its features including group messaging, file and photo sharing, read receipts, and more. So, if you just cannot live without iMessage, give it a try.
Visit AirMessage Website to Learn More
Want iMessage for Android? Check out some alternatives!
While the aforementioned iMessage alternatives for Android do lack some features that the Apple offering packs, they are still some great messaging apps. If you ask me, Facebook Messenger and Telegram Messenger are the best iMessage alternatives for Android, but you can also check out the other apps on the list. So, try them out and do let us know what you think of these apps as iMessage alternatives. Sound off in the comments section below.
---
Load More