Personal photos and videos are better kept hidden. And I guess most of would agree with this statement – especially the ones who have to deal with a ton of private shots. Though iOS 14 has finally offered a more effective way to hide the hidden album, I don't think it's still the best way to hide photos on iPhone due to lack of a strong shield. As there is no lock for the hidden album, anyone can bump into your private album, revealing all the secrets you have been trying to keep out of sight. But there is no need to be disheartened as this is where these 10 best photo vault apps for iPhone and iPad have a role to play.
Best Photo Vault Apps for iPhone and iPad You Can Use
So, how do these photo vault apps for iOS work in letting you hide your photos and videos? Well, they let you create multiple folders so that you can keep all of your shots perfectly organized. And with a variety of locks such as Face/Touch ID, passcode, and PIN, they make sure your private albums have a strong shield to prevent trespassing.
Not just that, these popular iPhone photo vault apps also offer break-in alerts and a quick report containing the photo of the intruders so that you can track down the culprits and take necessary action right away. Now that, you have got a sneak peek into what they have in store, let's get started with the roundup!
1. Secret Photo Vault: Keepsafe
If you don't want to settle with anything less than a feature-packed photo vault for iPhone and iPad, look no further than "Secret Photo Vault: Keepsafe". What sets this app apart from others is the ability to deliver military-grade encryption. That means you can count on it to offer a trusted safeguard to your personal memories.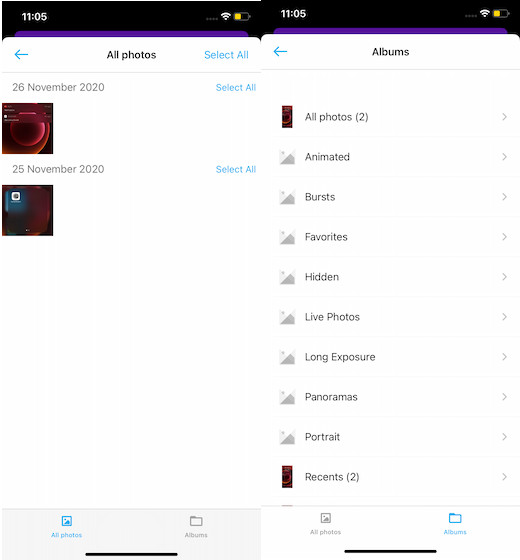 Keepsafe has a pretty intuitive user-interface that makes navigation a breeze. As for photo management, it has got the tools to let you organize your images in line with your needs. Moreover, it also offers a secure way to send images and also allows you to create shared albums to make sharing photos a more convenient affair.
Notably, Keepsafe provides a private cloud that can let you store up to 10, 000 items. For better storage management, it automatically compresses photos and saves originals to the cloud. And if you ever happen to delete any photos mistakenly, there is also a trash recovery to let you recover the accidentally deleted shots. Long story short, Keepsafe is fully equipped to be considered a top-notch photo vault for iOS.
Install: Free (Offers in-app purchases)
2. Private Photo Vault – Pic Safe
Simply put, Private Photo Vault – Pic Safe has got everything covered to let you keep your personal photos protected from unauthorized access. First and foremost, it offers a password-protected app entry to prevent anyone from bumping into your private album. Besides, it also provides a break-in report (photo +GPS) to let you find out the person who is trying to sneak into your photos.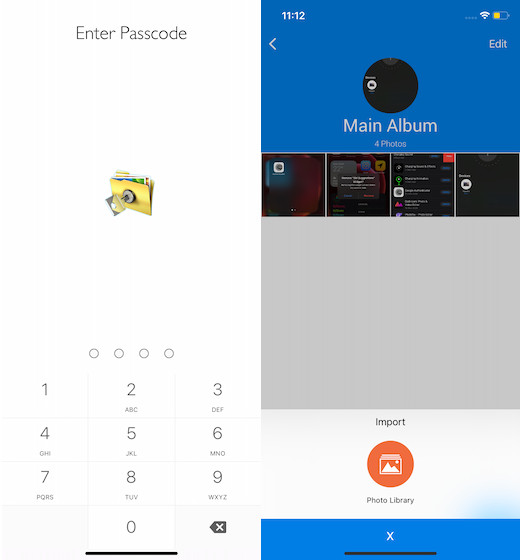 In terms of photo management, Pic Safe has looked up to the mark to me with a range of essential features like the ability to create albums, import/export from photos, and iTunes syncing. What's more, it also has a cool slideshow feature to let you view your photos in a better way.
What I love the most about this app is the built-in web browser that allows you to browse the web privately and also download photos directly to the app. Overall, it's one of the best photo vault apps for iOS thanks to a number of tools that work efficiently in safeguarding the private album.
Install: Free ($4.99)
3. Secret Photo Album: Photo Lock Vault
Another feature-rich photo vault app that has caught my eyes is "Secret Photo Album: Photo Lock Vault". To ensure you have the needed flexibility to protect your private photos, the app lets you set both PIN code and Face/Touch ID. Thus, your encrypted photos will always have the shield to ward off unsolicited access. Even better, it also allows you to decoy PIN to hide your stuff smartly.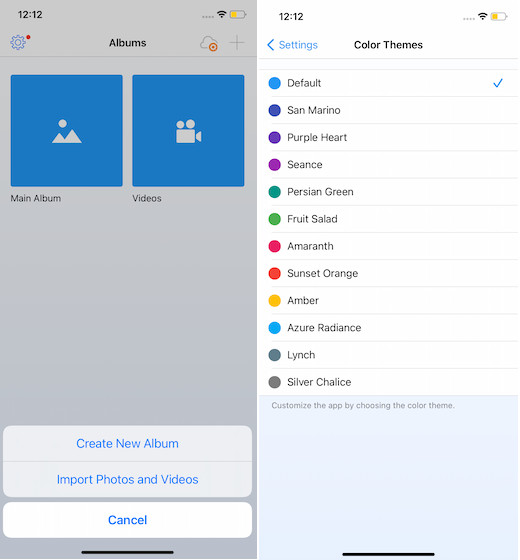 Furthermore, Photo Lock Vault keeps the content of the app hidden in the multitasking mode. With the break-in alerts featuring intruders' photos, it lets you keep a tab on the person who is trying to force his/her way into your private album. After three PIN fails, it automatically locks the screen to prevent cracking.
As the media player supports full screen, you will enjoy streaming your videos. Featuring a built-in camera, it allows you to shoot photos and videos so that they will remain secure. On top of all, Photo Lock Vault also comes with some really cool color themes to let you customize your album. Taking everything into account, it's a fully equipped photo vault app for iPhone and iPad.
Install: Free (Offers in-app purchases)
4. PrivacyVault: Keep Secret
If you are looking for a simple photo vault app that works reliably in offering the required shield to your photos and videos, PrivacyVault could be a better choice. With the Face/Touch ID unlock, the app offers you full control over your hidden photos. Depending on your needs, you can create as many folders as you want to keep your images perfectly in sync.
Another feature worth taking note of is the option to disguise the app as another app that can play a smart role in safeguarding your privacy. Thanks to the break-in alarm feature, it also keeps you in the loop about the intruders with the timely alert along with the intruder's photo.
Security aside, it provides a straightforward import from the photo library and automatically adapts to the dark or light theme. And yes, PrivacyVault also allows you to capture images directly in the encrypted album so that you don't have to worry about their protection. In a nutshell, PrivacyVault is a safe bet when it comes to guarding your memories against unauthorized access.
Install: Free ($8.99 for full version)
5. Secret Photo Vault Lock Photos
If you are on the lookout for a photo vault app that can let you manage your photos and videos with more flexibility, I would recommend you to check out "Secret Photo Vault Lock Photos". Probably the best part of this app is the support for a wide range of file formats including jpg, png, bmp, gif, tif, tiff, jpeg, mov, mp4, m4v, mpv, mp3, aiff, and wave.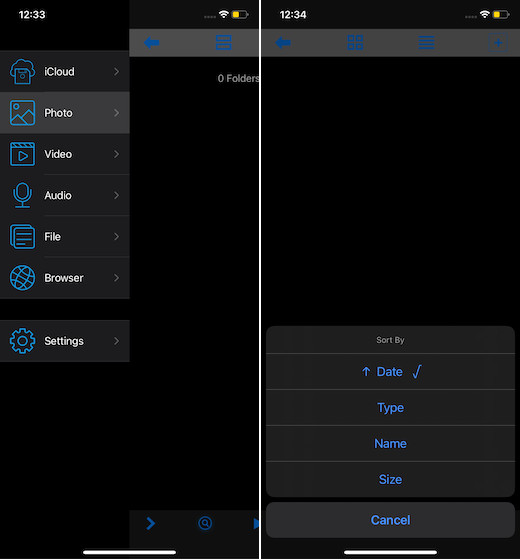 Notably, it's also compatible with many document formats such as pdf, doc, ppt, xls, txt, rtf, html, pages, key, and numbers. So, whether you want to manage your photos/videos or take control of your documents, it's more than capable to live up to the task. Oh yes, it looks like a classic calculator app that can go a long way in keeping your personal stuff away from the snooping eyes.
Based on your needs, you can create several folders/subfolders and keep them protected using a password. Thanks to the native browser, you can navigate through your files and download them directly in the app. Furthermore, there is also an option to USB import/export multiple files from/to iTunes File Sharing that can play a vital role in letting you manage your images.
Install: Free ($4.99 for pro version)
6. Safe Lock – Secret Photo Album
To put it straight, Safe Lock is more than just a simple photo vault app. So, if you have set your sight on an app that can not only let you hide your photos and videos securely on your iPhone but also manage important documents, this one can fill up the void with ease.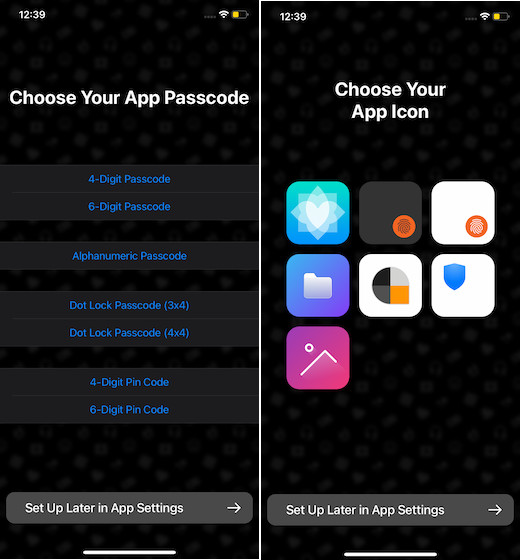 Safe Lock supports a variety of locks such as Touch ID, Face ID, dot lock,  passcode, and alphabetic. Therefore, you can choose the type of lock that fits your needs. Features like Wi-Fi file transfer, slideshow viewing, anti-theft break-in reports, and a secret camera with a zoom option make it a handy vault.
For seamless management of photos and videos, it offers support for multiple cloud services such as DropBox, Google Drive, Yandex. Disk, iCloud, and Box. Thus, you can easily export your files from cloud platforms. That's not all, Safe Lock also lets you customize app icons for a personalized experience. To sum up, it's a versatile photo vault designed to manage both photos/videos and documents.
Install: Free ($1.99/month for pro version)
7. Hide Photos Video – Hide It Pro
Frankly speaking, Hide It Pro is what you should go for if you prefer to have more customization. The app lets you create unlimited photo and video albums so that you can keep everything in the right order. Depending on your needs, you can change the name of the photo albums and also tweak their thumbnails.
One of my favorite features of this app is the ability to enable a disguise screen which allows you to disguise the app to prevent anyone from getting inside your personal photo albums. With secure cloud storage, it ensures your entire memories remain safe and accessible across devices.
Another feature worth mentioning is the option to export files with the help of USB export, which comes in handy when you want to move your album to a computer with ease. Not to mention, the escape unlock code feature that makes the app empty in case someone discovers it is no less impressive from a security perspective.
Install: Free (Offers in-app purchases)
8. Vault: Hide Photos & Videos
While Vault may not be the most feature-rich photo vault for iOS, it's second to none when it comes to protecting your personal images and videos. The app features a clutter-free interface that makes sure you don't have to go through a steep learning curve. You can import photos in bulk and use the efficient folder management feature to keep all of your images in the Apple pie order.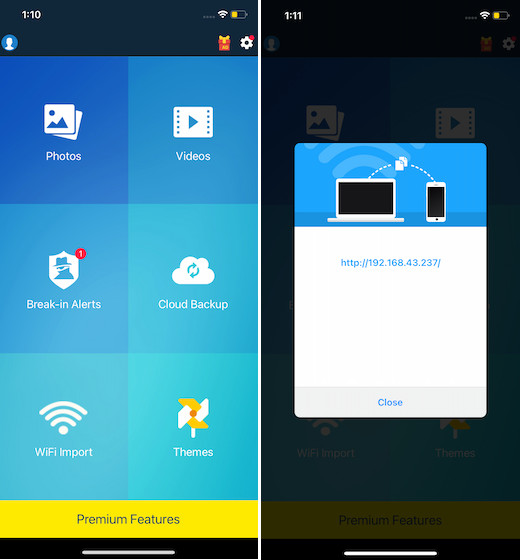 Better still, Vault also offers you the option to immediately encrypt the newly captured images so that they will remain safeguarded right from the beginning. Furthermore, you can save your photos to the app directly from the web and take advantage of the private cloud to keep your photos safe.
That aside, it has also got the much-needed break-in alert functionality to keep you alerted about the intrusion. As it disguises itself as a camera showing a picture capturing interface, anyone will find it a bit difficult to discover your secrets.
Install: Free ($3.99/month for VIM)
9. Photo Vault – UnderLock
For keeping your entire library of personal images under the wraps, you can't go wrong with UnderLock. The app offers private cloud storage wherein you can store your photos and access them securely as and when you want. And with a privacy-centric browser at the disposal, you can also surf the web and download your photos in the app.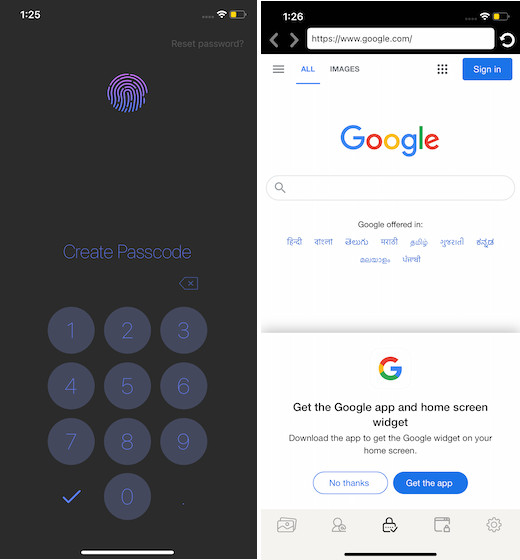 Apart from hiding your photos, UnderLock also works as a useful password manager. So, you can store all of your passwords inside the app and manage them with complete peace of mind.
Another feature that has caught my eyes in this app is the option to save personal contacts and call them from the app, which makes it well-timed for the folks who don't want anyone to discover the secrets of their personal conversations. Do note that UnderLock's freemium version is limited and you will need to dole out $9.99/month if you want to unlock all the goodies.
Install: Free ($2.99/month for pro version)
10. Calculator# Hide Photos Videos (NS Vault)
Looking at the icon of  NS Vault, anyone can easily believe that it's a full-fledged calculator app designed to help you sort out your Maths. And that's probably the biggest plus point of this photo vault. The app has a secure gallery wherein you can store your photos and use the essential organizing tools to keep them in the desired order.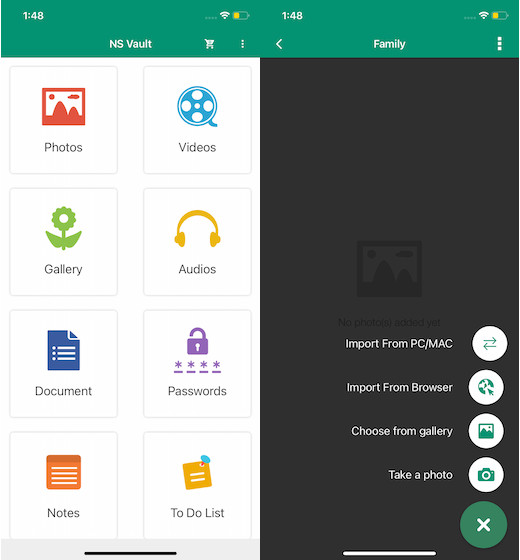 What's more, NS Vault also works as an effective platform where you can store all of your confidential notes. So, if you need a photo vault app that can also keep all of your sensitive notes safeguarded, you should give it serious consideration.
Another feature that makes it a worthy contender is the option to store audio recordings and conversations. Again, this feature can come in really handy if you want to protect your personal conversation with a trusted shield. With the Dropbox backup at hand, it ensures your locked data remains guarded and also accessible across devices.
Install: Free ($3.99 for premium features pack)
Top Photo Vault Apps for iPhone and iPad Lined Up for You
So, that ends this roundup of the best photo vault apps for iOS. Hopefully, you have found a better way to keep your private album safeguarded. With a variety of locks and the flexibility to manage the photo albums to your heart's liking, these vaults do a great job of shielding your privacy.
Moreover, some of them can also serve as a handy password and document manager which can further tighten up the privacy on your iPhone. By the way, which one of these photo vaults is going to be installed on your iOS device. I guess it's the one that excels in playing the disguise game, isn't it?