Over the past few years, social media has rapidly turned into an addiction pill from what was thought to be a platform for sharing and being in touch with friends and family. On similar lines, Instagram seems to be the next Facebook where users are simply unable to stay away from it. Constant urge to check the feed and spending excessive time on discovering new content is taking a huge toll on the user's mental health. So if you are one of those users and have finally decided to deactivate Instagram account then you have come to the right place. In this article, we have provided the instructions step by step so you can deactivate your Instagram account and be done with it. Having said that, let us begin with the guide.
Deactivate Instagram Account in 2020
The process to deactivate Instagram account similar to how you can deactivate your Facebook account. It doesn't delete your data and you can re-login anytime to activate your Instagram account. One thing to note here though, you can't deactivate Instagram account from the mobile app either on Android or iOS. You will have to access Instagram on a web browser to deactivate it. Here is how it's done.
1. Open instagram.com on your choice of web browser either on mobile or PC and log in to your Instagram account. If your Instagram account is linked with Facebook then click on "Continue with Facebook".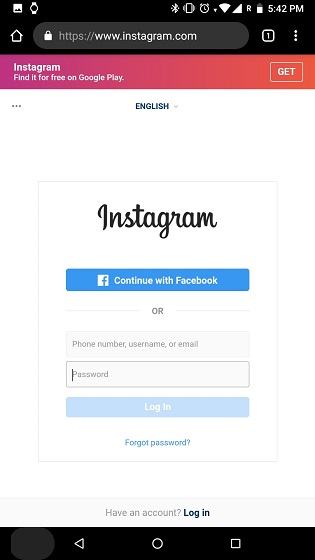 2. After you have successfully logged in, click on the profile icon to open your profile page. Further, click on the "Edit Profile" button and it will open a new page with various options.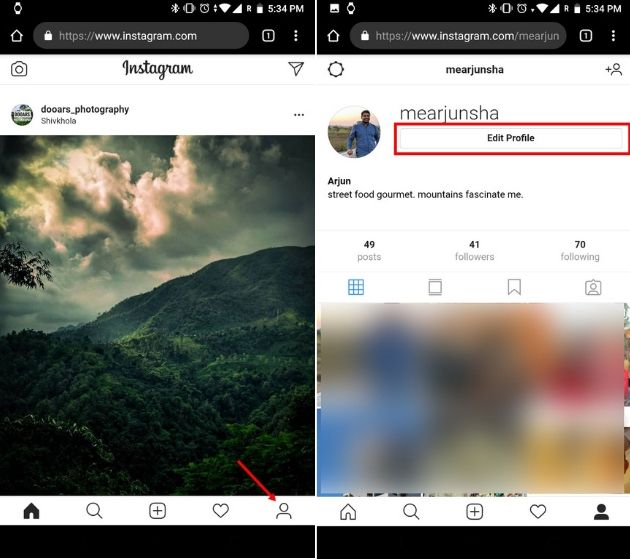 3. Now scroll down to the bottom of the page and you will find "Temporarily disable my account" option. Click on it. On the next page, select the reason to deactivate Instagram account and re-enter your password. Finally, click on "Temporarily disable account".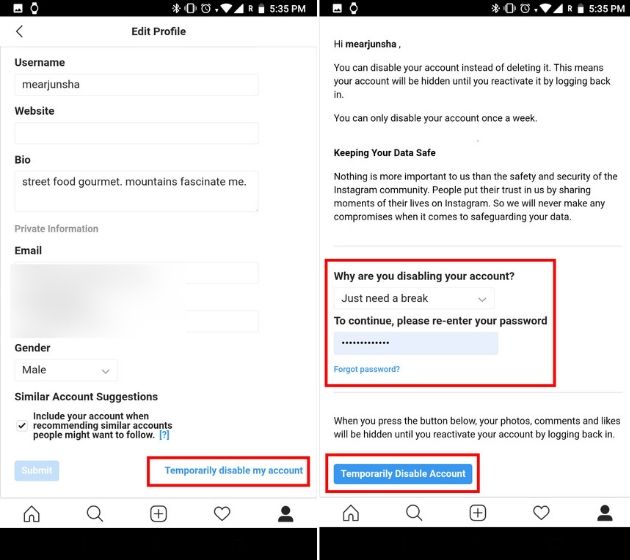 4. It will prompt you for the final changes. Here, click on the "Yes" button to deactivate Instagram account completely. It will log you out of Instagram instantly.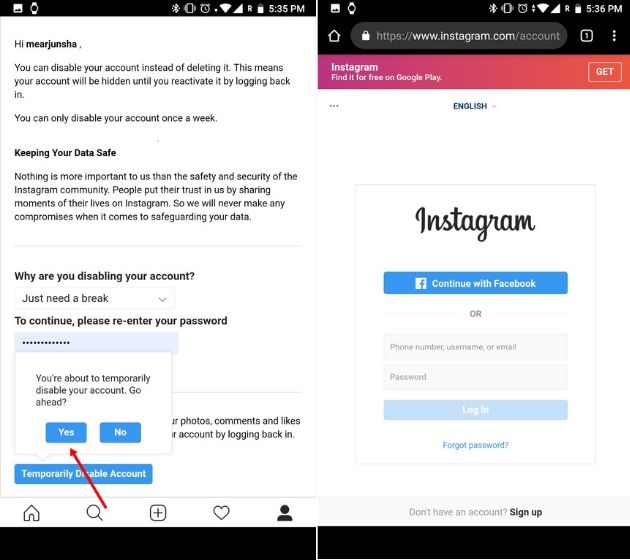 Manage Instagram Usage
If you feel you are spending way too much time on Instagram then limiting the usage will be a better option rather than deactivating Instagram all at once. We know how withdrawal syndrome works, right? After deactivating Instagram, there is a good chance you will crave for it even more. So it's better to reduce the usage slowly and gradually. Here are a few options to manage Instagram usage in a better and efficient manner.
1. Put a Reminder on Excessive Instagram Usage
Of late, silicon valley companies are waking up to the dark side of spending excessive time on social media apps. To bring more control to the user, many companies including Google, Apple, and Facebook have brought in-built ways to limit the screen consumption time. Similarly, Instagram has brought native controls within the app which reminds you to take a break from continuous Instagram usage. Here is how you can access and enable it.
1. Open the Instagram app and tap on the profile icon on the bottom-right corner. Now, tap on the hamburger menu on the top-right corner.
2. Next, tap on "Your activity" on the top. Here, You can find your average time spent on Instagram every day. Now, tap on "Set daily reminder" and enter how much time would you like to spend on Instagram.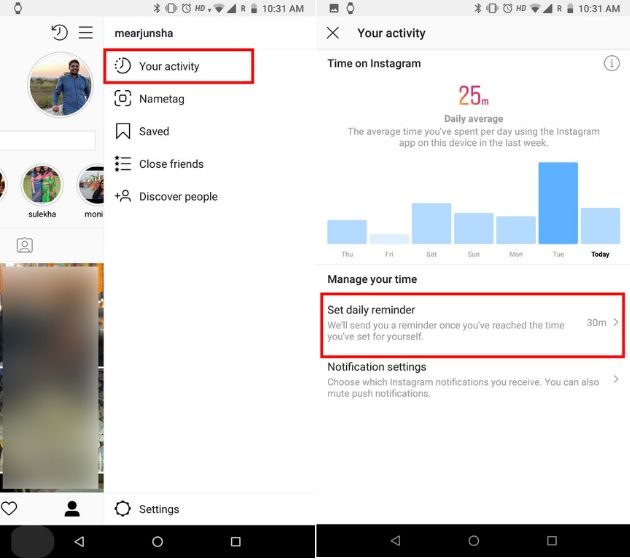 3. Further, you can even customize Instagram notifications by tapping on "Notification Settings". I recommend pausing all the notifications for avoiding constant interruption.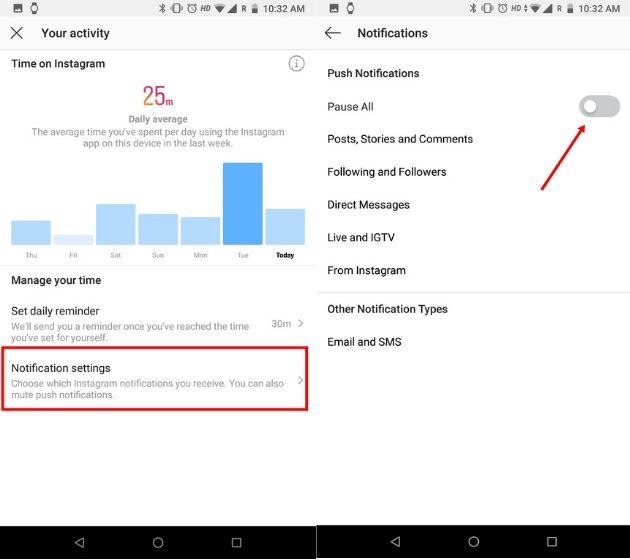 4. Finally, you are all set to receive a prompt by Instagram whenever you hit the limit. After that, you can either close the app or continue using it. It's up to you.
2. Limit Instagram Usage with Screen Time on iOS Devices
Apple puts a great emphasis on user's health and privacy. Following its footsteps, Apple introduced Screen Time on iOS 12 which lets you lock apps based on time limits. In this section, I will show you how you can limit Instagram usage on your iOS device after a certain time.
1. Open Settings and tap on Screen Time. Now tap on "See All Activity".
2. Here, scroll down and open the Instagram app. Now, tap on "Add limit" at the bottom of the page and set a time limit for the Instagram app.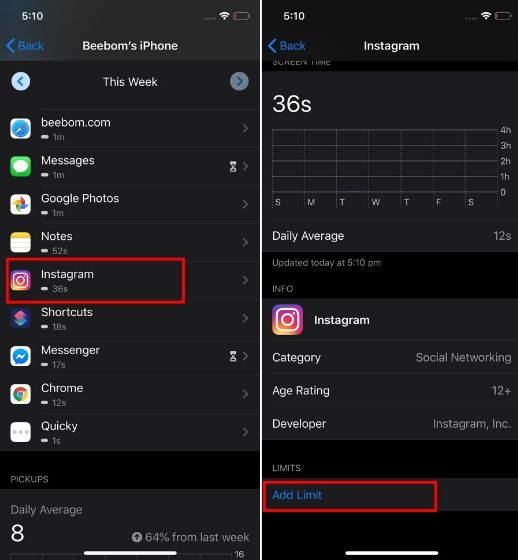 3. Finally, tap on "Add" button on top-right corner. Now whenever you will hit the time limit, Screen Time will block the access to Instagram.
3. Limit Instagram Usage with Digital Wellbeing on Android Devices
While you can set reminders about your Instagram usage within the app, it's hardly any deterrence to bad habits. To fully block apps after a certain time, you can use Digital Wellbeing feature on Android devices, just like Screen Time on iOS. Here is how to do it.
Note: Your device should be on Android Pie to access this feature. Also, we are using Pixel 3 XL in this tutorial. It has got a stock UI so the below instructions may vary slightly if you are using a device having different Android skin.
1. Open Settings and navigate to Digital Wellbeing. Now, tap on "Dashboard".
2. Here, tap on the hourglass icon adjacent to the Instagram app and set a timer.
3. Now whenever you will cross the time limit, Digital Wellbeing will block Instagram from further usage.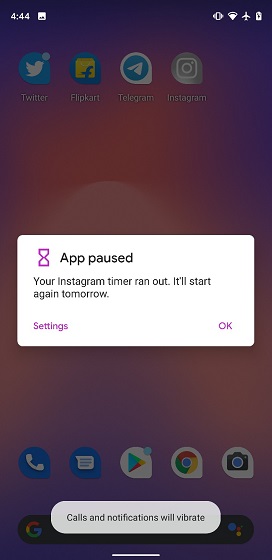 4. Limit Instagram Usage with Third-party Apps on Android (For Android Oreo and Lower)
Digital Wellbeing is a great feature for blocking apps after a certain time, but sadly, it's not available on all Android devices. So to bring similar feature on Android Oreo and lower versions of Android, we have got a great third-party app which can do the job sufficiently well. Here, I will show you how you can limit your Instagram usage without the need to deactivate Instagram account.
1. Install Stay Focused (free, in-app purchases) on your Android device through the Play Store.
2. Open it and tap on "Click to Grant" button. Here, allow Stay Focused to access the usage data.
3. Now similar to Digital Wellbeing, you can restrict Instagram if it crosses beyond a limit. Tap on Instagram and choose the time limit and tap on "Save".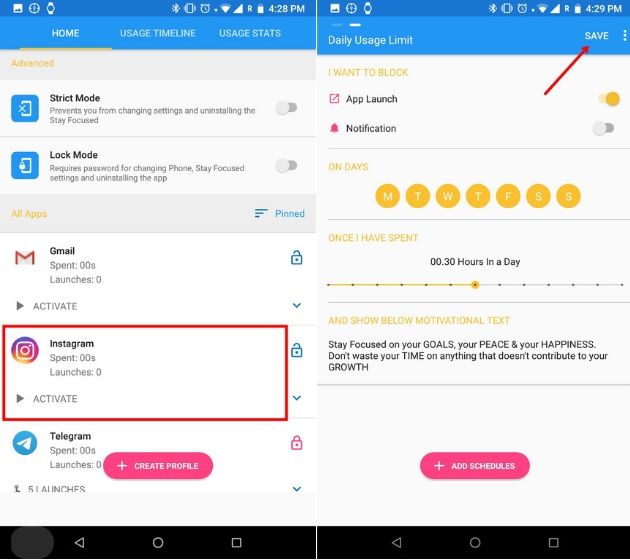 4. That's it. Now Instagram will be blocked if you use it more than the predefined time limit.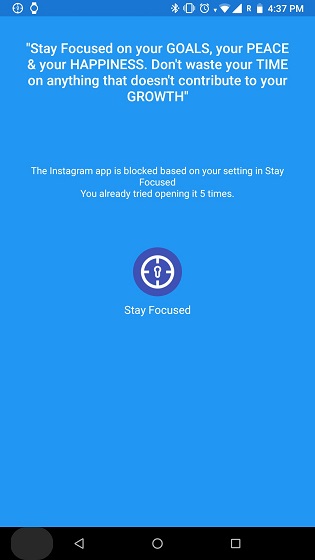 Deactivate Instagram Account and Usher a New Beginning
So that's how you can deactivate Instagram account from your mobile as well as PC. In case you want to bring down Instagram usage time then we would recommend using the alternative methods mentioned above. You can use Screen Time on iOS, Digital Wellbeing on Android, and Stay Focused app, in case your device is not updated to Android Pie.
All in all, it's up to you how you want to manage Instagram and we have given you all the options to exercise. If you still can't resist the pull of Instagram, maybe it's time to delete Instagram forever. Also, if your problems spread beyond Instagram, also check our article on deleting Twitter account. Anyways, that's all from us, let us know your thoughts on the subject by writing in the comments below.