Almost all Android smartphones ship with a built-in File Manager app today. However, not all OEM file managers offer the level of features and functionality that come with third-party apps on the Google Play Store. So today, we will tell you about the 10 best third-party file manager apps (often also referred to as file browser or file explorer) for Android. These apps will help you better organize your files and folders on an Android smartphone.
Best File Manager Apps for Android (Updated 2022)
The best file manager apps on Android let you browse your files, find your downloads, manage your storage space, and more. There are plenty of file managers on Android, and most of them are free. While some of them offer you premium features for a small charge, others are ad-supported. So without any further delay, let's check out the best file manager apps on Android.
Note: The apps mentioned in this article are meant for Android smartphones and tablets. For Android TVs, boxes and dongles, check out the best file managers for Android TV. If you also use an iPhone, check out the best file manager apps for iOS.
1. Files by Google
If you want the cleanest, no-nonsense, no-bloat file manager app on Android, look no further than Files by Google. As of 2022, it is available on most Android devices running Android 5.0 Lollipop and above. One of the best-rated file manager apps, Files by Google helps you free up space with cleaning recommendations, find files faster with search, share files offline without using mobile data, and back up files to the cloud to save storage space. The app is not only free to use but also ad-free.
Files by Google has three tabs: Clean, Browse, and Share. The 'Clean' tab shows how much storage your Android device has left and how much you are currently using. This is also where you see suggestions for cleaning your phone's storage. The 'Browse' tab, on the other hand, makes it easier to find files by dividing them into different categories, such as Downloads, Images, Videos, Audio, Documents, and more.
There's also a Favorites section and a password-protected Safe Folder for confidential documents. Finally, the 'Share' tab lets you send/ receive files with anyone without the need for an internet connection.
2. Solid Explorer
A great Android file manager app that lives up to its name, Solid Explorer is one of the best apps in its category. Alongside the usual file management features, Solid Explorer offers paid add-ons for cloud storage support. It enables users to manage files on Google Drive, OneDrive, Dropbox, Box, Yandex, Mega, etc., with ease. Paid plugins are also available for USB OTG (on-the-go) support, Cast, and more. The app also lets users archive (ZIP, 7ZIP, RAR, TAR) and decompress files along with support for various network file sharing protocols (FTP, SFTP, WebDav, and SMB/CIFS).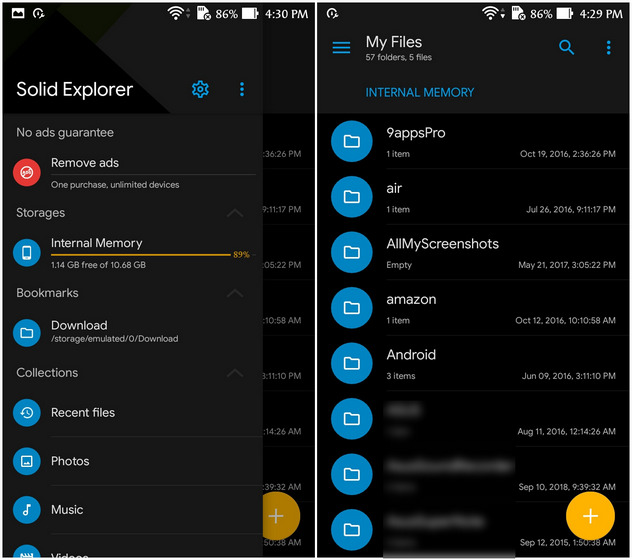 One of the most notable features of Solid Explorer is fingerprint and password protection for all files and folders. Like most file managers, Solid Explorer also categorizes files under Downloads, Recent, Photos, Videos, Music, Documents, and Apps. It also lets you browse system files on rooted devices and includes a built-in image viewer, music player, and text editor for convenience.
Solid Explorer also offers you a ton of rich customization options, including custom themes and icon sets. Solid Explorer can also manage files on your Chromebook with support for mouse and keyboard input. If you want to check the Storage space on Chromebook, head over to the linked article to learn more.
3. Total Commander
Originally launched in 1993 on Windows 3.1 as Windows Commander, Total Commander is widely regarded as one of the best file manager apps on Android. It not only lets you explore files and folders on your device but also copy or move entire sub-directories. The app supports drag-and-drop, in-place renaming, directory creation, file deletion, file archiving, and a host of other features. It also supports various file sharing protocols (FTP, SFTP, WebDAV, LAN, OBEX) and cloud storage through plugins. Other key features include media player, directory history, ability to alter permissions of a file, and more.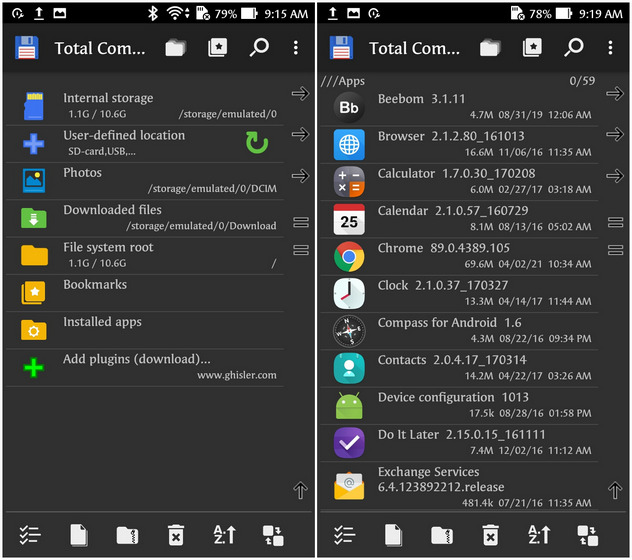 One of the best features of the app is that it is almost ad-free, except for the 'Add Plugins' prompt. The link takes you to the plugins home page that contains paid add-ons that greatly enhance the app's functionality. Total Commander also supports root functions, allowing it to write to system folders like /system or /data. The app will warn you before writing anything to system folders if they are write-protected.
Overall, Total Commander is a must-have Android file manager app for power users, especially if you're looking for powerful features without hogging resources.
4. Astro File Manager
Astro File Manager is yet another of the best and popular file manager apps on Android, and it's easy to see why. It brings the familiar Windows Explorer aesthetics to Android, including the unmistakable yellow folder icons. It helps you organize, move, and back up your files to the cloud, as well as clean up your Android phone's memory to boost its performance. One of the most aesthetically pleasing file manager apps, it has a user-friendly UI for easy navigation. It also offers simple folder management for internal, external, and cloud storage.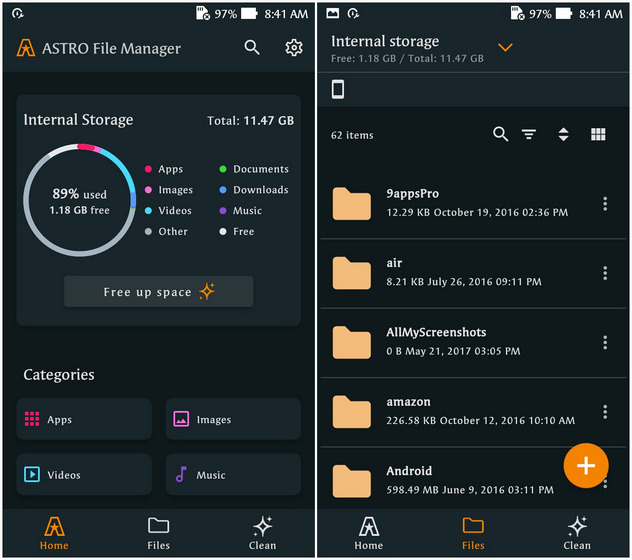 Along with the usual file management features, Astro lets you compress files into ZIP format. It also supports popular cloud storage services (Box, Google Drive, Dropbox, OneDrive, Yandex Cloud, etc.) and lets you share and sync files between them with ease. Alongside local and cloud storage management, Astro also lets you backup apps to SD cards and restore all your apps with ease after a factory reset. Developed by the well-known mobile data and analytics firm App Annie, Astro File Manager is free and does not have any ads.
5. X-Plore File Manager
X-Plore File Manager is yet another of the best file manager apps on Android. It offers a dual-pane tree view, with any two folders of your choice shown simultaneously. That makes it easy to copy and paste files between two folders or move files quickly between multiple locations.
The app also comes with support for various types of files, cloud storage (Google Drive, OneDrive, Mega.co, Dropbox, Yandex.disk, ОБЛАКО.mail.ru, Webdav, and others), and network storage protocols (FTP, SMB, DLNA/UPnP), etc. The app also offers many power-user features, including root support, a built-in hex editor, USB OTG support, and more.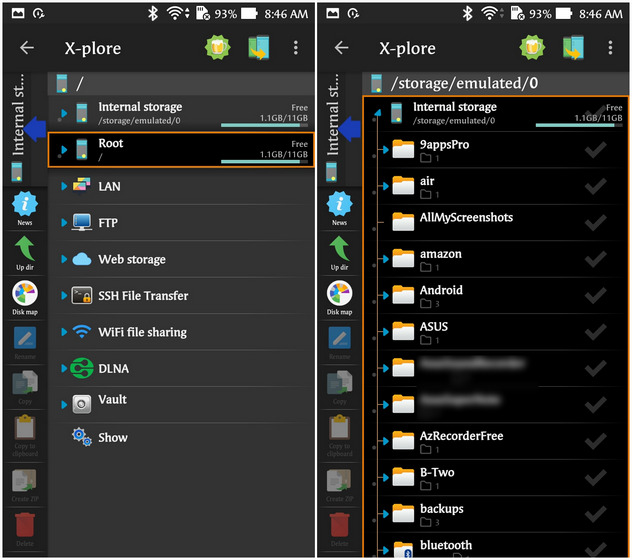 X-Plore also offers a Disk Map, which lets you see which files consume the most space on your device. It also comes with an app manager that allows you to see, run, copy, share, uninstall and further explore installed applications. The app also supports access to FTP and FTPS servers, with support for multiple server configurations. It can also display shared folders on other computers in LAN. Finally, X-Plore also supports file sharing over Wi-Fi and lets you access your phone's storage from a PC or another Android device.
6. Amaze File Manager
A free and open-source software (FOSS), Amaze File Manager is one of the best apps in the segment. I'd especially recommend the app to folks looking for a relatively simple app with a clean UI and zero ads. It is not the most feature-rich as some of the other apps on this list, but basic functions like cut, copy, delete, compress, extract, etc., are accessible with ease. What's more, you can also work on multiple tabs at the same time. The app also has a navigation drawer and multiple themes with cool icons.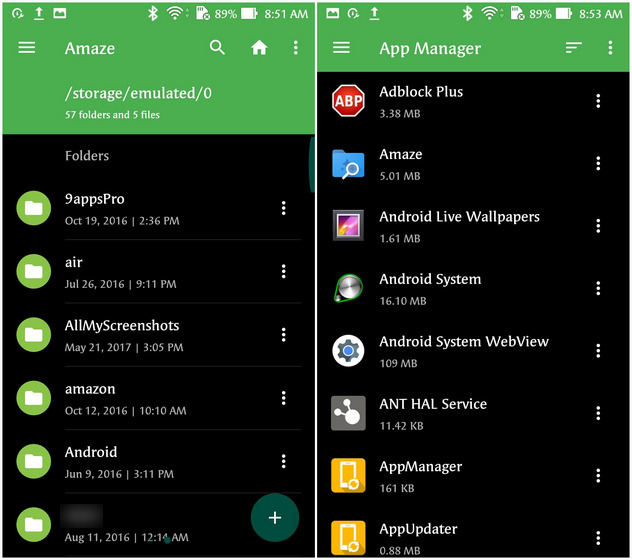 Another cool feature of Amaze File Manager is a built-in app manager that lets you open, backup, or directly uninstall any app. Like many other apps in this list, Amaze also offers a root explorer for rooted devices. The one odd aspect of the app is that it is still apparently in beta, even though it has been around for ages. Moreover, Amaze is a Made-in-India file manager app developed by Haryana-based Arpit Khurana and Vishal Nehra.
7. Root Explorer
Root Explorer is one of the best Android file managers for rooted devices. No wonder that it has been a favorite of power users for a long time. It is also the only paid app on our list, with a $3.99 price tag. Features include multiple tabs and cloud support for Google Drive, Box, and Dropbox. There's also support for SQLite database viewer, Text Editor, ZIP/ TAR/ GZIP archiving, RAR extraction, multi-select, execute scripts, remount, permissions, bookmarks, and more.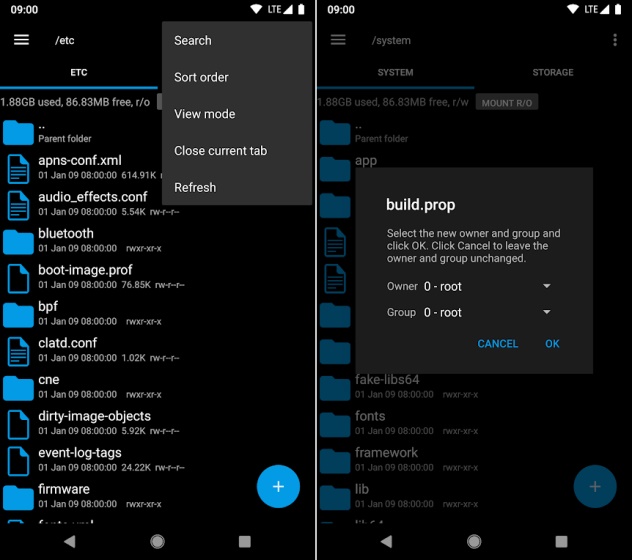 Other notable features include file-sharing via email, Bluetooth, etc., image thumbnails, APK binary XML viewer, and more. Root Explorer also lets you change a file's owner or group, supports MD5 hashing, symbolic link creation, 'Open With' facility, shortcut creation, and more.
Meanwhile, the app also has a free counterpart called Explorer. It is a typical file manager with the same UI as the paid version but without root support. It will work perfectly for folks who like the look and feel of Root Explorer and want something similar for their non-rooted device.
8. FX File Explorer
FX File Explorer features a Material Design UI and puts a high emphasis on privacy. The app serves no ads and claims not to track user activity. The app comes with a productivity-oriented home screen that lets you directly access important folders, media files, and cloud storage. There's also multi-window support, as well as 'FX Connect' to transfer files from one phone to another with Wi-Fi Direct. Another notable feature is Web Access, which enables the transfer and management of files and media from your computer's web browser.
FX also includes several built-in editing/viewing applets, including a text editor, a binary (Hex) viewer, an image viewer, a media player and pop-up audio player, archivers and extractors, and a Shell script executor.
The $2.99 premium version of FX, called FX File Explorer Plus, also supports NFC. The notable FX+ features include AES-256/ AES-128 encryption and access to networked computers, including FTP, SSH FTP, WebDAV, and Windows Networking. FX+ can also connect to cloud storage services, including Google Drive, Dropbox, SugarSync, Box, SkyDrive, and OwnCloud.
9. RS File Manager
The penultimate app on our list is called RS File Manager, and it is a free, fast, and full-featured app on Android. It offers all the traditional file manager features, including multi-select, cut, copy, paste, move, create, delete, rename, search, share, hide, zip/ unzip, bookmarking, etc. Other notable features include access to cloud storage services (Google Drive, Dropbox, OneDrive, Yandex), network storage support (FTP, FTPS, SFTP, WebDAV), LAN support (SMB 2.0, NAS, NFS, CIFS, FTP, HTTP), and more.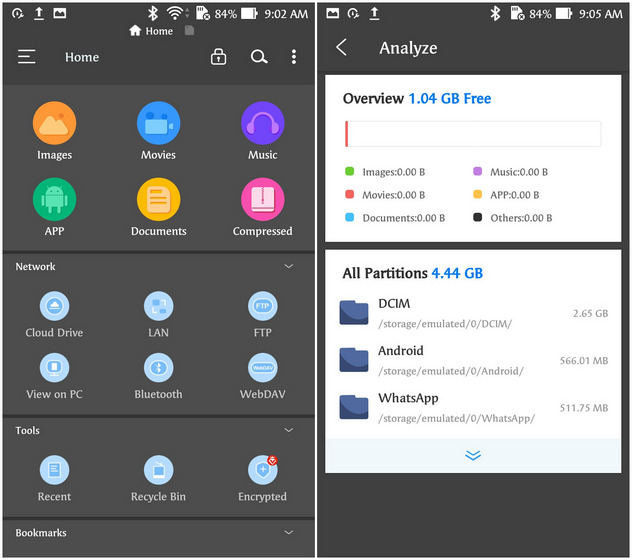 RS File Manager also comes with a built-in app manager and root explorer. There's also support for compression and decompression (ZIP, RAR, 7ZIP, OBB), USB OTG, and SD cards. You can also access the files on your phone from your PC while sharing options include Bluetooth, e-mail, and more.
Finally, RS File Manager lets you manage files and folders in the cloud and supports 128-bit encryption. With this app, you have full control over your file system, enabling you to organize everything on your phone.
10. MiXplorer
The final app on our list, MiXplorer, is one of the best-kept secrets among mainstream Android users. Developed by senior XDA developer Hootan Parsa, it is undoubtedly one of the best file manager apps on Android. It is a fast, smooth, beautiful, reliable, and full-featured file manager with a simple and intuitive user interface. It is also completely free and serves no ads.
One of the highlight features of the app is unlimited tabbed browsing and a dual-pane UI with drag-and-drop support in landscape mode. It also offers all the typical Android file manager functions, including copy, paste, move, and more. The app also uses a custom USB OTG driver with support for FAT32 (read/write), exFat (read/write), and NTFS (read-only).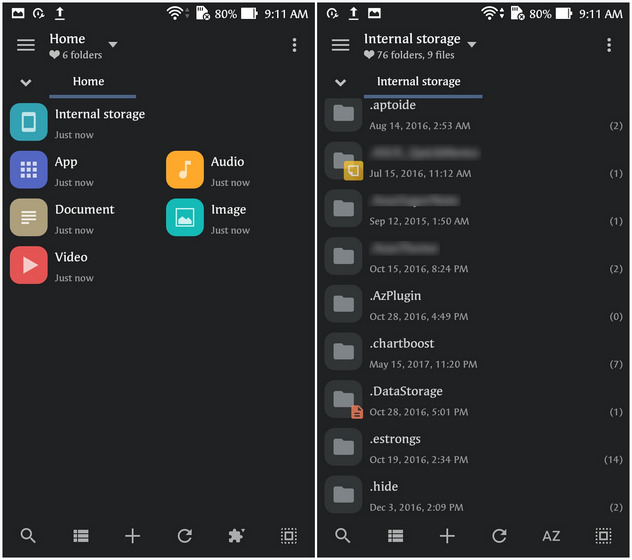 Other notable features of MiXplorer include different view modes and sorting options for each folder separately, as well as advanced search functions. There's also an HTML viewer which supports MHT, Markdown, AXml, CHM, MAFF, and more. It also supports packing and unpacking 7z and Zip/Zip64 (splitted-encrypted), TAR, TAR.GZ, TAR.BZ2, GZIP, BZIP2, XZ, WIM, Lizard, LZ4, LZ5 and Zstandard.
MiXplorer also offers integration for 19 cloud service providers, including Amazon CloudDrive, Mega, Mail.ru, Dropbox, Box, Yandex, HiDrive, Baidu, Mediafire, IDrive, Hubic, 4Sync, 4Shared, and more. You can either get the standard MiXplorer APK for free from XDA or MiXplorer Silver (paid app) from the Google Play Store. The latter is a bundle of MiXplorer and Archiver, SMB2-3, Image, Tagger, Metadata, and PDF add-ons.
Pick the Best File Manager App to Use on Your Android Smartphone
While the native file manager on Android may be good enough for most users, power users need enhanced functionality that only third-party alternatives can offer. So go ahead, try out the apps on our list and pick the file manager that best suits your needs. Once you do, don't forget to tell us which one you chose and why in the comments section below. As an Android power user, you should also check out some of our other Android resources. You can learn how to change Android DNS settings, how to recover deleted photos in Android, how to turn any website into an Android app, and the best privacy browsers for Android devices.
---
Load More