Smartphones are highly personal devices and thus, it's no surprise that we store our sensitive data and a lot of our personal photos on it. Also, the cameras on devices like the iPhone pack a lot of punch, so it's pretty obvious for us to picture a lot of our personal moments and share them. However, we don't want just anyone to see our personal photos on our iPhone, do we?
The fact remains that anyone can easily go to the Photos app on an iPhone or iPad and check out pictures you don't want them to see. Well, that's the reason you should be hiding photos on our iPhone. Thankfully, there are a couple of ways to hide photos on an iPhone or iPad:
Hide Photos on iOS Natively
Yeah, there's a way to hide your photos on your iPhone natively and it's really easy. Just follow the steps underneath:
1. To hide a photo in iOS, just launch the Photos app, open the photo you want to hide and hit the share button.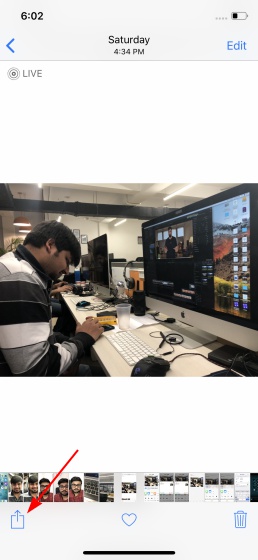 2. In the last row of the share menu, you will find an option called "Hide". Tap on it and select "Hide photo" via the prompt.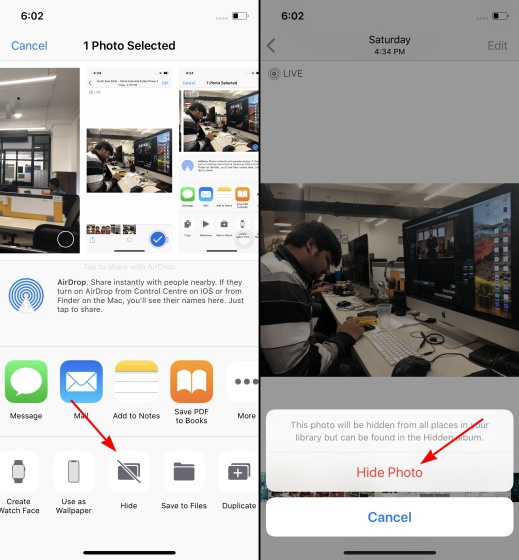 3. Once done, you will no longer see the selected photos in the "Camera Roll" folder.
There's a catch here though. All of the hidden photos are saved in a new album termed 'Hidden' in the Photos app and there's no way to lock it. This means anyone can jump into the Photos app on your iOS device and access the hidden photos quite easily, making the feature highly insecure.
Hide Photos using Notes App
While the Photos app doesn't really help secure photos on your iOS device, the Notes app can come in pretty handy for the same. So, follow the steps underneath to hide photos in the Notes app:
Open the photos app, select the photo(s) you want to hide and tap the share button at the bottom left. Then you need to tap the 'Add to Notes' option, add a description if you want and hit the 'Save' button.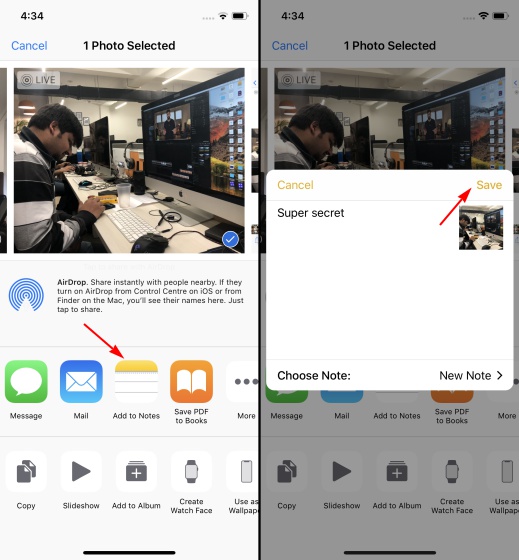 2. Next, go to the Notes app and open the note you just created with the photo in it. You then need to tap on the share button at the top right and select the 'Lock Note' option.
3. Just set a password for your note, add a hint if you tend to forget passwords, and hit 'Done' afterward. You can also toggle the 'Use Face ID' option to safeguard all your personal photos.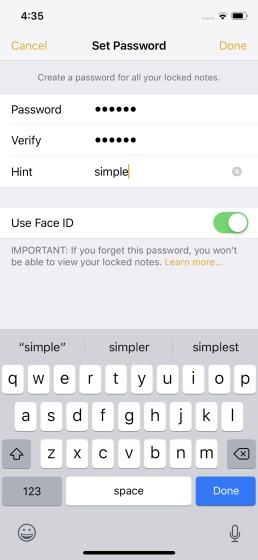 While this may be a much better method to hide away your private photos, but remember to tap on the unlocked 'lock' icon at the top right to lock your notes once again, else others will be able to see your hidden pictures if they stumble upon them.
Third Party Apps to hide photos on iPhone & iPad
Well, if you want a more secure solution to hide photos on your iPhone, you will have to rely on third party apps. So, without any further ado, here are the best apps to hide photos on iPhone & iPad:
Note: When you hide a photo from any of the following apps, they import the photo into the app and ask you to delete the photo from the Photos app. When you delete the photo, it is moved to the "Recently Deleted" album in the Photos app. So, make sure to delete these photos from this album too for a fool proof solution.
1. Keep Safe
Keep Safe is arguably one of the most popular photo hiding apps available for iOS and rightly so, the app brings a clean UI and a ton of features to keep your photos/ videos hidden away from prying eyes. The app lets you lock it all away with a PIN, TouchID or FaceID and offers private cloud storage, where you can store your private pictures. It's packing a cool Facedown Lock feature as well, and it automatically opens a selected app when you put your iPhone face down. Other features include the ability to sort your duplicate photos, share photos, send photos to KeepSafe via email and more.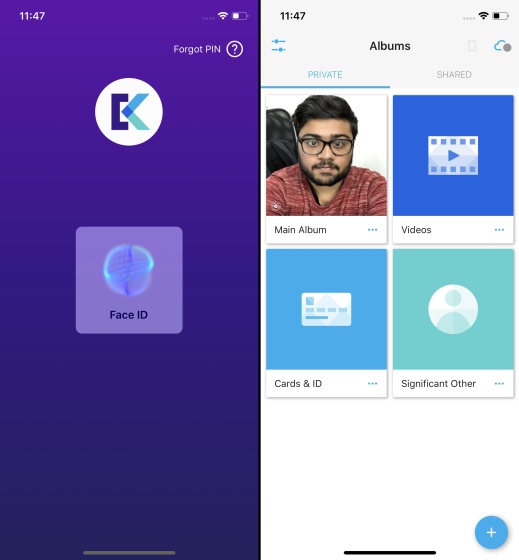 The aforementioned features are available in the Basic version of the app, but there is a slew of Premium features here that you will love. Those include custom albums, a secret door (disguise the PIN screen with a virus scanner, countdown timer or calculator), more cloud storage, trash recovery, fake PIN (a second PIN that opens a decoy KeepSafe app) and a lot more. The good news is, the app offers you a free 1-month trial for all the Premium features so that you can make up your mind.
Install: (Free, with Premium version starting at $4.99)
2. Private Photo Vault
Another popular photo hiding app is Private Photo Vault, which lets you lock your photos within the app via PIN, TouchID or Face ID. The Pro version brings along pattern lock as well. It also brings many cool features like the ability to import photos & videos from the local storage as well as iTunes. The app even includes a web browser that you can use to download images directly to the vault.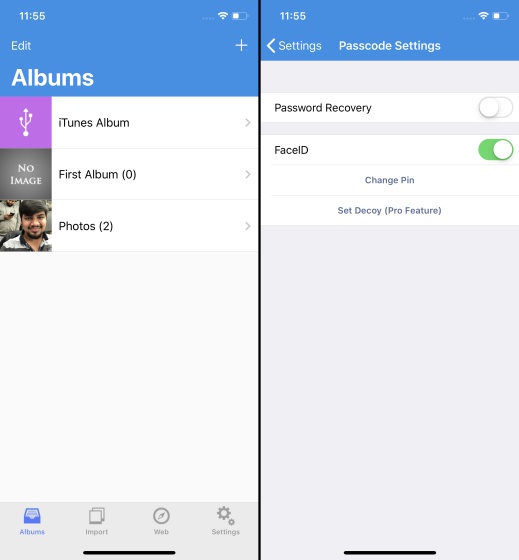 The app is available in a free version and it works perfectly fine, but if you want access to more unique features, you'll have to upgrade to Pro. The Pro version allows you to create unlimited albums and brings features like wireless photo transfer, decoy password, video support, break-in report via GPS & photo and more.
Install: (Free with Pro version available for $4.99)
3. Vault
The Vault app is just like any other photo hiding app, that lets you import private photos and videos from your gallery. It prompts you to delete those from storage right after to safeguard your privacy them from nosy friends. You can lock the app via a passcode or Touch ID (which makes use of Face ID on newer iPhones and iPads), but you can import photos and videos solely from the local storage. However, you can import photos from Safari, thanks to the Safari Import feature. Other than that, the app also has Face Down Lock and Cloud Backup features as well.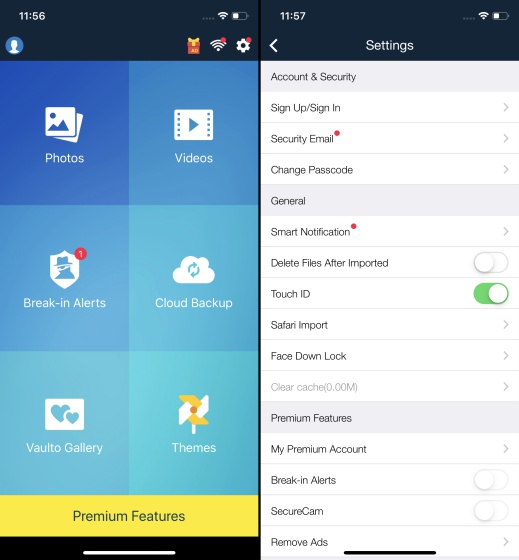 While all these are features available in the free version, there are a myriad of premium features such as 1TB private cloud storage upgrade, break-in alerts with photos and GPS info, ability to disguise app as a camera app & create a fake vault available through in-app purchases.
Install: (Free)
4. Lock Secret Photo Album Vault
This is yet another app that's pretty popular among iPhone and iPad users, who want to hide private photos or videos away from the public eye. Lock Secret Photo Album Vault, which is an unusually huge name for a photo hiding app, supports everything from the usual alphanumeric, pattern or PIN locks to Face ID as well. You can set up decoy password screens, folder passwords, and more to further safeguard your media files.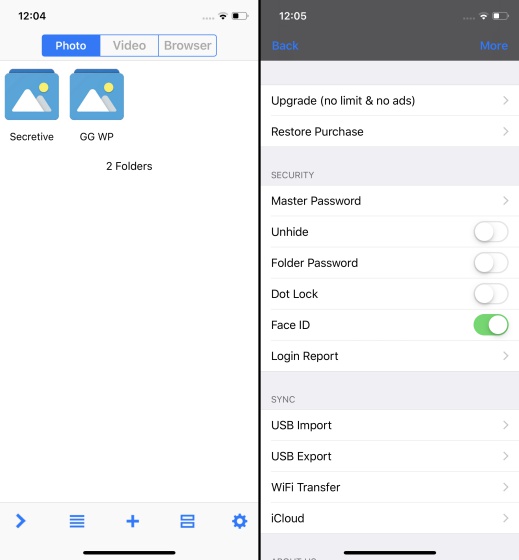 This app also has a private browser baked into it, meaning you can access the personal websites you do, within a photo hiding app (weird, ain't it?). You get a clean UI which is easy to access and comes with additional features like break-in reports, quick search, a photo-viewing mode where you can choose a background music and transition style.
Install: (Free)
5. oneSafe 4
oneSafe 4 is more than just a photo hiding app, or secret folder on your iOS device, but primarily allows you to store passwords away from nosy friends or family. You no longer have to store passwords or images in notes, but can invest $3.99 bucks to get this app, which will guard your passwords, documents, photos/ videos, credit card/ bank account details, PIN codes, and much more.
And well, oneSafe 4 has a number of different security measures in place to protect your personal info. You canuse boring old passwords, Touch ID and Face ID to start with, but this is complimented by an auto-lock mechanism, decoy pages, break-in detection, password generator, and even a self-destruct option that will come handy in dire times.
Install: (Paid, $3.99)
6. TouchyNotes
TouchyNotes is one of the most secure and feature-rich photo hiding apps on here because it uses patent-pending SPINT technology to enables users to enter passcodes. It utilizes a combination of spinning controls and a magic point that is used to register your input, thus, making it difficult for people to guess the numbers you entered. TouchyNotes keeps your photos, passwords, website bookmarks, contacts, and notes private and away from curious bodies.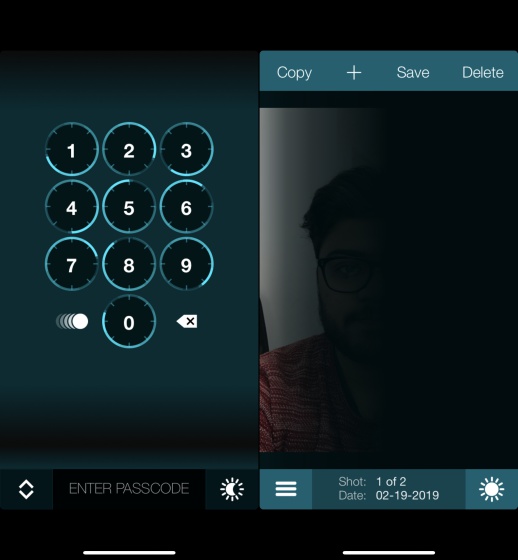 The process of adding content, i.e.  photos, videos, notes, etc may be a little tedious and require you to paste it all from the clipboard, but I love that TouchyNotes adds a black screen to your photos for further privacy. You need to tap and scroll on the part you want to reveal.
Install: (Free, with in-app purchase starting at $0.99)
7. Best Secret Folder
Dialling it back to the 90s and bringing in the old-school safe with a padlock, Best Secure Folder, is the most pristine app for hiding photos on your iPhone or iPad. It may have an oldish design, synonymous to iPhone's old days, but you can secure your photos, videos, and secret notes behind a PIN or pattern lock. It keeps track of your login attempts, will send you the photo and location of the intruder trying to break-in, easily import/ export everything and more.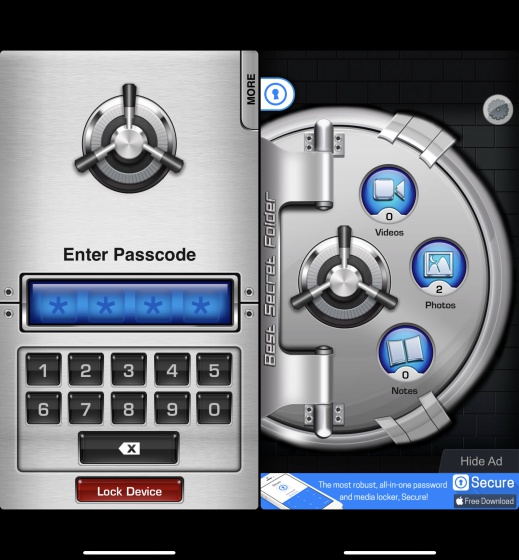 Best Secure Folder lets you setup a dummy screen, which opens at startup to confuse users and even shows fake videos to keep them at bay. These features are all offered in this app's free version of the app, but a $1.99 Pro upgrade nixes the ads, adds the ability to backup data to a favorite cloud service, and bring AirPlay into the mix.
Install: (Free)
8. Photo Vault: Hide Photos
Moving on from the retro and oldish design to the most simplistic app on this list, well, Photo Vault: Hide Photos is perfect for someone who doesn't need much hassle in their lives. This app has a simple UI and locks everything from your private photos, videos, passwords, and even contacts behind a simple number lock. You can view all of the media files natively and call people from within the app.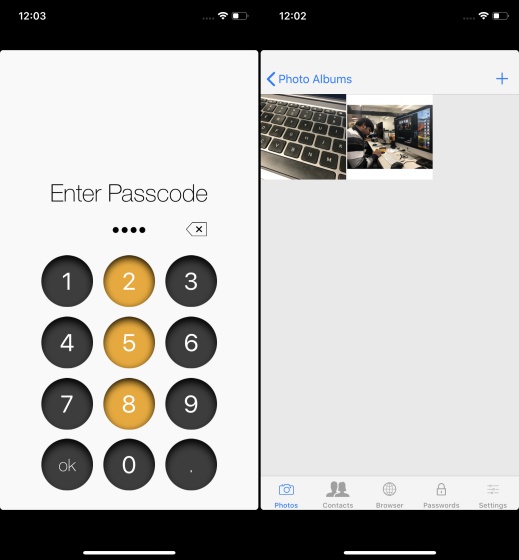 This app also brings in tow a private browser, which is certainly a great touch for those who're wary of Google Chrome's Incognito mode too. I like this photo hiding app for its simplicity and you should definitely check it out.
Install: (Free)
SEE ALSO: 9 Best Apps to Hide Photos and Videos on Android
For better understanding, you can also watch our video on how to hide photos and videos on iPhone:-
Hide Personal Photos and Videos With These Apps on Your iOS Device
As we mentioned, iOS does let you hide photos natively but it's certainly not the way to go if you plan on hiding personal and sensitive pictures. Thankfully, you can still use the Notes app to hide photos on iPhone, and the aforementioned third party hiding apps work like a charm and bring some very cool features. So, check out them out on your iPhone or iPad and let us know what you think in the comments section below.