Smartphones are highly personal devices and thus, it's no surprise that we store our sensitive data and a lot of our personal photos on it. Also, the cameras on devices like the iPhone pack a lot of punch, so it's pretty obvious for us to picture a lot of our personal moments and share them. However, we don't want just anyone to see our personal photos on our iPhone, do we?
The fact remains that anyone can easily go to the Photos app on an iPhone or iPad and check out pictures you don't want them to see. Well, that's the reason you should be hiding photos on our iPhone. Thankfully, there are a couple of ways to hide photos on an iPhone or iPad:
Hide photos on iOS natively
Yes, there is a way to hide photos on your iPhone natively. To hide a photo in iOS, just launch the Photos app, open up the photo you want to hide and hit the share button. In the last row of the share menu, you will find an option dubbed "Hide". Tap on it and select "Hide photo" on the prompt. Once done, you will no longer see the photos in the "Camera Roll" folder.
There's a catch to this feature though, as the hidden photos are saved in an album named "Hidden" in the Photos app. This means that anyone should be able to access it pretty easily, making the feature not as secure as you'd like.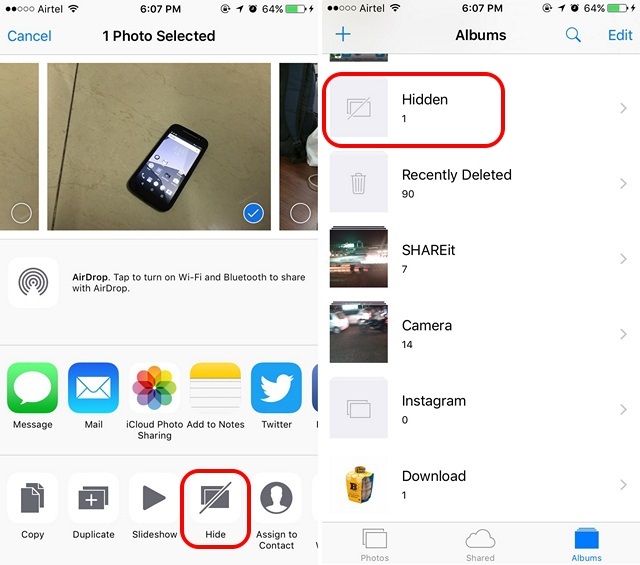 Third Party Apps to hide photos on iPhone & iPad
Well, if you want a more secure solution to hide photos on your iPhone, you will have to rely on third party apps. So, without any further ado, here are the best apps to hide photos on iPhone & iPad:
Note: When you hide a photo from any of the following apps, they import the photo into the app and ask you to delete the photo from the Photos app. When you delete the photo, it is moved to the "Recently Deleted" album in the Photos app. So, make sure to delete these photos from this album too for a fool proof solution.
1. Keep Safe
Keep Safe is arguably the most popular photo hiding app available for iOS and rightly so, the app brings a clean UI and plenty of features to keep your photos & videos hidden away from prying eyes. The app lets you lock it with a PIN or TouchID and offers a private cloud storage, where you can store private pictures. It includes a cool Facedown Lock feature, which automatically opens up a selected app when you put your iPhone face down. Other features include ability to sort duplicate photos, share photos, send photos to Keep Safe via email and more.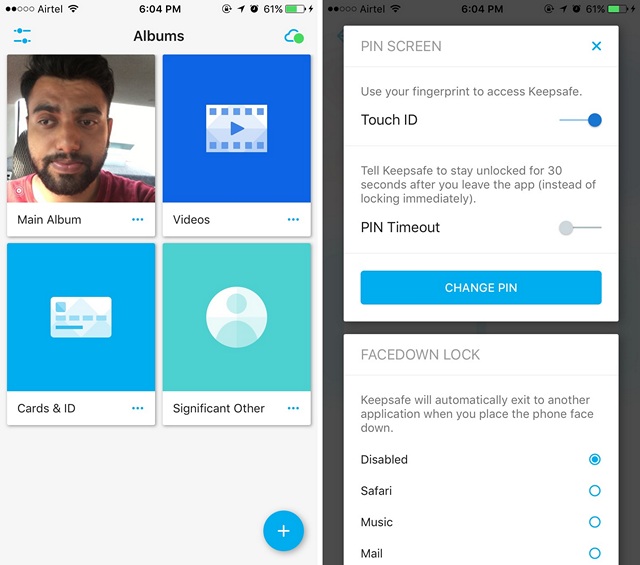 The aforementioned features are available in the Basic version of the app but there are a slew of Premium features (available via in-app purchases) that you will love. Those include custom albums, secret door (disguise your PIN screen with a virus scanner, countdown timer or calculator), more cloud storage, trash recovery, fake PIN (a second PIN that opens a decoy Keep Safe app) and more. The good news is, the app offers you a free one-month trial of all the Premium features, so that you can make up your mind.
Install: (Free with in-app purchases starting at $3.99 for Premium)
2. Private Photo Vault
Another popular photo hiding app, Private Photo Vault lets you lock your photos in the app via PIN, TouchID or pattern (Pro version). It also brings cool features like the ability to import photos & videos from the local storage as well as iTunes. The app even includes a web browser that you can use to download images directly to the vault. The app is available in a free version but if you want more unique features, you'll have to upgrade to Pro. The Pro version of the app brings wireless photo transfer, decoy password, video playback support, break-in report via GPS & photo and more.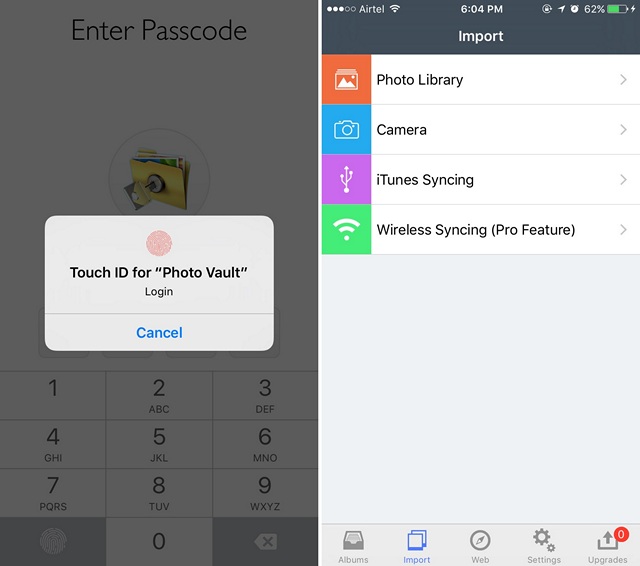 If you want to get some of the Pro features without paying for them, you simply have to earn coins by watching sponsored videos from the Upgrade tab in the app.
Install: (Free with in-app purchase of $3.99 for Pro)
3. Gallery Vault
If you want a feature rich yet free photo hiding app, Gallery Vault is the best solution. The app hides your pictures and videos via a passcode, pattern or Touch ID but you can only import media available on your iDevice's local storage. However, the app makes it up by offering a web browser inside the app, which you can use to download images. It also records break-in events and disguises itself as a camera app. Moreover, you can share photos and even un-hide media to send them back to the Photos app.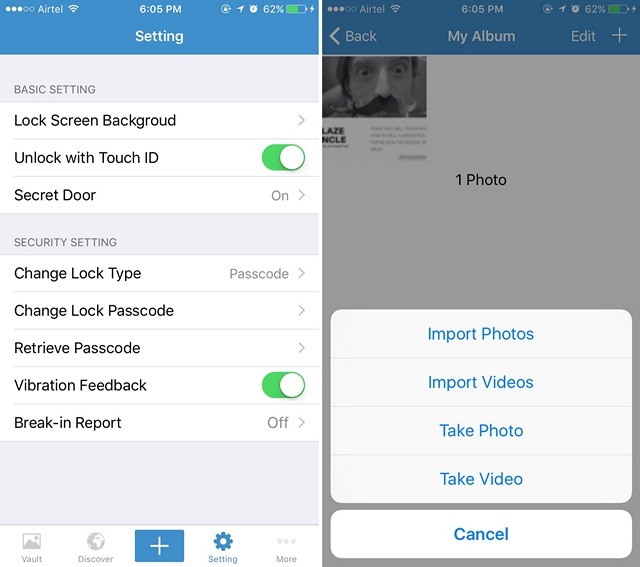 Install: (Free)
4. KYMS
If you want to hide a lot of content on your iPhone, KYMS Secret Photos app is your best bet. The app not only lets you hide photos, videos and documents but it also lets you edit photos, play most video files and open & edit documents. You can import media in the app from the local storage, iTunes, PC or Mac via WiFi or you can simply download any content from the built-in browser. The app login options include PIN, password or Touch ID and moreover, the app disguises itself as a calculator app, which is pretty cool. It also includes a "Panic gesture" feature, which lets you put your hand on the screen to log out from the app immediately.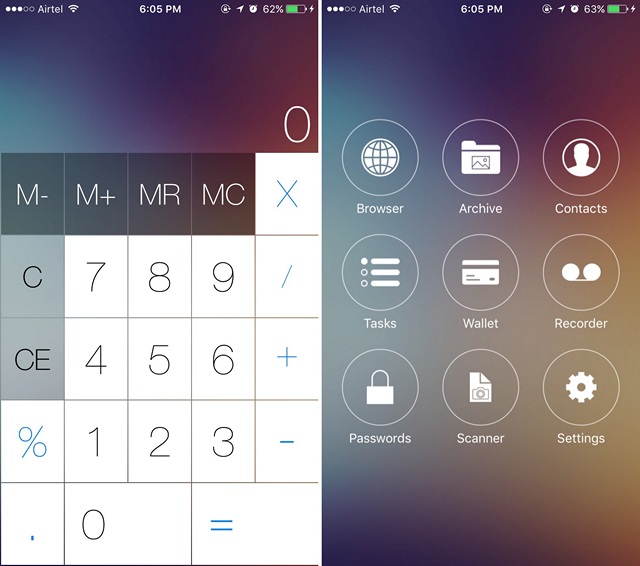 The app is available for free but if you want to hide contacts, tasks, audio recordings, cards, scanned documents, then you will have to purchase the Premium version. The app also features ads, which can be removed via a $1.99 in-app purchase.
Install: (Free with in-app purchase of $2.99 for Premium)
5. Vault
The Vault app is more than just a photo hiding app, as it also lets you integrate your Facebook account, so that you can send private messages to your Facebook friends who are using the Vault app as well. You can lock the app via a passcode or Touch ID but you can import photos, videos only from the local storage. However, you can import photos from Safari, thanks to the Safari Import feature. Other than that, the app also brings Face Down Lock, which launches another app when the iPhone is placed face down on a surface.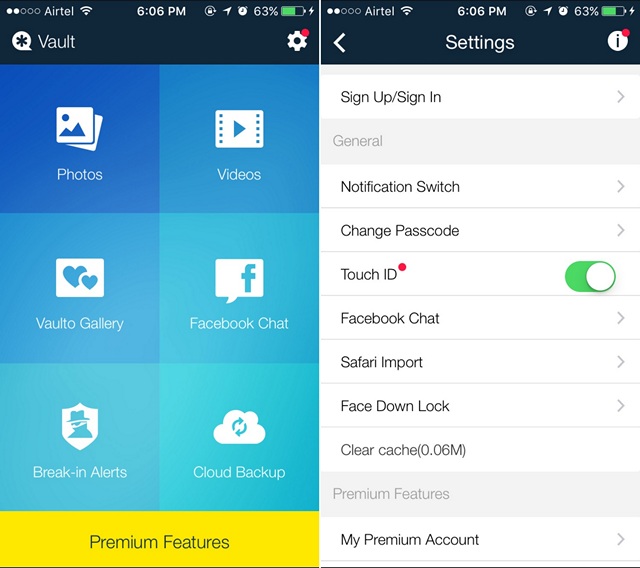 While these are the free version features of the app, there are various premium features like private cloud (1 GB storage) support to sync your media, break-in alerts with camera and GPS info, ability to disguise app as a camera app & create a fake vault available as in-app purchases.
Install: (Free with in-app purchases starting at $0.99 for Premium)
6. Tic Tac Lock
As the name suggests, Tic Tac Lock is a photo hiding app disguised as the Tic Tac Toe game and in fact, the app even lets you play the game, so that no one doubts it. The app lets you import photos, videos, audio and documents from the local storage or via the Shared folder in iTunes. While it does not pack a lot of advanced features, it makes do with its simple interface and support for a plethora of file types.
While the app is available in a free version, it's limited and you should get the full version to import unlimited media & documents and protect different albums with different passwords.
Install: (Free with in-app purchase of $1.99 for full version)
SEE ALSO: 9 Best Apps to Hide Photos and Videos on Android
For better understanding, you can also watch our video on how to hide photos and videos on iPhone:-
Hide your personal photos and videos on iOS with these apps
As we mentioned, iOS does let you hide photos natively but it's certainly not the way to go if you plan on hiding personal and sensitive pictures. Thankfully, the aforementioned third party hiding apps work like a charm and bring some very cool features. So, check out them out on your iPhone or iPad and let us know what you think in the comments section below.