If you are looking for free photo editing software, you're at the right place, where we have a list of top 12 best free photo editing tools, both online and offline, so that you can keep working, even when you are not in front of your own PC or Mac. We have selected these tools based on several factors, such as simplicity of user interface, productivity, features, easy-of-use, platform availability, and more. I hope this article will be helpful for those who need a free and effective photo editor. We will start our list with best free offline photo editing software and then will move onto online photo editors out there. So, without further ado, here are the 12 best photo editing software you can use in 2021.
Best Free Photo Editing Software in 2021
We have featured free desktop photo editing apps in this article. If you are looking for photo editing apps for Android, or photo editors for iPhone, click on the links to check them out. We have covered photo editors of a variety of types, so you will not only find desktop photo editors that are kind of like Adobe Photoshop alternatives, but also online photo editors for basic and advanced photo editing.
As always, you can use the table of contents below to navigate between the software on this list.
1. Pixlr X and Pixlr E
Pixlr is one of the most popular online photo editing tools out there, and for good reason. It's a simple and intuitive photo editor that still offers plenty of features. And now, Pixlr has made its offering even better. There are two options you can choose from: Pixlr E is meant for people looking for an advanced set of features for their photo editing needs. On the other hand, if you're looking for a free photo editor to retouch your photos, or just apply some filters and all, you should check out Pixlr X. You can choose which tool you want to launch from the homepage of the software.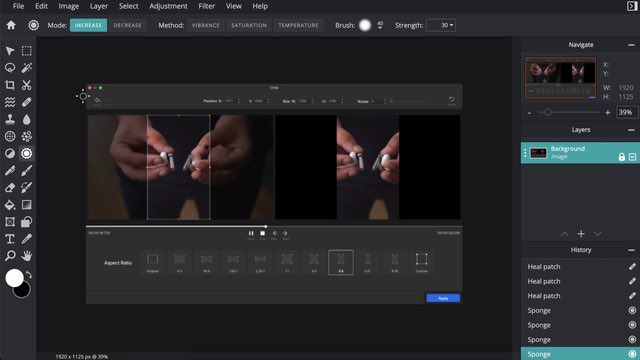 Availability: Windows & Mac
2. GIMP
GIMP is the popular acronym of GNU Image Manipulation Program, which is an open-source app to bring easier photo editing experience in your devices. Some of the notable features of GIMP include the customizable interface it has — which lets you change the layout as per your taste and requirement —, single-click retouching techniques that will help you enhance photographs in no time, availability of really good GIMP Plugins, wide support for various additional devices as well as input & output file formats as well. Despite the customizability, the UI of GIMP is quite professional. Also, you get perks of having an open-source community for clearing doubts and extended support.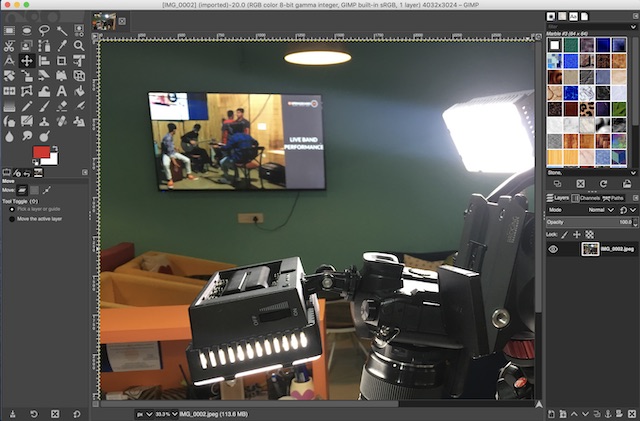 Availability: Windows, Mac, Linux
3. Paint.NET
Don't mistake it for Microsoft Paint that comes with your Windows PC by default. Paint.NET is an innovative, free, and professional tool to edit your photographs and other images quite easily. When you need something more than normal Paint but not heavy like Photoshop, Paint.NET is the one to use. We have used Paint.NET in low-configuration & high-configuration systems and the performance was superb. Talking of features, Paint.NET comes with layer-support; in-built special effects to enhance a photograph in no time, support for unlimited history that can help you find and fix your mistakes, etc. Paint.NET has grabbed several awards as well, including one from PC World. By the way, Paint.NET weighs only a few MBs, which is quite low when compared to other premium photo editors.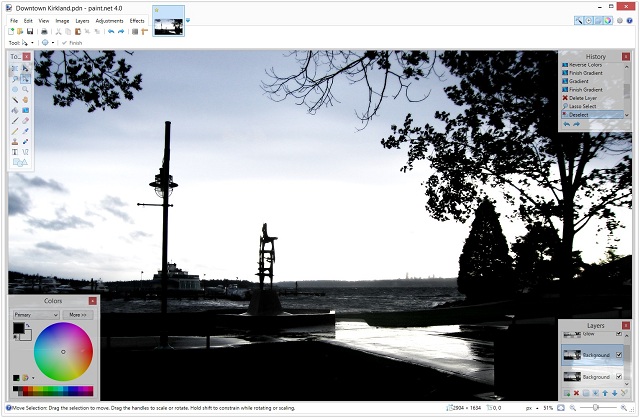 Availability: Windows
4. PhotoScape X
PhotoScape blends a lot of usable features with a minimalistic user interface so that you won't have to handle a lot of toolbars. Just as PhotoScape says on its official website, it can function as a photo viewer for viewing your photos and creating slideshows and a photo editor with basic photo editing and batch editing capabilities. When you open PhotoScape, you can see the interface, with links to all its various roles. For instance, you can move onto the Viewer, Batch Editor, Animated GIF creator or RAW Converter in order to view or edit your images without any distracting elements. The Mac and Windows 10 version of PhotoScape gives users enhanced features like HDR, Magic color, and more. PhotoScape is, considering all its features, a minimalist competitor to others in list.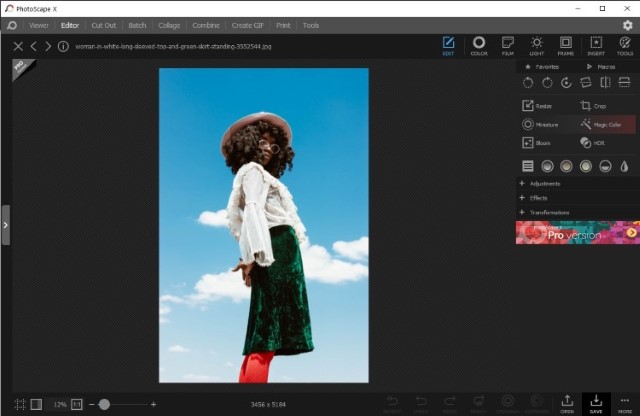 Availability: Windows and Mac
5. PicMonkey
PicMonkey is a widely-used online photo editor, which is known for the simpler user interface. The user interface of this photo editor has been classified into four sections — Editing, Touch Up, Design, and Collage. All these can be done from the home-page of PicMonkey. You can either upload files from your computer or take from Facebook or some storage services out there. Talking of PicMonkey editing interface, features range from basic editing to overlays and themes. It does not matter whether you're a professional or a normal user, you will love the quick-to-learn editing interface of it. We really loved the collection of effects and filters PicMonkey offers. Also, if you're into the Touch-Up section, there are some really practical ones you may love, like the Spray Tan or Blemish Fix. It makes sense, in the long run. Additional sections like Collage and Design are also impressive.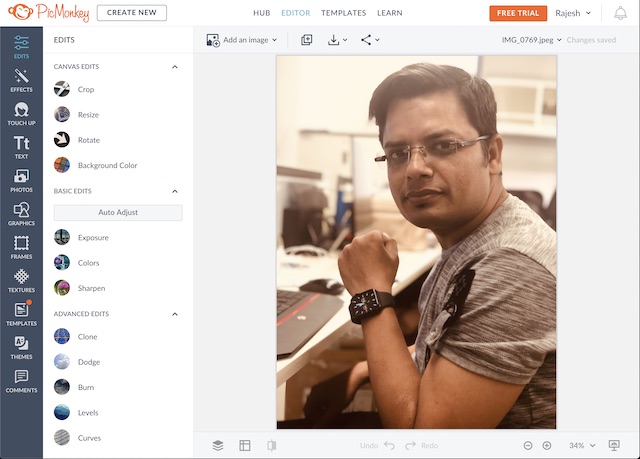 Availability: Online
6. Canva
As someone who likes to have the luxury of a wide range of editing tools, I have loved using Canva. Despite being feature-rich, it has kept complexity at bay. Probably the best part about this online photo editor is the clutter-free interface that feels quite responsive. So, you can go about editing images without any lag. Another feature worth taking note of is the ever-growing library of filters. As the filters are fully customizable, you can fine-tune each one of them to suit your workflow better. For instance, you can adjust the contrast, saturation, and brightness with ease. Moreover, it has a pretty straightforward drag-and-drop control to crop and resize images. And you also get the option to select pixel dimensions and change the aspect radio quickly. Beyond these handy features, Canva should appeal to those who wish to get creative but without getting into complexity.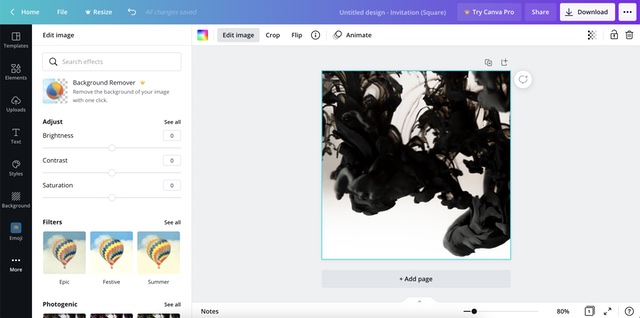 Availability: Online
7. Fotor
Fotor Photo Editor welcomes you with a screen that asks you whether you want to edit a photo, design a card or get a collage ready. In three of these, you have to upload the file, which will be in the fully-fledged online editor of Fotor, in no time. What we loved most in the editor interface is the presence of 1-Tap Interface features, which let you edit your photographs in single click; there are options to crop, rotate, re-size or fine-tune the image you have uploaded. In the effects section too, there is a lot to choose from, such as Classic, Vintage, Lens Flare etc. Although not as quick as of PicMonkey, Fotor user interface took little time to load. In addition, after uploading the file, you can use same images for different purposes. For instance, whether you want to create a Facebook cover or create a card; all things would be possible from same page.
Availability: Online
8. BeFunky
BeFunky is a fully-fledged online photo editor and collage maker, which is available in an ultra-simple interface. It has support for getting a photo from your desktop, capturing from webcam or other sources like Facebook or Dropbox. It's a lot of features, arranged in various categories, such as Basic Editing, Touch Up, Effect, and Graphics, etc. All these sections have been brought through an easier interface, in which you can select and apply the filter or effect in a few seconds only. The Graphics section was the one we loved most, for it consists of several graphical elements that can be inserted into the uploaded image in no time. Also, BeFunky interface for editing is really quick and simple to learn & there is also an upgrade option available. Altogether, in our experience, BeFunky was simply superb.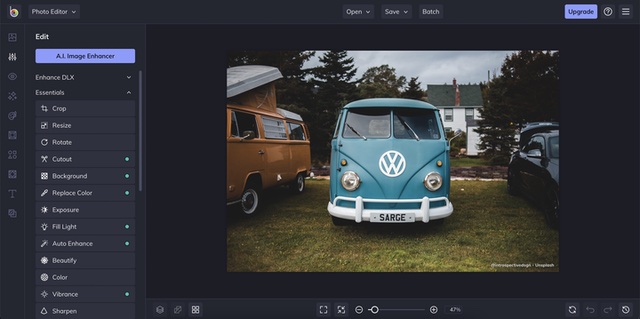 Availability: Online
9. SumoPaint
SumoPaint is not your typical online photo editor. It brings a fully-fledged Photoshop-like editing interface into your web browser screen, with almost every capability you would need, such as the color picker, info about image etc. You can have multiple windows as you'd like it, and managing these windows are easier as if you're using a fully-fledged editor that is installed in your PC. In short, we really loved the way SumoPaint has set up things. Altogether, anyone — we dare to say that — will just love the minimal interface of SumoPaint and it takes only a few seconds to load. It is also available has a pro version for 4 USD a month which unlocks some more exciting features and even lets you use the app offline.
Availability: Online
10. Ashampoo Photo Optimizer
If you often find yourself looking for software that can batch edit your photos, Ashampoo Photo Optimizer might be exactly what you need. This free photo editor for Windows and Mac has a clean and uncluttered UI. You can easily import a bunch of photos to Ashampoo photo optimizer and have the software batch-edit them, whether you want to rotate them, mirror them, etc. Moreover, the software comes with an auto-optimization tool which can be really handy when you just want to quickly make a photo look better. On the other hand, if you like manually adjusting things, you can fine tune the exposure, contrast, colors, and everything else.
Availability: Windows
11. iPiccy
Another free photo editing software you can use, iPiccy is a more than a handy photo editor. Whether you want to beautify images by removing the unwanted spots or give some of your most memorable pics a single frame or get into graphic designing at your own pace, it should be a fairly good platform for you. The free online photo editor comes with a smart tool to auto adjust images with ease. Plus, it also offers an upfront way to crop, rotate, and resizes pics. With a ton of effects, photo enhancements and beautiful frames at the disposal, adding the x-factor to the images shouldn't be a big deal. One of my top picks of this photo editor is the collection of several predefined templates that make collage creation fun. Besides, the option to add stickers and apply vector is also cool. In a nutshell, iPiccy can live up to your taste for editing images like a pro – without having to master complex tools.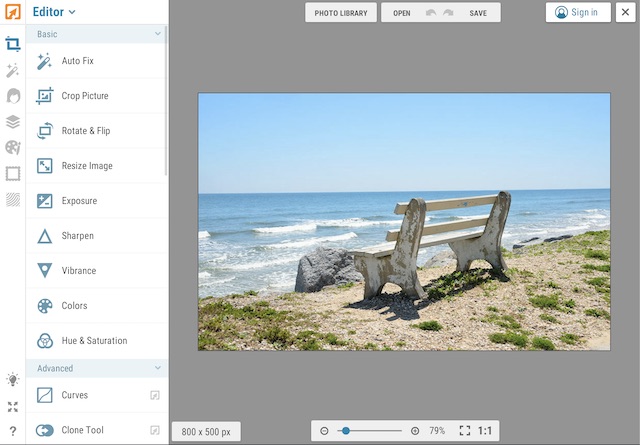 Availability: Online
12. Fotoram.io
For those times when you just want a quick edit on your photos, Fotoram.io could be a decent choice to go with as well. This free online photo editing software brings a bunch of useful features. You can easily apply effects to your photos, or go with textures such as light trails, disco, and more. There's also support for frames, text, and clipart here in case you want to add some text and annotations to your photos. Ofourse, you also get some basic editing tools to edit the exposure, sharpness, and crop or rotate your photo easily. The only drawback of this web-app is the sheer number of ads that are littered across the UI. It can be quite distracting.
Availability: Online
Choose the Best Free Photo Editing Software
There you go! So, these are our top free photo editors which you can use to edit images. With easy-to-use editing tools, a ton of readymade filters and effects, they let you beautify pics without having to go through a steep learning curve. And that's exactly what makes them stand out. By the way, which photo editing software has caught your attention? Do let us know its name in the comments section down below.