Many people believe that Chrome OS is nothing but a glorified Chrome browser. That would have been true 3-4 years back, but this statement does not hold water right now (check out our favorite Chrome OS tips and tricks). At present, Chrome OS has support from many quarters including the Web, Android and most recently, Linux. It essentially means that Chromebook is enjoying millions of native apps from multiple subsystems. So in this article, I am going to share some of the best Chrome OS apps available right now. We have included top-notch apps for every category so you can have an enjoyable experience while using Chrome OS. Now having said all of that, let's begin without further delay.
Best Chrome OS Apps for 2020
We have categorized the article into four sections so you can comfortably navigate through the list of apps. First, we have mentioned Web apps and then Android, Chrome Extensions, and finally, Linux apps. We have picked only the best Chrome OS apps which are running perfectly fine without any glitches. So now, let's go ahead and begin with Web Apps first.
Best Web Apps for Chrome OS
Before we begin, let me clarify some key points about web apps. Web apps are basically websites on the internet, but more essentially, they follow the PWA (Progressive Web Apps) standard. In case you have no idea about PWA, it's a flexible and modular web standard that allows websites to behave like a native app. You can create a separate window of the website, pin it on your shelf and also use it while being offline. Simply put, PWA is the cornerstone of Chrome OS and that is why we are going to start with web apps first.
To create a web app of a website, open the website of your choice and click on the 3-dot menu on the top-right corner. After that, click on "More Tools" and then open "Create Shortcut".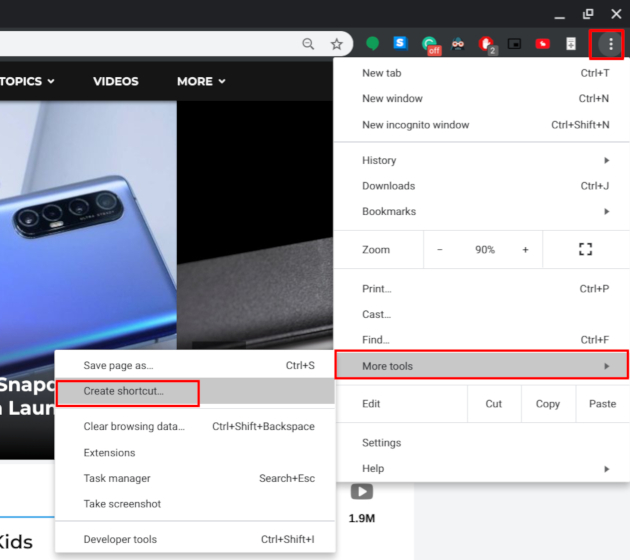 Next, enable the checkbox for "Open as Window" and click on the "Create" button. That's it. The website will be available as a Web App in your app drawer. Now with all that said, let's go through the best Chrome OS Web Apps.
1. Google Docs and Microsoft Office
Google Docs does not need any introduction, but for users who are coming from Windows and are looking for Office apps, Google Docs can be a great alternative on Chrome OS. It brings almost all the Microsoft Office features and you can also use it while being offline. You can save files in whichever format you want ranging from PDF to DOC and DOCX. It will help you edit your documents on Microsoft Office as well. However, if Google Docs does not cut for you and you want Microsoft Office on Chrome OS then you have that option as well. You can use the web version of Microsoft Office free of cost exactly like the native application on Windows OS. But keep in mind, there is no offline support for the web version of Microsoft Office.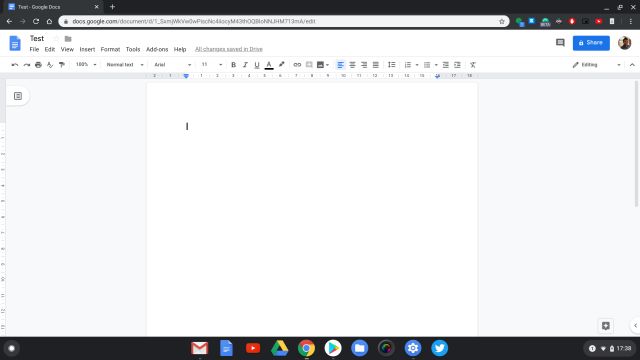 2. Google Keep
If you want to take notes quickly and scribble something for later use then Google Keep is one of the best note-taking apps on Chrome OS. Sure, you can install the Android version of Google Keep, but I would recommend you to use the web app. It's designed for a bigger screen and syncs directly with your Google account without any issue. On top of that, you can create a standalone app of Google Keep using the guide I have mentioned above. You can also install the Google Keep extension if you want to save websites quickly and create tasks while browsing the web.
3. Pixlr and Canva
Many users who flock to Chrome OS find that there are no good options for photo editing. However, things have changed quite rapidly in this department. You can now do some great photo editing with all the essential tools on Pixlr. The new beta editor of Pixlr is even better with support for layers, lasso tool, wand, mask and more. Apart from that, Canva is also a great choice for photo editing and creating collages on the fly. You can choose your dimensions, pick a background and just get started with your photo editing. Not to mention, you can create a PWA app for both the websites so there is that.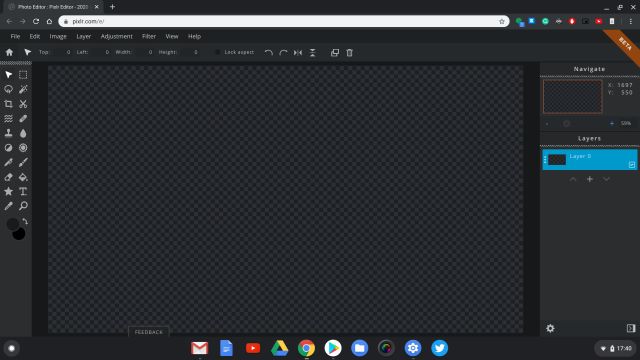 Check Out Pixlr [In Beta]
4. Photopea
For those users who want Photoshop-level features, well there is a great web app on Chrome OS which does exactly that. Photopea is a web app where you get a similar layout to Adobe Photoshop with countless advanced features and editing tools baked in. And that is not all, you can continue editing photos of different file formats like PSD, XCF, RAW, SKETCH, etc on your Chromebook without any issue. All I would say is, Photopea is among the best Chrome OS apps for photo editing and you won't be disappointed at all.
5. Google Canvas and Sketchpad
Since most Chromebooks come with a touch-screen display, you can use it as your drawing canvas as well, similar to the iPad. There are two great apps for doodling and illustration on Chrome OS: Google Canvas and Sketchpad. If you are a beginner and want to learn the basics of drawing, you can start with Google Canvas. It's quite feature-rich and the touch response is excellent. However, if you are looking for an advanced program that gives you lots of options then Sketchpad is the best choice. It has a myriad of options for brush styles, calligraphy, vector fill and more. So to conclude, if you are looking for the best Chrome OS apps for drawing and sketches then both these options are great to consider.
6. Skype Web
Users who have moved from Windows to Chrome OS need not worry about communication tools. You get all your native applications including Skype in the form of a web app. Skype offers a full-fledged web platform where you can access your messages, contacts and most importantly, calls. And similar to the native application, you can make and receive calls without any problem. All you have to do is create a shortcut of this app and you will receive calls even when the app is closed.
7. Other Web Apps
At present, tons of modern websites are created based on the PWA standard. To name a few, almost all the popular platforms including Spotify, Twitter, YouTube Music, Pinterest, Instagram, Facebook Messenger, etc adhere to the PWA framework. So, instead of looking for a native application on Chrome OS, you can use their web version. Further, you can create a standalone app by following the guide that I have mentioned above. Do not worry, these websites don't have a mobile layout, but designed in a uniform way that scales with the screen size. So, you will always be getting a desktop-class layout with mouse, keyboard and touch-screen support.
Best Android Apps for Chrome OS
Since Chrome OS does not have native apps, Google has brought support for millions of Android apps on this new operating system. The apps are compatible with mouse and keyboard and also support resizable window size. So, in this article, I am going to share some of the best Android apps for Chrome OS that you must use.
8. Netflix
While you can use Netflix on Chrome browser without any problem, the primary reason I am recommending the Android app because of its offline support. With the Android app, you can download Netflix movies and shows for offline viewing and that's simply great. Other than that, you will get the best quality available on the app while if you stream Netflix on the browser, it will be capped at 720p. So, in conclusion, the Netflix app on the Play Store is a much better proposition than the web app and you should definitely use it.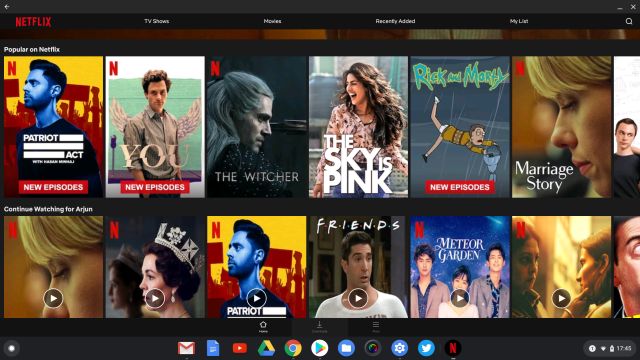 Install: Netflix (Free, Offers in-app purchases)
9. VLC
VLC is ranked among the best media players on any operating system and the same is true for Chrome OS as well. You can install the Android app on Chrome OS and you will be good to go. As we already know, VLC supports all kinds of media formats ranging from MKV to H.265 encoded videos. So, if the native media player is unable to render a video file, VLC is going to be your friend. The best part is that the app is completely free and open-source and you don't need to pay anything for playing videos that are encoded with proprietary codecs.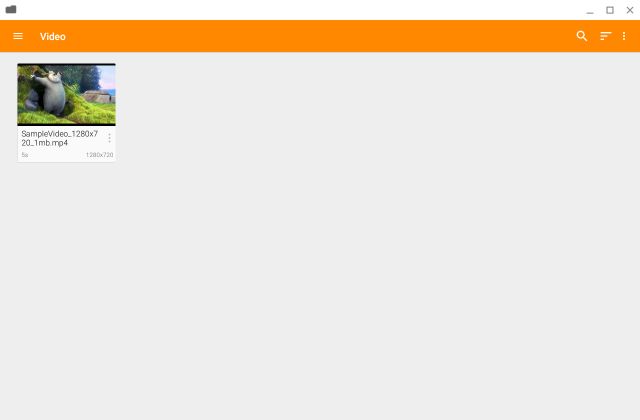 Install: VLC (Free)
10. Microsoft Office and Office Suite
The reason I am mentioning Microsoft Office again is that the Android version has offline support. Also, all the Microsoft Office apps work in full-screen mode and do not lack any of the major desktop features. However, you will need an Office subscription to activate the Office apps so keep that in mind. In case, you are not willing to purchase another plan, you can opt for Office Suite by MobiSystems. It supports all your Office files including Word, Excel, PowerPoint, and PDF. On top of that, you can edit and create Office documents while being completely offline and without any subscription fee.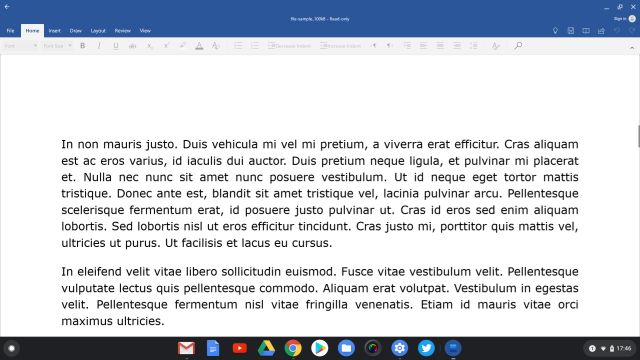 Install: Microsoft Office (Free, Offers in-app purchases)
Install: Office Suite (Free, Offers in-app purchases)
11. AirDroid and Pushbullet
Google is trying to bring a unified ecosystem between Chrome OS and Android with seamless sign-in and instant data tethering. However, we still don't have an option for mobile notifications on Chromebook and seamless file transfer support like AirDrop. Even Windows has released the Your Phone app which brings notification mirroring and call support. Nevertheless, you can get all these features using two of the popular Android apps: AirDroid and Pushbullet. Both the apps are more or less the same but I would recommend you to go with AirDroid as it brings local file transfer, screen mirroring and notification prompts in the same package. However, Pushbullet is slightly better at notification handling and has clipboard syncing across devices as well.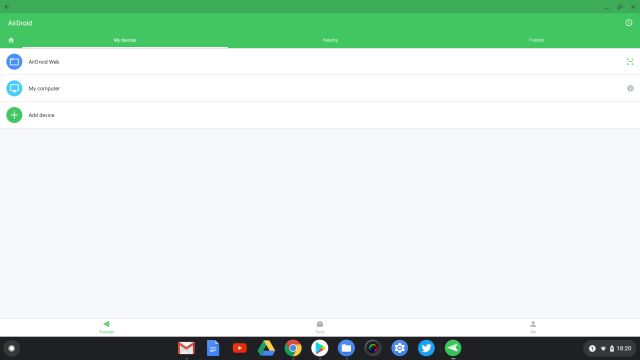 Install: AirDroid (Free, Offers in-app purchases)
Install: Pushbullet (Free, Offers in-app purchases)
12. Adobe Lightroom
In the web apps section, I have mentioned a few photo-editing programs, but those are mostly for image manipulation and complicated editing. However, if you want an offline app that allows you to adjust lighting, contrast, saturation, and other such parameters then Adobe Lightroom is the best Chrome OS app in this regard. Simply put, if you are a photographer and want to enhance the look of your photos then just go with Adobe Lightroom on your Chromebook. It supports both mouse and touch-screen controls so you can delve deeper and edit your images in great detail.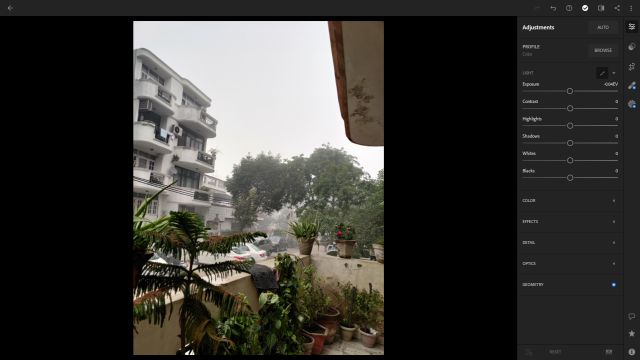 Install: Adobe Lightroom (Free, Offers in-app purchases)
13. PowerDirector
While Chrome OS is not designed to handle resource-intensive tasks, there are a few ways you can push your machine to the brink. Yes, you can do video editing on Chrome OS using a popular Android app called PowerDirector. It's an excellent app created by CyberLink that counts among the best video editing apps on the Play Store. The app layout is optimized for full-screen use so there is a timeline track, controls on the left window and your video output on the center. All in all, if you want to do video editing on your Chromebook, PowerDirector is a great app to use.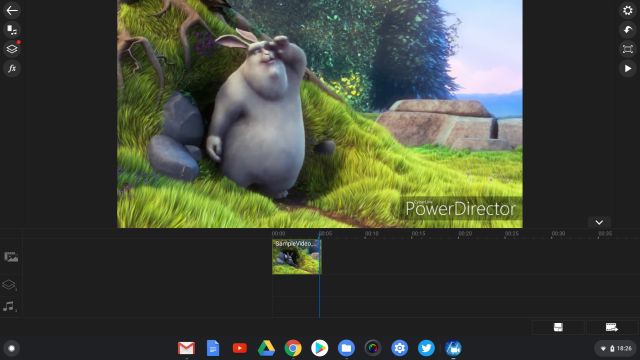 Install: PowerDirector (Free, Offers in-app purchases)
14. Squid
Squid is my personal favorite in this list and one of the best Chrome OS apps. It's an app created for students and educators. You can scribble your notes with a stylus just like you would on paper. Further, you can import images, scribble over it, markup PDFs and more. The best part about this app is that the company has partnered with Google to bring down low-ink latency on select Chromebooks. It will make you feel like you writing on a solid paper. So if you were looking for a note-taking app that is heavily optimized for Chrome OS then Squid is the best app, bar none.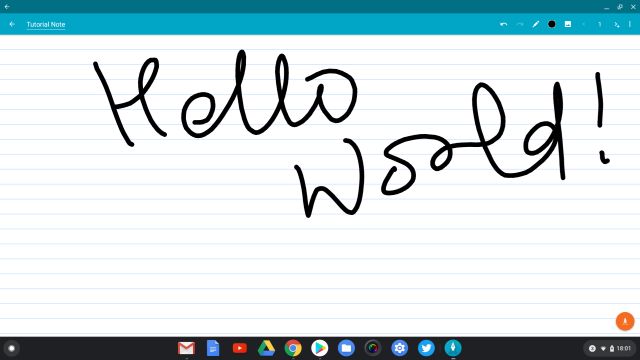 Install: Squid (Free, Offers in-app purchases)
15. Snapseed
For users who like Snapseed on their smartphone, well, you can use it on Chromebook as well with equally great control and features. Google has ensured to bring this popular app on Chrome OS with support for the big screen and mouse controls. Not to mention, you can also adjust the image using touch-screen too. And I say, editing on a big screen with touch-screen controls is much better than using mouse and keyboard combination. Anyway, if you are looking for a simple photo-editing app, you can definitely go with Snapseed.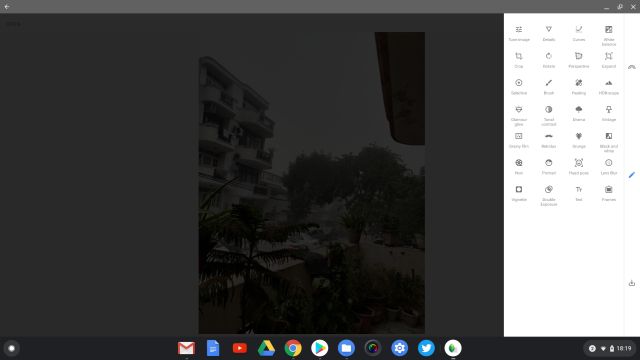 Install: Snapseed (Free)
16. Solid Explorer
Solid Explorer does not need any introduction, but if you looking for an alternative file explorer on Chrome OS then Solid Explorer is the one you should pick. To be frank, the native file manager on Chrome OS is very limited and does not have multi-window dragging and other essential features. In that case, you can use Solid Explorer as it offers a two-pane window and you can access all kinds of details of a file or folder. Apart from that, I like how Solid Explorer organizes my files and also allows me to clean up my internal storage periodically. Simply put, if you want an alternative file manager then Solid Explorer is one of the best Chrome OS apps.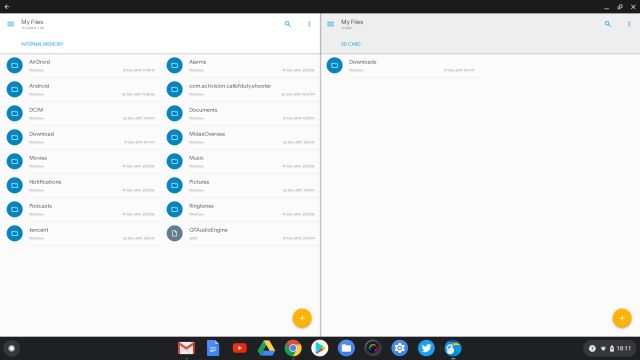 Install: Solid Explorer (Free, Offers in-app purchases)
17. iA Writer
If you want the best writing app for Chrome OS then iA Writer would be my top recommendation. It's a pretty popular app across Windows and macOS users, but now you can get it on Chrome OS as well thanks to the Android app support. The app is designed in such a way that all your focus remains on writing alone. It's based on the distraction-free principle and comes with many markdown formatting options. Not to mention, there is dark mode, dictation, focus mode and more. Simply put, for writing purposes, iA Writer is one of the best Chrome OS apps available right now.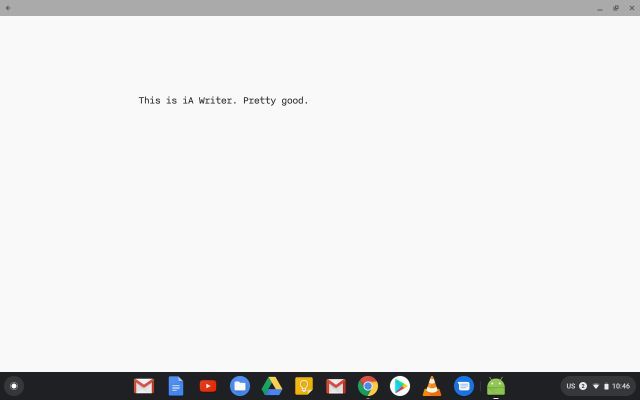 Install: iA Writer (Free, Offers in-app purchases)
18. Mekroama
While there are plenty of games available on Chrome OS, Mekorama is my absolute favorite. It's available on the Play Store and works on Chrome OS just as seamlessly as it works on the mobile. Talking about the game, it's a puzzle world where you have to help a robot reach its destination through the maze of a changing mechanical building. As you solve the puzzle, you move to the upper level hence the difficulty level increases. There are a total of 50 puzzles and all of them are really mind-bending and interesting. If I have to pick one game to play on a Chromebook all day, it would be Mekorama for sure. However, if you want to discover some of the best Chromebook games then head over to the linked article.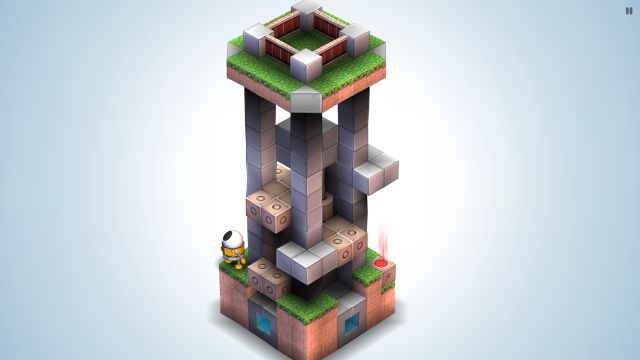 Install: Mekorama (Free, Offers in-app purchases)
19. Crossover
Crossover is a popular application for running Windows applications on macOS and Linux. And now, they have also brought support for Chrome OS. Basically, you can run the majority of Windows applications on Chrome OS effortlessly. All you have to do is download the app from the Play Store and you are good to go. I tried running Notepad++ and it worked quite well. While there were a few times when the application stopped working, the overall experience was acceptable. So, if you want to run light Windows programs on Chromebooks then Crossover is the best app on Chrome OS available right now.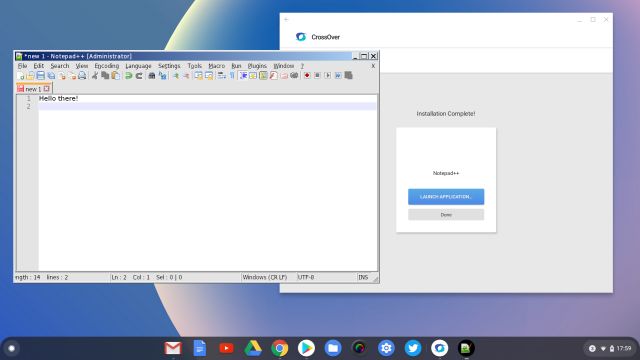 Install: Crossover (Free)
20. Proton VPN
If you wish to set up a VPN on your Chromebook then go for the Proton VPN. It offers a free plan at a slightly reduced speed and in limited regions. Also, the company claims that it does not log user's internet traffic so that is great. I would say instead of relying on dubious Proxy extensions on Chrome, installing a proper VPN is the best way to stop your data leakage. Apart from that, Proton VPN worked perfectly fine in our testing. You don't need to change the network configuration manually as was the norm before. So to put it straight, if you want the best VPN on Chrome OS then Proton VPN is a solid choice.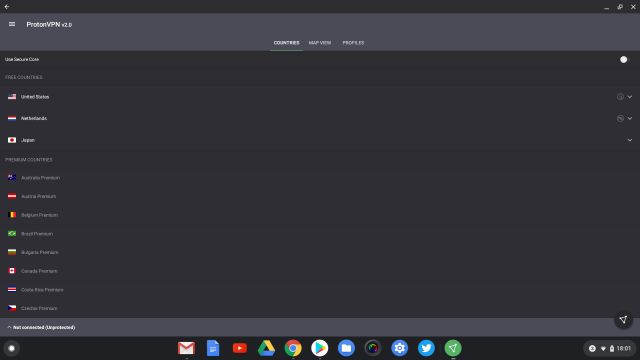 Install: Proton VPN (Free, Offers in-app purchases)
21. ReadEra
ReadEra is an excellent eBook reader that packs all the premium features, but it's completely free to use. You can use this app on your Chromebook for reading eBooks in tablet or tent mode. The eBook reader supports file formats like PDF, EPUB, WORD, MOBI, FB2 and more. But that is not all, despite being completely free, the app does not show any ads while reading books or documents. Simply put, if you are a voracious reader and want to make your Chromebook a Kindle alternative then ReadEra is the stepping stone you were looking for.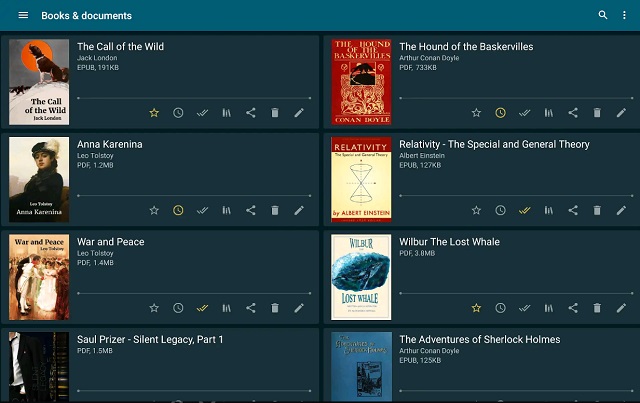 Install: ReadEra (Free)
Best Extensions for Chrome OS
While we have discussed the two foundations of Chrome OS– Web apps and Android apps– Extensions are also equally popular in the Chrome ecosystem. You can say that Extensions are the only native apps that use Chrome OS' API and libraries. So, in this article, I am going to share some of the best Chrome OS extensions that can enhance your experience even better.
22. Text
In case you are wondering about the lack of a Text editor (like Notepad on Windows) on Chrome OS, well Google has recently developed an extension for that. It's pre-installed on newer Chromebooks, but in case, your machine does not have it, you can install it from the link below. As the name suggests, Text is a simple text editor where you can write anything you want. The extension for Text files is also TXT which is the same as Notepad so all your Text files can be used on other systems as well. Surprisingly, Google has baked in dark mode too on this text editor. So, just install Text on your Chromebook and give it a go.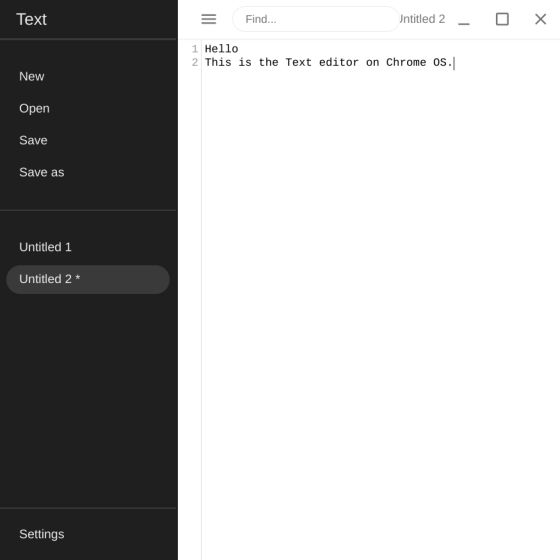 23. Nimbus Screenshot
Screenshot feature has almost become a necessity on every system — be it a smartphone or a desktop computer. While Chrome OS does have native support for screenshots, you can get a third-party extension if you are looking for versatile features. Nimbus is a pretty solid app and offers plenty of options from partial to window screenshots. You can further crop and annotate the images as well. Apart from that, if you want an extension solely for annotation purpose then Awesome Screenshot extensions is another great choice. It offers you to create boxes, blur certain parts of the image, highlight sections and more.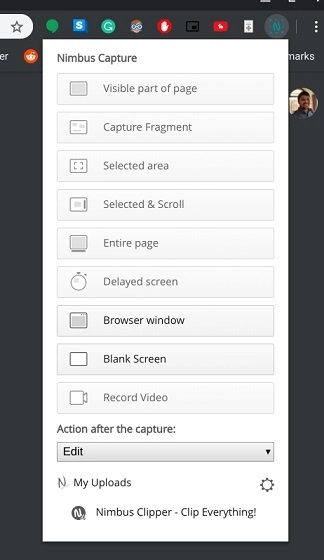 24. Screencastify
Screencastify is one of the powerful apps for Chrome OS as it allows you to record your screen with your voice and webcam support. This extension can help you record tutorials in case you are an educator. While the app is quite good, it puts a watermark if you are recording for more than 5 minutes. To remove the watermark, you will have to subscribe to a premium plan. In that case, you can use RecordRTC as an alternative. It's an open-source extension that offers similar features and does not require any premium subscription. So, depending on your use-case, you can go for either extension.
25. Kami
Kami is a complete package in the form of a Chrome extension. It's a PDF and document annotation tool that can be a life-saver for students and educators. You can import any PDF, image, document; annotate on it and then describe everything using the webcam. It helps you create videos on the go as the company has partnered with Google Classroom for seamless creation and syncing with Google Drive. The only con about this extension is that it's not free for the most part and you will have to pay even for the most basic features. Simply put, if you are a student who wants to create detailed notes or a serious educator making videos for the internet, Kami is the best Chrome OS app you can go for.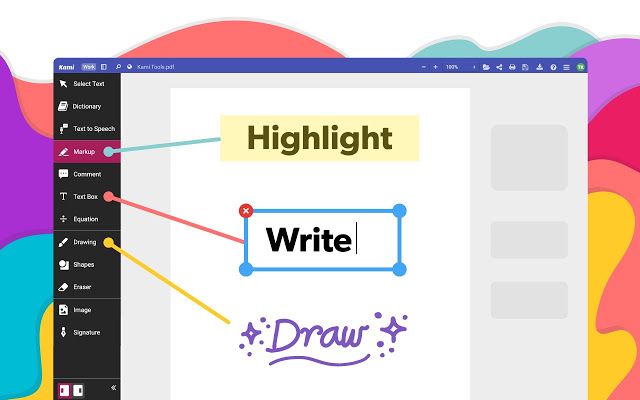 26. Caret
Caret is a top-notch text editor for computer programmers and software engineers available on Chrome OS. It's based on the widely popular Sublime Text Editor and uses similar graphical colors for various syntax, arguments, and functions. For Windows users, you can consider it as your Notepad++ alternative. I would say, if you are a serious programmer or just a beginner, Caret is the best way to do programming on Chrome OS. It's so good that you don't need to install Vim through the Linux container.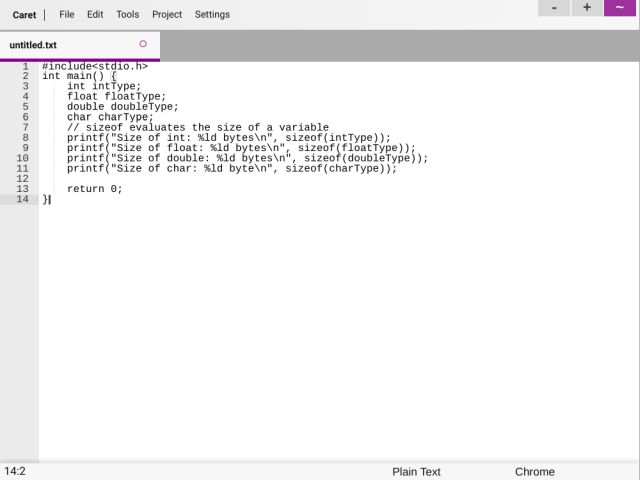 27. Dictionarist
Dictionarist is another Chrome OS extension that is going to help you while browsing the web. It lets you find the meaning of words by just double-clicking or selecting the word. It works reliably well unlike Google's Dictionary extension. I tested both the extensions and there were times when Google Dictionary would not pop up after selecting the word. Apart from that, Dictionarist worked really well while browsing websites of foreign languages as well. So, the bottom line is if you want a solid dictionary that is baked into your browser then Dictionarist is the one to pick.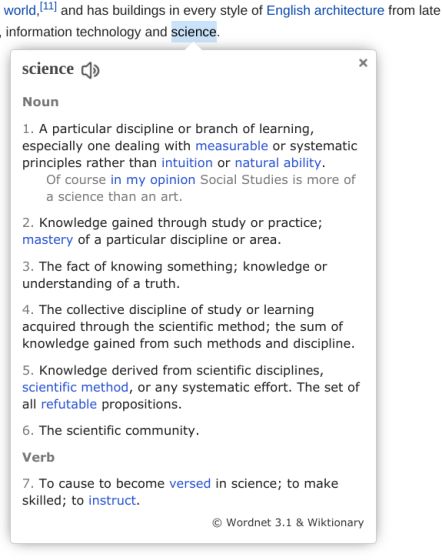 28. Wastenotime
Google brought Family Link with Chrome OS 79 update but left Digital Wellbeing and I seriously don't know why. Digital Wellbeing allows you to set timers for certain apps, websites and after reaching the limit, blocks the app from your reach. Nevertheless, since it's not available on Chrome OS, you can use Wastenotime extension. It offers similar features where you can set timers for websites and after you reach the limit, the extension completely blocks the website from your access. Do note that this extension does not block Android apps. Anyway, if you want a Digital Wellbeing solution on your Chromebook, Wastenotime is a great option to consider.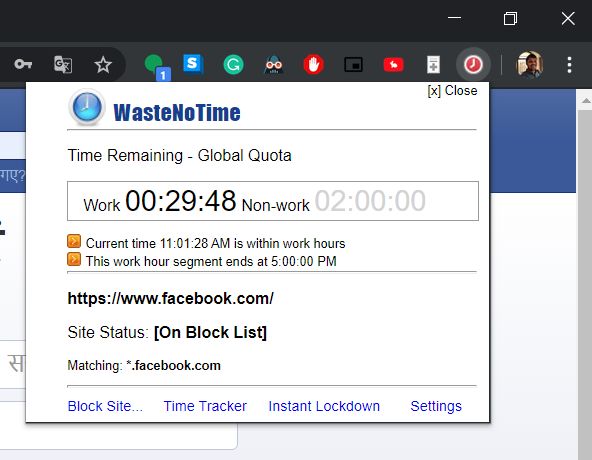 29. Cog
While we understand that Google wants to make Chrome OS a minimal and user-friendly operating system, some users want to know the technical details about their machine. For that, you can install the Cog extension on your Chromebook. It shows all sorts of details including CPU cores, temperature, RAM, processes, internal storage and more. Cog also showcases a real-time graph of the current state of your Chromebook. So, if you want to get nerdy about your Chromebook, install the Cog extension.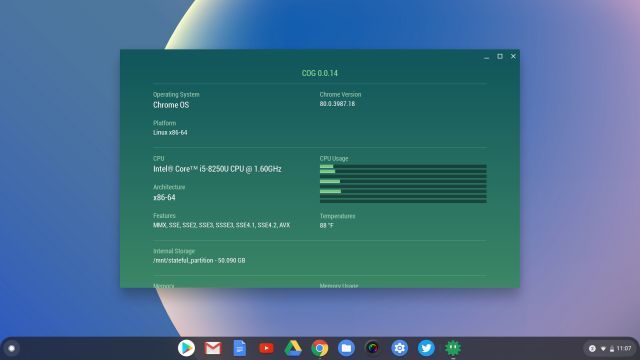 Best Linux Apps for Chrome OS
Recently, Google added Linux support on Chromebooks and that is simply great. It's a huge step towards bringing developers and programmers into the Chrome OS fold. At present, the Linux project is still in beta, but there are a few Linux apps that run quite well on Chrome OS. So here, I am going to list those apps, but keep in mind, the apps run in a container so the performance may not be up to the mark. Also, before beginning, go through the installation process of Linux on Chrome OS.
30. GIMP
GIMP is one of the best graphics editors available on various platforms ranging from Windows, Linux, and macOS. And now with the Linux support, you can install and run GIMP on Chrome OS as well. In our testing, it installed perfectly fine and ran without any hiccups. However, there was quite a bit of lag while dealing with heavy images. As I said above, the apps are running in a container and on top, there is no support for hardware acceleration yet so the performance takes a hit.
How to install GIMP: Open Terminal and execute the below command.
sudo apt-get install gimp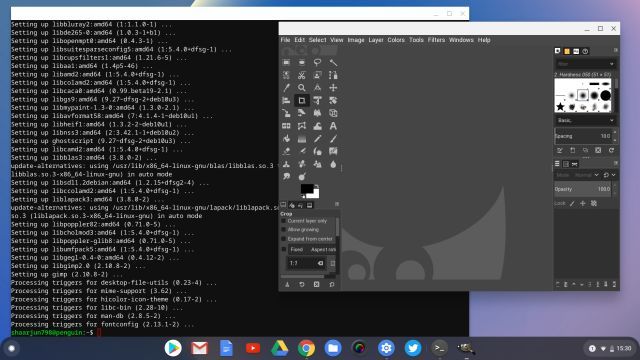 31. Visual Studio Code
For many programmers, Visual Studio Code is their go-to code editor and the great news is that you can use it on Chrome OS as well. It's developed by Microsoft and supports a great number of programming languages including JAVA, HTML, CSS, C++ and more. Apart from that, VSC also has options for debugging, Git control, syntax highlighting, bracket matching and intelligent code completion. All in all, having Visual Studio Code on Chrome OS and the ability to compile programs on the system is just magical. And for that very reason, Visual Studio Code is one of the best Chrome OS apps in this list.
How to install VSC: Open this page and download the .deb file from the "64-bit" link. Now, open the File Manager of Chrome OS and double-click on the .deb file. Now VSC will start installing itself and once that is done, you can find it in the app drawer.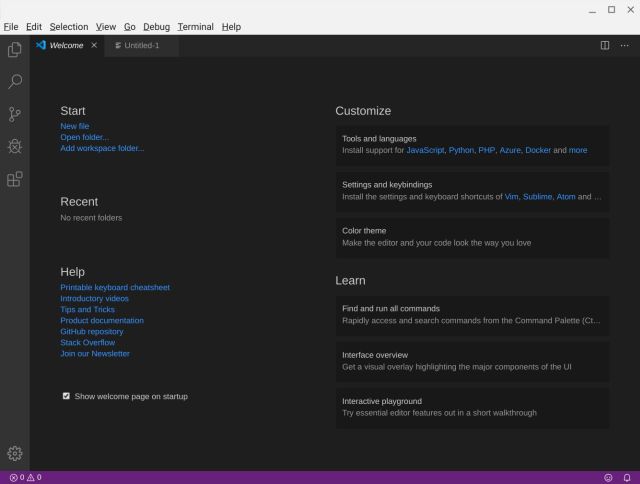 32. ADB Tools
Recently, Google brought native support for Android Debugging Bridge (ADB) with Chrome OS 80 in the developer channel. It allows you to test Android applications and also control your smartphone at a much deeper level. This makes Chrome OS a versatile machine that can interact with hosts of devices at a technical level. So, to install ADB on Chrome OS using Linux, follow the below commands.
How to install ADB: Open Terminal and execute the below command. Alternatively, you can also download the Platform Tool and move it to the Linux folder.
sudo apt

-

get

 install adb
Here are the Best Chrome OS Apps For You
So those are our picks for the best Chrome OS apps that are available through various channels right now. I have included Web apps, Android apps, Chrome extensions and finally a few Linux apps too. After going through a legion of apps, I can confidently say that you would find the majority of apps either in the form of Web or Android apps. At this point, Chrome OS has improved by leaps and bounds and there is huge support from the developer community as well. Anyway, that is all from us. If we missed to include some apps that you are looking for, comment down below and let us know.