Of all the software applications considered as "must-haves" for a PC user, an office suite is arguably one of the most important. From students needing to submit their homework to office-goers who have to create business presentations, everyone needs an office suite. I mean MS Office is one of the foundations of Microsoft, on which the company has created one of the largest companies of the world. But as impressive and feature-rich as MS Office is, there are people who'd prefer to use something else for various reasons.
One of my reasons which forced me to look for Microsoft Office alternatives was its pricing. While the subscription pricing is too high for me, the onetime payment process is so convoluted that a normal user won't be able to navigate it and certainly end up with a bad deal. If you're also one of those users who is looking for Microsoft Office alternatives you have come to the right place. So, read along as we show you the 7 best Microsoft Office alternatives that you should be using.
Best Microsoft Office Alternatives in 2019
Before we begin our list, let us first take a look at some of the reasons that force people to look for MS office alternatives.
Why Do You Need Microsoft Office Alternatives
There can be many reasons for wanting alternatives to MS Office. Here are a few of them:
High pricing of the licensed version of Microsoft Office
MS Office being too resource intensive, thus leading to slower performance on low end PCs.
Overwhelmingly large number of features, most of which are overkill, especially for those who require only basic functionality.
Non-availability on the OS platform (e.g. Linux) you primarily use.
Best Microsoft Office Alternatives
1. Polaris Office
One of my favorite Microsoft Office alternatives is the Polaris Office Which brings a really good experience. The best part about Polaris Office is that the company offers a limited free version which brings enough features to suit the needs of most individual users, thereby allowing us to do our work without needing to pay a high subscription fee. For enterprise users and users who want add-on features, there's also a relatively cheaper paid plan. When it comes to features, Polaris Office offers all the features that one might expect from a capable MS Office alternative software.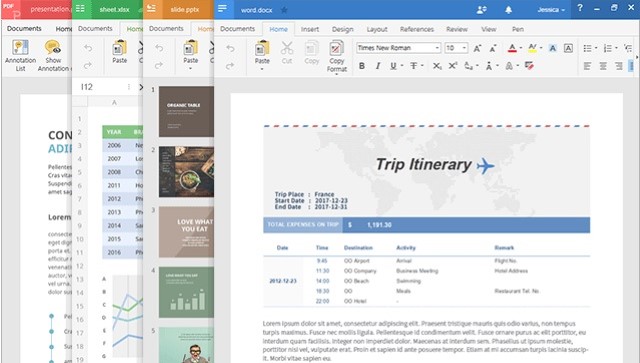 Users will be able to edit MS Office documents and text files, get access to both local and cloud storage, connect external cloud services such as Dropbox and Google Drive for extra free storage, manage document versions, and more. In fact, there's even real-time collaboration where two and more people can work on the same document simultaneously. If you subscribe to their paid plans you will also be able to access features such as PDF annotations, comments, animation editing, document security, and more. I have been using Polaris Office for quite a while now and definitely consider it to be one of the best MS Office alternatives on the market.
Platform Availability: Windows, Mac, Android, and iOS
Price: Free, $3.99/month
2. OnlyOffice
OnlyOffice is yet another good Microsoft Office alternative that one can use. The software not only offers native apps for all the major desktop and mobile platforms but it also has a web version which works really well. One of the USPs of OnlyOffice is that it can integrate with various third-party services including mail, CRM, calendars, and much more to give users extra control and power. The only drawback of OnlyOffice is that it is made primarily for businesses and enterprises and not meant for individual users. If you want an MS Office alternative for personal use, check out the other options on this list.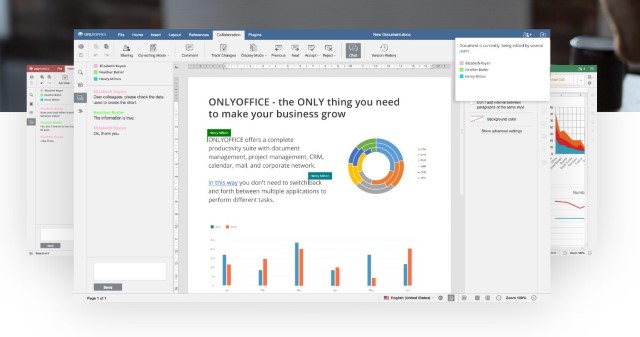 Since it's made for businesses, the benefits of using OnlyOffice is that it can be configured to meet the requirements of different businesses. For example, businesses can host OnlyOffice on their own servers so that their data is totally private. OnlyOffice also brings enhanced security features which are not found on most other office alternatives. If you are a business who is looking for a complete in-house office like document creation, management and organization took, this is one of the best options on the market.
Platform Availability: Mac, Windows, Linux, Android, iOS, and Web
Price: Enterprise edition starts at $1200/Server
3. Apache OpenOffice
Probably the most popular alternative to MS Office out there, Apache OpenOffice is loaded with features. It's completely free and open-source, and includes the standard trio of office applications (word processor, spreadsheet program, presentation software), in addition to a graphics editor and a DBMS application. Apart from being compatible with MS Office file formats, OpenOffice also supports a huge number of other formats (e.g. SWF, PPT). It can also be extended with a variety of downloadable extensions, and its constituent sub-modules include all standard features like diagramming tools, auto complete, and natural language formula.

Platform Availability: Windows 10, 8, 7, Vista and XP, Mac OS X 10.4 – 10.8, Linux
Price: Free
4. LibreOffice
Although it's essentially a fork of the previously discussed OpenOffice, LibreOffice has enough features to hold its own as one of the best MS Office alternatives you can find. It includes applications for everything from editing documents to creating presentations, and aside from UI differences, has a feature set identical to OpenOffice. However, what gives LibreOffice the edge is that its code is much better optimized, thus making it a bit faster. Also, LibreOffice is more actively developed, and is the default office suite included with majority of Linux distros. It even lets you embed fonts in your documents, and has a file viewer app (in beta) for Android.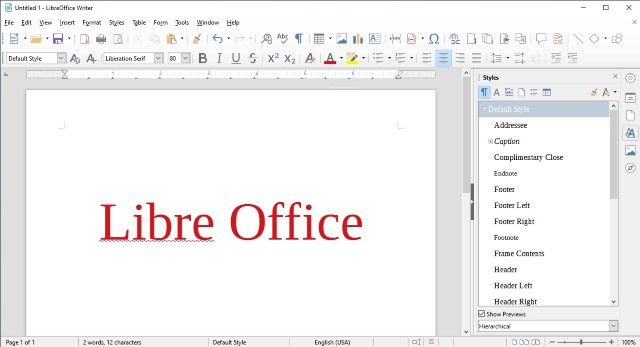 Platform Availability: Windows 10, 8, 7, and Vista, Mac OS X 10.8 and later, Linux
Price: Free
5. WPS Office
If your requirements are basic and you don't need a full office suite, WPS Office is exactly what you need. Packing just the three standard applications (word processor, presentation software, and spreadsheet program), it's lightweight (under 100 MB) yet feature-rich. In addition to having all the essential document creation/editing abilities, WPS Office includes hundreds of free templates and fonts. The free version lets you create and edit documents in MS Office compatible formats. However, for saving in MS Office formats, you need to upgrade to the paid version, which also adds in other features like VBA/Macro support.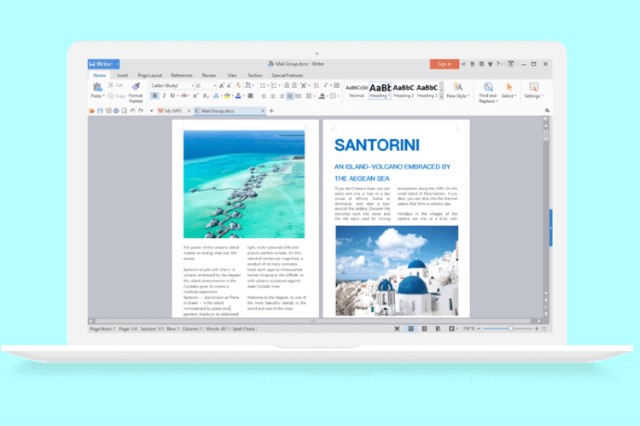 Platform Availability: Windows, Linux (Desktop); iOS, Android (Mobile)
Price: Free (some features restricted), Paid business version costs $44.99 (billed annually)
6. Softmaker FreeOffice
It may not be the best looking thing out there, but as a lightweight MS Office alternative, Softmaker FreeOffice works surprisingly well. It includes the three standard office programs, and among themselves, these provide a host of features such as smart text replacement, granular cell formatting, and automated presentations. Softmaker FreeOffice has robust support for MS Office file formats, and better Office XML compatibility. That said, there's also a paid version that includes extras such as multiple languages dictionaries for more efficient spellchecking.

Platform Availability: Windows, Linux (Desktop); Android (Mobile)
Price: Free, Paid versions start from $69.95
7. NeoOffice
If you're looking for a solid Microsoft Office alternative specifically for your Mac, NeoOffice is going to serve you just fine. It's a commercial fork of the previously mentioned OpenOffice, although the source code is still available for free. As such, NeoOffice packs in all standard features of OpenOffice, and comes with a word processor, spreadsheet program, and presentation software, along with a graphics program. Other than that, it also adds some Mac OS X native extras, such as grammar checking, text highlighting, and integration with OS X's drag and drop functions, to the mix. However, it's not compatible with newer MS Office formats, which is a bit of a bummer.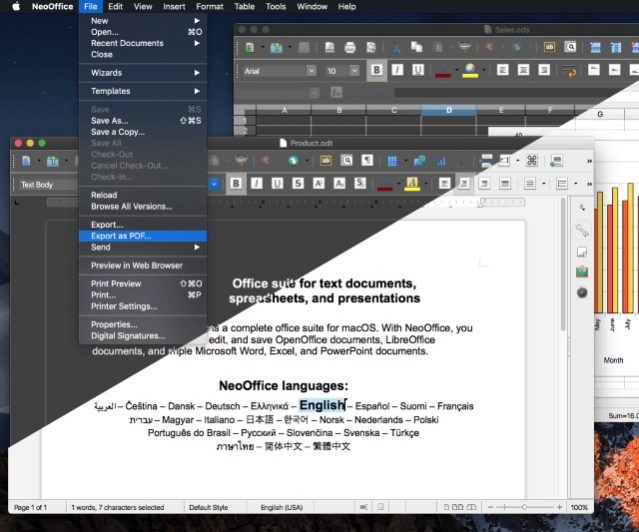 Platform Availability: Mac OS X 10.8 and later
Price: Paid versions start from $10
Online Microsoft Office Alternatives (Bonus)
If your productivity needs are fairly basic and you don't really want to bother downloading heavy office suite applications for the occasional usage, you don't have to. That's because there are many online office suites that you can use for working with documents, spreadsheets, presentations and more, straight from your web browser. All you need is an internet connection, and you've got a MS Office alternative. Here are a few of them:
Advantages of Using Online Microsoft Office Alternatives
Perfect for creating and editing lightweight documents, with inter-compatibility.
Real-time sharing and collaboration on documents.
All the documents are automatically saved to respective cloud storage services.
Work on all platforms, as only a browser and Internet connection are required.
SEE ALSO: 8 Best Sketch Alternatives for Windows and Linux in 2019
Which are Your Favorite Microsoft Office Alternatives
There's little doubting the fact that Microsoft Office is the standard bearer of office productivity suites, having a truckload of impressive features. But as discussed above, if your needs are limited and you don't really want to spend a ton of cash, there are quite a few Microsoft Office alternatives (both desktop and web-based) that you can use. So try them all, and let us know your favorites in the comments below.