Note taking is a big part of living an organized life. Whether you want to jot down some quick ideas, your shopping list, or your innermost thoughts, having a good note taking app is essential. Gone are the days when people used to travel with diaries or use sticky notes. Now most of us carry our smartphones and record our notes in them. While all the new smartphones come with some kind of note taking application, usually, the built-in note taking apps are not enough to give you a friction-less note taking experience. Thankfully, there are several note taking apps on the Play Store that can help you with your note taking needs. So, if you are someone who is looking for good note taking apps for your Android device, here are the 15 best note taking apps for Android that you can use in 2020.
Best Note Taking Apps for Android in 2020
1. Evernote
Let us get the most obvious and one of the best note taking apps out of our way first. Evernote is a note-taking application which has been around for more than a decade and will last another. The note-taking app is very powerful and offers a plethora of features including support for different note-taking formats including text, image, voice, PDF, URL, and more, document scanning, templates, web clipper, handwriting search, and more. My personal favorite feature of Evernote is its organizational structure which allows me to organize notes using a robust folder, filter, and tag system. Evernote is also great for teams and is one of the best note taking apps for collaboration. You can share notes with your team members and even edit it in real time.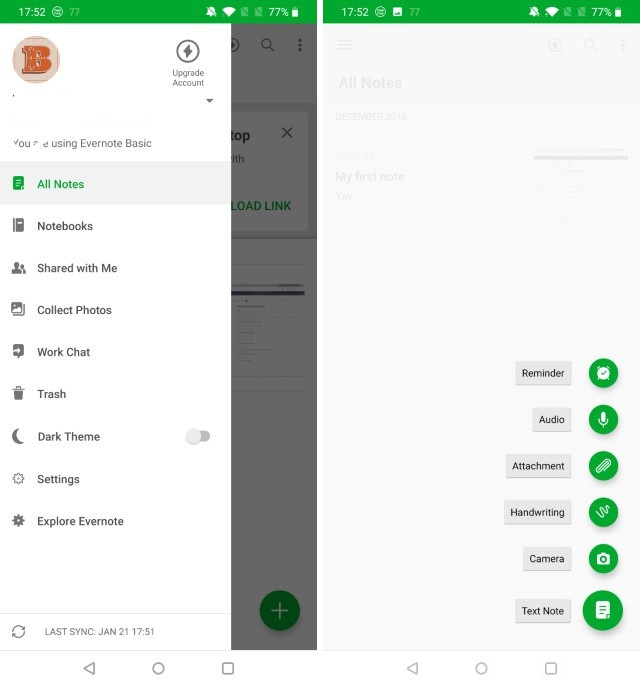 Evernote has recently released a new "Spaces" feature which allows a team to create separate areas for different projects for an even better organizational experience. Other features of the app include cross-platform availability, search in document and PDF, third-party integration and more. Do note that it offers both a free and paid version. The free version restricts you to using the service only on two devices and offers some restricted features. You can compare the pricing plans of different versions here. If you are looking for a robust note-taking app which not only acts as a repository of your ideas but also documents, voice memos, and more, this is the app to get.
Supported Platforms: Android, Windows, macOS, iOS, and Web
Pricing: Free, $7.99/month for Premium, and $14.99/user/month for Business Users
2. Notion
Notion is a fairly new note taking app that has become popular over the last year. It is a powerful note taking app which not only allows you to capture simple notes but also save documents and images, use tables, create a knowledge base, create your own wiki, and more. The thing about Notion that I love is that it is fairly versatile and allow users to only use as many as features as they want to. I also love the extensive support of emojis throughout Notion as it allows me to create easily identifiable folders, note headings, and sub-headings. When you are using Notion you can create "Workspaces" that you can either treat as notebooks or projects. Inside these workspaces, you can create as many notes as you like.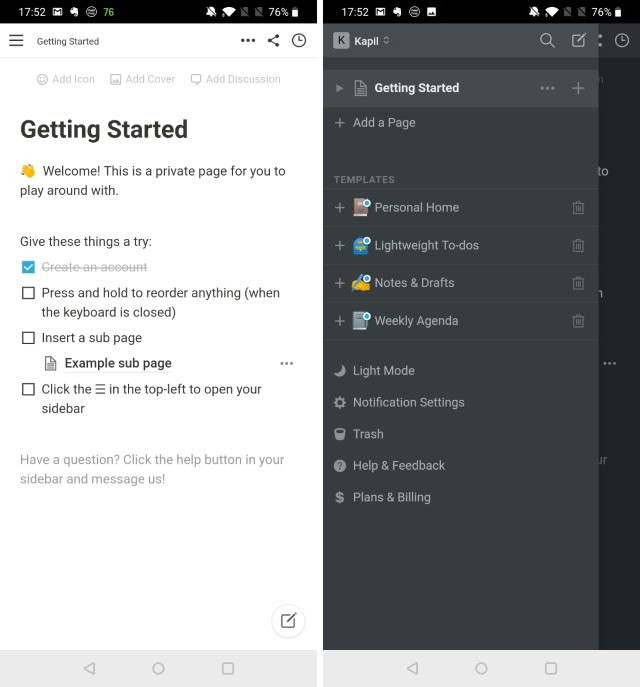 Apart from simple text notes, Notion also supports checklists, list items, note history, team collaboration, and more. Notion gives you a malleable note-taking experience which you can bend and twist according to your liking and I find that approach quite novel. Like Evernote, Notion offers a restricted free version with upgraded paid plans. The biggest hurdle of using a free version is the 5MB file upload limit. However, if you are planning to use Notion just for text notes, the free version can serve you quite well. Anyways, you should definitely check this app out. If for some reason you don't like it, you can also check out Notion alternatives to find similar apps.
Supported Platforms: Android, Windows, macOS, iOS, and Web
Pricing: Free, $4/month, $8/user/month for teams
3. Simplenote
Apps like Simplenote has always kept my faith alive in the free app ecosystem as despite being a totally free app (no pro version and no ads), Simplenote is my favorite text-based note-taking application. What I mean by text-based note taking application is that you won't be able to import your documents or images inside the note app. However, for people who just need to record text notes, there's nothing better than Simplenote out there. I mean, first of all, the app is available for all the major platforms including Linux and sync all your notes instantly across all devices. There is no limit to either the number of devices that you can use or the number of notes that you can sync.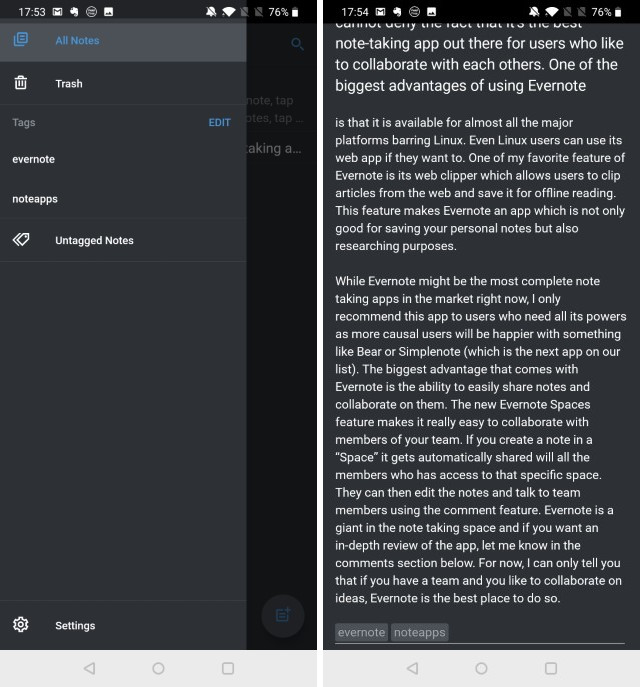 Secondly, Simplenote is very simple to use. You just open the app, hit the new note button and start typing. Instead of using normal folder hierarchy, Simplenote uses tags which essentially act as folders. I love this approach as this allows me to keep the same note in multiple folders if I want to. Simplenote also offers a robust markdown typing experience, something that I use. In fact, if you don't know, all the articles that you read by me are written using markdown. Lastly, despite being free, the app allows you to share notes with other users. I mean, what more can you expect from a free note taking app. There are many paid apps which are not half as good as this one.
Supported Platforms: Android, iOS, Windows, macOS, and Linux
Pricing: Free
4. Scrittor
Scrittor is a fairly new app that I discovered in the past month or so, and I love its simplicity. It is a pretty basic note taking app which allows you to text notes. You can create folders (which the app calls as categories) and notes. All your notes live in the same home field, however, you can assign categories to individual notes for better organization. The app is really easy to use and is perfect for someone who wants a no-frills user interface. Despite being so simple, Scrittor brings a couple of handy features to the table.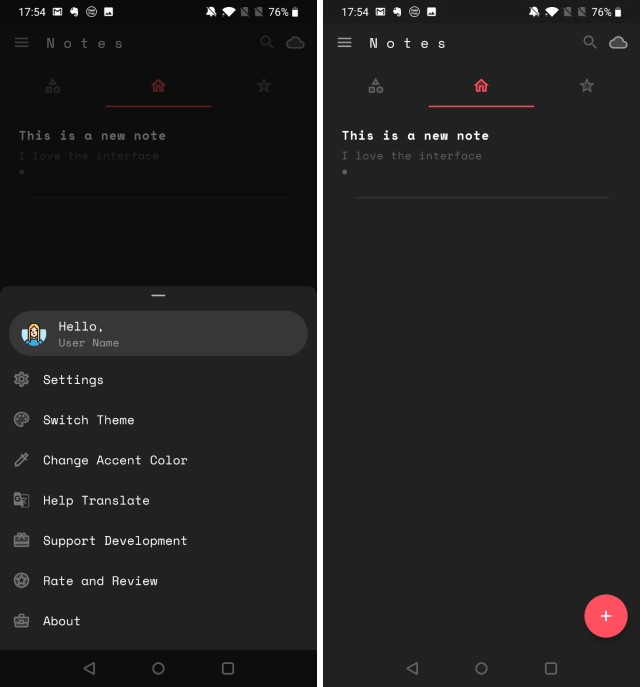 For example, you can use light and dark theme, use a password to protect your notes, save your notes in the cloud using built-in Google Drive integration and more. My favorite feature is the ability to add notes to your notification bar using the bell icon. This is a unique feature which I first discovered on Scrittor. The note acts like any other notification as in you can dismiss it or tap on it to jump into the note whenever you want to. This feature is great for people who tend to forget things. I really love Scrittor and if you are looking for a simple note-taking app, you should try it.
Supported Platforms: Android
Pricing: Free
5. Google Keep
No Android note taking app list can be complete without including Google Keep and there are a few good reasons for it. First of all, the app is very easy to use and brings a highly intuitive UI. I also love that it color codes my notes which makes them much easier to find. Recently, Google overhauled the design of the app and the whole interface looks even more beautiful with its modern design. When it comes to taking notes, apart from text notes, Keep also supports checklists, handwritten notes, images, and voice notes.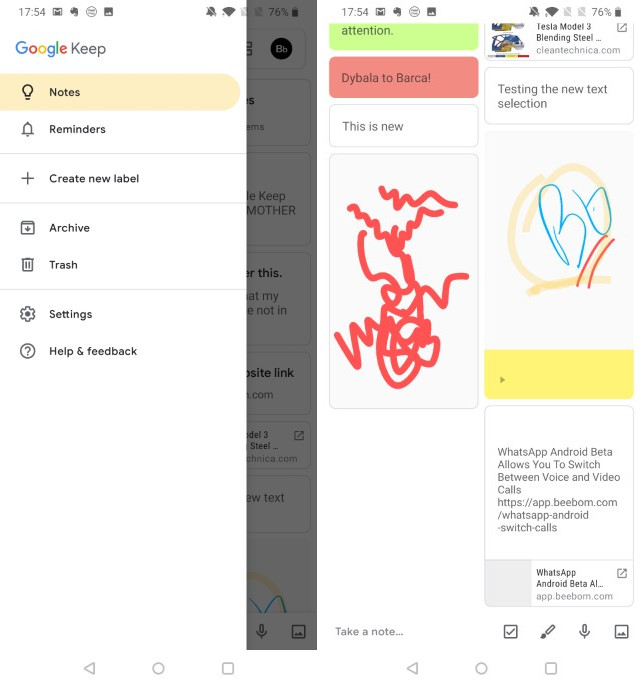 I personally use Keep for taking quick notes and saving my shopping list as it makes it really easy to rearrange items in the list and check things off. Since Google Keep also supports both time-based and place-based reminders, it ensures that I am reminded of tasks not only at the right time but also at the right place. So, next time you visit your nearby supermarket, Keep will automatically remind things that you need to buy. Other features of the app include shared notes, different viewing options, and more.
Supported Platforms: Android, iOS, and Web
Pricing: Free
6. iA Writer
iA Writer is note taking app which works completely on markdown. If you are someone who enjoys writing in markdown, you will enjoy iA Writer. The app is not only meant for writing short notes but also long-form content. In fact, I do most of my writing in iA Writer. The way I have this app set up is that I have different folders for notes and my long-form writing projects. This allows me to keep my research in the same place where I do my writing. Since all the work is synced across devices, it is available to you everywhere.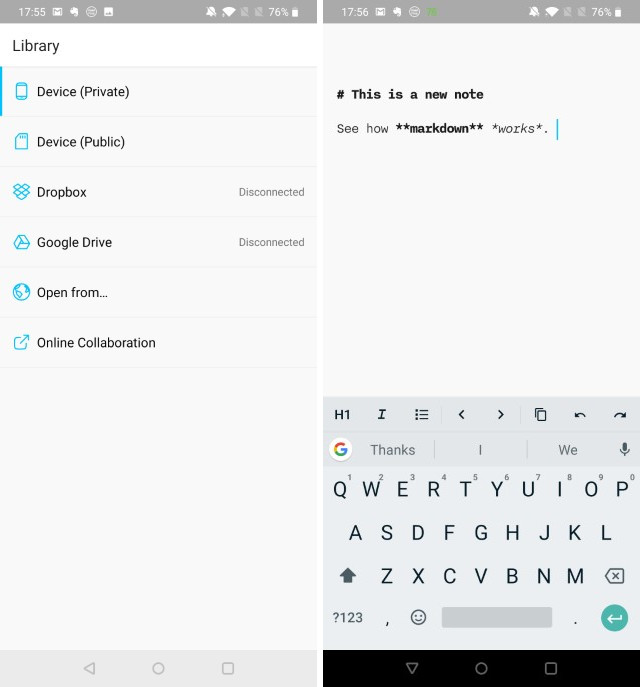 Do note that if you have never used markdown before, you will have to spend some time to learn it. That said, from experience, I can say that it won't take you more than a weak to learn it. Even if you forget some elements, there's a handy help guide which can tell you all the commands. One of my favorite features of iA Writer is its ability to highlight syntax which color codes things like verbs, nouns, adverbs, and more. This can help you improve your writing in the long run. If you love markdown and tend to take both short and long notes, you can check it out.
Supported Platforms: Android, iOS, Windows, macOS
Pricing: Free for Android (in-app purchases might be introduced in the future)
7. Standard Notes
Standard Notes is a simple to use notes app which is quite similar to the likes of Simplenote with one key difference. That key difference is end-to-end encryption which means that your notes always remain private whether they are on your device or are being synced across devices using the cloud service. In fact, even the people at Standard Notes cannot read your notes. That makes it great for people who want to save sensitive notes on their phones or just want more security for their everyday notes.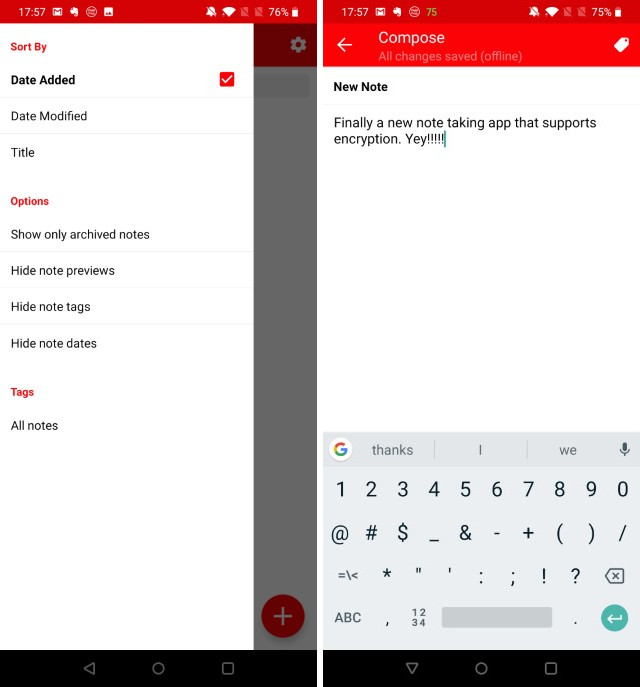 The app is also open-source so anyone can see their code. The app has been around for quite a few years now and no one has claimed anything against its privacy claims which seems to be a good thing. Apart from privacy, other features of the app are quite similar to other text-based note taking apps. You get cross-platform availability, support for markdown and rich-text entries, passcode lock with support for on-board bio-metric authentication, folder support, simple UI, and more. If you want security and privacy, you should be using Standard Notes.
Supported Platforms: Android, iOS, Windows, macOS, Linux, and Web
Pricing: Free, $2.48/month
8. Microsoft OneNote
Microsoft OneNote is a powerful note-taking application that is quite similar to Evernote in features. That means not only you can use it as a note-taking application but also a repository for all your documents. When it comes to the actual user interface, the app follows the 3-ring binder structure of physical notebooks. There is a robust folder-based organizational system which makes it easy to organize the notes. While recording the notes, you can either type it, use your voice, or directly draw. There's support for both tags, labels, and filters which you can use to easily mark your notes and find them later.
It also comes with a web clipper to save web articles. One of my favorite features is the OCR support which extracts text from PDFs and images and makes them searchable. That makes OneNote a great document repository app for me. Other features include theme support, shared notes and collaboration, online sync, version history, and more. The only problem that I have with this app is that I find it a bit heavy on the resources so if you are using a budget Android phone, I would advise you to use other options on the list. Also, do note that you will need to create a Microsoft account to use this app.
Supported Platforms: Android, iOS, Windows, macOS, and Web
Pricing: Free
9. Notebook by Zoho
If you use multiple devices to take notes then Notebook by Zoho is a perfect choice for you. Zoho offers a feature-rich note-taking app for Android, and also brings native apps for both macOS and iOS. Not to mention, you can access all your notes on a browser through its web portal. Basically, with the Notebook app, the issue of cloud syncing is gone. Now moving to features, with the Notebook app, you can create notes with text, images, and audio clips. You can also insert a checklist into a standard note.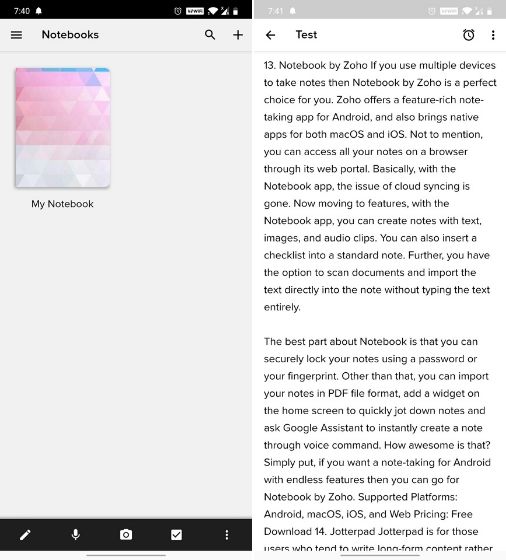 Further, you have the option to scan documents and import the text directly into the note without typing the text entirely. The best part about Notebook is that you can securely lock your notes using a password or your fingerprint. Other than that, you can import your notes in PDF file format, add a widget on the home screen to quickly jot down notes and ask Google Assistant to instantly create a note through voice command. How awesome is that? Simply put, if you want a note-taking for Android with endless features then you can go for Notebook by Zoho.
Supported Platforms: Android, macOS, iOS, and Web
Pricing: Free
10. Monospace
If you are looking for a super simplistic note-taking app for your Android device, check out Monospace. The app has been primarily designed for touch. What I mean is that touch plays a big role in how you interact with this app. For example, if you want to format a part of the text, just tap and hold to select it and then Monospace will give you the formatting tools. Talking about its organizational structure, Monospace uses non-linear structure using "#". It is the same as the one we saw in Simplenote before. Monospace also supports online sync across devices, however, that is a pro feature that you will need to pay for. I find the app a little too simple for my test, however, I know some users love that and if you are one of them, check it out by clicking on the link below.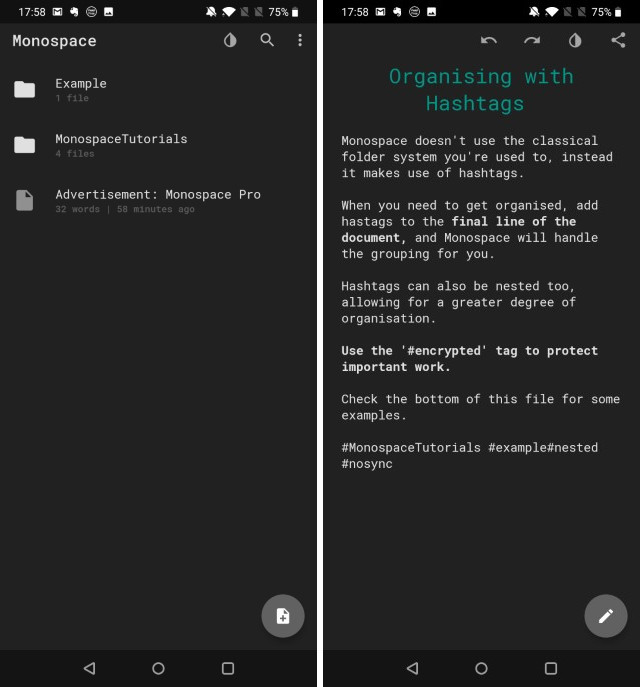 Supported Platforms: Android
Pricing: Free, $2.99 for Pro
11. ClevNote
ClevNote is a fairly simple memo taking app which makes it easier to capture and store specific information. The main types of information that you can store in ClevNote include bank accounts, groceries, birthdays, and website IDs. Of course, you can create and save simple text-based memos too. The benefits of saving the above mentioned specific information are that ClevNote gives you extra interactive features. For example, in the "bank account" field, you will get a simple copy to clipboard button which allows you to quickly copy the information. I understand that this app won't be for everyone, however, it's something quite unique and since it's free, there's no harm in trying it.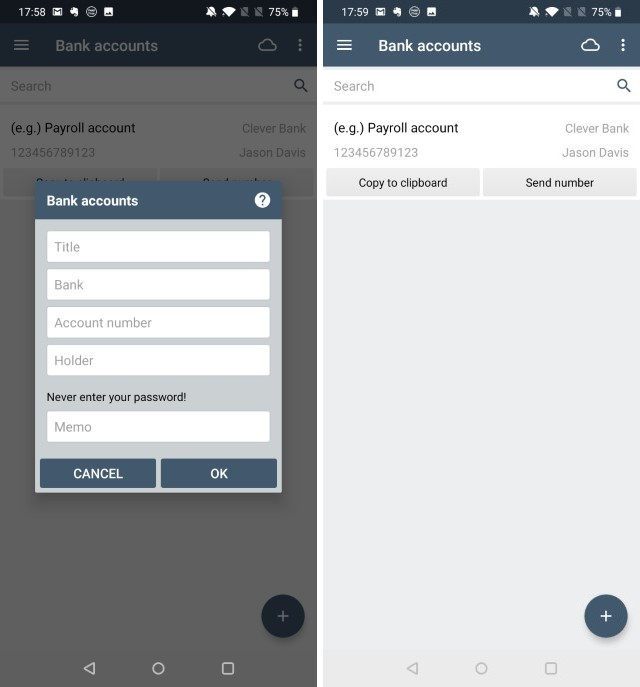 Supported Platforms: Android
Pricing: Free
12. Scarlet Notes
Scarlet Notes is material design note taking app which feels quite similar to Google Keep. You get the similar colorful notes which can be arranged either in grid or list layouts. You also get support for checklist items, reminders, tags, and more. There are some extra features which differentiate it from Google Keep though. Firstly, the app offers both rich-text and markdown input. Secondly, it also offers a floating head experience which allows you to capture notes while using other apps. Other features include pinned notes, powerful and fast search, widget support, and more.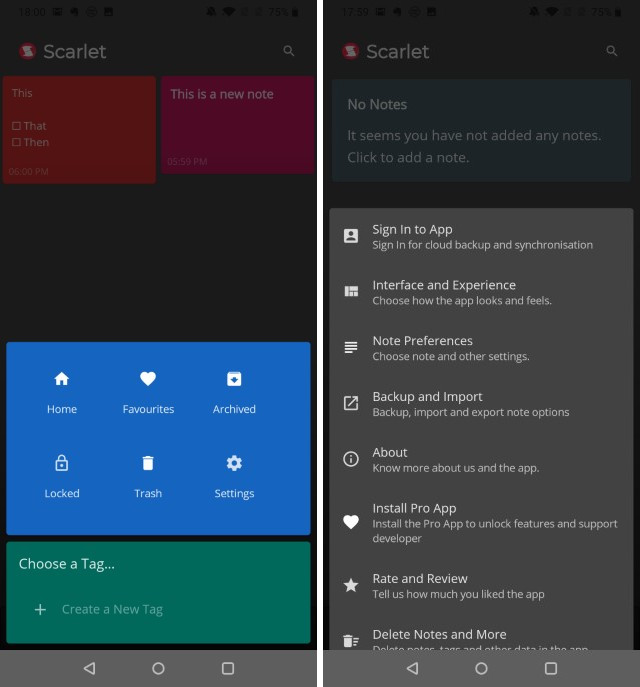 Supported Platforms: Android
Pricing: Free, in-app purchases
13. Otter Voice Notes
Otter Voice Notes is completely different from any note taking app which we have discussed here. The app basically allows users to use their voice to record notes which are then transcribed into plain text and made searchable (only supports the English language). This is a great feature to have as many of us talk way faster than we type on our mobile devices. Also, we speak more freely and hence ideas generate more easily. One of the best parts of this app is that the transcription happens in real time so you can see if its getting things right or note.
This is certainly a unique app and I recommend that every one of you should try this app at least once. While the free version is limited you still get 600 recording minutes/month which should be more than enough for most users. All your notes are saved online and synced across devices so you don't have to worry about losing your data. Other features including tagging, sharing, exporting audio as MP3, unlimited cloud storage and more. I have just discovered this app and have been trying it for a few days. Till now, I am loving this and hence it has made the list.
Supported Platforms: Android, iOS
Pricing: Free, $9.99/month
14. Jotterpad
Jotterpad is for those users who tend to write long-form content rather than short notes. It's an essential tool for serious writers who are looking to write screenplay and novel on an Android device. Similar to iA Writer, the app offers a feature-packed text editor. It supports markdown formatting for those who are aware of it. You can create a table, bulleted list, checklist, almost everything with Markdown formatting syntax. Further, the app features dark mode, phrase search, a built-in dictionary, and a clean interface for distraction-free writing.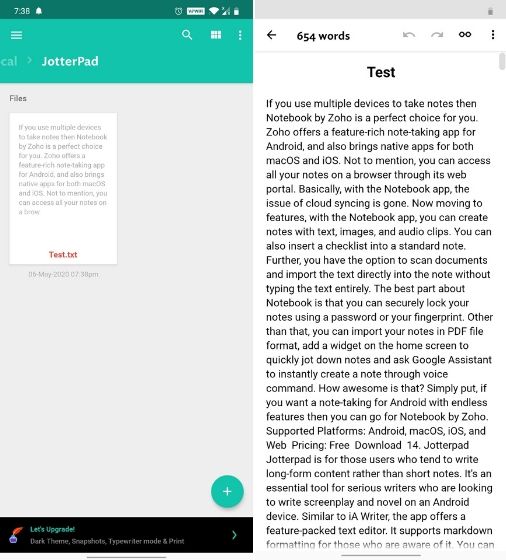 What's more, the built-in dictionary helps you find new ways to express commonly used phrases. This will significantly help you write better notes without any redundancy. Jotterpad also brings a huge library of beautiful typefaces from where you can choose the style of your writing. Other than that, you can sync all your notes and writings in the cloud through Google Drive, Dropbox, or OneDrive with native integration. And if you wish to export your notes and writings, you can do so in PDF, FDX, and RTF formats. I would say if you want a professional-grade app for writing long notes then Jotterpad would be my top pick.
Supported Platforms: Android
Pricing: Free, Offers in-app purchases
15. Joplin
Joplin is an open-source note-taking app that is popular for its vast number of features and security protection. In addition, the app is completely free to use so all the premium features that are behind the paywall on other apps, you can access them entirely free on Joplin. First off, it supports markdown rendering just like iA Writer and Jotterpad. You can not just write notes, but also create to-do lists with tags, schedules, and folders. The best part is that the notes are searchable, can be copied with the native formatting layout, and can also be modified on the fly. Moreover, you can include images and other attachments in your notes too so that is awesome.
Since the app is available on almost all platforms including macOS, Windows, and Linux, you can sync and access your writings across devices. Apart from that, if you are an Evernote user then you can seamlessly move to Joplin. It has native support for ENEX files and can import them directly without any issue. Further, you can sync your OneDrive notes to Joplin too. Not to mention, Joplin also allows you to encrypt your notes and writings which is simply great for people who want greater security against their data. All in all, Joplin may not be the best-looking app, but it has tons of features for your note-taking needs and it does not cost a dime.
Supported Platforms: Android, Windows, macOS, Linux
Pricing: Free
Record Your Notes with Note Taking Apps for Android
That ends our article on the best note taking apps for Android that you can use right now. There is no one best app as everybody has different preferences. Do check the list out and let us know which are your favorite Android note taking apps by writing in the comments section below. Also, if there's an app which is not on the list but you want to share with us, drop its name down below too.
---
Load More