When it comes to smartphones, one utility that surpasses all is clicking pictures, except maybe making calls and dropping text messages. But smartphone photography is a mixed bag of results, primarily due to two factors: First, they can not capture the same level of detail and provide such a diverse set of controls as standalone cameras, and second, different devices are equipped with different sensors whose capabilities vary from outstanding to underwhelming. So, what does that mean? Should one stop clicking pictures if they don't carry an iPhone X or a Pixel 2 in their pockets? Absolutely NOT. This is where photo editing apps come to our rescue. These apps may not improve the camera's performance, but they more than compensate for it by tweaking the shots clicked by users to their liking.
We have compiled a list of the best photo editing apps for Android that do much more than just adding effects like sepia and greyscale to the photos clicked by users. These cherry-picked Android apps are capable of doing a lot more than that, bringing pro-level image-editing controls at the disposal of users, alongside a host of other exciting and fun-filled enhancement tools. The following apps have been shortlisted after carefully assessing them for parameters like user interface, diversity of editing tools and quality of the end result. So, let's get started with our list of the 15 best photo editing apps for Android:
15 Best Photo Editing Apps for Android (2019)
1. Snapseed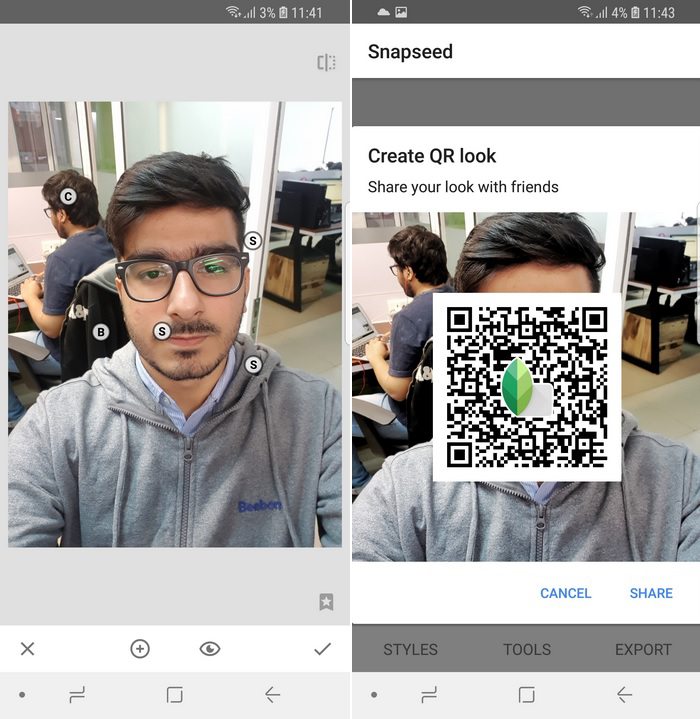 When it comes to enhancing the quality of shots, a vast collection of filters and precise attribute control tools prove to be the vital editing elements, and much to the delight of users, Snapseed comes with a rich collection of such features. But what truly sets Google's image editing app apart is the deep integration of customized control variables in each filter and tool, which lets us achieve the desired outcome and make that perfect image worthy of posting on Instagram.
Even though the sheer diversity of editing tools and effects can get overwhelming in the beginning, but once you get a hold of them and know where your favorite tools are, you will evolve into a certified photo editing machine. Snapseed has a few other standout features too, such as the ability to edit RAW DNG files and export them as JPG files without any loss in quality.
Then there is the extremely nifty 'Selective Saturation' feature, which allows users to select up to eight points on the image and make desired enhancements on the exact same spot without affecting the whole image. Furthermore, there is another very useful functionality called 'QR Look', which allows users to create a QR code of the final image, and apply the same effect on another unedited image by just scanning the code. And hey, the app is absolutely free!
Download (Free)
2. Adobe Photoshop Lightroom CC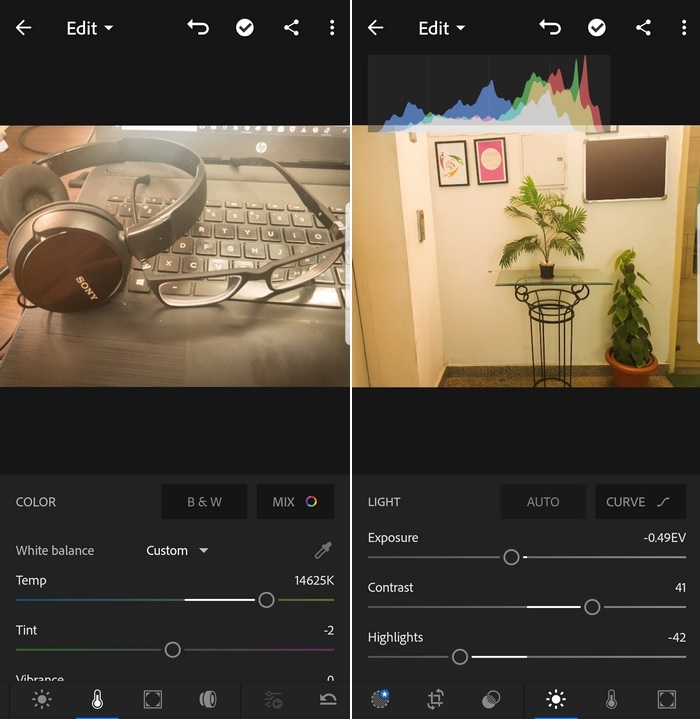 Adobe's Photoshop line-up of image editing software is synonymous with the best-in-class and most comprehensive set of enhancement tools one can want, and its Android counterpart- Photoshop Lightroom CC- certainly inherits the same DNA. The first thing that stands out about the Lightroom CC app is its clean interface and clutter-free organization of tools, but make no mistake, the app is loaded with enough editing tools and filters that won't leave you wanting for more.
The app's noteworthy auto preset feature allows users to capture RAW images in Pro/HDR/Auto modes with five different camera effects and lets them see the outcome before clicking the photo. Lightroom CC can be the perfect app for editing images on-the-go, however, if you want the true Photoshop experience, you should go for the Premium tier which charges a monthly subscription fee of $4.99, but its worth it.
For starters, you'll get 100GB of cloud storage on Adobe's servers to save your masterpieces, aside from an unhindered access to Lightroom's mobile, desktop and web versions. Photoshop Lightroom's premium version brings some truly remarkable goodies like Adobe Sensei (An AI-based feature which identifies objects and automatically tags the photos), RAW image editing on smartphones and selective image adjustments (allows users to tweak and enhance specific parts of an image).
Download (Free, with in-app purchase)
3. PhotoDirector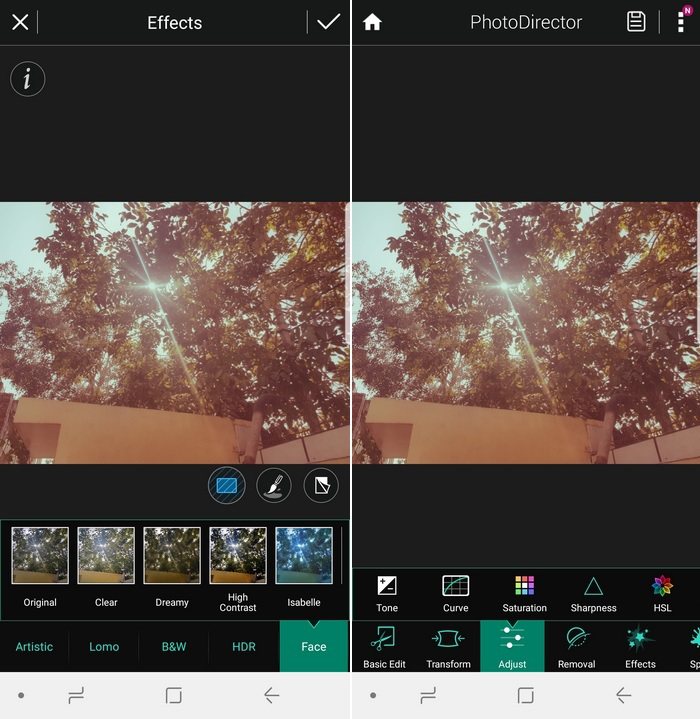 PhotoDirector is a surprisingly good image editing app which brings a very minimalist UI brimming with enhancement and editing tools like filters, light effects, and various other add-ons to breathe new life into the images clicked by users.
PhotoDirector boasts of a wide array of image editing features, and a particularly noteworthy one is the app's object removal trick, which erases undesirable objects from an image in a jiffy and in a much subtle manner.
But there is another area too where PhotoDirector really shines- its camera tool. The app's camera offers a wide array of lens filters whose intensity can be adjusted in real time, aside from face detection and gesture support for clicking images in various aspect ratios.
Download (Free, with in-app purchases)
4. Cymera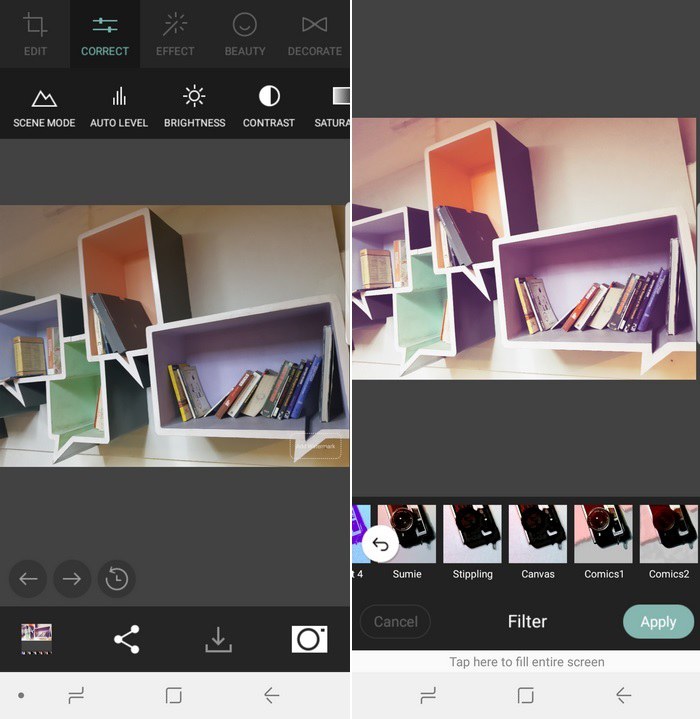 Cymera is one of those apps which can be regarded as a jack of all trades, as it not only offers an impressive collection of image editing tools, but it also boasts of a very useful camera function which is divided into two modes: a beauty mode for clicking selfies with lots of filters and a normal mode for flexing the rear snapper's muscles.
Cymera's image editing tools comprise of conventional options like mosaic, texture, and hue complexion adjustment to correction functions for adjusting variables like scene mode, saturation etc. The app also lets users make a collage and convert their selfies into memes by adding text in various font styles and shades to show their creative side.
Another aspect of the Cymera app that is worth noting is the automatic face recognition feature, which shows its magic in enhancing selfies by applying over 200 different make-up effects as well as illumination tools, masks, etc.
Download (Free, with in-app purchases)
5. Photo Editor by Aviary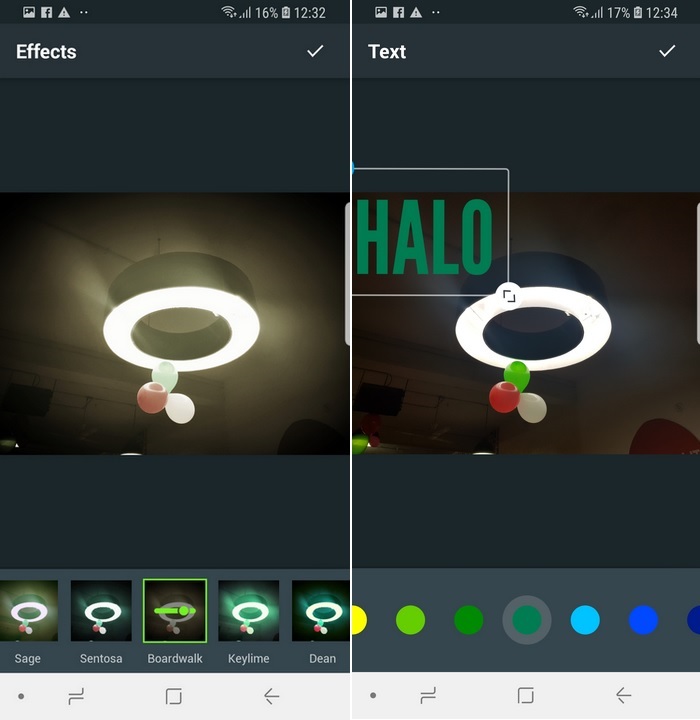 Photo Editor by Aviary is arguably one of the best photo editing apps, and for a good reason, thanks to the sheer variety of editing options and the clutter-free manner in which they are located on the app's homepage, making it highly convenient for users to discover the desired filters and tools.
The app is chock-full of image retouching tools that are more than enough for our basic photo editing needs, but a few of them are worth mentioning due to their nifty functionality and excellent execution. A prominent example is the app's 'Splash' functionality, which allows users to selectively render a particular part of the image in color, while the rest is automatically changed to a black and white shade, giving the image a professionally-tuned appearance.
Moreover, if you feel like you are running short of awesome effects like filters and stickers, you can always purchase an additional pack. Another noteworthy feature is the app's explore feed, where you can look at images created by other community members and also get to know the exact filters used by them and the order in which they were applied, just like a recipe for preparing a delicacy.
Download (Free, with in-app purchases)
6. Camly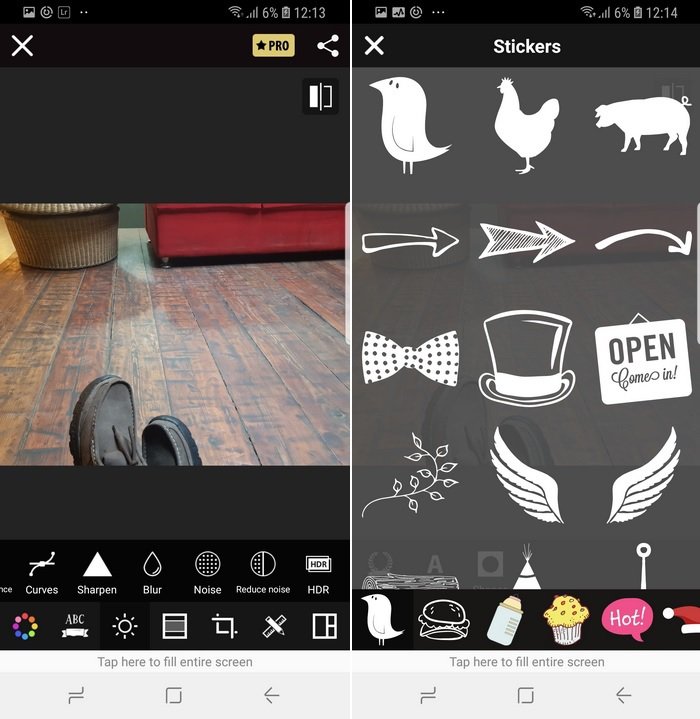 Camly can easily be called one of the simplest, yet highly productive, photo editing app whose simple user interface is its biggest USP. Unlike other image editing applications listed on the Play Store, Camly's home screen consists of merely seven enhancement options, which makes it quite easy for users to choose the tool they want to utilize, and then select the specific variable they want to tweak.
Camly's in-app camera is nothing to write home about, but its editing section is where the app really puts the competition to shame, as it does not confuse the users by flooding the whole screen with editing options, but instead, follows a highly organized approach which really does make an impact.
The app is quite zippy to use and renders the desired effects in a flash, but there is another reason which makes the app truly desirable- the huge collection of cool stickers and text-based additions, which make Camly the perfect app to make awesome memes.
Download (Free, with in-app purchases)
7. VSCO
VSCO is a highly acclaimed photo editing app which blends a very clean user interface with an impressive array of image editing tools and camera presets that are truly unique in their enhancement effects and final outcome.
The VSCO app lists the editing tools in a very organized manner and features only four of them on the home screen for the sake of simplicity, each containing a vast catalog of filters and enhancement instruments to help users tweak their images with ease. And just in case you are running short of ideas, you can explore the VSCO community and follow the creative folks out there for some new ideas.
VSCO also offers a premium tier of service called VSCO X, which charges an annual subscription fee of Rs.1300, and in return, offers a wide array of regularly updated presets, video editing tools and advanced controls for tweaking variables like character and strength for that added touch of artistic precision and personalization.
Download (Free, with in-app purchases)
8. PicsArt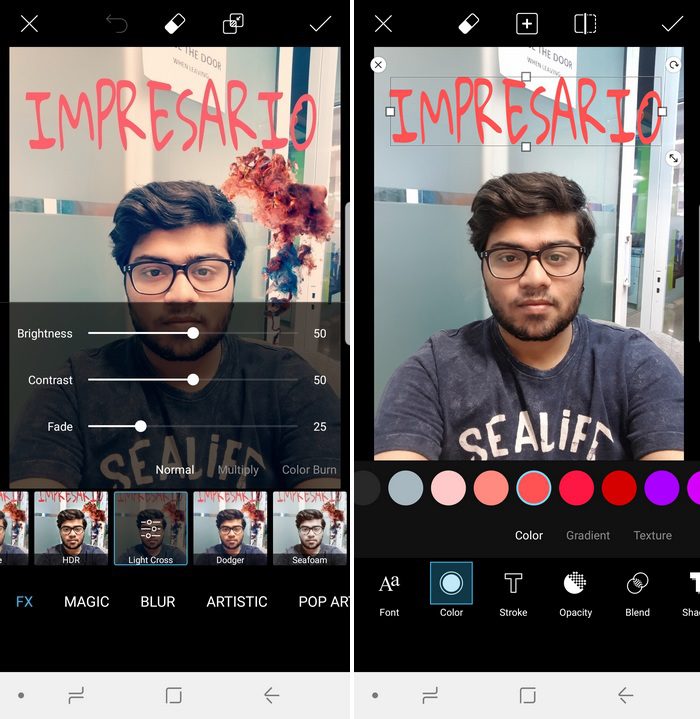 There are photo editing apps like Prisma which stand out for their unique filters, while on the other hand, there are some applications like Google's Snapseed, whose enormous collection of editing tools is nothing short of impressive. But if you want the best of both worlds, head straight to the Play Store and download PicsArt, and trust me, you'll feel grateful for following my advice later on.
PicsArt is the perfect blend of an immersive UI and a highly capable camera app, which offers more live enhancement tools like scene modes, filters, and stickers than any other app I have used so far. You can always purchase additional items, but you probably won't need to spend your money, as you can use the images uploaded by the PicsArt community members as backgrounds at no cost. And yes, the whole prospect of getting acquainted with new editing ideas is an added benefit if you choose to join the community.
But that's not where the goodies end, as the PicsArt app's editing tools are extremely diverse and effective, be it the coloring and text addition tool or the eye-catching backgrounds, masks and the collage maker. And if you feel that you've become a pro at image editing (or in the process of becoming one), you can always participate in the weekly challenges hosted for the community members to exhibit their talent and win some items.
Download (Free, with in-app purchases)
9. Pixlr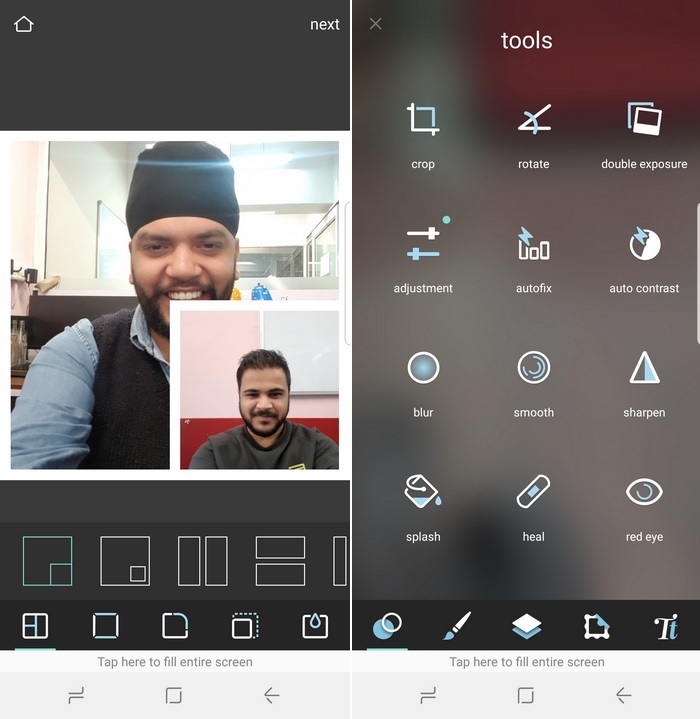 One of the first things that will catch your attention when you start using the Pixlr app is how exceptionally well the enhancements tools are organized into just five categories on the editing home page. And this whole arrangement is what makes the Pixlr app an absolute joy to use and edit our images with a wide array of effects and styling elements like overlays, stickers, doodling tools, filters, etc.
But there are multiple other factors too that make the Pixlr app a serious contender for the crown of the best image editing app for Android. Take for example the app's favorites feature, which allows users to save their preferred combination of filters and overlays for future use as well as the ability to share the edited images directly to social media platforms like Instagram, Facebook, and Twitter.
Another noteworthy strength of the app is collages, and in my opinion, Pixlr's collage making tool is simply one of the best found in any image editing app in the Android ecosystem, thanks to the wide selection of tools and combination presets that can generate more collage styles than you can think of.
Download (Free)
10. Toolwiz Photos – Pro Editor
What do you get if you merge Prisma's artistic filters, Snapseed's diversity of editing tools and Aviary's excellent user interface? You get Toolwiz Photos – Pro Editor, a photo editing app that provides you the complete set of retouching tools you'll ever want on your smartphone, and then some more as an extra goodie.
Be it the exhaustive portrait retouching tools, text addition options (memes, decals, bubbles, etc.) or the pro-level light and color adjustment tools, Toolwiz Photos simply has it all, neatly organized into a very simple and engaging interface. The app offers a huge selection of stickers, layouts, PIP frames, fonts and a lot more, alongside some fun tricks such as face swap, face toning and body slimming which work surprisingly well.
The app also boasts of a cool 'Moments' feature which showcases the photos selected by the user in the form of a short movie, whose visuals and background score can be changed by selecting from the default themes available in the app. But what's even more surprising is the fact that Toolwiz Photos' editing tools have been designed by people suffering from congenital illnesses, which is a huge achievement in itself.
Download (Free, with in-app purchases)
11. Photo Editor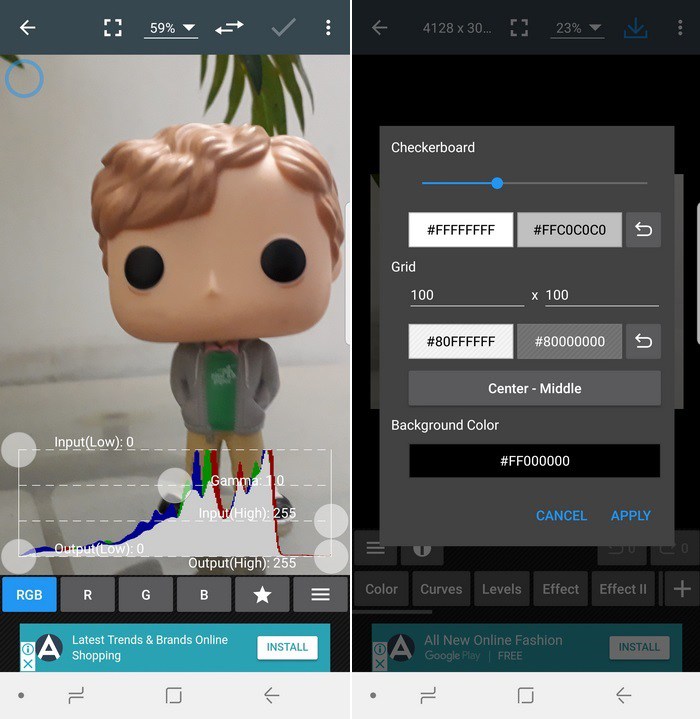 Photo Editor is one app that provides you true pro-level photo editing controls on your smartphone, if you know how to play with colors and other in-depth variables to create an image that has been tweaked to perfection on all parameters.
Superficial photo editing tools and effects aside, you can adjust the RGB values, and accordingly assign the number of points around which you want to adjust the curves in order to obtain a perfect color balance and output. You can also perform pixel-level correction with ease and also exploit the face retouching tools to enhance the self-portraits.
But that's not all, you can choose the exact colors you want to highlight by adjusting the hexadecimal color codes to obtain the desired hue and also add text, whose attributes viz. font, color, outline, shadow, and shape can be tweaked without any fuss.
Download (Free, with in-app purchases)
12. Facetune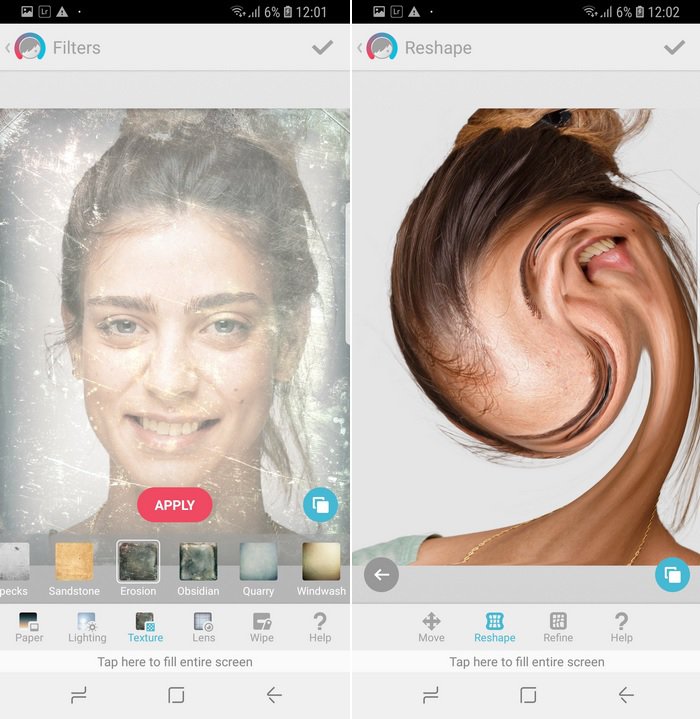 If you have ever wanted a no-frills app that can do just one job i.e. make your selfies look magazine-worthy, and do it without editing it aggressively, then Facetune is the app you need. The app's premium tag is justified by the vast collection of really nifty editing tools it brings to the table.
Facetune is loaded with retouching features like skin tone smoother, detail enhancer, reshaping tool and a host of others that will help you create that perfect self-portrait which can become a nice profile photo, and of course, the center of appreciation and envy.
But where this app really stands out is the level of control it provides while implementing editing functions, as the enhancement tools are neither too aggressive to make the image look like a fake mess, nor too light to not leave a visible impact.
Download ($5.99)
13. Afterlight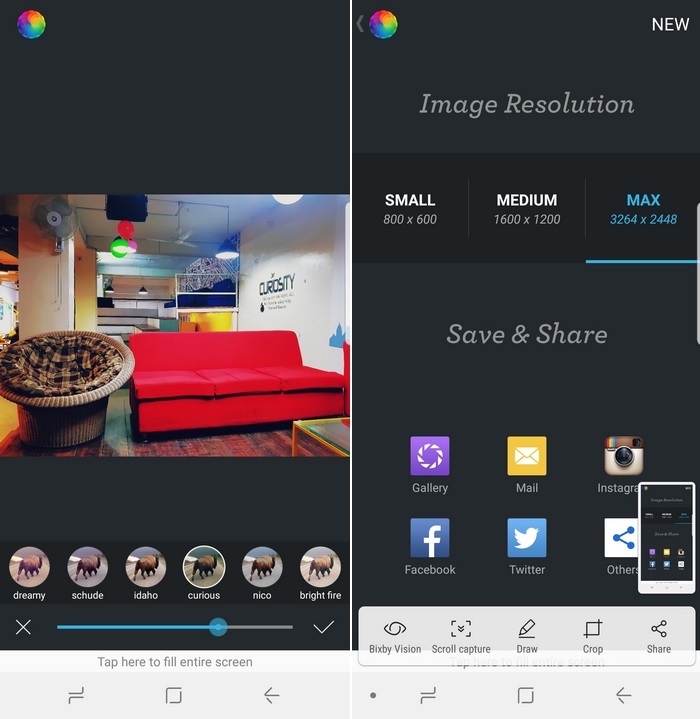 If the idea of a pure image editing app that does not overwhelm you with a gazillion tools and filters, but instead, provides just the perfectly balanced selection of fundamental editing features to enhance images in a jiffy, then Afterlight is the app for you.
Afterlight brings you an eclectic mix of filters from its team of developers as well as Instagram users, alongside an impressively rich collection of textures which feature eye-catching natural and artificial illumination effects that will give your images a unique character.
Aside from editing an image's aesthetics and resolution, Afterlight also allows users to share their images on social networking sites like Instagram and Twitter among others. And just in case you are running out of creative juice, you can pay a visit to Afterlight's Instagram page, which is loaded with examples of editing magic accomplished by using the app.
Download (Free, with in-app purchases)
14. Prisma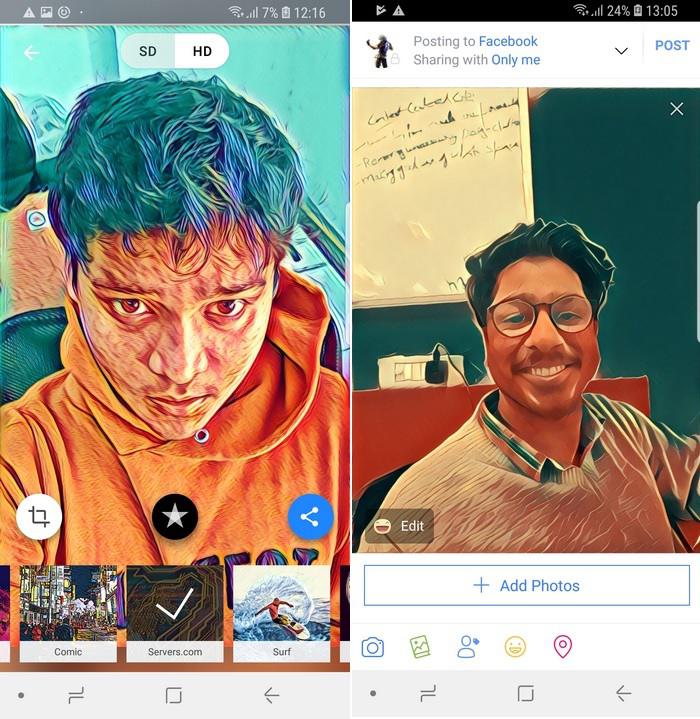 Prisma is one of the most popular photo editing apps out there, and for a good reason, as the vast array of artistic filters that come with the app are truly in a league of their own and are hard to find on any other image editing application.
The eye-catching filters available on the app exhibit the signature artistic style of various renowned personalities, and the collection is updated frequently by additions of newer ones to keep the user community hooked to the app.
But Prisma is not just a run-of-the-mill image editing app, it's a social media platform in itself which allows users to share their latest artistic creations and follow other like-minded people who like to play with art and photography.
Download (Free, with in-app purchases)
15. Vignette
Install a couple of photo editors on your smartphone and there is a high chance that their interface and editing mechanism are more or less the same. But just in case you want something different without missing on the core image enhancements tools, Vignette can offer you that exact experience you desire.
There is no dearth of editing tools and filters in Vignette, but the fashion in which they are arranged and presented to the users makes the app stand-out. Even though the app does not come with a very diverse set of filters and effects, the availability of basic editing tools will let you tweak your photos in a matter of few minutes.
Download ($2.49)
SEE ALSO: Top 10 Best Camera Apps for Android
Choose the Best Photo Editing App for Android
Well, these were the best photo editing apps that I have used after assessing their popularity and reception among the global Android community. In order to make the selection process easy for you, I have highlighted their signature traits of the apps so that you can choose the one that truly suits your requirements.
Every app mentioned on the aforesaid list has its own set of unique features and advantages that will help you take your image editing skills to the next level. What are your ideas about our collection of the best photo editing apps for Android? Did we miss any that you think should have made the cut? Let us know in the comments section below and also tell us which app(s) you downloaded after reading the article.