While widgets have been around on iPhone since iOS 8, never before had they been so useful. While iOS 14 opened the gate for cool customization and made the home screen more lively and interactive, iOS 15 is here now and it brings even more widgets to iPhone. Whether you want to turn the home screen into a quick info window or get the most out of the lock screen by putting your favorite widgets on top, we have got you covered with 30 useful iPhone widgets.
Best Useful Widgets for iPhone in 2021
Keeping in mind different needs, we have chosen a variety of iPhone widgets. From sticky notes widget to favorite contacts to music discovery, the roundup has got the variety to let you choose the suitable widgets as per your needs.
Notably, we have included both Today View and home screen widgets. If you want to keep a tab on the essential information right from the lock screen of your device, go for the Today View widgets. And if you wish to make the home screen more interactive, the home screen widgets are the way to go.
1. Launcher
Launcher is one of the most customizable and powerful widgets that you can get for your iPhone. Yeah, you read that right. The widget app is fully customizable and lets you quickly launch your favorite apps.
What's more, you can also fine-tune it to call, message, email, and even kickstart FaceTime video calls. Not just that, you can also use it to quickly access your favorite websites.
Notably, the widget app lets you play your preferred music with your preferred music app with music launchers and even change app icon labels and stack widgets. Bear in mind that only the premium version of Launcher can let you unlock all the goodies.
Taking everything into account, it's one of the most useful iPhone widgets right now.
Install: (Free, in-app purchases)
2. Smart Stack
There is a lot to like about Smart Stack. Probably the best part about it is the ability to show information depending on how you use your iPhone.
For instance, the widget will display podcasts during the time when you like to catch up with your podcasts and show reminders at the time when you prefer to check what's lined up for you.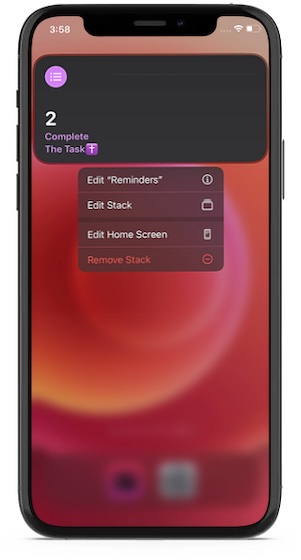 Interestingly, it's the combination of several app widgets including Photos, Music, Reminders, Weather, Calendar. Oh yes, it also includes Siri Suggestions. You can scroll through the widgets to take a glance at the essential information right from the home screen.
Depending on your needs, you can even customize Smart Stack to suit your needs better. For instance, you can rearrange the order of the widgets and even remove the unwanted ones.
Comes Pre-installed 
3. Weather
Another very useful widget that I always love to have is the weather widget which shows me the current weather information at a glance. Yeah, no more digging into the weather app just to keep a track of the essential weather information like temperature or air quality index. And if own an iPad and are not using any third-party iPad weather apps, the weather widget is the best way to access weather information.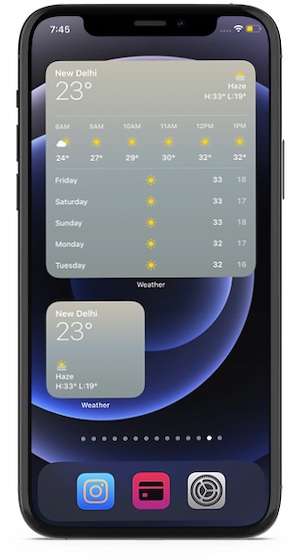 That said, although the built-in weather widget is more than capable to live up to the task, third-party weather apps for iPhone such as Carrot Weather ($4.99) and Hey Weather (free) are more user-friendly. Besides, they also provide way more customization so that you can choose to pop-up the preferred information.
Comes Pre-installed 
4. Batteries
Simply put, "Batteries" is one of the best iPhone widgets, which makes it pretty straightforward to keep a tab on the battery life of the iPhone but also connected Bluetooth devices like AirPods or AirPods 2.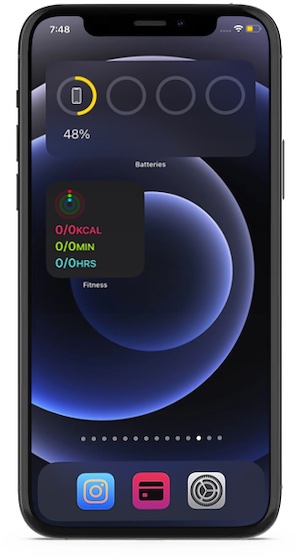 So, if you wish to track the battery life of your devices right from the widgets panel, you shouldn't miss out on this one. What's more, it comes pre-installed, therefore you don't need to install any third-party app or even spend bucks to get started.
Comes Pre-installed
5. Advanced Battery Widget & Usage Monitor
Just in case you want to keep a tab on essential information like a battery, storage, screen brightness, storage, and memory, Battery Widget & Usage Monitor is the one you should use. The widget is fully customisable and lets you track hardware information with ease.
Furthermore, you can also use this widget to track network information like Wi-Fi network and cellular data network connection status. The developer has promised that the data insights and operating system information are also going to arrive soon. Keep in mind that the freemium version of the widget is limited. And if you want to unlock all the features, you will need to upgrade.
Install: (Free, in-app purchases)
6. Calendar and Reminders
One of my favorite iOS widgets is the calendar widget as it allows me to quickly take a look at my upcoming events. Apart from the built-in calendar app for iOS, most of the other good third-party calendar apps including Fantastical (Free, in-app purchases), BusyCal ($4.99), and more offer widgets.
If you want to have a simple calendar/reminders widget, the stock widget can live up to the task. However, if you would like to have more customization, third-party offerings would be the way to go.
Comes Pre-installed 
7. Files
How about having quick access to all files you have recently opened? Well, if you want to have instant access to all the recently used/opened files, you must not miss out on the stock files manager widget.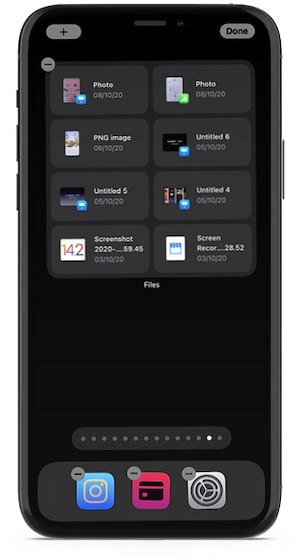 As someone who heavily relies on the stock file manager to manage files on iOS, I find this widget very useful. It saves plenty of time by ensuring the recent files are just a tap away. And I'm sure you may find it equally helpful as well.
Comes pre-installed
8. Fitness
Well, this one is primed for fitness freaks or those who put health and fitness right at the top of their priority list. And if you are one of them, save this iOS widget to help you keep a track of your activity.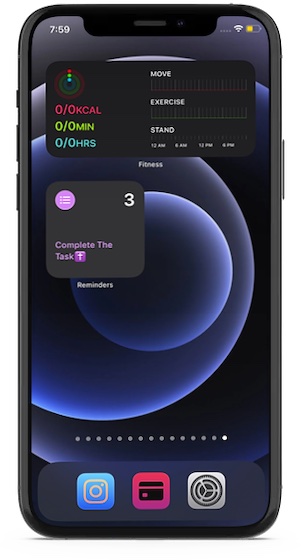 As it's built-in, you can expect it to work reliably on your iOS device, showing your progress. Thus, you won't need to dive into the Health app to figure out how well you are performing in the gym and how much effort you still need to put in to accomplish your goal.
Comes pre-installed
9. Google News
Do you like to keep an eye on the latest happenings to keep yourself updated with everything that matters to you? If the answer is yes, why not add one of the best news apps on iPhone to the Today View so that you can track all the breaking news with the utmost ease.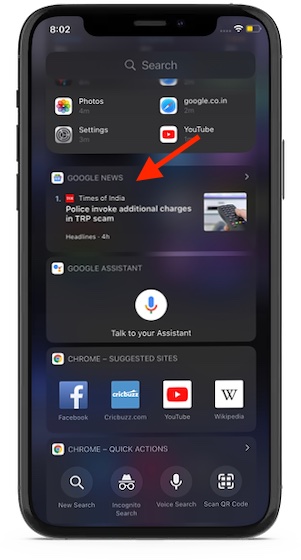 Boasting a diverse set of credible publishers, it's the sort of platform where you can read stories from several topics including technology, politics, sports, entertainment, business, and more. Better still, it's available for free and supports several languages.
Install: (Free) 
10. Find My Widget
The Find My app is really useful. You get location updates from people in Find My, and you can use it to track your items. Unfortunately, Find My was missing a home screen widget in iOS 14. However, now that Apple is selling AirTags, the Find My app is getting its own widget as well. With the Find My Widget, you can keep a track of your items, as well as people who are sharing their location with you straight from the home screen of your iPhone.
The widget is available in two different sizes and types. You can use the Find My 'People' widget to track people sharing their location with you, or you can use the Find My 'Items' widget to track your AirTags and other compatible third party item trackers. Both these widgets are available in 2×2 and 2×4 sizes.
By the way, if you're using AirTags, you should check out AirTag tips and tricks, and how to set AirTag to lost mode.
Comes pre-installed
11. WhatsApp
Since most of us use WhatsApp as the default messaging app to stay connected with friends and loved ones, I thought it would be nice to mention its widget. What I really like about the WhatsApp widget for iPhone is that it provides quick access to favorite contacts.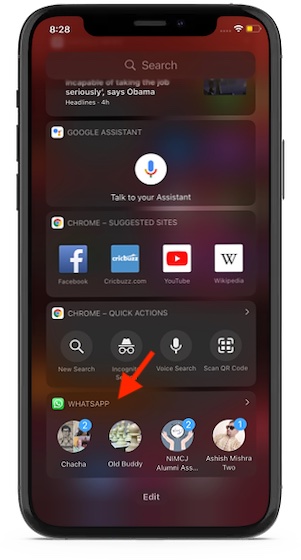 So, just in case you often have to communicate with certain people, you can use the widget to dive into the conversation right from the lock screen of your device. To get started, all you have to do is head over to the widgets library (swipe right to access widgets panel -> Edit button at the bottom -> Customize. Then tap on the "+" button to the left of the WhatsApp widget.) and add it.
Also, if you're thinking about switching from WhatsApp to Signal or another chat app, you should check out our list of WhatsApp alternatives.
Install: (Free) 
12. Shortcuts
You probably know that you can launch apps with back tap on iPhone. Plus, with the Shortcuts app, you can do things like downloading Instagram videos, or posting tweets. If you do, chances are pretty high that you would like to have the Shortcuts widget.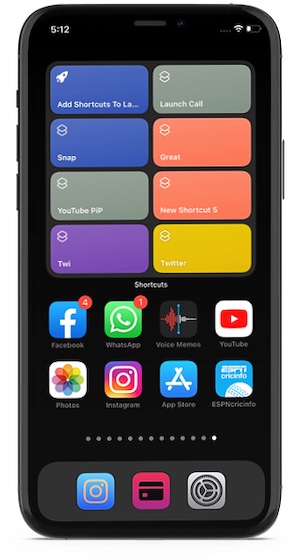 With the Shortcuts widget, you can launch your favorite shortcut with just a tap and even quickly access the Shortcuts folder. It's much better than taking the usual route to add shortcuts to launch or access some of the most frequent hacks. So, do not fail to add it to your special collection of useful iPhone widgets.
Comes Pre-installed 
13. Sticky Notes Widget
One of my favorite widgets is the sticky notes widget as it makes tracking important notes quite straightforward. If you also like the idea of keeping an eye on notes at a glance, Sticky Widgets is for you.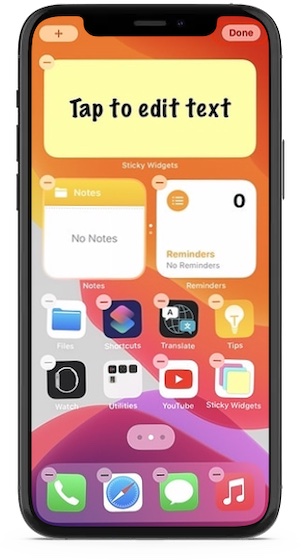 With this widget, you can show sticky notes right on the home screen of your device and even edit it as and when you want. It's pretty lightweight and works as expected. More importantly, you don't need to spend any bucks to get the sticky notes going.
Install: (Free) 
14. Screen Time
Ever wished to keep a track of the information related to Screen Time a bit faster or for that matter without having to dive into the Settings app on your iPhone? If yes, the Screen Time widget is for you.
With the Screen Time widget, you can keep an eye on your device usage at a glance. The stock widget works pretty well in showing device usage. Moreover, it also comes in multiple sizes so that you can choose the preferred size depending on how much information you want to keep a track of.
Comes Pre-installed
15. Contacts Widget
One of the things I missed with widgets on iOS 14 was the ability to call people straight from the home screen. Well, with iOS 15, Apple has added a Contacts widget which can help solve that problem.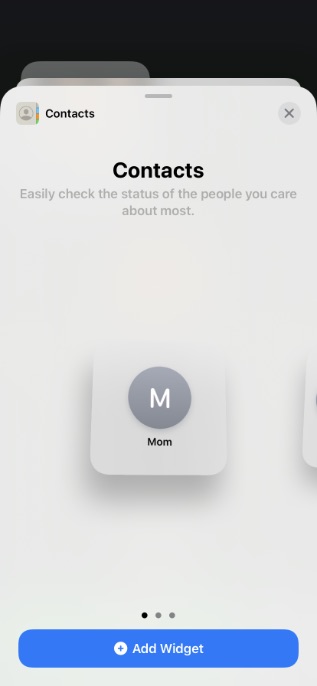 With the Contacts widget (available in 2×2, 2×4, and 4×4) you can set up the contacts you want to show on your home screen. Then, you can just tap on any contact to see their information, including messages they have sent you, photos of them in your gallery, and more information. Plus, you get handy shortcuts to call them, or FaceTime with them.
Pro-tip: If your contact is on Android, you can now even FaceTime with Android phones.
Comes pre-installed
16. Shazam
If you love music, then you gotta have this widget. Shazam widget does a very simple job. It allows you to identify music playing in the background with just one tap. Perfect for the times where you come across an unknown song and wish to find out more about it.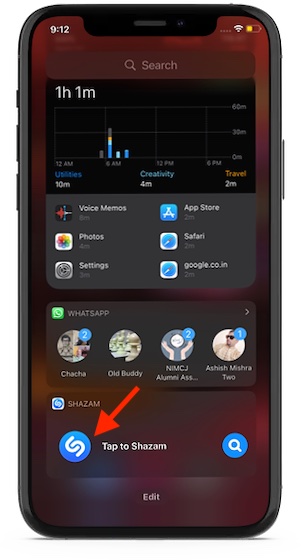 Furthermore, Apple has also integrated Shazam with iOS to let you quickly recognize songs right from the Control Center of your device. If you want to give a try to this all-new iOS 14 feature, head over to this hands-on guide.
Install: (Free, in-app purchases)
17. Copied Touch
Copied Touch is a great app that stores a history of your clipboard so that you never miss out on the things that you copied. The app allows you to copy multiple items in succession without the latest copied item overwriting the last one. Its widget gives you quick access to the last couple of copied items so that you can easily paste them back wherever you want.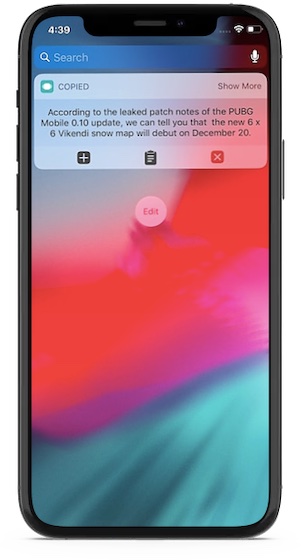 It's also a great place to store quick copied notes without having to paste them anywhere. I use copied almost on a daily basis on my iPhone and its widget is something that I cannot live without.
Install: ($0.99)
18. Siri Suggestions
Depending on your usage, Siri suggests a handful of apps so that you can launch them with ease. To me, they work as a user-friendly launcher for your favorite apps.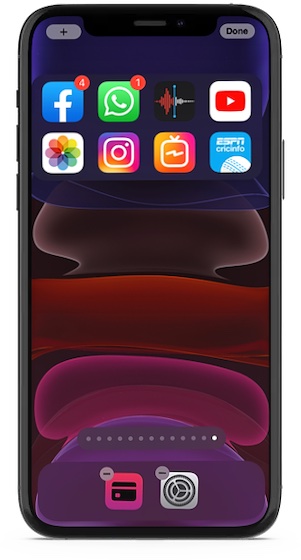 If you find Siri suggested apps user-friendly, you would appreciate the Siri Suggestions widget. Just like other widgets, it also comes in multiple sizes. I would suggest you choose the bigger size if you want to have quick access to more apps.
Comes Pre-installed
19. Drafts
Drafts is my favorite note-taking app on iOS App Store and I love the quick widgets that come with it. My favorite thing about Drafts is that it allows me to quickly jot down notes. Whether I want to quickly capture written notes, paste something that I copied or record a voice note, Drafts' widget gives me quick access to all these actions.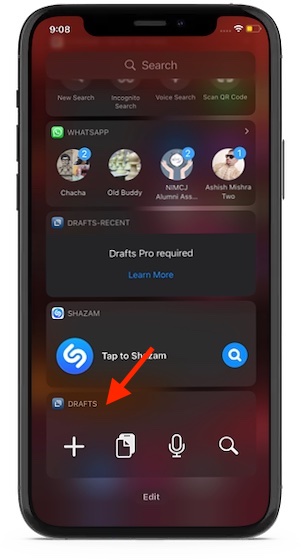 If you are a paid subscriber, Drafts allows you to use even more types of widgets which are specifically designed to help you get to your notes quickly. Even if you don't use Drafts, check if your note-taking app comes with a widget or not.
Notably, most of the popular note-taking apps including Apple Notes, Evernote (free), and more come with quite useful widgets.
Install: (Free, in-app purchases)
20. ESPN
This one is for all you sports lovers out there. ESPN's widget allows users to keep track of their favorite team standings and follow their current matches in real-time. I love the ESPN app and follow all my favorite sports teams on it.
The widget is great since it lets me take a quick look and find out how my favorite teams are doing. Even if you are not using ESPN, chances are that your favorite sports app comes with a widget that you can use to keep track of your teams.
Install: (Free, in-app purchases)
21. Chrome Suggested Sites
Every time you want to access your favorite sites, you don't need to take the usual routes. You guessed it! With the Chrome Suggested Sites iOS widget ready at your disposal, you can quickly access some of the sites which you visit frequently right from the Today View screen.
The web browser keeps a tab on your browsing history and offers suggestions accordingly, thereby making it incredibly straightforward to access certain sites. Considering how handy this widget is, I wouldn't be surprised if you lock it in your special collection of cool iOS widgets for iPhone and iPad.
Install: (Free)
22. Game Center Widget
The Coronavirus pandemic has caused a lot of changes in the way we connect, and playing games together with friends online is one of the few ways to unwind and hang-out, albeit virtually, with friends. If you use Apple's Game Center to play together with friends and keep a track of your trophies and more, the new Game Center widget can come in handy for you.
With this widget you can continue playing games you have played recently. Or, you can discover which games your friends are playing on their iPhones and start playing those games as well.
Comes pre-installed
23. DataMan – Data Usage Widget
If you fail to keep a tab on the data usage of the limited bandwidth, it may often run out of steam abruptly – well-before the deadline. While there are a number of data tracking apps, not all of them let you track data consumption with ease. But bother not, this is where DataMan has a role to play.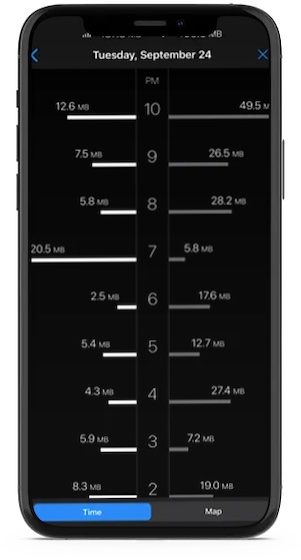 The data usage widget makes the process of tracking data consumption on iOS a straightforward task. And that too right from the home screen of your iPhone. So, the next time you wish to check out how much data is left in the tank before kickstarting a long video-streaming session or getting into extensive browsing, the home screen data usage widget will update you at just a glance.
What's more, DataMan widget also sends custom usage alerts to keep you in the loop about when you will hit your data cap. If you're one to use a lot of iPhone shortcuts, the app also offers Siri shortcut to let you get the data usage forecast just by asking Siri.
Install: ($0.99) 
24. Google Photos
Without undermining Apple Photos, I would like to say that Google Photos remains the most loved photo and video storage platform across platforms. So, it's heartening to see Google Photos adding 'Your memories' to iOS 15 home screen widgets.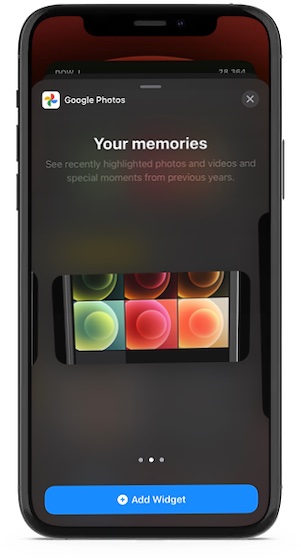 With the memories widgets, you can take a glance at the recently highlighted shots and fascinating moments. Notably, each widget shows the time when a specific shot was captured, making you travel back in time in a delightful way.
To get Google Photos' cool "Your memories' widget, simply touch and hold an empty screen and hit the "+" button, and choose Google Photos. Then select the preferred size and hit the Add Widget button.
Install: (Free) 
25. Google Assistant
Agreed, Google Assistant doesn't work as efficiently on iOS as it does on Android due to the imposed restrictions. However, Google's virtual assistant is still more than capable to give strong competition to Siri and there are a lot of useful Google Assistant commands that you can use. From letting you check weather updates to track the latest news or tell bone-tickling jokes, the virtual assistant can do a lot more than what you think.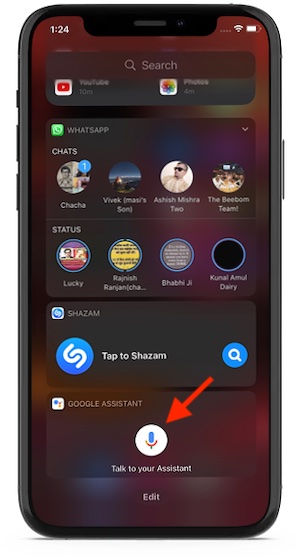 So, if you want to get the most out of Google Assistant, make sure to add it to the lock screen. To bring this useful iPhone widget into action, head into the lock screen widgets library and add it.
Once it has been added to the widgets panel, all you need to do to get into the conversation is just tap on the tiny microphone button.
Install: (Free) 
26. Google Maps
Apple is great at making many things. Sadly, Maps has not been one of them. Google Maps is still leaps and bounds better than Apple Maps, especially if you are living outside the US.  There are a lot of useful Google Maps tricks; plus, Google Maps gives you access to a number of useful widgets as well.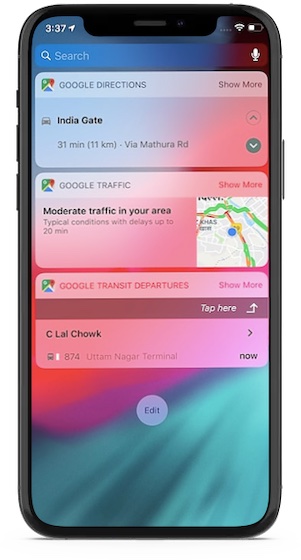 You can use a widget that shows you the traffic in your area, or one that shows you the time it will take to reach your destination or any of the other three widgets. I generally tend to use the one that shows me the travel time as it helps me leave on time. You can see all the five widgets that Google Maps offers in the picture below.
Install: (free)
27. widgetopia Widgets + Weather‬
Developed by the same team as WatchMaker (a well-known watch face design community), widgetopia has got probably the largest collection of widgets. With over 1000 widgets, the app ensures you have a wide variety of widgets to try. So, whether you want to put total steps at the forefront or give countdown more attention or decide to be in sync with the upcoming events by showing calendars/agenda, the app has got you fully covered.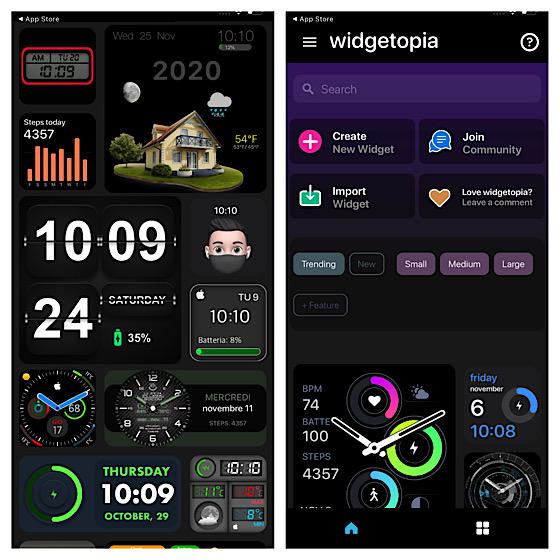 What's more, widgetopia also comes with several design tools that you can use to craft custom widgets for a personalized experience. Notably, it has got transparent widgets as well, which can play a vital role in letting you design the home screen to your heart's liking.
Install: (free)
28. Sleep Widget
With iOS 15 and watchOS 8, the native sleep detection in Apple Watch is getting more powerful. It can now track your sleeping respiratory rate as well. And if you're deep into keeping track of your health with workout apps and more, the new sleep widget can be a useful addition.
As the name suggests, with this widget you can get an overview of how much you slept last night. Plus, you can tap on the widget to open up the Sleep section within the Health app and view other metrics such as your respiratory rate, blood oxygen level, and more information about your sleep.
Comes pre-installed
29. Mail App
It may not be considered the best email app out there, but the default Mail app on iPhone is pretty powerful and useful. And now, it even has its own home screen widget, which makes using it easier than ever.
With the Mail app widget, you can choose from two different sizes (2×4, 4×4) and add them to your home screen. The widget can show you your emails from the selected mailbox, and you can even tap on a particular email to open it straight away in the Mail app. It's useful and takes away a couple of steps from opening new emails within the Mail app.
Comes pre-installed
30. Spotify
Swedish music streaming giant Spotify (with over 320 million active users) remains by far the most loved music app across platforms. So, it's worth taking note of Spotify's newly launched iOS 14 home screen widget.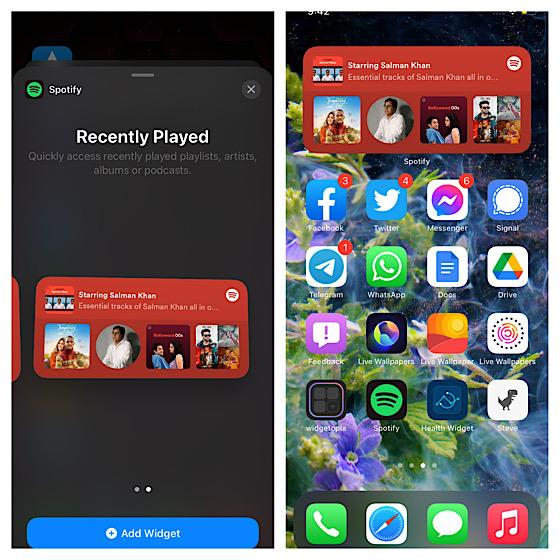 Using the widget, you can access recently played playlists, artists, albums, and podcasts right from the home screen. Hence, streaming the recently played songs or your favorite podcasts would be quite straightforward.
Though currently, the Spotify widget doesn't offer much customization, I hope it adds a few design tools for fun-loving customization sooner than later.
Install: (free)
Best iOS Widgets to Make the Most of Your iPhone
That ends our list of the 30 best iOS widgets that you can use to get the most out of your iPhone. I would recommend that you choose the five best widgets and stick to them as having too many widgets defeats the purpose of simplicity and quick action time.
Do check out the list and let us know your favorite iOS widgets by writing in the comments section below. Besides, also tip us about any other useful widgets that are worth mentioning in the above roundup.