If there is one thing that seems to travel with us almost everywhere – from relaxation at home to long drives to late-night parties, it is music. Whether we are overjoyed, calm, or saddened by a sudden heartbreak, most of us like to listen to music to keep. In this digital age, music has become more accessible than ever before with many notable brands launching top-notch music apps for on-demand streaming. But just in case you are finding it a bit hard to discover which one can live up to your billing, we have got you covered with the best free music apps for Android and iPhone in 2020.
Top Free Music Apps for Android and iOS in 2020
Remember, no music app is perfect. At the end of the day, everything boils down to what your needs demand or what suits your taste better. What may seem to be an effortless pick for me may not sound appealing to you.
That's why I have handpicked a variety of music apps that can elegantly cater to your on-demand music and radio listening. Oh yes, I have also included some offline music apps for iOS and Android so that you can enjoy your own music collection.
1. Spotify
When there is a discussion for the overall best music apps across the platforms, the one obvious name that strikes the mind instantly is Spotify. And rightly so as it's by far the most feature-rich and elegant music app for both iOS and Android.
What has always impressed me the most in Spotify is the very intuitive user interface. And with the colossal music library of more than 50 million songs, it's ever ready to offer any song that you want to hear. The app pays special attention to your interest and offers recommendations accordingly. In fact, in my experience, Spotify has the best music recommendation feature of all the music streaming services.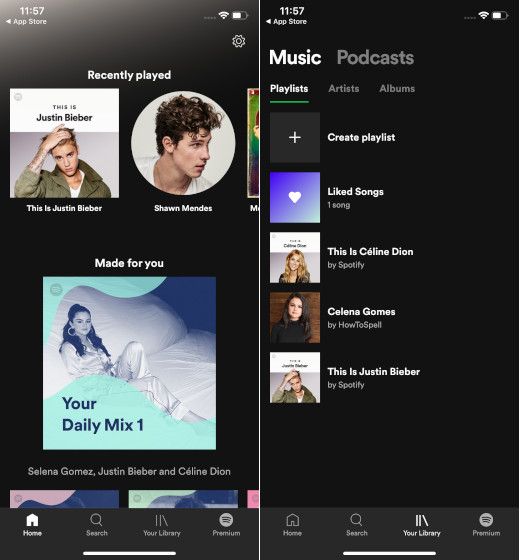 You can also craft your personal playlists of all of your favorite songs and even share them with your friends and vice-versa. With Spotify Premium ($9.99/monthly), you can unlock several impressive features. For instance, you will be allowed to listen to your songs offline, use the app without any ads, and also get better sound quality.
Moreover, Spotify also comes with tons of podcasts. So, if you are a loyal podcast listener, you'd be glad to have its massive library at your disposal. Finally, it's available in more than 90 countries, so most of us can access and use it. Everything considered; it's one of the best free music apps for iPhone and Android.
Pros: 
A massive library of music
Intuitive user-interface 
Personalized recommendations 
Offers thousands of podcasts 
Cons: 
The sound quality of freemium version is comparatively poor 
Install: iOS and Android (free, $9.99/month)
2. YouTube Music
YouTube Music is a top-notch music app from Google. If you like to keep a track of the official release or singles from your favorite artists, it will keep you at pace with your interest. Plus, it's known to deliver the most suitable recommendations as per several things including your taste, location, and even mood.
Another department where YouTube Music has made plenty of strides is refining the entire UI which makes it a lot easier to browse through albums, live performances, remixes, and more. Besides, the advanced search plays a vital role in quickly finding a song or album. But what has caught my eyes in this app is the hotlist which offers quick access to all the songs that are trending.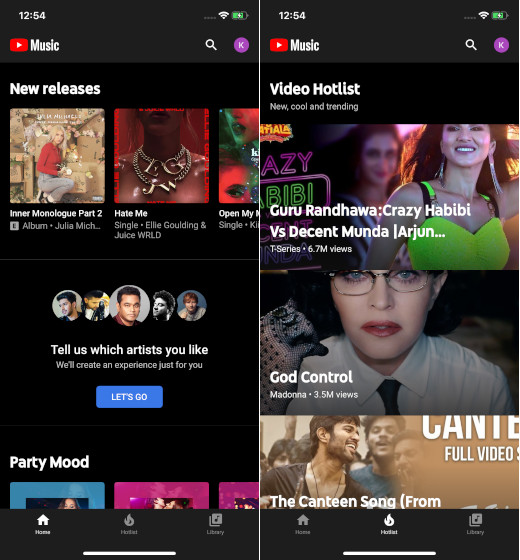 One advantage of YouTube Music is that it also lets you access official videos, live performances, and more, right from the app. This means you have access to different versions of songs which is not quite possible on other free music streaming platforms.
And if you are willing to spend some bucks, you can go for YouTube Premium ($9.99) to listen to music ad-free, get a download option, and more. Talking about availability, the paid version of YouTube Music is available in more than 65 countries which include countries like the USA, Canada, UK, India, Sweden, Australia, and, more.
Pros: 
An ever-growing library of songs 
Features a hotlist of all the trending songs 
Provides access to official videos and live performances 
Fully personalized recommendations 
Cons: 
The mood-based playlists are not as good
Install: iOS and Android (free, $9.99/month)
3. Pandora
Should you want your music app to not only let you stream songs but also listen to radio and podcasts (all in one) seamlessly, Pandora could be the right way to go. The best part about this music app is the full-on customization that allows you to create stations depending on artists, genres, and even your favorite songs. Thus, you have a more personalized music listening experience.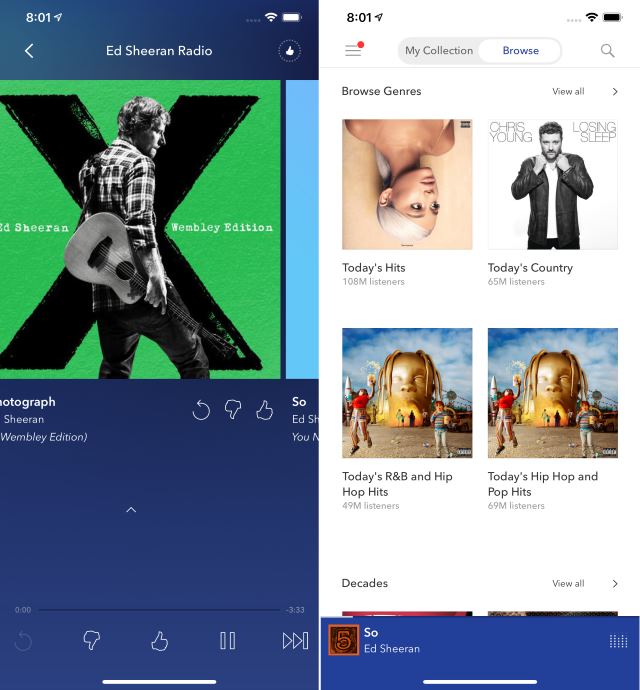 On the recommendation front, Pandora knows pretty well what sounds cool to your ears and curates songs that seem to be suitable for your taste. In terms of podcasts, it has got a library of hundreds of podcasts from well-known creators. With Pandora Premium ($9.99/monthly), you get unlimited skips and replays.
Besides, it will also let you download music for offline listening as well as create custom playlists. And the Plus version will offer you access to unlimited personalized stations and podcasts as well as let you tune into higher quality audio. Do note that Pandora is not available outside the USA so keep that in mind before deciding on this app.
Pros: 
A great app for listening to the radio
Option to download music for offline listening
Ability to create custom playlists
A solid library of podcasts 
Personalized music listening experience 
Cons: 
Operates only in the United States 
Install: iOS and Android (free, $4.99/month for Pandora Plus)
4. Deezer
If you have a rich taste for audio quality or consider yourself an audiophile, Deezer would be a better bet for you. Packed in with over 55 million songs, it's second to none when it comes to numbers. Regarding the interface, I find it up to the task (if not at par with the best in the business).
It has a handy shuffle mode which makes it pretty simple to find new tracks. And every time, you come across a song that seems pleasing to your ears, you can add it to your ever-growing collection to quickly access it.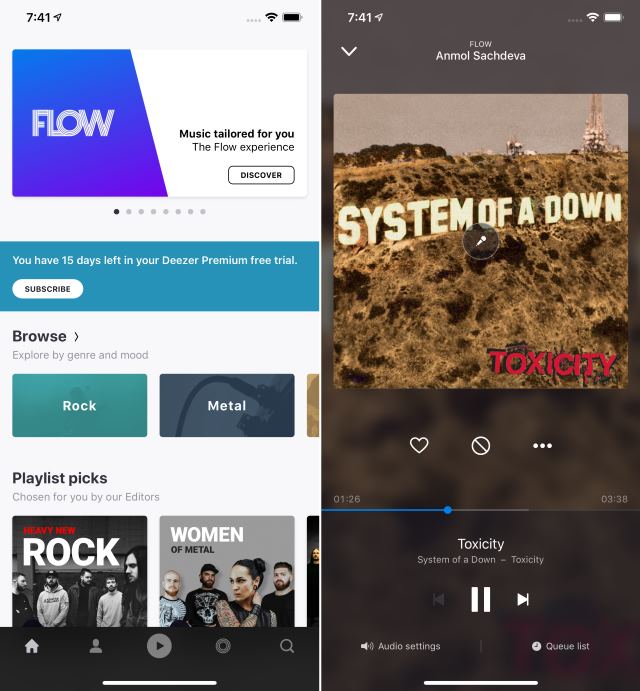 Like to keep your tracks perfectly organized? Well, the app offers you many customization options, allowing you to organize your tracks based on artists and genres. Beyond music, you can also discover podcasts, radio stations to catch up with popular programs.
With Deezer Premium ($9.99), you will be able to relish ad-free music and also use Alexa on compatible devices. When it comes to availability, Deezer is available in 182 countries but sadly that vast list doesn't include India.
Pros: 
A huge library of over 56 million songs 
Ability to organize music by artist and genre
Premium+ version offers top-notch sound quality (320 kBps)
Offline mode
Cons: 
The UI could be more user-friendly

Install: iOS and Android  (free, $9.99/month)
5. SoundCloud
Here comes the world's largest music and audio streaming platform by a long-distance! Loaded with over 200 million tracks, SoundCloud will never let your music time go through a low phase. Everything from jazz, hip hop, classical, podcasts to audiobooks that you like to listen to or enjoy tuning into will be there on your radar.
If you always want to keep yourself in sync with the latest offerings from top artists, the app will help you stay in the loop. You can join the huge community of music lovers and also connect with the artists you admire.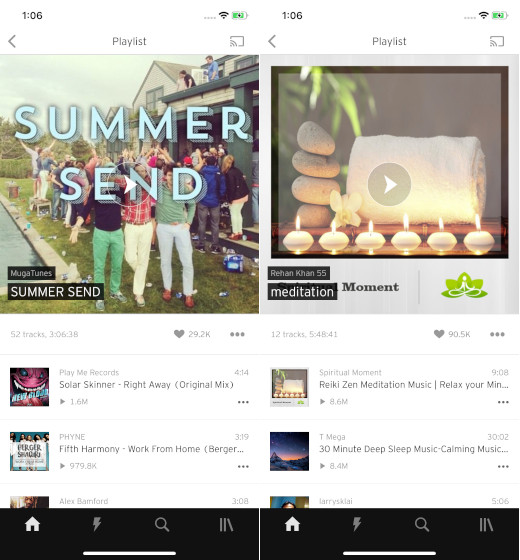 Furthermore, you will have easy access to mixes, chart-topping albums, and live sets. With SoundCloud Go and Go+ ($5.99/$12.99), you will get additional features like offline listening, just 30 seconds of preview, ad-free listening, and more.
Note that while the free version of SoundCloud is available everywhere, its premium versions are available only in a few countries including the US, UK, Canada, Australia, France, Germany, Ireland, Netherlands, and New Zealand. Taking everything into account, it can safely claim to be the best free music app for the iPhone.
Pros: 
Mammoth library of over 200 million songs 
Ability to connect directly to artists
Desired freedom to create playlists for any occasion
Curated playlists 
Cons:
The UI doesn't seem intuitive 
Install: iOS and Android (free, $5.99/month)
6. Amazon Music
"Amazon Music" has vastly improved in most aspects. And if you are ready to switch your loyalty or simply want to have a music app that can tick off most boxes, this one has to be a pretty safe pick.
The app now has a clean and intuitive interface that makes for easy navigation. As for the music library, Amazon claims to have got a whopping 60 million songs, which are undoubtedly a lot more than you can ever stream. The one apparent advantage of having a big catalog of music is that your search for a unique song will rarely go for a miss. Amazon Music is also pretty smart in recommending songs and stations based on your preference.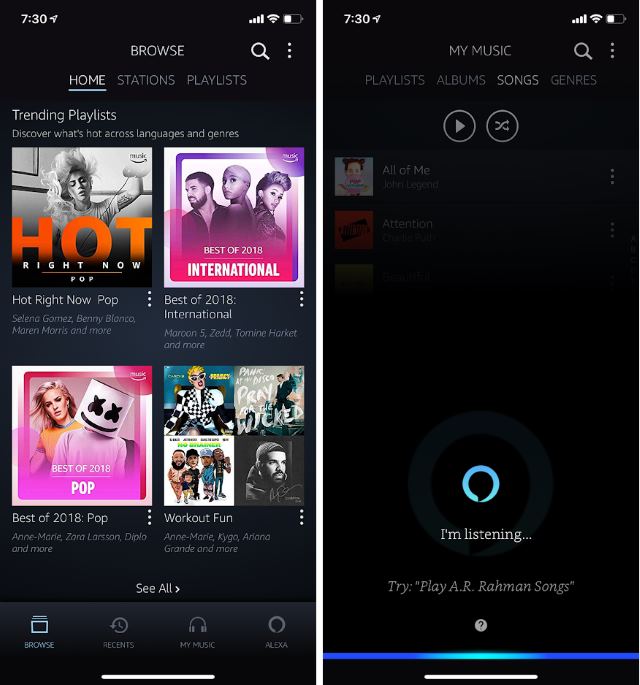 So, when you want to go for a music drive, you will not have to spend plenty of time to choose the songs that can thrill you. And just in case, you often have to deal with a poor internet connection, you have the liberty to download songs and stream them offline. And with Alexa always there at your beck and call, getting started with music will always be easy for you. Do note that this app is available for free only with Prime membership.
Non-Prime users will need to spend $9.99/month. Amazon Music is available in most countries in some form or the other so you don't have to worry about its availability. Long story short, you can count on Amazon Music to live up to your demand of being the best free music app for more than one reason.
Pros: 
Library of over 60 million songs 
Thousands of stations 
Ability to stream podcasts 
Option to listen to songs in ultra HD
Offline listening 
Cons: 
Doesn't score well on the customization front 
Install: iOS and Android (free with Prime, $9.99/month for non-Prime customers)
7. TuneIn Radio
This one is primed for the folks who enjoy listening to the radio. With TuneIn Radio, you have access to over 100,000 radio stations. From news, sports, music to talk radio, you get plenty of options to explore and listen to your favorite content. It offers live commentary to every NFL, MLB, NBA, and NHL games. You can catch up with the trending top shows and famous podcasts on demand.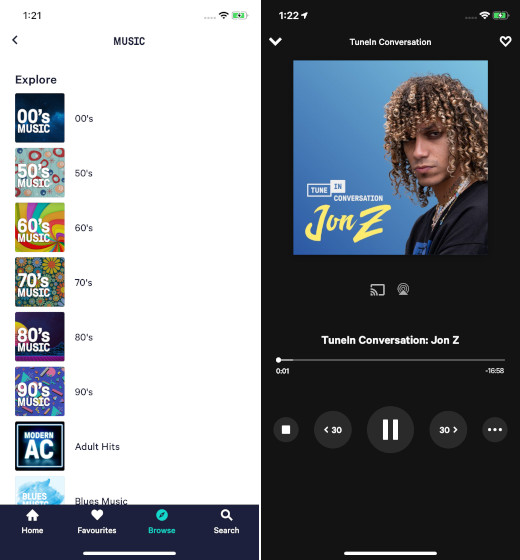 The app provides access to around 600 music stations, which would be ever ready to entice your music time. Besides, it keeps a tab on your taste and curates music stations that are more geared for different moods. There is also a large library of over 40,000 audiobooks, which would be more than enough to satiate your listening pleasure.
Lastly, only TuneIn Premium (starts at $4.99) can allow you to take advantage of all the features without any restriction. The free version of TuneIn Radio is available in most countries of the world.
Pros: 
Ability to stream over 100, 000 radio stations 
Provides access to around 600 music stations
Live commentary to every NFL, MLB, NBA, and NHL games
Also features a great collection of audiobooks 
Available in 197 countries
Cons: 
Songs/shows customization could be better 
Install: iOS and Android  (free, starts at $4.99/month)
8. iHeartRadio
Though not as feature-packed as some of its noted counterparts, "iHeartRadio" has long been a good platform for music, radio, and podcasts. To ensure your music station delivers only what you wish, you have the option to create personalized radio stations based on your all-time favorite artists.
The music library has loads of tracks of several different genres like Top 40, Country, Rock, Pop, Hip Hop, EDM, R&B, and more. With this app, you can discover a lot of radio stations that are near you or from anywhere in the world. This liberty ensures you can listen to top radio stations, no matter where they exist.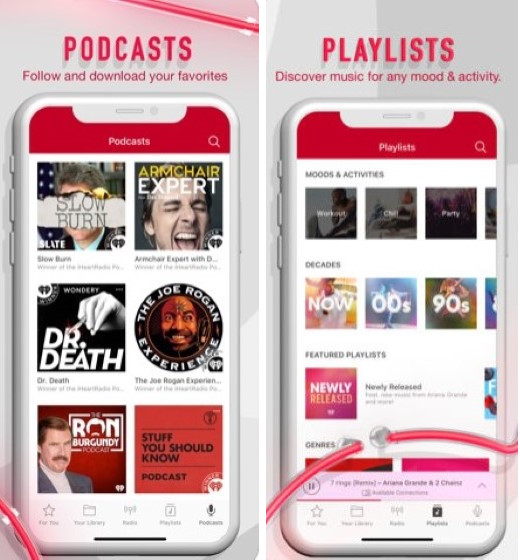 Whether you would like to tune in to music, news, sports, talk show, or comedy, it would allow you to follow your interest with the needed freedom. As a sports fan, you would be pleased to have popular stations like ESPN Radio and Fox Sports on your radar.
And if you think that all the offerings of iHeartRadio are worth giving a try, you can upgrade to the plus or full version ($5.99/$12.99/monthly). In a nutshell, iHeartRadio is among the most loved free music apps and you should definitely give it a try.
Pros: 
Option to listen to thousands of live radio stations 
Access to famous sports radio stations like ESPN Radio, Fox Sports Radio, FNTSY Sports Radio, and more 
Ability to stream unlimited playlists 
Curated playlists 
Weekly Mixtape 
Cons: 
Songs organization needs improvements 
Available in only a few countries including the US, Canada, New Zealand, and Australia
Install: iOS and Android (free, $5.99/month)
9. Gaana Music
At first glance, "Gaana Music" may lack the versatility to compete with the likes of Spotify and Apple Music but when you take a close look at its repertoire, you would find it more than good enough.
From classic Bollywood tracks to the chart-topping English songs, it's got the collection (over 30 million songs) to fit into your different moods. The app is also pretty decent at curating songs in line with the varying demands.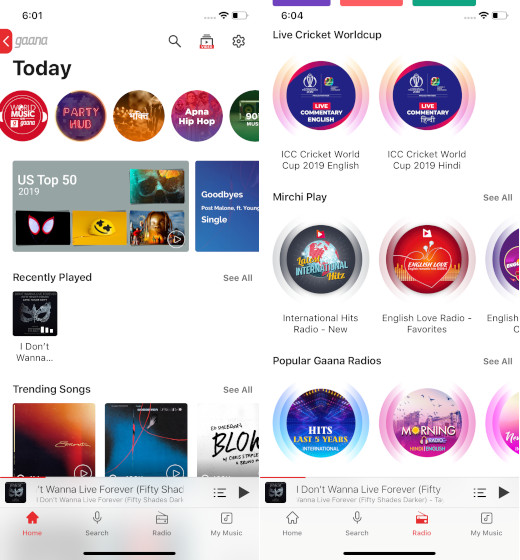 On the design front, Gaana Music has a fairly good appearance which makes for smooth-sailing navigation. With useful subsections like trending songs, top charts, and featured artists, it's quite easy to access tracks that are making waves. It also shows the lyrics of the songs so that you can jam along.
Better yet, the voice search makes it more convenient to search and play any song. Not to underestimate, the radio seems to be fully equipped to entertain.
Pros: 
A great collection of Bollywood songs 
Classic Bollywood tracks
Offers access to trending songs 
Voice search 
Chart-topping English songs
Cons: 
Lacks versatility 
Available only in India
Install: iOS and Android (free, Rs. 298/year)
10. JioSaavn
If you are living in India and want a music app that can let you stream millions of songs for free, JioSaavn could be more than a handful. The first thing that caught my attention in this app is the compilation of over 55 million tracks, which are definitely on par with the best in the business.
Speaking of the interface, it appears to be pretty clean and light. The home screen shows you the weekly top 15 songs to keep you in the loop with the biggest movers. Then there is "Trending Today" which allows you quick access to all the songs that are getting a lot of traction.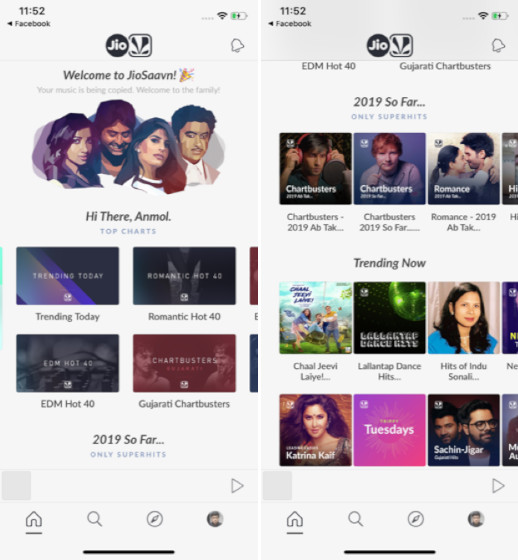 Not to mention the "Romantic Hot 40" and "EDM Hot 40" that can keep your music time on the charge. If you like tracking the new releases, the app will also offer you instant access to the tracks which have just been rolled out. The editorial picks are thoughtfully-crafted, keeping in mind different tastes.
JioSaavn podcasts aren't comprehensive, however, it shouldn't disappoint you. Remember, the free version of JioSaavn can't provide you access to all the features like high-quality 320kbps, ad-free music, and unlimited skips. So, you will have to get on board with the premium version (around $4/year) to unlock all the features.
Pros: 
Curated playlists and radio stations 
Weekly top 15 songs
Lyrics with live sync 
Provides original shows and podcasts 
Supports Alexa, AirPlay, Chromecast, and Google Home
Cons:
Curated playlists don't seem up to the mark
Not available outside India
Install: iOS and Android  (free, Rs. 299/year)
11. Wynk Music
For the folks hunting for a reliable platform for streaming Hindi and Punjabi songs, Wynk Music seems to be a good option. While the library of around 2.8 million songs may seem below par as compared to the popular music-streaming apps like Apple Music or JioSaavn, it may prove to be more than enough if you like to listen to top Hindi and Punjabi hits of all time.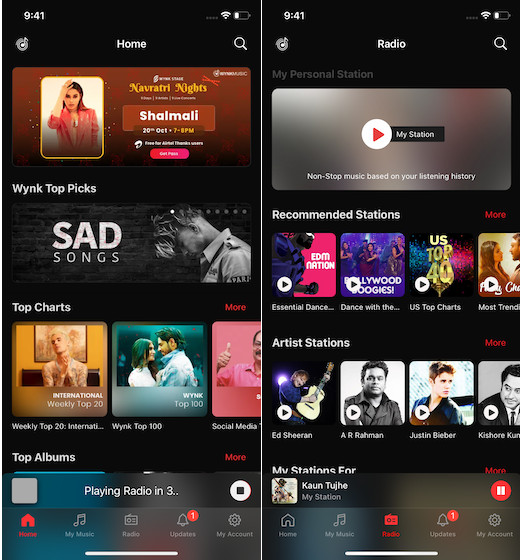 Wynk Music features a decent looking user-interface that's easier to navigate. Based on the type of songs you like to stream, it provides fully curated playlists to let you quickly access songs that appeal to your taste. Furthermore, you can also create custom playlists for a more personalized music listening experience.
In terms of music quality, Wynk Music is up to the mark. It lets you choose from two music qualities such as 320 and 256 kbps. Notably, you can take advantage of Chromecast to beam music to the supported device.
Pros: 
Great platform for streaming Hindi and Punjabi hits 
Option to choose from two music qualities such as 320 and 256 kbps
Fully curated playlists
Create custom playlists
Cons: 
The music library is below par in terms of numbers 
Install: iOS and Android  (free, starts at Rs. 29/month)
12. Hungama Music
Another Indian music app that is fully equipped to spice up your music streaming is Hungama Music. Featuring a fairly good library of 10 million songs and music videos, the app can let you listen to both famous Bollywood songs and chart-topping international hits.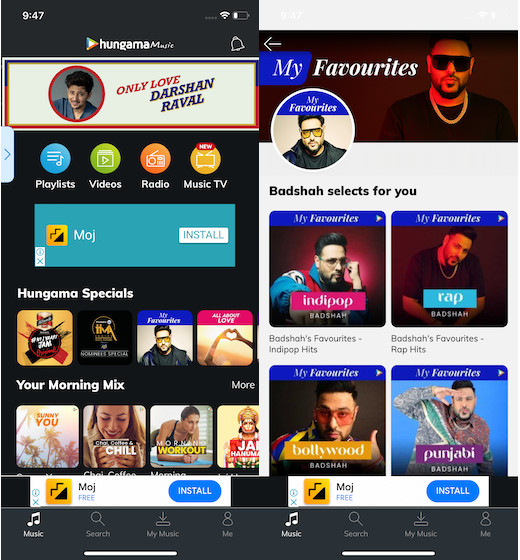 The app also provides live and on-demand channels to let you catch up with your favorite radio programs. And if you like to sing along, you would appreciate the live lyrics. What's more, the app also works as a useful music player for all of your MP3 songs and lets you keep them perfectly organized.
Just like most of its counterparts, Hungama Music also offers premium tiers with features like offline mode, HD music, and uninterrupted music listening. Overall, it's got all the bases covered to stake the claim of being one of the finest free music apps for iPhone and Android.
Install: iOS and Android  (free, starts at Rs. 99/month)
Best Offline Music Apps for iPhone and Android
If you are someone who likes to curate their own collection of music then all of the above music apps are not for you. What you need is a good music player app that can help you not only play your offline music but also categorize it, sort it, and keep it accessible. In this section, we are going to mention 5 such offline music player apps that you should check out.
13. Vox Music Player
I've always found the "Vox Music Player"  to be a full-fledged music player app. Whether you want to store a lot of music or keep your entire playlists in the right order, it will stand up to your needs.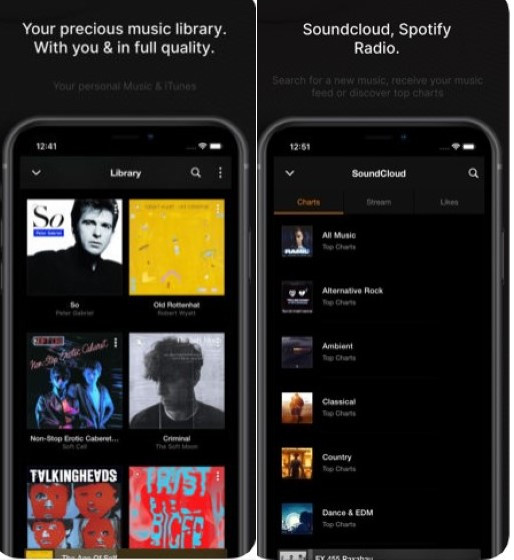 Thanks to the support for many audio (including the hi-res) formats such as FLAC, APE, WAV, ALAC, MP3, WMA, OGG, and more, it ensures managing and playing music always remains a convenient task for you.
Better yet, it also lets you stream music from Spotify and SoundCloud. And with over 30'000 radio stations, you will be able to tune into your favorite radio programs as well.
Pros: 
Support for many audio formats 
Full-fledged music player app
Stream music from Spotify and SoundCloud
Lyrics with live sync 
Original shows and podcasts 
Cons: 
Install: iOS (free, $4.99/month)
14. Radsone Hi-Res Player
For keeping the entire music library perfectly in sync, "Radsone Hi-Res Player" is as good as any music app. With the implementation of Distinctive Clear Technology (DCT), it delivers impressive sound quality by getting rid of digital artifacts.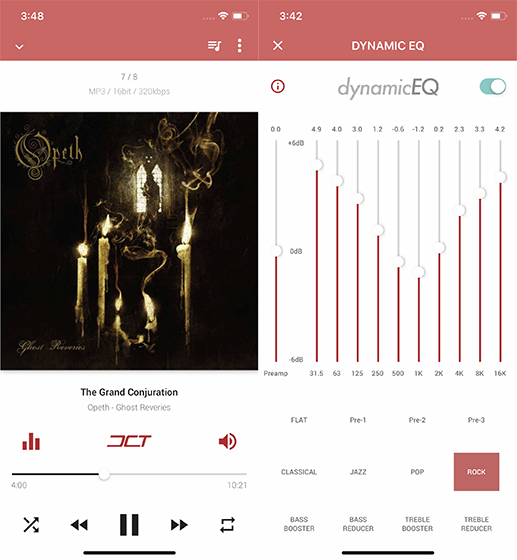 Thanks to the sound optimization system, you can also fine-tune the app to get the desired sound. And with the AirPlay support, you will be able to stream your music to the compatible devices. Everything considered; Radsone Hi-Res Player is one of the best offline music player apps for iOS.
Pros: 
Delivers impressive sound quality
Distinctive Clear Technology
Sound optimization system
AirPlay support
iTunes files sharing
Cons: 
Install: iOS (free, in-app purchases available)
Note: We have separately compiled the best offline iPhone music player apps. You should click on the link to check it out.
15. Pulsar Music Player
If versatility is right on top of your priority list, you should try out "Pulsar Music Player". The modern interface coupled with a wide range of features makes it a full-fledged music player. Features like easy play speed adjustment, convenient tag editing, equalizer, music visualizer, and crossfade can enhance your music listening experience.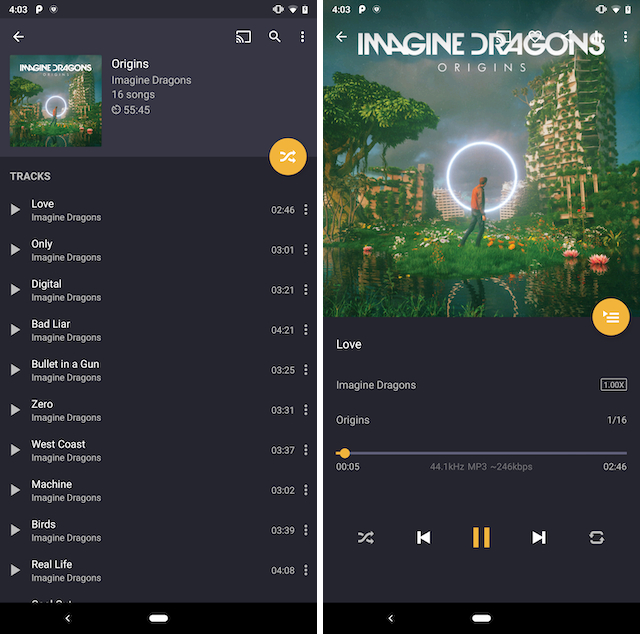 Additionally, it also has the support for Google Voice command and Android Auto. If you have a penchant for customization, you would appreciate various colorful themes that can add plenty of fun elements into the play. Save them for the times where you want to beautify the entire UI.
Pros: 
Modern interface
Easy play speed adjustment
Support for Google Voice command
A number of colorful themes 
Sleep timer 
Cons: 
Home screen widget may drain battery 
Install: Android (free, in-app purchases available)
16. Musicolet
There are very few Android music players in the market that provide as much flexibility as "Musicolet". It lets you create up to 20 queues, which would be more than enough to keep your tracks perfectly in line.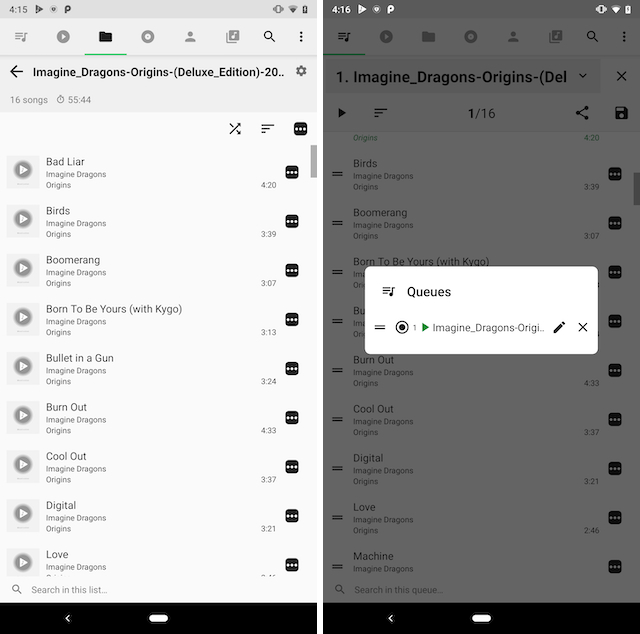 One notable feature of this app is that it allows you to manage queues while catching up with another queue. Sporting a pretty minimalistic design, it makes navigating your music library quite straightforward. With the handy tag editor, you will be able to edit tags and album arts of many songs at one go.
Pros: 
Super handy tag editor
A pretty minimalistic design
Create up to 20 queues
Supports multiple queues 
Folder browsing 
Cons: 
The home screen widget doesn't work smoothly 
Install: Android (free, in-app purchases available)
17. Canaree
To take complete control of tons of songs and keep them in the apple-pie-order, "Canaree" is always one of the better picks. Featuring a nifty UI and smooth player controls, the app doesn't take much time to carve out a niche. The floating windows make it more convenient for tracking videos.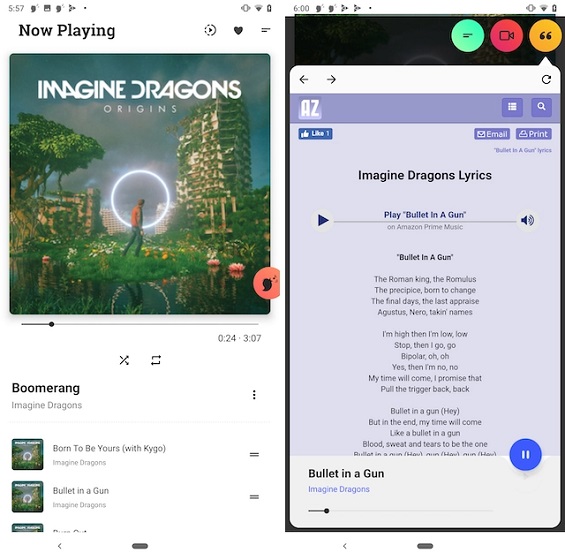 And with the offline lyrics support, it gives your jamming a bit more leeway. Speaking of the built-in metadata tag editor, it is sufficient to handle your tracks, albums, and artists. Moreover, the support for Android Auto, Android Wear, and Google voice commands put Canaree in the elite league of the best music players for Android. 
Pros: 
Better player controls 
Offline lyrics support
Floating windows
Built-in metadata tag editor
Support for Android Auto
Cons: 
Music organization needs enhancements 
Install: Android (free, in-app purchases available)
Frequently Asked Questions
How do I get free music on my iPhone?
There are several music apps like Spotify and YouTube Music that you can use to get free music on your iPhone.
What is the best app to get free music?
Going by the numbers, Spotify is by the far the best app to get free music. Though YouTube Music and Deezer are no less impressive.
How do I put music on my iPhone 2020?
You can use Finder/iTunes to transfer locally stored music from your computer to the iPhone or iPad seamlessly.
How can I put music on my iPhone without using iTunes?
There are several highly-efficient iTunes alternatives such as DearMob and WinX MediaTrans that can let you transfer music from your computer to your iPhone and iPad with ease.
Is Apple Music free?
Though Apple Music is not available for free, you can get a free trial of 3 months. During festive times, Apple also offers a free trial of up to 6 months.
Time to Get the Most Out of Your Favorite Music App
That ends our article on the best free music apps that you can get for your iPhone and Android. In this article, we have assembled the list of best free music streaming apps and offline music player apps for you.
Do check them out and let us know which is your favorite among them all. Also, if we missed out on any app, drop its name down in the comments section.