The default weather app that comes installed on the iPhone isn't very accurate, and most people don't like using it. While it is decent enough to be used, there are a lot of other, more accurate, and better performing apps that you can try. So, if you're looking for the best weather apps for iPhone, here are some options you can look at.
Note: Looking for top iPad weather apps? Click on the link to check them out.
Best iPhone Weather Apps
There are a lot of amazing weather apps available for the iPhone. We are going to take a look at the top 10 weather apps you can use on your iPhone, including both free and paid options. As always, you can use the table of contents below to navigate through this article.
1. Storm Radar
Storm Radar is an app from Weather Underground LLC, a company that has a lot of weather related apps on the App Store. The app is very well designed, and comes with a plethora of features, even in the free version. If you'd like to remove the ads, you can make an in app purchase of $1.99 to get an ad free version of the app on your phone.
With Storm Radar, you can view hourly, and daily forecasts for the weather in your location. The app also comes with an alerts pane built-in, that shows real-time alerts issued by authorities, so you always know whenever you need to be careful before stepping outside. The app's interface may seem a little daunting to begin with, but it's actually very well organised, and you'll start liking it in no time.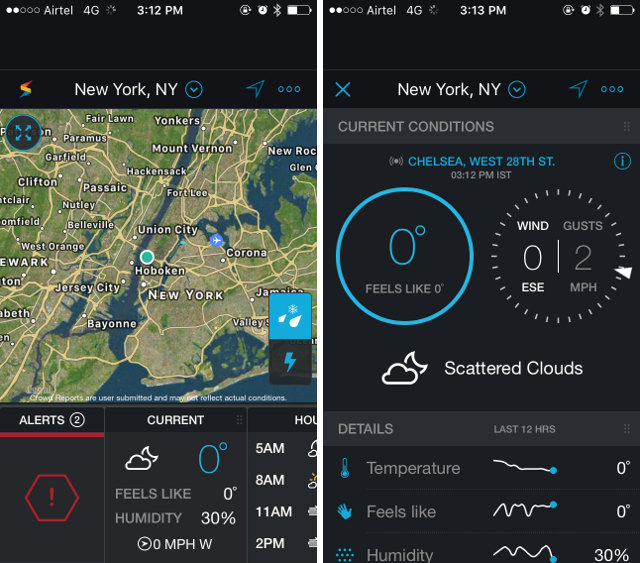 The app also comes with Alerting subscriptions, so you can tell the app to alert you for a variety of weather predictions, including extreme rainfall, lightning, and even tropical cyclones. The app is definitely a good way to keep yourself aware of the weather conditions that you may potentially face during your day.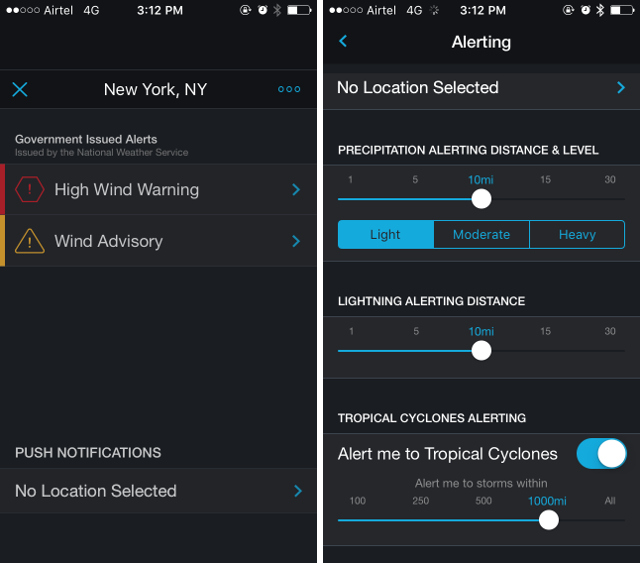 Download Storm Radar from the App Store (Free, with in-app purchase of $1.99 to remove ads)
2. Accuweather
AccuWeather is a popular, freemium weather app that offers aplenty features with a simple user interface. Quite notable for its accuracy, AccuWeather collects its data from around 170+ forecast models from around the world. The weather app displays minute-by-minute forecast, severe weather alerts, precipitation expected in the next 60 minutes and more. In comparison to other weather apps for iPhone listed here, AccuWeather displays min/max temperature, humidity, wind speed and direction, air quality, dew point, cloud cover percentage, visibility, and even a comparison with the temperature on the date last year.
AccuWeather also has the radar feature that shows warnings for your local region and helps you get aware of storm, rain, snow and wind surges. You can add up to 10 locations in the favorites section in the app. AccuWeather also has a News section that makes it more than just a weather app. Despite the excessive information, the app does not feel cluttered at all and it's rather easy to navigate around.
With the subscription costing $1.99/month, you can unlock premium features that includes ad-free experience and alerts from expert meteorologists.
Download AccuWeather from the App Store (Free with in-app purchase of $1.99/mo)
3. WeatherBug
WeatherBug is another great weather app for the iPhone, that is also free. The app will let you know the current, hourly, detailed, or 10 day weather conditions. The weather conditions are pretty accurate, and can definitely be relied upon. You can add a number of locations to the app, and get weather conditions for all of them, on the go. The one complaint I have with the app, is that it has a rather confusing interface, which might put many people off. However, the features offered by the app are great. Not only does it show the current weather, and predictions, it also shows the direction of wind, and it's speed. Along with that, you get a map, that can be overlaid with a number of radars, to get more information out of the app.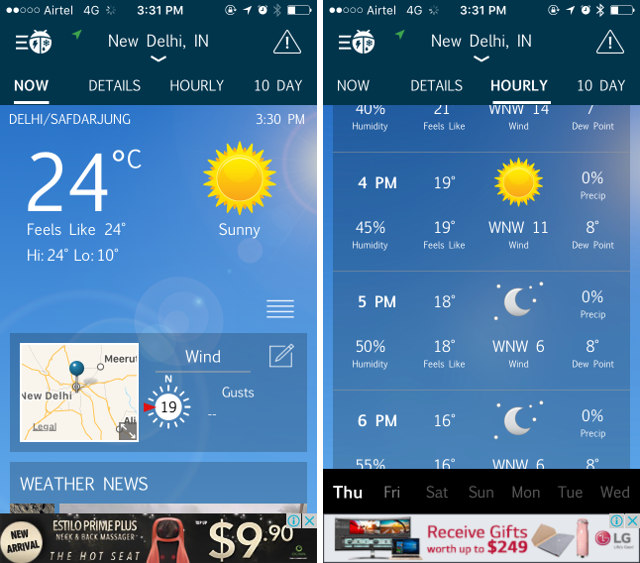 The app also shows the latest weather news from all over the world. All the major weather-related incidences may be viewed here, and they open up directly in the app itself. WeatherBug is also capable of telling you the location of the last known lightning strike. The hourly forecast from the app is usually accurate enough to be used. However, it may differ from location to location, so take this with a pinch of salt.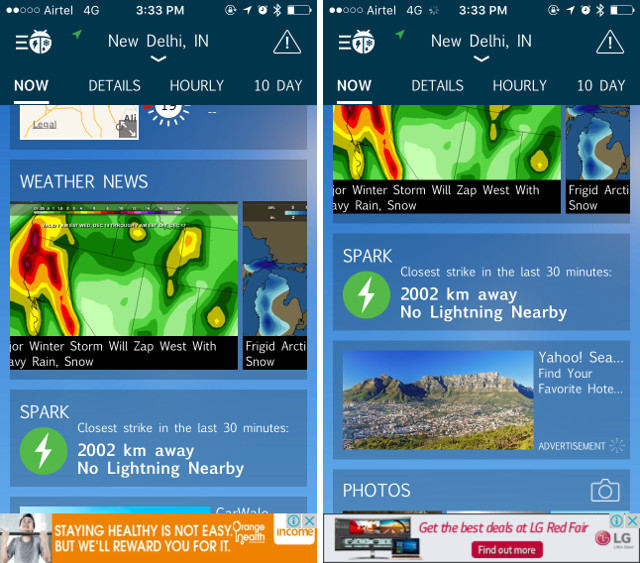 All in all, the app is definitely a good choice for an alternative weather app on the iPhone. The free app is supported by ads, and you can remove them with an in-app purchase.
Download WeatherBug from the App Store (Free with in-app purchase of $2.99 to remove ads)
4. Weather Underground
Weather Underground is another really great weather app for iPhone. The app also comes with an Apple watch app, so if you have an Apple watch, as well, you can make even better use of it. Weather Underground provides hyper-local weather results, by using its own network of weather stations. The app provides alerts, and will allow you to customise the information displayed, and a lot more about the app. Apart from the weather around your location, you can even find out a lot of other details, including the humidity, dew point, visibility, and more.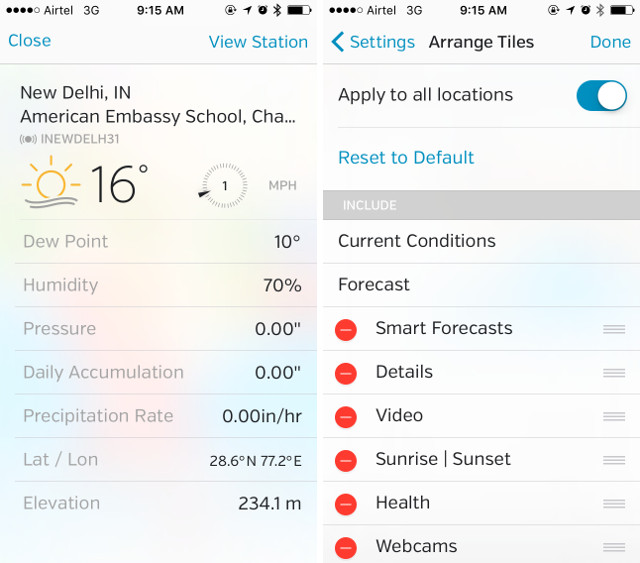 Just like WeatherBug, Weather Underground also displays weather related news, in the form of video clips. The app can even give you health data, using your Apple watch, and will also let you check the sunrise, and sunset time for the day. You can customise a lot of things in the Weather Underground app; including, the type of map you want the app to show, and edit the default units of temperature, speed, and much more. You can even customise the Today widget for the app, from within the settings in the app itself. Also, the app will inform you of any severe weather alerts that are issued by authorities, so you can ensure that you follow any security precautions that you need to.
Download Weather Underground from the App Store (Free)
5. Carrot Weather
Carrot Weather is a great, and fun weather app that is powered by Dark Sky. The app provides very accurate details about the weather conditions in your current location, and does it in a fun way. The animations in the app are simply amazing, and the interface is great, as well.
If you're in the US, UK, Ireland, or Canada, Carrot Weather can even tell you when it's going to rain, right down to the minute. Unfortunately, these features do not work anywhere else, but the rest of the app works perfectly fine. Swiping up from the home screen, will take you to the detailed forecast for the day, which includes details like the current temperature, humidity, pressure, and a lot of other details. The app is also capable of telling you about the sunrise, and sunset times.
Carrot Weather also comes with a customisable widget that you should definitely try. The widget has 4 slots that you can customise to show details that you care about, and nothing else. However, one of the best parts of this app is not the weather; it's how hilarious the entire app is. I would definitely recommend that while customising the widget, you try tapping on the "show more" button. Also, in the home screen, you can tap on the "eye", as they call it, to get some really hilarious responses from the app. At $3.99, this app is definitely not cheap, but it works well enough to be worth it.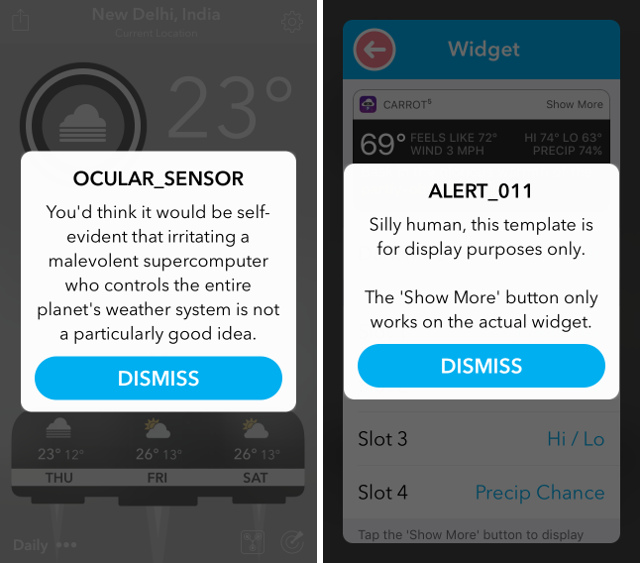 Download Carrot Weather from the App Store ($3.99)
6. Clime
If you are looking for a weather app that displays precise climate conditions and metrics, Clime should be your pick. The app packs a powerful Radar feature that shows the expected rain, snow and showers on an interactive map. You get different map overlays namely Radar, Advanced Precipitation Forecast, Temperature Forecast, Snow Depth Forecast and Animated Wind Forecast.
Color coded and visually appealing metrics in the Clime app makes it a perfect pick. While several features are locked behind a premium version, the app does a really god job at offering you weather forecast for the next 7 days with plethora of metrics. The interface of Clime packs a punch and this might not be an app for those who prefer minimal interface.
Download Clime from the App Store (Free with in-app purchase of $2.99/mo)
7. Forecast.io
Forecast.io is developed by the team behind Dark Sky, and is a very accurate weather prediction service, same as the Dark Sky app. However, this is not an app, and you can not download it from the App Store. You can, however, visit the forecast.io website on your iPhone browser, and add it to your homescreen, if you want to use it frequently. The interface is very well designed, and the app does it's work well. You can even view an hour by hour breakdown of the temperature, precipitation, humidity, wind, and more.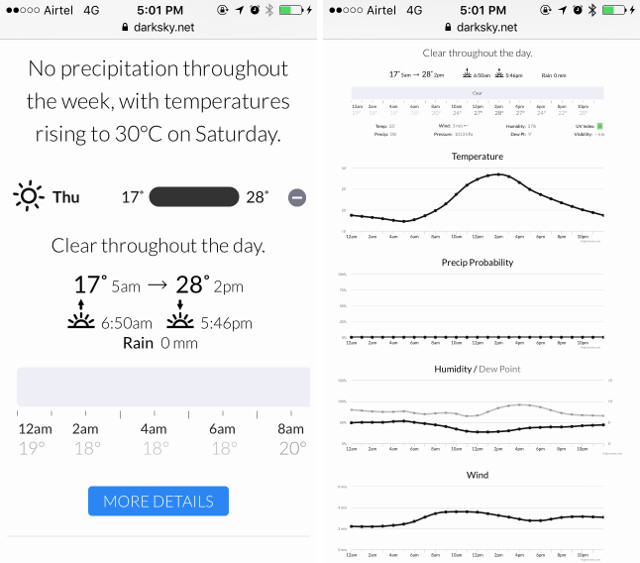 While it is not an app, I have included it in the list, because it is incredibly accurate, can be added to your homescreen to be quickly accessed, and is one of the best alternatives to Dark Sky, since it is developed, and maintained by the people behind Dark Sky.
Visit Forecast.io
8. Weather Live
Weather Live is a great weather app developed by Apalon Apps. The app provides weather predictions for multiple locations around the world. With the Weather Live app, you can extend the forecast for any coming day, and get even more details about it. You can also get the forecast for the next 7 days in a graph form, that's easy to read and understand. The app comes with beautifully designed scenes that reflect the current weather in your location, and the notification center widget for the app is perfect to check details like the current temperature, and get a forecast for the coming days.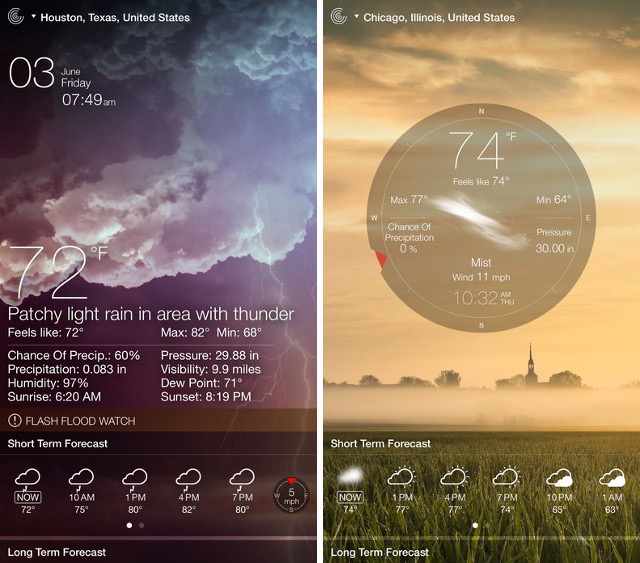 The app also includes cloud, and satellite maps for various locations around the world, along with an animated weather radar to quickly see what sort of weather you can expect. If any weather alerts are issued in your region, the app warns you about those, as well, so you can take the necessary security measures. While I don't like the interface much, because it looks cluttered, the fact remains that this is a very detailed app, and can give you a lot of information about the weather that other apps may not. Plus, you can customize the layout of the app, and keep it simple, or choose all the details that you want to see in the app, and create the perfect layout for your needs.
Download Weather Live from the App Store ($3.99)
9. Weatherology
This is another weather app for iPhone that comes with a clean user interface that is easy to navigate. At first, Weatherology might seem like a simple weather app that displays basic weather information. But, you can enable detailed view from settings to get more in-depth information. The app is designed to integrate with CarPlay to provide you real-time updates about weather conditions. With just a tap on a button, you can get real-time audio weather updates or you can ask Siri "Hey Siri, play my forecast on Weatherology" for it.
With metrics like temperature, dew point, humidity, wind speed and pressure, Weatherology is a great weather app. You also get map layers like Radar, Satellite, Tropical, Snowfall and more. However, you'll have to visit the Settings tab in the app unlike other apps in this list that display it right on the main page. There's also a dark mode and an option to add up to 9 locations in favorites.
Its ad-free interface is something that you won't find in other weather apps for iPhone.
Download Weatherology from the App Store (Free)
10. Foreca Weather
Powered by several local and global sources for weather prediction, Foreca is an underrated weather app for iPhone with all the parameters that any weather watcher would want from an app. The free app provides hourly weather update with metrics like UV, air quality index, UV, probability of thunder, humidity, dew point, wind gusts value, etc. Animated maps with observation, forecast and warnings makes the app interactive. You also get a meteogram in the app displaying hourly temperature.
Sundry customisation options offered in the app makes it unique in its category. You can choose start page view style, add or remove metrics according to your requirement and even set whether you want to see full-page ads or banner ads in the app!
I believe Foreca Weather is the closest Dark Sky alternative that you can use, now that the popular weather is about to shut down.
Download Foreca Weather from the App Store (Free with in-app purchase of $2.99)
Always Be Prepared with These iPhone Weather Apps
With any of these 10 weather apps for iOS, you can easily plan ahead, and make sure that you're ready to face the weather. Each of these apps is a great option to consider, and while some of them may not be available in every country, the ones like Foreca Weather, Weather Underground, Carrot Weather, etc, are really great weather apps that you should try. Also, if you know of any other weather apps for iPhone that you think deserve to be on this list, do let us know in the comments section below.