iPads are pretty useful devices and can pretty much do everything you may want. However, for some strange reason, Apple doesn't ship the default iPhone weather app on the iPad. Even though you get a weather widget in iPadOS 14, there's no dedicated app attached to it. So, if you want to get up to date weather information, and keep a track of rains, winds and everything else, you need these 7 best weather apps on your iPad.
7 Best Weather Apps for iPad (January 2021)
Even though there's no default weather app for iPadOS, there are a lot of third party apps available on the App Store. Some of them offer great weather forecasts, some have awesome radar views, and some are just overall nice apps to use.
In this article, we are sharing the best weather apps for iPad, iPad Pro, and iPad Air. We have both free and paid options here, so you will definitely find something that you like. You can use the table of contents below to skip over to and check out a specific app.
1. Carrot Weather
Carrot Weather is one of my favourite funny weather apps for iPhone and iPad. It offers all the functionality you'd find in the default weather app, which makes it a great replacement for it.
The app opens up to show the weather up top. You get plenty of details as well including wind speeds, pressure, UV index, and more. Plus, you get an hourly view down below so you can see forecasts for the rest of the day as well.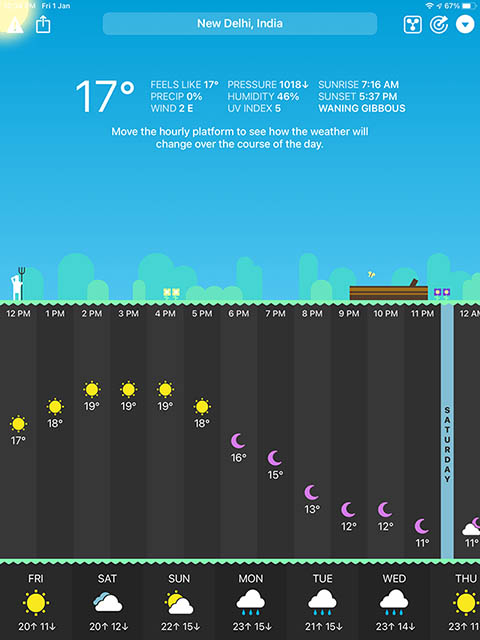 Carrot Weather also offers a weekly weather forecast view at the very bottom, along with more details for each of those days by just tapping on them. Plus, you can use the Carrot Weather iPad widget to keep weather on your iPad home screen.
There are two things that really set Carrot Weather apart from other apps. First is the really hilarious AI that insults you while telling you the weather. The second is an AR mode that looks really cool and shows all the relevant weather information as well.
Noteworthy Features:
AR Mode
Weather breakdown by week and hour
Funny AI that insults you
Buy Carrot Weather from the App Store ($4.99)
2. The Weather Channel
If you're simply looking for an app that does what the default iOS weather app does, The Weather Channel's app is the perfect fit. After all, this is the source for Apple's weather app as well.
The app presents the current temperature, along with the day's high and low temperatures right up top. You also get a view of the temperature averages throughout the day, and you can switch between hourly and daily views.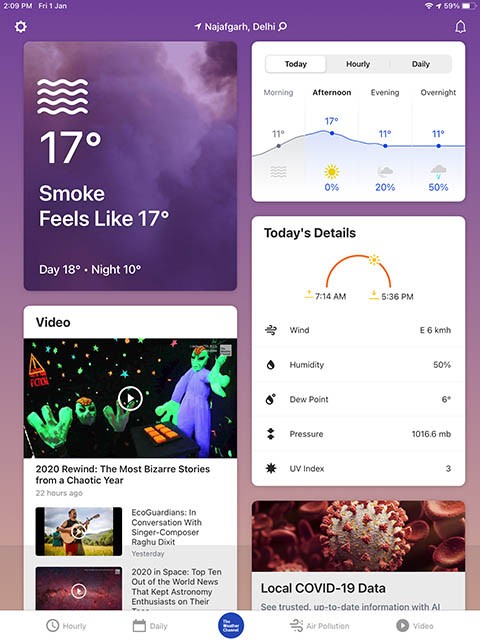 Apart from that, TWC app shows wind details, humidity, pressure, and more. There's also a radar view built in, but using it requires a subscription priced at Rs. 419 per month. There are other features here as well, such as air pollution levels, suggestions for activities based on the weather, and even things like dry skin concern, mosquito index, and more.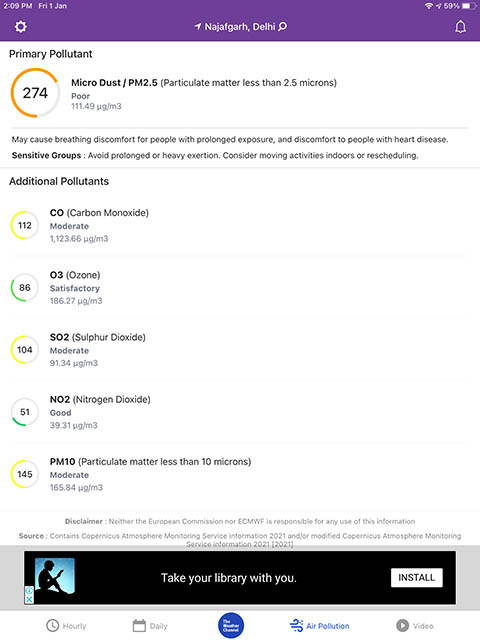 Noteworthy Features:
Radar view
Detailed information about air pollution levels
Suggested activities based on current weather
Download The Weather Channel from the App Store (Free, offers subscription)
3. Dark Sky
Dark Sky is one of the most popular and accurate weather apps out there. It offers hyperlocal weather forecasts and has a solid interface. The only reason I've put it on third place instead of first is because it's not available everywhere (eg: India).
That said, Dark Sky offers to the minute weather forecasts, including when rain will stop and start. It also features a radar mode with animations along with a time machine mode to see how the weather was in the past.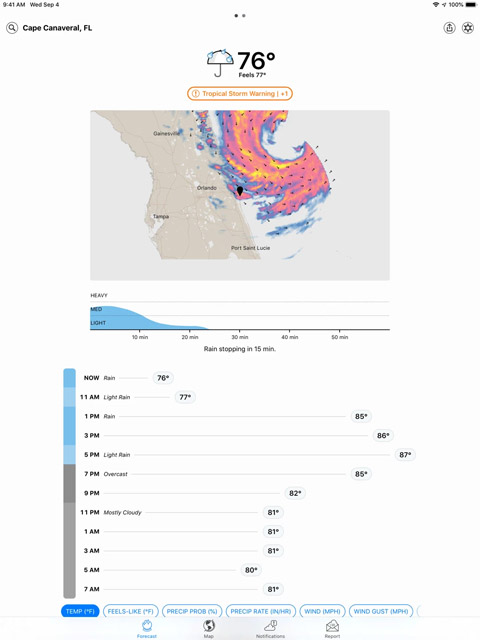 One of the standout features of Dark Sky are the notifications. With Dark Sky you can get notifications letting you know exactly when it will start raining in your location and when it will stop. So you can plan your day, or decide to carry an umbrella accordingly. It also notifies you of severe weather reports, and you can create customised notifications for things you want to stay updated about.
Noteworthy Features:
Down to the minute hyperlocal weather
Notifications for rain start and stop
Radar Mode
Buy Dark Sky from the App Store ($3.99)
4. AccuWeather
I'm sure you've heard of AccuWeather. It's a popular weather app that brings all the basic weather features you may need. You get a main screen with the current temperature and weather conditions, along with weather forecasts for the evening and the next day.
You can also see weather breakdowns on an hourly basis complete with details like air quality, UV index, wind, cloud cover, humidity, and a lot more. Plus, AccuWeather shows a 'RealFeel' temperature value that is a better indication of how hot or cold you'll actually feel during the day.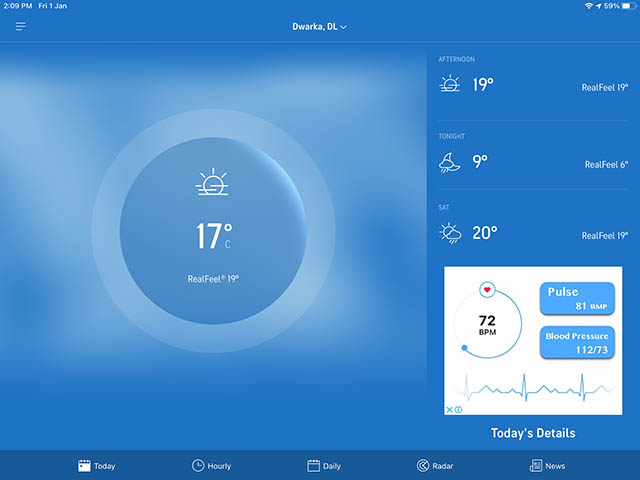 AccuWeather also brings a radar view with multiple layers you can turn on and off. You can view radar views for temperature, tropical storms, temperature contour, satellite cloud cover, and precipitation details within the app.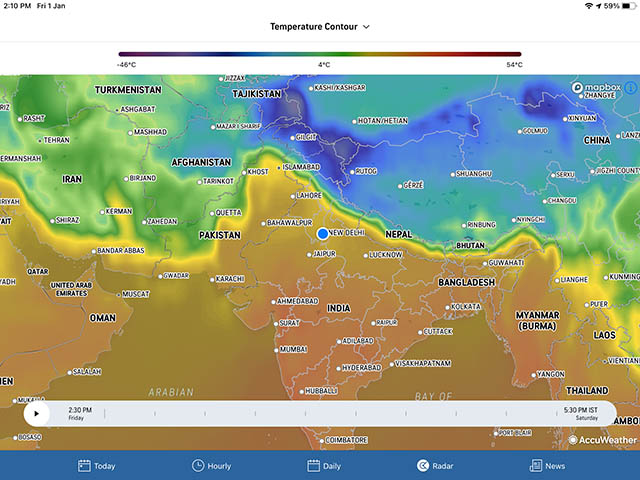 The app is completely free, by the way, so none of the features are paywalled. However, it does show ads in the UI. Mostly these are non-intrusive, but they are definitely there.
Noteworthy Features:
Detailed weather breakdown
Multiple Radar view layers
RealFeel index
Download AccuWeather from the App Store (Free)
5. Wunderground
If you're looking for a weather app that offers all the features that other apps do, and also tells you the hours of daylight you'll get in a day, Wunderground (or Weather Underground) is definitely one you should check out.
The app shows temperature and weather conditions, along with precipitation chances, and wind speeds right up front. It also has an hourly forecast as well as a daily forecast complete with weather conditions for upcoming days, high/low temperatures, and more.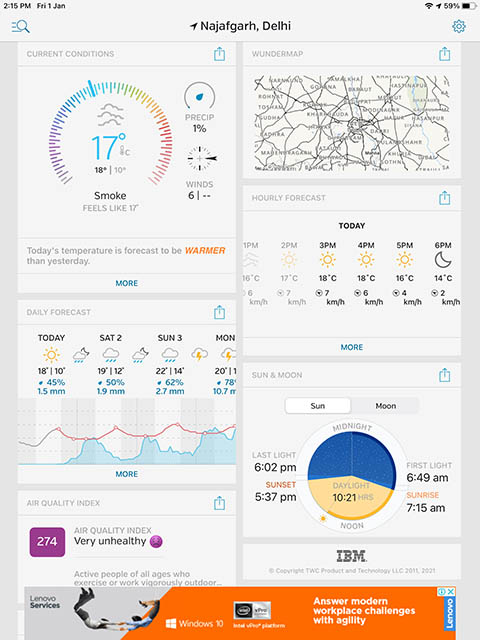 The feature that makes Wunderground stand out from other apps is the Sun & Moon section of the app. This gives information about sunrise and sunset, along with last light and first light. Plus, it shows you the number of daylight hours in the day, which can be really useful.
You can also see details about the Moon, including the current phase, next new moon, and next full moon details right within the app.
Wunderground is free, but it does offer a premium subscription to get longer forecasts and more features for Rs. 349 per month.
Noteworthy Features:
Detailed hourly and daily forecasts
Sun & Moon information with daylight hours
AQI information
Download Wunderground from the App Store (Free, offers subscription)
6. Windy
Windy is an app that's aimed less at overall weather information and more at wind details. You do get weather information in the app, including all the important things like current temperatures, chance of rain, wind speeds and more.
However, the primary reason this app is used by most of its users is the wind information it provides. You get an animated map showing wind speeds and directions. Plus, you can tap anywhere on the map to see wind speeds in that particular area.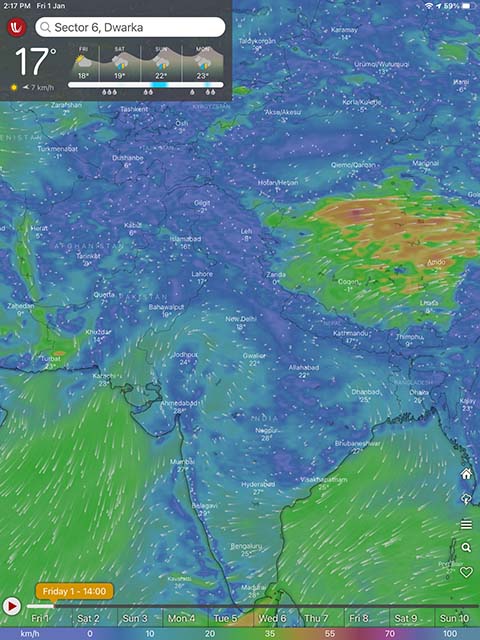 The app offers a lot of visual information as well. You can get information for rain and thunderstorms, along with new snow information right on the map. Plus, you can view temperature contours, cloud information and visibility, air quality and a lot more.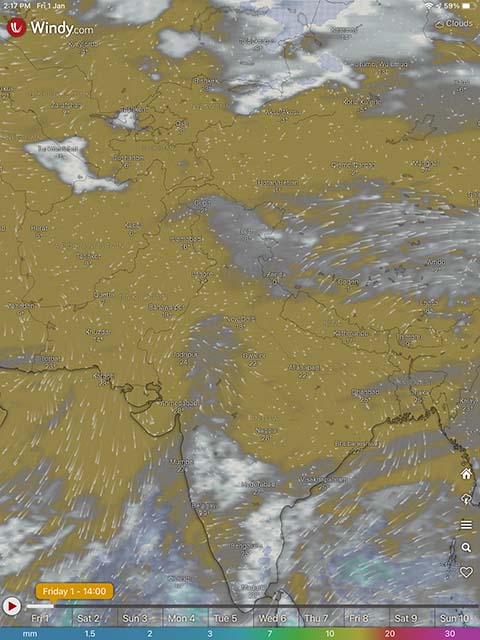 Windy presents all this information primarily as overlays on the map. So if you're looking for a weather app that uses radar view and maps to show weather conditions visually, Windy is one you should definitely check out.
Noteworthy Features:
Specifically aimed at showing wind speeds and directions
Visually shows AQI, cloud cover, rain/thunderstorms, and more
Download Windy from the App Store (Free)
7. WeatherBug
WeatherBug is also a decent choice for an iPad weather app with all of the most needed features. The app displays the current weather along with the high and low values for the weather.
It also shows wind information along with details of the humidity, dew point, and pressure. There's an air quality meter as well, which shows the current AQI and warnings related to it.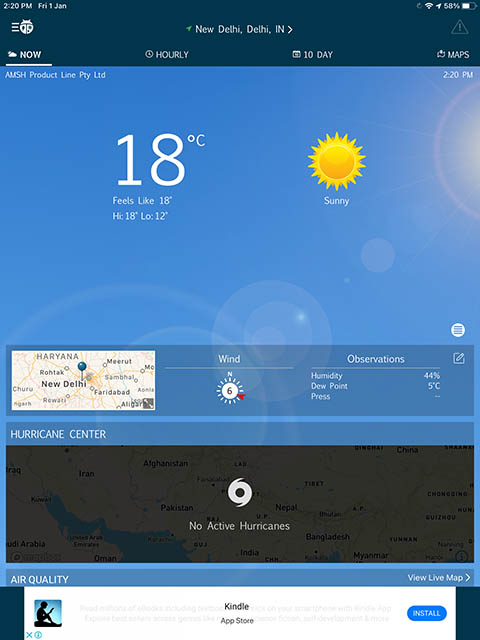 The app stands out from the rest thanks to information about lightning strikes and fires. You can see the nearest lightning strike in the last 30 minutes, and even the closest active fire from your location. Moreover, the hurricane center shows active hurricanes near your location.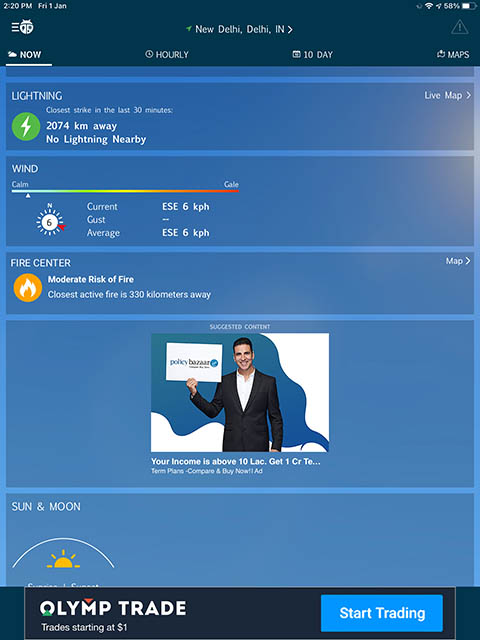 Noteworthy Features:
Nearest lightning strike
Fire risk information
Hurricane center
Download WeatherBug from the App Store (Free)
Bonus: AirVisual
If the primary reason you check weather apps is to see the air quality around you and take precautionary measures accordingly, you should check out AirVisual.
This is an app that focuses entirely on air quality. You get information about the air quality in your location, along with a forecast about the air quality through the day and the rest of the week as well. It also shows wind direction and speed, along with health recommendations based on the AQI in your location.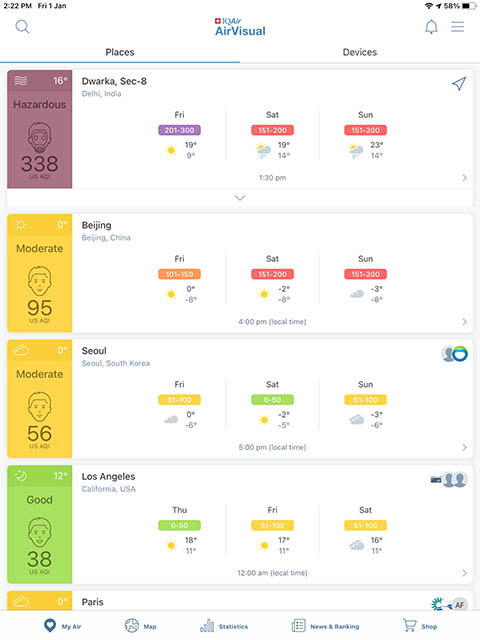 AirVisual also shows a breakdown of pollutants in the air, including Ozone, SO2, PM2.5 and PM10 pollutant density in the air.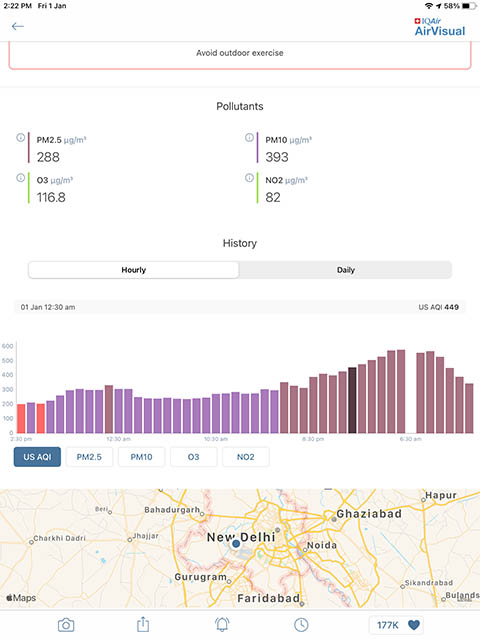 Noteworthy Features:
Completely focused on Air Quality
Shows breakdown of pollutants in the air
Historical AQI information
Download AirVisual from the App Store (Free)
FAQs
Q. What is the best free weather app for iPad?
There are a lot of free weather apps for iPad. You can go with The Weather Channel, AccuWeather, and Windy to name a few.
Q. What is the most accurate weather app for iPad?
Dark Sky is one of the most accurate weather apps for iPad. It's not available in all regions, but it offers hyperlocal down to the minute accurate weather forecasts.
Q. Is AccuWeather or Weather Channel more accurate for iPad?
Both AccuWeather and Weather Channel are accurate. However, Apple uses The Weather Channel to source weather information.
Q. Is there a weather app on iPad?
No, the iPad does not have a weather app. It does have a weather widget that you can add to your home screen however.
Use These Apps to Keep Track of the Weather on your iPad
So these were the 7 best weather apps for iPad that you can try. We have included both free and paid apps on this list, along with apps that have certain specialities. Such as Dark Sky which offers hyperlocal weather forecasts, and Windy which is aimed at wind information more than anything else. These apps also have their own iPad weather widgets so you can keep weather information handy on your iPad.
So, which weather app are you using on your iPad? Let us know in the comments.