Apple's new iOS 17 brings an interesting StandBy Mode for iPhones that converts your phone into a smart display to show glanceable information from a distance. Imagine getting weather updates, live cricket scores, and to-do lists on your iPhone when it's connected to a charger and isn't in use. All this is possible with the right iPhone StandBy widgets. That said, not all the iPhone widgets are optimized for the StandBy screen at the moment. But you don't need to break a sweat as we're here to help you pick the best widgets for your iPhone StandBy screen to get a more personalized experience. So, without any ado, let's get to know the best iPhone StandBy widgets that are worth checking out.
1. World Clock Time Widget
Do you often have to see the dates and times for different cities across the globe? If yes, the World Clock Time is a handy iPhone StandBy Widget that will make your life easier. It brings the world clock right to your iPhone's StandBy screen, making it easier to track the timezone of your foreign client/colleague or stay in touch with your distant sibling or friends.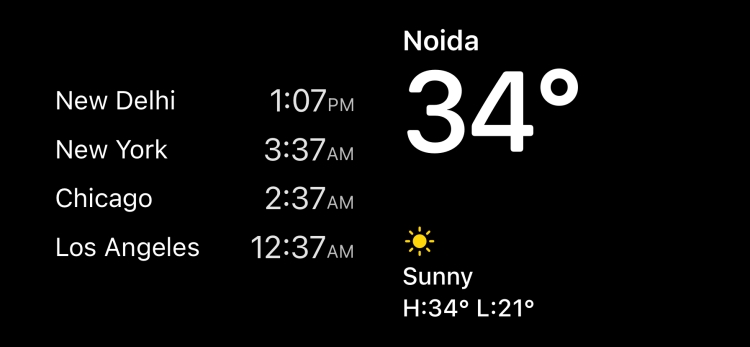 You can download and use this iPhone StandBy widget for free but the paid version will remove the ads and packs extra perks like customization options, the ability to set the time in seconds, and more.
Download World Clock Time Widget (Free, starts at $0.99/month)
2. Dark Noise
When it comes to meditation, studying, getting your important done, or falling asleep, many users prefer background noise to cut down distractions and ease their minds. If you're one of them, the Dark Noise iPhone StandBy widget can be of great help. The app offers over 50 different sounds and multiple customization options. While using the iOS 17 StandBy Mode, you can quickly start or switch to a different sound without having to open the app.
The free version lets you choose from up to 8 built-in sounds. You can unlock full access to 50 different sound options with the premium tier. Also, the paid version lets you create custom mixes so you get a perfect soundscape for your sleep, work, or relaxation modes.
Download Dark Noise (Free, starts at $2.99/month)
3. Flighty
If you're a frequent flyer, Flighty is one of the most useful iPhone StandBy widgets that you should check out right now. It is a live flight tracker that offers visual reminders and real-time updates on flight status, delays, gate changes, cancellations, and other information. Moreover, it can even show a countdown to your next flight. The app is free to download and lets you track your upcoming flight from the nightstand using the StandBy widget on your iPhone. This amazing flight tracker works with all the flights and airlines across the globe.
You can go for the optional subscription to avail extra features like Push Alerts and Live Activities. In short, if you wish to make your air travel simpler, this widget is a must-have on your iPhone's StandBy screen.
Download Flighty (Free, $5.99/month)
4. iScreen: Widgets & Themes
Here comes a widget that can make your iPhone's StandBy mode more fun, practical, and personalized. iScreen is an amazing app that lets you customize your iPhone with useful widgets, beautiful wallpapers, and unique themes. The app also supports the latest additions like iOS 17 interactive widgets and StandBy mode. Currently, iScreen offers up to 10 iPhone StandBy widgets, including calendar, clock, battery, mood stickers, Pixel clock, and more.
One of my favorite free iScreen widgets is X Panel Left which displays your current network settings, brightness level, battery size & charging. So, if you wish to create your own charging lock screen, iScreen deserves a spot in the list of your favorites.
Download iScreen: Widgets & Themes (Free, $1.99/month)
5. Structured: Daily Planner
Here comes my favorite productivity app for iPhone that lets you plan your day, create a to-do list, and get your tasks done in an easier way. Structured: Daily Planner is a must-have app for users to want to keep everything planned and make the best use of their hours.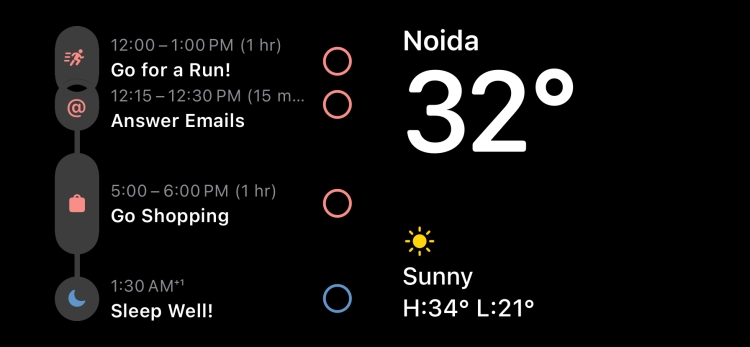 Calendars and reminders are fine, but sometimes we need to lay a clear outline of the day so we don't miss out on anything. You can make use of the supported iPhone StandBy widgets to display your to-do list, see your current or upcoming tasks, or keep track of the timeline.
Download Structured: Daily Planner (free, $2.99/month)
6. SmartGym
If you're a gym goer who makes notes to track your workouts or a personal trainer who wishes to track your client's progress, make sure to try out SmartGym. It's a highly useful iOS app that uses AI to create personalized workouts for you based on your skill level and available equipment. Also, it suggests changes and updates as you make progress toward your goal. If you wish, you can manually create workouts and set reps for yourself. SmartGym offers some iPhone StandBy widgets including a weekly/monthly summary of your workouts, upcoming workouts, weekly workout charts, and a quote of the day to keep you motivated.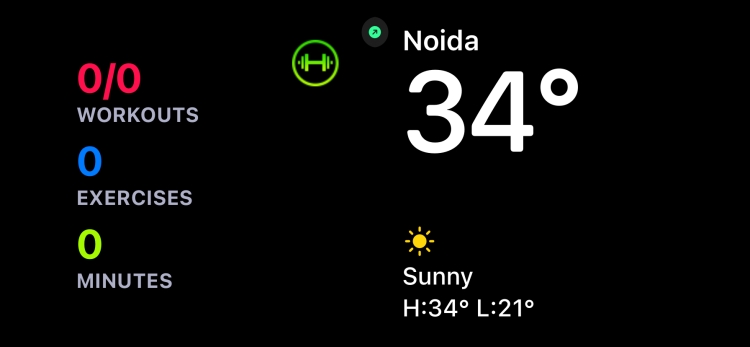 You can download the app for free but you have to go for the optional subscription to get your hands on the widgets, over 140 workouts curated by professionals, AI-powered smart trainer, and other features.
Download SmartGym (Free, $6.99/month)
7. Countdown Timer
The Countdown Timer app makes it easy to count down to your big day, an upcoming vacation, or an important meeting. The app offers two new iPhone widgets for the StandBy mode.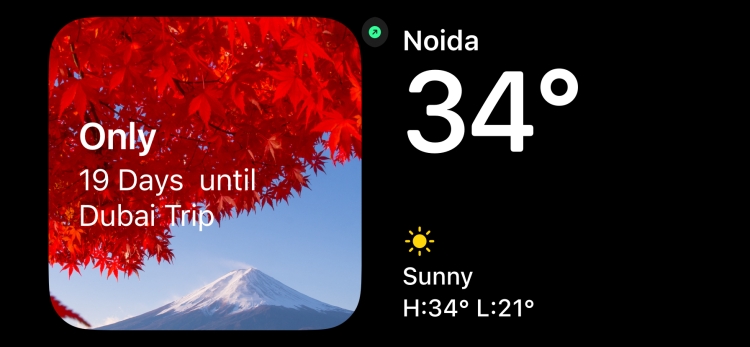 The first one is Countdown Timer Simple which displays your countdown in a simple format that's updated daily. The second iPhone StandBy widget adds more charm and colors to your display with a beautiful theme showing the countdown. Do you know the best part? These iPhone StandBy widgets are available for free with no in-app purchases.
Download Countdown Timer (Free)
8. Broadcasts
Broadcasts is a simple and easy-to-use iOS app that lets you tune into your favorite radio stations around the world. You can search and choose from a library of stations and add the preferred ones to the collections. The app is free to download and lets you use a limited-size library of stations. You can unlock full access with the optional subscription and add as many stations as you like.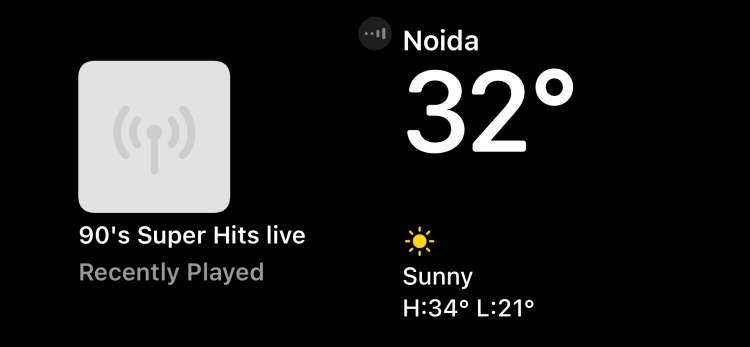 The latest update to the Broadcast app enhances the user experience with interactive widgets so you can manage your favorite radio stations and playlists without opening the app. Also, the app provides widgets for the iPhone's StandBy mode so you can access your recently played stations and control the music playback right from the StandBy screen. 
Download Broadcasts (free, $9.99)
9. Carrot Weather
If you wish to get accurate and lightning-quick access to current, hourly, and daily weather forecasts right on your StandBy screen, go ahead and check out the Carrot Weather app. The app has been around for a few years and bagged Apple's App of the Year, Editor's Choice, and other titles. Also, it's used and loved by thousands of users worldwide. What makes this weather app special is that developers always stay on top of the latest updates by Apple to deliver the best user experience.
With the support for iPhone StandBy widgets, the app provides accurate weather forecasts right on the StandBy screen so you can plan your day or morning road trip accordingly. While this app is pretty useful, you'll have to go for the paid version to access the StandBy widgets.
Download Carrot Weather (free, in-app purchases)
10. Overcast
StandBy mode isn't just for work, you can use it to get your daily dose of entertainment as well. If you love listening to podcasts while you're working or having a cup of coffee, Overcast is the best podcast app for your iPhone. It's a simple, powerful, and award-winning podcast player that brimmed with plenty of useful features, including smart speed, voice boost, offline listening, custom playlists, and CarPlay support.
The app also supports the iPhone's StandBy mode to show recently playing podcasts with an option to pause/play them without having to unlock the iPhone.
Download Overcast (free, subscription for $9.99 )
11. Sports Alerts
If you're a fan of sports, this iPhone StandBy widget lets you stay on top of your favorite sports team, upcoming matches, the latest scores, news, and more. The Sports Alerts app lets you choose the teams and leagues you want to follow and then displays real-time information about the current score or upcoming game information.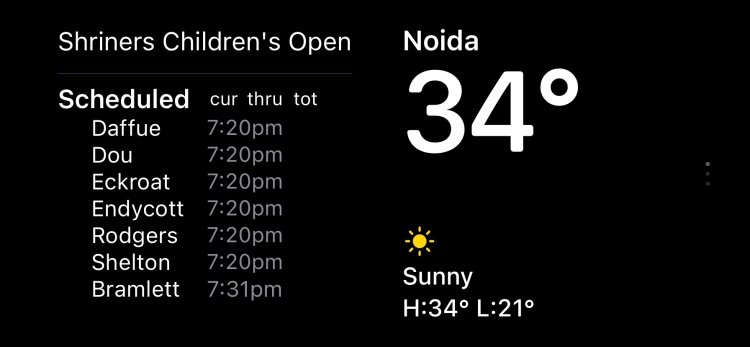 It shows news and alerts for NBA, NFL, soccer, golf, and more. Therefore, you can stay updated with the current score, leaderboard, and other news related to your favorite team without having to open the app every now and then. It's super handy when you're working and don't want to miss any important updates.
Download Sports Alerts (Free, $0.99/month)
12. Lookup Dictionary
The iOS 17 StandBy mode is designed to display important information at a glance. So, what would be better than building up your vocabulary while charging your iPhone? Lookup Dictionary is a superb dictionary app for word enthusiasts and learners. While the app offers a plethora of essentials, the most standout feature is the Word of the Day. Along with the word, you'll see an illustration that creates a visual memory of the word that you're viewing. I believe this makes the learning process fun and much faster.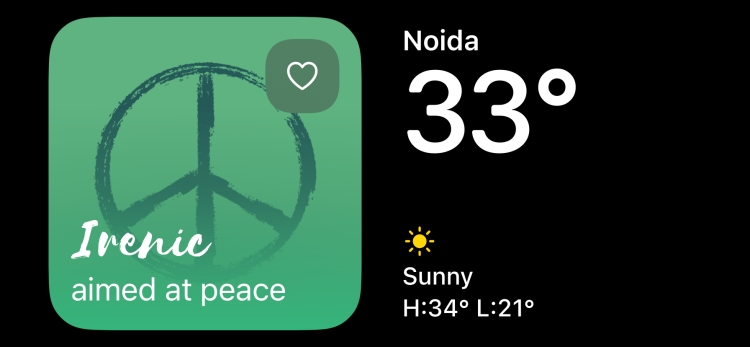 The app also supports iOS 17 StandBy widgets where you can see the word & illustration, browse through your collections, start your learning session, or automatically shuffle through previous days. The app offers these iPhone StandBy widgets for free. If you want to explore more word cards, a thesaurus, and make collections, you can opt for the premium version.
Download Lookup Dictionary (free, $2.99/month)
That's all for now. So, those were the best iPhone StandBy widgets that must check out. We hope you enjoyed this roundup and marked your favorites. So, go ahead and make your iPhone StandBy screen more interactive, functional, and useful. Which widget did you like the most? We'd love to hear from you in the comments below. And, in case you can't access the StadnBy screen, head to our troubleshooting guide on how to fix StandBy mode not working on your iPhone.
---
Load More