Smartphones have become the hubs of information aggregation. Everything we need is present right at our fingertips. This has made it easier to keep ourselves updated with the happenings of the world more than ever before. There's an unprecedented number of apps present today which help us to discover the news tailor-made just for us. However, sometimes having too many options can be as bad as having none at all. It becomes hard to choose from the myriad of options present and trying a ton of apps to find something which suits your specific needs is just a time-consuming hassle. But don't worry, we have done the hard-work and selected the best news apps for you.
We understand that different people fancy different categories of news. Some might prefer politics while others are more interested in the entertainment gossips. Some like their news app to cover the whole spectrum including politics, entertainment, tech, sports, and what not. Hence, we have curated the list in such a way that you can find an app for your preferential news content. You can pick and chose the one which best suits your needs. So, here are the 15 best news apps available in the market today:
Universal News Apps
1. INKL
INKL is an app which provides only the news contents which are published by some of the best and most reputable news publishers across the globe. You will not find any click-bait articles here. Its roster boasts of publishers like The Washington Post, Bloomberg, Aljazeera, China Daily, and The Guardian among others. When you launch the app, you can be sure that you will only see highly curated and top-notch news published around the world. The app follows a modern UI, which is both pretty to look at and fluid to use. It also has a dark theme, which is the best I have ever seen. It also has the best article load time, which is instantaneous. When you tap on the article, the header has the publishers logo followed by the article. You can read the article, save it for later or can share it on social media.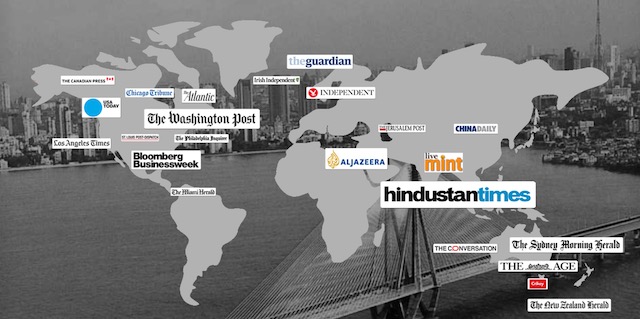 INKL follows a very different pricing model. Think of it as a Spotify for news. You can either read the articles for free with ads or you can pay a monthly subscription. You can even use a pre-paid account wherein you can recharge your wallet and every article will cost you 10c to read. However, the pricing differs from region to region and you can find the actual cost only after you have installed the app. We all know that true journalism has been dying since the advent of the digital revolution, as publishers are unable to cover the cost. INKL is one of the few companies which is trying to change that by delivering value to both its users and publishers. If you are fed up of the click-bait articles and want to read the news that matters, do give this one a try.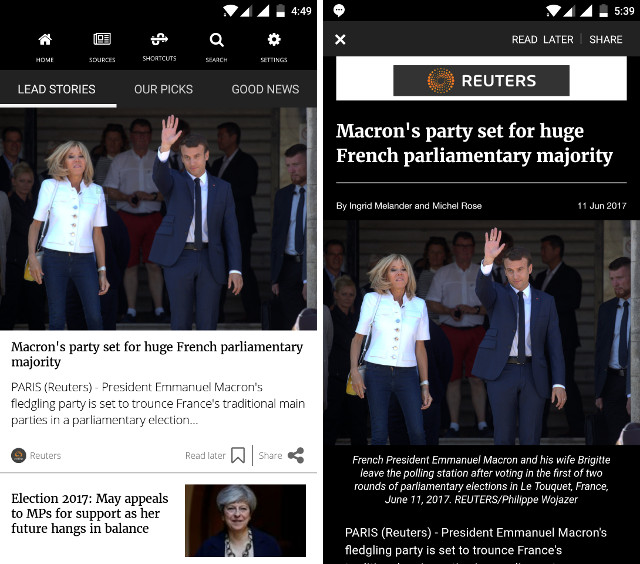 Install: Android, iOS (Free, with in-app purchases for pre-paid or subscription)
2. Google Play Newsstand
If you are looking for an app which helps you in discovering the news and is updated on a real-time basis, Google Play Newsstand is your best bet. As it is Google's own creation, it can pull news content as soon as they are published on websites. You will find all your news in the 'For You' section. When you install the App, you are already subscribed to different news feeds, which you can find in the library section. There you can add or delete the subscriptions as per your preferences. To find more publishers, you can go to the explore section and search by name or scroll down the page to see different categories. The home page of the app looks really beautiful with a life weather widget at the top. This is followed by Top Stories, Highlights and so on.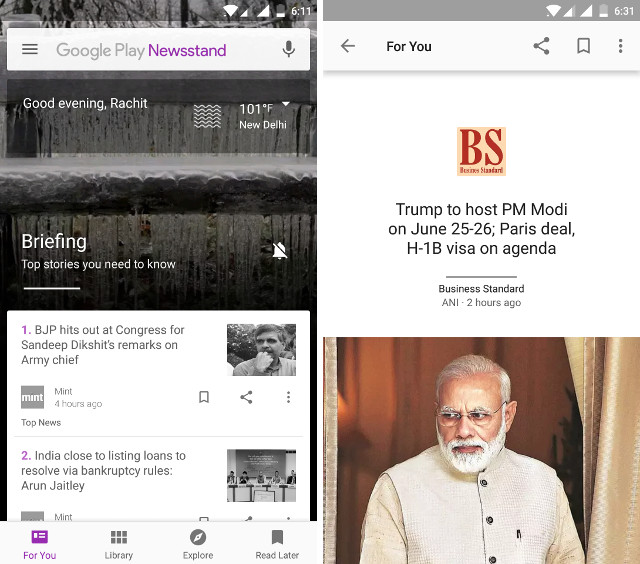 However, you do not get different pages for different categories, which make getting to relevant news a little bit harder. It also focuses more on delivering region-specific news more than the world news. You will have to configure the app as per you preferences if you want to see relevant content. Also, the articles take a second or two to load fully. Even then you will find that some articles are not optimized for mobile view and just look weird. However, in spite of all its shortcomings, this still remains the best app for instant news discovery. Also, we should keep in mind that it is totally free, which is not a bad deal.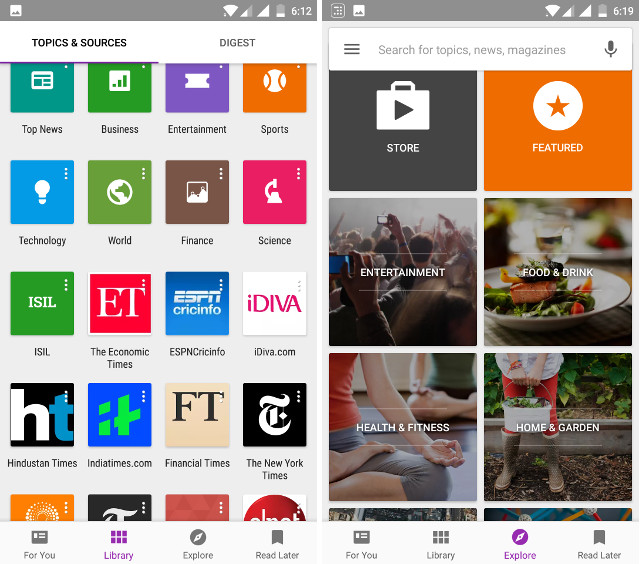 3. Flipboard
Flipboard is a popular news aggregator app which is highly customizable and has one of the best UI experiences delivered by any app out there.  The app is simple to use, you just select the topics you are interested in and it will deliver the content based on that. When you launch the app, you are greeted by cover stories which are basically the categories you have already selected. Tapping on the categories will lead you into the respective articles.
One thing which is unique to Flipboard is that you don't scroll here, you flip through pages, hence the name. It brings a breath of fresh air in a world filled with scrollable apps. However, not everything is perfect here. The app is heavier than most of the apps on the list and uses more of your phone's data and resources. Also, the article load time is on the higher side. The app is also ad supported, so there's that. Still same as Google Play Newsstand, it's a good deal as it is free.
4. SmartNews
SmartNews is one of those apps that are very simple and intuitive to use. You launch the app and then swipe from left to right to move between different categories. Each category houses the news in a list manner which you can scroll through. The app already comes with several subscriptions. You can manage them in the Discover section of the app. When you tap on an article, you can either choose to read it by loading the website or by reading it in smart mode, which loads a toned down version of articles.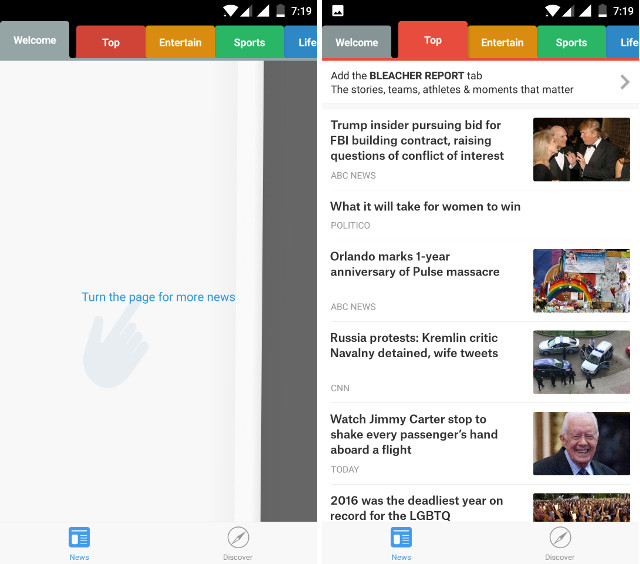 Although SmartNews won the best app award in 2013 and is still an Editor's Choice app, there are certain drawbacks which need to be mentioned here. The website mode is very slow to load the article, so much so that you won't be using it most of the time. The app's UI also looks very old and there is no dark mode. You cannot customise the app, as other than selecting the sources of articles, you do not get any other customisation option. Still, it is a very good app and one to be taken into account if you are looking for a simple and easy to use news app.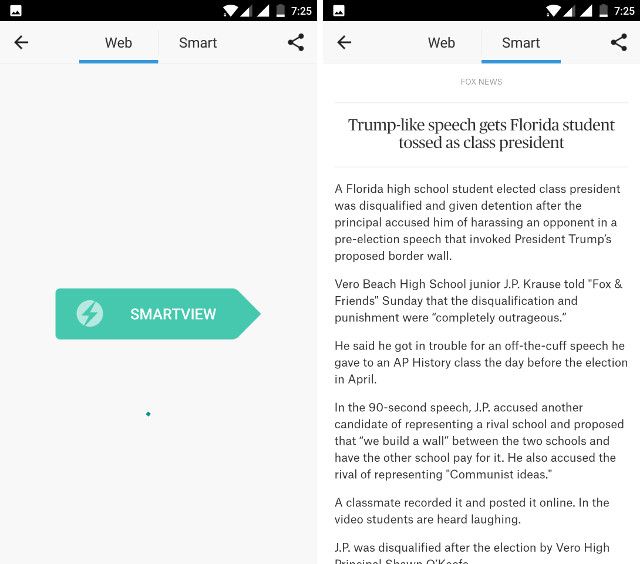 Technology News Apps
1. Appy Geek
Appy Geek by the News Republic is a one-stop solution for all your tech news. The app has a beautiful dark theme and the UI with its animations are something to look at. When you launch the app, it already comes subscribed with popular topics and websites. You can change your subscription in the settings section. Other than providing latest news and launches, you can also find long editorial articles in the digest section of the app. You can also stream videos from directly within the app. One of the best features of the app is that allows you to leave your comments on the articles published on different websites without leaving the app. This is the one feature which is missing in most of the apps and hence Appy Geek earns huge points here.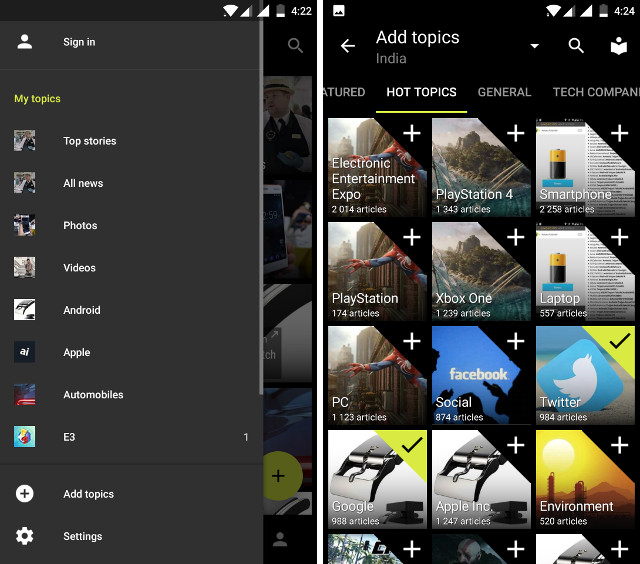 You can also select your region and the language you want to receive the news in. It supports more than 10 languages including English, Espanol, French, and Spanish. So, it's great if you want to consume the news in your local language. This is also one of those unique features which you will find in very few apps. The app is free, with in-app purchases to remove the ads.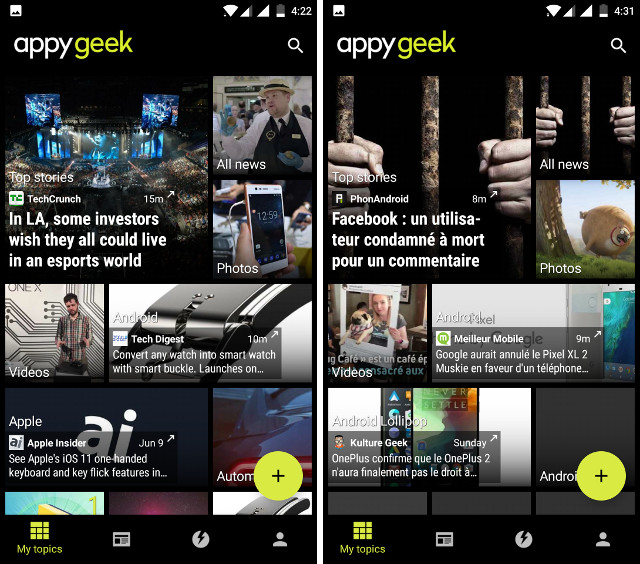 Install: Android, iOS (Free, with in-app purchases)
2. TechCrunch
TechCrunch is tech's editorial equivalent to the likes of BBC News and The Washington Post. What this means is that you will only find quality content here. Apart from new devices, apps, and games, you can also find news related to startups here. In fact, this is the place to learn about everything related to startups. In a way, it serves a niche audience, but it also has something for everyone. We know that the tech world is filled with numerous blogs and websites which generate a lot of noise. This is one source which sits way above the noise. Do download this app, if you are interested in quality Tech and Startup journalism.
RSS Reader Apps for News
1. Inoreader
Some people are very particular about their news. They know the sources they want to follow and the kind of news they are interested in. For them, a RSS news reader app is the best option, as it allows them to curate their news according to their preferences. If you do not know anything about RSS News Reader, check out our article to get a grasp on it. For those of you, who are looking for such a tool, Inoreader is your best bet. You can subscribe to any number of publishers. You can get your news feed either divided by categories or by the time of publishing. Inoreader makes it really simple to subscribe to your favourite publishers. The UI is fast and responsive and the article load time is also very fast. It also has a built-in dark mode which is always great to have.
Inoreader is free to use with in-app purchases. You do not have to pay anything for using its basic functionality. However, certain features like offline mode and push notification are kept behind the pay wall. But, the best thing about Inoreader is that those features are in no way a hindrance. They are more like add-ons you can buy to improve your experience even further. Inoreader is free (for the most part), has a fast and responsive UI and easy to use. It is the best RSS reader you can get for your phone today.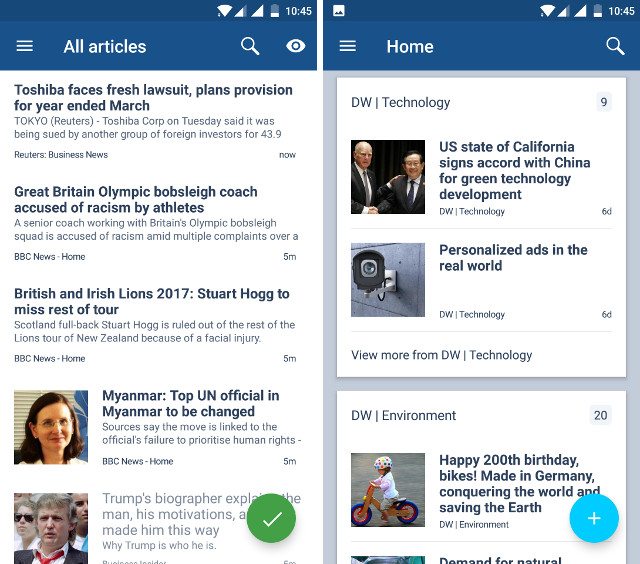 Install: Android, iOS (Free with in-app Purchases)
2. Feedly
Feedly is one of the more popular feed readers out there. Being one of the first RSS feed readers which brought the desktop level qualities to the mobile OS, it has a great UI with fast and responsive load time. It handles all the usual stuff pretty well. You can subscribe to an unlimited number of publishers, customise your feed by using tags and share articles to social media from right within the app among other things. Needless to say, it also has a great dark theme to go with it.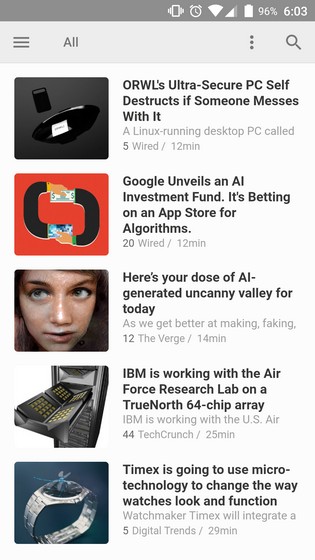 My only problem with Feedly is its pricing strategy. It keeps most of its features locked behind a paywall. With the free account, you are limited to 100 feeds at any given time. You are limited to creating only three categories and you can share your articles to only three social media channels. Basically, Feedly makes it impossible to use its free version if you are a news junkie. You will have to go for the paid option which follows a monthly subscription model. You can check out the pricing details in the link provided. If you are ready to pay for it, Feedly will serve your needs better than most apps in its category out there.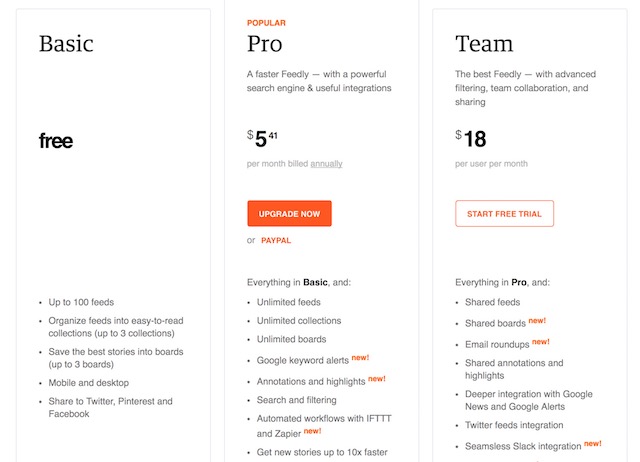 Install: Android, iOS (Free, with in-app purchases)
Political News Apps
Disclaimer: This is a news category which is served best by region-specific news publisher apps, as they will be focusing more on the political news of your area. For example, Politico (Android, iOS) and PolitiFact (Android, iOS) are two major publications which focus on US specific political news. However, if you are more interested in the world's politics, there are a few good apps which can serve your needs.
1. BBC News
BBC News is the best source for someone who is looking for news covering the whole world. In the side menu, the news is categorised by regions (countries). You can select a country to read the news specific to that country. The home page shows you the most relevant news from around the world. One of the best features of this app is its video section. The video section houses short news videos (<2 minutes) and is a great way to consume the content in an easy and fast manner.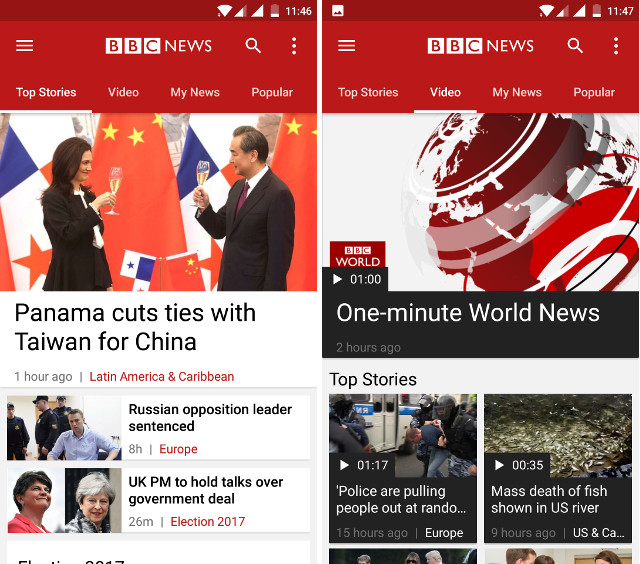 You can customise the 'My News' section by selecting your preferred countries. The My News section is the best place to discover news from your preferred countries only. It goes without saying that BBC only publishes news which is verified and written in an impeccable manner. So, you can be sure that you will get to read the news produced following the highest of the standards. In terms of app functionality, it is fast and responsive. It can even deliver push notifications if you allow it do so. All in all, the app is as good as the content itself.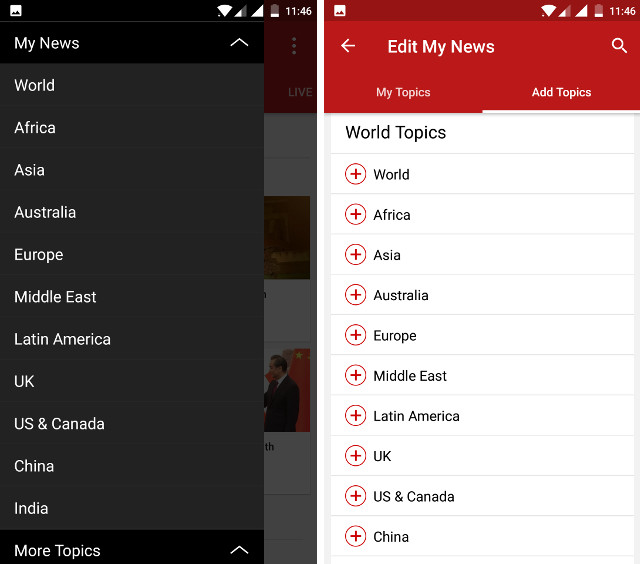 2. AP Mobile News
AP Mobile is an app by the renowned publisher The Associated Press. Same as BBC, you will only find the best of the news content here. When you launch the app for the first time, it will ask if you want to receive US specific news or the world news. Here, the news is classified based on continents and not countries. You can find sections for Africa, Asia-Pacific, Latin America and Europe. This is good for getting the overview of world politics, however, you cannot take a deep dive as with BBC News App. Also, the app is pretty bare bones without any settings option. What you see is what you will get. The app is totally free but unlike BBC News, it is supported by ads.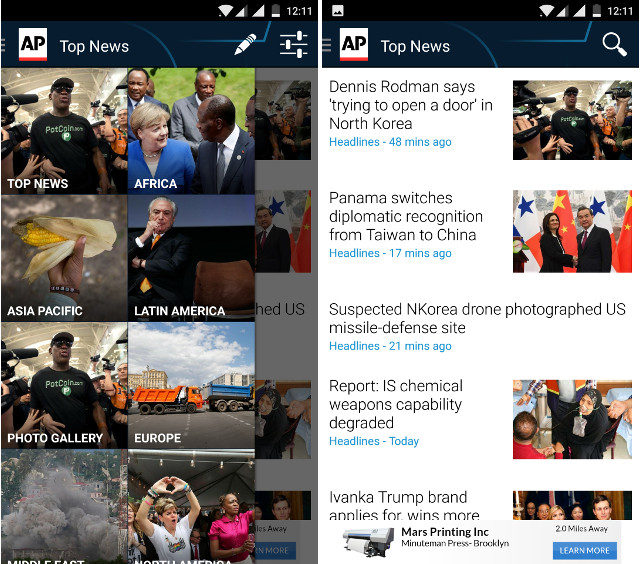 Sports News Apps
1. 365Scores
365Scores is one of the best sports news apps you can get, period. When you launch the app, it will ask you to select your favourite sports, leagues, and teams, in that order. You can change your preferences later in the settings menu. When you have set your preferences, the home page will show you all the recent matches with results and points table of your league. It will also show upcoming fixtures. My favourite feature is the highlights section, which shows you the highlights of all the recent matches. Apart from that, it also has a news and videos section if you want to go into the depths of a game.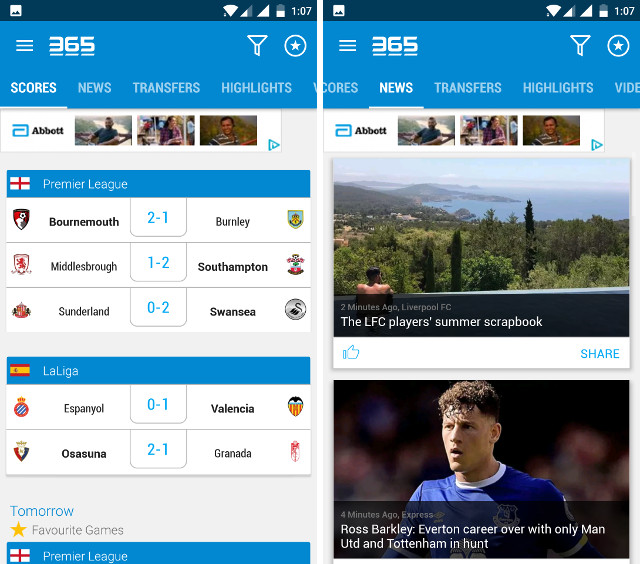 The only drawback of the app is that it is ad supported. However, you can remove the ads by opting for a yearly or monthly subscription at nominal charges. Other than that, everything is good here. The app is well built with a fast and responsive UI. Even the videos load quickly, even in an area with a weaker connection. If you are a sports junkie, this is the app for you.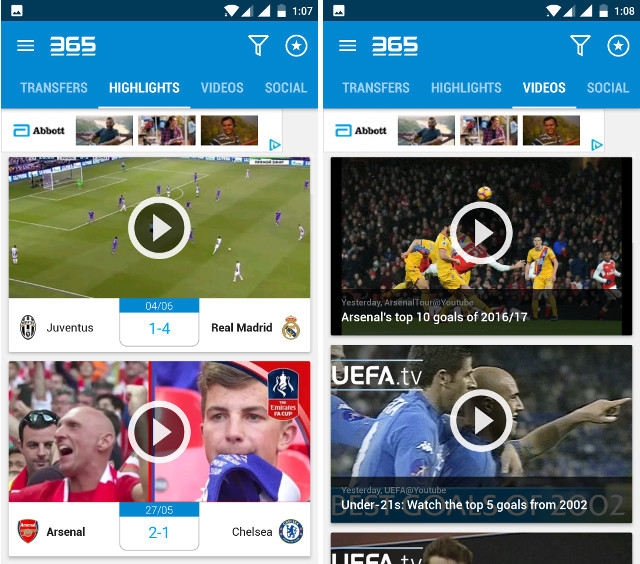 Install: Android, iOS (Free, with in-app purchases)
2. Yahoo Sports
Yahoo Sports shares the top spot with 365scores when it comes to sports news app. In fact, it even beats 365Scores in some areas and choosing between the two will come down to personal preference. Just like 365Scores, when you launch the app you are asked to choose your favourite sports and leagues and games, so that it can give you personalised feed. The home page houses all the major content including news, videos, fixtures, and scores. There is a separate tab for headlines where you can get all the latest news in the floating card format. The app is free with ads but the ads are not obtrusive. Seriously, the only drawback I could find was the extra time it took when setting up the app. You cannot go wrong with either of the apps and since both are free, give both a try.
Financial News Apps
1. Yahoo Finance
Yahoo Finance sets the gold standard for all the financial news apps out there. The app runs smooth as a butter, giving you all the important information just at a glance. The home page has all the stock indices which you can scroll through, along with any specific stocks which you have added to your watchlist. The news section houses all the financial news from around the world. With the written content, it also has various short videos which autoplay when you scroll through the feed.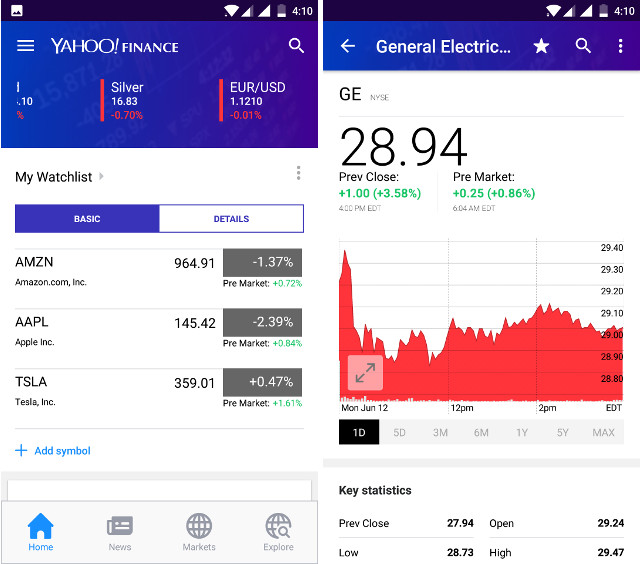 The best part of the Yahoo Finance is that it allows you to watch a stock's performance overt time in easy to understand graphs. You can also see the day's best and worst performing stocks. You can set your preferred region to receive financial news tailor made just for you. The Explore tab is a very good place to discover interesting news and the industry types which are best and worst performer. This app has everything a financial news junkie will ever need. Also, it is totally free.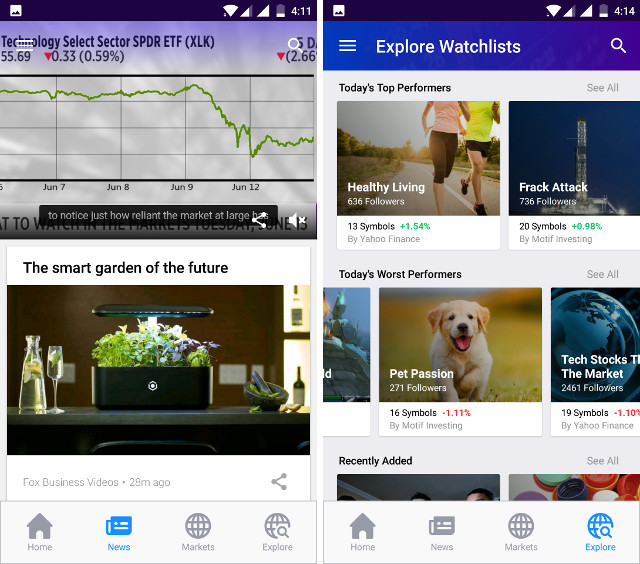 2. Bloomberg
There are a lot of financial news apps in the market but most of them focus more either on the stock market side of things or on the financial news. Bloomberg is one of the few apps which strike a good balance between the two sides of the financial news. The home page houses all the financial news covering the whole world. The Markets section is where the information regarding the stock markets around the world is stored. You can also add stocks to the watch list which allows you to access them at the tap of a button.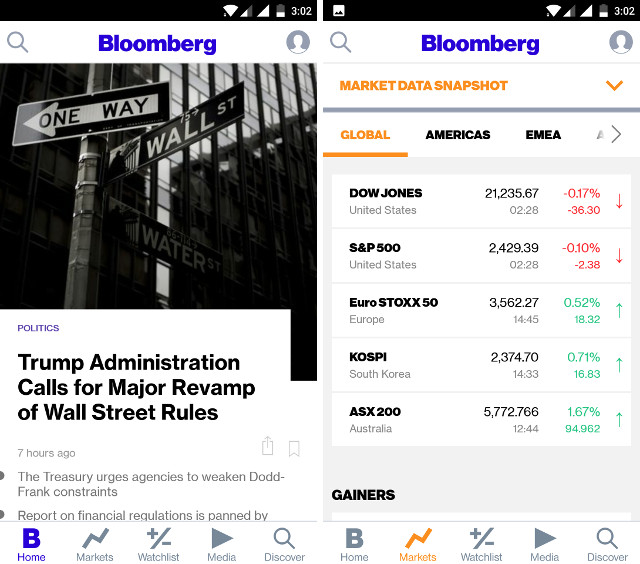 An added benefit of using the Bloomberg app is that it delivers the news in all the formats including written content, videos, and audios. It also gives you access to all the shows produced by Bloomberg. The only drawback is that the app does not feel like a polished app. The UI feels a little dated and the load time can be longer at times. But considering it is totally free, and the quality of information it provides, the drawbacks can be easily forgiven.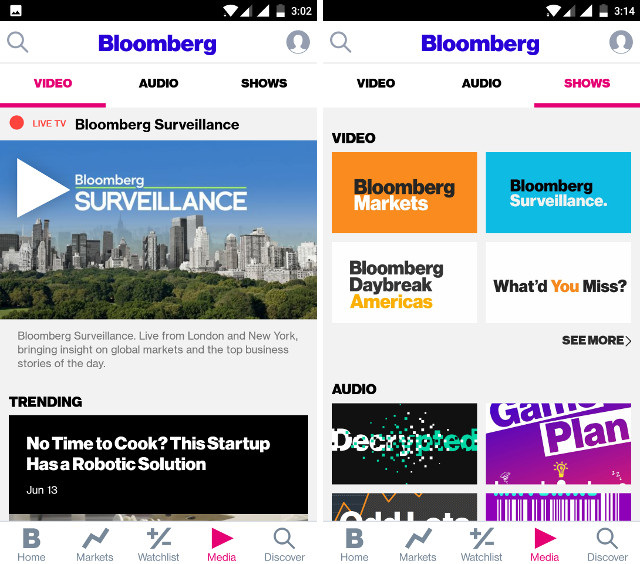 Entertainment News Apps
This is also one of those categories where you will have to find regional apps to satisfy your news appetite. Find out your local news publications which specifically cover the entertainment news of your region and download their apps. There are a lot of good apps out there. TMZ (Android, iOS) is one such app which reports on Hollywood. From latest celebrities news to the hottest videos and photo gallery, it covers them all.
E! News (Android, iOS) is also similar to TMZ and provides all the celebrity breaking news. It also has push notifications. However, the problem with using region specific apps is that they are also not available outside their specific regions. FirstLook (iOS) is the only app I have found which works almost anywhere in the world. However, this is only available for iOS devices, so there's that.
Bonus: Local News Apps
All the apps we have covered focuses on aggregating news from all over the world. However, what if you are more interested in your local news. In this case ,we recommend you to find out the best publishers of your region and see if they have released an app. Most of the big publishers have embraced the digital era, so chances are you will find what you need. For example, The Washington Post in the USA (Android, iOS), The Guardian in the UK (Android, iOS) and The Hindu in India (Android, iOS) have all launched their respective apps. You can also look at news aggregators which focus more on your local news. For example, inShorts (Android, iOS)  is a news aggregator which focuses mainly on India-specific news.
SEE ALSO: Top 7 Breaking News App Alternative You Can Use
Stay Updated With The Best News Apps for iPhone and Android
To make right decisions in our lives, we need to stay informed. It is harmful to both an individual and a society if we start forming an opinion without getting the facts. Also, choosing your new sources is as important as reading the news itself. We have tried to cover the best possible news apps for iPhone and Android, which deliver quality content to you.
Do you find these news apps helpful or are you using something different altogether? We will be thrilled to know what choices do our readers made, so do not forget to tell us in the comment section below.