Along with listening to music on the best music streaming apps and watching some awesome Netflix movies, playing games is probably the most-loved stress buster. Single-player mobile games are probably one of the best ways to spend your leisure time at various places. Fortunately, iOS has a slew of great single-player titles available, and we noted down some of them below. Whether you are a fan of racing games, or something else, there is a bit for everyone. So, read along to know some of the best offline games for iPhone you should play in 2023.
1. Wayward Souls
As far as offline iPhone games are considered, Wayward Souls is one you should check out. The game is like a roguelike, and it can be played for hours on end. There's a lot to explore and unlock within this game which means you won't feel bored even on the longest of flights.
One of the things I like most about this game is that it's a quick game to play. Now that might sound like a contradiction to my earlier statement "It can be played for hours on end", but it's not, and that's what I like the most. See, a typical game is very quick in Wayward Souls, but you have multiple classes which have their storylines, so you can explore all of them. Plus there are multiple upgrades and a labyrinth which… well, I won't ruin it for you.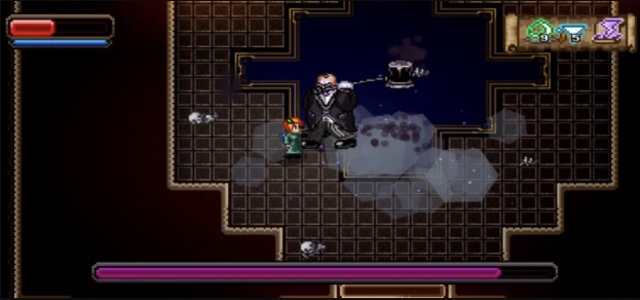 The point is, Wayward Souls is great for people who, like me, want a game they can play quickly, and one that has tons of other options to explore for long hours of gaming as well.
Install ($7.99)
2. Soul Knight
If Wayward Souls wasn't a good fit for you, or if you were put off by its price tag, Soul Knight is another offline game for iPhone that you should check out. This is a free-to-play game, which automatically makes it that much more attractive. Soul Knight is like a roguelike as well, so if that's something you like you will appreciate this game.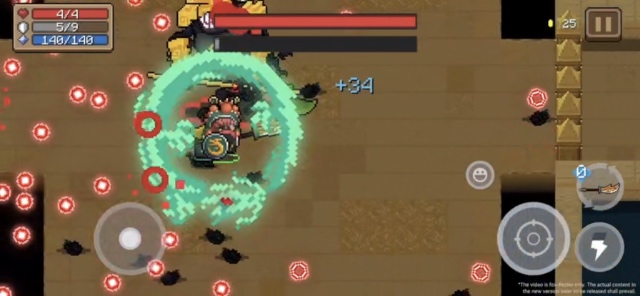 Your mission is simple: aliens have stolen a magical stone and you have to get it back. The game will give you a lot of alien-shooting fun, dungeon exploration, and more. You can collect weapons to upgrade your loadout and there are a lot of unique heroes, over 120 weapons, and more for you to play with. One of the reasons I love this game on flights is the fact that it's really easy to play so you won't get annoyed trying to learn the ropes.
Install (Free, offers in-app purchases)
3. Siralim 2 (monster-taming RPG)
Do you like being a monster tamer? Do you like old-school games? If so, Siralim 2 is a game you should add to your library of offline iPhone games. In Siralim you get to tame hundreds of monsters that you can summon to fight for you. The game has endless dungeons to explore, and your monsters will help you through them. Plus, there's no level cap, which means technically, you can keep playing this game pretty much forever.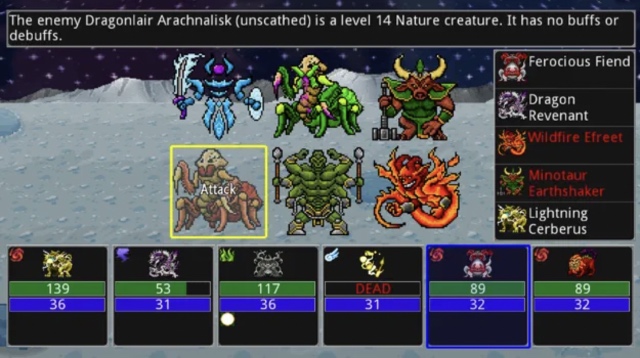 You can not only tame monsters (of which there are over 600), but you can also breed monsters and get them to lay eggs, resulting in more monsters for you. Equip spells, build equipment, and upgrade your castle to unlock more quests, and a lot more. Siralim 2 is the best iPhone game for airplane mode, and you should check it out.
Install ($4.99)
4. Brothers in Arms 3
Gameloft is one of the most popular mobile game developers, and the Brothers in Arms franchise of games is one I've been playing since I was in college. Brothers in Arms 3 brings all the action of a World War third-person shooter to your iPhone and it's one of the best offline iPhone games out there. The game has an impressive single-player campaign with several missions that you complete, fighting against the Nazis.
The game follows the story after the fateful D-day invasion, and you're deployed in Normandy to fight off the German soldiers. As you progress in the single-player campaign, you'll unlock new weapons and upgrades, and even new 'brothers' that will fight alongside you. Each of these brothers has special abilities that can help turn the tide of war in your favor. One of my most loved aspects of this game is the fact that it has a variety of missions. From 'Assault' missions where you'll take your enemies head on to 'Stealth' missions where one wrong move can result in a failed mission, BiA 3 doesn't fail to impress throughout its campaign and it's an awesome iPhone game to play without an internet connection.
Install: Free, with in-app purchases
5. Plague Inc.
This game might be too on the nose at these times, but that doesn't take away from the fact that Plague Inc. is an interesting offline game for iPhone. If you're a fan of strategy games, and you also want to feel like a Bond villain at the same time, Plague Inc can help you live out your fantasy without invoking the wrath of MI6.
As the name suggests, you have created a pathogen that has successfully infected a human being, and now you need to strategize and spread it in a way that completely infects all of humankind. On the other hand, if you'd rather be involved in correcting problems, the game now also features a 'Cure' version where you have to develop a cure for the plague and make sure that it cures every single person on the planet.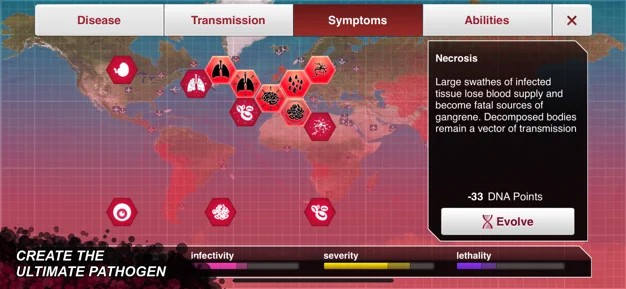 All that said, Plague Inc isn't just a mindless game; in fact, it aims to engage people to think about major public health issues, and even to give people an idea of just how difficult it can be to address the threat of a global pandemic — something many people fail to understand.
Install: $0.99, with in-app purchases
6. Subway Surfers
Subway Surfers is the sort of game that has never failed to bring me on the edge. Despite being incredibly simple to play, the endless running game has got everything covered to keep you guessing. As you may have already sensed, the game is all about running as fast as you can while dodging the obstacles.
With fast-paced acrobatics and smooth controls, Subway Surfers seems to get into the groove right away. Besides, the impressive HD graphics ensure there is no let-up as far as visual pleasure is concerned. Add to that a ton of cool rewards and the game seems to be solid for endless running.
One of my favorite features of Subway Surfers is the fast-paced swipe acrobatics as they play a key role in keeping the thrill intact. And yes, the paint-powered jetpack has also caught my attention in equal measure. All in all, it's one of the coolest free offline games for iPhone and iPad you can play.
Install: (Free, offers in-app purchases)
7. Skiing Yeti Mountain
If you're a fan of snowboarding and winter sports, Skiing Yeti Mountain is the offline iPhone game you should download right now. As the name suggests, the game is all about skiing, but there's more. You will snowboard through hundreds of levels, jump off cliffs, and do a lot more in your quest to find the Yeti.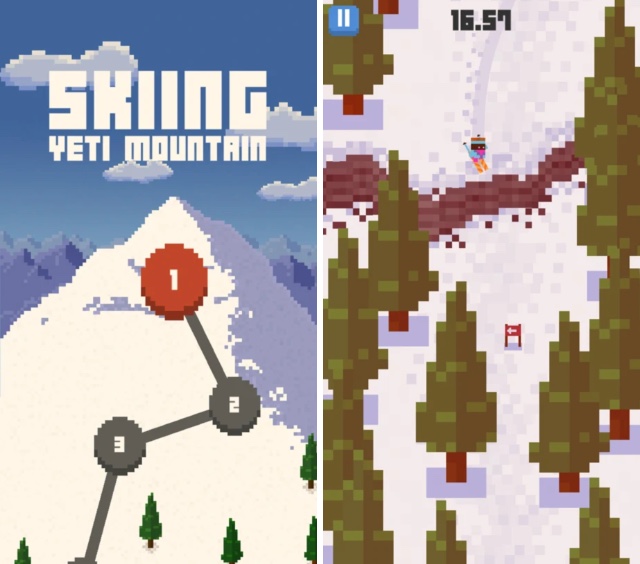 You will also meet a wide array of NPCs in your quests, and the touch controls of the game are really good so you can precisely control your snowboard as you carve your way through the mountains. Overall, Skiing Yeti Mountain is a game you should check out if you're looking for a fun sports game that you can play offline on your iPhone and iPad.
Install (Free; offers in-app purchases)
8. BADLAND and BADLAND 2
What puts BADLAND and its sequel BADLAND 2 at the forefront is the amazing atmospheric side-scrolling action adventure. Set in a forest packed with several different inhabitants, flowers, and trees, the game offers a lot of scope for exploring. So, aside from showcasing your gaming prowess, you can also explore intriguing things.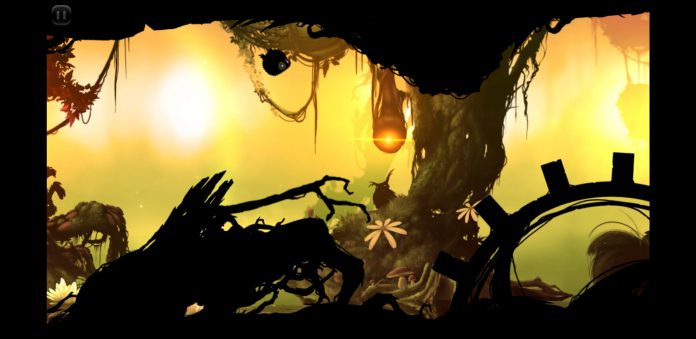 The physics-based gameplay warrants a bit of time initially. However, once you have gone past the initial stage, you would soon get a good grip on the gameplay. Both BADLAND and BADLAND 2 also feature a local multiplayer mode where four players can compete with one another in a battle for survival.
What has caught my attention in this game is the VERSUS mode with over 30 levels. Featuring several twists and turns, it has fascinated me a lot. Moreover, the ability to create custom levels and play them with friends has also appealed to my taste.
What's more, if you're an Apple Arcade subscriber, you can download Badland+, which is Badland but included for free in your subscription. So you can enjoy the game without having to spend another dollar on it. Awesome!
Install: (BADLAND – $0.99 / BADLAND 2 – $0.99)
9. Into the Dead 2
Into the Dead is what you should pick to enliven your penchant for the zombie apocalypse. Yes, you got that right! The game is all about survival in the face of death, irrespective of how you keep moving.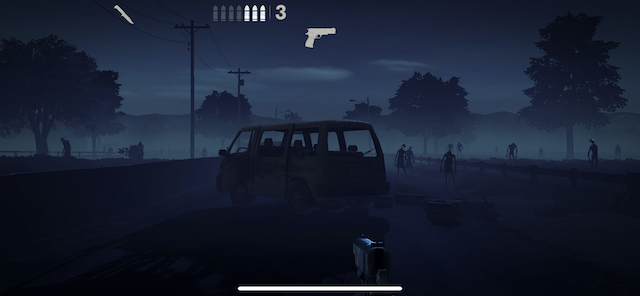 One of the highlights of Into the Dead is the evolving story with multiple endings. With 7 long chapters, 60 stages, and several challenges, the story has got all sorts of elements to keep you fascinated. Even in terms of weapons, the game is up to the mark with an ever-growing library of weapons including firearms, explosives, and melee weapons.
Furthermore, Into the Dead has also got immersive environments to let you explore different things. And just in case you don't want to be tied to the same story, you have the option to try out daily special event modes where you can bag plenty of exclusive prizes as well.
Install: (Free, offers in-app purchases)
10. Alto's Adventure and Alto's Odyssey
If you are in for a classic endless running game, Alto's Adventure and its sequel Alto's Odyssey should be at the top of your list. What makes these games different from other endless running games is the physics-based gameplay. With dynamic lighting, and weather effects such as fog, rainbows, and thunderstorms, it makes snowboarding a joy to play.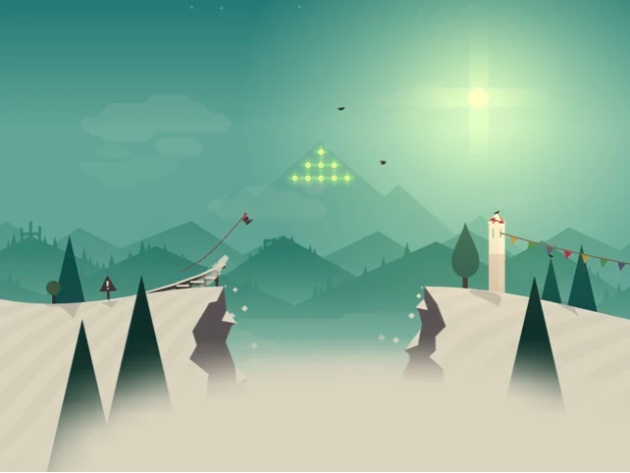 Though the game is quite easy to learn, you will have to spend some time mastering it. Packed with around 180 goals, the game ensures you have a variety of challenges to encounter.
What's more, you can also invite your friends to compete with you in a battle of supremacy. One of my favorite features of Alto's Adventure is the minimalist design and the soothing audio that can help you kill stress with consummate ease. Long story short, it's a classy offline game that you would love to play on your iPhone and iPad.
Install: (Alto's Adventure – $4.99 / Alto's Odyssey – $4.99)
11. Vector 2
If you're looking for an offline iPhone game for flights and such, I'd suggest you give Vector 2 a try. This is an easy-to-play game that will also easily eat into hours of your otherwise boring flight time. Vector 2 puts you into a dystopian world where you're a test subject who has to run through different floors of a laboratory while avoiding obstacles and performing trick jumps and slides. After every level, you will be able to earn some upgrade tokens that you can use to improve your armor, among other things.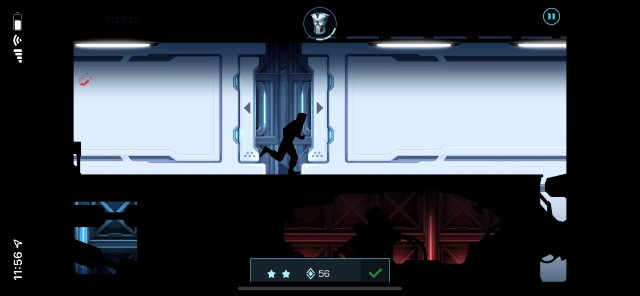 This offline game for iPhone has a simple control mechanism and uses swipe gestures to jump, slide, or accelerate. That means, there's no steep learning curve involved. However, the game itself gets progressively more challenging to win, and the fact that the levels are procedurally generated means it's always exciting and new.
Install: Free, with in-app purchases
12. Need for Speed No Limits
Need for Speed is a franchise that needs no introduction, and if you're looking for an offline iPhone racing game, NFS No Limits is probably one of the best picks out there. The game starts you off, in a quintessentially NFS way where you get taken down by cops for racing, and then you have to start from scratch and build up your garage. This, you can do by participating in, and winning, several races spread across multiple chapters.
Once you've defeated all the mini-bosses, so to speak, you will face off against the best racer in the city and beat him in a final race to complete the game. NFS No Limits is an easy-to-play racing game with impressive graphics, a bunch of different types of races, and locales that you will find yourself in, so go ahead and download this game.
Install: Free, with in-app purchases
13. Monument Valley and Monument Valley 2
Fans of puzzle games will love nothing more than these really impressive games from developer Ustwo. Monument Valley puts you in the shoes of a princess that has to find her way out of several mind-bending architectures. The game utilizes optical illusions and other tricks to confuse the player, but it's an incredibly fun game to play.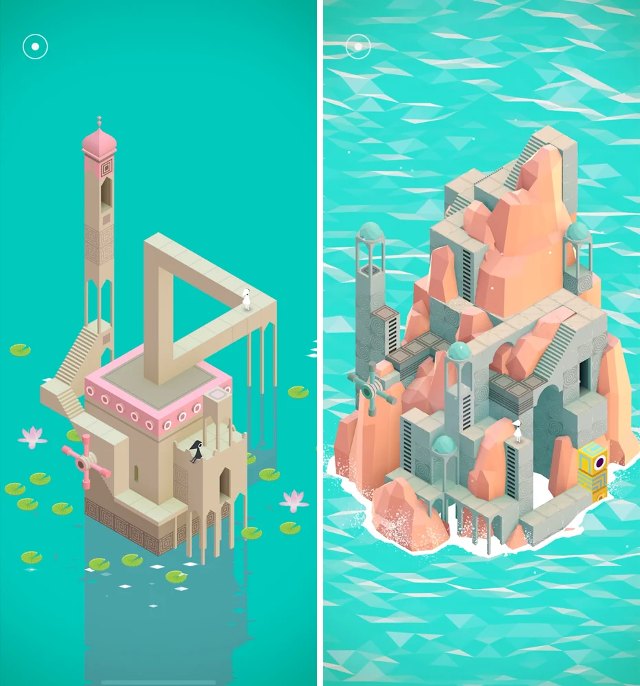 You can also try out Monument Valley 2, where you will control Ro, and her child as they try to get across the stunning environments in the game. Similar to Monument Valley, you will be manipulating the architecture of every level to reveal hidden paths and locations and overcome challenges.
Both Monument Valley and Monument Valley 2 are amazing offline iPhone games and coupled with their impressive soundtrack, I'd recommend them as the classic offline games to play on a flight.
Install: $3.99 and $4.99 respectively
14. GTA San Andreas
Look, GTA San Andreas needs no introduction to anyone who hasn't been living under a massive rock for the better part of the last decade. Arguably one of the best games in the Grand Theft Auto franchise, San Andreas is the perfect place for all your shenanigans. And with GTA San Andreas available on iPhone, it's one of the best offline iPhone games for everyone.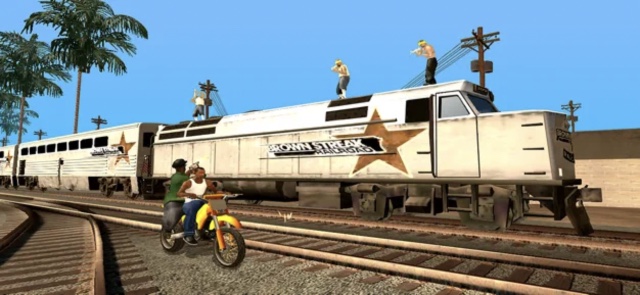 You play as Carl Johnson, as you return to San Andreas after a family disaster, and as it always does in GTA, trouble pretty much follows you all around the fairly massive map. I'm not going to pretend like you need to be reminded of this iconic title's storyline, so if you've been looking for a great game to play on your iPhone while offline, go ahead and buy GTA San Andreas.
Install ($6.99)
15. Limbo
Should you wish to take on an interesting puzzle-based adventure game, I would recommend you try out Limbo. Set in a dark and dreading universe, the game will challenge you to the core. As for the gameplay, you have to play as a young boy who enters limbo to save her sister.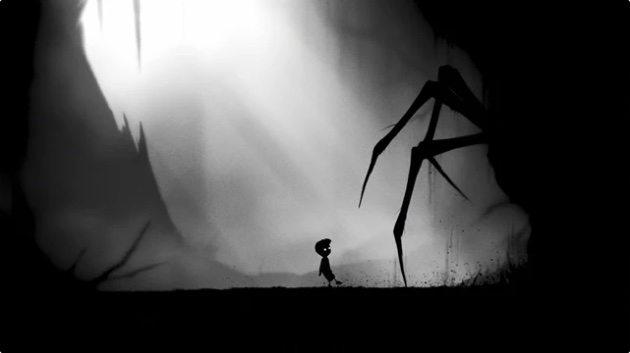 You have to deal with terror-ridden forests, deadly spiders, and unexpected hurdles thrown upon you. For passing each hurdle you have to think creatively and solve complex puzzles. The game will test your patience to the hill, therefore make sure not to get disheartened as the clues might be under the hood.
Though I also had a tough time dealing with unexpected obstacles, I was able to find my mojo soon. Once I got a grip on the hurdles, the gameplay never felt too challenging to me. Despite being a very old game, this one never seems to amaze me.
Install: ($3.99)
16. Asphalt 8 – Drift Racing Game
If it's time to kickstart a nail-biting car racing spree, why look anywhere else when you have one of the best offline racing games in the form of Asphalt 8.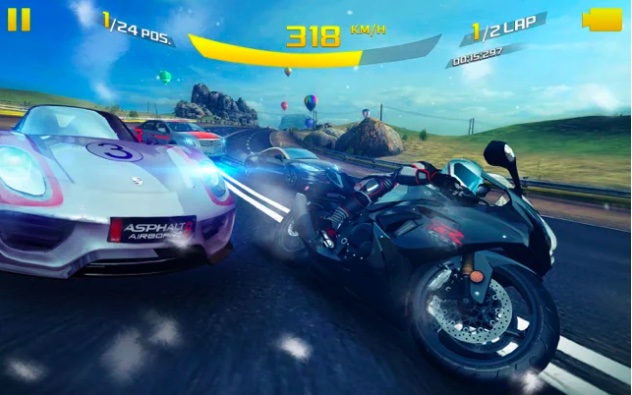 Boasting a massive collection of over 280 official speed machines including Ferrari, Ducati, Lamborghini, McLaren, Bugatti, Mercedes, Audi, Ford, Chevrolet, and more, you will enjoy racing to the core. To deliver a real-life racing experience, the game features more than 50 tracks where you will never get tired of burning the tires of your high-speed machines.
That's not all, Asphalt 8 can let you take part in more than 400 career events and take on around 1,500 car mastery challenges. As for variety, the racing game has multiple different game modes – each one is designed to test your racing skill. And if you have a liking for customizing your vehicles, you also have a huge roster of over 2,300 decals. To sum up everything, it's a must-have racing game for your high-octane racing adventure.
The new version of the game Asphalt 9 (free, in-app purchases) has been out for what seems like ages now, but it remains mainly an online game. You can play it offline with some hacks, but if you want all the features, you need to be connected to the internet.
Install: (Free, offers in-app purchases)
17. N.O.V.A. Legacy
Yet another offline shooting game that deserves a spot in this roundup is N.O.V.A. Legacy. What I love the most in this FPS multiplayer action game is the retro shooting experience. With this game, you will enjoy taking on the famous Gameloft FPS series.
As for the gameplay, you have to don the role of Kal Wardin, a retired N.O.V.A. veteran who has been summoned to take on shooting again in defense of the Colonial Administration forces. Notably, the game features an intriguing story mode wherein you can put your shooting prowess on full display to uncover the truth.
What's more, N.O.V.A. Legacy also offers power-packed shadow events where you can defeat the aliens in challenging limited-time events. And if you have a liking for deathmatch or battle royale games, you can choose to get into a 6-player firefight to be the last one standing. Bear in mind, the death match is rather challenging, so you've got to be at your killer best to decimate the opponents. Overall this is also one of the best multiplayer games for iPhone out there.
Install: (Free, offers in-app purchases)
18. Minecraft
For folks looking for one of the best building games, and games that can offer plenty of scope for creativity, Minecraft seems to be the way to go. What has always fascinated me in this top-notch offline game for iPhone is the option to explore the infinite worlds. Times, when you wish to bust stress or get lost in amazing wonderlands, can come in pretty handy in letting you relax.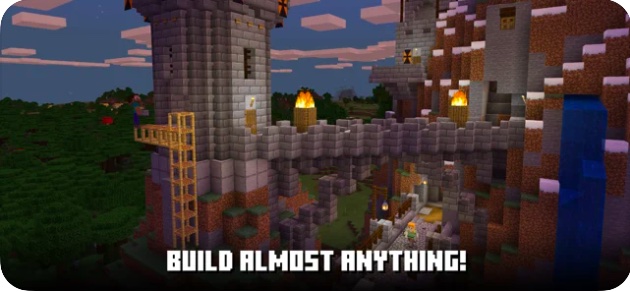 Another thing worth taking note of is the desired freedom to build your world. From a beautiful home to awe-inspiring castles, the app lets you create your dream abode. The only that you need to excel in this aspect is limitless imagination.
If you ever find the creative mode a bit boring, you can kickstart the survival mode wherein you will need to craft robust weapons and armor to safeguard yourself against dangerous mobs. Oh yes, you can also team up with your friends to fight against mobs.
Install: ($4.99)
19. Sudoku
Whether you are an old-time gamer or have just started to love gaming on your iOS device, chances are that you may already be quite familiar with several games. What makes such games so addictive is the easy yet very interesting gameplay.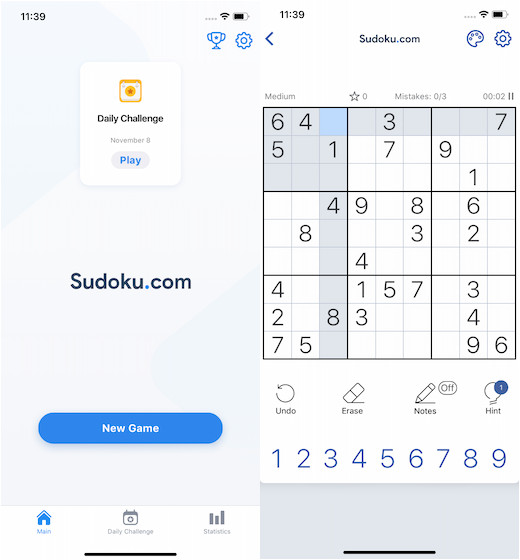 If you are willing to give a chance to a classy number game, Sudoku is for you. Featuring a ton of sudoku puzzles, the game can keep you hooked for hours. Notably, it also offers the needed hints to help you get out of trouble if you ever happen to get stuck.
One of my favorite features of this game is a good set of daily challenges that ensure you always have something different to take on. Besides, the option to take part in seasonable events and be able to win coveted medals also plays a key role in keeping the interest alive.
Install: (Free, offers in-app purchases)
20. Traffic Racer
Just in case you want to play an easy racing game, Traffic Racer could be worth checking out. In this arcade racing game, you get a chance to drive your car through busy traffic and earn plenty of cash. Not to mention, you also have plenty of options to customize and upgrade your car.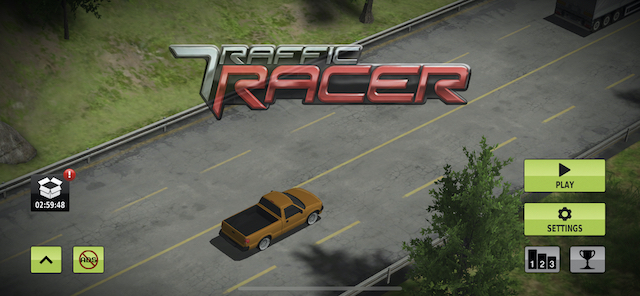 Boasting a solid collection of over 40 different cars, it has also got the variety to keep you interested for more. There are five different game modes such as endless, two-way, time trial, police chase, and free ride. Depending on your mood or preference, you can choose to play any game mode.
What's more, Traffic Racer features multiple good-looking environments like snowy, rainy, city nights, suburbs, and deserts. With basic customization and leaderboards/achievements, it seems to tick off all the essential boxes. Taking everything into account, it's one of the best free offline iPhone games.
Install: (Free, offers in-app purchases)
There you go! So, these are my favorite offline iOS games. Now that you have known my favorites, it's your turn to share your preferred collection. Besides, if you think that some games deserve to get a mention in this roundup, make sure to let me know their names as well.
---
Load More