From the 1st gen AirPods to the latest-gen AirPods Pro 2, Apple's wireless earbuds have become a quintessential accessory for an iPhone user. The seamless connectivity and impressive audio quality of AirPods make them a go-to choice for music lovers and multitaskers alike. But what happens when your AirPods or AirPods Pro simply refuse to connect to your iPhone? Well, it is a frustrating experience that every user has faced at one time or another. So, if you are experiencing connection issues between your AirPods and iPhone, this article covers it all and helps you fix it. Check out the best fixes if your AirPods are not connecting to your iPhone.
Most Common AirPods Connectivity Issues
Before we proceed, it is crucial to pinpoint the specific issue you are facing so you can then employ the required troubleshooting method to get the AirPods back in sync with your iPhone. Here are some common AirPods connectivity issues:
AirPods won't Connect at All: You open the lid of your AirPods or AirPods Pro charging case, but they don't automatically connect to your iPhone or even appear in the list of available Bluetooth devices.
AirPods Disconnecting Intermittently: Your AirPods connect with your iPhone initially but get disconnected frequently during an important call or other work, causing audio interruption.
AirPods Connected But No Sound or Low Volume: The AirPods seamlessly connect with your iPhone, but you can't hear any sound, or the volume is significantly lower than usual.
AirPods Case Won't Charge: It may be possible that your AirPods charging case is not charging properly, leading to battery drain on your AirPods.
How to Fix AirPods Not Connecting to iPhone
Now that you know what might be causing the connection issue between your AirPods and iPhone, it is time for you to check out the best solutions to fix the AirPods not connecting to iPhone issue:
1. Make Sure Bluetooth is On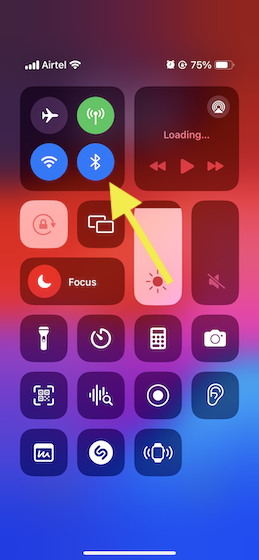 Often, we forget even the most basic things. In this case, both your AirPods and iPhone need to establish a Bluetooth connection in order to work seamlessly. Bluetooth being turned off is one of the most common reasons why AirPods won't connect to your iPhone.
Fortunately, turning on Bluetooth on your iPhone is quite easy. Simply swipe down from the top right of your iPhone screen to open the Control Center. Then, tap the Bluetooth tile to turn it on if it isn't already.
2. Reconnect AirPods with iPhone
Many times, you will find that your AirPods are connected to your iPhone, but you are unable to hear anything on them. In that case, we suggest you first disconnect the AirPods from your iPhone and then reconnect them again. This is the easiest solution that can fix the issue in a jiffy.
3. Charge Your AirPods
If the battery level on your AirPods or AirPods charging case is low, there is a high chance you will experience connectivity issues with your AirPods and iPhone. For this, you first need to check the AirPods battery level, then if found low, put them in the charging case and charge the AirPods case using only Apple-certified MFI cable.
If you see the amber or red light on the AirPods charging case (depending on your AirPods model), it means your AirPods are charging. If the AirPods are fully charged, you will see the green light on the case.
4. Reset Your AirPods
While AirPods may be the best wireless earbuds you can buy, sometimes even the best piece of tech can encounter connectivity issues, and the quickest way to sort out a connectivity or audio issue on your AirPods is to reset them. Check out how to reset Apple AirPods.
5. Update AirPods Firmware
Keeping your AirPods up to date with the latest firmware is always a great idea to enjoy exceptional sound quality and new features. Also, most of the time, Apple rolls out a firmware update that can fix issues like AirPods not connecting to your iPhone. And while AirPods get automatically updated, sometimes your earbuds can skip an update if they are not connected to an iPhone or iPad for a long time. In that case, you should manually update your AirPods.
6. Reset Your iPhone
Tried every troubleshooting method we discussed so far and nothing worked, it is very much possible that the problem is with your iPhone, not with the AirPods. In that case, resetting your iPhone is something we would suggest to fix AirPods connectivity issues. However, before you reset your iPhone, remember to take a backup beforehand.
Finally, accumulated dirt, debris, or ear wax in and around your AirPods earbuds or charging case can disrupt the listening experience. This can be one of the major reasons why you cannot listen to music or sounds on your AirPods. So, you can clean your AirPods using a lint-free cloth.
AirPods not connecting to your iPhone can be frustrating, but you can often resolve this issue with our troubleshooting tips. Remember to be patient and try one solution at a time. And if all fails, contacting Apple support is the best bet for you.
---
Load More