If you love the animated effects in the Messages app on iPhone, you should know how to use effects on FaceTime in iOS 17. Apple's new iOS brings some amazing additions to the FaceTime app, including the ability to use on-screen effects and reactions while you're on a FaceTime video call. It fills up your screen with super cool AR animations and 3D effects that will blow your mind. While the reactions are similar to what we have been using in Messages, but FaceTime effects come with an exciting twist- you can trigger them with gestures rather than words. Undoubtedly, it will make your FaceTime calls more expressive and fun. Here's how to use FaceTime effects in iOS 17.
How to use FaceTime Effects on iPhone in iOS 17
Note: FaceTime Effects are only available for iPhone 12 and later models.
Open the FaceTime app, choose a contact, and make a video call.
Once you're connected, make sure you've enabled the front camera.
There are two ways to trigger effects in FaceTime on iOS 17.
First, long-press on your picture in FaceTime and this should bring up a menu of on-screen FaceTime effects like hearts, thumbs up, fireworks, and more. Tap on an effect to see the animation.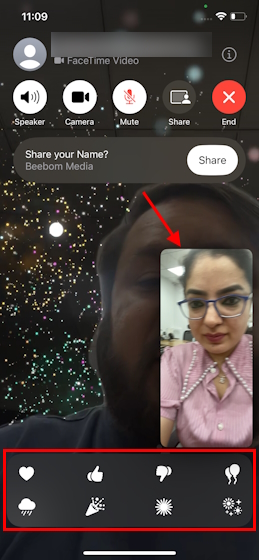 The second, and more exciting way to trigger reaction effects in FaceTime on iOS 17 is to go hands-free and use physical gestures.
For instance, a single thumbs up will trigger the like emoji and two thumbs up will display fireworks on the FaceTime screen. Similarly, single thumbs down will show the dislike emoji and two thumbs down will display the rain effect.
Below is the list of reaction effects and supported gestures to use reactions on FaceTime in iOS 17.
List of New FaceTime Effects in iOS 17
Like
Fireworks
Dislike
Stormy rains
Love
Laser beams
Balloons
Confetti
Gestures to Trigger Effects in FaceTime on iOS 17
| | |
| --- | --- |
| Gesture | FaceTime Reaction Triggered |
| Single Thumbs up | Like |
| Two Thumbs Up | Fireworks |
| Thumbs down | Dislike |
| Two Thumbs Down | Stormy rains |
| Heart | Love |
| Rock on sign with two hands | Laser beams |
| Peace sign with one hand | Balloons |
| Peace sign with two hands | Confetti |
Gestures to trigger FaceTime reactions in iOS 17
---
Load More