Most iPhone games are meant for a single player, which is fine when you just want to kill a few minutes while you're waiting in line. But sometimes you want a more significant gaming experience where you can take on your friends, whether they're at your house or in a different country. Fortunately, there are a number of great multiplayer games that you can get on your iPhone, from first-person shooters to word games to party games. Here are 15 of the best to get you started!
15 Great Multiplayer Games For iPhone
One of the most successful racing series on iPhone, the Asphalt games are packed with high-speed fun. One-off races, career mode, time trials, and a lot of mid-air trickery keep this game interesting longer than many other racers. Career mode offers over 300 events, and you can face off against up to 11 other players online.
Asphalt 8 has received a number of updates from previous entries in the series, with more cars, more events, and new Infected and Drift Gate race modes. Thirteen tracks and almost 100 cars provide plenty of variety, making this well worth your time. If you're a fan of racing games, be sure to check out Real Racing 3, as well—there are fewer barrel rolls, but more realistic cars and tracks.
For fans of console first-person shooters like Call of Duty, Battlefield, and Rainbow Six, Modern Combat 4 provides a viable iPhone experience. With solid graphics for a mobile game, a decent story mode, and all the multiplayer battling you could want, you can easily sink a lot of hours into this game.
While a more recent game in the series, Modern Combat 5: Blackout, has been released, the fourth entry in the series provides better value. After paying $6.99 to download the game, you don't have to worry about paying for anything else. Because MC5 is free to download, you'll face a lot more pressure to spend money in-game.
One of the most beloved board games of all time, Carcassonne has players trying to build cities and roads, claim farming fields, and disrupt opponents' strategies. The game is quite simple, but after you've played a few times, you'll start to see just how strategic each turn can be. Don't be intimidated, though—the in-game tutorial makes it easy to learn and start playing quickly.
Local network play, online multiplayer matches, rankings, nine different AI opponents, and a whole bunch of expansions give you plenty of different options to make up for the rather significant cost of $9.99. There's a reason why this game is an award-winner and classic, though; it's a blast.
Magic: The Gathering has dominated collectible card games for decades, and Hearthstone is looking to become the digital giant in the genre. Blizzard's World-of-Warcraft-themed card battler is easy to pick up, but takes a long time and a great deal of effort to master. As one of the most competitive card games out there, you'll need to earn and buy the best cards for your deck if you want to compete.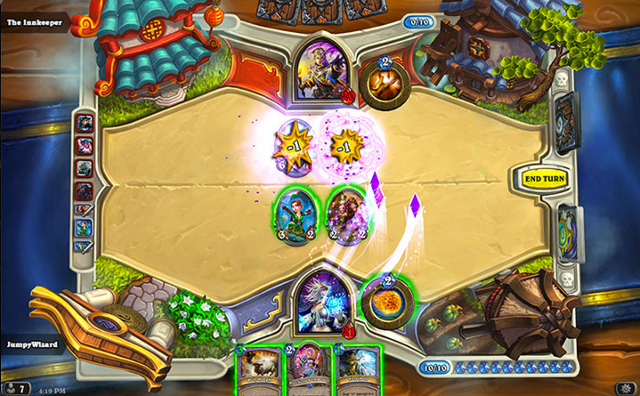 Introductory missions get you up to speed on casting spells and summoning minions, playing against computer opponents will help you get a hold on what it takes to win, and a huge online community will let you face off against real opponents for awesome prizes whenever you want. Hearthstone is known to be very addictive, so prepare yourself for many hours of head-to-head fantasy combat!
If you're looking for arcade sports action, Football Heroes will give it to you. The fun, cartoony graphics harken back to the days of old-school football games like Tecmo Super Bowl and give the game an arcade-style feel, breaking away from the standard set by the very realistic Madden series. Super moves like Windmill Toss, Power Throw, and Distraction give the over 1,800 real NFL players a bit more power on the field, and making successful plays increases their stats.
With several play modes, including asynchronous online league, wifi or Bluetooth local multiplayer, Cup mode, quick match, and sudden death, there are plenty of options, no matter what kind of football game you're looking to start. And because the game is free to play with no annoying countdown timers or paywalls, you can get started right away (though you'll be tempted to buy packs of players to boost your team).
While many of the board games that successfully make the transition to iOS lack the deep strategy that makes tabletop gaming so fun, Lords of Waterdeep is an intensely strategic game that'll have you thinking tactically. Assigning agents, collecting resources, completing quests, recruiting units to go on adventures, and constructing buildings around the city all require your attention throughout the game. (Don't worry; the tutorial will show you how everything is done.)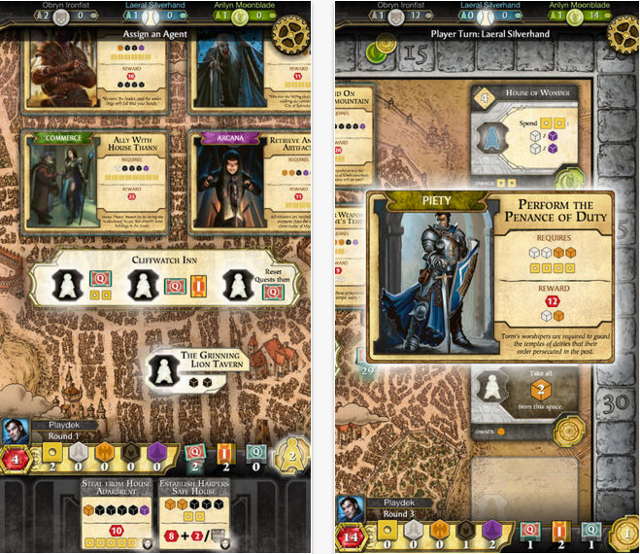 Both asynchronous online and local pass-and-play multiplayer for up to five players (six with an expansion) are available, so you can challenge your friends whether they're in the same room or across the world. And you can practice against the computer when you're on your own. Two available expansions add even more possibilities to the game, and they're reasonably priced at $2.99.
Multiplayer online battle arena (MOBA) games have long been the territory of PCs, dominated by titles like DotA and League of Legends. Vainglory is Super Evil Megacorp's attempt at bringing console-level MOBA action to the iPhone, and it's received rave reviews from fans of the genre. Pick a hero, customize them with items, and get into the arena!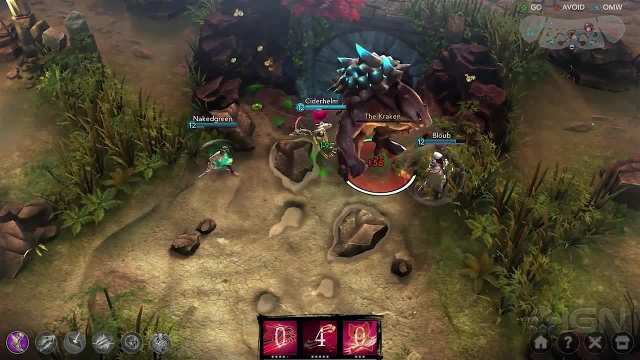 New heroes, card collecting, a huge amount of variety for each character, and action-packed 20-minute matches make Vainglory tough to put down. And its impressively high-quality graphics make it great to look at. Because the game is totally free to play, you can try it out without spending any money, though there are purchasable bundles from $4.99 all the way up to $99.99.
If you've never played Ticket to Ride, you're missing out on a fantastically fun and competitive board game. The premise is simple: draw a card with two cities on it, connect those cities with trains, and collect points. But you'll need to think strategically—trying to get the longest train, block your opponents, and plan for potential future destinations makes this a very fun, very rewarding, game.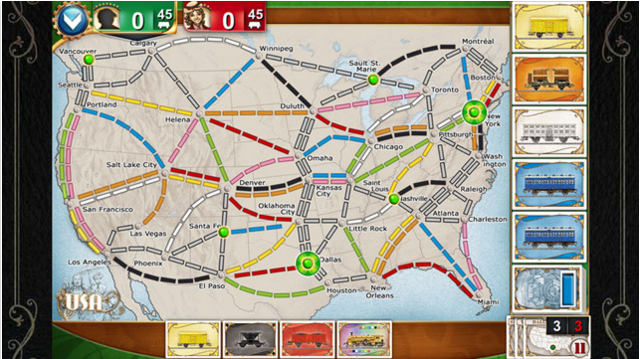 The pocket version of Ticket to Ride lets you play the game on a small screen without having to squint at tiny maps or cards. And with single player, local multiplayer via bluetooth or WiFi, and online asynchronous multiplayer, you can challenge your friends around the world or take on other players in automatic match-ups. And if you're looking for more locomotive strategy, check out Ticket to Ride Europe Pocket, which adds a new map as well as some fun new features.
Most racing games involve high-end cars with massive engines, sprawling urban tracks, and a lot of engine-revving noises. Fun Run 2 does away with all that in favor of cute forest creatures in a side-scrolling 2D footrace. Sound strange? It is; and it's just weird enough to work, especially when you're taking on up to three of your friends in online multiplayer.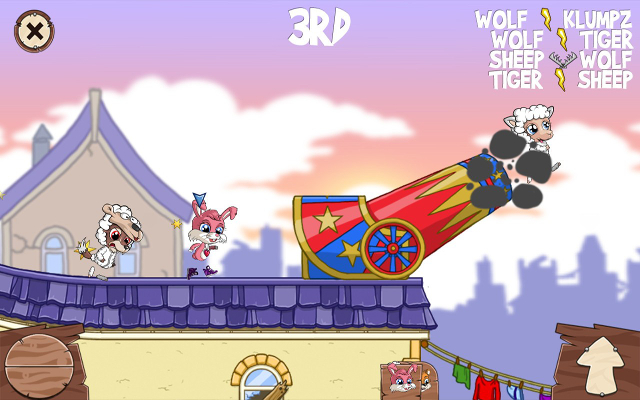 Picking up weapons like saw blades and bear traps adds a measure of hilarious havoc to this goofy runner, and destroying your opponents is at least as fun as making it to the finish line first. Fun Run 2 is a simple game, with only two buttons, but is a great way to spend some time battling your friends.
The tabletop version of Pandemic is a popular cooperative game that sees players trying to save the world from certain doom at the hands of killer diseases. The iOS port brings save-the-world-or-die tension to your phone, and even lets you play with up to three friends in pass-and-play mode. With a tutorial, in-game rules reminders, and three difficulty settings, you'll get up and running in no time. Pick from one of the available roles (Scientist, Researcher, Dispatcher, and others) and get to work saving the world!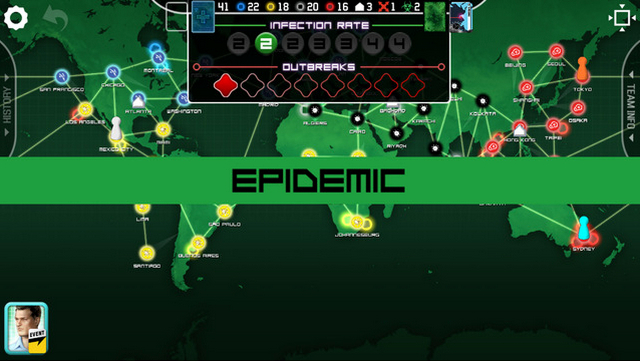 The On the Brink expansion, available with an in-app purchase, lets you play with up to five players and introduces a number of new roles and events, adding even more variety. Whether you've played the board game or not, Pandemic will get your heart racing as you work to save a world on the brink of total destruction.
Pool is a classic game the world over—the combination of luck, skill, physics, and a great social atmosphere make it a bar staple and a basement favorite. 8 Ball Pool brings the experience to the iPhone in a mobile-friendly version that lets you compete against your friends Facebook and other players around the world.
Although there isn't much to the game other than playing pool, Miniclip does try to make it rewarding to play; you can earn Pool Coins to customize your cue and the match location, making the game environment suit your tastes. The game's simplicity adds a lot to its appeal—if you want to play pool, open the app and play pool! (If you're into table tennis, another popular bar game, check out Virtual Table Tennis, a great way to play with friends on the iPhone.)
If the realistic warfare of Modern Combat isn't your thing, but you still want to smash your opponents, Battle Monkeys may be exactly what you're looking for. You control a small army of monkeys and face off against opponents to see who comes out on top. Choose from a wide range of monkeys, customize their outfits, level them up, and show the other monkey army who's boss!
Battle Monkeys' live multiplayer is a great feature, letting you fight against your friends or other players so you can hone your skills and level up your monkeys. The game is totally free to play, which is a nice bonus, but you can also pay for in-game perks with real money. You shouldn't miss this 3D multiplayer game for iPhone.
In Spaceteam, you'll race to save your rapidly disintegrating spaceship from certain doom by taking actions on your control panel. You'll receive instructions to turn dials, flip switches, and move sliders, and if you do it in time, you might survive. What makes it interesting is that those instructions are delivered to your teammates, and the dials and sliders on your control panel are often labelled with images instead of words, making for hilarious outbursts like "Set the squat jumper to 3!" and "X-ray elevator on!"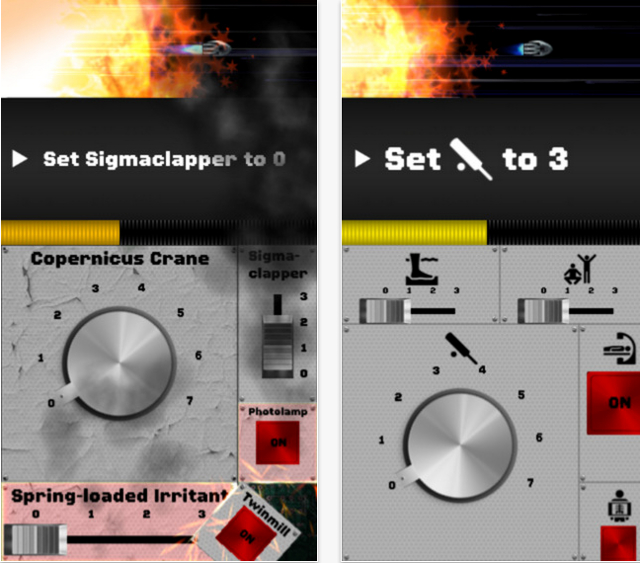 Spaceteam is a great party game and is sure to get everyone laughing. You can play with two to four players as long as everyone has a mobile device that can run the free app. Once everyone downloads the app, you can get started trying to save your ship . . . be ready for hilarity!
14. Catan ($4.99)
One of the most popular European-style board games, Settlers of Catan gets an iPhone treatment with Catan, an app that stays true to the classic. You can challenge other players (including players on other platforms such as Android), take on the AI, or try your hand at some of the scenarios created by the game designers. Two expansions are available as well, at $4.99 each.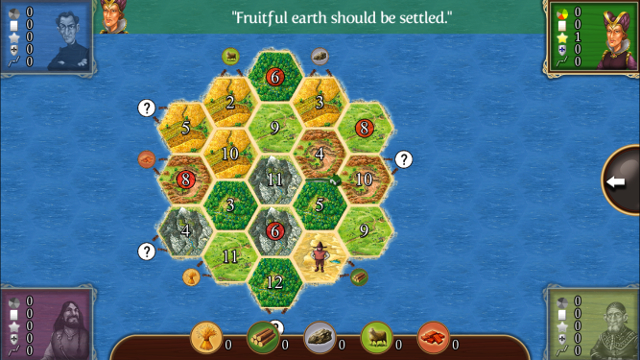 If you haven't played Catan, you're missing out on a great cross platform board game experience. The need for planning ahead, reacting to your opponents, and quickly coming up with new strategies to counter the rolls of the dice make for an absolute staple of the board game genre.
Words with Friends is one of the most popular games on iOS, with over 108,000 reviews on the App Store. If you're not familiar with the game, the premise is simple: it's just like Scrabble. You get letter tiles and you create words, crossword-style, on the board. Each letter is worth a certain number of points, and whoever has the most points at the end wins.
Challenging your friends or random players will keep you entertained for hours as your sharpen your word-wrangling skills. You can access your games from any of your devices, so you aren't tied to your phone exclusively. And the dictionary and word-of-the-day features will help you build your vocabulary to use some killer words for huge points.
SEE ALSO: 20 Best Multiplayer Games For Android 
Throw Down the Gauntlet
With these 15 options, you're bound to find a multiplayer iPhone game that you like. Challenge your friends to a race, a deathmatch, a board game, or even a game of pool directly from your phone and battle it out for bragging rights. And don't forget to share your favorite multiplayer iPhone games in the comments below!