The very first question one might ask on reading the heading of this post would be Why?, Why would anyone want to send an anonymous email when there are tons of other email service providers like Gmail, Yahoo, etc with a suite of premium features to offer?
There cannot be a definitive answer to that question because we don't use anonymous email services on a daily basis and, the use case which most people might think of is mostly destructive (eg. Spamming).
I would first try to change how we think about these services, agreed that there are many ways in which these services can be used for wrong purposes but think about this, your current email account wherever it might be held be it on Google, Yahoo or any other site like that serve ads, and not just any random ad. These ads are tailored and targeted to your online presence. What this means is, if you are signed into your Google account and you're a sports fan and you constantly read, search and share about sports, it's pretty obvious that the ads that Google would populate on your search results and on Gmail will be regarding sports products and fitness brand. The entire idea of targeted ads might not seem to be a big deal to most of us, but considering the not so recent NSA fiasco which revealed about the government doing a massive surveillance on user data and companies involved in actually giving them access to it, it's not sure how safe our online identity is with these companies. Hence, anonymous emails ensure that your emails are untraceable and cannot be tracked.
Pointing out towards the use cases, here are some of them.
For signing up on websites that someone would use only once for eg. Downloads websites that ask for email address.
For posting comments on blogs which require you to sign in.
For maintaining anonymity on the web, protecting your original identity from mass surveillance programs
Having said that, let's take a look at a couple of ways in which one can send anonymous emails
By Creating Aliases to Your Email ID
This might not be the best option, but Microsoft's Outlook email service allows you to create aliases to your email. An alias is nothing more than an additional email address for the same account. This means that while your original email xyz@outlook.com is known to your friends and colleagues, you can create an alias to the same account as some_random_email@outlook.com and still use your original email to send anonymous emails. Let's take a look at how.
1. Sign in or Sign up for Microsoft Outlook

Click on the gear icon on the upper right corner and click on Options

Under Managing your account, Click on Create an Outlook.com alias
Create a new email address and click on Add alias

You now have your alias ready which you can manage from this page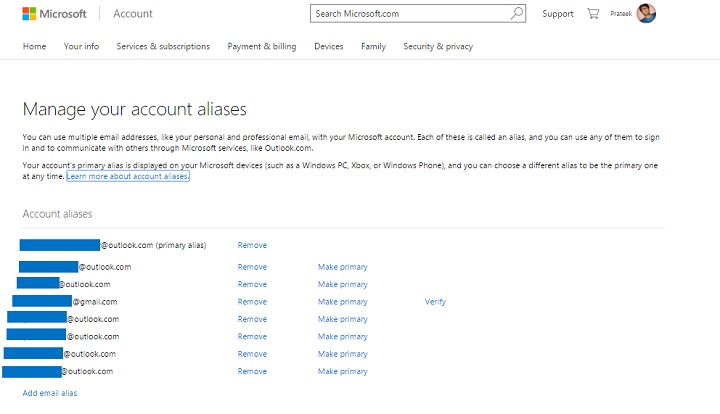 Now, whenever you're creating a new email, just click on your name on the upper left corner to see a drop down of all your aliases.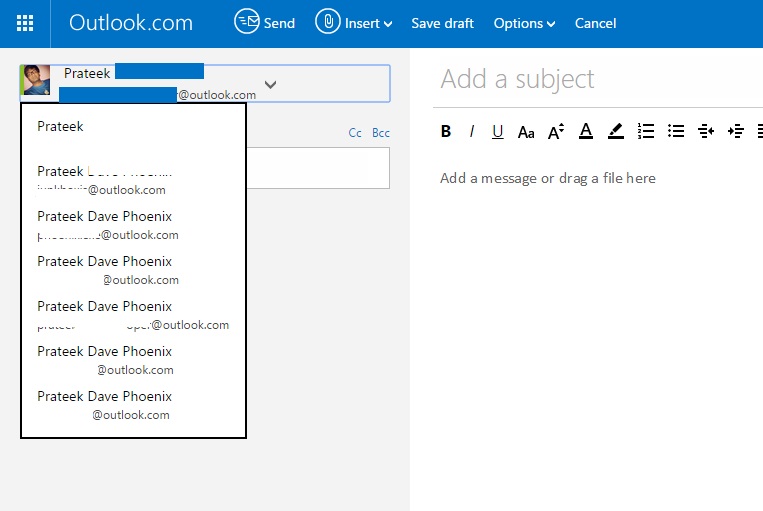 By Creating An Email ID Which Has No Relation to Your Original Account
If you're not sure if you should go for sites offering anonymous email services but still want to use an anonymous email address, you can always sign up on Gmail, Yahoo, Outlook etc with an ID that has no relation to your social profiles or your primary email address.
This is not the best way to do so, as signing up for a legitimate email service is a time taking process, especially when you want multiple email addresses, this is why the 3rd option would the be the best of all.
Using An Anonymous Email Service Provider
There are well over a hundred websites which allow you to send anonymous emails, while the concept behind it remains the same, i.e, creating an email address which has no relation to your original account, the services mentioned below remove the hassle of signing up. They are free to use and we are going to cover 5 of the best anonymous email providers
1. Mailinator
Mailinator is one of the most popular service used to maintain anonymity over the web. It offers users to create a disposable email account out of the box, without signing up.
You can come up with a random email address of your choice, and then use it to sign up to websites which you don't trust with your primary email address. All emails from those websites will directly go into your disposable email account which you can check at any time.
2. Anonymouse
Anonymouse is one of the oldest provider of online email service. You get the ease of sending the email right from within their home page, although you still can't add attachments. While the website looks like a static HTML page created years ago, Anonymouse serves almost 1,00,000 mails each day.
3. Anonymous Email by HideMyAss
If you are a college student or a resident of Mainland China, HideMyAss is no stranger to you. HideMyAss is one of the most popular proxy service and VPN provider online, which allows you to access to websites which have been blocked in your region. From the same people who brought you HideMyAss VPN and HideMyPhone, comes an anonymous email service, rightly called Anonymous Email.
Anonymous Email allows you to create an anonymous account, although the trade-off here by going with the brand and its popularity is that you need to sign up for the service for which you need to sacrifice your real email address, and everytime you need to check/send an email you have to go through a conventional log in system. Though, you do get the option of specifying when your account expires.
4. Guerrilla Mail
Guerrilla Mail offers a disposable and self-destructing email account which automatically gets deleted in one hour. While one cannot use it for a prolonged period, it still remains useful for instantaneous use.
5. 10 Minute Mail
10 Minute Mail is similar to GuerrillaMail in a lot of ways, but you get the flexibility of extending the duration of access to your account by 10 minutes on this site, before your account self-destructs. You can use the unique disposable email address that the site generates to "receive emails" only (You can reply to the received mail, but cannot compose a new mail). This might sound not that useful, but it certainly helps you out when you quickly want to sign up for a website/post your comments and reviews on an online article.
SEE ALSO: How To Find Email Sender's Identity And Location
Conclusion
While there are hundreds of websites offering anonymous email services, the biggest obstacle that comes up while encouraging users to use it is, lack of knowledge of such services and also trust issues with the providers. The lack of legitimate use cases makes it obvious that these websites/services do not have a large user-base as compared to conventional email providers. But considering the current scenario of online security, it's worth giving them a try.