E-mail marketing forms one of the most essential elements of any business, ranging from a small startup to hierarchical Fortune 500 organizations. Email marketing is about striking the perfect balance in Email deliveries to your clients and prospective clients who have chosen to follow your latest updates. Send more of them and you might come as a spammer and sending too less would risk your chances of becoming invisible for your clients and customers. For this very purpose, leaving it to a capable Email marketing tool is much better, rather than deciding to send marketing Emails yourself.
Here arises your need for finding a tool perfectly capable of handling all of your Email marketing campaigns. These campaigns involve designing of your Newsletters, Opt-in boxes on your website and delivering them timely to your subscribers. If the feel and design of your newsletters matter a lot to you, you must go with a service that offers you the flexibility to design your own front-end forms. When it comes to Email marketing services, MailChimp clearly triumphs all the rest and by some good margin. But while it maybe one of the best service out there, it need not be the right fit for you.
Why do we need an Alternative to MailChimp?
MailChimp is pretty well-renowned for their Email marketing services and even Google gives them a lot of love for their delivery rates. But their pricing model is something which might not bode well for many users. You can use MailChimp for free if you have under 2,000 subscribers and don't send more than 12,000 Emails per month. But if you go further down the line, MailChimp charges $75/month for 10,000 Subscribers and unlimited Emails, but charges in additional increments of $5/month for Subscribers between 10,001-10,200.
Similarly for subscribers over 40,000, the monthly increments for every additional 1,000 subscribers would still be $5/month. So, for 40,000 subscribers, a user would have to shell out $240/month. This very pricing plan may not be suitable for many users and this gives rise to the need for some alternatives to MailChimp.
7 Best MailChimp Alternatives
To get started on better management of your Email subscribers and marketing, here are the 7 Best MailChimp Alternatives.
1. Aweber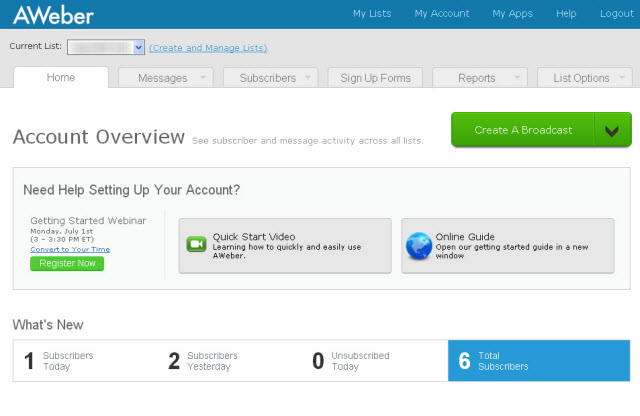 Aweber is easily the most popular Email marketing tool, second only to MailChimp in terms of Email deliveries and number of subscribers serviced. It is one of the most reliable Email marketing services, whose delivery rates are well adored by clients worldwide. Aweber provides you with over 700 HTML templates for your Email newsletters, Seamless integration with WordPress, PayPal, Facebook and more, Auto-responders, Easy importing/exporting of your subscriber list, Opt-in forms optimized for mobile devices, A/B Broadcast testing, Drag-and-Drop newsletter editors and in-depth analytics.
The biggest driving factor for Aweber is apart from it being a feature-rich service, it is fairly targeted for uses with below 25,000 subscribers. Although Aweber offers premium services even to business with over 25,000, the pricing model for the lower end is pretty well structured. A simple pricing model along with a feature-rich and extremely capable Email marketing client gives our full points to go with Aweber for your business.
Key Features: 700 HTML Templates, Drag-and-drop newsletter editor, Reliable delivery rates, Simple pricing model, Auto-responders, In-depth Analytics, Seamless integration with 3rd party tools and more.
Volume of Emails and Pricing
Aweber offers Unlimited Emails to all of the below mentioned plans. They state that they charge only on the basis of number of subscribers and not as per the number of Emails you send. Below is how their plans and pricing are structured.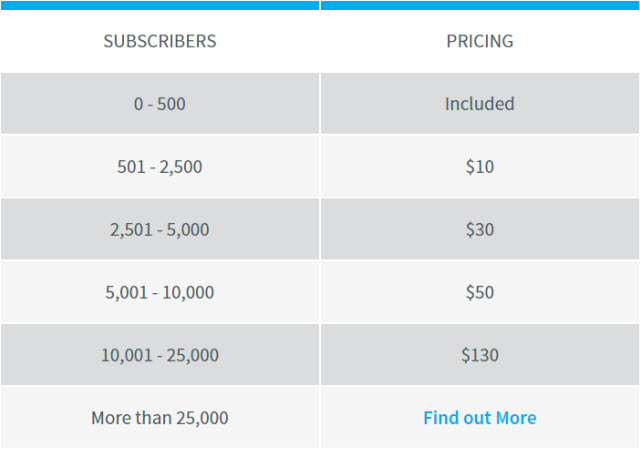 2. Campaign Monitor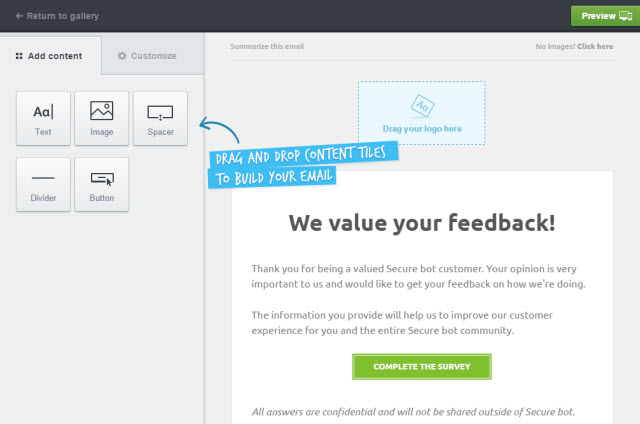 If your Email marketing campaigns should be aesthetically pleasing as per your expectations, Campaign Monitor is one of the best tools for the same. Exciting your subscribers and making them wait in excitement for your Emails is what you get with Campaign Monitor. 99% of the customers have been more than satisfied with their services. With a beautiful drag-and-drop Email newsletter editor, hundreds of mobile and web-ready HTML templates, A/B Testing, Campaign automation, Insightful analytics, Social integration are some of the key features of Campaign Monitor.
24/7 customer support and aesthetically pleasing Email marketing campaigns with great delivery rates make Campaign monitor one of the best choice for many businesses worldwide. Structured pricing model is another key advantage with Campaign Monitor. This tool also offers something called 'Inbox Preview' to let you review the looks-and-feels of your campaigns across 20 different Email clients for just $5.
Key Features: Aesthetically pleasing Email marketing campaigns, Drag-and-drop editor, hundreds of mobile-ready HTML Templates, Inbox preview, A/B Testing, Campaign Automation, Social Integration, Analytics and more.
Volume of Emails and Pricing
| | | |
| --- | --- | --- |
| Number of Subscribers | Basic Plan | Unlimited Plan |
| 500 | $9 (2,500 Emails/mo) | $29 |
| 2,500 | $29 (21,500 Emails/mo) | $59 |
| 5,000 | $49 (25,000 Emails/mo) | $99 |
| 10,000 | $89 (50,000 Emails/mo) | $149 |
| 15,000 | $129 (75,000 Emails/mo) | $249 |
| 25,000 | $199 (125,000 Emails/mo) | $399 |
| 50,000 | $299 (250,000 Emails/mo) | $699 |
3. GetResponse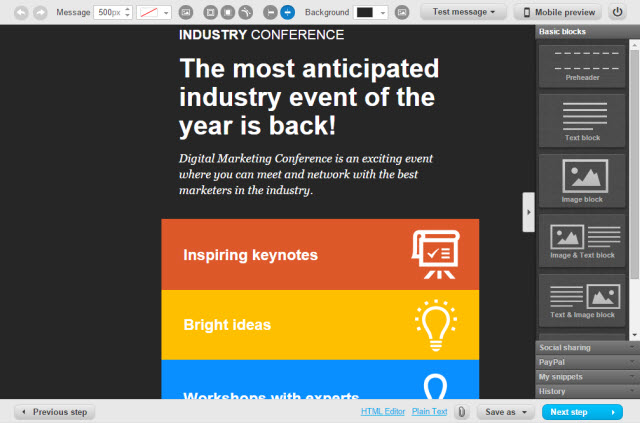 If you are pretty new to Email marketing Campaigns and need something that gets pretty easy to use and get started with, GetResponse is the tool for you. GetResponse offers one of the most easy-to-use interfaces for establishing your Email marketing campaigns upon. With tools to fit everyone from a beginner to industry expert, GetResponse is also the choice of Industry-expert Neil Patel (Founder of Kissmetrics, CrazyEgg and Quicksprout).
500+ HTML Email campaign templates, Intuitive Newsletter designer, Free access to 1,000 iStockImages, Import/Export Lists, Free Inbox Preview, A/B Testing, Landing pages, Aut0 responders are some of the most stand-out features of GetResponse. This tool's feature-rich services and intuitively easy-to-use interface make it a quite popular Email marketing tool .
Key Features: Form Builder, Landing pages, 500+ HTML Templates, Import/Export Lists, Auto-responders, Mobile applications, Inbox Preview, 1,000 Free iStockImages and more.
Volume of Emails and Pricing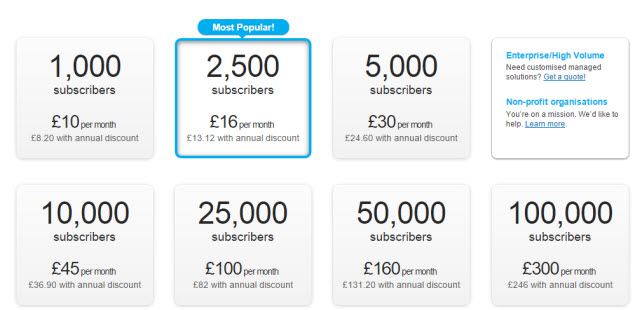 4. Constant Contact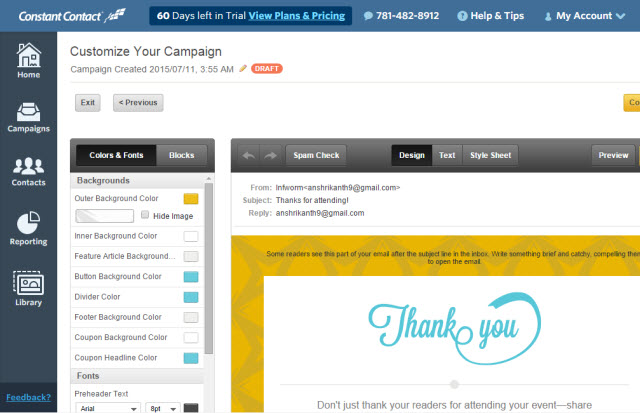 Constant Contact is another one of the most popular Email marketing tool on the web that offers feature-rich services and intuitive interfaces for its users. The best thing about this tool is the way it handles your contacts or subscribers. Contacts are excellently managed by this tool. Here, you can simply import an Excel of your contacts and Constant Contact manages everything, keeping you updated about the Inactive contacts, un-subscribers, Bounce rate and more.
Constant Contact's Real-time reporting also makes sure that you are aware of how many links are getting clicked, who has read them once you hit 'Send'. Other key features of this tool include Automation of Email campaigns, Drag-and-drop newsletter design, Hundreds of HTML Templates, Better delivery rates and more. This tool lacks a good A/B testing as compared to the rest but many more features like Coupons, Surveys and Birthday/Anniversary Emails are offered in its Plus plans. All in all, a good tool if managing your subscribers is your primary purpose of using an Email Marketing tool.
Key Features: Real-time reporting, Better delivery rates, Better management of Contacts, Hundreds of HTML templates, Drag-and-drop designer and more.
Volume of Emails and Pricing
Constant Contact do not charge anything in particular for the number of Emails sent. You will be billed only for the number of contacts/Subscribers that you would be sending Emails to.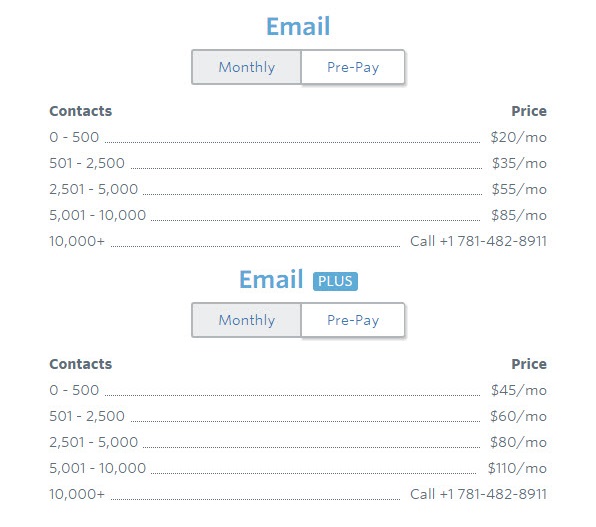 5. iContact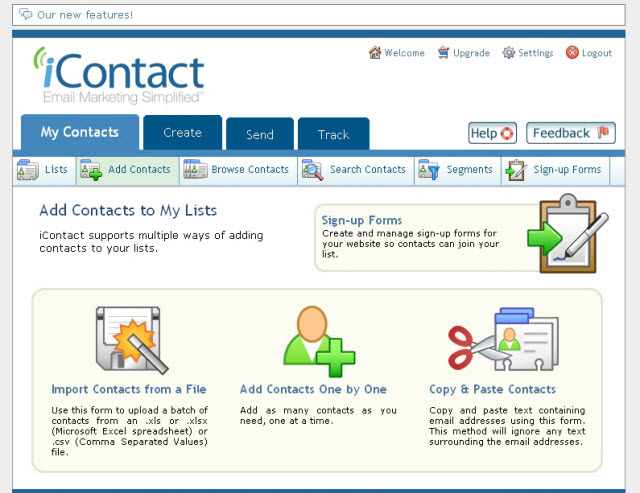 If you are looking further for more Email marketing tool alternatives to MailChimp, iContact is one great tool. It offers Email marketing solutions for both small businesses and major enterprises alike. Major features of iContact include HTML templates, Drag-and-drop newsletter creator, Auto-responders, Reports, Spam checking, Social media integration and much more.
One of the best features of iContact is the Email personalization feature that it posses. This feature allows users to survey their contacts to automatically personalize the messages. Sign-up forms on Facebook page and scheduling posts on Twitter and Facebook are some of the social integration features that iContact supports. You can also choose to go deeper with iContact Pro and Premium versions which offer Enterprise level Email management solution with Landing pages, Workflow automation, In-depth reporting and more.
Although the pricing is on the lower end, iContact lacks a proper outlet for A/B testing and some other key factors, yet make a great Email marketing tool.
Key Features: Drag-and-drop Message creator, HTML Templates, Spam control, Reports, Auto-responders and more.
Volume of Emails and Pricing
6. SendInBlue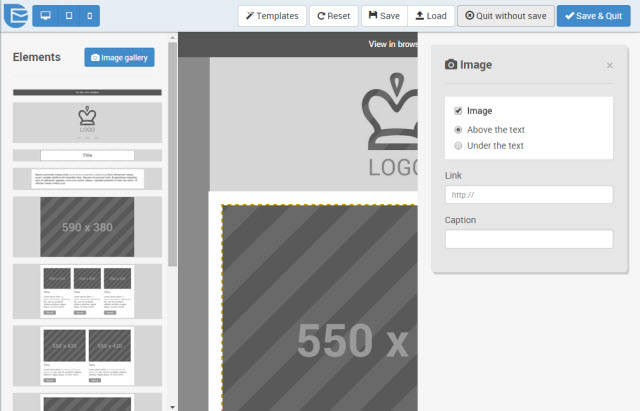 SendInBlue is one of the best Email Marketing tools that provides SMS campaigns in additional to the traditional Email marketing campaigns. Using SendInBlue, you can manage your Email marketing campaigns, Email Newsletters and also SMS Campaigns. The eye-catching and intuitive interface is pretty to get around with even for the very beginner users. Drag-and-drop building of newsletters and HTML editors make it easier for building newsletters in minutes. But SendInBlue still lacks the hundreds of ready-to-deploy HTML editors that others usually offer.
Some of the major key features of SendInBlue include Creation of forms, Segmentation, Importing of Lists, Reputation monitoring, Real-time reporting, Check who responded to your links, Automated wishes Emails, third-party integrations and more. All of these features come bundled with SendInBlue, some of which are only offered in premium plans with other tools.
Key Features: SMS Campaigns, HTML Editors, Drag-and-drop Newsletter builder, Automated wishes, Real-time statistics and more.
Volume of Emails and Pricing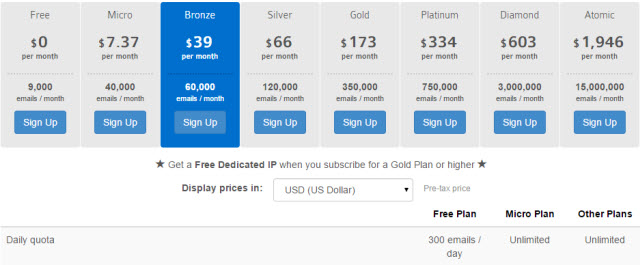 7. Active Campaign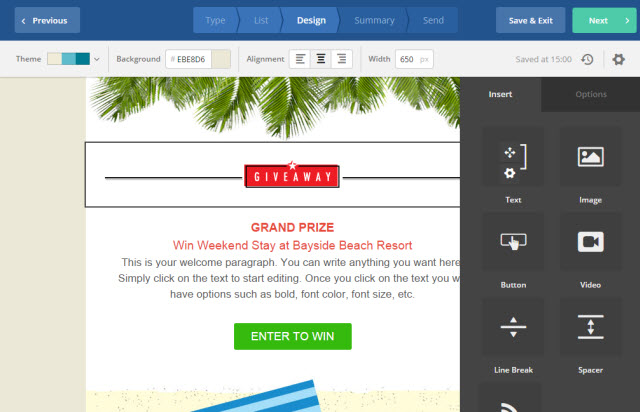 Active Campaign is also one of the most Dynamic ways to manage your Email marketing campaigns. Using Active campaign, you can handle Email marketing, Automation and CRM together at a single place! Active Campaign places more impetus on the way you manage your campaigns better. When you choose to create a Campaign here, you can select it as a Regular one, Automated ones, Auto-responders, A/B Testing, RSS triggered or Birthday/Anniversary/Event based. Have a better optimized Email marketing Campaign with this tool.
Some of the key features of Active Campaign include Drag-and-drop interface, Mobile-ready HTML Templates, Free Image hosting, Action or event-triggered Email marketing campaigns, Segmentation, Auto-import of contacts and much more. Manage your sales automation and sales processes too with Active Campaign. Managing your contacts and marketing campaigns is made easy with Active Campaign.
Key Features: Better management of Campaigns and Contacts, Event or Action driven campaign automation, Mobile-ready HTML templates, Auto-import of contacts, A/B Testing and more.
Volume of Emails and Pricing
Active Campaign's Paid plans allow you to send Unlimited Emails to up to 250,000 contacts. Below is the pricing model of this service.
SEE ALSO: 7 Best Free Email Providers Online
What do you think about these Email marketing tools as MailChimp alternatives? Feel free to share your thoughts regarding these tools and also let us know which is your preferred tool for your Email marketing campaigns.