After Intuit acquired Mailchimp, things have changed for the marketing platform. It's no longer known for offering the best features at a lower price or being friendly with small businesses and nonprofits. Mailchimp now counts emails that are not read by the subscribers and of late, the company has been increasing the price of the base plan — both of which have not gone down well with longtime users. So if you are looking for the best Mailchimp alternatives that can cater to your need, have sensible pricing, and offer a reliable set of features then go through our article where we mention 12 Mailchimp competitors for you to check out.
Best Mailchimp Alternatives (Free and Paid, 2021)
Here, we have ranked the 8 best Mailchimp alternatives which are cheaper, have free plans that offer web automation, and more. You can expand the table below and move to any one of the alternatives.
1. HubSpot
If you are looking for a proper alternative to Mailchimp, one that is a marketing platform and has all the analytics tools then HubSpot is the best alternative to Mailchimp. Not just that, HubSpot also acts as a CRM platform where you can monitor your users, study their behavior and provide customer support.
Talking specifically about the Marketing Hub, you can run campaigns at a huge scale with its automation and analytics tools. You can integrate HubSpot with Facebook, Google, Instagram, and LinkedIn and automate using webhooks provided by HubSpot.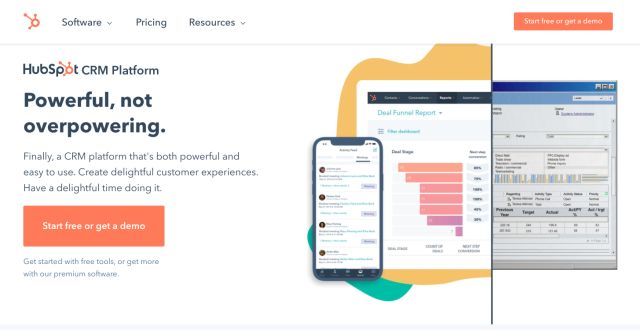 The best part is that just like Mailchimp, HubSpot also lets you create landing pages and forms for customers in hundreds of templates so you can easily convert website visitors into leads. I would say, if you have a large business and need an all-in-one CRM platform that includes marketing, sales, and customer support then HubSpot is a perfect, perhaps better alternative than Mailchimp.
Pros:
All-in-one CRM Platform
Separate Marketing Hub available
Customize landing pages and forms
Best for large businesses
Cons:
Expensive for small businesses and nonprofits
Limited features in free version
Pricing: Free, Paid plan for Marketing Hub starts at $45 per month
2. Sendinblue
For small to medium businesses, Sendinblue is one of the best marketing-cum-CRM platforms out there and a potential rival to Mailchimp. It's a solid option to consider if you're on a tight budget. You get all the tools at your disposal for what Mailchimp is so popular. You can design email marketing campaigns, do email and SMS marketing, create a chat box so that no questions from customers go unanswered and lastly, you can also share your inbox with the team so that customer's message history remains a priority.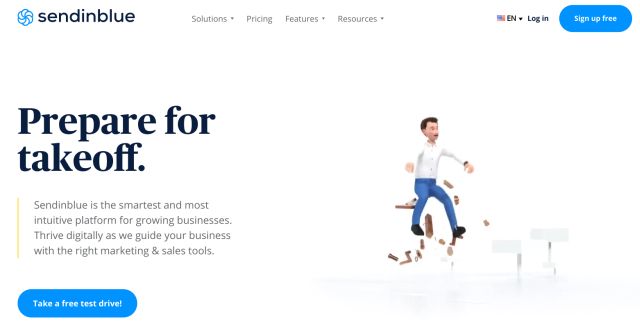 On top of that, similar to Mailchimp, Sendinblue offers marketing automation tools. If you have got something important to focus on, you can simply put other aspects of the campaign on autopilot with the help of automation and Sendinblue will take care of that. Not to forget, you get the popular Transactional email feature of Mailchimp with Sendinblue. You can design the template of transactional email messages, choose how to deliver them, and strike an engagement with customers. Lastly, you also get a top-of-the-line user engagement dashboard where you can learn about your audience through analytics and target the customers smartly, and Sendinblue offers high privacy as well.
Pros:
Design email templates
Transactional email feature
Accurate user analytics
All-in-one platform
Cons:
Not suitable for small businesses
Free plan email limit
Pricing: Free, Paid plan starts at $25 per month
3. Sender
If you're looking for a Mailchimp alternative that's easy to use, definitely take a look at Sender. This tool offers a ton of features, and we will discuss those in a bit. However, the most enticing aspect of Sender is the fact that it's free plan offers every single feature available in the paid plans. The only catch is that you're limited to 2,500 subscribers, and that there will be a Sender branding on your emails.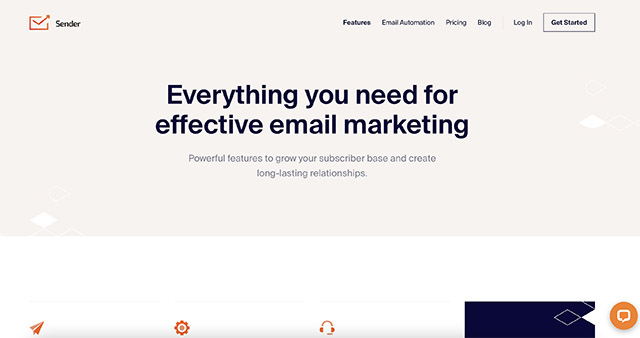 Feature wise, Sender comes with an email builder as well as email templates that you can use. You also get support for A/B testing, complex automation workflows, integrations with ecommerce platforms like WooCommerce, as well as CMS such as WordPress and Magneto. Therefore, Sender is great for you if you have an online store. Analytics are also available so you can get a good idea on how well your email marketing campaigns are working; this is especially useful for A/B testing. Overall, Sender is a good Mailchimp alternative for people who are on a tighter budget.
Pros:
Free tier offers all paid features as well
Support for A/B testing
Automation workflows
Integration with e-commerce and CMS platforms
Cons:
Not as feature rich as some other options on this list
Pricing: Free tier; paid plans start at $12.50 per month, billed annually
4. ActiveCampaign
If you're looking for a service like Mailchimp that offers better automations, ActiveCampaign might fit the bill. Not only does this service offer complex automations for emails, but it also brings marketing automations, and CRM. It offers an easy to use and intuitive interface, and will allow you to create complex automations fairly easily.
Moreover, there is a plethora of parameters that you can use as well, including things like "wait (some days) before sending messages", and more.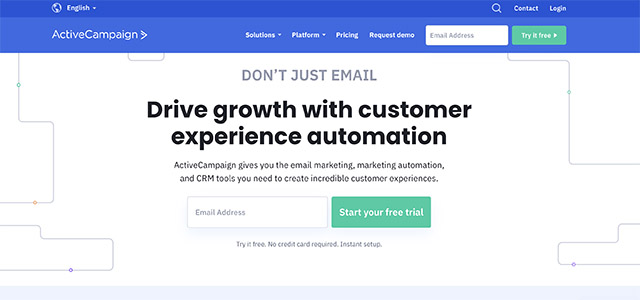 ActiveCampaign is a better choice than Mailchimp for a couple of reasons. First, it supports A/B testing, so you can easily send out different emails to separate groups of target audiences. Further, unlike Mailchimp, ActiveCampaign brings advanced segmentation for automations. It's also considerably more affordable than Mailchimp.
However, ActiveCampaign doesn't offer a free tier, which can be a deterrent to people who first want to try the service before subscribing.
Pros:
Support for complex automations
A/B testing support
More affordable than Mailchimp
Cons:
Doesn't offer a free tier
Template editor isn't as smooth as competitors'
Pricing: plans start at $18.75 per month (paid annually)
5. GetResponse
Remember the Free-Forever plan of Mailchimp that got crazy popular back in the day? Well, if you are looking for something like that then GetResponse is a suitable alternative to Mailchimp. That said, keep in mind, you only get the Free-Forever plan which, by the way, includes complete marketing tools for 30 days. After that, you will be moved to the Free plan that features a website builder, email marketing tools, lead generation tools, and powerful analytics. You also get Autoresponders, but can't deeply customize automation with multiple services using webhooks.
Coming to the complete list of features, you get complex marketing automation, A/B testing, segmentation between sales, marketing, and customer support, SMS marketing, transactional emails, e-commerce features, and more. To sum up, GetResponse is another powerful alternative to Mailchimp that has an enticing free plan, to begin with. You should definitely check it out.
Pros:
Free-forever plan for 30 days
No credit card required
Priced well
Free plan has good features
SMS marketing
Cons:
Analytics are a bit slow to update
Email templates are a bit outdated
Pricing: Free-Forever plan for 30 days, Paid plan starts at $12.30 per month
6. Zoho Campaigns
Even though there are some other options on this list that offer CRM features, if you're looking for a Mailchimp alternative that's also a very powerful and useful CRM platform, Zoho Campaigns is definitely worth a look-see. Not only does Zoho Campaigns offer a very enticing free tier, it also supports advanced features including complex automations that can make your marketing life easier.
Zoho brings a ton of cool templates for you to use with their email builder, and the service even supports Unsplash directly, which means you can easily import stock images into your marketing emails. Further, the Mailchimp competitor offers support for A/B testing, drag and drop workflows for creating automations, contact path tracing, and more. Zoho also makes segmentation a lot easier. However, even though the service offers some integrations, with platforms like Survey Monkey, Zapier, Salesforce, and more, it does lag behind Mailchimp when it comes to the number of supported integrations and ease of use.
Pros:
A/B testing support
Complex automation support
Fully-fledged CRM platform
Unsplash integration in email editor
Cons:
Doesn't support as many integrations as Mailchimp
Not as easy for beginners
Pricing: plans start at $3 per month, billed annually
7. Moosend
Another option that you can consider for your Mailchimp-like needs is Moosend. The primary reason that Moosend is on our list is its 'Free Forever Plan'. By far, this is one of the most feature-packed free tier of any service on this list, and offers almost each of the most useful features in Moosend's paid plans.
You get support for unlimited emails even in the free plan, and there are reporting and analytics as well.
Plus, you also get responsive templates for your custom email marketing goals, as well as support for advanced segmentation. Moosend's free plan limits you to 1000 subscribers, which is not really a lot, but even its paid plans are relatively affordable in comparison to Mailchimp.
Apart from that, Moosend offers advanced automation features, but it does lag behind on offering integrations.
Pros:
One of the most feature-packed free plans
Responsive templates
Advanced segmentation
Complex automation features
Cons:
Free plan is limited to 1000 subscribers
Doesn't offer a lot of integrations
Pricing: paid plans start at $8 per month
8. ConvertKit
If you are a creator and want a simple platform to promote your work then ConvertKit is the best alternative to Mailchimp. It's simply one of the best marketing platforms for writers, music artists, podcast creators, and more. The template for landing pages is just beautiful and you can also design your own template, sign up forms, etc. You also don't need any tech skills to get started with the website and marketing tools. ConvertKit offers an intuitive email editor and easy subscription channel so you can easily convert prospective customers to potential leads.
As for the features, you get a clean dashboard with all the customer metrics and analytics. There is also support for personalized emails and content. Basically, if you want a service like Mailchimp that can turn the audience into sales then I would highly recommend ConvertKit for creators. You also get a free account for up to 1000 subscribers and the paid plan starts at just $9 per month.
Pros:
Best for artists and creators
Easy website builder
Deeply personalized templates
Priced well
Cons:
Does not scale well for large subscribers
Free version has limited features
Pricing: Free, Paid plan starts at $9 per month
9. MailerLite
If you want a cheaper alternative to Mailchimp, MailerLite might be the option you should look at. At $10 per month, you can send unlimited emails per month which is just amazing. Keep in mind, the subscriber cap is 1000 whereas Mailchimp offers just 500 subscribers for the same price.
Talking about the features, you can build and manage email campaigns, automate tasks related to your target audience and grow engagement on your custom-built website. It also supports A/B testing as well as split testing.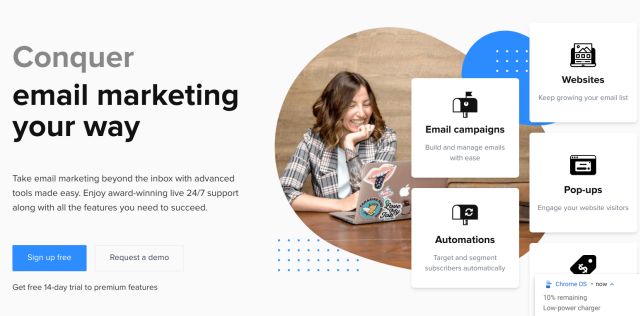 If you choose to pay for the paid plan, you also get custom HTML and hundreds of pre-designed templates to choose from. What I like about MailerLite is that even a non-expert user can create embedded forms, pop-ups, and chatboxes with automated answers.
Just like ConvertKit and Mailchimp, MailerLite is a very good option for selling digital goods.
Pros:
Cheap and easy to use
Best for non-expert users
Library of pre-designed templates
Task automations
Cons:
Drag and drop editor is slow
Integrated tools need improvement
Pricing: Free, Paid plan starts at $10 per month
10. Mautic
There is a growing community of businesses and nonprofits who want to set up an open-source marketing platform. This means the whole infrastructure is self-hosted and you can get everything for free, unlike Mailchimp and other paid services. Having said that, you need to have the expertise to host the project on your own. Apart from that, many people use Sendy — an Amazon SES (Simple Email Service) service with Mautic to easily create trackable emails, newsletters, and more. This way, you can get things for cheap.
As for features, Mautic has support for multi-channel automation, has support for themes and you can integrate WordPress with Mautic for better monitoring of user engagement. All in all, I would say, if you want a free alternative to Mailchimp, Mautic is a very good free and open-source replacement that you should give a try.
Pros:
Free and open-source
Supports automations
Integrate with your website
Vibrant community
Cons:
For expert users
Need to maintain the infrastructure
Pricing: Free
11. Constant Contact
Constant Contact is yet another marketing platform that is quite popular for its cohesive experience. Just like Mailchimp, the service has become a platform, and now it offers email marketing, e-commerce portals for selling digital goods, easy-to-setup websites, and social marketing.
Unlike traditional bulk emails, Constant Contact brings smart analytics and lets you target the audience with custom templates so that you can instantly connect with the customer. And the best part is that all the email templates are customizable and mobile-optimized.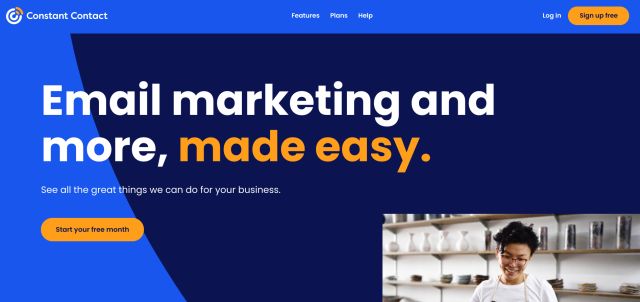 As for the website build, Constant Contact uses an AI-powered website builder for developing a landing page that looks professional and has all the required elements. Best of all, you don't need any tech skills to get things done. Constant Contact is also one of the few services that allow selling physical goods.
Using its e-commerce platform, you can ensure customers experience a smooth checkout process. To conclude, Constant Contact is a powerful marketing platform and you can definitely give it a look in place of Mailchimp.
Pros:
eCommerce platform
Digital and physical goods
AI-powered website builder
Smart analytics
Mobile-optimized
Cons:
A bit costly
Need better integration with third-party tools
Pricing: Free, Paid plan starts at $20 per month
12. SendGrid
SendGrid is a simple email distribution and marketing platform that you can consider if you are looking for a free alternative to Mailchimp. Under the free plan, there is a cap of 100 emails per day, but there is no limit on subscribers which is just awesome. In addition, if you choose to opt for the Marketing Campaign plan then under the free tier, you store up to 2000 contacts and can send up to 6000 emails per month. This is a considerable increase from Mailchimp's 500 subscriber cap.
Not to mention, you get other free features like code editors, subscriber segmentation using smart analytics tools, actionable insights, email automation, and more. In summation, for a small team or a business, SendGrid is an excellent email marketing platform where you can get many premium features for free without paying for its premium plan.
Pros:
Store up to 2000 contacts for free
Code editor
Actionable insights under free account
Email automation
Cons:
Cap on emails per day
Bulk cleaning is complex
Pricing: Free, Paid plan starts at $15 per month
Find the Best and Free Alternatives to Mailchimp
So these are some of the best alternatives to Mailchimp that offer more features at a lower cost or under the free tier. I have tried to include the services that have automation built-in and offer insightful analytics so you can gauge how well your website is performing. In case, you are looking for an affordable Zoom alternative then go through our linked article. And if you have any questions, let us know in the comments section below.