Email has become an integral part of our lives. We use it for simple communication, sharing dinner recipes, discuss world peace, or even possibly close million dollar business deals. We use it for almost everything in our lives. Our inboxes are so cluttered that managing them is anything but walk in the park. Apple provides iPhone users with an email client – Mail, but you should expand your horizon and find the one(s) that fit you. Below are free alternative iPhone apps that can help you deal with your huge e-mounts of e-mail (pun intended).
Searching for the One: Alternative Email Clients
In my opinion, we are still trying to find the best way to deal with emails. A lot of email clients tried their luck and failed – like the innovative Mailbox from Dropbox; while the survivors are evolving, adapting, and fine-tuning their methods. The perfect one still yet to exist, but few stand out among the competition.
Both email clients come from Google. Gmail app offers you the features and interfaces of the web version that most users are familiar with, along with the support for multiple accounts (but no unified inbox yet), and the ability to mute threads. Google wants to keep the familiarity with this app, and most Gmail users will feel right at home.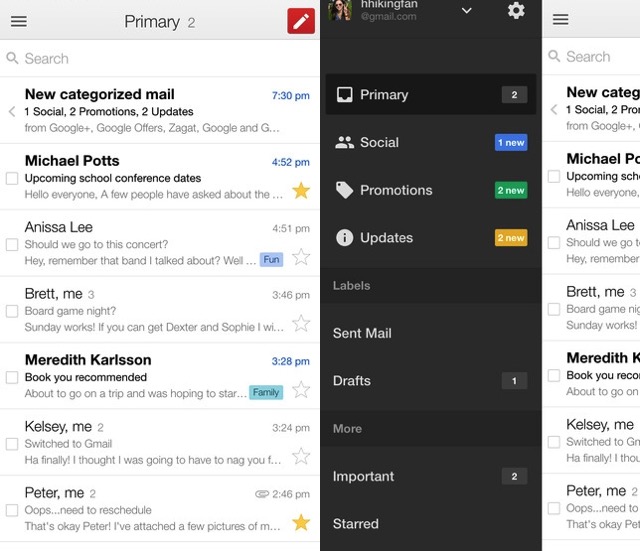 Inbox, on the other hand, is the email client that gives Google room to experiment. Some of the features are: adding reminders to the top of the inbox, snooze emails to "hide" them until the time that you specified, and bundles – grouping emails by genres such as purchases, finance, updates and social.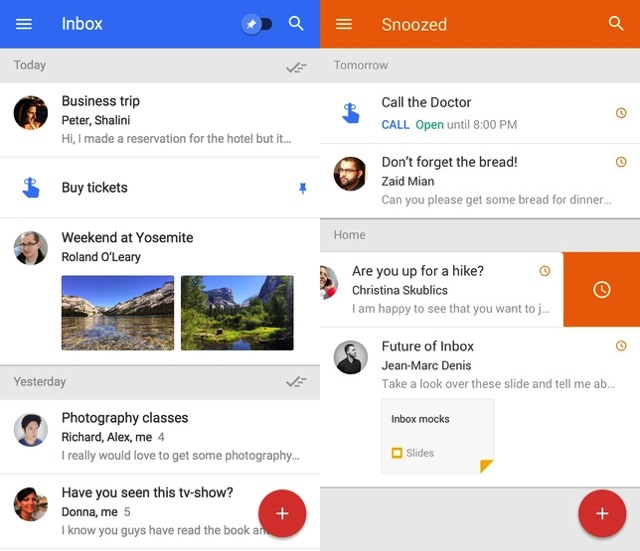 It's a bit ironic to say that the best Google's Gmail client for Apple's iPhone might be Microsoft's Outlook. Microsoft integrated all the best features from the powerful Acompli that it acquired back in the late 2014 into mobile Outlook.
The email client handles multiple accounts, gives you the ability to swipe left to delete and right to read/unread, and separates emails into Focused and Other sections. But one powerful feature of Outlook is the seamless integration with calendars and files from multiple web services like Google, Dropbox, Box, and Microsoft's One Drive.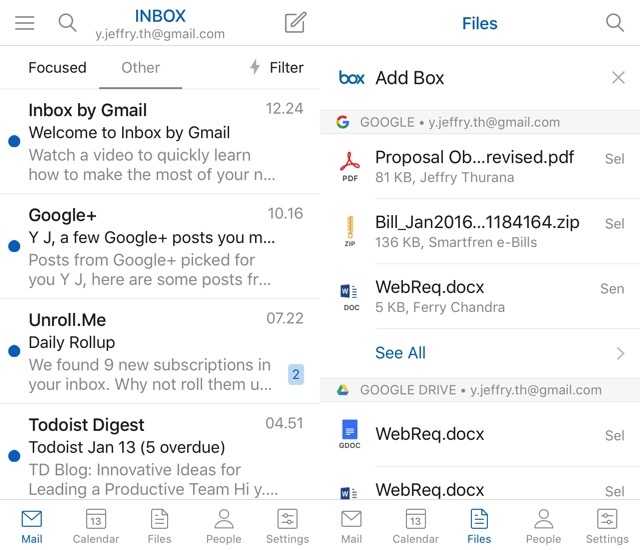 The developer behind Spark tried to make you like your email again by building it as a mobile email client and not creating a desktop client in the mobile size. It uses Smart Inbox where your emails will be grouped into categorized cards such as New, Notifications, Newsletters, Pins and Snoozed. You can go through your emails by expanding and collapsing the cards, or you can choose to use traditional inbox where everything is listed chronologically.
What makes Spark unique is its customizations and integrations to many web services. You can add or remove cards in your smart inbox to fit your workflow, change the four types of swiping behaviour, and add widgets of actions that you use the most. It also integrates with Dropbox, Box, Google Drive, OneDrive, and iCloud Drive. There are more categorized cards on the way, for example, Social, iTunes Connect, Package Tracking, Weather, Statistic, etc.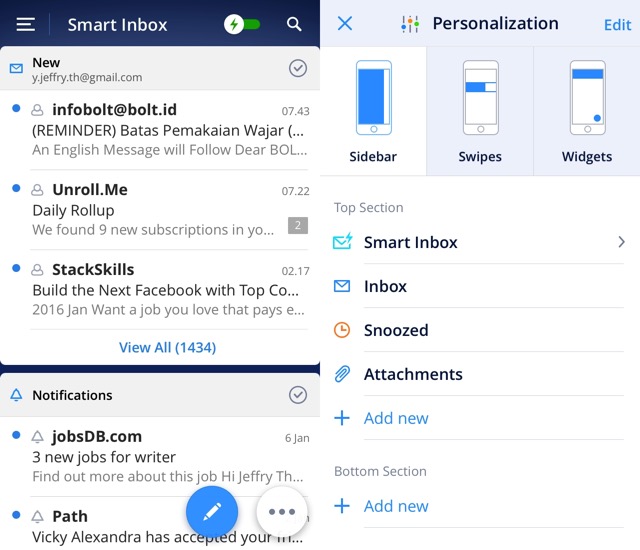 If you are looking for clean and uncluttered email client, then you should try CloudMagic. This universal email client is available for iOS, Android, and Mac. It is light, and system resource friendly. It also supports multiple accounts.
The features are expandable using add-ons. Currently, there are two add-ons available: Team Contacts and App Integrations. Team Contacts – currently available for Google Apps account only – allows you to share contacts among team members, provided that you have set up the team by inviting colleagues to join. App Integrations will help you to add attachments from many cloud storage services and also save emails and attachments to those services.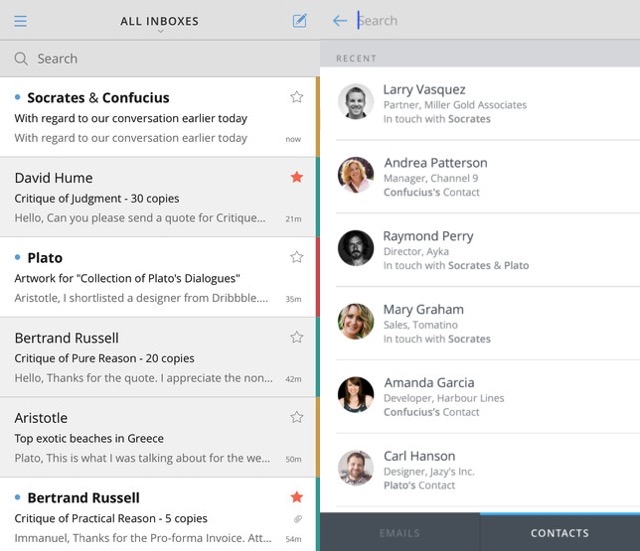 Boxer Lite is a fast email client with deep integration with Contacts and Calendar. It supports cloud storages, has Evernote integration, gives you configurable interface, tells your availability based on your calendar, integrates social profiles of your contacts, and many more. But the one feature that it users like most is the quick reply where you could set several pre-configured responses to use.
Another distinctive feature is the ability to lock Boxer with a password. It takes the security matter further by not storing any sensitive information on their server.
Boxer supports multiple email services, but you can only add one account in the lite version. If you want to add more, you have to use the paid pro version.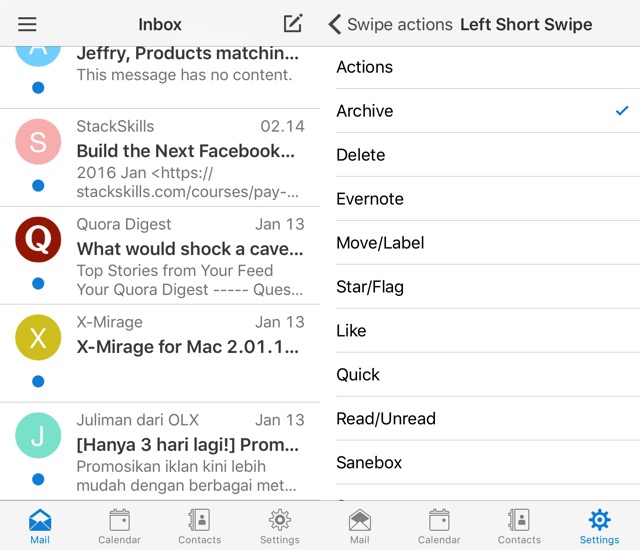 A Pound of Cure: Unsubscribers
Few of the things that clutter our inboxes are newsletters and other kinds of mailing lists. In most cases, we had to subscribe to those types of emails because the process is required to register for a web service or to be eligible to get gifts or vouchers.
Freeing your inbox from those junks is not as easy as it should be. Even though laws in most countries requires the senders to include a way to unsubscribe within the emails, the senders make sure that the methods are as hidden as possible. Not to mention that doing the unsubscription process one email at the time is not a fun way to waste your time, especially when you have thousands of junk emails in your inbox.
Fortunately, the problem is not yours alone, and some people decide to do something about it. Here are tools that can help you fight back.
Unroll.Me is a dedicated email unsubscription app. Unroll.Me gives users three options to manage email lists: to get rid of them entirely, to put some of them in the mail roll, and to keep some of them in the inbox. The email roll is for the ones that you don't want to see in your inbox but not ready to give up.
After logging in with your email account, the app will start scanning the inbox to find every newsletter, promotion, deal, course, and anything that you can unsubscribe from. Then it will present them to you in a list or card view where you can easily say goodbye to them.
In the card view, the process is both quick and fun. You can swipe left to unsubscribe from one email list, swipe up to roll it into one email newsletter along with other rolled emails, or swipe right to keep it in the inbox. Another email will appear after you are done with one. The process will continue until you have gone through all.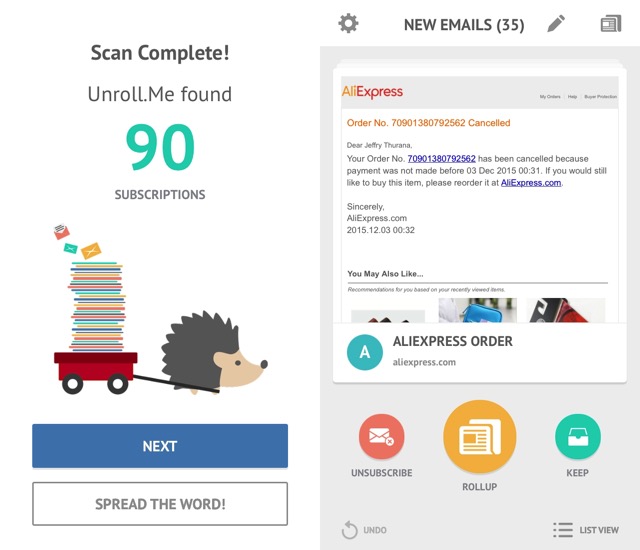 Unlike Unroll.Me, Mailburn is just another email client for iPhone/iPad, but with a mailing list unsubscribing feature. It groups email into tabs, and mailing lists get their tab called Reader. To unsubscribe from mailing lists, open the Reader tab, pick the ones that you don't want to keep and swipe left.
But that is not the unique thing about Mailburn. The email client also prioritizes on important emails by showing them at the topmost of the list and displays them in the chat-like interface, similar to SMS or WhatsApp messages. You'll also get email tracking that will notify you when your email has been opened.
Currently, Mailburn will only work with Gmail accounts.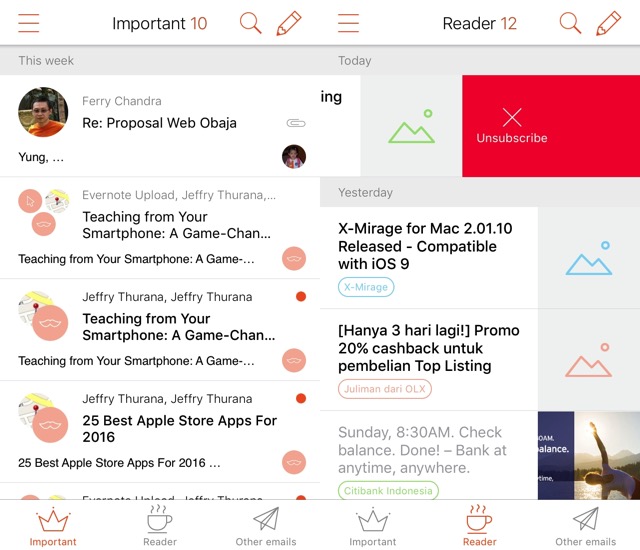 An Ounce of Prevention: Email Address Generator
To keep our inbox free from junks, we shouldn't give our email address easily to strangers, even if they offer you goodies in return. But when the temptation is too great, there's another solution that you can do: to use burner email address(es). They are a real email address that you can quickly toss away once they've served their purpose.
But creating new email accounts just to be burned is too troublesome. Fortunately, there's Dipster. It's an easy-to-use disposable email generator. To use it, all you have to do is press the Plus (+) button at the top right of the screen, and Dipster will generate one for you. Repeat the process to get more email address. The main page is displaying all the generated email addresses. Tap one of them to check the emails sent to that address. To delete an address, you can slide left and tap Delete.
In my experiment, I found out that not all email sent to Dipster-generated address arrived in the inbox. If you only need a quick address, Dipster is good. But if you need to reply to messages sent to that address, Dipster is not that reliable.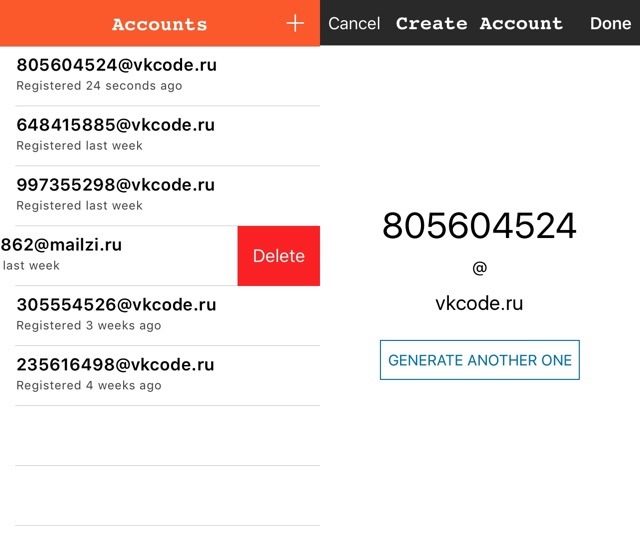 Another alternative that you can use is MeltMail. This app uses a slightly different method. Instead of creating a new address, your generated addresses will be forwarded to your real email address. And you can set how long those addresses will be valid – among 3, 6, 12, and 24 hours, after which they will stop functioning. Even though MeltMail looks like something from the prehistoric iOS age, it works just fine.
SEE ALSO: 12 Alternative Keyboard Apps for iPhone and iPad
How do you manage your mail on iPhone? What are your favorite apps? Please share using the comment below.