The key to enhancing productivity is managing tasks smartly and efficiently. An email client can play a vital role in not just letting you manage the ever-loading inbox and keep it the clutter at bay but also plan your event, take control of your tasks and chat with friends right from one spot. So, if you think that your existing email app lacks versatility and the features required to deal with multiple tasks simultaneously, explore this extensive roundup of the best email clients for Windows 10, which can keep you fast-paced in 2019.
Best Email Clients for Windows 10 in 2019
Before we get into our list of the best email clients for Windows 10, let us briefly talk about the things that you should look out for when choosing an email client for your Windows 10 PC.
What to Look for in an Email Client for PC
Well, there are three vital things you should look for while picking out an email client for your desktop. First and foremost, the Unified Experience to take control of all the stuff from one place. The reason why it's so essential is that it can help you cut plenty of slack. The second, customizable interface to let you keep everything as per your demand. And the third, reliable performance.
One more thing, we've already compiled separate rosters for the top email apps for Android and iPhone. So, if you want to get a power-packed app to keep your emails organized or in sync with your demand on your mobile device, do have a look at them as well. That being said, let's find out which of the following email apps for Windows 10 looks more promising for your taste!
List of Best Email Clients for PC
1. eM Client
"eM Client" is feature-rich and simply one of the best email clients for Windows 10. Sporting a pretty intuitive user-interface and easy-to-use features, eM Client feels familiar right from the word go. The fully customizable interface provides you the much-needed freedom to personalize everything as per your need. For instance, you can make the most of the customizable themes and fine-tune everything as per your taste.
It offers PGP encryption support, allowing you to create PGP keys to securely send encrypted as well as signed emails. With the live backup in the offing, you can back up your emails without having to halt your work, which is yet another plus. You can take advantage of the auto-reply functionality to quickly respond to important emails when you are away.
There is also a handy editor to let you resize cell, row or column with ease. Another notable feature of this app is the ability to automatically download and display profile pics of the contacts. Thanks to the support for all the major services such as iCloud, Gmail, Exchange and Outlook, it ensures you are able to manage your emails proficiently. By automatically importing your pivotal data from all the services that you use, it makes the set-up process a breeze.
Featuring an elegant sidebar, eM Client lets you quickly access the pivotal information like agenda, communication and attachment history. What's more, this Windows 10 email client has the support for several languages so that you can communicate without any obstacle.
Install: (30-day free trial, Pro version is available for $18.79)
2. Microsoft Outlook
If you are looking for high efficiency, you would be hard pressed to find a better email client than Microsoft Outlook. The app is fully-featured and comes with all the tools to let you take control of your inbox or manage your emails more conveniently.
By bringing your entire files, calendar events and emails at one place, it allows you to deal with them effortlessly. It would not only save plenty of your time but also bolster your productivity. So, whether you want to plan a meeting as per your schedule or quickly share your timetable with your clients, it would let you get the job done with ease–without having to hop from one end to the other.
The support for multiple services like Gmail, Yahoo, and iCloud makes it very user-friendly. And with the super handy scheduling feature, you can schedule any message to be sent on a specific date and time. Not to mention the Focused inbox that automatically filters out your emails based on importance. Therefore, redundant messages won't spoil your whole experience.
The latest update has added some impressive goodies to the app. I have found the option to download and save the entire attachments of an email at one go pretty handy. Plus, the option to switch to the People app right from Mail and Calendar looks well-timed.
Install: (To use Outlook, you need to buy Office 365–$76.63 for Office 365 Home)
3. Mailbird
Should you want to go for a free email client that can give a long run to many of its notable paid counterparts, pick out Mailbird. With it at your disposal, you will have easy access to your entire emails and contacts from different accounts. Therefore, managing everything won't be a hassle for you.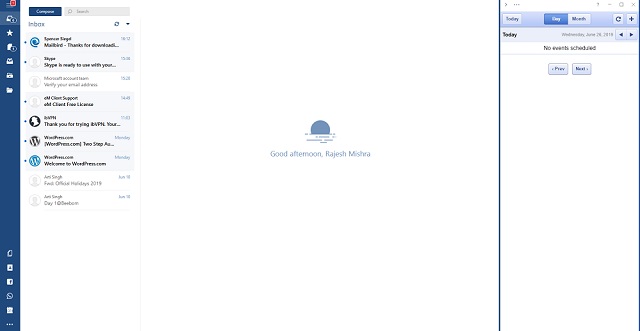 Like personalizing your email client? If yes, you would really love having a go at the nice color themes that will let you elegantly customize the interface for an artistic look. Another feature that has caught my eyes in this app is the seamless integration with several apps like Facebook, Twitter, WhatsApp, Dropbox, Google Calendar and more. Thus, whether you wish to keep track of the posts of your Facebook buddies, chat with your WhatsApp friends or manage the files synced with Dropbox, it will allow you to carry out all these things seamlessly.
As for the interface, Mailbird flaunts a simple and clean look. So, navigating through inbox or checking out important info doesn't seem to be complicated.
Install: (Free)
4. Zoho Mail
"Zoho" has been offering top-notch apps for businesses for several years. And, its Mail client is pretty much in line with the reputation. It has got all the ingredients to become your trusted business email solution.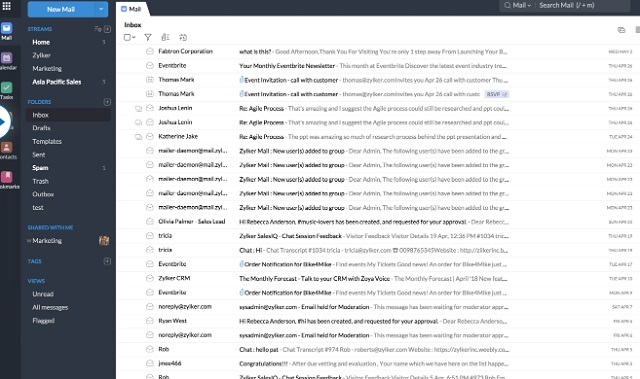 The highlight of this app is the advanced collaboration feature that enables the entire team to stay in sync and work on a project. You can use this app to get the custom domain based special email for your employees. With the help of email and domain aliases, you will be able to manage your domain efficiently.
Zoho Mail comes with a useful migration tool that makes it quite easy to transfer emails from other email services. It fully encrypts your email to safeguard your data. Moreover, GDPR compliance further empowers the security of your personal information.
The app is ideally integrated with notes, contacts, calendar, and tasks so that you can manage your contacts, take important notes, plan events and even carry out tasks with ease. On top of all, it keeps all of your attachments organized based on type. As a result, navigating through attachments and finding out the one you need is never a hassle.
Install: (15-day free trial for professional trial, Starting price Rs. 59–month billed annually) 
5. Mailspring
As an email client, "Mailspring" has a lot to offer. The app features a unified inbox so that you have instant access to all of your emails from different accounts, thanks to the support for several major providers including Yahoo! Gmail, iCloud Office 365, and IMAP/SMTP. Another thing that I've found adorable in it is the signature editor that's very handy for crafting impressive digital signature.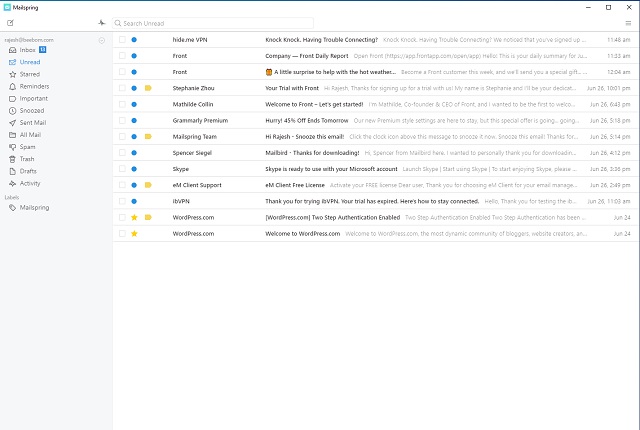 With the built-in translation tool in the offing, Mailspring can let you translate messages written in English into several languages such as French, German, Spanish, Russian and more. Well, if you often come across clients who speak a foreign language, this feature can turn out to be enormously useful for you. The spell check functionality ensures you are message doesn't contain a misspelling or grammatical error. On top of all, this client also boasts plenty of eye-catching layouts and themes so that the entire interface never looks mundane.
Keep in mind, the free version of Mailspring is limited and won't allow you to take advantage of all the goodies. If the freemium model wins your heart, you can upgrade to the pro version ($8/monthly) to unlock many helpful features like the option to send messages later, snooze messages, company overview, read receipt and more.
Install: (Free, Pro version is available for $8/monthly)
6. Postbox
Postbox is what you need to keep your inbox clutter-free and quickly access the messages from many email accounts. By bringing all of your email accounts at the one convenient place, you will be able to scan through your messages faster. From the productivity point of view, it would be a fine implementation.
Interface-wise, Postbox feels pretty nifty and inviting. With many customization options put in place, you have enough liberty to personalize the app so that it stays in line with your demand. The real-time filtering is worth taking note of as it smartly isolates unnecessary messages.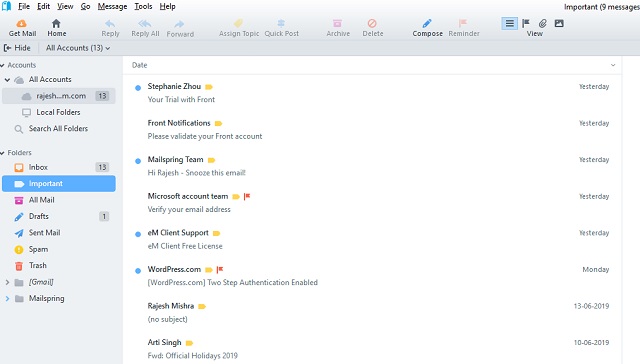 For an enhanced experience, you can organize your messages with different tags like important, project, etc. Besides, you will also be able to segregate them based on contacts so that the emails from VIPs are not lost in the chaos. Better still, you can create reminders about things that you must have to do and put them right at the top of the message list so that your eyes never fail to spot them.
As a professional, you will appreciate the useful code editor that allows you to edit text directly in HTML. There is also an option to send links to large files to cloud services such as OneDribe, Box, and Dropbox. Plus, you will be able to reuse attachments as well, which will save plenty of your time and play a vital role in enhancing your productivity.
Install: (Free, $39 for pro version)
7. Front
Are you hunting for an email client to improve collaboration? If the straightforward answer is "Yes," I would recommend you to give a shot to Front. Though this app has got several adorable features, I'm going to talk about the three most impressive features that it has.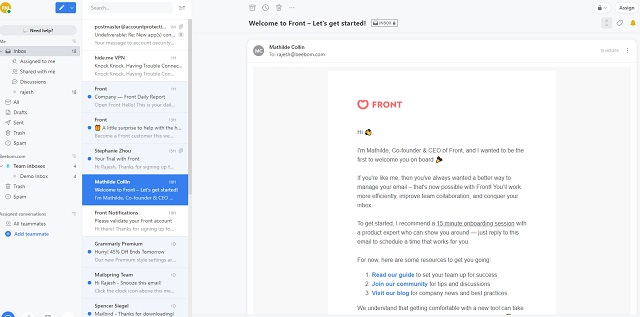 First, it can really bring about a new dimension to your collaboration. With seamless communication, it enables the entire team to remain on the same page and work coherently. So, there is less chance of confusion creeping up.
The second, this client allows you to conveniently organize all the conversations at one spot. Especially when managing a large group of people, this feature would become immensely useful. Based on your demand, you can unify not only emails but also many popular apps (over 50) like Facebook and Twitter to keep everything that matters well within the sight.
And third, it offers a shared inbox to enable everyone in the team to track down the latest emails and even manage them.
Install: (Free, $9/monthly for premium version)
8. Hiri
If you are in search of an email app that works in sync with Exchange/Office 365, Hiri would be worth checking out. The app boasts a modern-looking interface and comes with a range of features to help you keep everything in the right order. To assist you in staying at the top of everything that's lined up for you, it will sync your entire calendar events with your existing account. You will be able to quickly access your shared calendar and use the schedule assistant to easily schedule email.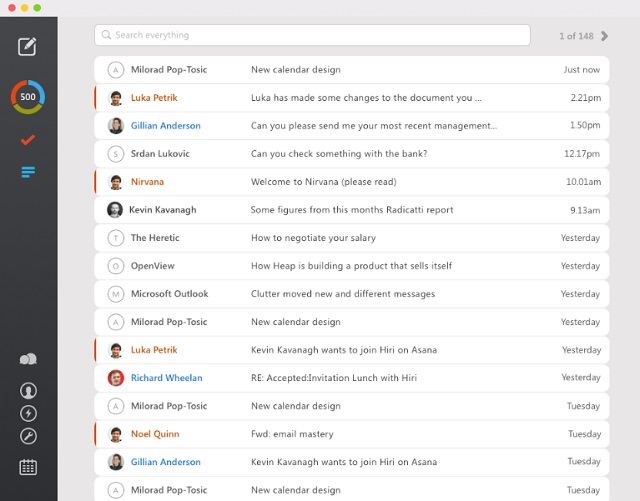 Another notable feature of Hiri is the support for Active Directory that will enable you to access your company's Global Address List and manage it conveniently. One of my favorite features of this app is the offline mode that comes in handy when your device is not connected to the internet but you still want to utilize your time. For instance, you can create the drafts that you would like to send later even when you are offline or dealing with the pitfalls of an unstable internet connection.
And with the reminders always there to remind you of the necessary tasks, there is very little chance of any pivotal things slipping out of your radar. Moreover, Hiri is also compatible with Microsoft's archiving tool to let you not only easily archive emails that are less important but also quickly access them when needed.
Install: (Free 7-day trial, $39/annuually and 119 for a lifetime)
9. Loop Email
I look at "Loop Email" as a great asset for team collaboration. Whether it's the shared inbox that keeps the whole team on the same platform or the super handy team chat feature, it's got you fully covered.
The smart inbox allows you to quickly access important emails. It has a special section called Focused wherein you will see all of your essential messages. And the ones you have decided to avoid will stay within the Muted section. This seems to be a better way to deal with the clutter.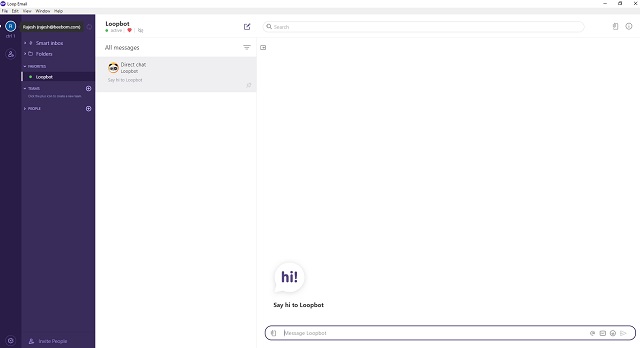 With everything from emails, files, and messages at one spot, you have hassle-free access to all the important items. So, there is no more roundabout way of accessing pivotal items. It would be pretty well-timed both for seamless communication and your productivity.
Based on your demand, you can create multiple team conversations and stay in sync with them. From a flexibility point of view, it is a nice offering which you would indeed appreciate if you have to handle several teams.
Install: (Free)
10. Thunderbird
Simply put, "Thunderbird" is a bit lightweight and focused on making your email communication straightforward. With some appreciable easy-to-use tools, it also makes the management of emails a painless exercise.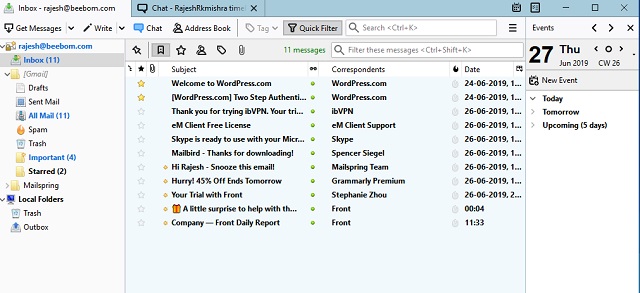 What I really like in this app is customization. Depending on your needs, you can personalize many things so that tracking out emails and accessing the essential information remains a quick affair. There is also an option to set up a chat account right out of the bat to stay in sync with your friends and colleagues.
It offers quick access to the address book in order that contacting a client or managing any related info remains an upfront task for you. Furthermore, you can bookmark a message to access it easily. Check out the quick filter that can help you keep everything in the apple-pie-order.
Install: (Free)
SEE ALSO: 10 Best Duplicate File Finders for Windows in 2019
Time to Take Complete Control of Emails…
That ends our list of the best email clients for Windows 10 PC. Do check out the list and let me know your favorite email clients for Windows 10 and what are the things you'd found useful in it. Oh yes, if any of your favorite email apps are missing from the above lineup, do tell me about that as well. As always, we love to hear from our users so throw your opinions down in the comments section below.