Games are an awesome way to relax and kill some time, but you don't necessarily have to reach for your console or launch a game on your smartphone to blow off some steam. Browser games are an ideal way to engage in a casual gaming session between your work or studies, and if that's what you are looking for, our list of 20 best browser games across different categories will certainly help you.
20 Most Addictive Browser Games
1. Abobo's Big Adventure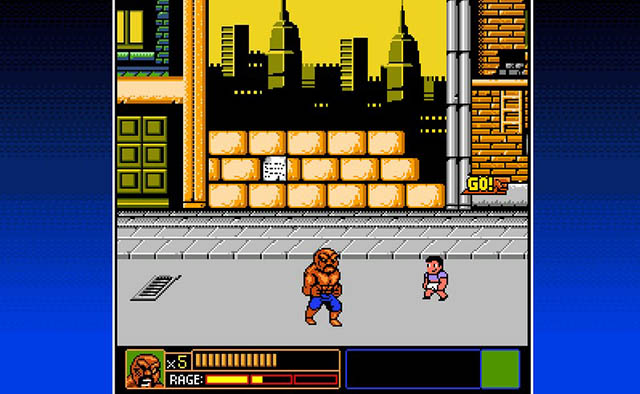 Abobo's Adventure is for those yearning for the classic Nintendo NES experience. Abobo's Big Adventure is an action RPG in which you play as Abobo from the Super Dragon franchise while fighting your way through villains like Donkey Kong and wave after wave of henchmen with different capabilities.
Controls are simple because of the linear navigation format, with the 'A' and 'S' keys being the only attack buttons for kicks and punches. Aside from the main quest, there are multiple additional levels with different characters from classic Nintendo franchises.
Availability: Free
Supported Browsers: Chrome
2. Powerline.io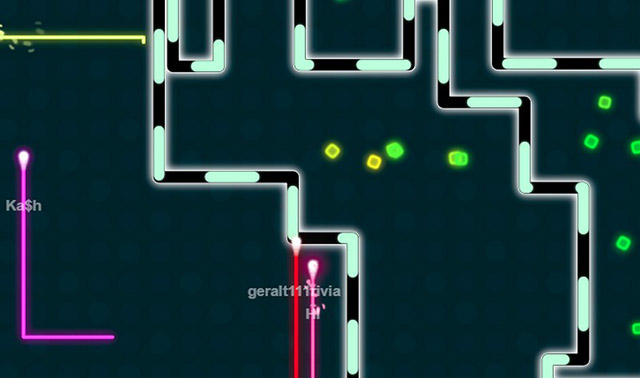 If you loved the classic Snake and also liked Tron's bike battles, Powerline.io is the game for you. The objective is to collect as many power-ups as you can to increase the length of your neon snake, which can be done using the arrow keys.
But do keep in mind that your snake will die as soon as its head touches another snake or its own glowing body. Also, if you slither closely to another neon snake, you'll receive a speed boost. The premise is simple, but with a ton of players on the board, it becomes challenging to evade the traps created by their movements.
Availability: Free
Compatible Platform: Chrome, Firefox
3. Street Skater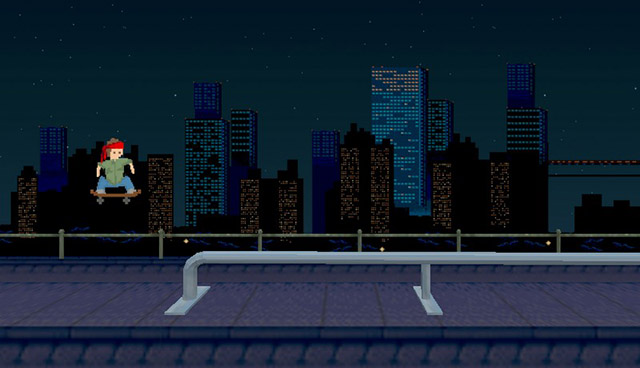 Street Skater is a retro style skating game in which you control a skateboarder to perform some smooth ollies and kickflips. The goal is to collect as many coins as possible without dying. And with dying, I mean a gruesome death in which your head flies off and the body is shattered to pieces like glass as soon as you hit an obstacle such as an iron bar, levitating boulder, etc. Just tap the space bar to jump and perform aerial tricks, while the shift button will slow you down a bit.
Availability: Free
Supported Browsers: Chrome, Firefox
4. TacticsCore.io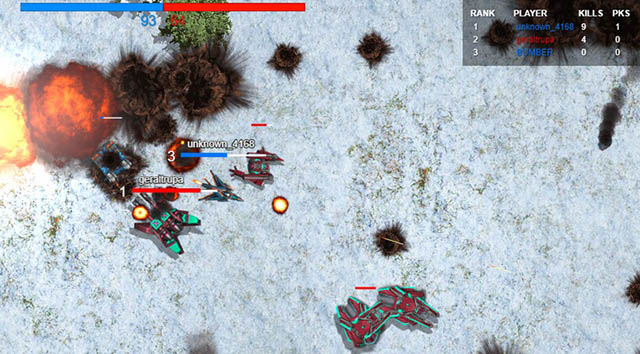 One of the most visually refined browser games out there, TacticsCore.io puts you in a battle between two factions. You can choose from a wide array of war machines such as spidertank, bomber, and Warhawks among others. The gameplay is smooth and the controls are simple, with just a mouse the WASD keys enough to wreak havoc on the battlefield for blowing some tanks and fighter jets. On a personal note, TacticsCore.io is hands down one of the most impressive browser games I've tried recently.
Availability: Free
Supported Browsers: Chrome, Firefox
5. Linerider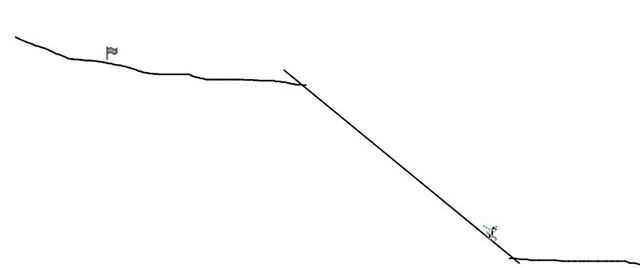 If physics-based simulation games are your thing, Linerider will certainly put your knowledge and skills to test. In the game, you are required to draw a track on which a boy sitting on a sled can ride. You can create paths that are smooth or you can also go for risky roads for doing stunts and some high flying maneuvers after using the speed button, but just don't draw some unrealistic paths. When you are finished drawing, simply hit the play button to test your luck.
Availability: Free
Supported Browsers: Chrome, Firefox
6. Blast Arena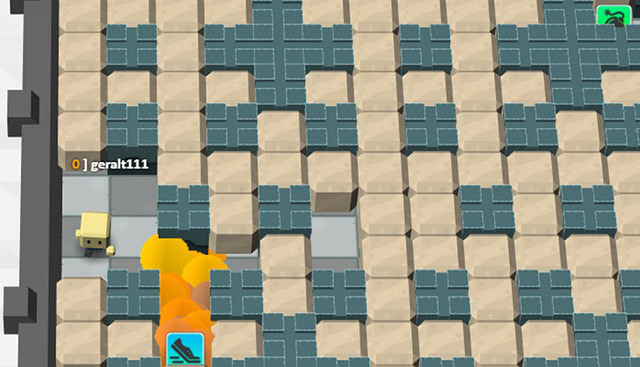 In Blast Arena, you start in a maze constructed out of stone and metallic squares, alongside other players. Your goal is to plant bombs and break the stone walls in order to collect items and whoever collects the maximum number of items without dying wins the game. Just press the space bar to place the bomb at a strategic location where the explosion can break the highest number of stones to win you rewards. But do keep in mind that your rivals will try to grab the fruit of your hard work, so beware.
Availability: Free 
Supported Browsers: Chrome, Firefox
7. Nightpoint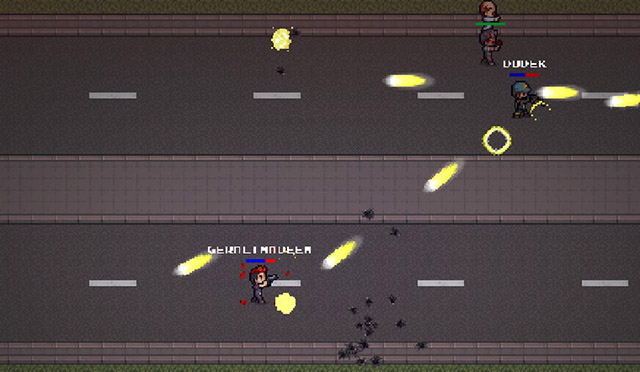 Fans of the zombie genre will love Nightpoint, a multi-player action RPG game in which you fight hordes of zombies and also compete against other players on the leaderboard. But there is a difference here. Instead of just blasting off walking deads, you also have to take cover from the bullets shots by rivals and have to upgrade your arsenal to take them out one by one. A piece of advice here- use a mouse to quickly shoot and change the direction, because the trackpad is not of much use in the game, especially when you are surrounded by zombies and shotgun-toting rivals.
Availability: Free
Supported Browsers: Chrome, Firefox
8. Threes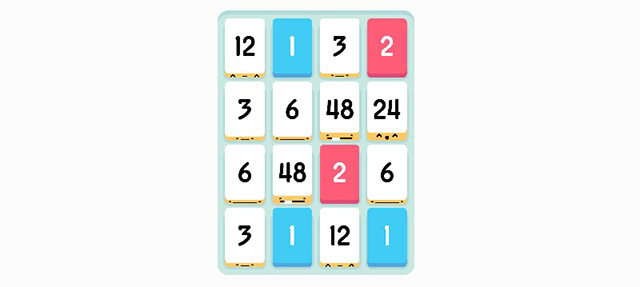 If you liked 2048, you will almost certainly fall in love with its predecessor, Threes. The game's objective is quite simple, make the highest number possible by combining number tiles before the board fills and you can no longer move any more tiles. But there's a catch. The number '1' only combines with a tile numbered '2'. Any tile labeled with the number 3 or higher will only combine with an identical tile. The most challenging part is that one arrow keypress will move the entire board, so planning mergers in advance is a huge risk.
Availability: Free
Supported Browsers: Chrome, Firefox
9. Wings.io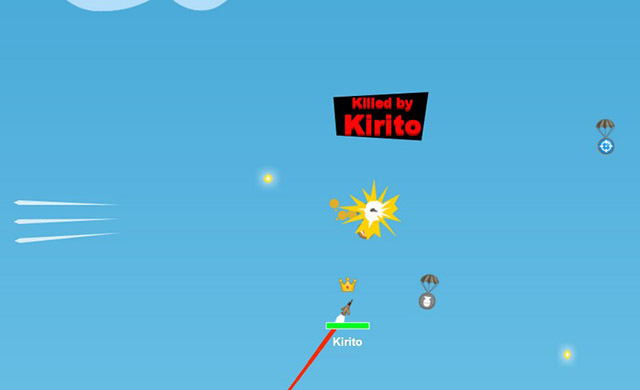 If you want you to pass time engaged in a dogfight and blasting jets in the air, Wings.io is the perfect solution. The game is best played using a mouse. Just move it to change the course of your fighter jet and keep the left button pressed to shoot lasers and bullets as well as drop bombs on your enemies. And don't forget to collect items like health and weapon upgrades parachuting down the skies to continue your rampage and top the charts.
Availability: Free
Supported Browsers: Chrome, Firefox
10. Sunset Bike Racer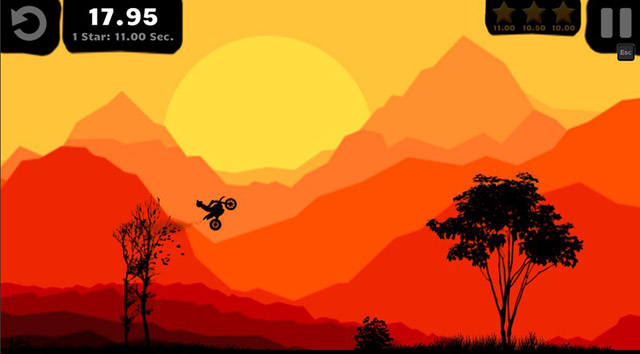 If you are a fan of bike racing and stunts, this might be the right game. In Sunset Bike Racer, you control a biker who zooms past an uneven terrain on his dirtbike and performs daredevil stunts. The controls are quite simple- press space to speed up, left/right arrow key to spin in the air, Shift to boost and Ctrl to press the brake. The first few levels are simple, but as you progress in the game, a slight delay in applying the brake or a wrong stunt means the game is over.
Availability: Free
Supported Browsers: Chrome, Firefox
11. Revenge Of The Kid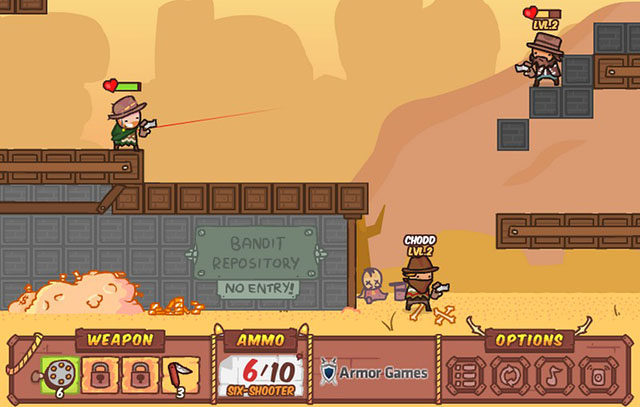 You don't always need a console or a gaming PC to enjoy an RPG. Revenge Of The Kid is an engaging RPG set in the wild west where you have to avenge the murder of a loved one. Just load, aim and fire at the bandits standing on platforms and use boomerang knives to hit those beyond range. There's a wide variety of weapons to unlock and more challenging enemies comes as you progress further which makes the game even more fun.
Availability: Free
Supported Browsers: Chrome, Firefox
12. Monsiv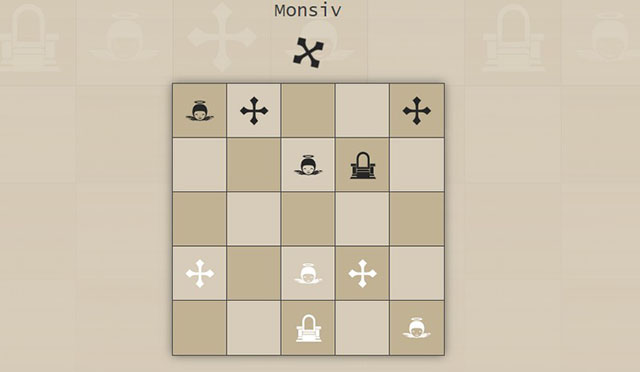 Chess is a great way to kill some time and exercise the brain, but it also takes a lot of time to finish a game. In comes Monsiv, a lighter take on Chess played on a 5×5 board with 5 players on each side that move just one block in each move. The objective is to protect the throne, similar to how you protect the king in chess. And in case the computer appears too easy an opponent, you can opt for the PvP mode to play against a human opponent.
Availability: Free
Supported Browsers: Chrome, Firefox
13. Diep.io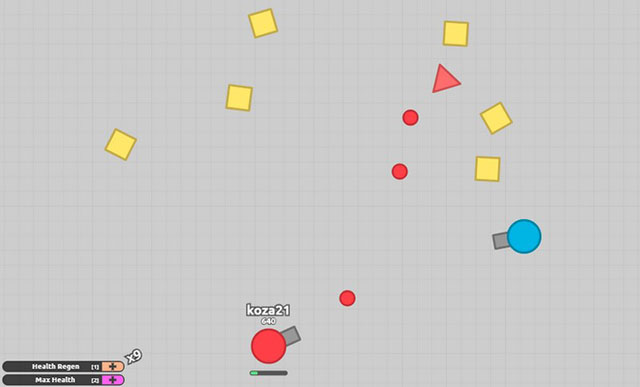 Diep.io is a simple yet engaging game in which you command a tank shaped like a pen drive. The battle takes on a graph paper where you shoot floating geometrical objects to gain points, however, you must also avoid getting in contact with them or you'll lose health. While navigating the surroundings, look out for red enemy tanks and shoot them by using the left mouse button and evade their attack using the WASD keys. You can choose from a total of eight game modes which include survival, 2/4 team, domination, and tag.
Availability: Free
Supported Browsers: Chrome, Firefox
14. Tetris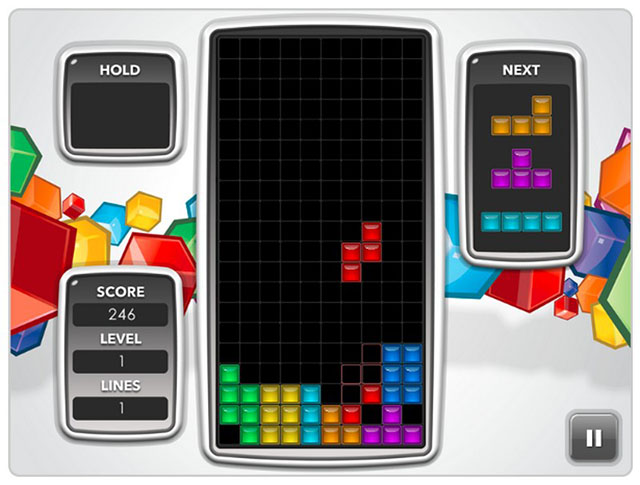 Some games never go out of vogue and Tetris is the best proof of it. The popular block arrangement game has come a long way from being a staple on consoles with a black and white screen to its colorful variation we are suggesting you now. The goal remains the same earn points by clearing horizontal lines, but it's the neon-colored blocks that add a freshness to the classic game that will surely help you kill some time during breaks.
Availability: Free
Supported Browsers: Chrome, Firefox
15. Snail Bob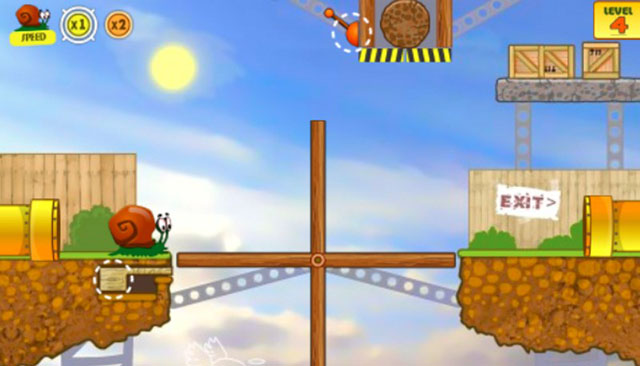 Snail Bob is a strategy based game which requires a combination of perfect timing and some physics skills to rescue a snail from various scenarios. No button-mashing required here, because all you need is a strategic mindset and quick fingers to lead the snail to the exit door. The premise is simple, but the mechanical traps and the co-ordinated mechanism of individual parts make it increasingly complex to help the snail as you progress through the levels.
Availability: Free
Supported Browsers: Chrome, Firefox
16. Shell Shockers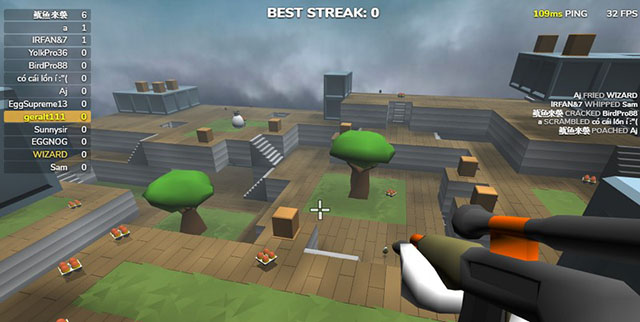 Shell Shockers is a very different kind of shooting game. Instead of blasting heads and machines, you are required to shoot eggs and gain energy from, well, eggs. By the way, you play as an egg too. There are four classes of players to choose from which include scrambler (scrambled eggs, anyone) and eggsploder, each equipped with a different weapon suited for long-range and close quarter gunfight. Get ready with your office mouse and practice your fingers on the WASD keys, because shell Shockers will keep you engaged for some time.
Availability: Free
Supported Browsers: Chrome, Firefox
17. Winter Rush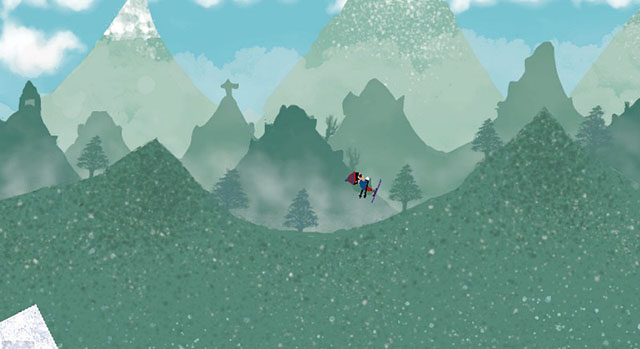 For fans of winter sports, Winter Rush is a cool game to show off some skiing skills. The gameplay is smooth, the controls are easy to master and the background score is just perfect to help you nail some daring moves on the snow. Just press shift to accelerate, control to brake and a/d keys to control the degree of aerial movements. And trust me when I say this- it feels good to execute that perfect double back flip.
Availability: Free
Supported Browsers: Chrome, Firefox
18. Vector Runner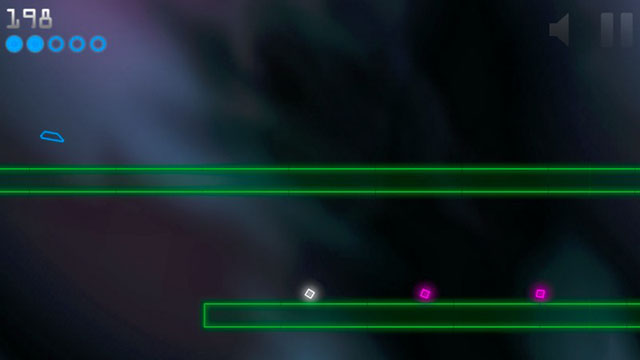 Despite being one of the oldest entries on the list, Vector Runner is still one of the best if you just want a simple game to pass some time and relax without being overwhelmed. Just move across the neon green path and collect items, while avoiding obstacles with just a single tap. After a few checkpoints, the fast pace and turbulences keep adding more excitement to the gameplay, and to further enrich the experience is the awesome background track.
Availability: Free
Supported Browsers: Chrome, Firefox
19. Booster Space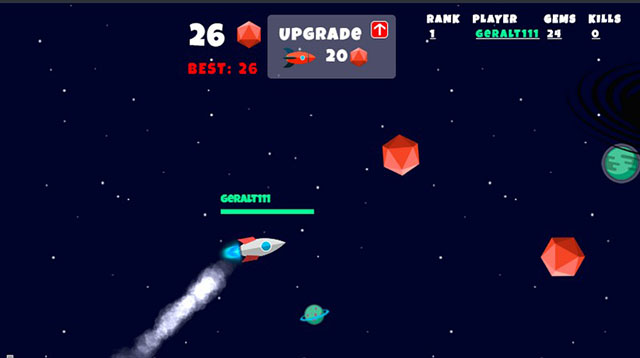 Booster Space is a space fight game in which you control a rocket while the objective is to avoid the obstacles and getting rammed by the enemy ships. The best part is that you can play the game by solely using the mouse to control the ship's movement and fire at the obstacles simultaneously. You can collect boosters to speed up your ship, but keep in mind that it becomes more challenging to manoeuvre the ship at high velocity. But hey, what would be the fun in going slow when you pilot a spaceship?
Availability: Free
Supported Browsers: Chrome, Firefox
20. Coma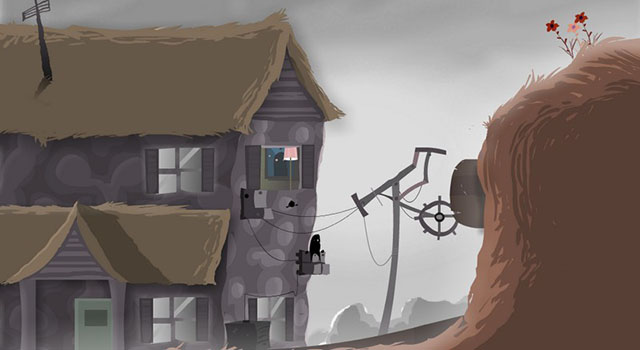 If you are a fan of games with stunning imagery and nice background score, Coma is just the right one. Coma shares some similarities to the hit mobile game, Alto's Adventure, thanks to its beautiful visuals, nice music and smooth gameplay experience. In Coma, you are tasked with navigating an alternate reality while uncovering the layers of a dark secret as you progress through the game and interact with different beings.
Availability: Free
Supported Browsers: Chrome, Firefox
SEE ALSO: 15 Best Free Steam Games You Should Definitely Play
20 Awesome Browser Games to Kill Time
So, that concludes our list of 20 cool browser games across different genres that'll definitely help you kill some time. In case you want to explore more, you can visit Miniclip and Kongregate and choose one from their vast library of free browser games without the need to install any file or pushing your PC's resources to the limit. Just like I said, ideal for casual gaming with no frills, no fuss.