The digital world that we live in right now is pretty much acquainted with Emails. In fact, Emails have become an essential component in our existence on this little world. Since their introduction during the early days of the Internet, Emails have evolved a lot and many more additional features are being introduced to suit the needs and demands of Internet users. There are tons of free Email service providers available online and selecting the best ones for your specific needs is essential.
All of these free Email Service providers grant their users with an Email address on their top-level domain and some storage space for holding your documents and attachments. While some of the tools might be pretty obvious and widely in use, there is also an other side to this where some fairly lesser known tools provide with features that demand the attention of Email users.
Best Free Email Providers Online
Here, we will be talking about the best free Email Service providers online ranging from the ubiquitous Google's Gmail to other fairly lesser known tools. Whatever maybe your requirements, these are the best 7 Email Provider tools that you'd ever need.
1. Gmail
Google's Gmail does not need an introduction of its own. This is by far the most widely used Email client, with over 900 Million registered users as of May 2015. Gmail offers storage space of up to 15 GB for free, which is shared across different Google products including Gmail, Google Drive and Photos. Individual file attachments are restricted to 25 MB, and that could be a cause of concern for many users. Apart from the storage specifications, Gmail offers everything that a Email service should provide.
Being pretty perfectly synced with all of the other Google products including the mobile platform Android, Gmail provides many key features that are in its favor. An Inbox categorized as Primary, Social and Promotions; Favorites, Labeling, spam filters, third-party add-ons and integration with Google Hangouts and Contacts are some of the key features of Gmail. Google's Two-Step verification makes it harder for someone to crack into your Gmail account and this further improves your security on the web. Also, recently Gmail's iOS and Android apps have included the support to add more third-party Email accounts to manage them from a single app. Another noticeable feature of Gmail is its integration with Google Wallet which lets users send/receive money within Gmail.
The disadvantage to this tool is that apart from its web client, it has only Android and iOS applications as of now and other mobile platform based users have to use their Web browser for accessing Gmail. Some users are also sceptical about providing all of their data to Google and would prefer some low-key services for Email purposes. Storage and file attachments limitations too sometimes drive users looking for other options.
Key Features: Categorized Inbox, Spam filtering, Labeling, Starred Emails, Personalization, Integration with Google Hangouts and other 3rd Party integrations and more.
Platforms Available: Web-based (Supports all major web browsers), Android and iOS mobile applications.
Custom Email For Business: $5/user per month; $50/user per year. (compare plans here)
2. Yahoo! Mail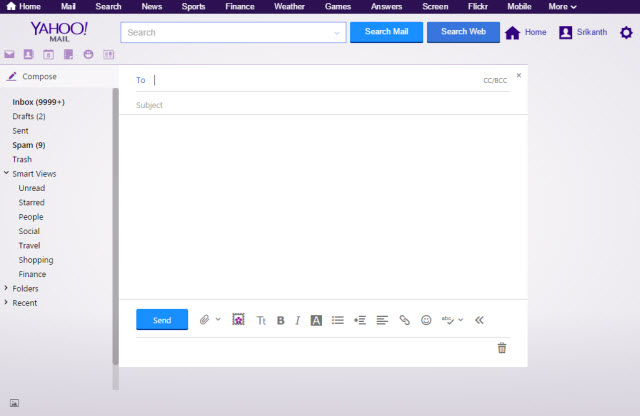 Second only to Gmail, Yahoo! Mail encompasses over 300 Million registered users across the world on its network. If storage space was your biggest concern with Gmail, Yahoo! Mail offers 1 TB of Free storage space to all of its users. This was a recent move, led under Yahoo!'s new CEO Marissa Mayer. Also, if file attachment size is your concern, Yahoo! Mail provides up to 100 MB per uploaded file on its network. Along with Spam filtering and protection from Virus, Yahoo!Mail's Inbox is easy to navigate. The Inbox provides easy navigation to other sections of the service and tab-based multi-tasking is also supported.
You can group Emails together into folders, search by Email address, keyword or even the entire web, right from your Email Inbox. Easy integration with other Yahoo! products like Contacts, Calendar and Flickr. Yahoo! Mail also allows users to attach files from their local drives or directly from their Dropbox or Flickr account. It also comes with mobile applications for Android and iOS platforms. But this is not a key factor to it, given that Gmail has added support for all third-party Email accounts on their app.
As of now, Yahoo! Mail provides advertisements on their Email client, added as Text ads to the footer of your Emails. Also, the account gets shut down if it is inactive for more than 6 months, with a notice extension period of 2 months. The user interface and ease-of-use would not be at the level of Gmail, although personalizations of some sort are available.
Key Features: 1 TB of storage space, Bigger file attachments supported, Spam filters and virus support, Personalization, Tab-based Multitasking, Easy integration with Contacts/Calendar/Flickr and more.
Platforms Available: Web based (Supports all major web browsers), Android and iOS mobile applications.
Custom Email For Business:  $34.95 per year for 1 custom email addresses; $9.95 per month for unlimited email addresses. (Compare Plans here)
3. Outlook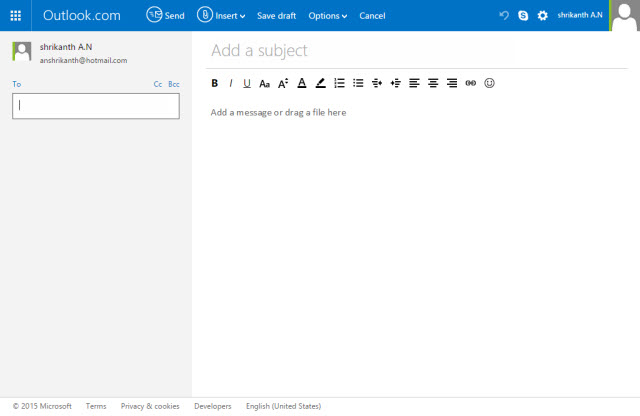 Formerly known as Hotmai, Outlook is an Webmail client operating under Microsoft. Both the previous Hotmail and present Outlook Email addresses are now accessible at Outlook. Given that it is currently operating under Microsoft, Outlook Mail provides better syncing with OneDrive, Skype, People and Calendar. A clean and simple interface is one of the biggest advantages of Outlook. It also allows automatic deletion of Emails from certain addresses, even before it hits your webmail. Access to other Microsoft products like Skype, People, OneDrive, Calendar and Office Online is just a click away from this Email client.
Blocking of unwanted emails, sorting Emails into categories, Picture attachments turned into slideshows, Skype from your Inbox and Connected cloud storage are some of the key features of Outlook that seem plausible to many users. Outlook claims to provide Unlimited Storage space that increases as per your needs, but in reality, the free version supports only up to 5 GB of storage space. Also, the attachment file size limit is of 25 MB.
A better interface with Swipe support is the major advantage of Outlook. For users based on Windows 8 and avid users of Microsoft's products, Outlook is a great choice. Lack of a Video chat feature and IMAP support are the major drawbacks of Outlook.
Key Features: Clean and simple interface, Easy access of OneDrive, Skype, People, Office Online and Calendar, Auto deletion of Emails from blacklisted Email addresses and more.
Platforms Available: Web based (Supports all major web browsers), Android, iOS and Windows Phone mobile applications.
Custom Email For Business:  $4/user per month; $8/user per month for added features such as unlimited storage, better security, etc. (Compare Plans here)
4. Zoho Mail
Zoho is one of the most renowned CRM service provider for businesses and professionals. Among the comprehensive Office Suite tools that Zoho offers, one is the Zoho Mail. If you want to use Email services for your Business or individual personal purposes, Zoho Mail is a great option. This tool either requires that you have your own domain name to set up an Email address on their platform. Or you can also choose to select a free @Zoho Email address for an account on their platform. Its free version comes with 5 GB of Mailbox storage and 1 GB of Document storage. The tool itself would be pretty familiar to users who have already worked with Zoho tools.
Mail, Calendar, Contacts, Notes, Tasks, Docs and Links are easily accessible through the left sidebar navigation buttons. Folder categorization, Labeling, Spam filtering, Marking as Important are some of the key features of Zoho Mail. One of the biggest advantages of Zoho Mail is that this tool comes ad-free, that implies less clutter. Zoho Mail is also great for premium business users to set up their own company's Email addresses on their platform. With both Android and iOS apps for Zoho Mail, keeping track of Emails on the go gets easy.
Not particularly any major downsides to the tool, if the brand tag operating your Email address is your concern, you would be pretty disappointed with the @Zoho addresses.
Key Features: Simple and uncluttered interface, Ad-free, Professional services for Businesses, Easy access of Notes, Docs, links, Calendar and more.
Platforms Available: Web based (Supports all major web browsers), Android and iOS applications.
Custom Email For Business: Starts from $0 (Compare Plans here)
5. Mail
Mail is another alternative Free Email service provider. This Webmail client offers Unlimited free storage for their Email account users and provides up to 2 GB of free file storage space and a maximum attachment limit of 50 MB. One of the best things about Mail is their Alias Addresses. Mail allows users to create up to 10 Alias Email addresses, which can be selected from over 200 domains, ranging from @engineer(.)com, @usa(.)com or @asia(.)com to @aetheist(.)com. All these Alias Email addresses could be accessed from your Mail account itself. It also allows users to access Emails from other services by linking them with it.
Another key feature of Mail is their Organizer. This handy little tool allows users to manage their events and plan their calendar activities accordingly. This data could also be exported out as a .csv file. With access to Mail's Android and iOS applications, you can always check your Emails on the go. The only disadvantage to Mail being that it withholds the right to discontinue any of their Alias Domain names as and when they feel like it.
Key Features: Manage all of your Email accounts at a single place, Organizer, Alias Email addresses and more.
Platforms Available: Web based (Supports all major web browsers), Android and iOS applications.
6. AOL Mail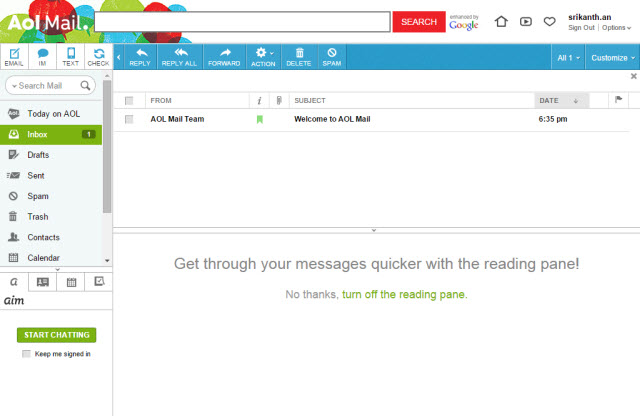 AOL Mail is another great free online Email provider with great features. AOL Mail provides its users with Unlimited Email Storage capacity and a single file attachment limit of 25 MB. Given that it supports IMAP, POP3 and SMTP, users can connect to their other Email addresses through AOL Mail. AOL Mail is pretty secured with control for Spam and Virus checking on their network. AOL Mail also provides users with a choice of Email address Domains including @love(.)com, @wow(.)com, @games(.)com and @ygm(.)com (Acronym for You got mail).
Some of its key features include AIM (AOL Instant Messenger) for chats, Text messaging to Mobile phones, Folder categorization, Events, To-Do's, Personalizations, Spam filtering and more. A recently revamped clean and minimalistic design makes AOL Mail a perfect choice for many Email users.
Key Features: Chat on Instant Messenger, Events, To-do's, Text messaging, choice of Email address domains, Spam and Virus control and more.
Platforms Available: Web based (Supports all major web browsers), Android and iOS applications.
7. iCloud Mail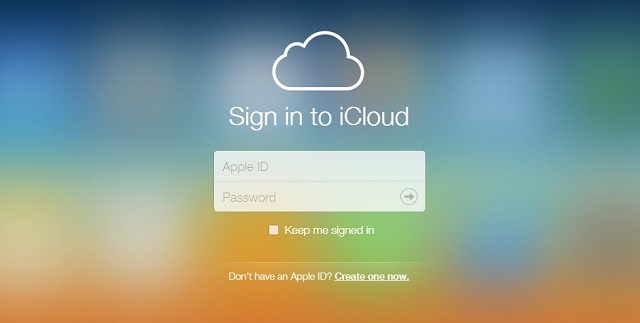 Apple's iCloud is their primary cloud storage and computing service offered to all of their users. Among the host of features that iCloud come bundled with, iCloud Mail can be also configured to work as a Webmail in union with your Apple devices. Apple's iCloud Mail provides free 5 GB of storage for Webmail and a file attachment limit of up to 20 MB. Although it does come with IMAP and SMTP support, it lacks support for POP3. With no maximum period of inactivity and secured Email client, iCloud Mail is preferred by millions of Apple users.
iCloud Webmail syncs Emails from your Apple devices, onto your iCloud account and could be accessed on your web browser. With major improvements from its predecessor MobileMe, iCloud went on to include features that revolutionized cloud services. iCloud Email client is ad-free and takes a unique design approach to enhance its user experience.
With no support for POP3, other Email accounts could not be accessed through your iCloud Webmail account. Other disadvantage includes not being able to categorize Emails into folders or categories.
Key Features: Sync Mail across all devices, Access it on Mac or Windows, ad-free, clean and unique design and more.
Platforms Supported: Mac OS X or Windows, iOS running devices.
SEE ALSO: Best Email Apps For iPhone And Android
What do you think about these Online Free Email Providers and their services? Share your thoughts and experiences about these tools below.