Kodi is a popular application for organizing and playing local media content. It can also stream media content directly from the web and through third-party Kodi add-ons. However, most users are unaware that Kodi also lets you stream live TV channels and that too for free. In this article, I am going to share some of the best live TV addons for Kodi which you can access to catch up with your favorite shows and news channels. Also, if you are a recent cord cutter then this article is going to help you bring the live TV experience to your Kodi setup, hence making the transition complete. So without further ado,  here's our list of the 10 best live TV addons for Kodi that you should use in 2019.
Best Live TV Addons for Kodi in 2019
Here, we are going to list the top 10 live TV addons for Kodi. You can choose any add-on based on your preference. Also, few add-ons are officially available on the official repository so you can easily install it without much hassle. And in case, the add-on is available on a third-party Kodi repository and you have no idea how to install it then click on the link and go through the installation steps. Now that we have gone through the initial points, let's get to the list.
1. USTVNow
USTVNow is one of the best live TV addons for Kodi. And if you are based out of the US, this add-on is simply indispensable. To begin with, you can access all the major American channels without any hacky installation and setup. Just open the add-ons menu and you can install it right from the official Kodi repository. USTVNow offers a subscription-based service with three different free and paid plans. Under the free tier, you get access to 5 channels including ABC, CBS, CW, PBS, and My Network TV. And if you choose the paid plans, you get 25 channels and you can also record live TV with DVR support. All in all, it's a great IPTV solution on Kodi and if you are a cord cutter, you should definitely subscribe to USTVNow service. You will not miss anything.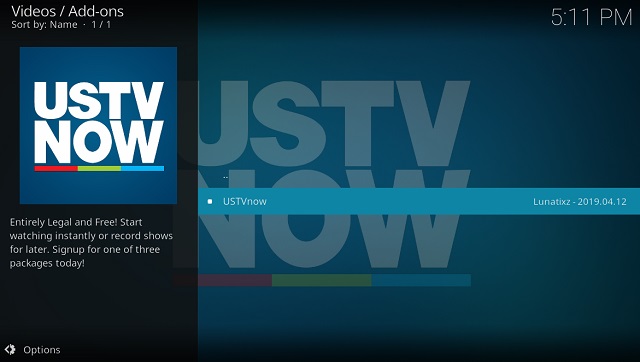 Install USTVNow (Free, Paid plan starts at $19/month)
2. cCloud TV
cCloud TV is a free and open-source live TV addon for Kodi. It's run by the open-source community and offers a wide range of TV channels on Kodi. You get access to American as well as European channels. The TV channels are categorized into various sections including Sports, News, Music, Movies, etc for easy selection. The add-on is not available on the official Kodi repository so you will have to install a third-party repo to have cCloud TV.  With everything taken into consideration, cCloud TV is an excellent live TV add-on for Kodi. You will be surprised to see the performance given that it's a free service.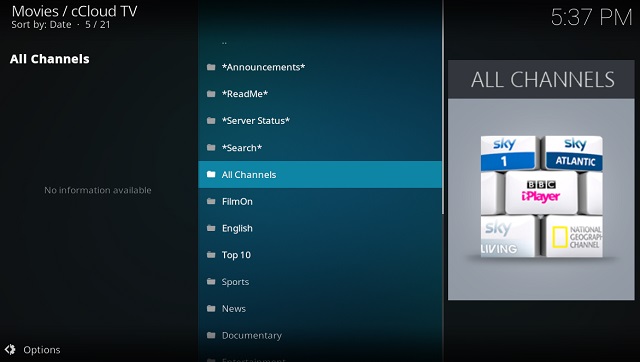 Install cCloud TV from Kodil Repository (Free)
3. Deceit
Deceit is a powerful add-on which consists of various IPTV services. It houses multiple live TV addons for different countries and also provides live TV streaming for a number of channels. The service is entirely free and you can enjoy tons of live TV channels without any issue. If you want to have more live TV channels on Kodi, then you can install Fluxus, Stratus or Lodge TV add-on. The vast library of channels is not going to disappoint you. As Deceit is not available on the official Kodi repository, you can install the add-on from OneNation repository.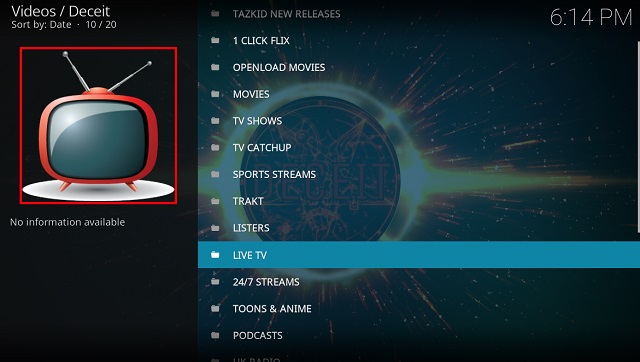 Install Deceit from OneNation Repository (Free)
4. Monster Munch
Monster Munch is a fantastic add-on for streaming live TV channels on Kodi. It's a free IPTV service with excellent performance and a clean interface. Similar to cCloud TV, it has categorized menu based on the TV content and tons of US channels to choose from. If you are from the US, this add-on will be a great addition to your Kodi setup as it has almost everything you are looking for. What I found great about this add-on is its performance. It's simply top-notch. The add-on hardly takes time to start streaming live TV channels. Overall, it's a great pack and you are getting all this for free. So go ahead and install Monster Munch.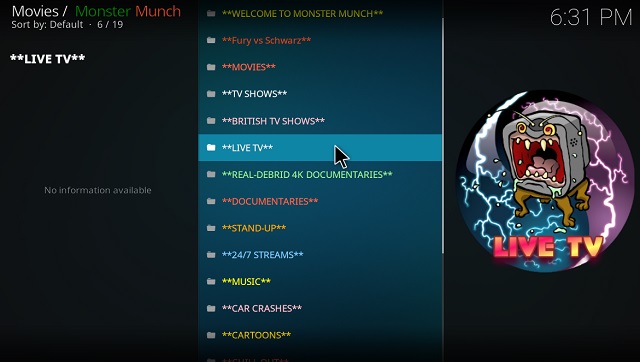 Install Monster Munch from StepToes Repository (Free)
5. BBC iPlayer
BBC iPlayer is one of the best live TV add-ons for Kodi, especially if are from the United Kingdom. It offers all the BBC channels including BBC News, BBC One, Two and so on. You also get access to the radio stations and podcasts within this add-on. Besides the live TV channels, you can also play content from the large catalog of BBC documentaries, movies, and TV series. The best part is that it's completely free and available on the official Kodi repository. So installation is just a click away. However, do note that BBC's content is geo-restricted and you can only stream it within the UK. To get around the limitation, you can use a VPN to unlock BBC content from anywhere around the world.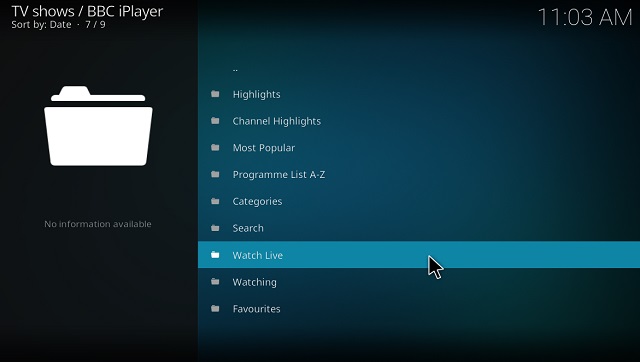 Install BBC iPlayer from Kodi's Official repository
6. Phoenix Reborn TV
Phoenix Reborn TV is one of the oldest live TV add-ons for Kodi. Earlier, it was called Phoenix, but after many iterations of development and deprecation, the name has changed to Phoenix Reborn TV. It's still run by the Kodi community and you will find a long list of TV channels from all over the world in this add-on. To give you a sneak peek, you have access to live TV channels of almost all the European countries and from the US/UK as well. There are also separate lists of live TV channels with working links which are maintained by various Kodi users. Overall, Phoenix Reborn TV is still the king of live TV channels and you will not be disappointed at all. Add to the fact that it's completely free and works great for the most part.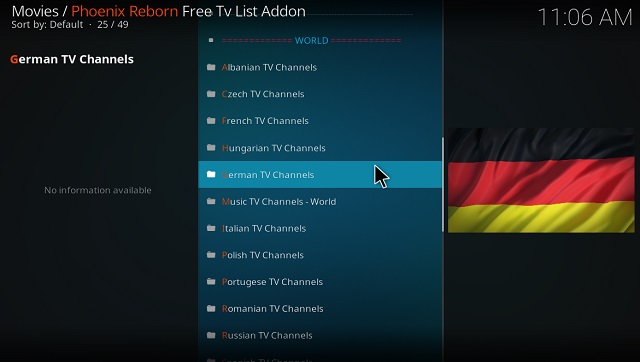 Install Phoenix Reborn TV from Phoenix Repository (Free)
7. Maverick TV
If you are a sports fanatic, you are absolutely going to love this add-on. Maverick TV offers a wide number of live TV channels under the sports category. To start with, you have access to all the Star Sports channels which is absolutely amazing. Next, you can stream live Football matches and access British EuroSport, Pac 12 Sports Network, and various other sports channels. In a nutshell, you get access to most of the sports channel and for free. Maverick TV is known for its huge library of movies and TV shows, but it also houses several live TV channels which work flawlessly. So to conclude, if you are looking for a dedicated add-on for streaming live sports, well, you have to look no further. Just grab Maverick TV and get going.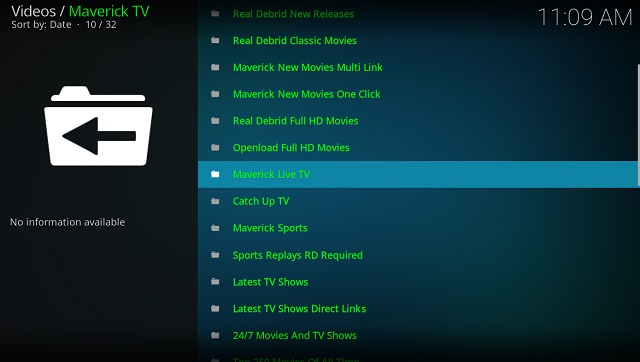 Install Maverick TV from Maverick Repository (Free)
8. Chronos
Chronos has been making waves in the free IPTV segment for quite some time. At present, it's one of the best live TV add-ons for Kodi with well-maintained links and quality streaming. You can access live TV channels from across the globe. Mostly, Chronos offers news and sports channels. So, if your interest lies within these two categories then you have a great add-on at hand. Anyway, you also get access to a huge library of movies, TV shows, and videos under this add-on. So if you are ever short on content, you can access its huge collection of movies and TV shows. Besides, the reason we recommend Chronos is because of its developers making a great effort to maintain and update its links. So go ahead and install Chronos and see if it makes an impression on you.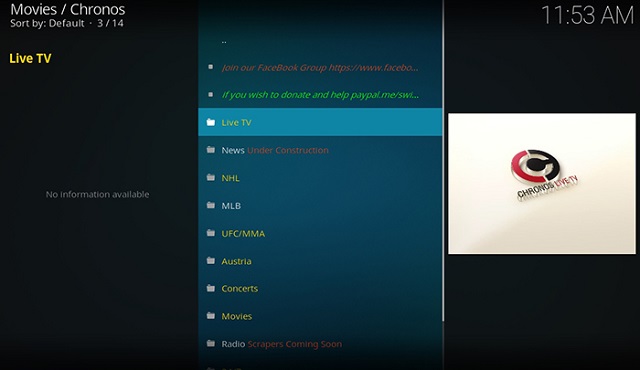 Install Chronos from Skydark Repository (Free)
9. Power TV
Power TV is a massive repository of movies, documentaries, TV shows and what not. However, it also packs a decent section of live TV channels which work almost as good as other categories. It's very comparable to Maverick TV, but Power TV offers much more than just sports channels. You can access most of the European and US channels under the Live TV section. You can stream PBS, ABC, and many other live TV channels. One thing to note, Power TV doesn't maintain the links on its own but rely on DarkSky to provide the IPTV service. So sometimes the links are broken, but overall, it works really well without any major issues. If you are looking for a free live TV add-on for Kodi, you can give Power TV a try. It's worth checking out.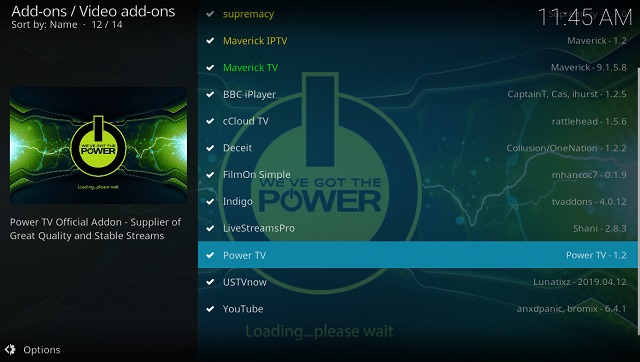 Install Power TV from One Nation Repository (Free)
10. Filmon Simple
Filmon Simple is our final live TV add-on for Kodi in this list. It offers a number of live TV channels from Russia, Africa, and Asian countries. From live news channels to sports, you have everything packed under this add-on. It's maintained by the popular TVAddons team so the streaming quality is quite good. Also, Filmon Simple is completely free to use so that's great. To conclude, If you belong to any of these countries, you should definitely go ahead and install Filmon Simple on Kodi. It's going to save you a lot of hassle from watching live TV on the internet.
Install Filmon Simple from Simply Caz Repository (Free)
SEE ALSO: 12 Best Kodi Skins You Should Give a Try in 2019
Install Live TV Add-ons for Kodi and Stay Updated
So that ends our list of best live TV addons for Kodi. Go ahead and install the add-on best suited to your interest. I have tried to cover everything from news, sports, entertainment, etc. Most of the addons are free, and frankly, they work really good. However, if you are from the US and want a reliable live TV experience on Kodi, then I would recommend USTVNow. It's absolutely great and you should definitely not miss it. Anyway, if you liked the article then do let us know in the comment section below.