Nowadays online anonymity and security has become a big concern for Internet users. Different malicious users of the world wide web are trying hard to hack into your systems and steal your private and sensitive information and use it for their foul purpose. Even Governments nowadays are trying to spy on all their people in order to learn about each person individually. Such type of privacy invasion have led the users into believing that they are never safe and secure online, however, that's not true at all. There are different ways of keeping yourself secure and anonymous on the web so no one will be able to spy on you or steal your personal information.
VPN or Virtual Private Network softwares are the best way to ensure your privacy and security online. If you want to make sure that no one knows about your location by tracing your IP then VPN software will come in really handy.
VPN software not only keep you safe from hackers and spying agencies but you can also access blocked content on the internet that's not available in your region or country. Services such as Netflix, Hulu, Pandora, etc are only available in selected few countries like US, Canada, etc but with the help of a VPN you can easily access and use these services as if you were living in a supported country.
There are thousands of different VPN softwares out there for different platforms. Some offer free services while the rest offer paid services. However, you don't have to shell out your hard earned money for purchasing a VPN subscription because we are going to tell you about the Best free VPN services for 2015. Keep on reading to learn all about these free VPN services.
Best Free VPN Services
1. Betternet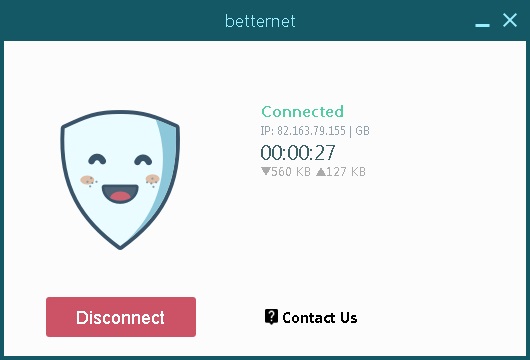 Betternet is the only free VPN that is actually free without any price at all. There are no annoying ads, there are no speed limits, there are no subscriptions, there are no data caps, and most certainly there is no catch at all. Betternet is the only VPN that offers free services and does not have a premium version or paid subscriptions. The company clearly states on its website that "No registration, No credit cards, and No ads." which means you get unlimited data, blazing fast speeds, and different server locations to choose from. There are no accounts or registration processes on Betternet. Just download the VPN and start using it to protect your precious and private data from hackers and other malicious people. Just like its name, Betternet is actually making the internet a better and safer place for everyone entirely free of charge. Betternet is available for download on Windows, Android, iOS and as an extension for both Firefox and Chrome browsers.
2. proXPN VPN
proXPN VPN software secures your Internet connection so no malicious people can intercept the data that you transfer online or pinpoint your exact geographic location. It lets you access all the sites on the world wide web no matter where you live in the world. proXPN offers a basic account for free that comes with all security features to keep your data and personal information safe. All your application that connects to the internet will be secured via proXPN. The drawback of the basic free account is that you are only limited to a single location in the United States. Your speed via the VPN is also limited to just 300 kbps, however, premium users enjoy much faster speed limits and access to worldwide servers. ProXPN is available for different platform that include, Android, iOS, Windows, and Mac OS. On mobile device you will have to set it up manually by entering all the details.
ProXPN offers two type of accounts, Basic which does not have any price tag and you can use it for free while the Premium account will cost you $6.25 per month.
3. SecurityKISS VPN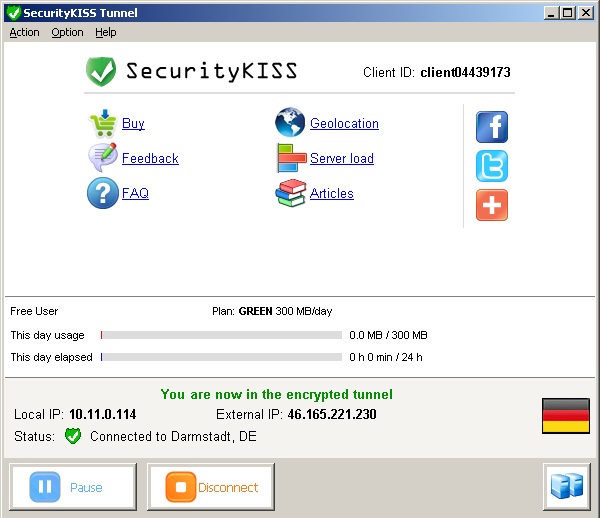 If you want faster speeds but a limited amount of bandwidth on daily basis then you should use SecurityKISS VPN. This VPN offers the best security features and decent speeds for the free version. The best thing about SecurityKISS VPN is the fact that it doesn't require you to create an account. So, you don't have to enter your username/password to use the VPN instead just click the connect button and start securing your Internet connection. The free version also known as Green version gives you access to servers from Germany, United Kingdom, France, and United States. You only get 300MB/day data limit so once you have exhausted your data limit you have to wait for the next day to use the VPN again. SecurityKISS VPN is available for Windows, Linux, iOS, Android, and Mac OS.
SecurityKISS VPN offers four different paid plans starting from $3.28 per month.
4. CyberGhost VPN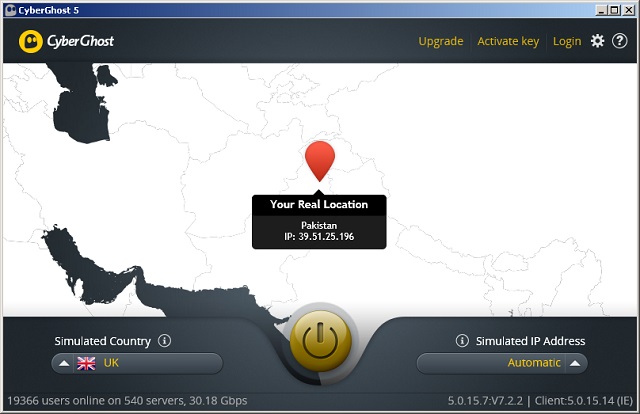 When you want a free VPN service then CyberGhost is definitely a top pick because it offers a large number of features included in its free version. You don't even have to pay for the premium version because the free version comes with all the security features that you would require from a decent VPN software. There are even high number of free servers available in CyberGhost as well without you having to pay a single dime at all. The free version comes with ads, however, any adblocking software can deal with the pesky ads for you. The premium version offers 5 times faster speeds compared to the free version and gets rid of ads as well but if you are only looking for online security and anonymity then you can use the free version because all the security features in the free version are as good as the premium version. CyberGhost doesn't keep logs of your activity at all which is a good thing. CyberGhost is available for Windows, Mac OS, Linux, Android, and iOS devices.
The premium version of CyberGhost will cost you $2.91 per month billed annually.
5. Spotflux VPN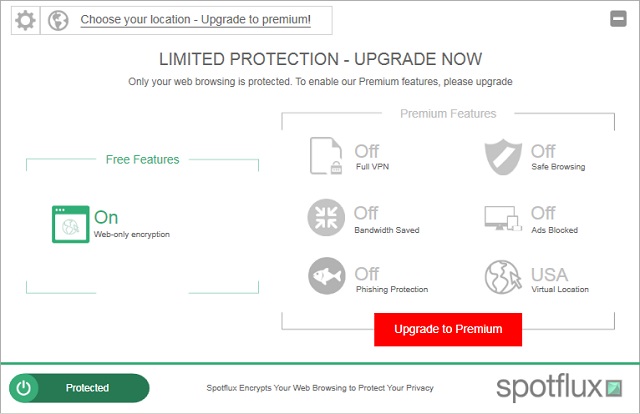 One of the best free VPN software of all time, Spotflux offers unlimited bandwidth on its free accounts. You don't even have to pay for the premium version if all you want is anonymous browsing and unblocking sites that are blocked in your region. Spotflux offers faster speeds on the free account but you can not choose the server location yourself, that is a premium only feature. Spotflux VPN has a simple and easy to understand interface that pops up in the system tray. You don't even have to open it and connect it yourself because it will start and connect automatically without you having to lift a finger saving you a lot of time. You can use it for as long as you want because there are no monthly limits or data caps when using the free version. Spotflux is available for download on Windows, Mac OS, Android, and iOS devices.
The premium version of Spotflux costs $37.99 per year and comes with a plethora of features that include, compression of traffic to save bandwidth, adblocking feature, anti-phishing service, and the ability to choose your preferred location based server.
6. HideMan VPN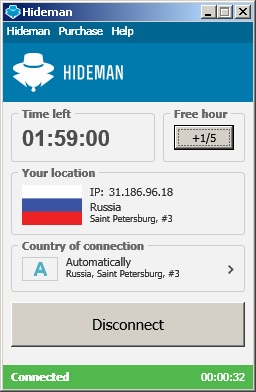 If you want everything that a premium VPN offers then you have to use HideMan VPN because it offers all the premium features in its free version except for a few server locations. However, there is a catch with the free version. You can only use it for 7 hours every week. You get a limited time nearly 7 hours that you can use to connect to any server available in the free list of locations. Once you have exhausted the 7 hours limit on the free version, you will have to wait for the next week to get another 7 hour data. You can also pay for extra time by buying hours from the HideMan service. HideMan VPN is available for Windows, Android, iOS, and Mac OS. You can also earn free hours on the Android version of the VPN by completing different free tasks like downloading apps and using them.
HideMan VPN also offers unlimited data for $9 per month for desktop and $2.9 per month for mobile devices.
7. TunnelBear VPN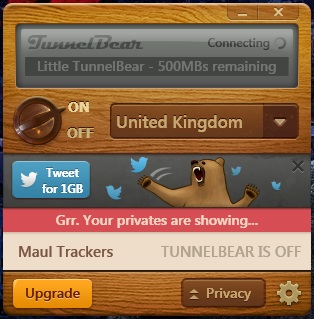 When you want a beautiful and cute user interface while also want to enjoy the best speeds and security on a VPN then you are going to fall in love with TunnelBear. This cool looking VPN software offers the best security and anonymity features for a free VPN but there's still a catch. The free version comes with a limited data cap which means you can only use 500 MB per month, however, you can also get extra 1 GB of data for free when you tweet about the TunnelBear VPN. Tweeting is very simple and you can do it directly from the VPN's interface. The free version offers the fastest speed and access to all the servers that are available in the paid version. 1.5 GB of data every month seems like really less but if you are interested in more data then you can buy the premium subscription to enjoy unlimited data. TunnelBear VPN is available for Windows, Mac OS, Android, iOS, and also offers a lightweight extension for Google Chrome browser.
The Giant bear paid plan costs $6.99 per month while the Grizzly plan costs you $49.99 per year and works on 5 different devices simultaneously.
8. HotSpot Shield VPN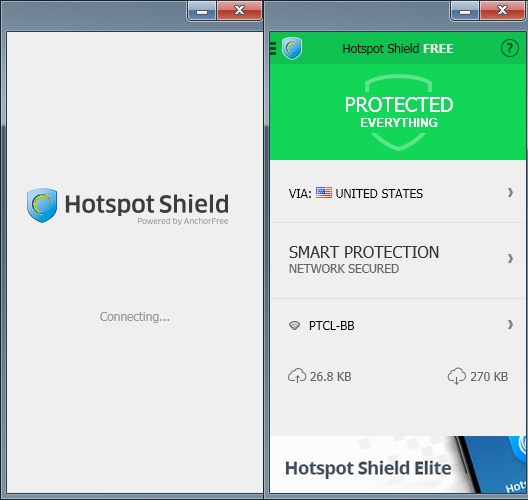 The most popular free VPN service out there for the users is definitely Hotspot Shield. With more than 2 million users from around the world HotSpot Shield has become the most common name in the field of Virtual Private Networks. HotSpot Shield offers unlimited data and fast speeds for its free users. You don't have to pay a single dime in order to use the VPN, however, on the downside you will have to put up with some annoying ads that will pop up every now and then. Simple usage of an adblocking software can get rid of the annoying ads from your computer  but you can also pay for the Elite version of HotSpot shield to get rid of the ads. HotSpot Shield is available for download on almost all platforms that include, Windows, Mac OS, Android, and iOS.
The HotSpot Shield Elite version will cost you $27.99 per year and comes with a lot of features to keep you safe and anonymous online while also getting rid of the obtrusive ads.
9. HideME VPN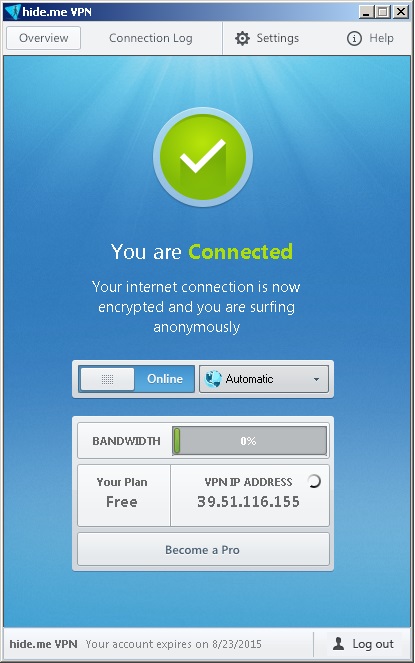 Lets start with the most underrated free VPN of all time. HideMe is actually an amazing VPN that also offers free service in addition to its paid plans. The free service offers only 3 servers that you can connect to which include, Canada, Netherlands, and Singapore. You get decent browsing speeds but still slower than the paid version. The best thing is the fact that HideMe doesn't log your activity at all even in the free version which essentially means that all your information and data is encrypted and even HideMe can't identify you without any logs. There are no ads in the free version either. The speed you get is quite better than many other alternatives. HideMe VPN is available on different platforms including, Windows, Android, iPhone, and iPad. Support for Mac and Windows Phone will be added soon according to the developer's site. You have to register an account to use the free version of HideMe.
If you want to upgrade to the paid plans then you should know that the Plus plan will cost you $5.42/ month while the Premium plan will cost you $11.67/month. You also get 14-day money back guarantee if you're not satisfied with the purchase.
10. OkayFreedom VPN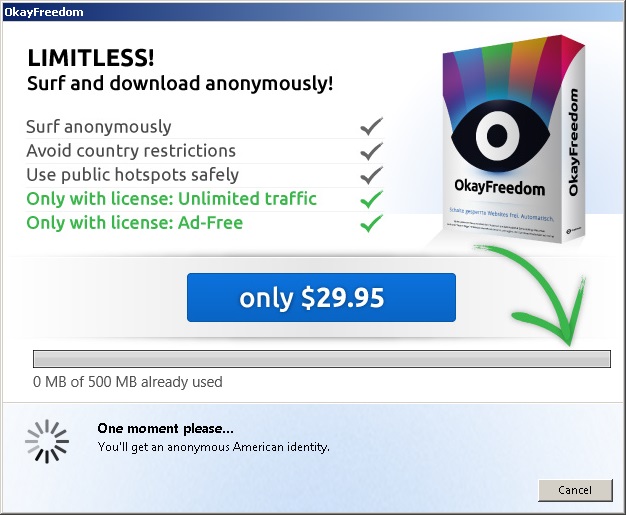 If you want German protection then you should download the OkayFreedom VPN because they boast "German Data Protection" on their website. OkayFreedom VPN offers a free version that comes with ads and a monthly data limit of 500 MB, however, you can raise the monthly data limit to up to 1 GB by inviting your friends to install OkayFreedom VPN. Each friend whom you invite will grant you 100 MB of free data when they install the VPN. The free version offers you access to nearly 12 servers from around the world that include but not limited to Germany, United Kingdom, Japan, Turkey, etc. The free version offer fast browsing speeds and there are no registrations either. Just download the VPN and connect to any server from the list and watch your internet connection get secured by German technology.
The premium flat version of OkayFreedom VPN costs you about $29.99 per year and offers unlimited traffic without ads.
SEE ALSO: How To Unblock Blocked Websites
These are the best free VPN for 2015 and you can use these to access blocked sites in your country, stay anonymous on the web, keep your personal data secure, and hide your physical location. If you want to stay safe online then using a VPN will definitely help you in keeping your sensitive information secure. It will make sure that hackers are not able to steal your information without your knowledge. If you have any other favorite free VPN in mind then let us know in the comments.