Today, Apple has seeded the iOS 17.2 beta to developers after releasing iOS 17.1 to the general public earlier this week. iOS 17.2 developer beta brings the most anticipated feature of iOS 17 – Journal app. While introducing iOS 17 on the WWDC 2023 stage, Apple teased the new Journal app but said that it would be released in a future iteration of iOS 17. Now, the app is finally available. Here's what the iOS 17 Journal app looks like.
iOS 17 Journal App Released
If you are running the recently seeded iOS 17.2 developer beta, you will see the new Journal app automatically soon after installing the beta update. As Apple mentioned at the WWDC event, the Journal app will allow you to record your precious moments using audio, video, and text-based inputs. The standout feature of the iOS 17 Journal app is the journaling suggestions that are based on your daily activities.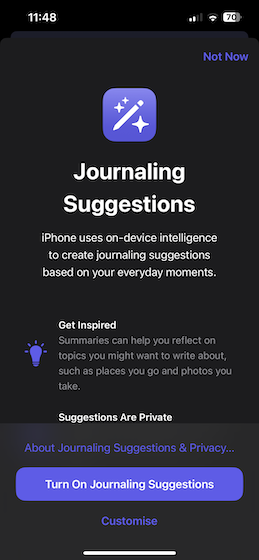 For example, if you have turned on location for photos, the app will prompt you to include your trip's photos in a journal to create a memory. Similarly, you will also see prompts based on your music listening activity, workout, the podcasts you listen to, and more.
Journaling suggestions in the Journal app will be based on the data that is churned using on-device machine learning. Also, you can choose whether you want to share your location, music, workout activity, and photos with the Journal app for suggestions.
You can toggle Journaling Suggestions by visiting the Settings app and then tapping on the Journal app from there.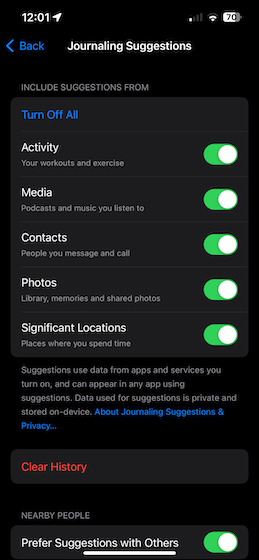 Since journaling is something that is quite personal, you can lock journals with Face ID or passcode. More importantly, Journals can also be synced on iCloud so that you can access them across devices signed in with the same Apple ID.
Now that Apple has released the Journal app in iOS 17.2 beta, it is quite likely that the app will be available for all once Apple outs the iOS 17.2 stable update.
Meanwhile, if you don't want to install iOS 17.2 developer beta just to get the Journal app, we have prepared a list of Journal app alternatives you can get your hands on right now.
---
Load More