Apple's new iOS 17 packs a host of exciting additions, and one such feature is NameDrop. It lets you exchange your contact info by bringing the top of your iPhone near the top of another one. While it's a nice feature, it can sometimes accidentally trigger contact sharing when you don't need it at all. Honestly speaking, it can get annoying. Thankfully, there's a way to turn off contact sharing in iOS 17. Since NameDrop is a facet of AirDrop, many users might think they have to disable AirDrop to turn off NameDrop in iOS 17. However, that's not the case. In this article, we'll walk you through the right way to turn off contact sharing in iOS 17. Without any ado, let's get started!
If you don't wish to exchange your contact details every time your iPhone comes in contact with another iPhone, you have to turn off NameDrop on your iPhone. When you do this, your contact info and the Contact Poster (if created) won't appear on the other iPhone, even if the NameDrop is turned on for that device. Here's how to do it:
Open the Settings app on your iPhone and go to the General section.
Then, tap on AirDrop.
Here, turn off the Bringing Devices Together toggle.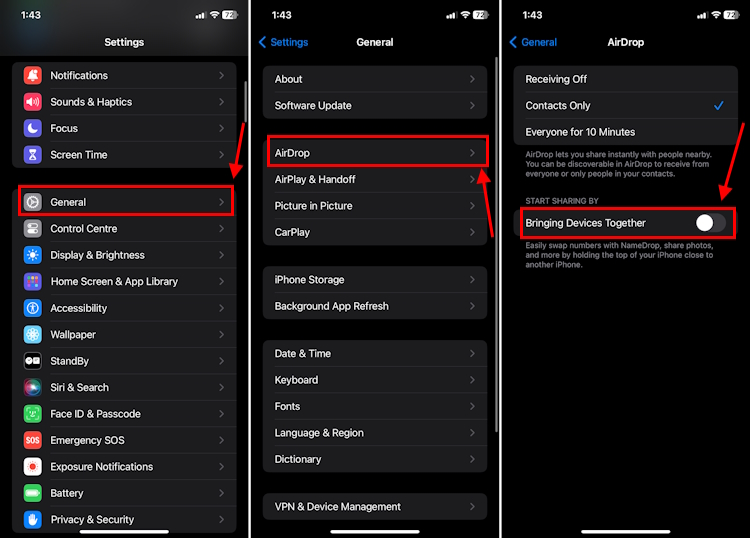 And, it's done. You can turn on this toggle anytime to enable NameDrop on your iPhone.
So, you see it's that easy and quick to turn off contact sharing in iOS 17 on an iPhone. While NameDrop is an exciting feature, it can get annoying when you don't want to share your contact info with a nearby iPhone. Moreover, if you carry two iPhones and don't want them to establish a connection and try to exchange contact details all the time, it makes sense to turn off contact sharing on your iPhone. If the contact sharing feature is not working for you, we have comprehensive troubleshooting to help you fix NameDrop not working issues.
Do you like the NameDrop feature in iOS 17? We'd love to hear from you in the comments below.
---
Load More