Ever since Apple announced the Journal app as a new iOS 17 feature, fans have been waiting badly. Unfortunately, the Journal app is missing in iOS 17 at the moment. It seems you have to wait for a couple of months to get your hands on this app. That said, it doesn't mean you can't start journaling on your iPhone or iPad. There are several third-party journal apps that serve the purpose. If you're wondering which one to go for, we're here to help you cut the chase. In this article, we've mentioned the 7 best Journal app alternatives that you can use right now. Without any ado, let's get started!
1. Day One Journal
Released back in 2011, Day One Journal is one of the most highly recommended and loved journaling apps for iPhone and iPad, even in 2023. Also, it has secured Apple's App of the Year spot numerous times, and, there are reasons for it. The easy breezy interface blended with an elegant personal space lets you create multiple journals for every aspect of your life and color-code them for easy organization. This app has everything a user would expect from a digital journal. You can format your journal entries with rich text options, add photos, import your Instagram posts, include handwritten notes/drawings, and even have your voice recordings.
This iOS 17 Journal app alternative helps you form a journaling habit and stay in form. The streak and calendar view helps the momentum going while the programmable reminders and customizable templates help eliminate the writer's cramp. Also, for the days when you can't figure out what to write about, Day One offers personalized suggestions to keep you hooked, making it a great iOS 17 Journal app alternative. The Day One Journal app for iPad is free to download and offers unlimited text entries. However, the paid version comes with some extra bells and whistles, allowing you to add unlimited photos & videos, keep an unlimited number of journals, and sync your writings across multiple devices.
All in all, if you're looking for an easy-to-use and trusted journal app for iPad or iPhone, it's worth checking out Day One Journal.
| Pros | Cons |
| --- | --- |
| User-friendly interface | You cannot add photos in the free version |
| Offers personalized suggestions | |
| End-to-end encryption and auto backups | |
| Cross platform compatibility | |
Download (Free, starts at $5.99/month)
2. Moodnotes
Let's face it. Most of us don't really have a habit of keeping track of mental health and well-being. Since a bad mood affects your life, tracking your mood is as important as remembering memories. Here comes a fantastic mood tracker and journaling app for iOS users that helps improve your mood, and thinking habits, and relive your life experiences. A minimal and colorful interface is welcoming, asking you to pick your avatar and how are you feeling. You can choose to enter the details manually or scan your mood. You can choose to add more details. Doing this will make you think, reflect, and understand the reason of your mood.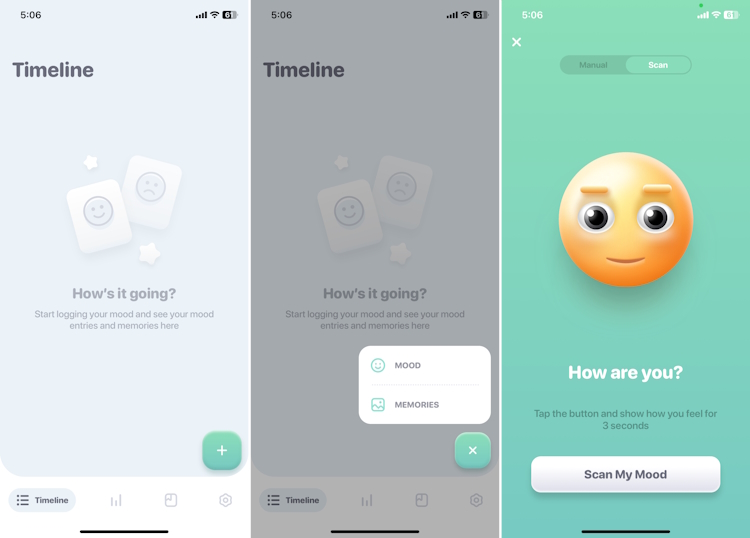 If you're feeling negative, the Moodnotes app helps you figure out the traps and gives you tips to avoid this in the future. Over time, the app can help you increase self-awareness, reduce anxiety, and develop healthier thinking habits. Besides tracking your mood, this Journal alternative for iPad also has a separate section to record your thoughts and feelings. However, that feature is locked behind the premium version. If you don't mind going for a paid version, Moodnotes is one of the best journal apps for iPhone that helps record your thoughts and moods.
| Pros | Cons |
| --- | --- |
| Focuses on overall mental well-being as well | You can only log your mood and can't record your thoughts in the free version |
| Focuses on overall mental well bring as well | |
| iCloud backup and sync support | |
Download (Free, starts at $9.99/month)
3. Daylio Journal
Do you like the idea of journaling but don't have a way with long-form writing? Daylio is the best Journal app alternative for iOS that lets you express yourself using visuals. It's a versatile micro journaling app for iPhone and iPad that lets you track whatever you need to. Be it your fitness, food, emotions, sleep, hobbies, productivity, or gratitude diary. Just a few taps and you can create a log to know how you're feeling. The app asks you to pick your mood and add activities that you have been doing during the day. The recorded mood and activities count as an entry and are collected in the statistics and calendar. Just like a traditional diary, you can also add some notes to it or decorate it with photos.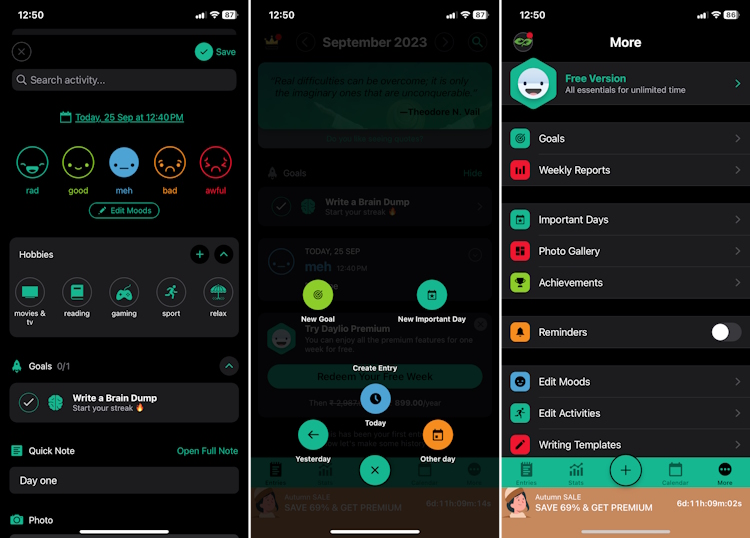 In addition to this, you get to enjoy all the standard features of a journaling app such as exporting entries, setting reminders, and creating your goals. With fun and informative charts, you can visualize your everyday patterns and depict fluctuations over time. Daylio Journal doesn't offer the traditional journaling experience. Rather, it's a micro-journaling app that's designed especially for non-writers or users with a super hectic schedule. To sum up, if you're a non-writer, Daylio Journal can replace the Apple's Journal app for you.
| Pros | Cons |
| --- | --- |
| Best for non-writers | Don't expect a full-fledged journaling experience |
| Feature rich and versatile | |
| Supports dark mode | |
Download (Free, starts at $4.99/month)
4. Reflectly
Reflectly is one of the most popular journaling apps that help improve your mood, mental health, and productivity. The app uses mindfulness, positive psychology, and cognitive behavioral therapy (CBT) to help you practice gratitude, reduce stress, and maintain a good lifestyle. If you fancy a bit of self-dating, this iOS 17 Journal app alternative also supports your self-love journey. It motivates you to invest time in self-care and look inward. You can choose a nickname and your preferred color theme. Then, the app asks you how you're doing right now. You can use the slider to swing between Really Terrible and Super Awesome. Then, you have to choose from activities that make you feel that way. You can then add a title, include some notes, and complete your check-in.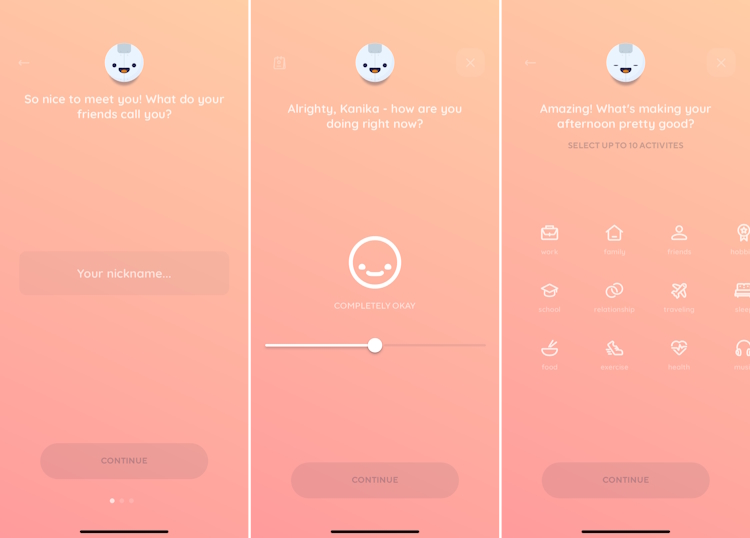 If you're a beginner, don't freak out. This Journal app alternative for iPhone gives you personalized prompts and reminders to combat anxiety and build a focused lifestyle. Reflectly also doubles as an amazing mood tracker, thanks to the AI-generated questions and prompts that are curated based on your past responses. That's not all. you also get your daily dose of motivation and inspiration to stay on track.
| Pros | Cons |
| --- | --- |
| Easy to use and get around | Sometimes the app may feel too simple and boring |
| Helps you build a lifestyle | |
| Works as a mood tracker as well | |
| Offers personalized motivation and prompts | |
Download (Free, starts at $4.99/month)
5. 5 Minute Journal
If you're new to journaling, keeping a record of your thoughts and feelings each day can be a daunting task. Also, you might not have enough time for those long writings. But, if you can spare a mere 5 minutes a day for yourself, this one is the perfect Journal app alternative for iOS that you need to try right now. The 5 Minute Journal app has questions and writing prompts that you can answer quickly.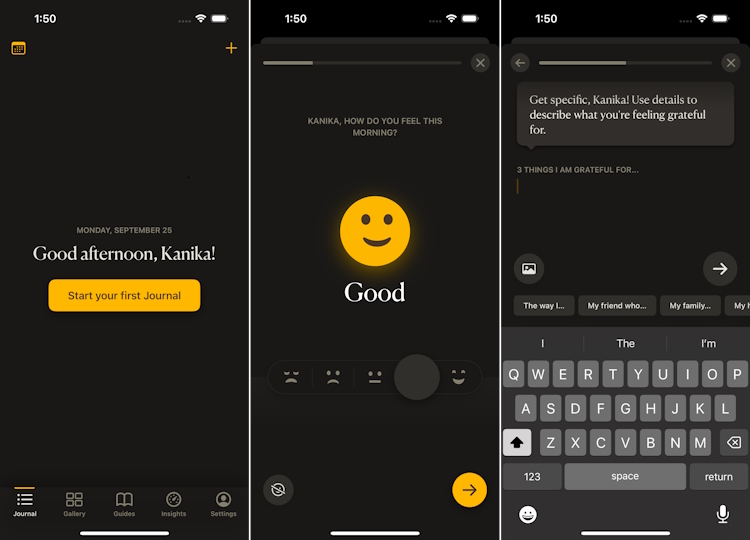 The app will ask you to choose how you feel today. Once selected, you'll have to jot down three things that make you feel this way. You can also add photos, make daily affirmations, and set a goal you wish to achieve. This journaling app for iPad also offers daily quotes and weekly challenges to inspire you. All your entries get displayed on the pretty timeline so you can go back and reflect on your memories any time. Putting it simply, if you don't have time to journal, this iOS 17 Journal app alternatives app can make your life damn easy.
| Pros | Cons |
| --- | --- |
| Best for beginners and people with busy schedules | The interface might not impress everyone |
| Dark mode support | |
| Password protection feature | |
| Offers daily inspiration and weekly challanges | |
Download (Free, starts at $4.99/month)
6. Zinnia
For users who prefer everything minimalistic yet creative, Zinnia Planner and Journal is gonna be your go-to alternative for Apple's Journal app. Zinnia brings back the essence and nostalgia of a traditional paper notebook but in the most expressive and creative way. You get to choose from a variety of fonts, stickers, templates, and other elements to curate a personalized digital diary and express your creativity. On top of it, you get to explore an amazing collection that's loaded with inspiring designs from some of the biggest creators in the journaling community.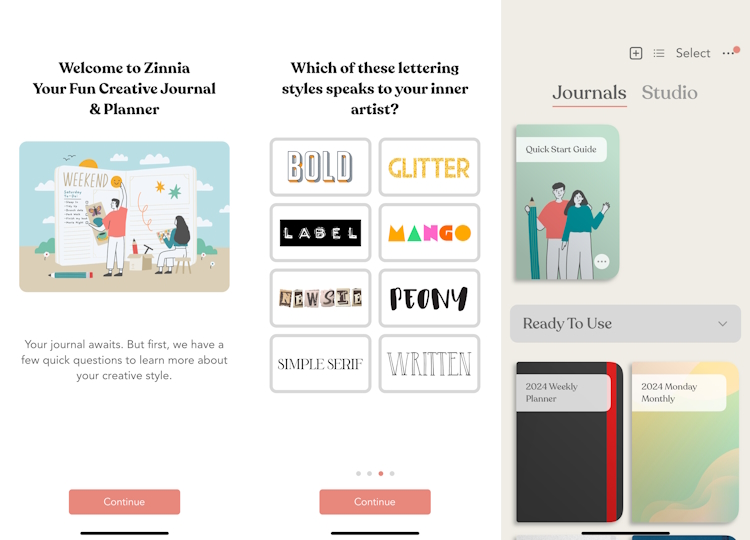 You can record your day, special moments, goals, priorities, and schedule them with ease and style. The app lets you export your content in a PDF or share it directly to Instagram, Facebook, Pinterest, and other social networks. With the support for Apple Pencil and iCloud syncing, Zinnia secures a top spot when it comes to the best Apple's Journal app alternatives for iPad in 2023.
| Pros | Cons |
| --- | --- |
| Creative and refreshing interface | The monthly subscription is expensive for what it offers |
| Apple Pencil and iCloud sync support | |
| Can be used for sketching, creating designs, and more | |
| The app is loaded with some of the most inspiring templates | |
Download (Free, starts at $9.99/month)
7. Diarly
Here comes a simple yet powerful free journaling app that offers unlimited text entries, powerful editing, and other necessary features at no extra cost. Diarly offers an elegant and focused design with no distractions so you can concentrate on your thoughts. You get a variety of fonts, editing tools, formatting options, and automatic light/dark themes to personalize your journaling experience. You can set goals, add photos, annotate & markup pictures, and do everything you can do on any other journal app.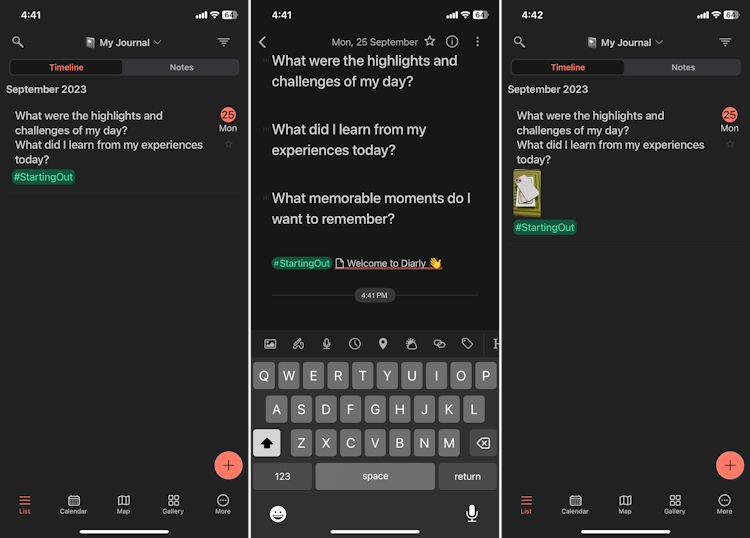 Moving on, Diarly supports integration with Apple's Health app, Calendar, and Shortcuts app, which makes it a great alternative to Apple's Journal app. One of the standout features of Diarly is effortless migration which lets you easily migrate your existing entries from the older journal app. All the basic features are available for free. If you opt for a premium version, you get cross-device sync, unlimited journals, advanced exporters, built-in AI assistant, and other features.
| Pros | Cons |
| --- | --- |
| The free version offers all the essential features | Only offers yearly subscription models |
| Easy migration | |
| Seamless integration with Apple Health app | |
Download (Free, $19.99/year)
So, these are the best journaling apps for iPhone and iPad that you can use until Apple's official Journal app is released on iOS 17. Do let us know which journaling app you plan to use. Moreover, if you can think of any other journal app that we might have missed, comment down below.
---
Load More