There are numerous AI art generators out there, but very few come close to Midjourney's capabilities. In our step-by-step guide on how to use Midjourney, we explained how you could leverage the potential of its powerful text-to-image model. Having said that, it's also true that Midjourney is a premium service that costs $10 per month. Yeah, Midjourney has put an end to its freemium model. So in this article, we bring you the 10 best Midjourney alternatives that are mostly free and have a powerful text-to-image model. On that note, let's jump to the list.
1. Stable Diffusion
If there is a text-to-image model that can come very close to Midjourney, then it's Stable Diffusion. Unlike Midjourney, which is a paid and proprietary model, Stable Diffusion is a free and open-source model. Plus, it can be installed even on a local PC having at least 8GB of VRAM. Stable Diffusion is already used by many websites and apps to quickly generate images from text input.
Stable Diffusion is developed on Latent Diffusion Models, Eleuther AI, LAION, OpenCLIP, OpenAI's ADM codebase, CompVis, and more. The company has released Stable Diffusion 2.1 in public, and recently, it also announced Stable Diffusion XL in Beta.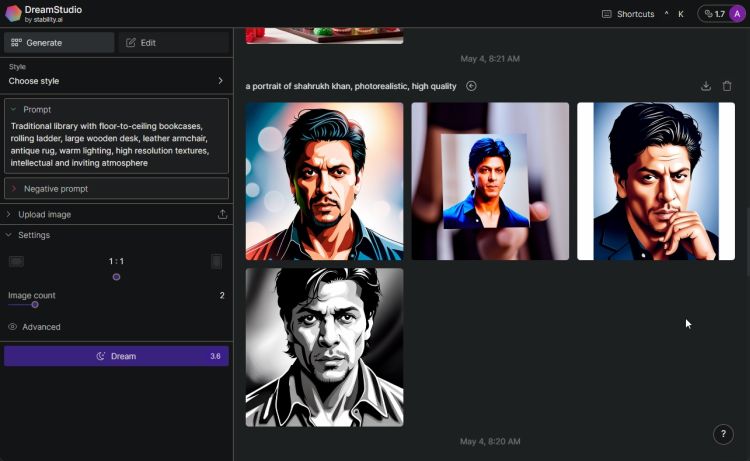 I have used Stable Diffusion multiple times in the past, and it has been fast in generating images. While the generated image quality is still not as good as Midjourney, the latest SDXL beta is trying to bring it on par with Midjourney. One of the key issues with Stable Diffusion is that it can't render eyes, hands, and fingers properly, making them look abnormal in human portraits. But apart from that, it's a capable text-to-image model and you should definitely check it out.
| Pros | Cons |
| --- | --- |
| Free and open-source | Hand and eye rendering still need some work |
| Powerful capabilities | |
| Trained on large dataset | |
Platforms: Web
Check out Stable Diffusion (Free)
2. DALL-E 2
DALL-E 2 is arguably the best Midjourney alternative that you can use to generate images right now. It has been developed by OpenAI, the company behind ChatGPT. You can use it to create photorealistic images from descriptions in natural language. The company released DALL-E in 2021, and after a year, it came up with DALL-E 2 in 2022. It is far more accurate and realistic in generating images, and it outputs images in 4x better resolution. That said, DALL-E is not free, and you need to buy credits once you exhaust the 15 free credits.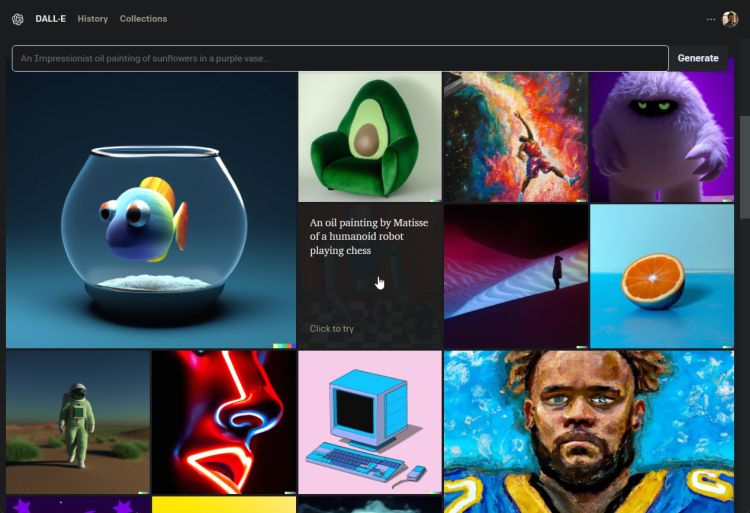 The best part about DALL-E 2 is that it can understand your prompt, just like, and blend various concepts, styles, and attributes to create a unique image that will surprise you. Besides that, it can expand images to create a new canvas, remove elements using the Inpainting tool, add shadows, textures, and reflections, and more. Overall, I think DALL-E 2 is a powerful text-to-image model, and you should definitely try it in place of Midjourney.
| Pros | Cons |
| --- | --- |
| Accurate and realistic visual translation | A bit expensive |
| Expand canvas of images | |
| Built on 3.5B parameters | |
Platforms: Web
Check out DALL-E 2 (Free up to 15 credits, Get more credits for $15)
3. Leonardo.Ai
Leonardo.Ai is a hot new text-to-image generation model that is being compared to Midjourney right now. It's not open to all and the early-bird access is only available to a select few users. However, you can choose to join its Discord server to check out its amazing capabilities in generating highly detailed images.
Leonardo.Ai has been primarily developed to generate game assets, be it environments, buildings, items, helmets, and more. The company has brought multiple artistic tools to quickly generate production-ready visual assets.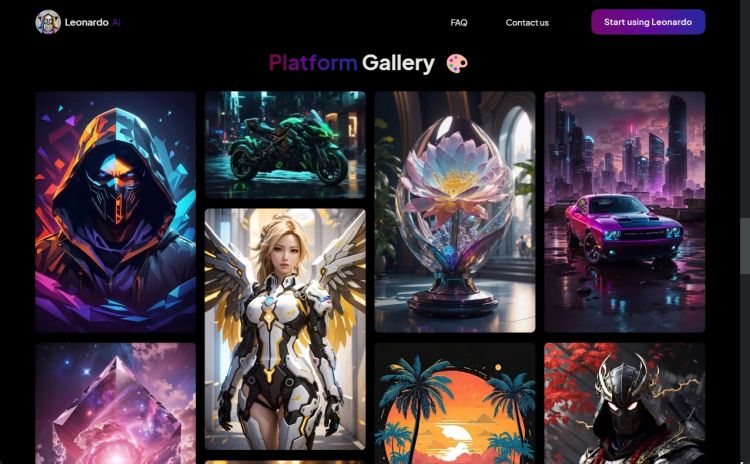 You can even train your own AI model and create images for your personalized environment. What stood out to me the most is that Leonardo.Ai is also good at generating human faces without any blemish in the eyes. So if you are interested in a powerful text-to-image model like Midjourney, Leonardo.Ai is a great alternative.
| Pros | Cons |
| --- | --- |
| Best for generating game assets | Access to early-bird users only |
| Character portraits are quite good | |
| Train your own visual model | |
Platforms: Web
Check out Leonardo.Ai (Free early access)
4. Bing Image Creator
In case you are unaware, Microsoft has integrated AI image generation into Bing AI Chat, besides the standalone website. You can now generate images with a natural prompt in the Bing Chat interface. However, you must use the "Creative" mode to trigger the Bing AI Image Creator. It's powered by OpenAI's DALL·E model, and there is seemingly no limit on creating images on Bing Chat. Basically, it exists as a free service in Bing Search.
That said, after the first 25 image generations per day, you don't get quick output results and you need to wait for the final image. Sure, it's not good at generating human faces, and the quality is a notch lower than Midjourney, but overall, it does a good job at quickly creating AI images even on an abstract concept. So if you are looking for a free alternative to Midjourney, you can very well give Bing Image Creator a shot.
| Pros | Cons |
| --- | --- |
| Best free AI image generator | Limited customization options |
| Powered by DALL·E | |
| Integrated with Bing Chat | |
Platforms: Web, Android, iOS
Check out Bing Image Creator (Free)
5. Adobe Firefly
In the digital graphics industry, Adobe is one of the foremost companies to have built a great suite of software. And now, in this AI age, Adobe is leaving no stone unturned to innovate and compete with other image-generation models. In an attempt to rival Midjourney, Adobe has released its own creative AI model called Firefly.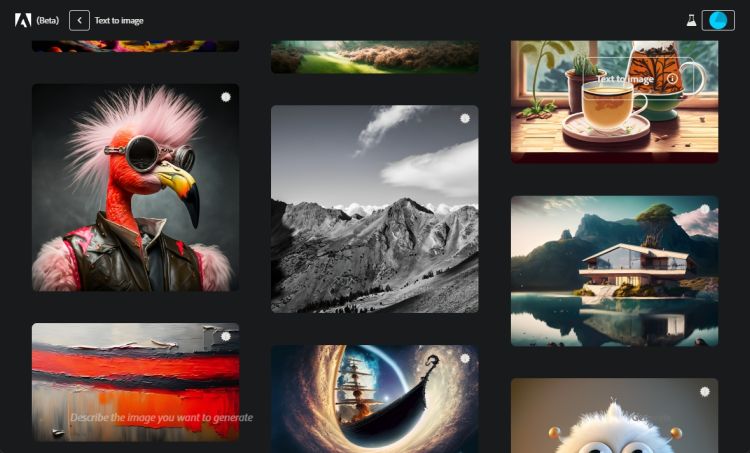 It has a number of tools for text-to-image generation, image expansion, vector recoloring, text effects, inpainting, sketch-to-image, and more. However, most of the tools are still in development, but Adobe has already released the Text to Image tool, and currently, it's free to all users.
Just like Midjourney, you can enter the prompt in natural language, and it will output four images in different variations. You can choose the content type such as Art, Graphic, Photo, or None. There are also other options like choosing color, tone, lighting, composition, and more. Overall, in my testing, I found it to be fast at generating images and did a decent job at creating landscapes and other concepts. However, for human subjects, it's not very photorealistic like Midjourney.
| Pros | Cons |
| --- | --- |
| In-house text-to-image model by Adobe | Still a work-in-progress |
| Has promising features like image expansion and sketch-to-image | |
| Free for now | |
Platforms: Web
Check out Adobe Firefly (Free in beta)
6. Blue Willow
Blue Willow is an interesting alternative to Midjourney that has amassed more than 300 million users on its Discord server. It's completely free to use and runs on user donation. You can join the Blue Willow Discord server and enter your prompt to generate images then and there. People are using Blue Willow to create logos, characters from comics, digital artwork, landscapes, graphic concepts, and more.
I tried some prompts, and it generated some decent images. But talking about realistic scenes, well, Blue Willow falls short of Midjourney. Nevertheless, for any kind of digital art or graphics, Blue Willow does an excellent job. Though, what I liked the most about this tool is that it generates images within a minute despite the large user base, which is cool. To sum up, Blue Willow is a promising free alternative to Midjourney and you should definitely give it a try.
| Pros | Cons |
| --- | --- |
| Surprisingly good at generating human faces | Need to join a Discord server |
| Free to use; no limitation | |
| Very fast | |
Platforms: Web (Discord), Android, iOS
Check out Blue Willow (Free)
7. Fotor AI Image Generator
Fotor is an online photo editor, but recently it released its own AI image generator. You can enter text prompts with various details and it will recreate the image using your description. The best part is that it has also launched an image-to-image AI photo generator. Apart from that, you can define your style including Photography, Conceptual art, Anime, Cartoon, Oil painting and more.
Moreover, there are standard options like customizing the aspect ratio, number of images to generate, further editing and more. As for the availability, well, Fotor offers 5 credits to free users. After exhausting it, you need to buy the Pro plan which costs $2.66 per month. All in all, the generated images are quite good and it comes very close to Midjoruney in conceptual arts.
| Pros | Cons |
| --- | --- |
| AI image generator is pretty capable | Needs to create an account |
| Good for conceptual art | Only 5 free credits |
| Further image editing | |
Platforms: Web, Android
Check out Fotor (Free)
8. NightCafe
Again, NightCafe is not an image model itself, but a website service that lets you access multiple text-to-image models. It supports Stable Diffusion (the latest SDXL model too), DALL-E 2, CLIP-Guided Diffusion, VQGAN+CLIP, and Style Transfer. If you want to create masterpieces modeled on old artworks, you can choose Style Transfer; you can pick CLIP-Guided Diffusion for artistic images; and pick VQGAN+CLIP to generate beautiful sceneries.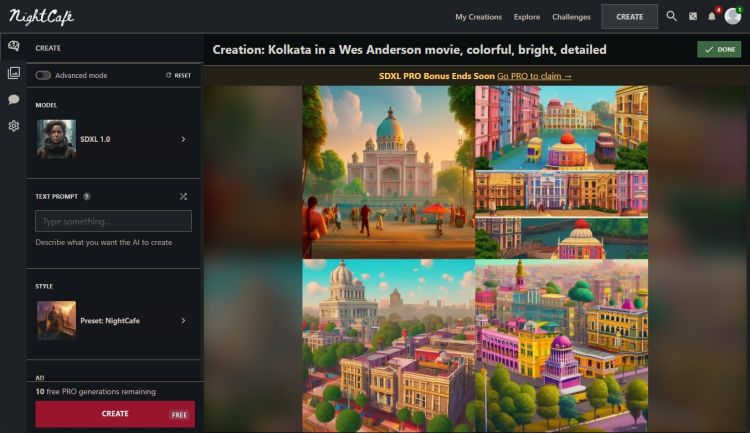 Then, there are Stable Diffusion and DALL-E 2 models for next-generation image synthesis. Having said that, the website is not entirely free to use. You only get 3 free credits on sign up, and you have to pay or earn credits through social campaigns to use other advanced models. Simply put, NightCafe is another service that you can try to compare various image models.
| Pros | Cons |
| --- | --- |
| Very capable text-to-image model | Not entirely free |
| Stable Diffusion and DALL·E available | Multiple limitations |
| Best for creating old masterpieces | |
Platforms: Web
Check out NightCafe (Free up to 3 credits, Paid plan starts at $5.99/ month)
9. Lexica
Lexica is an AI-image generator website that has finetuned its own image model based on Stable Diffusion. It also acts as a search engine for Stable Diffusion-generated images. You can use it to generate 100 AI images per month without paying any charge. And for $10 a month, you can generate as many as 1000 images in a month.
Anyway, moving to image generation, you can use its Lexica Aperture v3 or v2 model and choose the dimension up to 768 x 1152. In my brief usage, Lexica performed pretty well and came up with high-quality images. If you want to use an AI image generator like Midjourney for free, this Stable Diffusion-powered Lexica model is a promising place to start from.
| Pros | Cons |
| --- | --- |
| Effortless to use | Only two models available |
| Only 2 models are available | |
| Generate 100 images per month for free | |
Platforms: Web
Check out Lexica (Free up to 100 images/month, Paid plans start at $10/month)
10. Playground AI
Playground AI is another fantastic AI image creator website that hosts Stable Diffusion and DALL-E. The best part about Playground AI is that it lets you create 1,000 images per day for free, which is just bonkers. However, you can't use the DALL-E model under the free version, and there might be some limits on quality and details after 50 images.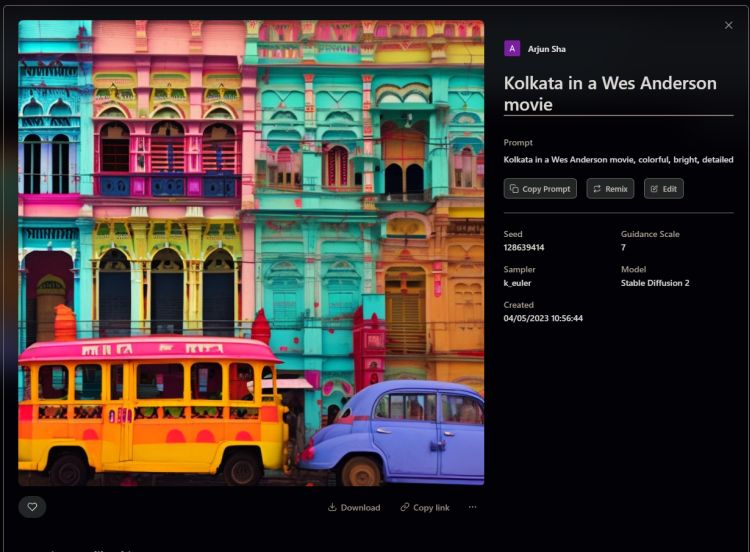 In addition, you can't change the image dimension from 515 x 512 or 768 x 768. But despite the limitations, it's still a fantastic choice for newbies. The image generation is quick, and it does not keep you in a queue. To conclude, users who want to try a free alternative to Midjourney, Playground AI might be the one you are looking for.
| Pros | Cons |
| --- | --- |
| Generate 1000 images per day for free | Free users can generate only one image at a time |
| Stable Diffusion and DALL·E are available | Plenty of limitations for free users |
| Pretty quick at generating images | |
Platforms: Web
Check out Playground AI (Free up to 1000 images/ day, Paid plan starts at $15/month)
---
Load More