With the AI boom, numerous AI content publishing platforms have cropped up in 2023, but only a few allow creators to earn revenue from their generated content. LimeWire AI Studio is a new content publishing platform, designed to promote creators and artists and their work. At the same time, it allows creators to monetize their content and earn revenue on the side. Not to mention, the huge Limewire community makes it an ideal place to start generating original content, be it images, music, or videos. Thus, to learn more about LimeWire AI Studio & all of its amazing features, read along.
AI-Powered Content Publishing
Back in the day, LimeWire was popular for file sharing between clients, and now, LimeWire has been rebranded as an AI-powered content publishing platform. You can generate images, videos, and music using the power of AI and monetize your content as well. It has a huge community of users, so you will find many like-minded users who share all kinds of multimedia content, of various genres.
For content creators, artists, and brands, LimeWire AI Studio is the place to be for building a passionate community. Fans can subscribe to numerous membership-based communities, which will generate revenue streams, which can be passed on to creators. Fans can also directly communicate with creators and get access to exclusive perks. So, from AI-powered content publishing to huge community support and revenue generation, LimeWire AI Studio is an ideal place for budding creators and artists.
Unlimited AI Image Generation
LimeWire AI Studio is now live, and AI Image Generation is one of the highlight features on the platform. The company also plans to bring more Generative AI features like music and video generation using AI. Coming back to AI Image Generation, LimeWire AI Studio features multiple models, including Stable Diffusion XL, Stable Diffusion 2.1, and OpenAI's latest Dall-E 2 model. The company says it's also working on its proprietary model, which should go live later this month.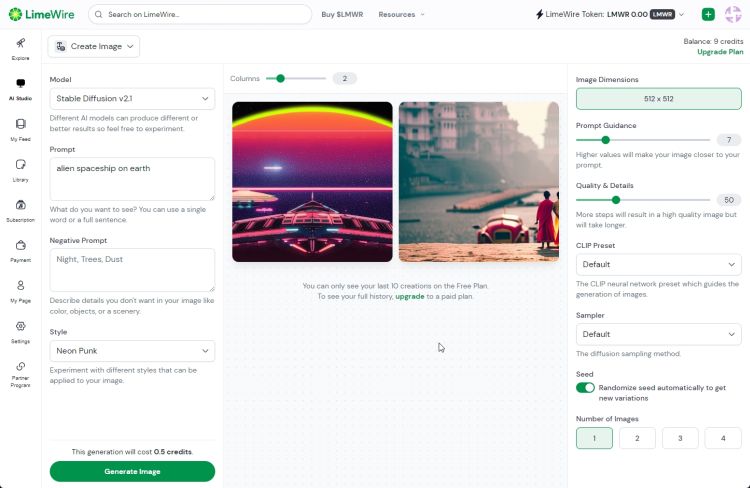 I tried the AI Image generation feature on LimeWire AI Studio and was impressed with the overall, clean UI and image processing. You can quickly choose the model, enter your prompt, add some negative prompts to avoid discrepancies in the image, select the styling of the scene, and much more. Keep in mind that free users get a total of 10 credits and limited model availability. However, if you subscribe to the top-tier paid plan, you can generate up to 10,000 images per month with no limit on model usage.
Overall, AI Image Generation on LimeWire AI Studio is feature-rich with extended functionalities. You can quickly publish your generated images as well and start monetizing the content.
Limewire (LMWR) Crypto Token
LimeWire has a separate LMWR Crypto utility token that allows you to generate ad revenue using your AI content. You can use the LMWR token to buy more processing power and pay for prompts to generate multimedia AI content. In addition, LMWR supports a large number of exchanges and can be bought and traded on Kraken, ByBit, UniSwap, crypto.com, and more. It's built on the Ethereum blockchain so as far as reliability is concerned, it's one of the most dependable trading platforms.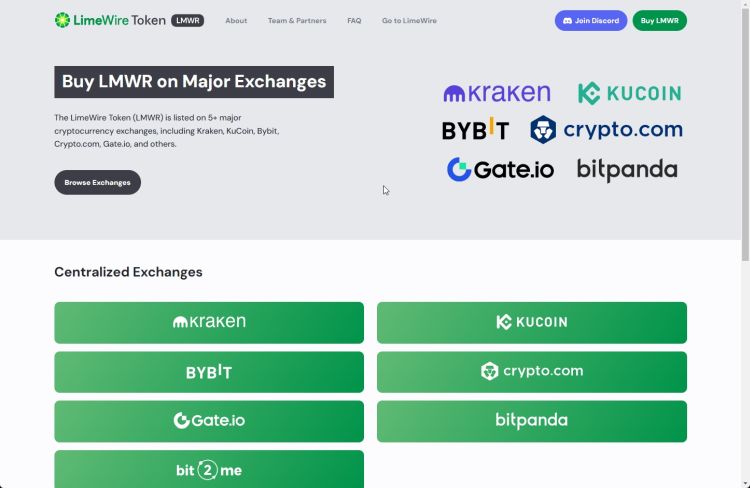 Apart from that, LMWR has so far raised a total of $17.75 million and is backed by well-known VCs including Kraken Ventures, Arrington Capital, GSR, deadmau5, and crypto.com, among others. In summation, LimeWire is not only an AI content publishing platform but also takes revenue generation seriously for artists and creators. It is helping build an independent livelihood for content creators in 2023.
Mine AI-generated Content as NFTs
In addition to the LMWR crypto token, LimeWire also lets you mine your AI-generated content as NFTs. You can automatically mine your content on Polygon and Algorand blockchain. Its NFT marketplace already has a collection of 10,000 original NFTs which are minted on the Ethereum blockchain.
Many creators are already generating images and minting them as NFTs. LimeWire AI Studio is truly building up to be a creator's platform and brings futuristic technologies so that artists can earn revenue and keep the ownership of digital assets securely.
Up to 70% Ad-Revenue Sharing
As mentioned before, LimeWire AI Studio is designed to help creators establish a passionate community and earn revenue simultaneously. That's why LimeWire comes with built-in ad-revenue sharing at its core. All creators and artists automatically receive up to 70% of the total ad revenue generated from the total views of your generated content.
The revenue is paid monthly in LMWR, LimeWire's crypto token utility which you can trade on multiple platforms mentioned above. To sum up, as far as revenue generation is concerned, LimeWire AI Studio squarely puts creators at the center of everything.
LimeWire AI Studio: Pricing and Plans
LimeWire AI Studio is available to all free users. You simply need to create an account to start generating content on its platform. However, free users only get 10 credits per day, which lets you generate up to 20 images per day. In terms of revenue share, free users get 50% of the total ad revenue.
Coming to paid plans, which I think creators should pay attention to and get for themselves. The Basic plan starts at $9.99 per month and goes up to $49 per month for the Pro plan. There is also a mid-tier Advanced plan that comes down to $29 per month. Under the Basic plan, you get 1000 credits per month, which allows you to generate up to 2,000 images in one month with support for newer AI models and faster image processing. It also brings 50% ad revenue sharing.
The mid-tier Advanced plan offers 3,750 credits, which can be used to generate up to 7500 images per month. In addition, you get a 60% ad revenue share with this tier. Finally, the LimeWire Ai Studio Pro plan brings 5,000 credits per month, and you can generate 10,000 images in a month. Here, you get the highest 70% ad revenue share. So for the highest revenue stream, I think creators should subscribe to the Pro plan.