The Intel 14th Gen processor lineup for desktops has already been released. However, amidst all the leaks and rumors, another chip has entered the scene. We are talking about the Intel Core i3-14100's recent appearance which is based on the Raptor Lake Refresh architecture.
Intel 14th Gen Core i3-14100: Specs & Performance
The new leak comes via the hardware leaker @haruzake5719, via X (formerly Twitter), who has previously shared many details regarding the PC hardware industry. The Intel Core i3-14100 is going to be a quad-core processor in 2023. It has been mentioned that it will come with 4 cores & 8 threads. A base clock speed of 3.50 GHz is mentioned, and it does not support any turbo boosting either. So yes, this is obviously Intel's entry-level processor that we can expect to be priced accordingly.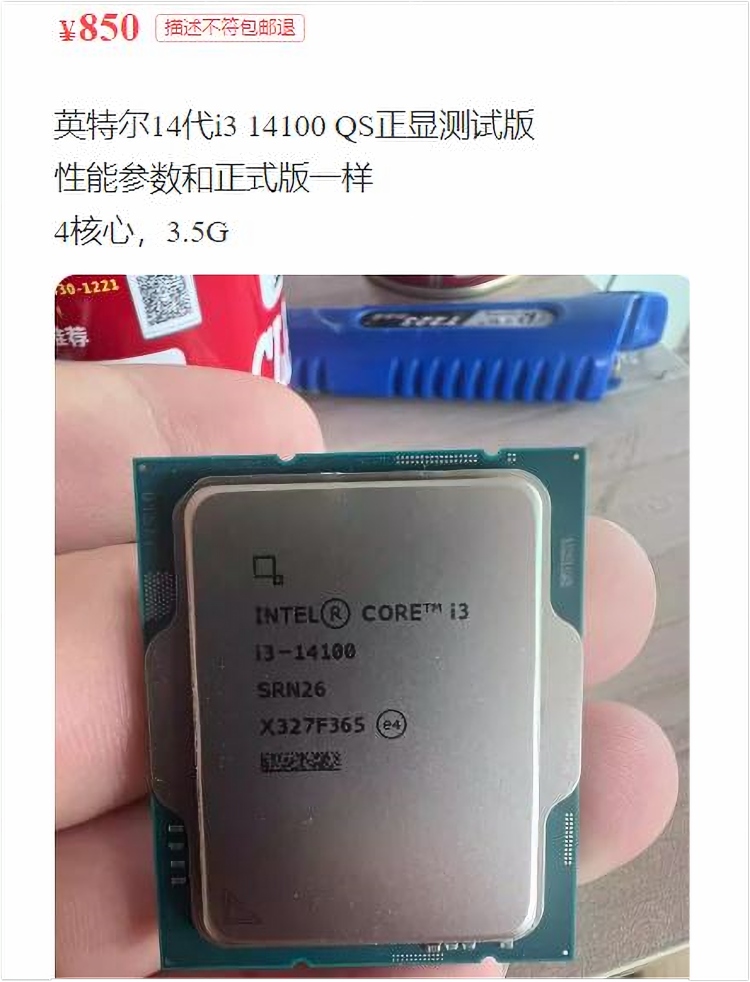 If you are wondering about the performance of the Intel Core i3-14100, we have actually seen an earlier leak regarding the benchmarks of this locked, non-K series Intel 14th Gen processor. This CPU had surfaced on Geekbench, and the above-mentioned leaked specs can be verified in the test result. This was originally shared via @Benchleaks on X (formerly Twitter).
The i3-14100 scores 2509 pts in Geekbench 6 Single-Core. On the multi-core side of things, it scored 8881 pts. These scores are in line with a modern Core i3 processor, and we do see a slight gain in performance here. The test was taken with 5600MHz RAM.
Intel 14th Gen Core i3-14100: Pricing & Availability
Intel's Core i3-14100 Raptor Lake Refresh CPU has already been put on sale in China, according to the Goofish online listing (leak mentioned above). This entry-level i3 14th Gen has been priced at ~$120 at the Chinese retailer (CN¥ 850). This is quite similar to the pricing of the Intel 13th Gen i3-13100 processor. However, do note that these prices are not confirmed and could change. This Intel CPU has been mentioned in the complete Intel 14th Gen CPU lineup leak also. So yes, we have been hearing about it for a long time.
Speaking of availability, many expect Intel to launch more 14th-gen Raptor Lake Refresh processors for desktops in early 2024. They should be available in the market by CES 2024.
If you have Intel 12th Gen, would you consider upgrading to the Intel 14th Gen Core i3-14100 (supported with a BIOS update on many motherboards)? What are your thoughts on the i3-14100's specs, performance, and price, as shown in the leaks above? Let us know in the comments below.
Featured Image Courtesy: Intel
---
Load More