One of the reasons why iPhones offer better resale value compared to their Android counterparts is the robust hardware. But that doesn't mean it's immune to failure. If the iconic home button is known to ill-function after being worn out, it's no surprise that the volume keys could either get stuck, become unresponsive and mushy, or stop offering the needed feedback when your iPhone gets old. It's the sort of issue that hurts the user experience and can start to get frustrating over time. If you are facing this issue, try out these 11 handy tips and tricks when your iPhone volume buttons are not working.
11 Tips to Fix iPhone Volume Buttons Not Working Issue (2022)
Before going through the solutions to fix the iPhone volume key stuck or not working issue, let's first briefly check out the possible causes! Then, we have listed the 11 best tips and workaround for this common iPhone issue.
What Could Cause the iPhone Volume Buttons to Stop Working?
Even though hardware failure is the first thing that comes to mind when the volume buttons of the iPhone become unresponsive or stop working, you should not jump the gun and visit a service center straightaway. Things like dust pile up, the pronounced but unresponsive buttons of your case, a rare software bug, or an outdated version of the software could also be causing the issue. So, we will look into each possible cause and try out solutions accordingly.
Along the way, we will also talk about some reliable workarounds to let you control the volume on your iPhone without having to use the physical volume buttons. With that said, check out these possible fixes for the iPhone volume button issue at hand:
iPhone Volume Buttons Not Working? How to Fix!
1. Ensure Your iPhone's Volume Buttons are Enabled
Go to Settings -> Sound & Haptics and make sure the "Change with Buttons" toggle is enabled.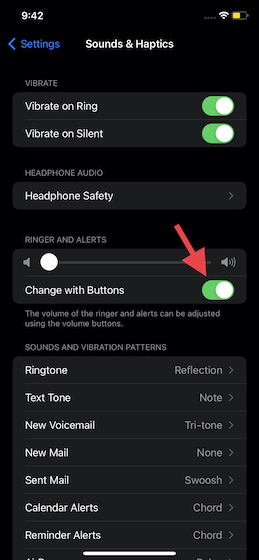 2. Remove Your iPhone Case
Believe it not, there are several cases (especially the cheaper and rugged ones) that lack tactile buttons. So, if you have installed a case on your iPhone, remove it and press the volume buttons to check if they are working or not. If the volume buttons are working fine, your case was the culprit and not your iPhone hardware. If you want to buy a case with responsive buttons, we suggest you check our roundups of the best iPhone 13 cases, iPhone 13 Pro cases, and iPhone 13 Pro Max cases.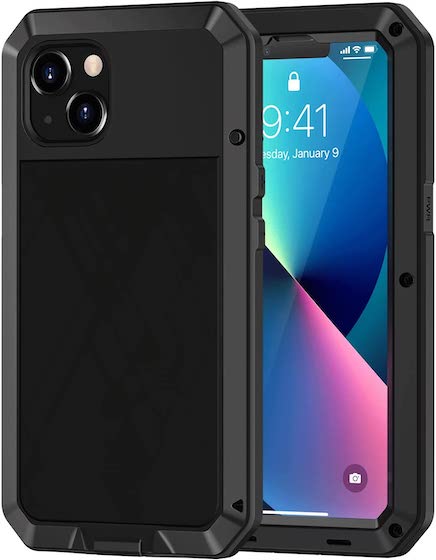 3. Clean the Volume Buttons
It's easy to overlook the presence of dust or gunk that never misses any chance to sneak into ports and holes. If the volume buttons seem to be stiff or stuck, there is a high possibility that dust/ grime may be causing the volume buttons to not respond. You can use compressed air to blow out the dust from the volume buttons. Besides, we suggest you dip a cotton swab into isopropyl alcohol and use it to clean the volume buttons gently.
4. Hard Reset Your iPhone
Hard reset (also known as force restart) comes into play when dealing with common iOS 15 problems. Due mainly to its ability to quickly fix several issues, it's considered a go-to troubleshooting technique by most iPhone users. So, we should give it a shot to solve the iPhone volume button not working issue as well.
On iPhone 8 or later: Press the volume up button. Then, quickly press the volume down button. Now, press and hold the power button until your iPhone screen goes black and the Apple logo pops up.
On iPhone 7/ 7 Plus: Hold down the volume down button and the power button simultaneously until you see the Apple logo on the screen.
On iPhone 6s or earlier: Hold down the home button and the power button until the Apple logo shows up on the screen.
After your iPhone reboots, check if the volume buttons are working normally and if you have gotten rid of the issue.
5. Reset All Settings
If the volume buttons of your iPhone are still not working, try resetting your iPhone to the factory default settings. Note that it will wipe all the existing settings of your iOS device and return them to their original state. However, your personal media and data will remain safe.
On iOS 15 and later: Head to Settings -> General -> Transfer or Reset iPhone -> Reset -> Reset All Settings.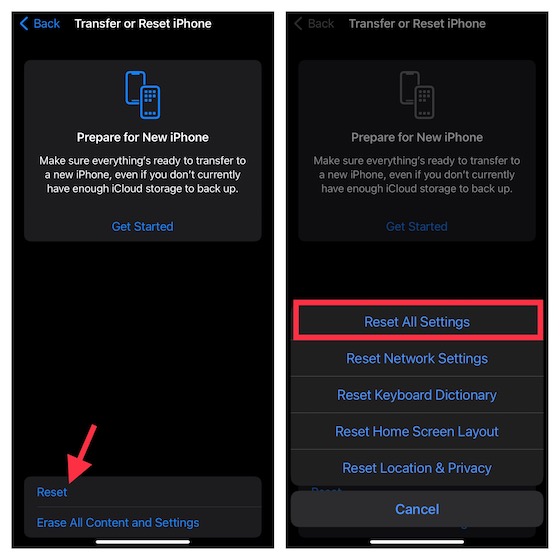 On iOS 14 or earlier: Navigate to Settings -> General -> Reset -> Reset All Settings.
6. Use AssistiveTouch to Adjust Volume on iPhone
While this is not a solution to fix the volume buttons, you can use AssistiveTouch to adjust the volume on your iPhone with utmost ease. So, if the volume buttons on your iPhone are not working, AssistiveTouch could be a good workaround for your problem.
Open the Settings app on your iPhone -> Accessibility -> Touch -> AssistiveTouch and turn on the "AssistiveTouch" toggle.
After that, under the "Custom Actions" section, select "Single Tap" and choose "Volume Up". Then, select "Double Tap" and choose "Volume Down".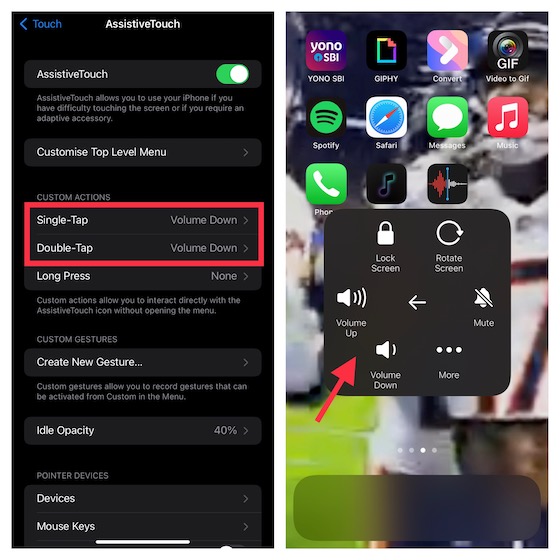 Now onwards, you can adjust the volume on your iPhone using quick tap gestures. Simply tap once on the AssistiveTouch icon to increase the volume. And tap the icon twice to decrease the volume. So handy, isn't it?
Alternatively, select "Single Tap" and choose Open Menu. After that, tap the AssistiveTouch icon -> Device and tap the Volume Up/ Down button to adjust the audio output if your iPhone volume buttons have stopped working.
7. Use Control Center to Adjust Volume
Another reliable alternative that you should try to adjust the volume on your iPhone with ease is the volume slider integrated within the Control center. It's pretty neat, and you can use the volume slider to increase/ decrease the sound output.
On iPhone without home button: Swipe down from the top right corner of the screen to bring up the Control center.
On iPhone with home button: Swipe up from the bottom edge of the screen to access the Control center. After that, use the volume slider to tweak the volume.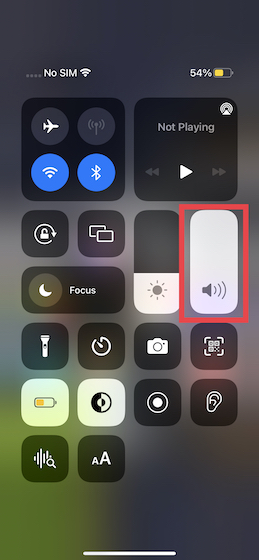 8. Adjust Volume Right From Specific Apps
Most audio and streaming apps on iPhone come with a dedicated volume slider to let you adjust the volume with the desired convenience. So, when using apps like Spotify or the Apple Podcasts app, look for the dedicated volume slider and use it to adjust the volume instead of using the physical buttons.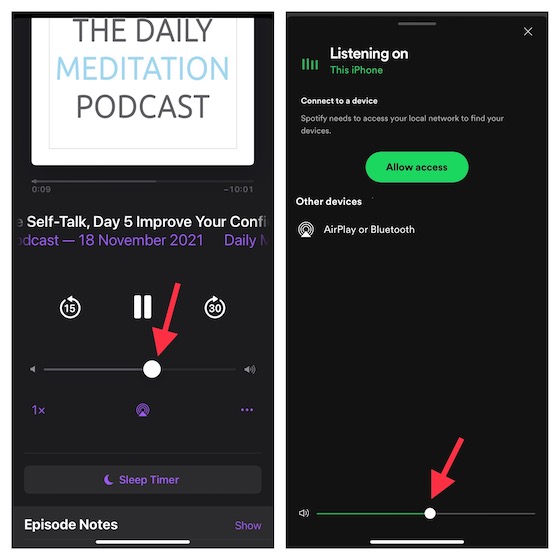 9. Update Software
Outdated software is often responsible for miscellaneous issues on iPhone that are hard to explain. So, if the issue hasn't yet been fixed, try updating the software (and learn how long it takes to download the iOS 15 update right here). As mentioned above, the volume buttons not working issue might be because of a rare software bug. So, follow the steps below to update the software:
Ensure your device has at least 50% battery and is connected to a stable internet connection. Open the Settings app on your iPhone and navigate to General -> Software Update.
Once your device has checked for available updates, it will offer you the option to download and install the latest iOS update.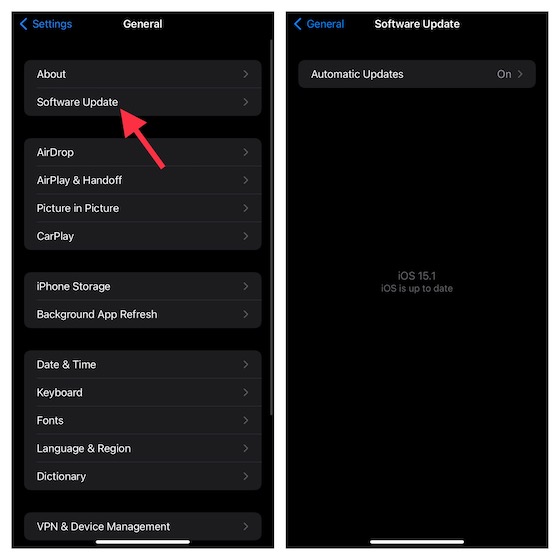 10. Erase Your iPhone and Restore From Backup
When faced with a persistent issue that you can't resolve with basic tips, make sure to try out this nuclear solution – Erase and Restore. It erases your iPhone and gives you the option to either set it up as new or restore it from a previous backup. But before you even think of giving this radical solution a try, make sure to fully back up your iPhone.
With iOS 15 or later, you get free temporary unlimited iCloud storage, which you can use to back up your device to the cloud and restore it later. If your device is running the latest iteration of iOS, follow the linked guide to get free iCloud storage.
If you have enough iCloud storage, go to Settings -> Apple ID banner -> iCloud -> iCloud backup -> Back Up Now to quickly back up your iPhone. After that, head to Settings -> General -> Transfer or Reset iPhone -> Reset -> Erase All Content and Settings.
Once your device has been erased, follow the setup assistant to set up your iOS device. During the setup process, your iPhone will offer you the option to restore your device from the iCloud backup.
As always, you can use Finder/ iTunes to securely back up your device and restore it. Simply connect your iPhone to the computer using a USB cable, open Finder/ iTunes, and back up the device. After it has been backed up, click "Restore Backup" and select the most recent backup.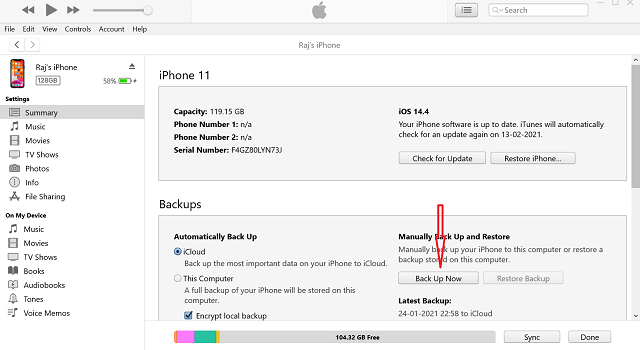 11. Contact Apple Support
None of the solutions above helped fix the volume buttons not working issue on your iPhone? Well, if the volume keys on your iOS device are still unresponsive, it might be a hardware issue. It would be wise to contact Apple Support without any delay to get the issue resolved. Some hardware components might be broken or damaged, hence, a timely hardware repair will help you fix the problem.
[Fixed] iPhone Volume Buttons Not Working? Best Solutions!
Hopefully, the volume buttons on your iOS device are working again, and you can adjust the volume with ease. Many a time, the basic tips, including a hard reset can help you overcome the problem. Besides, you should always ensure that the buttons of your case are responsive and there is no grime collection in the volume buttons, which could hinder their functioning. By the way, let us know the trick that helped you fix the ill-functioning volume buttons. And if you have any trusted solutions missing from this guide, do let us know in the comments section below.
---
Load More