It's that time of the year when the new iPhone has finally seen the light of the day and people are contemplating whether or not to pay the hefty price and go for one. But an old iPhone to trade in or sell can make the deal sweet. If you are looking to sell your old phone online, there are a number of trade-in programs and sites that claim to offer lucrative deals. While not all these sites are genuine, we do have a list of the ones that are actually useful. So, here are the best 8 ways to sell or trade-in your iPhone for the best value.
Best Places to Sell or Trade-in Your Old iPhone
If you're wondering what is the best method to get great value for your old iPhone, it depends on your preference. Be it credit, buyback offer, or a way to directly sell your old iPhone online, there are various methods available. Just make sure not to jumpstart until you have explored all the possible quotes for your device. Most trade-in or buyback sites offer a pretty straightforward way to let you generate a quote for your old iPhone based on specifications such as storage capacity and the phone's condition. Therefore, it's never a hassle to figure out the money your old iOS device can fetch. Just in case you aren't pleased with the offered price, you can always go for classifieds. Here's a look at all the options in detail.
Apple Trade-In: Get Credit Toward Your Next Purchase
For iDevice users, the Apple Trade-In program has always been a pretty safe bet. Probably the best part about Apple's trade-in program is that it accepts almost any Apple device. So, whether you have an old iPhone, iPad, or Mac that you want to trade in, look no further than Apple.
Are you planning to switch to iPhone from Android thanks to the new iPhone 13 series, and want to use the Apple trade-in program for a smooth transition? Bother not, it also accepts Android devices and provides a decent iPhone trade-in value.
Depending on your needs, you can choose to get the credit towards your next purchase or receive an Apple Gift Card that you can use anytime. Currently, Apple offers up to $790 for iPhone 12 Pro Max, $640 for iPhone 12 Pro, $530 for iPhone 12, $170 for iPhone SE 2, $340 for iPhone 11, $230 for iPhone XR, and more.
Visit: Apple Trade-In
Supported Countries: USA, India, Australia, Austria, Belgium, China, and more.
Amazon Trade-In: Sell Your Device for Amazon Gift Cards
Apart from being one of the world's most popular e-commerce platforms, Amazon is also a noted trade-in site that provides reasonable value for old devices including iPhones. That means, if you have an old iPhone (or any Android phone for that matter), you can trade in your existing iOS device to buy the new iPhone 13 or even the iPhone 12.
Moreover, the Amazon Trade-In program also offers Amazon Gift Card in exchange for eligible items. Add to that the price-lock for 28 days and Amazon's trade-in platform becomes a solid option for those hunting for a way to fetch good value for old devices.
Currently, Amazon Trade-In offers up to $671 for the iPhone 12 Pro Max, $451 for iPhone 12, $265 for iPhone 11, $318 for iPhone XS Max, and $176 for iPhone XR, and more.
Visit: Amazon Trade-In
Supported Countries: USA, UK, Canada, and more.
Best Buy: Trade-in Your Old iPhone for Store Gift Card
If you are in quest of a store credit that you can use to buy any iPhone, Best Buy would be a good place to consider. Do note that Best Buy trade-in doesn't accept unlocked iPhone trades and requires your device to be from one of the leading carriers including AT&T, Verizon, and more. At the time of writing, Best Buy offers $775 for iPhone 12 Pro Max, which is comparatively lower than what Apple gives. To get an estimated value, you need to select the model name, carrier, condition, and more details.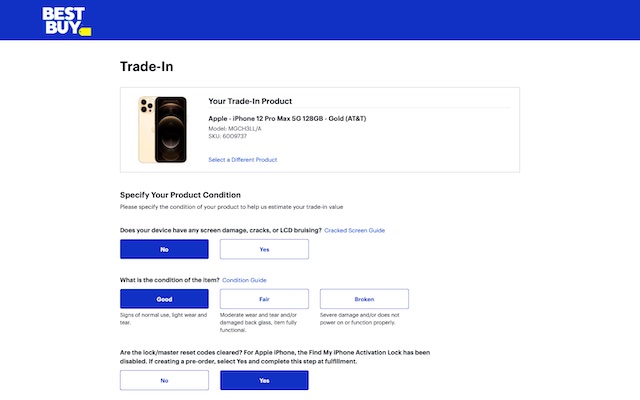 Visit: Best Buy
Supported Countries: USA, Canada, Mexico
iPhone Upgrade Program: Get a New iPhone Every Year!
For folks who love a new phone every year, the iPhone Upgrade Program could be an exciting proposition. So, what makes the iPhone upgrade program different from the rest? First and foremost, it lets you upgrade to an all-new iPhone every year. Yeah, you got that right! When you join this trade-in program, Apple will hand over a new iPhone with a two-year contract that requires you to pay monthly installments. And you will need to trade in your existing iPhone at the end of the 12-month period for a new iPhone.
Another thing that makes the iPhone upgrade program worth a close shot is the free AppleCare+ coverage on devices. Hence, if you ever happen to damage your iPhone accidentally, you won't have to burn your pocket for the repair. For those who don't know, AppleCare+ extends your standard warranty coverage from one year to two. Additionally, it also extends phone and chats support from 90 days to 24 months.
One thing worth noting is that AppleCare+ offers up to two incidents of accidental damage coverage per year for a comparatively low service fee. The price of screen replacement is only $29, while Apple charges $99 for other damage.
Visit: iPhone Upgrade Program
Supported Countries: USA, UK, Japan, Germany, China, Canada, Spain, and more.
Buy-Back Sites: Great Option for a Good Price for Old iPhones
Buy-back sites have always been a reliable option for scoring a good price for old devices. So, if you don't want to settle for anything less than the best value of your phone, take a look at these sites as well.
Cashify: Top Site to Sell Your Old iPhone in India
Cashify is arguably the best place to sell old iPhones at a good price. If you reside in India and want to get a higher price for your old iOS (or Android) device, this one has to be a go-to place for you. When you visit Cashify, it lets you select your city to sell your device. Since it's available in several cities including Delhi, Bangalore, Chennai, Mumbai, Kolkata, and more, finding a better place to sell your device shouldn't be a pain.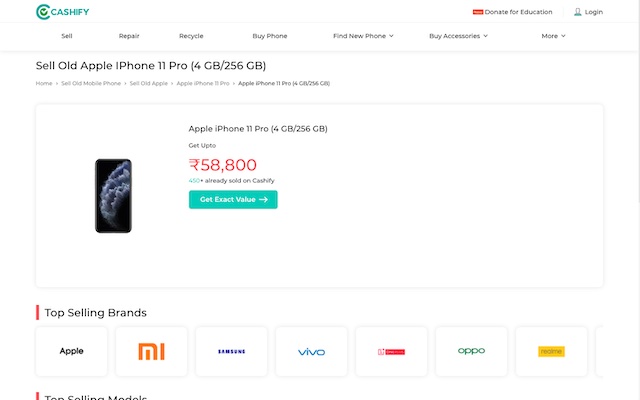 Once you have selected a city and given some details about the current condition of your iPhone, Cashify will let you know the price of your device. If you are satisfied with the price, you can book a free pickup and get paid at the time of handing over the device to the Cashify executive.
As of now, Cashify offers up to Rs. 37,500 for iPhone 12 (64GB), Rs 25,320 for iPhone XR (64GB), and Rs. 49,840 for iPhone 11 Pro (64GB), which I feel is pretty good. Additionally, Cashify provides exclusive Amazon and Flipkart offers for more money.
Visit: Cashify
Supported Countries: India
Decluttr
Decluttr is where you should go if you want to generate a pretty fast quote for your old iPhone. Simply, head over to the site, select your device, mention the storage, and it will instantly generate a quote for the specified device. Currently, Declutter offers around $294 for iPhone XS Max (64GB).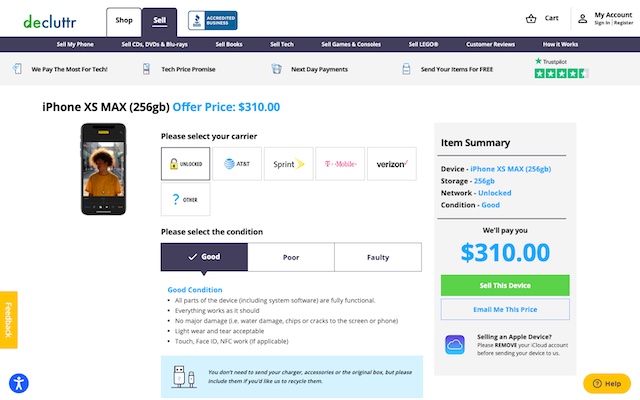 Visit: Decluttr
Supported Countries: USA, UK. Includes International shipping to multiple countries
GadgetGone
When it comes to offering a good value for old devices, GadgetGone is second to none. The platform lets you ship the device for free and claims to provide faster payments. You just need to select the brand, model name, carrier type (if any), storage, and more details to get a quote. Currently, it offers $430 for iPhone 12 (64GB, good condition, unlocked). So, hop in here as well to see how well your device fares.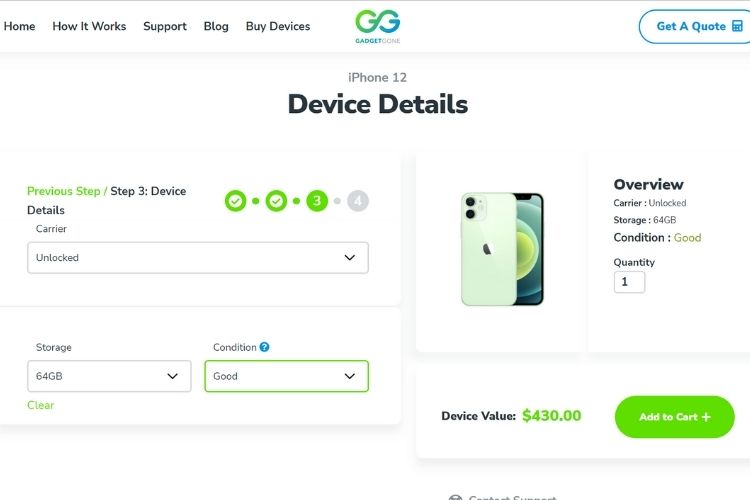 Visit: GadgetGone
Supported Countries: USA
BuybackBoss
BuybackBoss is another solid option to consider if you want to get the most out of your old iOS device. Equipped with a fast quote generator, it doesn't take much time to let you figure out how much cash you can get for your old iPhone. With BuybackBoss, you can get up to $358 for an iPhone 12 mini (64GB, unlocked, good condition).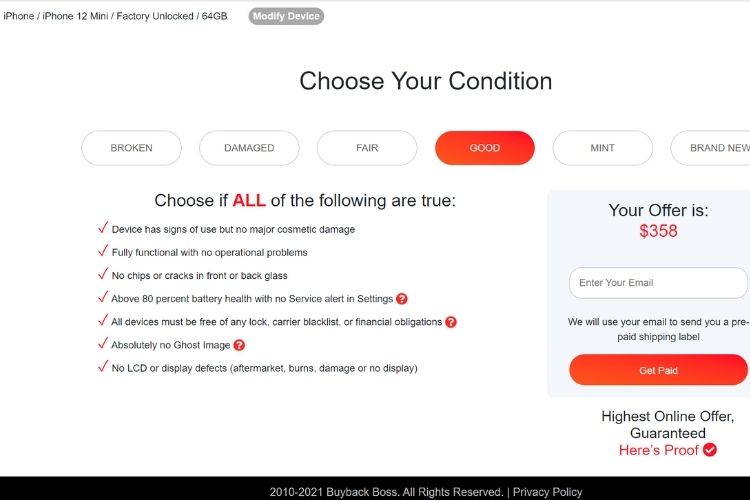 Visit: BuybackBoss
Supported Countries: USA
Note: The aforementioned prices are bound to change with time and depend upon the varying factors that determine the quote.
Carrier Stores Can Also Provide Good Deals
Carrier stores are always there to offer a reasonably good return on your old iPhone. So, if you want to go to a reliable place where you can trade-in your iPhone for a new one, you should make sure to check out carrier stores. More often than not, they come up with exclusive offers that can easily help you save around $100/$300 on the new iPhone.
If you intend to purchase the recent iPhone 13, AT&T is offering up to $800 and Verizon can provide a discount on the EMI option if you go for the trade-in option. T-Mobile users can also avail of a trade-in offer for the new iPhones via the Magenta Max plan. The condition is that you will be required to be an existing user.
Visit: AT&T, Verizon, T-Mobile
Supported Countries: USA
SellCell – Comprehensive Price Comparison For a Better Deal
In case you wish to compare prices before you sell, it's apt to have a comprehensive price comparison tool at your disposal. SellCell is a trusted place to compare deals on refurbished and pre-owned phones. So, if you are on the lookout for a way to lock your price today itself for up to 30 days, you shouldn't miss out on this one. SellCell compares the prices from more than 40 buyback companies to bring you a better deal. To proceed, you can click on the Sell Now option. Once you have found the perfect deal, choose the option and you will be redirected to the site where the process can be completed.
Currently, it shows up to $494 for iPhone 11 Pro (64GB, good condition), up to $550 for the iPhone 12, and more.
Visit: SellCell
Supported Countries: USA
Direct Selling Options For a Much Higher Price
While I certainly do not recommend everyone to take the "Classifieds" route for selling an iPhone (mainly due to the risks involved and the time taken for this), you do get a much higher price. Just make sure you don't fall prey to scamsters. To handle situations where you are unsure, I would recommend you avoid meeting the prospective buyer at an unknown place and also make sure to take your friend along with you.
If you are planning to go through the classified ways, check out the following sites that can help you get a much higher price for your device.
eBay
eBay doesn't need any introduction, does it? If you can spare some time for listing, shipping, and paying minimal sales fees, this one can prove to be one of the best places for selling iPhones and much more. Thanks to purchasing protection, it's a better place for buying old devices from strangers.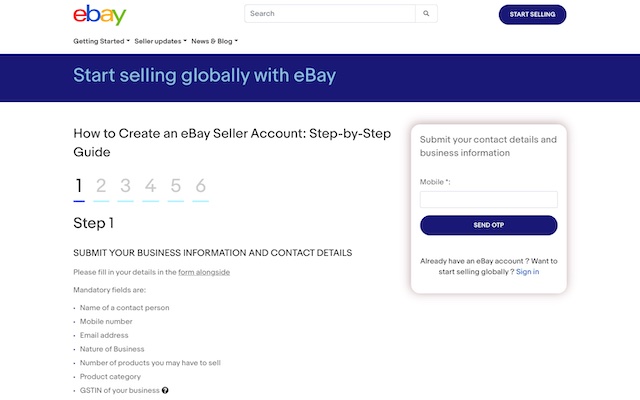 Visit: eBay
Supported Countries: USA, India, China, UK, and more.
OLX
This is one of the top places for classifieds and buying/selling of goods in India. From smartphones and furniture, to cars, OLX tends to cater to a variety of needs. You can go through the listings or put up one and find yourself the right seller or buyer, respectively.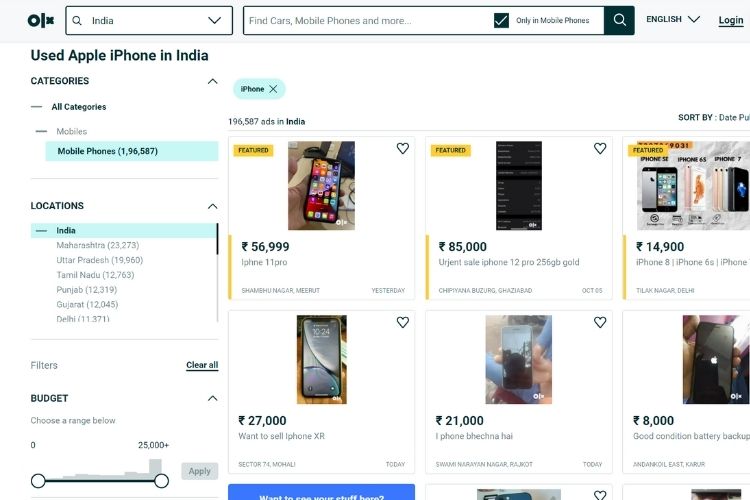 Visit: OLX
Supported Countries: India, Pakistan, South Africa, Indonesia
Swappa
Swappa is another place to sell iPhones or any other electronic gadget. You can also buy the products at a lower price than the one available on the official website. You can compare the prices offered by the various carriers and make the choice that best suits you. As for selling, the platform ships directly to the buyer and pays instantly. Currently, you can get an average price of $641 for iPhone 12, $422 for iPhone 11, $338 for iPhone XR, and more. The value tends to change frequently so keep a tab to get the best price.
Visit: Swappa
Supported Countries: USA
Facebook Marketplace
When you talk about a fast-growing marketplace to sell or trade in old devices, Facebook Marketplace can be another option. A part of the world's most famous social networking platform, it's your top bet for personalized recommendations. And that's what makes Facebook Marketplace a bit more reliable than many other platforms that allow direct selling. Plus, if you are buying, you can always negotiate. Just ensure, you thoroughly look into the options so that you buy or sell safely.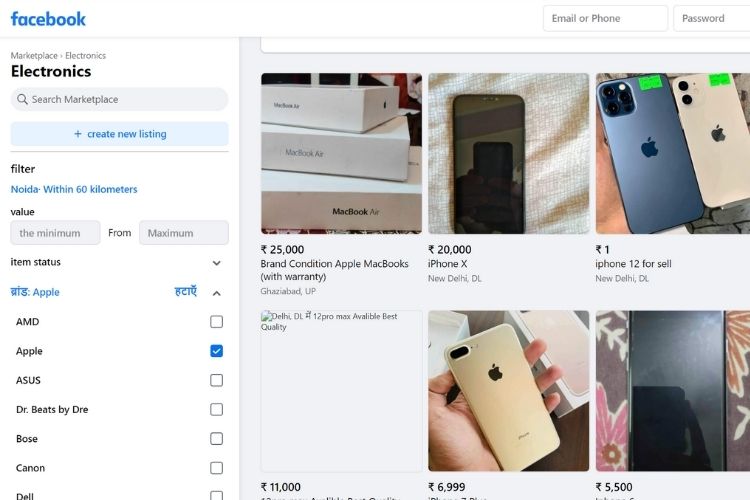 Visit: Facebook Marketplace
Supported Countries: USA, India, UK, Australia, and more.
Craigslist
It's always been a great place if you want to have handsome cash for your old device. But bear in mind, it's not for the folks who are averse to taking risks.
Visit: Craigslist
Supported Countries: USA, India, Asia-Pacific, Europe, and more.
Uncle Henry's in Maine
Just like Craiglist, Uncle Henry's in Maine is also a good place for getting better cash for old devices only if you are ready to deal with some unexpected twists and turns.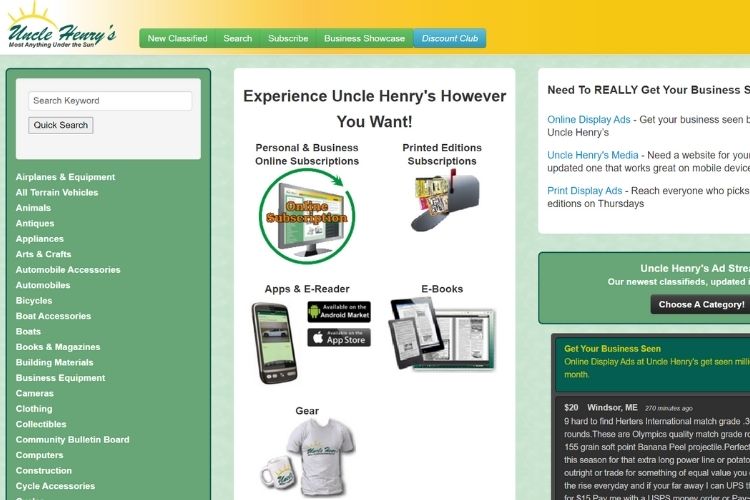 Visit: Uncle Henry's in Maine
What to do before you sell your old iPhone?
Now that you have decided on the place for selling your old iPhone, here are a few things you should do before you part ways with your phone.
Backup data: The primary thing to do is backup your data so you can always retrieve it. While iPhone-to-iPhone switch is always seamless, it still makes good sense to follow some easy steps. iCloud backup is your easy choice and you can head to the Settings -> iCloud -> iCloud Backup for this. For those who don't know, Apple provides free iCloud storage for you to easily back data up.
Remove your information from the device: Be it disconnecting wearables or removing stored data, its always safe to perform this step before you hand over your old phone to someone. Unpair connected devices, sign out of Apple ID, Find My and more, and do not forget to factory reset.
Remove SIM card: Its not a big step to follow but do not forget your SIM card.
Sanitize: Cleaning things is a good option, especially in the current COVID times. Ensure you sanitize your phone or accessories you want to sell. You can also click some pictures of your phone if you need to list it.
Best Places to Trade In or Sell Your Old iPhone
There you go! Now that you know all the means and ways to get the best value for your existing iPhone, you can choose whichever way suits you best and meets your expectations.
Do not forget to share your feedback about your favorite trade-in service or the one that has failed to live up to your expectations. If there are any notable trade-in programs that are worth mentioning in this post, do let us know.