If your iPhone says SOS in the top-right corner and you've no idea what it is or how to fix it, you've landed at the right place. When you're traveling or are in a remote area, your iPhone might get stuck in SOS mode, not allowing you to access the internet, send messages, or even make a phone call. We know how annoying and bothersome it is, especially when you have no clue what it means and what to do in such situations. Although SOS isn't a great sign, you need not worry too much as there are some ways to troubleshoot it at your end. In this article, we'll tell you what SOS is, why you get it, and how to fix SOS Only on an iPhone. Without any ado, let's get going!
Note: iPhone showing SOS in the status bar and Emergency SOS are two different things. With Emergency SOS, you can quickly alert your emergency contacts for help. On the other hand, SOS in the status bar indicates network connection issues.
What does SOS on iPhone mean?
'SOS Only' or 'SOS' on an iPhone means your device is out of your network carrier's range to make/receive calls, text messages, or access the internet. When you see SOS on the top-right corner of your iPhone, you can only make emergency calls to numbers like 112 (India & Europe), 911 (United States), 999 (UK), etc. Of course, when you don't have a proper cellular connection, you won't be able to access even basic functionalities like phone calls or messages. Rather, you can only call fire, ambulance, police, and emergency services available in your country/region. This is to ensure that you're safe and can reach out to emergency services even if your iPhone cannot connect to the cellular network.
Why is SOS showing on my iPhone?
In most cases, a poor network connection is to be blamed for why your iPhone shows SOS in the top-right corner, where you see network signal strength. That said, you might see SOS in the status bar in the following situations:
Your SIM card has failed.
You haven't enabled Automatic Network Selection on your iPhone.
You're traveling abroad and you didn't enable Data Roaming on your device or activate a roaming pack offered by your network provider.
Your network carrier might be experiencing outages.
5 Ways to fix SOS on iPhone
1. Move to an area with proper network coverage
The best way to fix 'SOS Only' on iPhone is to move to an area with a stronger network coverage. If you're in the basement of a building, an elevator, or a remote location, it's pretty normal to see SOS on your phone. Things should get back to normal as soon as you move to an area that's within the range of your network carrier.
2. Toggle Airplane mode
There can be instances where your iPhone gets stuck at SOS Only and shows the warning even in areas you remember having proper signals in the past. This usually happens when your phone isn't registering the connection. One of the best ways to fix this glitch is to toggle Airplane mode on your iPhone. Here's how to do it:
Open Control Center on your iPhone and tap on the Airplane mode icon. The icon should turn Orange. Then wait 5 to 1o seconds and tap on the same icon again.
Alternatively, head to Settings and turn on the toggle for Airplane mode. Again, wait for a few seconds and turn it off.
The new iOS 17 offers a quick way to toggle system settings from Spotlight search. Just search for Airplane mode and turn the toggle on.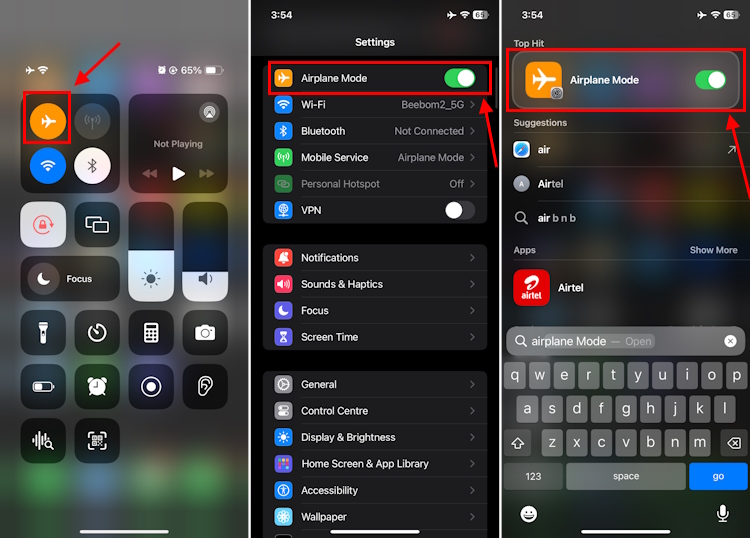 3. Restart your iPhone
If the Airplane mode trick doesn't work, you can restart your iPhone to allow it to re-establish the connection with the network. So, make sure to turn off your iPhone, wait for a few seconds, and then turn it back on. Here's how to restart any iPhone model. Once your iPhone has restarted and you're in a range of cellular connections, you shouldn't see SOS in the status bar on your iPhone.
4. Check your iPhone's cellular settings
Another reason why your iPhone is showing SOS could be because your phone's cellular settings aren't configured properly. If you haven't enabled Automatic Network Selection, your iPhone won't automatically connect to the right network. Instead, you have to manually select which network your phone should connect to. This can sometimes throw issues like putting your iPhone in SOS only. To avoid such problems and ensure optimal connectivity, you should enable the Automatic Network Selection option on your iPhone. Here are the steps to do it:
Open the Settings app on your iPhone and tap on Mobile Service/Cellular.
Tap on Network Selection.
Here, make sure the toggle next to Automatic is turned on.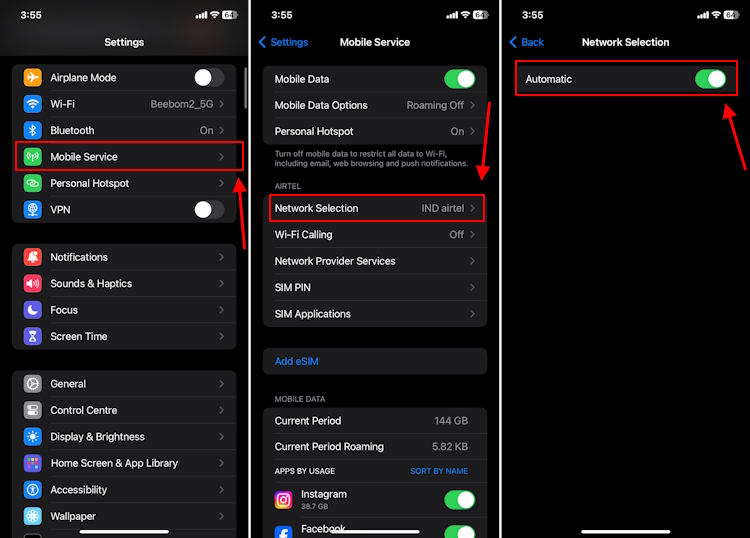 If it isn't enabled, you'll see a list of available networks and have to choose one manually.
5. Check With your Carrier
If your iPhone frequently goes into SOS, even in areas where you shouldn't have any connectivity issues, it could be due to a faulty SIM card. To know if this is the reason, contact your network provider. Also, don't forget to ask if the carrier is experiencing some sort of outage in your area.
While we're talking about this, it's worth mentioning that a faulty SIM card slot might trigger SOS only on an iPhone. To rule out the culprit, visit the nearest Apple store and get your phone diagnosed. If you've got an iPhone XR or a later model, consider switching to an eSIM. For several users, this trick helped to get their iPhones off SOS mode. So, if you can, there's no harm in giving it a try.
That's all for now. We hope this guide helped you understand why your iPhone says SOS only and helped you get back your things to normal. We'd love to hear how you got your iPhone off SOS mode. And in case you've any doubts, drop them in the comments below and we'll get back to you.
---
Load More