Equipped with pro-grade cameras, 120Hz ProMotion display, and the wicked-fast A15 Bionic chip, iPhone 13 Pro (along with the behemoth iPhone 13 Pro Max) has probably set the tone for the festive season. While only time will tell whether or not the much-awaited Google Pixel 6 and 6 Pro is able to challenge Apple's flagship, the iPhone 13 Pro seems to be the go-to option for many. If that's you, I assume you have already pre-ordered the device and are now looking for the best iPhone 13 Pro cases and covers to offer the needed protection. Let's jump right in as we have curated a list of high-quality iPhone 13 cases and covers for you to choose from.
Best iPhone 13 Pro Cases and Covers (2022)
Before that, if you are wondering – Will my iPhone 12 Pro case fit the new iPhone 13 Pro? Well, the answer is no. Even though iPhone 13 Pro is an incremental upgrade over the previous generation, your old iPhone 12 Pro cases won't work with the iPhone 13 Pro. Apple has slightly tweaked the size of the triple camera setup on the iPhone 13 Pro. Since the new camera array is a little wider than the one available on the iPhone 12 Pro, your existing cases are of no use for the iPhone 13 Pro.
Coming back to the cases for iPhone 13 Pro, I have chosen cases across several different categories, including kickstand, wallet, clear, slim, and more. So you are likely to find an ideal protective cover for your new smartphone. And that too while keeping your budget in check. So without any further ado, have a look at the best cases and covers for the iPhone 13 Pro:
Apple Silicone Case with MagSafe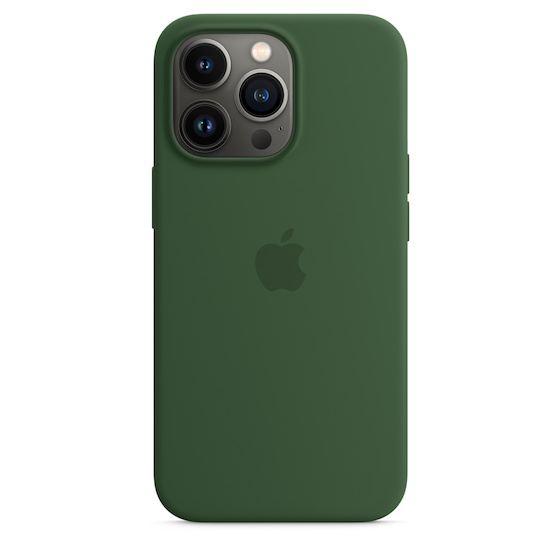 Pros:
Soft-touch finish
Much-improved grip
Works seamlessly with MagSafe
As always, Apple has come up with a premium silicone case for the iPhone 13 series. So, if you want a top-notch silicone case for your all-new iPhone 13 Pro, this one can be a better option for more than one reason. The case has been carved out of high-quality silicone material and features a smooth finish that provides a secure grip.
Though the focus is on the slim form factor, the silicone case can keep your iPhone 13 Pro protected against bumps and can even work as a reliable shield against scratches. For additional safeguard against scuffs, it has a soft microfiber lining inside. But what makes the Apple Silicone Case stand out is its ability to work seamlessly with MagSafe. Overall, it's one of the best iPhone 13 cases in the market right now.
Caseology Nano Pop Silicone Case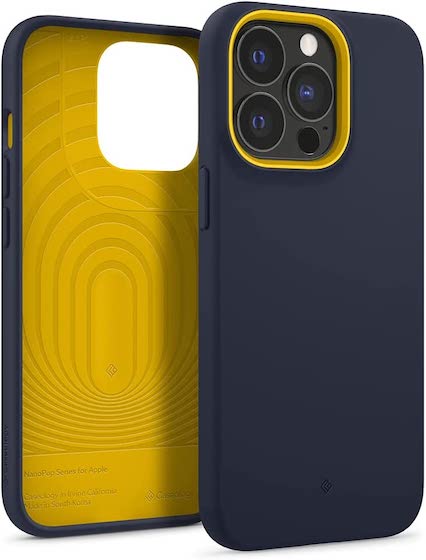 Pros:
Soft-touch finish
Certified military-grade protection
Supports wireless charging
Cons:
Buttons aren't super tactile
If you are hunting for an Apple silicone case alternative at an affordable price point, Caseology Nano Pop Silicone Case can be a smart pick. Just like Apple's offering, it also features a soft-touch finish and snuggly fits around the iPhone 13 Pro. So, you will get the desired grip to hold the smartphone comfortably. The two-tone colors play a vital role in enhancing its profile.
As compared to Apple's silicone case, this one looks more durable. Nano Pop comes with certified military-grade protection and offers safeguard against drops. And with the raised lips, it provides extra to the camera bump and the ProMotion display. Moreover, it also works well with wireless chargers to ensure there is no need to take off the cover before attaching a MagSafe charger.
Ringke Fusion Clear Case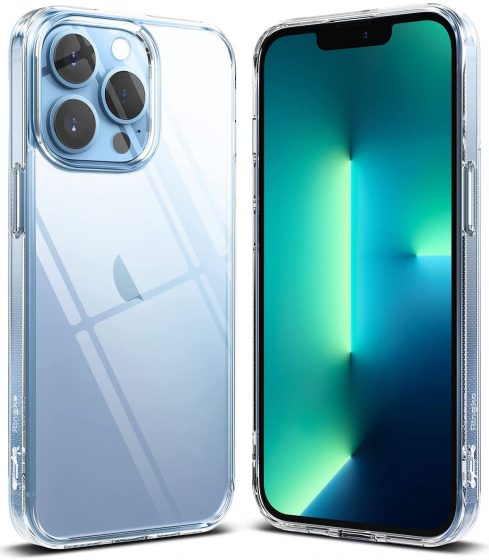 Pros:
Hard back panel
Responsive buttons
Anti-yellowing
If a crystal clear case for iPhone 13 Pro is what you are looking for, the Ringke Fusion clear case could be the perfect choice for you. Unlike many other transparent covers in the market, it features a shock-absorbing bumper that can resist the impact of drops. Paired with the hard PC back panel, the case offers the needed shield to the iPhone without adding any bulk.
For additional safeguard against scratches, the clear case also features elevated edges around the ProMotion display and the triple camera module. It's this neat balance between slimness and protection that makes the Ringke Fusion case worth a close look. Not to mention, this is also an anti-yellowing case, which means it will retain the transparent design for a long time.
LeatherSafe Luxury Books from Pad & Quill
Pros:
Luxurious profile
Carved out of full-grain American leather
Can store up to 5-7 cards and cash
Supports MagSafe
A pro-grade smartphone like iPhone 13 Pro deserves a luxurious leather wallet case. Should you wish to buy a wallet case that checks off all the boxes, Pad & Quill's LeatherSafe Luxury Books can be worth serious consideration. Made of full-grain American leather, LeatherSafe Luxury Books sports an executive profile. The marine-grade nylon stitching further enriches the design of this folio wallet case.
The integration of leather and hardwood strengthens the durability so that it can comfortably withstand impact. Unlike cheap leather covers, LeatherSafe Luxury Books ages gracefully thanks to the ageless patina that keeps its charm intact for long. On top of that, it lets you store up to 5-7 cards and also some cash, which makes it a full-on travel companion for hectic travel. And with the support for MagSafe, LeatherSafe ensures strong magnetic attachment and wireless charging.
Apple Clear Case with MagSafe
Pros:
Shock-absorbing corners
Comfortable grip
Best MagSafe compatibility
While there is no dearth of clear cases in the market, the Apple Clear Case with MagSafe stands out. As you may have already guessed, its ability to provide a seamless wireless charging experience gives it an edge over rivals. Showcasing a transparent profile, the case lets your iPhone 13 Pro gather attention by revealing its famed design.
Beyond the clear profile, how well does this case fare in terms of absorbing shock? Even though it's not a heavy-duty case, you can rely on it to prevent regular bumps and scuffs from harming your smartphone. That aside, the beveled edge also plays a good part in defending the massive camera module and OLED display against scratches. Although the top-tier $50 price tag does put it in the expensive category, you won't mind going for an extra yard if you use a MagSafe charger.
Spigen Ultra Hybrid S Case
Pros:
Form-fitting profile
Shock-resistant design
Built-in metal kickstand
Tactile buttons
Cons:
Metal kickstand may Obstruct wireless charging
Times when you may want to enhance your hands-free video calling and movie-watching experience, Spigen Ultra Hybrid S can come in super handy. Thanks to a built-in kickstand, the case lets you prop up your iPhone 13 Pro both horizontally and vertically so that you can have a more convenient viewing angle.
Showcasing a clear design, the Spigen Ultra Hybrid S case allows the iPhone 13 Pro to attract attention with ease. With the durable back panel and fortified corners, it is also up to the task when it comes to absorbing shock. For an added protection from scuffs, it features elevated lips to prevent the ProMotion display and camera module. Taking everything into account, Spigen Ultra Hybrid S deserves to be called the best kickstand case for iPhone 13 Pro.
Casetify Custom iPhone 13 Pro Case
Pros:
A wide variety of color options
Ability to customize layout and font
6.6 feet drop protection
Anti-microbial coating
If none of the cases above managed to attract your attention, or you wish to customize your iPhone 13 Pro case for a personalized look, then Casetify has you fully covered. With a wide variety of color options and the flexibility to customize the design as well as font, you can give a unique look to your custom case.
Casetify custom case features a durable frame and a hand back panel for extra protection from impact. The ability to endure up to 6.6-feet drops puts it in good stead in terms of being a trusted defender against accidental drops. Notably, it also features an anti-microbial coating that kills up to 99% of bacteria and supports wireless charging. So there is no need to remove the cover before you can charge the iPhone 13 Pro wirelessly.
Smartish Gripzilla Protective Case
Pros:
Anti-slip grip, Good protection
Grooved sides for additional shield
Compatible with MagSafe
Cons:
Pronounced buttons may feel stiff
For the folks who are on the lookout for a rugged case that can provide an uncompromised shield against accidental drops, this iPhone 13 For folks on the lookout for a rugged case that can provide uncompromised protection against accidental drops, this iPhone 13 Pro protective case from Smartish seems to be a great pick. Giving the safeguard against nasty drops the highest priority, it features grooved sides. Couple that with the durable back panel, and it leaves little room for the shock to damage your smartphone.
Despite being a rugged case, Smartish doesn't look bulky. That means your desire to offer an essential shield to your all-new smartphone won't come at the cost of style. Another thing that makes this case a notable pick is an anti-slip grip, and it can be a savior for iPhone 13 users. Being compatible with MagSafe, it won't come in the way of magnetic attachment or wireless charging.
Tucch Folio Wallet Case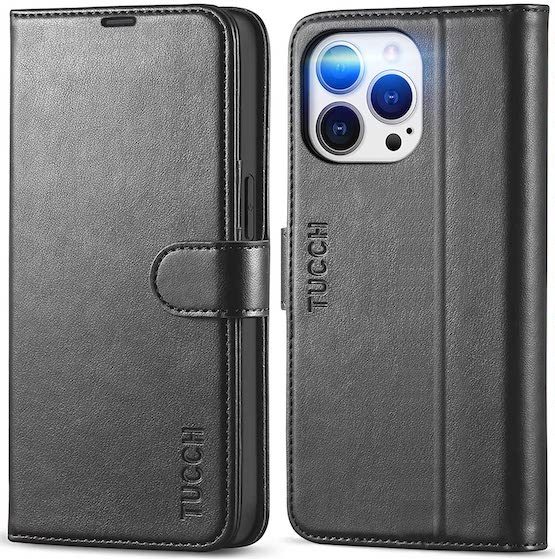 Pros:
Includes a kickstand
3 card slots and money pocket
RFID blocking technology
If you want a full-fledged folio wallet case for your iPhone 13 Pro at a low price point, this offering from Tucch is a solid contender. Made of PU leather and shock-absorbing TPU material, the case offers the required protection to the iPhone 13. While the classic book-style design does not turn heads, it makes a decent match with your formal outing.
What's more, the Tucch folio cover features 3 slots for cards and a large compartment to ensure your cash stays securely inside. And with a magnetic flap, it will keep all your valuables safe. Thanks to the RFID blocking technology, it blocks signals to shield your personal information. That's not all, though. This case also has a kickstand functionality for times when you want to enhance your hands-free video-streaming experience. Keeping in mind these notable features, the $19 price tag makes it a good choice.
totallee Super Thin Case
Pros:
Incredibly sleek design
Matte finish
Scratch resistant
Cons:
Minimal protection from shock
totallee is well-known for producing the thinnest cases for smartphones. As the name itself suggests, Super Thin looks in line with what the accessory maker is known for. At 0.02 to 0.03 inches, the case sports an incredibly sleek profile that makes a nice match with the newly launched iPhone 13 Pro. With the precise cutouts, the slim case provides hassle-free access to all the ports.
In addition to a sleek form-factor, the case is no pushover when it comes to resisting scratches. The case's hand plastic material offers it enough strength to endure minor shock as well. To ensure the ProMotion display and triple camera module are safe against scratches, it features elevated edges. Notably, the totallee Super Thin case also works with MagSafe wireless charging, and it doesn't have any branding to retain the original look of the smartphone.
Top iPhone 13 Pro Cases and Covers to Choose From
That's it! So, these are the best cases and covers crafted for the all-new iPhone 13 Pro. Hopefully, they have looked up to the mark for your specific requirements. My personal favorite from the list above is the Caseology Nano Pop and Spigen Ultra Hybrid S. Which iPhone 13 Pro case managed to get your attention? Let us know in the comments below. Also, do not forget to tell us about other worthy covers that we may have missed out on.