The music industry is ever-changing. While digital music distribution is still quite popular, many users have now gravitated towards music streaming. Even music labels are finally onboard with this fledgling trend and Spotify is often considered to be the biggest music streaming platform, with the best discovery and recommendation system too.
Seeing the golden opportunity, a ton of music streaming services have since cropped up, giving Spotify a run for its money. If you are an existing Spotify user who'd either like to check out other streaming services or find Spotify to be rather expensive, well, you need not worry as we've compiled a list of the top 10 Spotify alternatives for you:
Spotify – Why and Why Not?
One of the most popular music streaming services today is Spotify, with a massive 180 million userbase and around 83 million paying subscribers. It has made its mark in the music industry over the past couple of years, building itself as the greatest hotspot for music consumption and capturing the interest of music labels and artists alike.
Spotify is accessible from a wide variety of devices, be it the browser on your desktop, smartphones, tablets, TVs, gaming consoles, and even screens in your cars. It offers a platform for users to listen to the latest tracks from their favorite artists, build out their song collection and organize the same via playlists.
As for the reason Spotify has garnered such a subscriber base is its recommendations system, which is one of the best among the lot. It lets you gain access to new artists, albums, and more based on genre, likes, listening history, and more. There's a social networking aspect of Spotify as well, where you can connect with friends to see what they're listening to.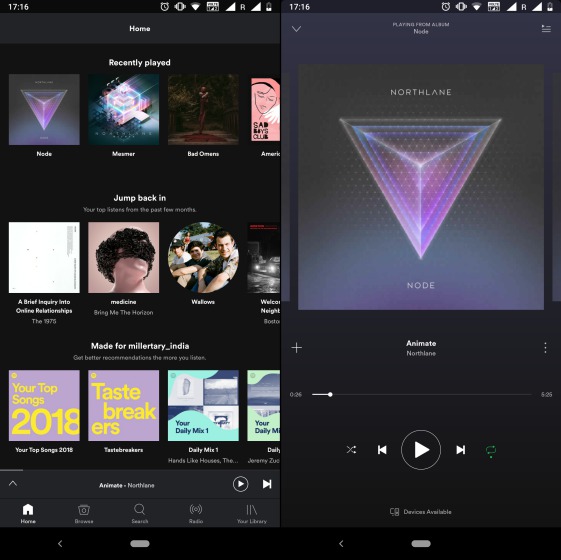 While all this sounds amazing, Spotify's free tier is limiting and you need to shell out a whopping $9.99/ month for the premium subscription. However, the $9.99 gets you ad-free streaming, offline downloads, and most importantly, the ability to skip and play all tracks instead of being stuck with random shuffles. The premium feature set here looks limited for the asking price.
So, if you're for an affordable alternative to Spotify, an absolutely free music streaming service perhaps, or aren't content with the music suggestions or collection offered by it, then we have compiled a list of the top 10 Spotify alternatives you can try out:
Spotify Alternatives Worth Checking Out
1. Apple Music
Apple Music is one of the most popular music streaming services, with more than 50 million paid subscribers worldwide but it still lags behind Spotify by a huge margin. The service gives you access to a catalog of over 50 million tracks for streaming and syncs your iTunes library, as well as gives you the ability to upload your music library to the platform. The recommendation system isn't the best here, but it is okayish from what I've learned in my experience with it.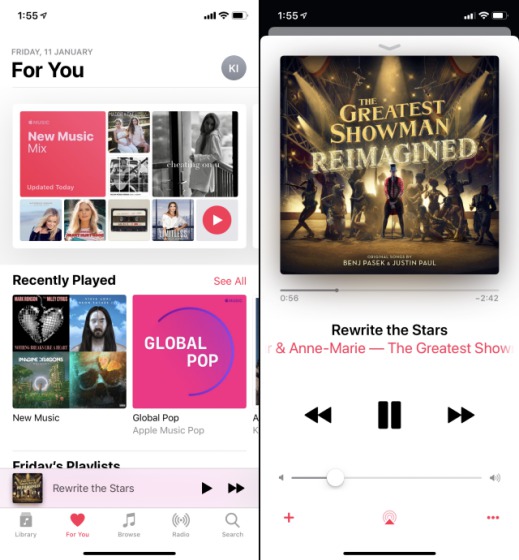 One of the notable features of Apple Music is exclusive album launches and 24×7 Beats1 radio station, curated playlists, and more. It is lush with features, including Apple Watch and Siri integration but the social experience is now being phased out and there's the lack of a free tier– which is a major plus for Spotify. You can pick between the free tier, a monthly subscription, with cheaper student and family plans.
Availability: Web (Unofficial); Android and iOS
2. Google Play Music
Google Play Music is also a solid option for streaming music, especially because it comes pre-loaded on Android phones and you don't really need to look elsewhere. It gives users access to more than 35 million tracks, lets you upload 50,000 songs from your personal collection, and discover podcasts as well. The artist recommendation, along with great genre playlists and affordable family plans make the streaming service quite appealing.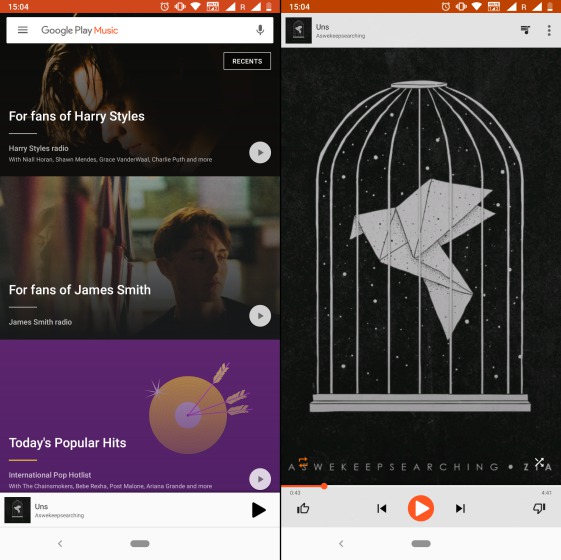 Play Music learns your music preferences over time and gives you with curated radio stations, based on artists you've listened to in the past or genres, right on the home screen and I love them. It's my favorite feature of Google's streaming app, along with switching to YouTube videos from within the player. However, I feel that the app, even though it's pretty simple, it can be more intuitive and there's scope for many different content types here.
Google's music stack is also a bit messy, just like its messaging stack, and you can use YouTube Music (Android and iOS) to stream tracks on your smartphone as well. It plays music tracks from YouTube so you can see the video alongside latest music tracks, with background playback and no ads.
Availability: Web; Android and iOS
3. Amazon Music
From selling music digitally to music streaming, Amazon has also dipped its toes in this fledgling segment. Amazon Music lets you listen to a massive catalog of songs via your Prime subscription but Amazon Music Unlimited opens up the entire library of 50 million songs to you. It presents you with an ad-free experience, unlimited skips, the ability to download tracks, and control playback with Alexa.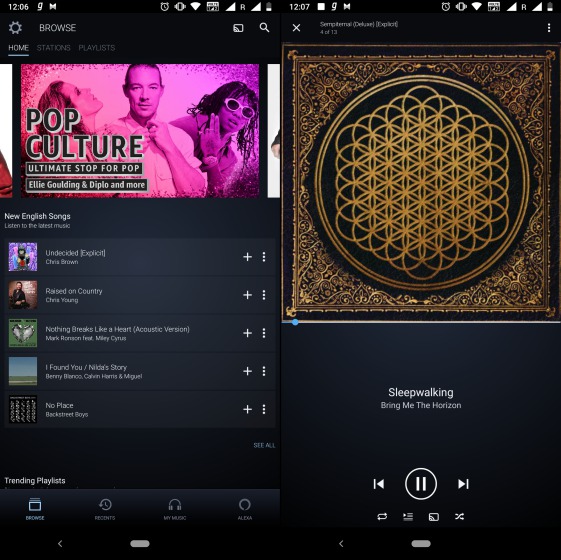 Amazon Music may have a huge library and new releases available on time, but the one thing that I dislike about the Amazon Music app is its UI. It's dated, similar to Amazon's official app (which is slowly but steadily improving), as well as clunky too. Users will not really be drawn to using the streaming service if it wasn't for Prime subscription and the Alexa voice integration in the app that makes the masses curious.
Availability: Web; Android and iOS
4. Pandora
Pandora is not only one of the oldest, but one of the more popular streaming services as well. It has been around since 2002 and currently boasts close to 75 million active users, even though it's a pioneer of the streaming industry. It still has one of the largest music libraries but makes it available in the form of radio stations, which are awesome. I won't have found a ton of good rappers if not for the Mac Miller station, so its recommendation system is pretty good.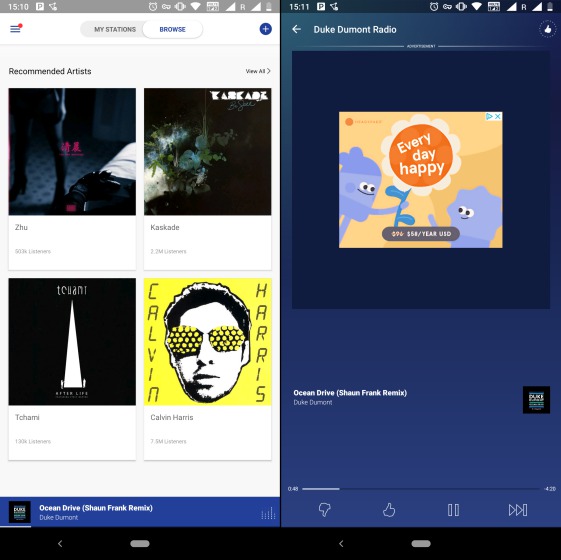 The free plan limits your song-skipping ability and includes some ads between songs and on the playback screen – which I found to be really annoying. The monthly subscription, with no ads, higher quality audio, unlimited skips and replays, is available using Pandora Plus subscription for just $4.99/ month (with a 30-day free trial). Unfortunately, due to DMCA regulations, Pandora is available in the United States, Australia, and New Zealand.
Availability: Web; Android and iOS
5. TIDAL Music
Tidal is a subscription-based music streaming service, owned by renowned rap star Jay-Z. It combines lossless audio and high fidelity (HiFi) music videos with curated editorial. The service prides itself on providing users with the highest quality of music possible, and also doling out the highest percentage of royalties to music artists and songwriters in contrast to its competitors. Then, there's Tidal X experience that brings listeners closer to their favorite artists.
Currently, the platform has about 50 million tracks and 130 thousand music videos in its library with over 3 million subscribers – which is pretty low next to its rivals. If you are a true audiophile, who has no problem paying a little extra for improved quality, and have decent Internet connectivity, then you'll fall in love with Tidal. There's a 30-day free trial, post which the service costs $9.99/month for the standard quality and $19.99/month for high-fidelity music.
Availability: Web; Android and iOS
6. Deezer
Deezer is one of the most reputed and oldest music streaming platforms, which is now known to offer users a collection of over 53 million licensed tracks, over 30,000 radio channels, podcasts and more. It currently has around 14 million monthly active users, which pales in comparison to Spotify.
The streaming platform allows you to listen to songs, create and rate custom playlists – based on your favorites, and group songs or artists into radio stations. The highlight is, however, called Flow and it's a non-stop mix of songs customized to your liking to not simply give you a dose of your favorite tracks but introduce you to new artists as well.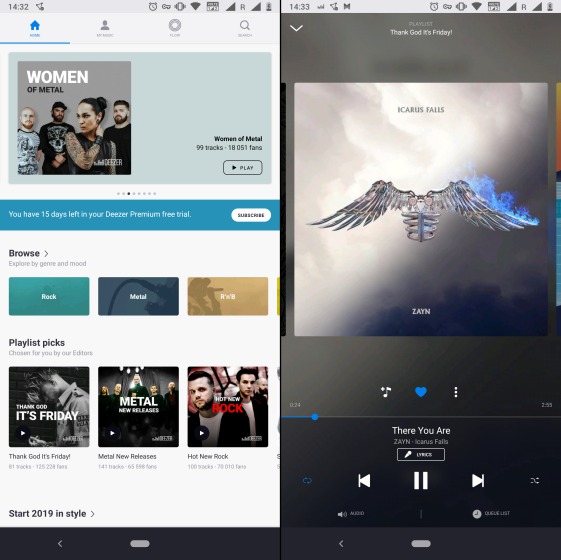 The free version of Deezer is feature-rich but laden with ads. So, if you are ready to shell out some money, $19.99/ month to be exact, then Deezer will enable the Hi-Fi streaming option, with 16-bit FLAC quality for you and there is nothing better. It will also elevate the experience by removing ads, enabling offline support, shuffling and skips.
Availability: Web; Android and iOS
7. Soundcloud
Well, if you are looking for some fresh indie music or an up-and-coming rapper – the likes of Post Malone, then Soundcloud is the perfect music streaming platform for you. It's one of the popular platforms among creators, with its whole collection adding up to over 120 million tracks including popular songs and indie ones. Now, that's a massive library for a melophile like me, even bigger than Spotify, who likes to go on a new artist hunting spree every so often.
Soundcloud is constantly adding new features to make discovery easier. The Upload is a feature which was added just recently and it surfaces the latest music uploaded by indie artists in a playlist – curated just for you. Apart from the huge collection, SoundCloud is known to pack all common features like playlists, a stream of artists you follow, and the ability to skip tracks. There's a social element to SoundCloud as well and I love it.
If you want to remove ads and want to support emerging artists, well, SoundCloud Go is the perfect way to go about it. It's a $4.99/ month subscription that shares revenue with creators, brings offline support, and more. It's cheaper than Spotify and equally fun.
Availability: Web; Android and iOS
Bring Out The Bollywood
Spotify recently arrived in India, and so far, we'd recommend you to not switch to it. Still, if you're craving Bollywood music, I'm sure that some of these aforementioned apps can come to your rescue. However, if you want a fulfilling experience, a homegrown music streaming service may be your best bet. So, here are the top Spotify alternatives to make that desi heart of yours move to the beat:
8. JioSaavn
While Gaana once claimed itself to be the number one music streaming service in India, there's a new victor in town and it's all thanks to Reliance Jio. Saavn and Jio Music have recently been merged to create the biggest streaming service in India called JioSaavn. I mostly stick to Spotify but I switched to JioSaavn for a week and well, the UI is surely a breath of fresh air and the recommendations are decent too.
JioSaavn boasts of over 50 million songs across Bollywood, English, Hindi, independent artists, and many different regional languages like Tamil, Telugu, Punjabi, and more as well. You'll get ad-laden unlimited playback, curated playlists, radio stations, exclusive podcasts, and more for free.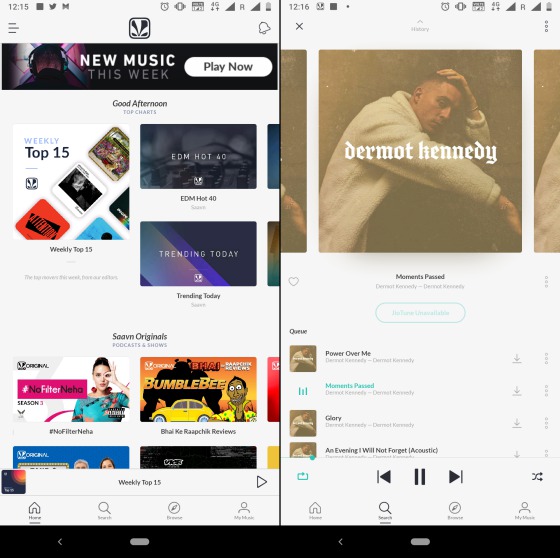 You also get a 90-day free trial if you're an existing Jio user, however, if you pick the Pro subscription then JioSaavn removes the ads, offers unlimited skips, download tracks and stream music at 320kbps as well. It's at par with Spotify in terms of features and music collection as well, which is just great.
Availability: Web; Android and iOS
9. Gaana
Coming to Gaana next, well, it's not really far behind from JioSaavn in terms of features and usability. The streaming service offers a wide collection of more than 30 million Bollywood and English tracks. This is supplemented by millions of regional tracks in Tamil, Telugu, Marathi, Bhojpuri, Punjabi, Malayalam, and more. Gaana is also crammed with curated playlists, radio stations, including 20 Radio Mirchi stations for users who're lacking a Radio app.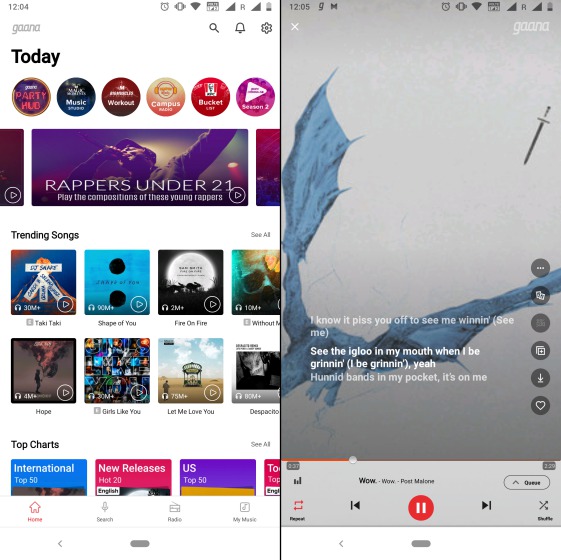 Gaana has a pretty neat and simple UI, which is inviting to the users, and one thing I really love about its discovery and recommendation system is that it sticks to your initial choices. I don't listen to regional content, nor do latest Bollywood songs interest me, so picking the western artists I listen to curated the whole service accordingly. Gaana is free but an affordable Plus subscription gets you high-fidelity playback, offline downloads and the ability to sync your
Availability: Web; Android and iOS
10. Wynk Music
If you're an Airtel user, you would have surely heard of Wynk Music, the music streaming service from the telecom giant. The platform has tons of Bollywood content, along with a hoard of western and regional content to round off its collection. You will most likely find the song you're searching for here with ease, with a huge 3 million free song library. The platform includes high-quality streaming, curated playlists, a personalized radio station, and a lot more.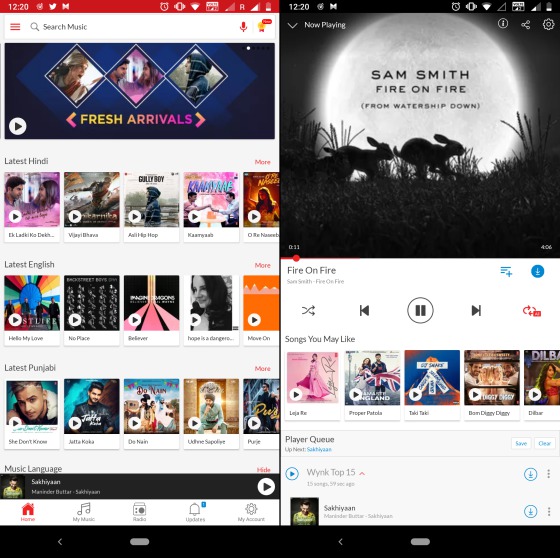 While the free tier of Wynk Music is great and gives you access to most of the features, you'll no longer see ads and get offline download functionality with a paid subscription. Airtel users have the Pro features available to them at a measly Rs. 29 per month fee, which is an added bonus.
Availability: Web; Android and iOS
Honorable Mention: Hungama Music
Hungama Music is a well-known name in the music streaming industry in India, but with the introduction of Saavn and Gaana, paired with their growing popularity over the years, Hungama Music has lost its touch. It still has a decent music library, with more than 10 million songs ranging from Bollywood, rock, pop, rap, hip-hop, jazz, and regional tracks. The differentiating factor for Hungama Music is the availability of videos on the platform, alongside the music tracks.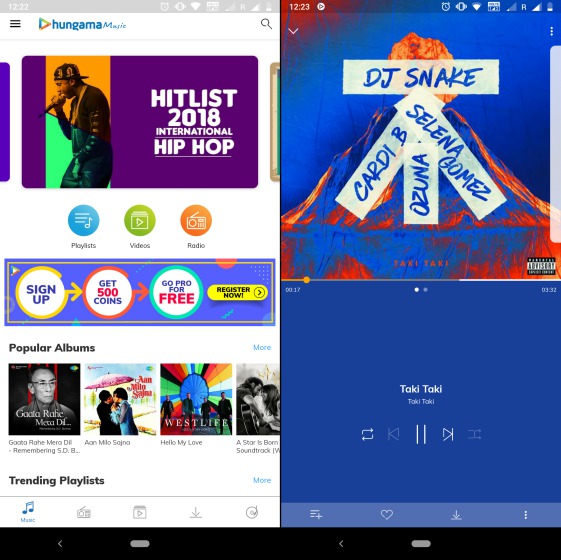 Hungama Music isn't the best streaming service on the list but it has a clean UI and you get a ton of features such as online radio, song lyrics, multi-login, a point-based reward system, and more. The Hungama Pro subscription gets you ad-free playback, an offline downloads option, high-quality streaming, and an elevated experience.
In addition, if you want to stream music and don't want yet another app on your device then you'll need to own a Xiaomi smartphone. Yeah, Xiaomi devices in India come pre-loaded with the Mi Music app and Hungama's entire library of songs is available via the same.
Availability: Web; Android and iOS
SEE ALSO: 10 Best Google Apps That You Have No Idea About
Top 10 Spotify Alternatives You Can Try (2019)
Spotify has my heart and soul, all because of its outstanding recommendation algorithms. However, I did not land on the perfect choice for me right away. I had to check out many different services to find the right fit. So, if you're ready to do so too, just pick from the aforementioned streaming services and kickstart your melodious journey.
Do let us know which music streaming service you chose to use and why in the comments down below.