Web extensions play an important role in offering a customizable browsing experience. Whether it is blocking shady websites and trackers, translating languages, or tweaking the browser's appearance, extensions are a boon for users. That's why the introduction of web extensions in Safari for iOS 15 is a pretty big deal. With that said, let's check out the best Safari extensions you can try on your iPhone and iPad right now.
Best Safari Extensions for iPhone and iPad (Updated September 2021)
Keeping in mind the various needs of iPhone users, we have included a variety of Safari extensions, including a smart password manager, content blocker, and a fully-featured bookmark app. So, irrespective of what sort of extensions you are looking for, there is a high chance that you may find a worthy contender that can live up to your task.
1. Pocket
The Pocket extension is what you should use to quickly save your favorite articles, stories, videos, and almost everything that comes your way right from the Safar browser. The app offers a neat way to keep your saved stories organized and catch up with them at your own pace. Thanks to the intuitive layout and customizable interface, it provides a fully personalized reading experience.
When you want to read long articles, the dark and sepia themes come in super handy for a comfortable reading experience. Apart from an enhanced UI, these themes also reduce visual simulation to ensure that extensive reading doesn't harm your eyes and prevent you from having a good sleep. And when you no longer want to force your eyes to stay open, you can take advantage of Pocket's "Listen" feature to read aloud the articles.
While Pocket is available for free, you can upgrade to the premium version ($4.99/month) to unlock features like automatic article backups, unlimited highlights, and advanced search.
Pros:
Dark and sepia themes
Listen feature
Customizable interface
Advanced search
Automatic article backups
Cons:
Install Pocket: (Free, $4.99/month)
2. Bring
For those who want to simplify their shopping experience, Bring appears to be a great pick. With this cool Safari extension, you can create a shopping list and share it with your friends and loved ones with ease. It lets you add essential details and also insert photos to your lists for a more personalized experience.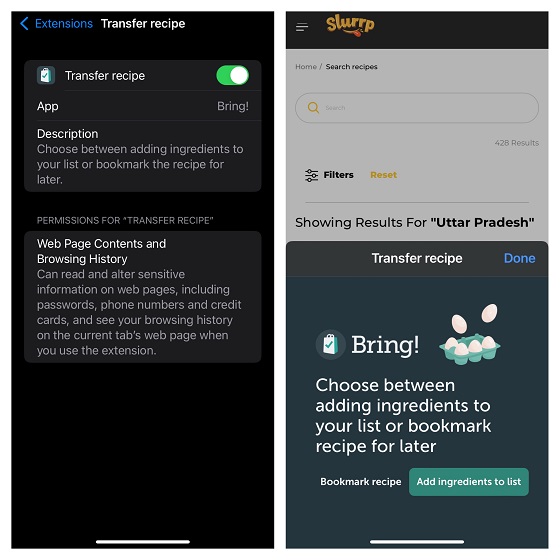 What's more, there is also an option to save your loyalty cards, so they are always readily available at checkout. Thanks to the matching suggestions, it ensures you don't forget to buy any important items. Shopping aside, Bring also lets you explore a variety of recipes and enhance your cooking skills with handy tips and tricks. So, if you are looking to amp up your shopping game, this extension can fit your bill seamlessly.
Pros:
A pretty simple way to create shopping lists
Personalized suggestions
Fully customizations
Option to save loyalty cards
Cons:
Freemium version is quite limited
Install Bring: (Free, $1.99/month)
3. Grammarly
Grammarly is a popular spelling and grammar checker. So, if you no longer want typos or grammar mistakes in your articles, messages, or emails you type in your Safari browser, take advantage of this handy extension. With real-time writing suggestions, it helps you avoid mistakes. Moreover, it also provides pro tips to get rid of wordy sentences and bring much-needed clarity.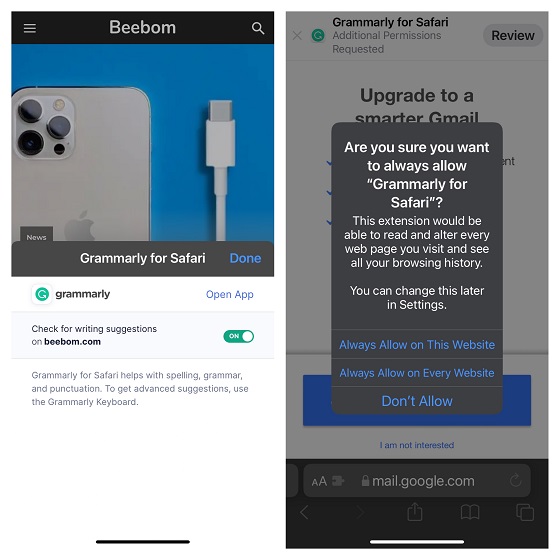 Grammarly comes with a smart auto-correct feature to quickly spot grammar and spelling mistakes and correct them right away. Thus, you can continue to pen down your thoughts with the desired flow. Notably, this web extension works at its best on iPad, thanks to features like comprehensive writing feedback, cloud-based document management, and full compatibility with hardware keyboards.
Pros:
Real-time writing suggestions
Auto-correction
Comprehensive writing feedback
Cloud-based document management
Cons:
Premium version is comparatively expensive
Install Grammarly: (Free, $30/month)
4. Web Inspector
If you are into web development, Web Inspector is the Safari extension you should definitely install on your iPhone. What makes it a real deal is a solid set of web development tools which you can use to view, inspect, and even edit the elements integral to the DOM (Document Object Model) of a webpage. You can view the details about the web pages nodes, styles and even access a detailed list of network requests.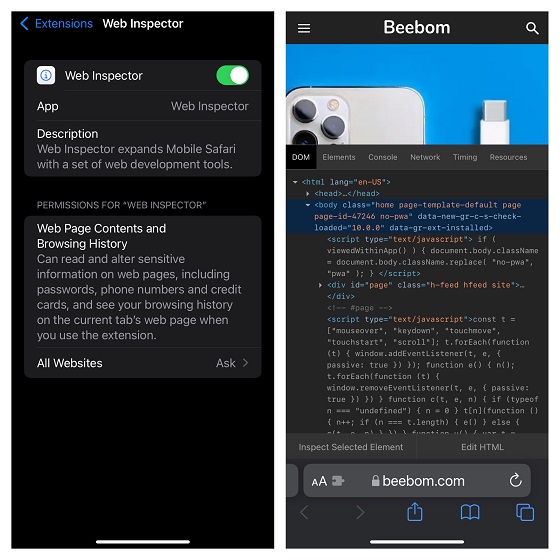 Also, Web Inspector allows you to type JavaScript commands in the console to debug, modify, and retrieve the essential information about a webpage. Hence, you will be able to keep track of logs and warnings related to a webpage. Another feature that makes Web Inspector a worthy tool is the ability to let you analyze the timing and layout of rendering as well as access details about the data stored by a webpage.
Pros:
Option to analyse the timing of the layout
Check the detailed list of network requests
Ability to track local and session storage
Cons:
Install Web Inspector: (Free)
5. Turn Off the Lights for Safari
This one doesn't need any explanation, right? Well, this Safari extension can help enhance your binge-watching experience. With the said extension, you can quickly fade the entire webpage to dark and put the whole focus on the video. Hence, you will have a cinema-like experience while watching a video.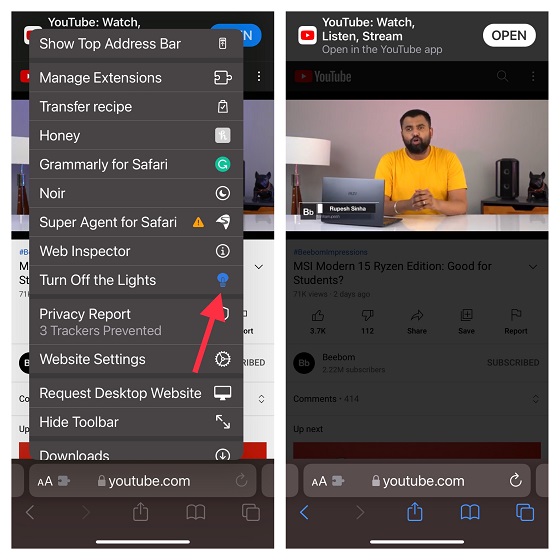 With support for several popular video sites, including YouTube, Hulu, Vimeo, Dailymotion, twitch.tv, and more, it can help you minimize distractions while streaming videos. Interestingly, it also lets you choose from several resolutions, including 8K, 5K, 4K, 1080p, and more. And just in case you prefer to have a set show time, you can even activate the night mode at the desired time.
Pros:
Supports several popular video sites
Choose from many video resolutions
Option to automatically activate night mode
Cons:
Install Turn Off the Lights for Safari: (Free)
6. Noir
Even though dark mode has been around on iPhones for some time (since iOS 13, to be precise), many websites do not support this popular feature. But fret not, this is where a cool Safari web extension for iOS 15 called Noir comes into action.
As someone who prefers to have a full-on dark theme across the system for a more convenient viewing experience (while also saving some battery), Noir easily found a safe spot in this coveted roundup of the best Safari web extensions for iPhone and iPad. The web extension is pretty neat and works efficiently in letting you force any website to use dark mode in Safari on your iOS 15 or iPadOS 15 devices. With the help of a smart algorithm, the extension analyzes the colors used on a specific site and generates a custom dark style that seems in perfect sync.
To get going, install Noir from the App Store. After that, open Safari on your iPhone, tap the aA button at the bottom left corner and then tap on Manage Extensions in the menu. Now, turn on the toggle right next to Noir. Going forward, the extension will force unsupported websites to embrace the system-wide dark mode so that you will have a more convenient reading experience at night.
Pros:
Pretty neat implementation
Generates custom dark style in a jiffy
Works reliably on both iPhone and iPad
Cons:
May not work on some websites
Install Noir: ($2.99)
7. Apollo
If you are a Redditor, you may already be familiar with Apollo. For those unaware, Apollo is one of the best Reddit apps for iPhone. With this Safari extension, you can open any Reddit web link in the Apollo app. With fully customizable gestures, a more intuitive media viewer, and a neat Safari view controller for browsing articles and links, it makes browsing Reddit faster and more enjoyable.
Personally, I find the tabbed interface quite intuitive as it makes navigation smooth. Besides, the full inline Imgur uploader is also worth taking note of. While Apollo is available for free, you will need to shell out $4.99/ $6.99 to unlock all the goodies.
Pros:
Neat Safari view controller
Fully customizable gestures
Intuitive media viewer
Full inline Imgur uploading
Cons:
Swipe gestures do not always feel smooth
Install Apollo: (free, premium version is available for $4.99)
8. Honey Smart Shopping Assistant
When you have a smart shopping assistant like Honey at your beck and call, you are more likely to cash in on the hottest deals. As someone who has used Honey to find exclusive deals on my PC, I'm glad to see its Safari extension come to iPhone. With this web extension always at your disposal, you can shop at many stores right from one spot. Yeah, you no longer need to hop from one store to the other to grab the latest deals.
Another notable feature of Honey Shopping Assistant is the ability to let you apply coupon codes with ease. Moreover, it also offers you to option to earn Honey Gold on select purchases, which can go a long way in helping you save a ton of bucks.
Pros:
Designed to be a smart shopping assistant
Shot at many stores from one spot
A quick way to apply to coupon codes
Cons:
Finding vouchers doesn't seem straightforward
Install Honey: (free)
9. Clario
If you are planning to double down on security and privacy on your iPhone, you should definitely check out Clario. This Safari extension offers reliable identity protection with a data breach monitor and a handy ad blocker to let you browse the web with the needed peace of mind.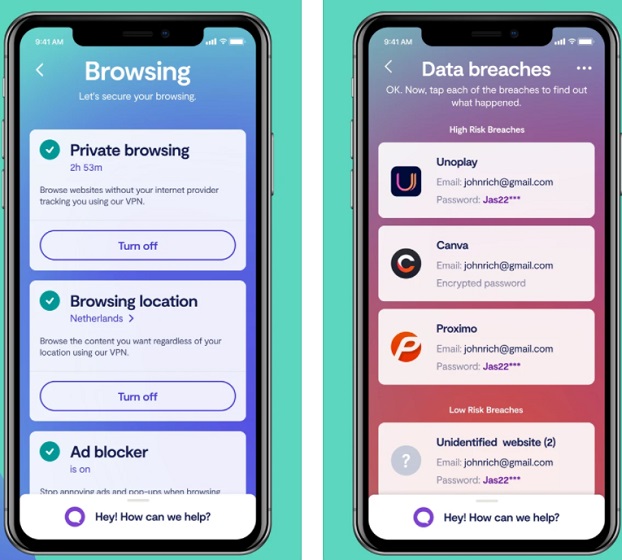 Another feature that makes Clario a powerful Safari extension is the built-in VPN (virtual private network) that's designed to safeguard your online privacy without compromising your browsing speed. It ensures your privacy isn't compromised while using a public Wi-Fi or home network.
Keep in mind that Clario offers only a 7-day free trial. And if you want to continue using the Safari extension, you will need to opt for the monthly subscription that starts at $9 per month. Taking everything into account, Clario is one of the best Safari extensions for iOS 15 and iPadOS 15 users.
Pros:
Built-in VPN service
Encrypts your data for enhanced security
Smart ad blocker
Modern looking UI
Cons:
Install Clario (7-day free trial, $8.99/ month)
10. Amerigo – File Manager
Amerigo checks off all the essential boxes to be your one-stop cloud file manager on iPhone or iPad. The file manager comes with a content blocker extension to stop advertisements in the Safari browser. You can choose to use this if you want a robust file manager and ad blocker instead. Moreover, thanks to its integration with major cloud services, including Google Drive, OneDrive, Dropbox, and iCloud, it offers you the flexibility to manage your files in accordance with your preference.
What I love most about this file manager is the Spotlight indexing of all local contents which makes it more convenient to find specific files. You can use the PDF editor to annotate and manage your PDFs with ease. And with the handy compression tool, the app also lets you save storage space.
Pros:
Integrated with several cloud services
Native PDF editor
Supports Microsoft Office files
Private browsing mode
Cons:
Install Amerigo: (Free, in-app purchases start at $2.49)
11. Microsoft Translator
There is no denying the fact that Safari Translation has vastly improved in iOS 15. However, it's still nowhere near as versatile and efficient as Microsoft Translator. So, if you wish to have a translator that can let you translate several languages with the desired efficiency, Microsoft Translator's Safari extension is the one you shouldn't miss out on.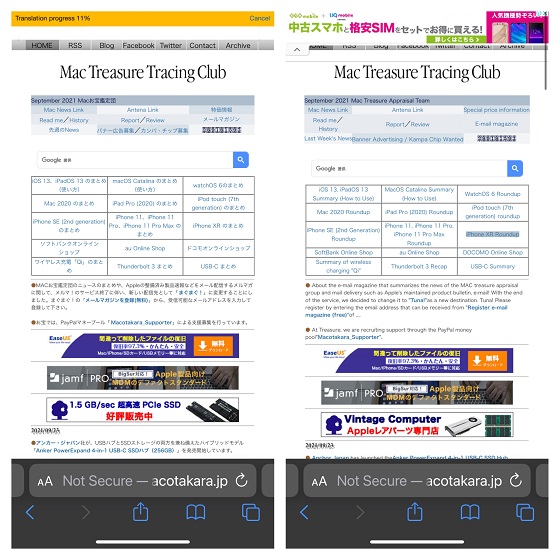 With support for over 70 languages, Microsoft Translator is fully equipped to let you translate text, voice, and conversation. Moreover, it boasts a massive phrasebook for verified translations and pronunciation tips. The extension works intuitively and offers the convenience to sync translations between iPhone and Apple Watch for a seamless experience.
Pros:
Supports more than 70 languages
Voice translation
Works offline
Option to share translations
Cons:
Translating language seems sluggish at times
Install Microsoft Translator: (Free)
12. RoadBlock
Times when I'm researching a topic in Safari on my iPhone, the last thing that I want to encounter is unwanted content like pop-ups, trackers, social widgets, and whatnot. They not only become a source of distraction but also slow down the browsing speed. Besides, they also eat into plenty of mobile data. So if you want to enhance your browsing experience by keeping unwanted content at bay, RoadBlock is the Safari extension you need.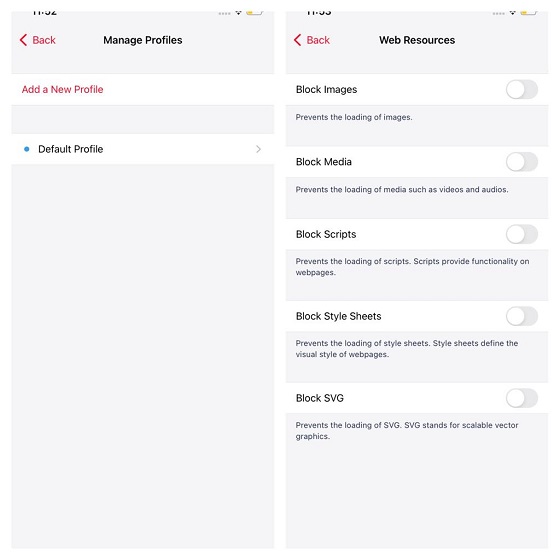 Roadblock is pretty lightweight and comes with neat tools to block different types of ads and pop-ups. Moreover, it also helps you get rid of auto-playing videos, images, and scripts so that you can concentrate on browsing the web.
Roadblock also brings the ability to create and manage multiple profiles and the flexibility to use different profiles on different devices. Besides, there is also an option to share profiles with family and friends, which is yet another plus from a usability perspective. On top of all, the extension provides iCloud sync so that your profiles and settings remain updated across devices, including iPhone, iPad, and Mac.
Pros:
Block different types of ads and pop-ups
Create and manage multiple profiles
iCloud sync support
Cons:
Free version is rather limited
Install Roadblock (Free, $1.99 for the full version)
13. 1Password
Widely considered to be one of the best password managers across platforms, 1Password makes password management a simple affair. You can use this password manager extension to create strong passwords and fill in usernames, and credit card information into websites with ease. Notably, it lets you create multiple vaults so that you can keep all your passwords organized into different categories. To make the task of password management even easier, it also allows you to use tags and favorites.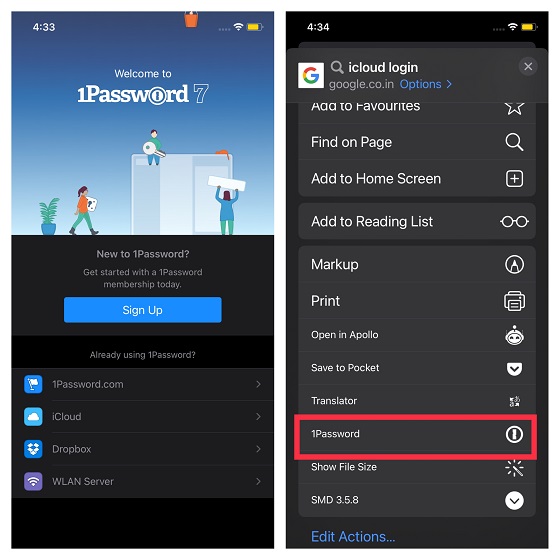 Moreover, 1Password also works as a reliable two-factor authenticator. Hence, you can use it to store 2FA codes and access them securely during the sign-in procedure. For additional security, it sends you timely alerts when a site you use has been compromised so that you can change your passwords to safeguard your account.
Another feature that makes 1Password a handy password manager is the ability to let you migrate your information between accounts and share passwords safely with colleagues and family members. Note that it offers a free trial of just 30 days, and its premium version starts at $3.99/month. Overall, it has everything covered to be one of the most essential Safari extensions for iPhone and iPad.
Pros:
Ability to create multiple vaults
Create strong passwords with ease
Works as a secure two-factor authenticator
Ability to share passwords
Option to migrate information between accounts
Cons:
Doesn't offer a free version
Install 1Password: (30-days free trial, $3.99/month)
14. Pinterest
Should you wish to have a Safari extension that can let you explore things that fascinate you, Pinterest could be a worthy addition to your collection. Whether you are a fashionista, a budding designer, or a person who's always on the lookout for some interesting ideas, the app can cater to your specific taste.
If you find anything appealing, you can save it and view it at your own convenient time. With an integrated sharing feature, you also have the option to share your favorite pages with friends and loved ones. Give this cool Safari extension a try, and I bet you would like to keep it installed in your mobile browser to better explore the world.
Pros:
Option to explore a variety of topics
Pretty neat and snappier user-interface
Geared for fully personalized experience
Cons:
Lacks better control over sponsored pins
Install Pinterest: (Free)
15. Super Agent for Safari
How about installing an extension that can automatically handle cookie consent based on your preference so you won't have to deal with cookie consent pop-ups time and time again? If you no longer want to spend your precious time filling out the websites' cookie consent forms, Super Agent for Safari could be a great addition to your collection of Safari extensions.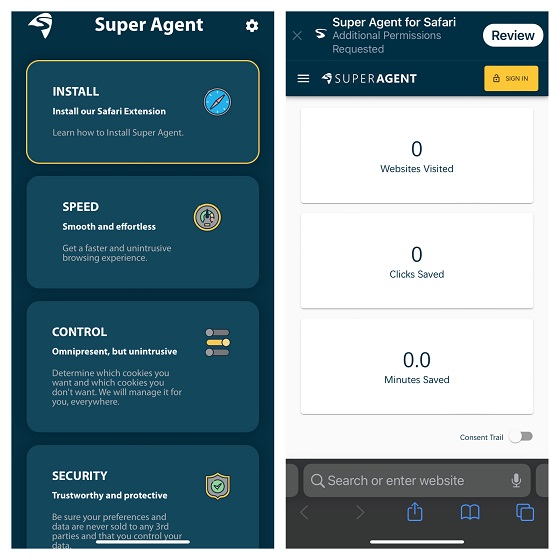 With the help of this extension, you can customize your preferences and then automatically apply them to all the supported websites. For a better experience, the extension divides cookies into three categories, including advertising, performance, and functional. Thus, it becomes a tad easier to handle the useful ones and avoid ones that are of no use to you.
Pros:
Automatically fills out website's cookie consent
Split's optional cookies into three categories
Opts out of useless cookies
Cons:
Not all websites are supported
Install Super Agent for Safari: (Free)
16. Achoo
Achoo has long been a highly efficient HTML viewer and inspector for iPhone and iPad. With iOS 15, it's become even more user-friendly, courtesy of the introduction of the Safari extension. With Achoo's Safari extension, you can view and inspect the HTML of a webpage. Furthermore, the nifty extension also offers you the flexibility to copy/ paste and edit HTML with ease, which is another plus from a user-experience point of view.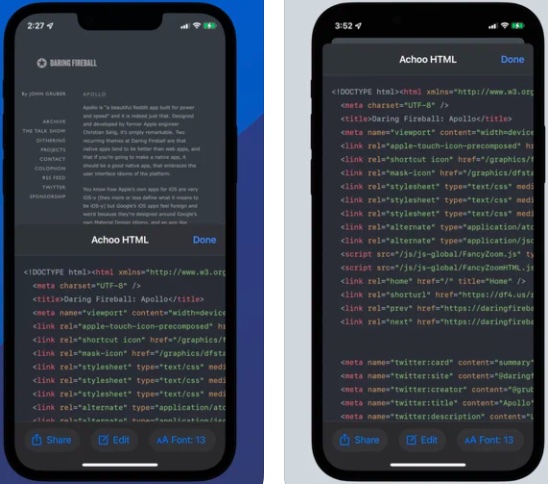 Pros:
Easy way to view HTML of a webpage
Fast syntax highlighting
A quick way to share HTML
Cons:
Doesn't offer a direct way to edit the code
Install Achoo: ($0.99)
17. Hyperweb
Hyperweb is a versatile Safari extension that allows you to customize Safari for a more personalized experience. For instance, you can use it to create blockers, customize search, and even personalize the design of web pages. What's more, it also offers suggestions to enhance your overall browsing experience. Taking everything into account, Hyperweb is one of the best free Safari extensions for iPhone and iPad.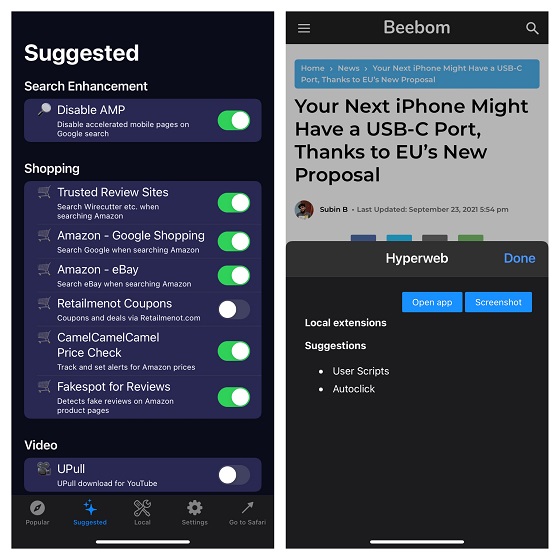 Pros:
Offers a quick way to create blockers
Option to customize search
Ability to personalize the design of web pages
Cons:
YouTube PiP mode may not work
Install Hyperweb: (Free)
18. Cheap
Cheap is a great app for finding the hottest deals on Flights. Cheap's Safari extension works with Google Flights to help you determine the cost per mile and distance in miles. Moreover, it also offers personalized recommendations about whether or not you should book a flight. So, the next time you wish to book a flight, get the most out of this smart Safari extension. Since it's available for free, you won't need to shell out anything to grab the best deals on Flights.
Pros:
Great for finding the exclusive deals on Flights
Personalized flight recommendations
Very helpful for planning a trip
Cons:
App's interface doesn't seem intuitive
Install Cheap: (Free)
19. Amplosion
Are you someone who doesn't like AMP pages? If that's the case, keep the Amplosion Safari extension at your disposal. Developed by Apollo creator Christian Selig, Amplosion works reliably in redirecting Google's AMP pages and links to standard links in Safari. Since it's open-source and designed with transparency in mind, you can check out what the extension is doing. In a nutshell, it's a useful Safari extension for iOS 15 and iPadOS 15 users, especially for folks who wish to get the most out of Apple's stock browser.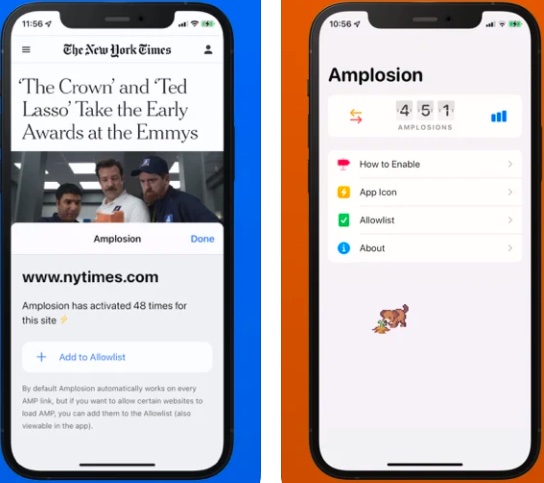 Pros:
Redirects Google's AMP pages to standard links in Safari
Open-source
Designed with transparency in mind
Cons:
At times, takes more time to redirect links
Install Amplosion: ($2.99)
20. CardPointers
Oh, who doesn't want to save more money and earn a ton of cashback? CardPointers is the sort of Safari extension that is going to be on everyone's wishlist. This extension plays a vital role in enabling you to maximize credit card spend bonuses, exclusive offers, and welcome bonuses. It keeps a close eye on every category bonus and recurring bank credits from more than 3000 credit cards, and allows you to use your Bank of America, Chase, Amex offers to save plenty of money.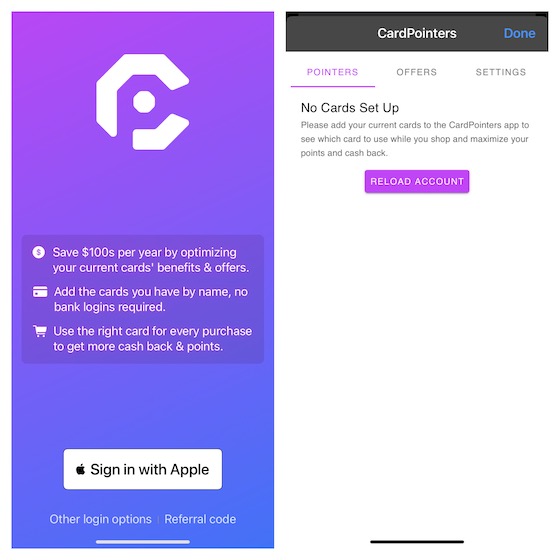 Pros:
Makes it incredibly simple to track bonus
Monitors recurring bank credits from more than 3,000 credit cards
Renewal recommendations
Cons:
Add cards interface is a bit confusing
Install CardPointers: (Free, $3.99/month)
21. Language Translator by Mate
Even though I have already mentioned Microsoft Translator in this roundup, I didn't want to exclude Language Translator by Mate. Having used it for a while, I must say that it's a powerful language translator with all the important features. The highlight of this Safari extension for iPhone is the support for 103 languages and the ability to translate pages even offline. What's more, Mate also supports iMessage to let you translate messages in your desired language. And with the cool home screen widget, the app allows you to get started with translation in a jiffy.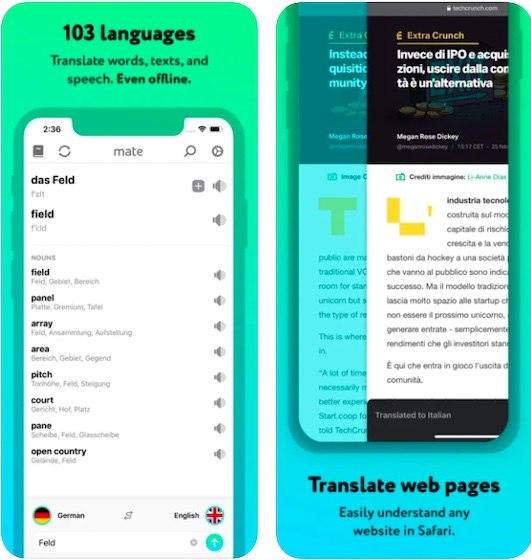 Pros:
Supports more than 100 languages
Excels in translating languages
Works offline
Cons:
Install Language Translator by Mate: ($29.99)
22. Vidimote
If you use Safari to catch up with your favorite videos, Vidimote should win you over right away. What makes it a worthy Safari extension is the ability to let you control video playback from the toolbar. You can use this nifty web extension to switch between PiP mode, go to fullscreen, jump ahead, mute/ unmute web videos, and more. Though Vidimote does charge you $4, given the smooth video controls that the extension offers, you can't go wrong with it.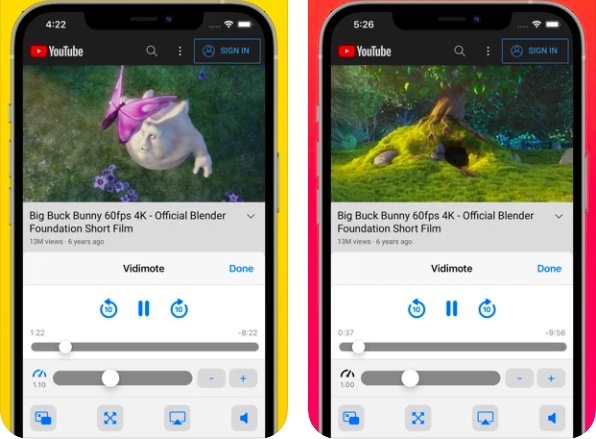 Pros:
Provides smooth playback controls
Lets you watch videos at up to 2x original speed
Shows the actual time remaining
Cons:
Doesn't work with all the web videos
Install Vidimote: ($3.99)
Best Safari Extensions for iOS 15 and iPadOS 15
There you go! These are the best Safari web extensions that you can currently install on your iPhone and iPad. Slowly but steadily, Safari's extensions library is being bulked up with several notable additions. And it's just a matter of time before it may become one of the largest catalogs of web extensions. It sure does leave Chrome behind by enabling extensions support on mobiles before Google.
What's your take on the redesigned Safari browser and extensions support? Do share your thoughts about its tab groups and the tweaked search bar design. Moreover, you should try out other cool new iOS 15 features, including the Notification Summary, Legacy Contacts, and SharePlay via the linked articles. Also, if you are using any other amazing Safari extensions for iPhone, let us know in the comments below, and we will include them in this roundup.