For a majority of people, Google Translate is obviously their trusty sidekick when it comes to translating a word, a phrase, or entire websites. Google's offering is quite a handy tool and it's popular among global users for its rich feature set and accuracy, but there sure is no dearth of translation apps out there, that work quite fine (or even better than Google Translate in some destinations or use-cases) and will serve you perfectly. Well, here's a list of the 12 best language translation apps for Android and iOS that will come in handy whenever you feel the need, be it while you're on an international trip or carrying out academic work in your study room.
Note: If you are looking to learn a new language, check out our article on best language learning apps. The apps mentioned in this article are for quick translation purposes and not for learning a new language.
Best Language Translation Apps in 2020
1. Google Translate
Without a doubt, Google Translate is one of the most popular and robust translation apps available on your mobile. The app extends support for translations in more than 100 languages including Chinese, Korean, German, French, Indonesian, Maltese, Hindi, and more. It includes support for the most offline languages, i.e. 59, and 38 out of those are available to instantly translate street signs or food menus via the camera.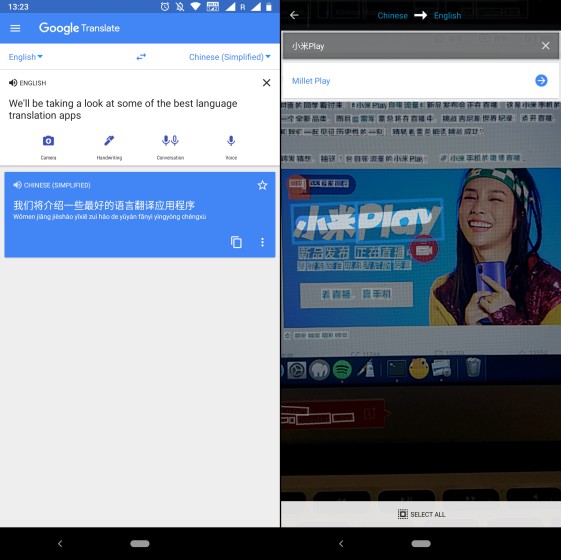 Apart from typing and scanning, Google Translate offers support for three different input methods, including voice, conversation, and handwriting. This means you could speak out the word or phrase you want to translate and even translate conversations in real-time. The app is backed by Google's machine learning and AI algorithm, so output translations are said to be pretty accurate.
The best part about Google Translate is that it makes all of these features available for free, without ads or subscriptions. This is the best free translation app out there in the market right now.
Price: Free
Download Google Translate: (Android, iOS)
2. Microsoft Translator
Google Translate may be the most popular translation app out there, but it doesn't mean its arch-nemesis is any far behind. Microsoft Translator is also quite popular among users for its equally-impressive set of features that enables you to translate text, voice, or photos from over 60 languages – both online and offline.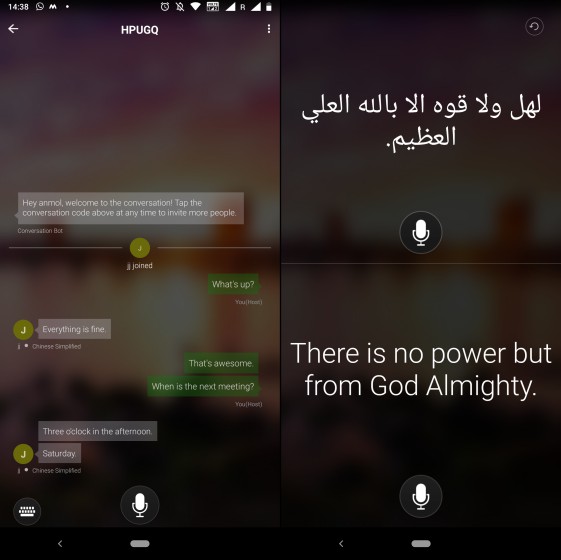 Microsoft Translate has a simple interface, nothing too flashy, and you may turn to this translation app if you are looking for a Google Translate alternative. It is also absolutely free and comes with a phrasebook with essential expressions for easy communication in international waters.
My favorite feature of Microsoft Translator will, however, have to be conversation mode (seen on the left in the screenshot above) as it allows up to 100 users to jump in a conversation and talk in real-time in their native language. The helpful feature here, though, will have to be that replies from others in the conversations are translated and shown in your native language.
Price: Free 
Download Microsoft Translator: (Android, iOS)
3. iTranslate Translator
iTranslate may carry a name similar to a native iOS app, but it's also available on Android and is a well-known translator app. The added benefit here is that it also has capabilities of a dictionary app rolled into it and shows the verb conjugations, synonyms, and a lot more under the translations itself. iTranslate allows you to translate text or voice in more than 100 languages, along with switching between dialects, online and offline.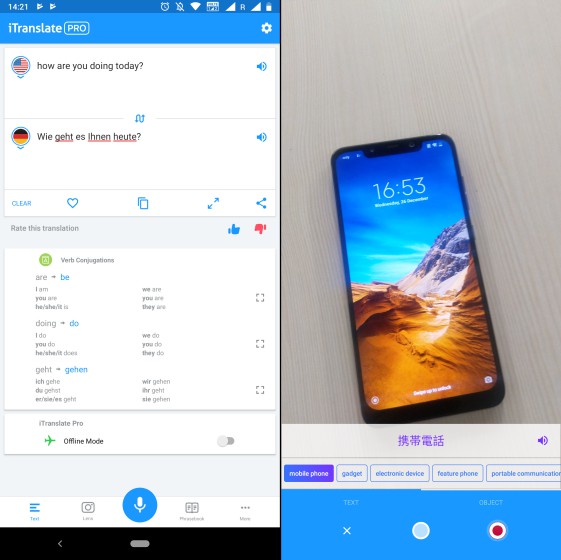 The translation and dictionary app packs a 'Lens' feature that is a combo of Google Translate's camera and Google Lens, meaning you can get translations for both text and objects. I really like this feature of iTranslate as you can point your phone at things and get the translations in international languages almost instantly. The 250 predefined phrases would also come in handy during your tourist endeavors.
iTranslate offers a 7-day free trial to get you acquainted with all of its features, requiring you to shell out a minimum of $2.99 for a monthly subscription after that. The developer also makes iTranslate Voice (Free) and iTranslate Converse (Free) available via the App Store for added functionality.
Price: Free trial, in-app purchase starts at $5.99/month 
Download iTranslate Translator: (Android, iOS)
4. U-Dictionary
In line with the translation and dictionary apps, U-Dictionary is another great example of the same and it has risen in popularity quite rapidly. It offers to users text translations between 108 languages, offline support for 44 of them, and camera translations in 12 of these languages. Some of the popular languages here are Chinese, Turkish, Italian, Hindi, and a host of regional Indian languages.
While these do remain common in most translation apps, you will find that U-Dictionary includes 2 nifty features that you won't find elsewhere. They are tap to translate and quick search that enables you to select words in an article and see their meaning in a floating bubble and search for translations from the notification bar respectively.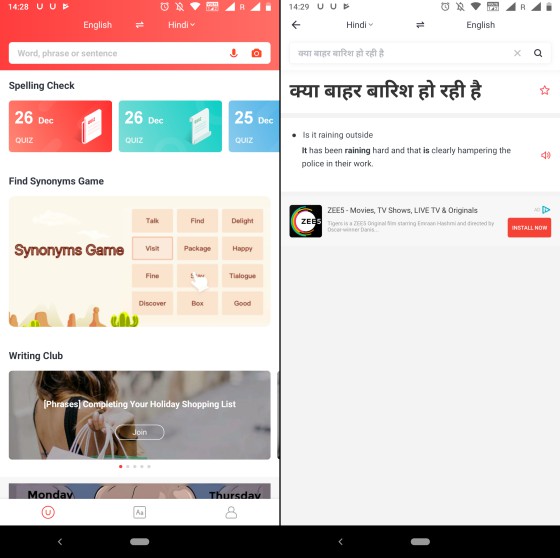 The standout characteristic of U-Dictionary will have to be its additional content. The app offers you access to English articles, games, quizzes, and even a writing club to help you learn and master this universal language.
While all this looks great, there's one thing I genuinely hate about this app. U-Dictionary comes laden with ads at every point and it gets frustrating really soon, but there's no in-app purchase to remove the same. So, if you hate ads affecting your experience, then it seems U-Dictionary isn't meant for you.
Price: Free
Download U-dictionary: (Android, iOS)
5. Yandex.Translate
Like Yandex is Russia's own Google Search alternative, Yandex Translate clearly is the company's Google Translate alternative. The app enables translations between 90 languages when you're online and just a handful including French, German, Italian, Russian, Spanish, or Turkish to English offline. This is nothing compared to Google but Yandex has steadily expanded its offering and continues to do so.
The app further offers you the same capabilities as most translation apps, i.e voice and camera translations but I found the latter's reach to be limited to some languages. The app's also extending a history and favorites section to save translations, in line with a number of apps out there.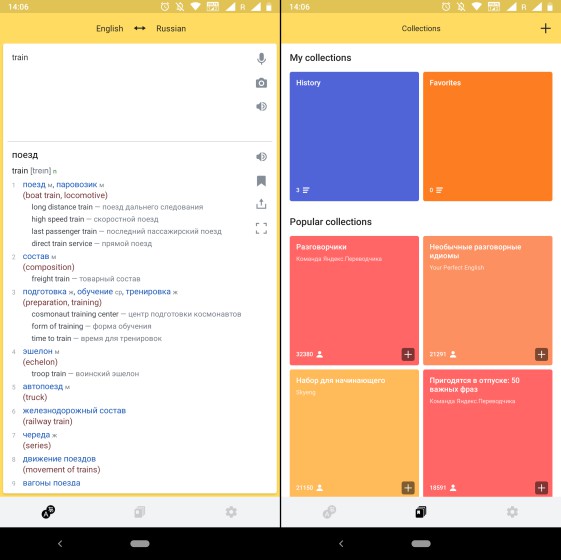 Yandex Translate is also a dictionary app and as seen in the screenshots above, you can learn the definitions, synonyms, and usage examples right there. All this is accessible to users for free and the simple UI of the app makes it a joy to use, except for the Russian collections view that can be a bit daunting.
The app should be the most proficient in Russian but that's something we couldn't judge and would love Yandex Translate users to tell us in the comments below.
Price: Free
Download Yandex Translate: (Android, iOS)
6. Reverso Context
We have now moved past the territory of simplistic translation apps with multi-linguistic search engines, such as Reverso Context, which not just displays the most relevant translations but also focuses on making you learn a language with supplementary info and examples.
When you translate a word or phrase with the app, you see examples for many different sentences for relevant use-cases such as business, finance, medical or technical. Reverso also shows you the pronunciation, reverse translations, and flashcards for more effective learning and revision.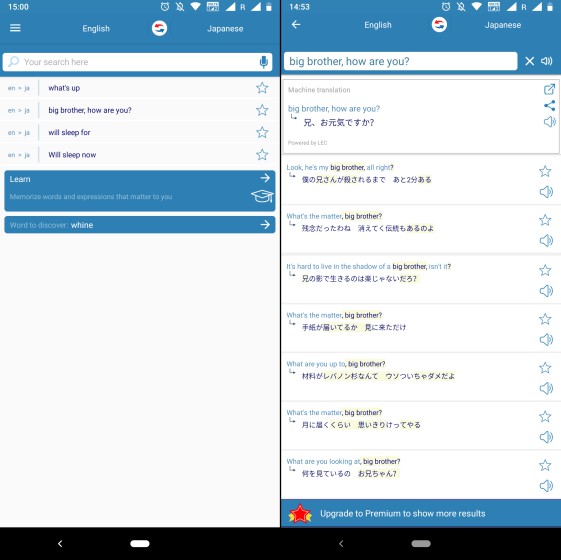 While Reverso is quite feature-packed and easy-to-use, there's one major shortcoming of this app and it's the limited languages set. It offers translation in 11 languages, including Spanish, French, Italian, English, Portuguese, German, Polish, Dutch, Arabic, Russian and Hebrew. The scope here isn't quite as wide as Google Translate or other popular apps but it'll definitely come handy in learning a new language.
While you can continue to use the translation app for free, Reverso also offers a Premium subscription for an ad-free, personalized, and enhanced experience.
Price: Free, in-app purchase starts at $3.49
Download Reverso Context: (Android, iOS)
7. Naver Papago Translate
While scouring the Internet for best translation apps on mobile, I stumbled upon Naver's Papago Translate app, which is touted to be Asia's most popular and accurate translation app.
Don't be deceived by the low number of installs, the Korean giant is using neural network to furnish better translations than Google Translate in the region but it's limited to just 13 languages right now. Papago supports the translation of Korean, English, Japanese, Chinese, Spanish, French, Vietnamese, Thai, Indonesian, Russian, German and Italian.
Papago has a pretty clean UI and I appreciate the clutter-free homepage, which includes only the language selector, textbox, alongwith voice, conversation, and image translator options. The colored translations page looks cool and you can view definitions and synonyms right there.
My favorite feature of the Papago app will, however, have to be 'website translate' that rests silently under the hamburger menu. You simply need to input a web address and you'll get a translated version within seconds with this feature. Neat, isn't it? The app is totally free and we would love to see it bloom into something more robust but until then, you can also place your trust in WeChat (Android, iOS) for your translation needs.
Price: Free
Download Papago Translate: (Android, iOS)
8. TripLingo
If you're someone who needs travels around a lot, be it for business or leisure purposes, it's not simply great to have a translation app on you but also know about the etiquettes and culture of the international destination.
TripLingo vows to offer the same and more, with the availability of text, voice and image translation features that are common in a number of similar apps but tops it off with the inclusion of cultural guides and tools such as a tip calculator and currency converter into the mix. These tools will certainly come in handy around the globe and I like that.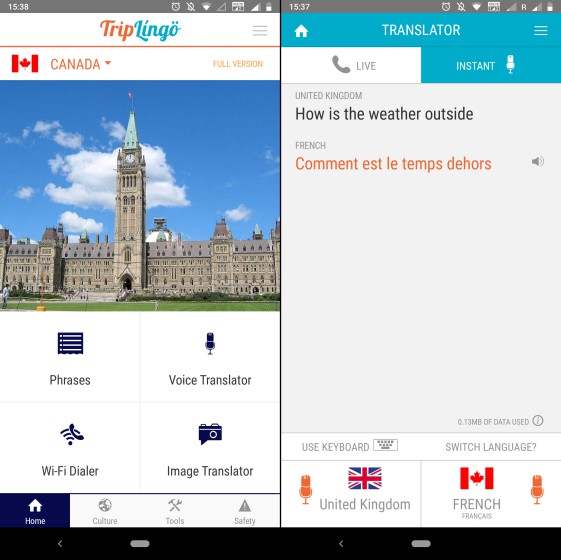 TripLingo includes support for more than 100 countries, can instantly translate 42 languages via voice, translate street signs, pamphlets, and menus via the camera, along with a 10,000-word offline dictionary, built-in flashcard, quizzes and audio lessons support to help you effectively learn newer languages.
One of the handy features that should also catch your fancy is the Wi-Fi dialer that allows for international calling, but it requires in-app credits to function. My one and only qualm with this app, even though it's pretty good, is that it's quite unstable and crashed for me.
Price: Free, in-app purchase starts at $9.99
Download TripLingo: (Android, iOS)
9. SayHi Translate
This is the most simple language translation app on the list. SayHi Translate focuses on the most important aspect, i.e translation instead of cluttering the app with a ton of features. This app enables you to have a conversation in two languages, similar to the Conversation mode on Google Translate, and check out the translated transcriptions right there in real-time.
You can choose between 50 languages, with some offered in multiple dialects, and then converse by tapping the microphone icons at the bottom of the screen. You can hold on these icons to switch to 'typing mode' for better accuracy in inputs, but the translations were found to be a little inaccurate or finicky in my brief usage.
While I appreciate the lightweight attempt at a translation app, I feel SayHi Translate is also lacking a major feature and that's offline support. The ability to download language packs comes handy abroad, where data might be expensive and not easily accessible at all times.
Price: Free
Download SayHi Translate: (Android, iOS)
10. Speak & Translate
If you're an iOS user and don't mind shelling out a few bucks, well, Speak & Translate could then be your go-to translation app when you're on a business or tourist trip in foreign destinations. It is also pretty simplistic like SayHi Translate but makes up for the points it lost by offering offline support.
The offline support is, however, restricted to 10 languages including Chinese (Mandarin), English (US), French, German, Italian, Japanese, Portuguese, Russian, Spanish, Turkish. Speak & Translate offers text translation for 117 languages and voice translations for 54 out of those, all of which only work when you're online.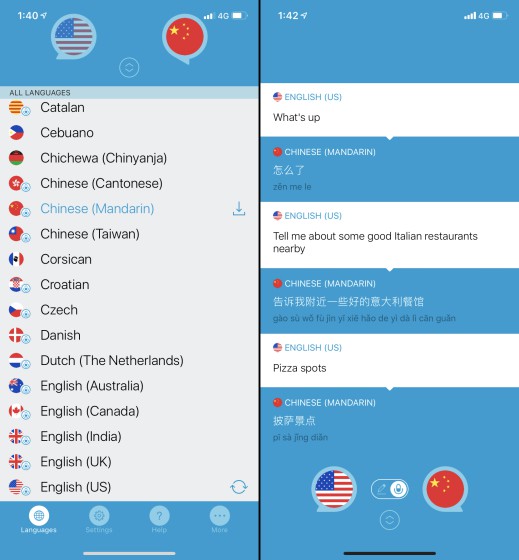 As you can see in the screenshots above, the app has a pretty straightforward UI and you simply need to select 2 languages and kick off a conversation. Speak & Translate boasts that it is backed by Apple Speech Recognition Technology and that helps speed up real-time translations. It also offers multi-tasking support on iPads, Apple Watch support, and an iOS widget that shows you an offline phrasebook.
Speak and Translate offers a three day trial to iOS users, post which they'll have to pick a monthly subscription for unlimited translations, offline support, and an ad-free experience.
Price: Free trial, with a subscription model
Download Speak & Translate (iOS)
11. Translate Now – Translator
When it comes to translating languages efficiently, "Translate Now" is at par with the best in the business. What headlines for this app is the ability to translate into more than 110 languages. You can simply enter the phrase you wish to translate and the app will show up the results quickly. Moreover, it can also let you the correct pronunciation, which could play a vital role in helping you master a new language.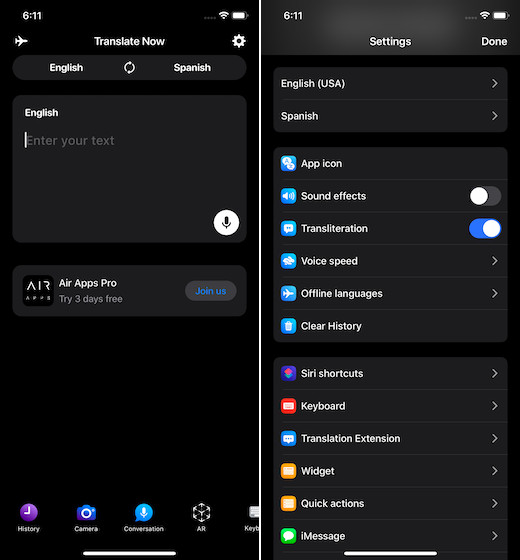 The app comes with a camera translation feature that can translate signs, menus or any paper document using your device camera. Thanks to the AR translation, you can translate the world around. Perfect for the times where you want to snap quick information about everything that catches your eyes on a foreign trip.
Another notable feature of this app is the conversation mode that allows you to translate conversations while communicating with a foreigner. One of my top picks is the translation keyboard that lets you write in more than 60 languages in your favorite apps.
Price: Free, in-app purchase starts at $9.99
Download Translate Now: (iOS)
12. Voice Translator App
If you are looking for a voice translation app that can let you translate languages on the go, Voice Translator App may be the right pick for you. It can come in super handy for the times when you are at the airport, gas station, hotel, and supermarket during a trip to a foreign country. Well-timed for the folks who are in quest of an easy-to-use personal interpreter to help them communicate without any language barrier.
The app has support for more than 100 languages for speech-to-speech and text-to-text translation. And with the offline phrasebook, it ensures your on-the-fly translation doesn't come to a halt due to sloppy internet connection. What's more, Voice Translator App also lets you adjust the speed of your voice and accelerate typing with the help of typing hints.
Price: Free, in-app purchase starts at $9.99/monthly 
Download Voice Translator App: (iOS)
BONUS: Ask Siri or Google Assistant to Translate Words or Phrases
If you're traveling to a foreign land and are not well-versed with the native language, we will suggest you pick one of the aforementioned translation apps. However, if you look to translate phrases on the fly then the Google Assistant on Android and Siri on iOS devices offer a pretty fulfilling experience.
You can simply call upon the AI voice assistant and ask them to translate the phrase you say into the language you desire. The command looks something like this  – Hey Google or Siri, 'Translate <phrase> into <desired language>' and you have the translation right in front of you in no time.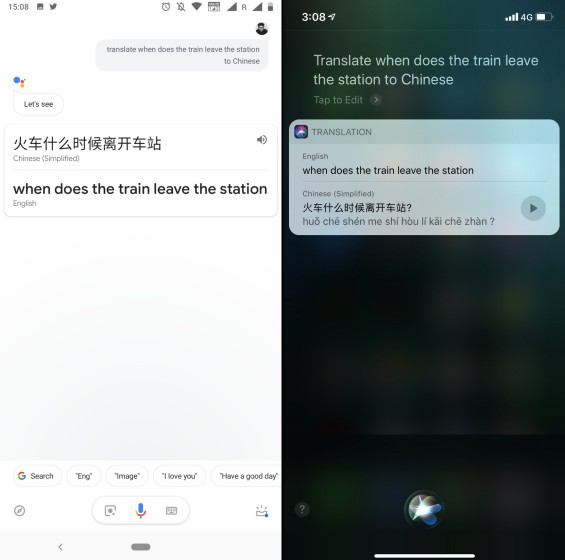 The Google Assistant card is tappable and takes you to Google Translate if you've installed the app to allow you to copy the text or get more info. The Siri translation card doesn't direct to any app, but you could listen to the translation and copy the text right then and there.
We, the team at Beebom, spend a ton of time on Chinese social networks because of the insistent inflow of leaks and stories, so Siri and Google Assistant certainly come in handy for typing out replies. It will also prove to be useful when you want to quickly access the translation instead of jumping into a dedicated app.
Best Translation Apps for Android and iOS
If you are either looking to command a new language, brush up on your skills, or simply need translation apps to help you roam the streets of Paris without making a fool out of yourself, then we have got a good collection of apps that might serve your purpose. The aforementioned apps will surely help you translate phrases on the fly but learning a new language is another endeavor they can help you fulfill. So, did any of the aforementioned translation apps catch your fancy? Let us know in the comments below. Also, tell us if we missed out on some awesome translation app.
---
Load More