With almost everyone gaining access to smartphones and the Internet, online shopping is now the most popular channel to buy the goods or services. While brick and mortar stores are still functional and fun, they're finding it difficult to match the price and extend the deals that are being offered by e-commerce stores. Also, isn't it just so much easier for you to be able to pick up the smartphone, search for the products you need, add them to the cart, and check out within minutes – all from the comfort of your home? To help you make a sound buying decision, we've listed the 25 best online shopping apps where you can find great deals and discounts while shopping.
Note: It should be kept in mind that all of these shopping apps serve different regions, not the whole world. Some of the supported countries include USA, UK, Canada, Australia, and India. Make sure the app is supported in your area before using it.
Best Shopping Apps to Save Money in 2020
1. Jet.com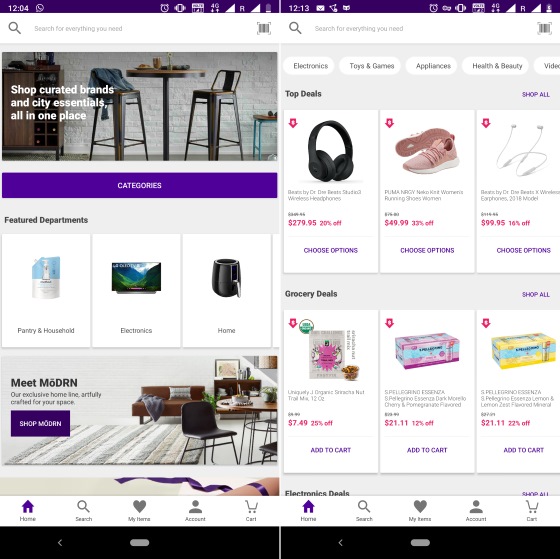 Jet.com, a subsidiary of WalMart, is a popular online shopping platform and the biggest rival to Amazon. The app is really easy to use, with a dedicated 'Deals & Promotions' section to make you aware of price drops. But, what's even better for users is that Jet.com's 'real-time pricing algorithm' marginally drives down prices if they're all being sourced from the same distribution center.
2. eBay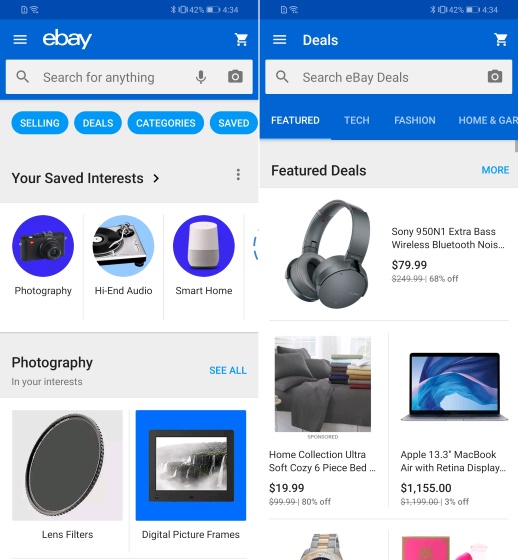 The official eBay mobile app is a must-have for someone who regularly deals in second-hand goods. It lets you easily bid on or buy items from the app and keep a tab on your favorite sellers, comparing both items and prices. You can also list your own items from the app and purchase with coupons automatically applied to your purchases if available.
3. Overstock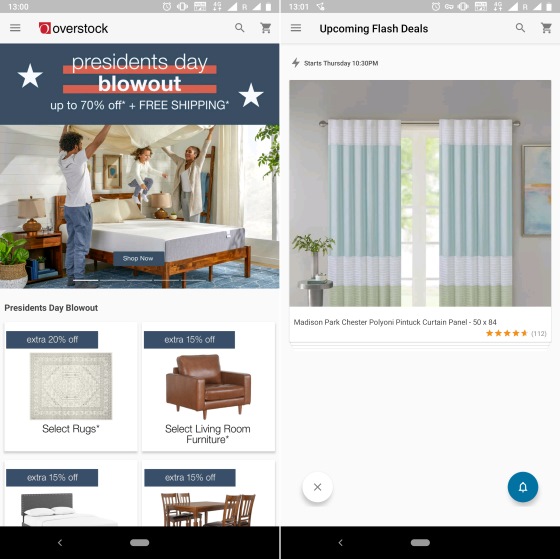 Overstock may not be a familiar name to many, but it is one of the oldest e-commerce platforms, which started out by selling surplus and returned merchandise from failed e-tailers at wholesale prices. It now sells both the exclusive surplus, as well as new products, with payments accepted in bitcoin as well. Overstock is one of the few initial e-commerce portals to adopt the cryptocurrency.
4. AliExpress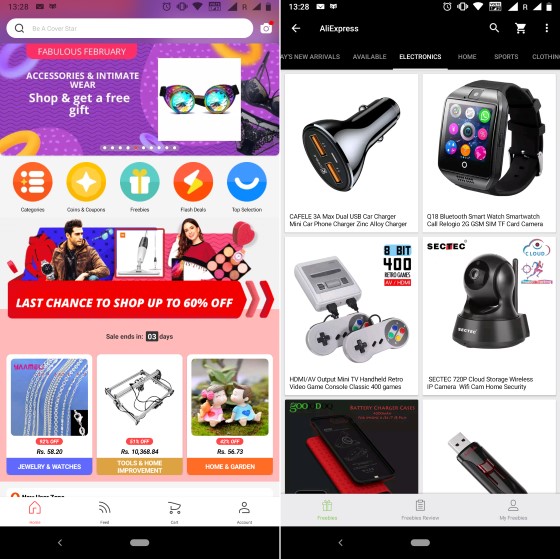 A well-known and popular name in the shopping space, AliExpress is based out of China and allows small business to sell their goods to anyone across the globe. There's no barrier to entry and you can find anything, ranging from a hairpin to a best-selling phone on this app. It regularly makes coupons, freebies, and flash deals available to you, so it's another plus.
5. Wish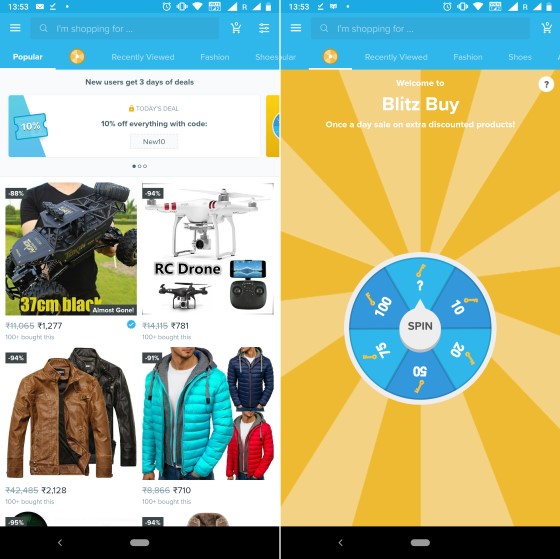 Wish is another popular online shopping app, that has been around for quite some time, and offers hefty discounts on goods by connecting merchants (over 1 million in number) directly to shoppers. The platform eliminates the middlemen to keep the prices low and quality a priority. Wish is also said to offer a 'Blitz Buy' option, where you can grab even more discounts on some products.
Joom is a direct competitor to Wish and operates under the same business model, with more than 4 million products up for sale at up to 90% cheaper prices.
Download Wish (Android, iOS)
Download Joom (Android, iOS)

6. Groupon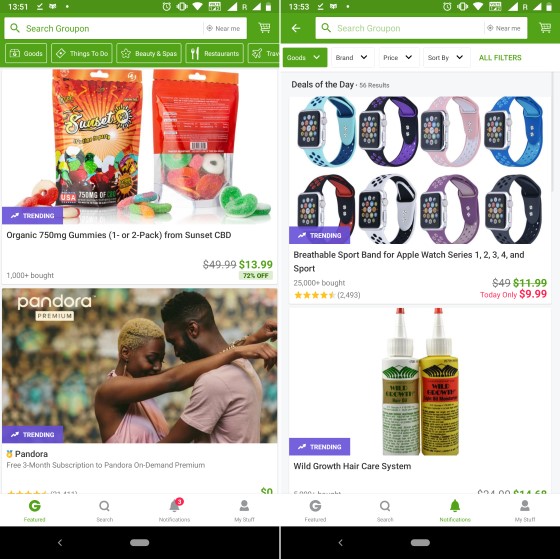 Groupon is one of the best platforms to find some cheap and great deals on a ton of services including travel, goods, and food joints from local merchants and retailers. The app offers you coupons on many services, with discounts going up to 70% in some cases. However, if you're picking up a deal from Groupon, don't forget to read the "Fine Print" section because merchants may add special terms to the same.
7. Shpock
Shpock may sound like a silly name at first, but it's an abbreviation for 'Shop in your Pocket' and it makes buying/selling goods locally an easy affair. You can buy goods that grab your eye, discover nearby designers or set up your own shop to sell items. If you're willing to spend some time scouring the app, then you can certainly come across a ton of great and bargain deals.
8. Etsy
Don't want to spend time searching for vintage and homemade goods on Amazon? Well, this is where Esty steps in and makes handmade, vintage, and creative goods listed by a 29 million user-strong community to those looking for something similar. It lets you talk directly to shop owners, get curated recommendations, and inspiration for any of your upcoming, important event.
9. Depop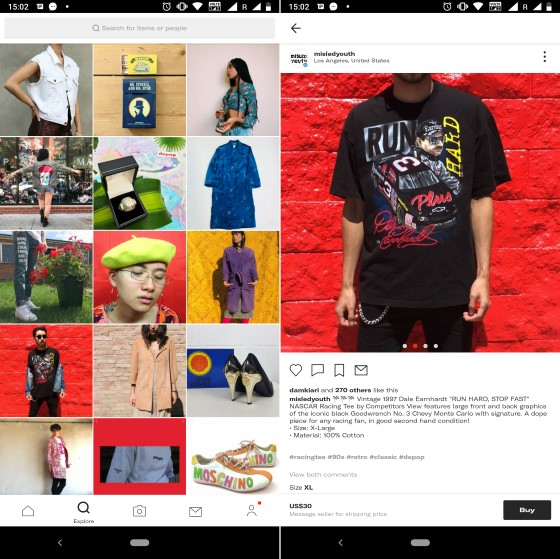 If you're a fashionista and want to stand out from the crowd, well, Depop is the perfect match for you. It's a community-driven marketplace, especially for creatives, which lets users buy and sells clothes, sneakers, vintage items and more. The huge 7 million user-base on Depop has already made more than 10 million items available on the platform.
10. Gearbest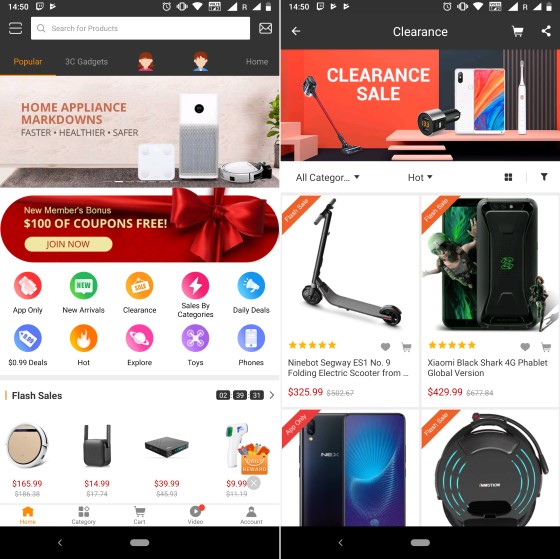 Gadget buffs, if you want to get your hands on the latest gadgets which might be weeks/ months away from launch in your country, then Gearbest is the app to have. It makes the widest collection of gadgets and gear available to everyone, with exclusive launches as well. You can also buy products from other categories like apparel, toys or baby products on Gearbest.
11. SnipSnap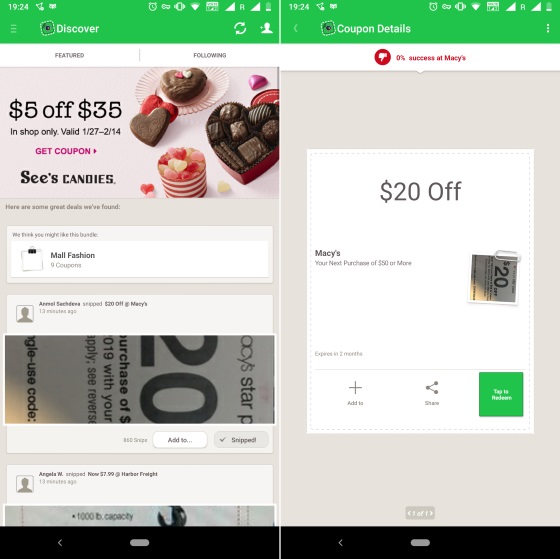 The coupon life is tough, I know, but Snip Snap is designed to make it a lot simpler by giving you a platform that collects the coupons all in one place. You'll no longer need to cut out coupons from newspapers or scour through your emails to find the right one, instead I would suggest you scan it through Snip Snap to store them on your phone and show it during checkout. Easy peasy!
12. Slickdeals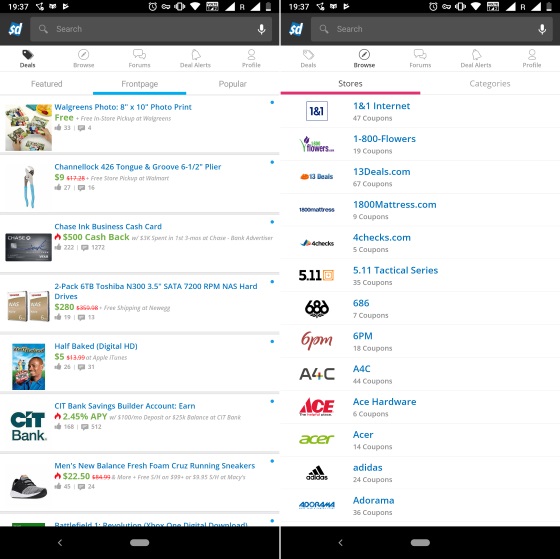 Slickdeals is a community-driven platform, where users like you and me usually update best deals about any product or item we find online. It not only lists deals for price drops but everything that could make a purchase fruitful including your app subscription and coupon for popular stores. The deals listed on Slickdeals go through an extensive authentication process to ensure only the valid ones reach the buyers.
13. TopHatter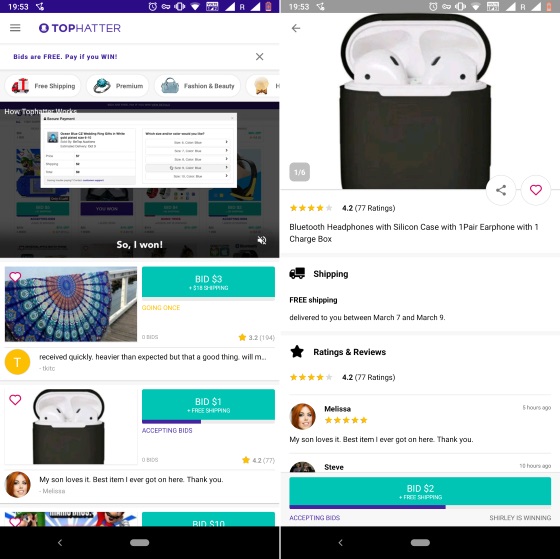 TopHatter is a platform for people who're always on the lookout for affordable items and would like to join active auctions to get them for cheap. It has a 90 seconds auction system that lets you bid on items of interest, many of which are going for up to 90% discount of the actual price. You can set reminders for desired items and bid on the same once the auction goes live.
14. Coupon Sherpa
Think of Coupon Sherpa as your coupon repository which you can access when you are out and about to secure discounts. It makes thousands of coupons available to you at your fingertips, all updated regularly to keep you updated with the latest deals and offers. You will now just need to find the retailer or local store in Coupon Sherpa to find a useful coupon.
Download (Android)
15. Shopkick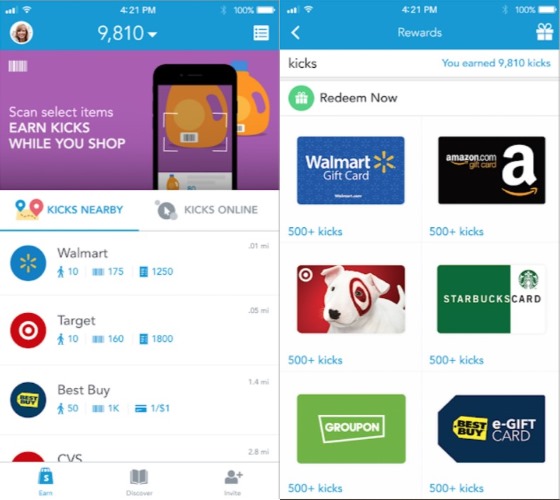 Who doesn't free gift cards? We all do, right? Shopkick is the ideal app to earn reward points (termed as kicks in this app) on every purchase you make at an offline or online store. You earn kicks by walking into stores, scanning products, purchasing them with a linked card, and submitting sale receipts. These kicks can then be redeemed for Amazon, Barnes & Nobles, JCPenny, and crocs among many others.
16. Flipp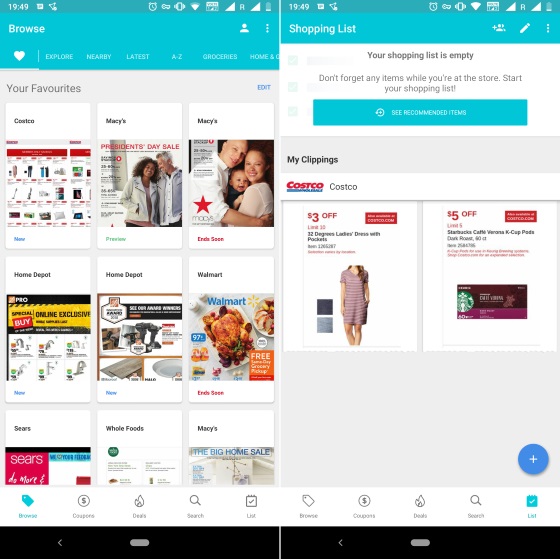 Flipp is also intended to simplify your local shopping experience by making flyer deals, as well as coupons available you on the fly. The app lets you search for deals by item, brand, or category to quickly find the best deals on your weekly essentials. It even matches the deals you'll find in flyers to coupons to maximize the savings on your purchase.
17. Ebates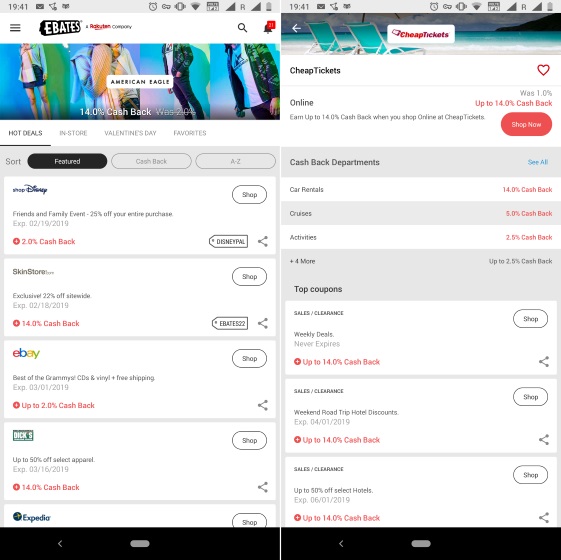 Operating under Japan's Rakuten, Ebates is yet another popular rewards app that allows you to get awesome cashbacks, discount deals, and coupons for when you are shopping online on Amazon or offline at Macy's or Walmart. You can earn cashback up to 40%, but the payback usually isn't that huge. Lyft, Doordash, and other popular branded stores have also partnered with Ebates.
18. Checkout 51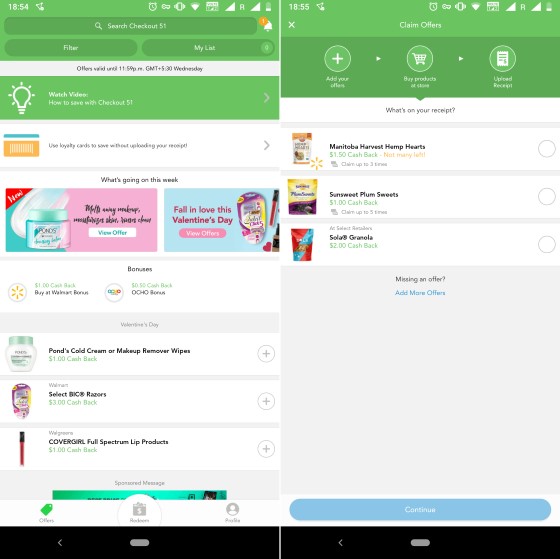 Checkout 51 is a simple-to-use cashback app for all your grocery shopping trips around town. You can browse through a lot of offers and coupon deals in the app, which update every Thursday, and use them to further savings on household items and grocery items. You also earn cashback on uploading a picture of your receipt and Checkout 51 lets you cash out once you reach $20 in savings.
19. Reebee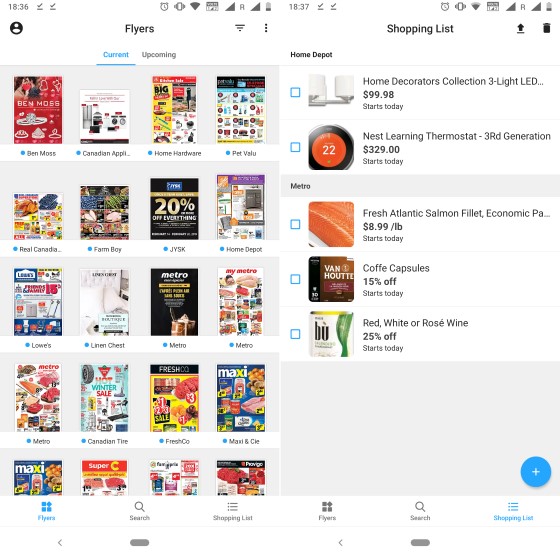 Since print media may slowly be diminishing, everyone is moving online and your local retailers are now also part of the cycle. This is where Reebee has stepped in to make it simpler for retailers like IKEA, Home Depot, and others, to give you access to deals and offers from flyers within the mobile app. You can add any deal you like to your shopping lists instantly. And as Reebee terms it, this is how the Canadians shop.
20. Carousell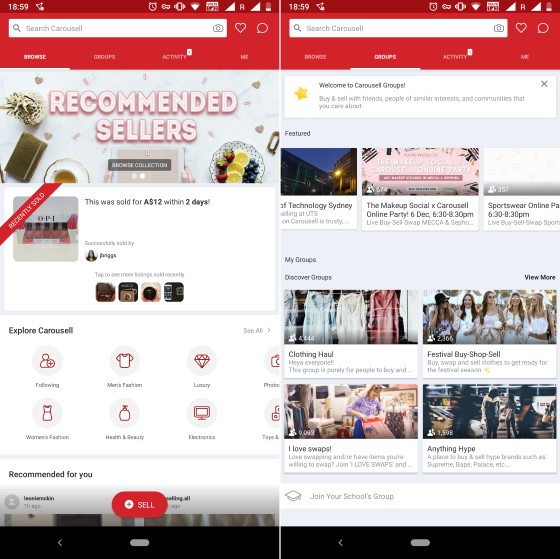 "Sell in a snap, buy with a chat" – it's as simple as it gets. Carousell is a community-driven marketplace where you can list items for sale within seconds. Snap a picture to make attractive listings and chat with local or foreign sellers to buy them. You can also become a part of Carousel Groups to buy/ sell items in interest or neighborhood groups. This is the perfect platform to help you declutter your closet or room and finding a new home for your old goods.
21. SHEIN-Fashion Shopping Online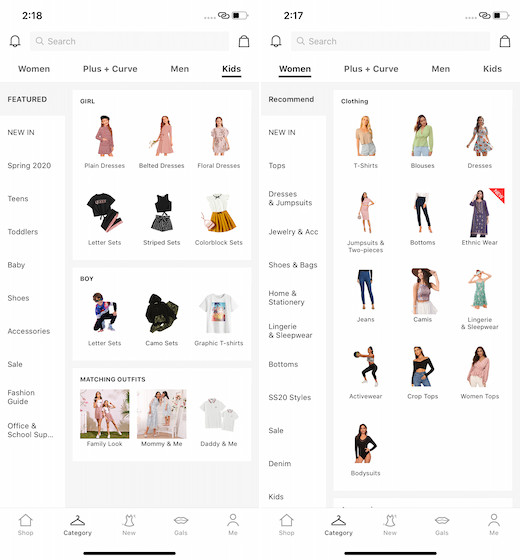 For those looking for a shopping app focused on women's fashion, SHEIN is a better choice. If that's you, keep this popular shopping app in mind. With a massive catalog of both trendy and classy clothes, it can easily let you find a suitable style. Notably, it adds more than 500 latest items every day so that you can stay in sync with fashion. What's more, it also offers up to 80% discounts on flash sales, thereby allowing you to save a lot of money on purchases.
22. ROMWE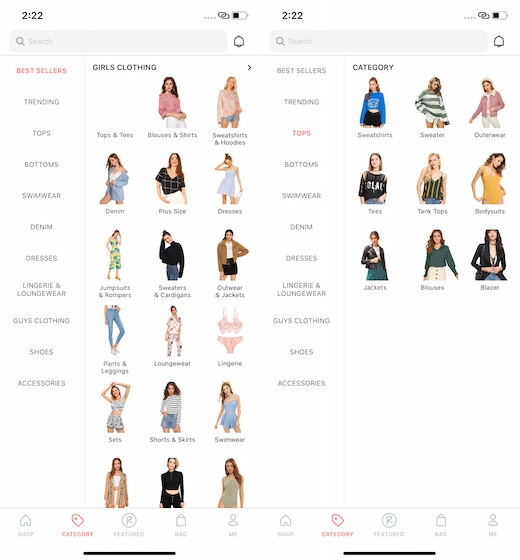 Going by the sheer number and variety, ROMWE promises to be a one-stop-platform for fashionistas. The app offers a variety of styles for both boys and girls. And with up to 90% off on hot sales, it also ensures you can buy nice-looking clothes without having to dole out a lot of bucks. With over 200 daily new arrivals, it remains in line with the latest trend. So, it doesn't matter what sort of styles you are after, chances are pretty high that you can find the desired one without going through the grind. It's worth noting that ROMWE offers 10% off on your first order and an extra 15% discount for students.
23. ZARA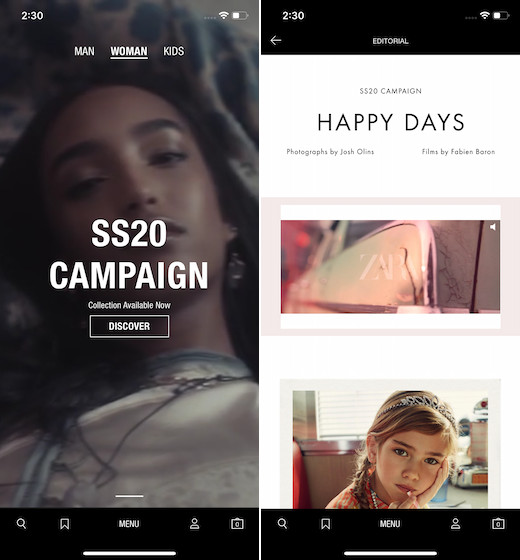 While ZARA may not be a chart-topper like some of the notable rivals, it's a great place to buy the latest trends in clothing. The app boasts one of the finest catalogs and features clothes for not only men and women but also kids. It sports a minimalist user-interface and comes with a smart search that lets you quickly track down specific items. Furthermore, ZARA also recommends styles based on your choice so that you can quickly discover the clothes that appeal to your taste.
24. GOAT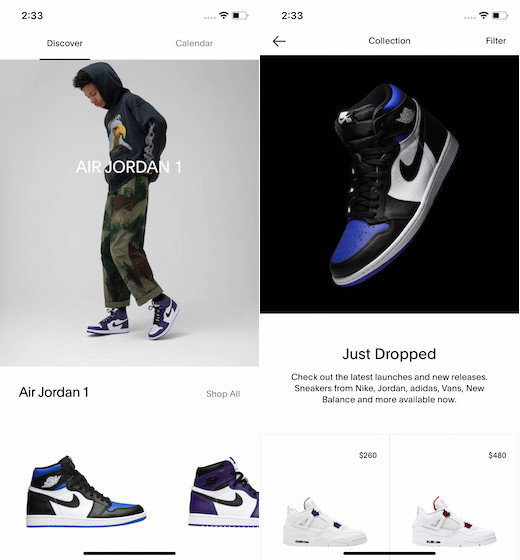 Looking for a platform where you can explore a wide range of trendy sneakers? If yes, I would recommend you to check out GOAT. The app features a massive collection of the latest sneakers, apparel, and accessories from both the emerging and luxury brands such as Air Jordan, Adidas, Yeezy, Nike, Off-White, Comme des Garcons, Gucci, Acne Studios, and more. Furthermore, it ships in more than 164 countries and also offers an exclusive magazine so that you can stay at pace with the fashion world.
25. Purplle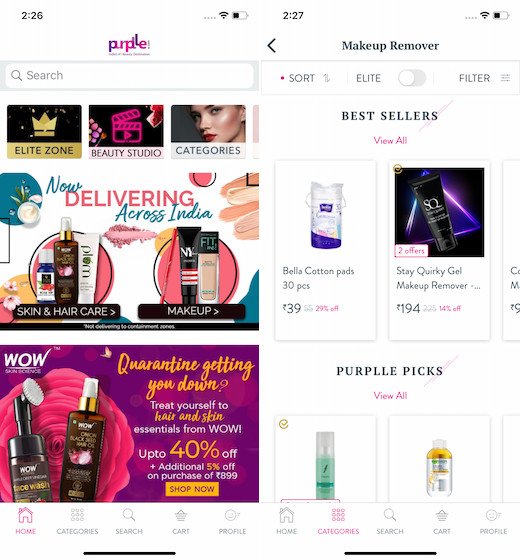 If it's the beauty shopping you are after, you shouldn't give a miss to Purplle. Though the app is quite popular in India, it's growing pretty fast internationally as well. You can use this app to buy makeup, skincare, perfumes, hair care, and more from famous beautify brands including brands like Lakme, The Body Shop, Nivea, and Fiama Di Wills. Thanks to the personalized alerts, it lets you keep a tab on the hottest items. What has caught my eyes is a separate collection of exclusive deals that offer plenty of discounts. Not just that, it also features reliable reviews/ratings to help you make an informed decision. Keeping in mind these features, Purplle is one of the best shopping apps for iOS and Android.
Popular E-commerce and Retail Stores
Apart from the aforementioned shopping apps, we are well-acquainted with the leading e-tailer Amazon (who is now trying its hand at offline stores) and its offline brick & mortar competitors such as Walmart, Target, and more. Well, the latter has also found their way online and if you're a regular at these offline stores then you should definitely check out their mobile apps as well:
1. Amazon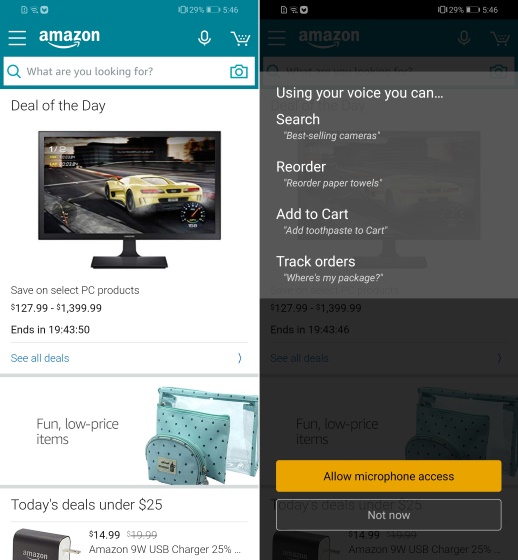 The official Amazon Shopping app lets you quickly shop for stuff you want to buy online, without having to break a sweat. You can place and track orders, use the microphone or camera to quickly search for products, community lists, 1-click ordering, create wishlists, and much more.
2. Walmart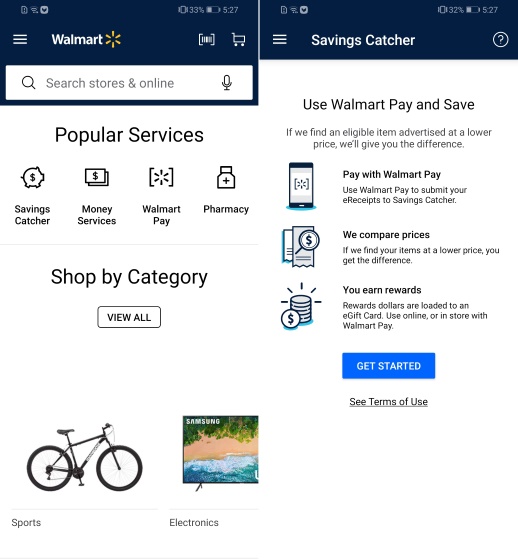 Walmart is trying to butt heads with Amazon and its online presence has been spruced up with the official Walmart app, which not only allows you to shop for products but makes a ton of handy features available as well. You can compare prices, pay via Walmart Pay, and earn rewards on your purchases. You too can buy grocery and medicines using Walmart's app.
3. Target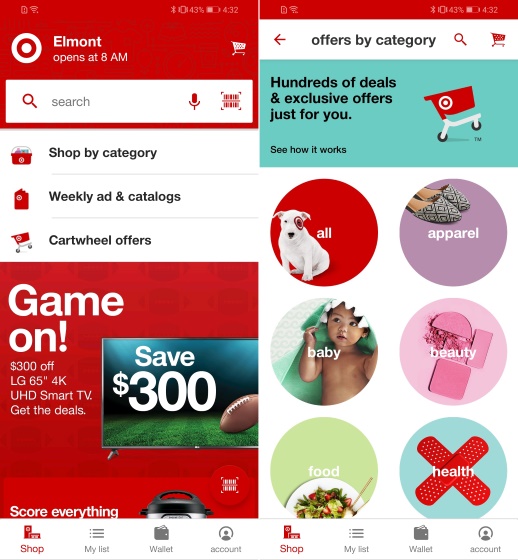 Target knows how to attract consumers and made discounts available to them through its Cartwheel for Target app back in the day. Well, it has now been rolled into the core Target app and offers consumers 5% to 50% off on certain products, in addition to manufacturer coupons, Target card offers, and more.
4. Best Buy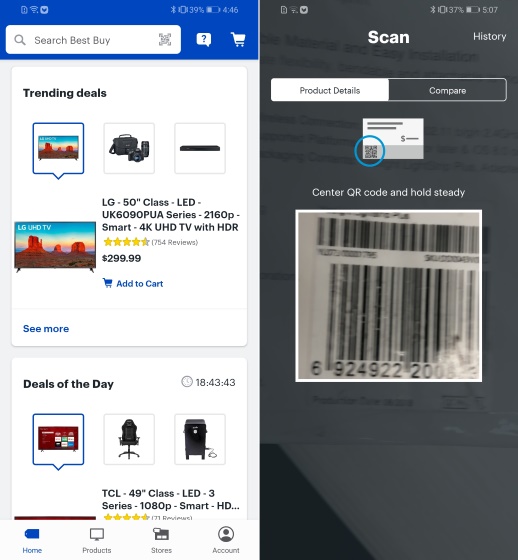 Best Buy is another popular retail chain in the U.S and it extends a ton of features via its mobile app. You can not only browse the entire catalog and look for the nearest store but also view/ redeem points, shop the weekly ads, Deal of the Day, and learn about in-store clearance sales and open-box products.
Save Money with The Best Shopping Apps
In today's digital world, we all want to secure the highest discount on everything we buy and we're ready to spend time scouring the Internet to maximize our savings. We're even ready to wait for the right time, i.e. sales, to buy the good we've been eyeing to grab the best deals. So, now you have the top shopping apps that should make shopping online a little more convenient for you. Well, how do you shop smartly? Are there any specific shopping apps you use? Do let us know in the comments section below.
---
Load More