There are two types of people, one who buy at the given price and others who simply don't. The second type are the one who are smart shoppers and know how to play their cards right. The internet has revolutionized shopping and completely changed the way we shop. Now we can literally shop for almost anything online and it will be delivered to our doorstep. However with access to hundreds of stores selling the same item, it can be a little difficult to find the right deal.
If you just buy the item as soon as you spot it, then you are missing out on so much more. You can find great items, get cheaper deals or simply use a coupon to get instant discounts. All this can be easily achieved if you are willing to spend few minutes before making your decision and use the right tools. To help you make a sound buying decision, we have listed 9 apps that will help you find the best deals and discounts while shopping:
Note: It should be kept in mind that all these apps serve different regions, not the whole world. Some of the commonly supported countries include USA, UK, Canada, Australia and India. Make sure the app is supported in your area before using it.
1. ShopSavvy
When it comes to finding great deals, I found ShopSavvy to be the most simple and robust at the same time. Finding the best price for your desired item is just a search away. Plus, you can scan the QR code or barcode on the item, if you are in your local store, and you will see whether the price is right or there is a better deal available somewhere else. ShopSavvy claims to have data on over 40,000 stores including Walmart, Amazon, Gap, Target, Newegg and many other popular stores, so there is a good chance you will always find a better deal.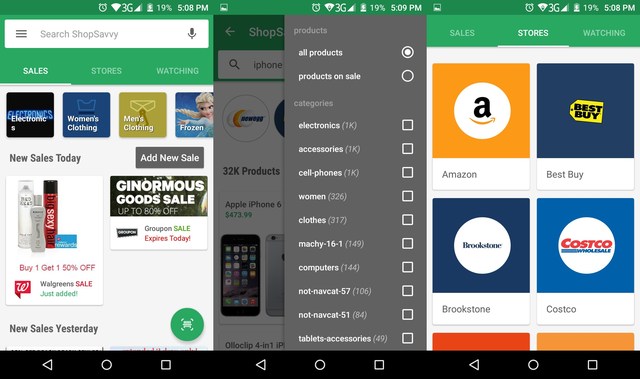 By default, it will watch for all the items you search or scan (thinking you are interested) and will let you know when there's any sale or discount on these items. You can also create custom lists of items and ShopSavvy will keep a tab on all these items and let you know about best deals when available. Simply put, ShopSavvy is the best app to find best deals on item of your interest.
Install: Android, iOS and Windows Phone (Free)
2. Groupon
Groupon is another good place for finding great deals, but unlike ShopSavvy it isn't the best deal tracker app. Instead, Groupon is a website (and app), where retailers can list their items for discounts and get recognized by customers. At Groupon you can find many items with high discounts of up to 70%, and I found most of the discounts above 50%. For instance, I searched for the best deal on "Beats by Dr. Dre Solo2 Headphones" using multiple apps mentioned in this article and the cheapest one was $89.99 at Walmart. However, I found the same headphones on Groupon just for $69.99.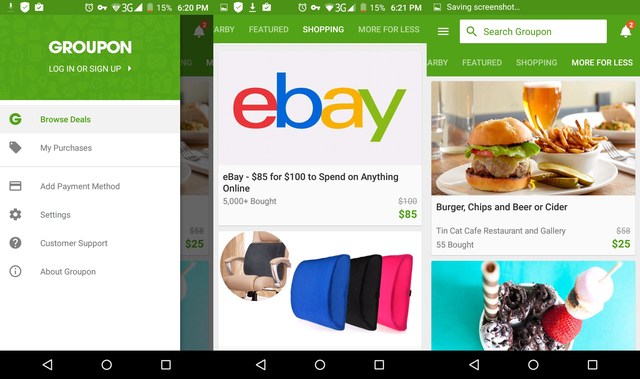 Although Groupon is a great place to find cheapest items and services, it can sometimes also be misleading. As merchants post their product on Groupon, they may add special terms for the deal to be applicable, so make sure you read the "Fine Print" section before you buy.
Install: Android, iOS and BlackBerry (Free)
3. Wanelo
Wanelo is like a social media platform for shoppers and merchants. Any regular user can sell products on the app and shoppers can follow merchants to always stay updated with latest products. Also, shoppers and merchants can also easily communicate with each other. Wanelo mostly focuses on fashion, clothing and accessories, but you will find electronic products listed as well.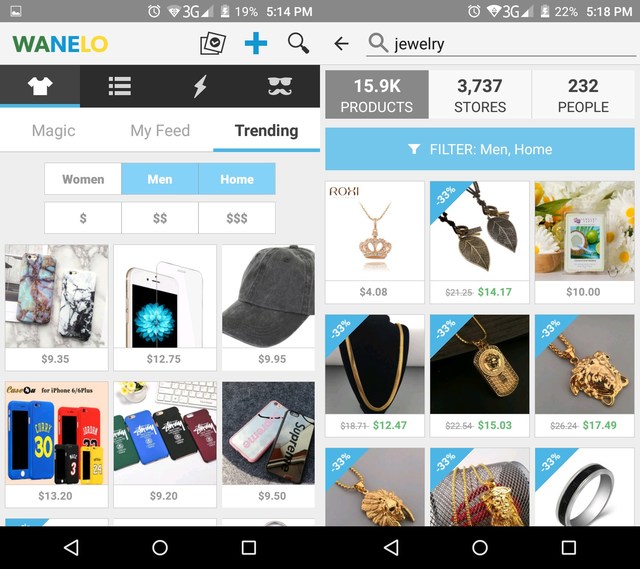 The reviews on Wanelo products make it easy to take decisions and the ability to communicate with the seller is a plus. Furthermore, the app also learns from your shopping patterns and makes recommendations according to it. One thing I didn't like about Wanelo, is that it forces you to download their smartphone apps and doesn't allow you to browse the website without it.
Install: Android and iOS (Free)
4. eBay – Buy, Sell & Save
If you buy and sell items on eBay, then its official app is a must have for you. The official eBay app dramatically enhances your eBay shopping experience by offering a ton of convenient features. You can easily bid or buy items right from the app and keep a tab on your favorite sellers. It is also a great app for comparing items and prices. You can both search for the item or scan the barcode with your smartphone camera to quickly compare prices.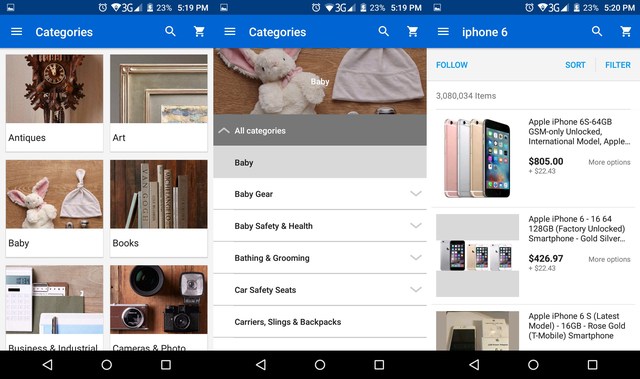 Sellers can also use the app to list their items for sale and easily edit the listings. The eBay app also automatically enters coupons to your purchases if available.
Install: Android, iOS and Windows Phone (Free)
5. TopHatter
TopHatter is a shopping platform for people who want to find items available for cheap and join active auctions. TopHatter has a 90 seconds auction system that lets you bid on items of your interest and buy them for cheap. Many of the items are sold for as low as 90% of its actual price.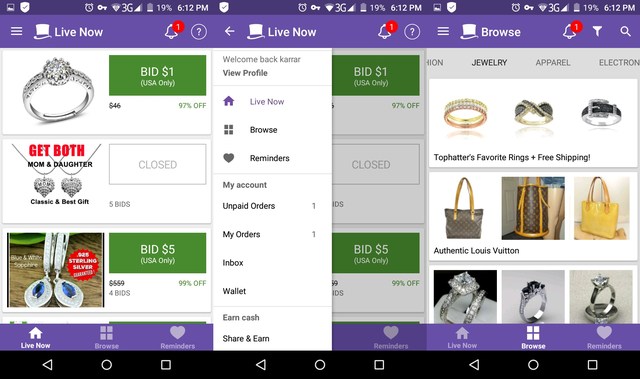 Furthermore, TopHatter regularly lists items that are very cheap and in my comparison tests with other popular online stores, TopHatter always offered 10-20% lesser price. You can also check when an item will be auctioned and setup a reminder for it.
6. The Coupons App
If you love coupons, The Coupons Apps is the only app you will ever need to gain access to all the available coupons. This app keeps an extensive record of all the places near your location for which the discount coupons are available. You can get coupons for near gas stations, super stores, fashion stores, kidswear shops, restaurants and literally every other place. Additionally, you don't need to print coupon, as the app is more than enough to verify it.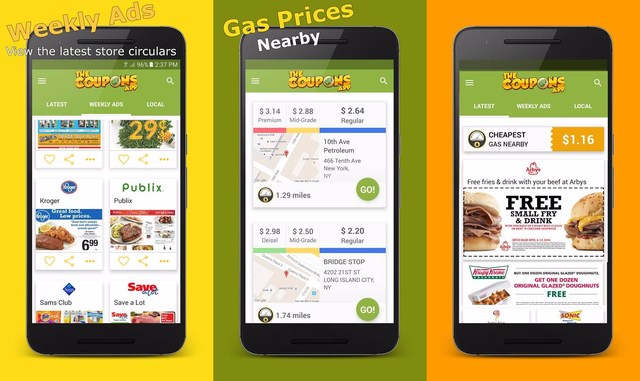 You can setup alerts for your favorite stores and you will be notified when there is a coupon available. Also, it will also automatically offer coupons when you enter a supported store.
Install: Android and iOS (Free)
7.  Slickdeals
Slickdeals is a community driven platform where users like you and me update the best deals about any product. Slickdeals not only lists deals about price drops but everything that could make a purchase fruitful. You can get more time on a subscription, get paid Android or iOS apps for free, get additional features and literally everything that makes a deal better. The deals go through an extensive authentication process to ensure only the valid ones reach the buyers, including community and Slickdeals admin processing.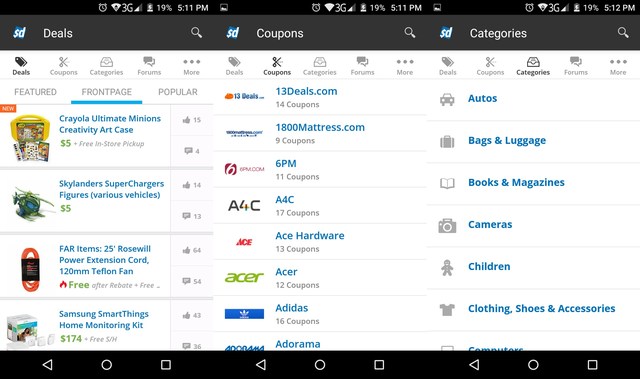 Apart from great deals, Slickdeals also offers coupons for popular stores and lets you set up alerts for deals.
Install: Android and iOS (Free)
8. Jet
Jet.com is a popular online shopping website that offers cheap rates with amazing discounts and offers. Jet app for Android and iOS makes shopping on Jet a whole lot easier with custom recommendations and daily deals. The app is exceptionally easy to navigate and makes the checkout process a breeze.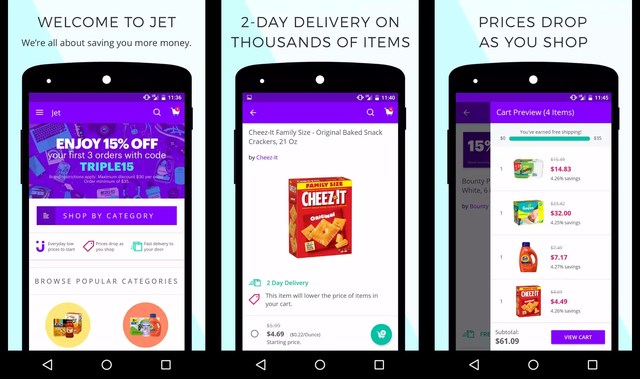 At Jet, you get 15% discount on first 3 orders and the more you shop, the more prices drop. Apart from reliable deals, it also has multiple ways to save on all the items you buy. There are items with specific tags, that when bought, decrease the price of other items in the cart as well (a fraction of prices, but it's worth it). Additionally, you can also save by paying through a card or canceling free return policy on items.
Install: Android and iOS (Free)
9. Shopami
If you subscribe to promotional emails from different retailers to get the best deals, you might find it a little overwhelming to keep up with offers in your email account. Shopami is the best app to take care of all the promotional emails sent to you. The app makes browsing different promotional emails easy, thanks to its easy to read interface.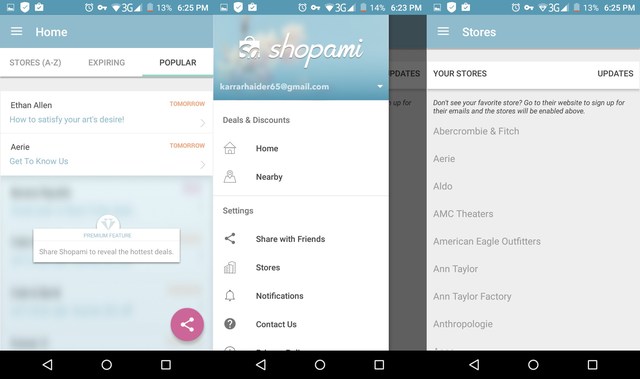 It shows deals by expiration dates and also alerts you when a deal is about to expire. Furthermore, if you are near a store that sent you a promotional email, then Shopami will send you a notification and show you the email. Overall, Shopami is the best app for managing promotional emails in your email inbox.
Install: Android and iOS (Free)
Other Handy eCommerce Apps
Many popular eCommerce and brick & mortar stores have apps to make it easier for customers to buy items and take advantage of offers. If you buy from any of the popular stores, using their smartphone apps can make things a whole lot easier. Here are a few popular eCommerce apps that you should try:
Amazon: The official app from the eCommerce giant will let you easily shop from Amazon.com and take advantage of most features, like 1-click ordering, ability to track orders, create wishlists, setup notifications and much more.
Amazon app for Android and iOS
Walmart: If you shop at Walmart, their official app should be very beneficial for you. You can find best deals, create wish lists, check in for pickups, get notifications and keep track of store locations and timings near you.
Walmart app for Android and iOS
Target: If you are buying from Target, their official app will let you know if the required item is available or not and you can also track its location in the store (using store maps). Other than that, you can browse for sales & coupons, create wish lists, see reviews, save and use gift-cards and more.
Target app for Android and iOS
SEE ALSO: 7 Family Apps For Android and iOS to Manage Your Family Better
Shop Smartly with these cool Shopping Apps
In this digital world, shopping smartly is extremely important. You can easily save up to 50% on average purchases, if you just put enough time in searching and wait for the right time to buy an item. ShopSavvy is by far the best app for finding the best deals in your favorite stores, but the unique deals offered on Slickdeals and TopHatter make them a good place to stumble upon while shopping.
How do you shop smartly? Is there any specific shopping app you are using? Let us know in the comments section below.