Climate change is no longer a future problem. It is something we should all take with utmost seriousness. One step you can take right now to tackle climate change is to measure your carbon footprint and make effective changes to your lifestyle. To help you in the process, we have compiled a list of the best carbon footprint calculators. With these carbon footprint calculators, you can be mindful of the negative impact you cause to the environment and take further steps to reduce it.
Best Carbon Footprint Calculators (2021)
What is Carbon Footprint?
Before jumping into the list, first, it is essential to understand carbon footprint. For the uninitiated, carbon footprint is the amount of greenhouse gas released into the atmosphere. It includes but is not limited to carbon dioxide, methane, and nitrous oxide. You measure Carbon footprint in equivalent tons of CO2 (lower is better), typically on an annual basis.
1. Carbon Footprint
Carbonfootprint.com is one of the most widely used tools to calculate your carbon emissions. The website has separate calculators for individuals, small businesses, and more. The thing I like about Carbon Footprint's calculator is that it offers you granular controls. It even lets you choose your country to compare your carbon footprint with the average person in your country. You can also set the period before starting the calculation.
Try out Carbon Footprint
How to Calculate Your Carbon Footprint Using Carbon Footprint Calculator
1. Open the Carbon Footprint calculator. First, choose your country and the period of calculation. It should ideally be a year, but you have the flexibility to increase or decrease the duration. Then, click on the 'House' button at the bottom right corner to proceed further.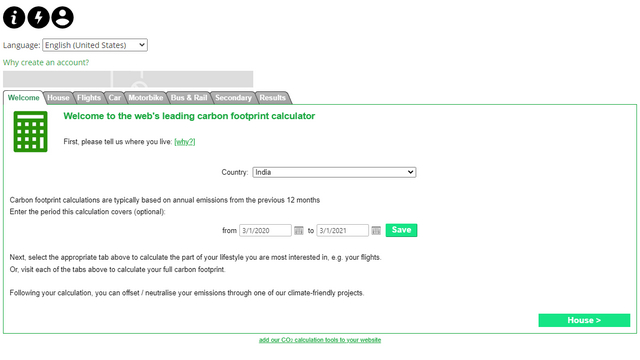 2. In the 'Household carbon footprint' section, select the number of people in your household from the dropdown menu. Fill out your electricity, natural gas, heating oil, coal, LPG, propane, and wooden pellets usage. Then, click on 'Calculate Household Footprint.' Once you get this estimation, click on the 'Flights' button.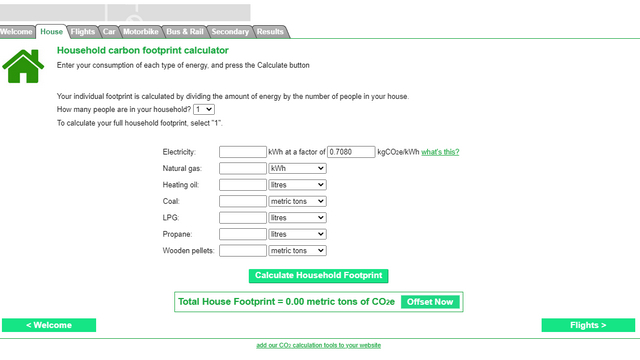 3. If you are a frequent flyer, you can factor in those trips in the Flights section. You can add up to three flight itineraries here. Once done, head to the 'Car' section.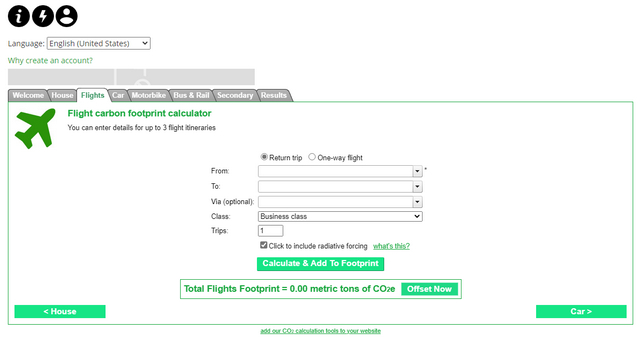 4. Here, you can set the mileage of your car. You can choose your car's exact model or input the efficiency (in liters/100km). If you don't own a car, you can skip to the 'Motorbike' section.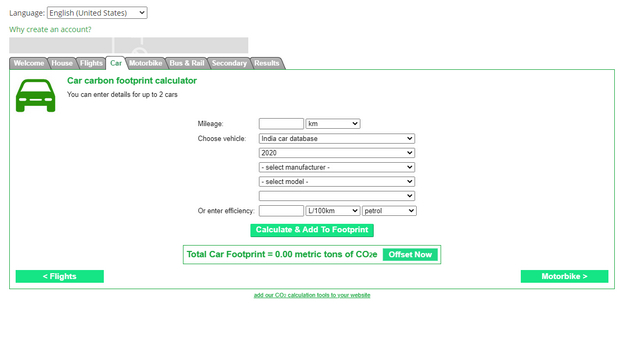 5. If you own a motorbike, add the mileage, choose the bike engine's size, or manually add its efficiency. After doing that, head to the 'Bus & Rail' section.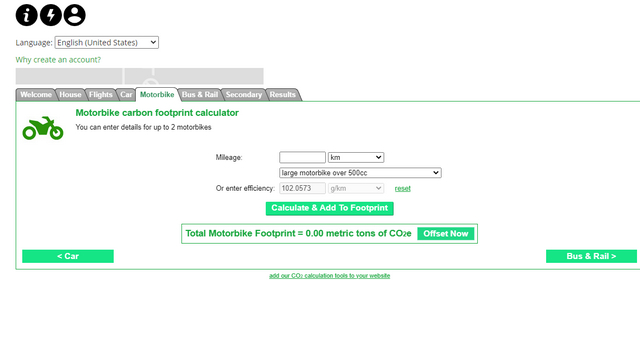 6. You can now enter the mileage of different public transport modes you use on a regular basis.
7. The last step is to add miscellaneous details regarding how much you spend for different categories shown in the image below. Fill them all and click the 'Results' button to view your carbon footprint.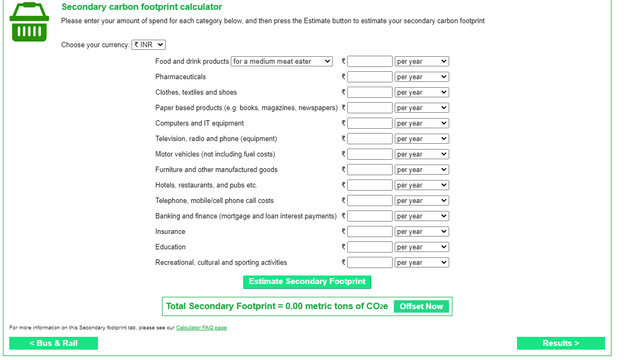 8. You can finally see your carbon footprint. The page also shows the average footprint in your country and the worldwide target to combat climate change.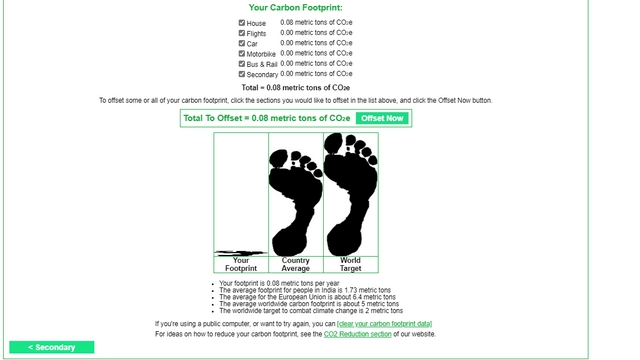 2. Conservation.org
Another powerful tool to calculate your carbon footprint is conservation.org's calculator. You can enter details across household, transport, and travel for better results. After inputting all the relevant data, the tool shows you how many trees are required to offset your annual footprint, which is a neat indication for a better perspective. The results page also features quick tips to help you decrease your carbon footprint.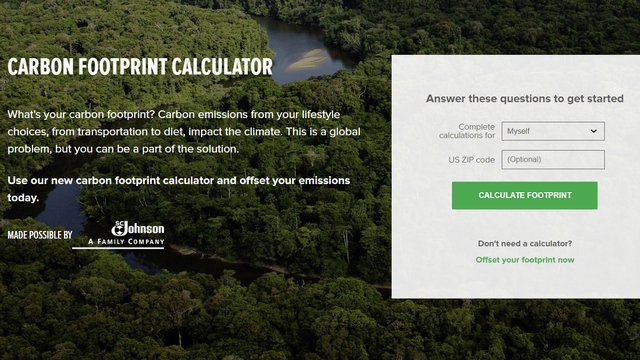 Try out Conservation.org Carbon Footprint Calculator
3. United Nations Carbon Footprint Calculator
United Nations' carbon footprint calculator is an option you can consider if you want a standard tool that works great regardless of your country of residence. You have to fill in details across household, transport, and lifestyle categories. The calculator then shows you the results alongside your country's average and the world's average.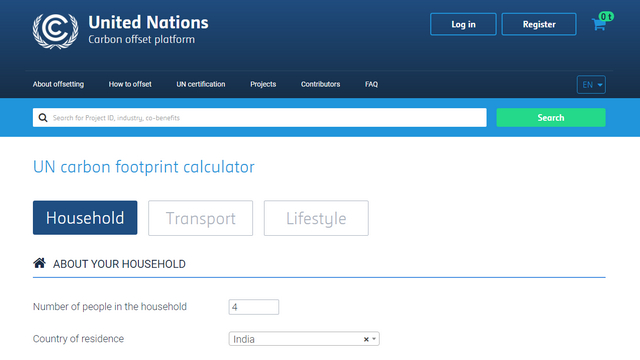 Try out UN Carbon Footprint Calculator
4. Terrapass
You can use the Terrapass calculator to learn about your carbon footprint. Unlike other carbon footprint calculators on this list, you don't have to spend a lot of time to fill the details here. There are prompts to add your use of vehicles, flights, and home energy. The tool is relatively simple to use, and you can get the results in a few minutes. However, it is worth pointing out that this calculator is best suited for readers in the United States. You can also check out Nature's carbon footprint calculator if you want a US-focused tool with advanced options.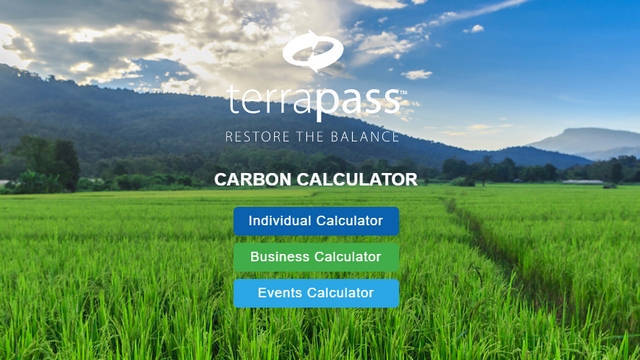 Try out Terrapass
5. CarbonWatch
If you are looking for a carbon footprint calculator made for India, you should try out the CarbonWatch app. Released by the Chandigarh government's environment department, the app offers several prompts to help you efficiently measure your carbon footprint. The app is available just on Android as of this writing, but it should make its way to iOS devices in the future. If you want a tool tailor-made for people living in India, you can also check out carbon footprint calculators from Tata Power and ICICI Bank.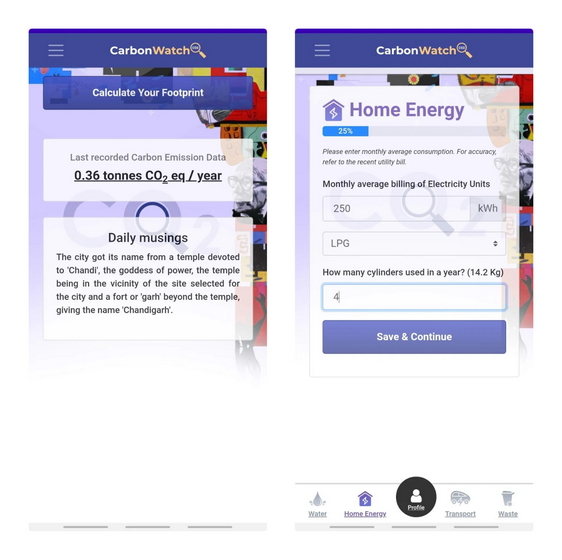 Download CarbonWatch (Play Store)
Easily Check your Carbon Footprint
Now that you know how to calculate your carbon footprint, you should consider taking steps to change your lifestyle and contribute towards making the world a better place. A great place to start when it comes to reducing carbon footprint would be to minimize the use of personal transport (or switching to an electric vehicle, if feasible).
You could switch to public modes of transportation, use ride-sharing services, and more. Lifestyle changes would involve switching to vegan/vegetarian diets and recycling wherever possible. If you undertake these steps, you can considerably reduce carbon emissions and safeguard the world for future generations.
---
Load More